Yawang stills and plot setups
SBS's upcoming Yawang continues to add to its cast list and is also releasing some stills (albeit at a pace that's more like a trickle) now that it's begun filming. And while the images themselves are not that interesting, the description finally has my interest piqued. Since I wasn't expecting to be interested, this is a nice surprise.
Because really, the stills alone are hardly exciting. Or even telling. We get a bit of this, a bit of that, and not really much of an idea of what to expect. Wait, let me rephrase that: We are expecting Daemul Again, but have yet to see Yawang's actual plot gears in motion. We've got Su Ae and Kwon Sang-woo on set, reading scripts, walking in a neighborhood, and a lady on a horse. O… kay.
But wait, it does get better. Despite my first reaction to dismiss this as a shadow sequel to Daemul (say, like Dream High 2 attempted to do by using the same premise of the original), it turns out there's a very deliberate link. And I mean aside from the fact that Yawang is adapted from the manhwa penned by the same writer.
More so than that, however, this seems to be a companion piece to Daemul, and that means the repeat casting of Kwon Sang-woo is meaningful. In Yawang, Kwon Sang-woo plays a man named Ha Ryu, which immediately pinged my (admittedly hole-ridden) memory — because that was the name of the character he was initially supposed to play in Daemul. Or so I thought. Based on the manhwa, Ha Ryu was the lead character who started as a gigolo and then joined forces with Madame President on the road to the Blue House. Ryu was the brother to Ha Do-ya — and then the drama sorta conflated the characters and named Kwon Sang-woo's character Ha Do-ya instead. (Here's my more detailed description on the manhwa plot.)
Now in Yawang, Kwon plays Ha Ryu. The brother! This intrigues (and yes, also confuses) me. Because Ha Do-ya was the faithful right-hand-man to Korea's First Lady President Go Hyun-jung (…although have the recent elections just rendered this premise passé?) and now Ha Ryu "is ready to sacrifice everything" for Su Ae, who burns with ambition to be the first lady. (Also: Maybe your ambitions could aim a little higher?)
So are we dealing with a complete universe reset, or parallel (yet connecting) universes? Does that make Kwon Sang-woo the Universal Tangent? (C'mon, you pun-lovers all laughed at that.) Like I said, I AM CONFUSED. But also intrigued.
On to more casting: Lee Jae-yoon (Ghost) is a new addition as step-oppa to Su Ae, since the time she was adopted into his family. Um, his character description starts out "stepbrother to a sister he shouldn't love…" Wait, imma stop you right there. In fact, can we screech the brakes on the whole thing for a moment while we all shudder and get that out of our systems? Why the fauxcest, dramaland, WHY?
Okay, I can see the appeal (narratively), so let me rephrase: Why SO MUCH the fauxcest, dramaland? Isn't there a limit to the sordid type of angsty gratification in watching these stories unfold? Or is this a dumb question when we're talking about the home of makjang mania?
Ahem. Getting back on track… Oppa has to hide his love for Su Ae so he keeps that close to the vest, but it does turn him into a jealous mean jerk with the men in her orbit. He doesn't let that ugly side show to dear sister, but he "crosses the line and does deeds a human should not do." Uh…

Lee Jae-yoon, Lee Il-hwa
Another actress joining the cast is Lee Il-hwa, whom you may recognize as the hilarious mom from Answer Me, 1997, this time playing Kwon Sang-woo's mother figure. She's not his biological mom, but she's raised him since his childhood days at the orphanage and now lives with him on a ranch. (Ah, does this explains the horses?) She's part mom, part sister, part aunt, so I expect the relationship to be close and warm. Aw.
On to the ranch, where actress Kim Sung-ryung (The Chaser, Neighbor Enemies) is pictured on horseback. She plays the daughter of a corporation CEO, and noona to Yunho. Oh… right. I forgot about him.
She, like many chaebol heiresses before her, has a haughty air and harbors a "cold ambition" within her. Like so many chaebol heroes, that aloof veil masks a deep hurt, she's not really so mean, blah blah.
So the story's working some angles I could warm to. I admit to being a sucker for the childhood setup where Kwon Sang-woo and Su Ae grew up in the same orphanage and had a sweet relationship, then got separated when they were adopted out, only to reunite in adulthood. Yet since this story is as much about betrayal and ambition as it is love, there's no guarantee it'll end happily.
I've got a better idea of the story now, but I still think the drama is failing to fill in some really important holes. Just one solid logline would do wonders! Just… one… coherent… plot…
Yawang will replace King of Dramas on Mondays and Tuesdays in January 2013.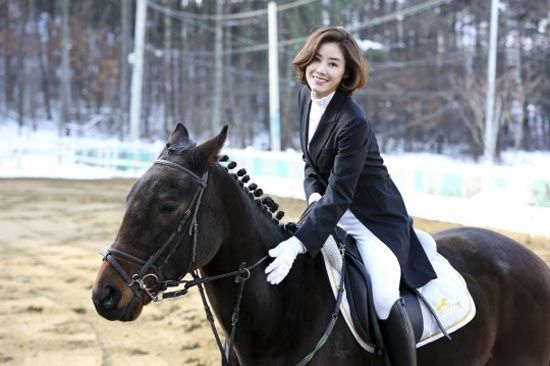 RELATED POSTS
Tags: Kwon Sang-woo, Lee Jae-yoon, Su Ae