Alice in Cheongdam-dong: Episode 10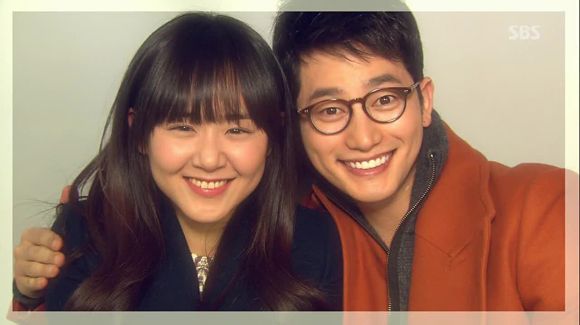 Oh – how can an episode be so dissatisfying and satisfying at the same time? It's crazy how much this drama has made me think about myself and my own motivations for doing things. I like that our main couple is starting to face truths about themselves, but what I don't like is how long it's taking for us to get them to say it to each other. I have to commend So Yi-hyun though for making a character so interesting even though she spends most of her time looking horror-stricken or crying.
EPISODE 10 RECAP
Se-kyung dares Tommy to give up first as she tosses the contract back at him. She's no longer afraid of her ugly love and will keep going forth. Tommy doesn't believe Se-kyung can tell Seung-jo the truth, though. Se-kyung says she can; instead, it'll be Tommy who can't tell Seung-jo the truth because he won't be able to achieve his end goal of matchmaking the most powerful marriage in Cheongdam-dong. She may lose her love if she tells the truth, but at that point, she knows she can just give up. He on the other hand has a finished career.
On top of that, she's learned never to sign contracts with the rich, because it just means she'll be in debt and she may never get out of it. 'Atta girl, your experience doing you some good.
She leaves his studio with her heart racing, but she can't stop now – Ah-jung's call reminds her that she must run back to see Seung-jo.
Seung-jo remains standing outside in the cold by the river because Se-kyung told him to. Silly boy. The others have huddled up inside the car watching him be a stubborn-butt all by himself in the cold and introduce themselves to each other. I bet Ah-jung is setting her sights on Dong-wook too. And finally, Se-kyung arrives.
Seung-jo is happy that she came back, as it most likely means she's accepted him. But Se-kyung wants to reveal her truth first. Seung-jo: "I have something to tell you too, but I want to hear your answer first!" He pesters her – her presence means she's accepted him, right? With a small smile and slight nod, she accepts him. Wheee! Seung-jo laughs brightly and swings her around in the air. The friends in the car rejoice – it's a happy ending!
They come out to congratulate the happy couple and Ah-jung takes some pictures to commemorate it. Secretary Moon and Dong-wook want to set up the projector so that Seung-jo can show her what's in his treasured USB, but Seung-jo cries out it's not time yet. He wants all of them to leave instead. "Oooooooooooh," the friends coo, but they all leave with happy hearts.
Se-kyung brings Seung-jo to a convenience store to get him some coffee. She holds it against his cheek and cradles his frozen face – a gesture that makes Seung-jo infinitely happier because now he feels like they're a couple.
Back at home, Yoon-joo can't erase the image of Seung-jo carrying Se-kyung on his back. Her brother calls, asking for updates about her predicament, but she coolly tells him nothing new happened and hangs up. And as for Tommy, he now sees that Se-kyung is smarter than he thought, because he really can't reveal anything to Seung-jo. Telling him the truth about Se-kyung would only make Seung-jo hate him more. So he decides to have his lackey Hae-joon spy on Se-kyung.
Se-kyung takes Seung-jo home first, wanting to be the one to drop him off instead for once. He can't part with her, calling out her name repeatedly every time she turns to leave. She promises to meet him tomorrow, and the knowledge of having won the girl he loves makes Seung-jo tear up in joy.
He later texts her about where she wants to go tomorrow, and when she replies, she adds a smiley face. Yay for Seung-jo – he finally got emoticons on the texts. He texts her back a picture of the happy bunny and tells her to meet him at 10am and leave all the plans to him. Aww – I want to be the bunny he hugs so tightly. What he doesn't realize is that Se-kyung vows to tell him the whole truth tomorrow.
Se-jin and Ah-jung are already home updating the parents. Excited as they are, Deuk-gi warns Se-jin and the mother to not say anything to Se-kyung until she mentions it first. He's the only one not as excited by the news as he knows that just hours before, Se-kyung looked very unsure about her love for Seung-jo.
The following morning, Seung-jo is waiting for Se-kyung outside GN Fashion by his car. He practices how he should greet her – informally? formally? with a cute lilt? As he's practicing to his window, he doesn't see Se-kyung standing behind him: "Yes I came!" He ushers her into the car immediately and takes off – they're headed to Paris. Of course, Se-kyung thinks he's just exaggerating… until he really takes her to the airport.
What about luggage? Seung-jo already packed the basics. And tickets? Even though it's holiday season, first-class seats are always available. What about a passport? Seung-jo declares it's already in her bag. Turns out he texted Ah-jung to tell her to put Se-kyung's passport in her bag discreetly.
Except… Se-kyung doesn't own a passport! Haha – talk foiling his plans.
He's shocked that a girl who wanted to go to Paris so badly doesn't even have a passport. Se-kyung figured she'd apply for one the day she finally could. Seung-jo is saddened by this, as he already made all the reservations at the Parisian cafes and restaurants. Se-kyung is impressed – so this is what dating a rich, powerful man is like? Seung-jo worries that this might distance the both of them again by status, but she appreciates his gesture.
He holds up a pinky – they'll promise to go to Paris one day together, right? Though Se-kyung knows she must tell the truth to him soon, she pinky-swears with him. He tells her they'll start the application process now, and guides her to a photo booth to take pictures. But instead, he decides to just jump in with her – and a montage of cute couple pics ensues.
They go to a bakery and feed each other slices of cake, taking another picture with Seung-jo's phone to commemorate their date. Then, he takes her to a special tea parlor, and Se-kyung realizes this might be the time and place for her to tell him.
They sit by one of the paintings that Seung-jo had made while in Paris. He admits that he didn't just break his relationship with his father over his move to Paris, but also because he had fallen in love with a woman his father disapproved of. He let go of his father first, and in return, his father made him sign a contract to give up his inheritance and cut him off entirely. Seung-jo was left with only 150 Euros to his name, swore to never see his father again, and changed his name.
What's worse is that his relationship with the woman took a downturn as well, so while he was homeless, he painted that painting and entered it in a patronage auction. Surprisingly, it garnered him 30,000 Euros, and he was suddenly the new darling of the art world. People wanted his paintings, and he painted furiously and quickly to meet the demand. One of his clients was the head of Artemis. The thing is, he still does not know who the original purchaser is, the one who paid 30,000 Euros and gave him a reputation and a new life.
Once he was offered a job at Artemis, he left behind painting as he had something else to do. What that thing was would be revealed in that USB. He thinks that Se-kyung will hate him once she sees the USB, so he hesitates in giving it to her right away. Now, Se-kyung feels it's her turn to tell her truth. She is afraid that Seung-jo may dislike her just as well, and again, he stops her from saying anything. It's possible that whatever "truth" she needs to say, it won't be as big as his. Therefore, he hopes that she can just wait a while longer; once he reveals his secret, and she still accepts him, then he'll hear hers.
I commend Se-kyung for being so insistent on telling him, but if he won't hear it, then there's no point. Neither of them notices Hae-joon watching them from afar.
On the ride back, Se-kyung wonders how Seung-jo's father must have felt when he saw his son come back successful. Seung-jo thinks his father hates seeing him doing so well, since they still have petty fights whenever they see each other. But Se-kyung offers a different view: perhaps his father is proud of him, but doesn't know how to express it. After all, her father never praised her for all her awards and certificates, but he quietly collected these treasures. Too bad Seung-jo's family isn't that kind of family, though.
He drops her off at the steps leading to her home, eagerly asking what she thought of the date. She admits it was scary – and immediately he blames himself for having started off with the grand gesture of going to Paris. (Dong-wook had warned him!) But Se-kyung clarifies – she enjoyed the date a lot, and misspoke. (It was so good… it was scary?) They promise to meet the next day again, and he drives off. That's when Yoon-joo steps out of her car, having watched this entire lovey-dovey exchange.
She hurries after Se-kyung, who's already turned to go up the stairs, but fails to call after her friend, perhaps out of fear or uncertainty.
Se-kyung hopes that she can hear the truth from Seung-jo soon, as she doesn't want to lose her nerve and never tell him her truth. Hopefully it'll be soon – because as soon as Seung-jo gets home, he drops the USB into an envelope and addresses it to Se-kyung.
Meanwhile, Tommy receives the photos Hae-joon took and learns that Se-kyung couldn't tell him the truth yet. Hae-joon also noticed Yoon-joo watching them, but hasn't found out her identity yet so he's ordered to continue watching.
Tommy receives In-hwa as a guest. She plans to visit the store selling GN Fashion's collaborative line with Artemis – Club A – with Seung-jo as a way of getting closer to him. Tommy advises her to go slow with Seung-jo, and she likewise advises Tommy to try a different tactic in approaching Il-nam. Recently, Royal Group had lost out on bidding for an outlet to JK Group, so Il-nam is feeling bitter. She hopes that Tommy can relay her suggestion, since doing it herself would be unseemly when she attends the Royal Group Charity Bazaar.
And so, Tommy meets with Il-nam with the suggestion: Artemis is planning a merger and acquisitions deal with another company, Roman. If Il-nam works with the other company, it would mean that he'd get to work closely with Artemis. Add to that the current collaboration with GN Fashion, and all three companies would be united together. Il-nam chooses to think over it rather than move forward.
In-hwa tours the store with Seung-jo, talking about the simpler designs she had in mind to emulate the simple styles seen in European clothing in the late 1700s-1800s. Seung-jo is amiable enough to her ideas, so she thinks she's getting closer to him. When she steps away for a call, he sees his father in the store, having come to see him.
Awkwardly, Il-nam asks when his son's work day will end. Why? Il-nam: "F…Foo… Food!" Seung-jo: "Food?" Il-nam: "Want to eat?" Hahaha – Il-nam is like a caveman at emotions. At least Seung-jo joins him for dinner after that awkward invitation.
They head to a Japanese restaurant, and Il-nam mistakenly dips his sushi into his son's soy sauce bowl. Clearly he's not used to sharing a table with someone. He asks after work, and if things are going well with Se-kyung and her family. Not that he really cares – he knows that Seung-jo will be able to take care of his matters well. He just warns that marriage is serious business – look at the other company presidents who had daughters-in-law from a poor background.
Seung-jo points out that some of the sons' arranged marriages ended in divorce, which is worse than love matches. He's frustrated with his father's archaic thinking – that whatever he says, goes. Sometimes arranged marriages done purely for business don't work out as well. Il-nam is so fired up he replies, "Just shove the food in your mouth!" Hahaha – most awkward family dinner.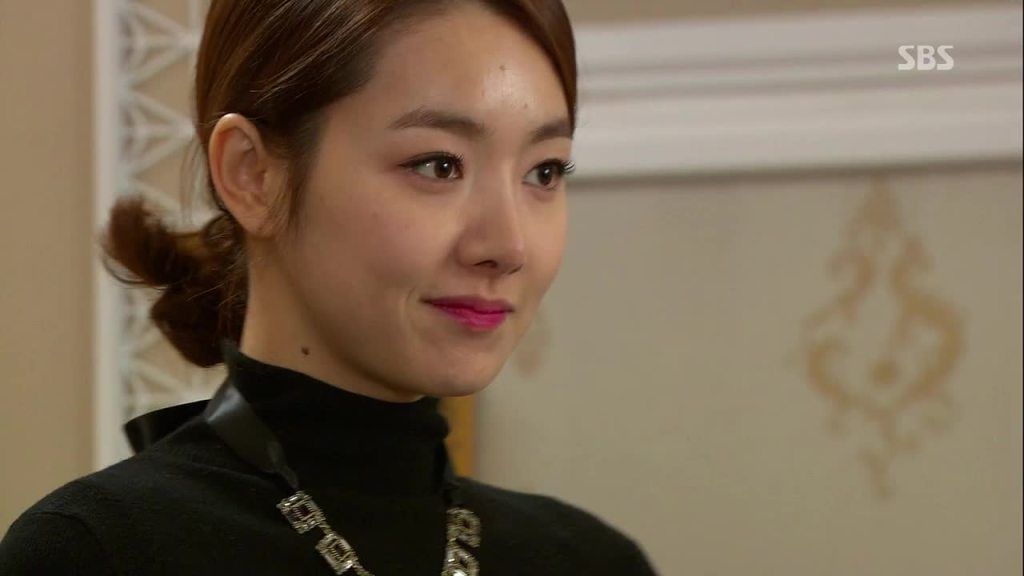 Meanwhile, at another family dinner, In-hwa and Mrs. Shin hope that Tommy's chat with Il-nam was successful. If Il-nam and Seung-jo work with each other more often, it's possible they'll have a better relationship and look upon In-hwa more favorably. While serving the Shins, Yoon-joo smirks to herself – their plans are never going to work, because father and son will never work together. Even though they were spotted eating together, Yoon-joo knows that it happened all because of Se-kyung. Wow – I love how frank and unemotional she is regarding how Se-kyung must have changed Seung-jo.
In-hwa thinks that she'll get along with Seung-jo, but Yoon-joo knows better. This family and Seung-jo will never be one.
Seung-jo tells Dong-wook he just had a meal with his father. This is big news! Dong-wook finds the whole thing funny but is miffed that Seung-jo still won't listen to his advice – such as sending that USB now. Seung-jo is still scared to reveal the truth, because he's afraid of losing her. So Dong-wook snatches the envelope and offers to send it himself.
After dinner, Yoon-joo drinks glass after glass of wine by herself before finally calling Se-kyung. She's curious to find out how things are going between her and Secretary Kim. Se-kyung wants to do things her own way now, and that does mean confessing. Yoon-joo is shocked – didn't she tell her that if she chooses to get "dirty" she has to be "dirty" all the way? There's no such thing as confessing! Se-kyung hangs up, and Yoon-joo breaks down in tears. It looks like she no longer wants to believe in her own advice anymore, but she knows no other way to survive in Cheongdam-dong. 
Se-kyung is musing over Yoon-joo's words when her sister brings in a package. She finds a card with gibberish on it, and the envelope with the USB.
Seung-jo frets in his apartment, but when doorbell rings, it's Yoon-joo. She unleashes on him – no matter what she did to hurt him, he committed many more wrongs against her. She blames him for using her, for ending their relationship, for "giving up everything" for her, because in reality he didn't love her. He used Yoon-joo as a way to one-up his father and prove that he could live differently. She thinks that when he gave up his inheritance for her, it was his way of testing her love for him.
Seung-jo admits that she's right. After she left, it took him three months to figure out that she was still in Paris, five months to find out where she lived, and one year to hopefully bump into her once. He didn't really want to see her again, but he wanted to prove to himself that someone like her truly did exist. He never doubted her love, but he did doubt her sincerity.
Seung-jo still does not know why he decided to exact revenge – whether it was because he hated Yoon-joo and his father enough, or because he needed to do something to save himself from despair. However, he regrets having their relationship end without a proper good-bye. With some distance, he now realizes that he was wrong. He's sorry for not truly protecting her and for not trusting her love, and hopes that she can live well from now on. Yoon-joo collapses into her own puddle of tears.
Se-kyung finds that the USB contains the videos he took of him talking to his father when he declared revenge, and talking to Yoon-joo about his mental breakdown in Paris. None of the files show his father's or Yoon-joo's faces. At the end Seung-jo appears, directly addressing Se-kyung. He explains that he's practically written out movie scripts when confronting the people who hurt him in the past, and wanted to see and hear them suffer numerous times by recording their conversations.
Seung-jo also tells her that he's a petty person by nature. When he signed off his inheritance years ago, he did it willingly, knowing that he was still wearing an expensive watch that could help him survive a few extra months. However, his father knew exactly what he planned to do and forced him to hand over the watch (as well as his wallet). Seung-jo didn't like being caught that way. The gibberish on the card is his online username, and Googling it will lead to numerous negative comments he made against Royal Group. It was completely immature of him but he encourages her to look up his comments, though he is afraid that he may just ruin all her happiness.
But he stands by his belief – if they can accept each other, flaws and all, then they must have true love.
Se-kyung grabs her coat and phone and rushes out the door, texting that she's going to his place. Seung-jo doesn't hear his phone go off and misses them. As Yoon-joo is about to go back home, she sees Se-kyung head into Seung-jo's building. Se-kyung gets on the elevator, and Yoon-joo desperately chases after her by going up the stairs. At this point, Seung-jo sees Se-kyung's texts, and hurries out the door as well to meet her. But not soon enough – just before Se-kyung rings the bell, Yoon-joo drags her into the elevator.
Yoon-joo pulls Se-kyung to her side of the building, and they stand behind a pillar that shields them from Seung-jo's view. Yoon-joo doesn't want Se-kyung to confess, as it's better that way. Se-kyung's confused and says she will tell the truth since he shared his secret. But Yoon-joo insists that men react differently when telling the truth and hearing it. Even though he says he'll be understanding, he won't be.
Se-kyung doesn't understand – what makes Yoon-joo an authority on Seung-jo? Yoon-joo finally blurts out the truth – she's the woman who dumped him years ago. When she got married in France, her husband was none other than Cha Seung-jo. She tells Se-kyung that Seung-jo suffered greatly from post-traumatic stress disorder after she left, so much so that he could have died of depression. If Se-kyung tells him the truth, won't it tear him apart even more? Won't he want to die if he learns the two women he loved used him for money, and are friends?!
It gives pause to Se-kyung's actions, as she hesitates. Though it might make her feel better, the person hearing it may feel worse. Yoon-joo hopes that Se-kyung can save Seung-jo… and by extension, her too.
Yoon-joo returns home, and Se-kyung leaves the apartment complex – only to bump into Seung-jo waiting for her outside. He warms up her cold hands and warily asks if she saw the video. Se-kyung sighs, but she finally says that she will accept him. Her face doesn't look happy or loving though, and Seung-jo figures it's because she's worried about her own confession. He embraces her gratefully, and then tells her that they have somewhere to go together tomorrow.
Se-kyung heads home, piecing together the clues Seung-jo and Yoon-joo gave her to figure out their relationship. She receives a text from Seung-jo about the time and place where they'll meet tomorrow, and she responds with a simple 'Yes.' No emoticons, no smileys. While Seung-jo is still happy she said yes, he does pick up the nervous bunny for comfort.
The following day, it's the Royal Charity bazaar. Some other rich folks greet the Shins and Tommy at the door, and are aware of rumors swirling around In-hwa and Seung-jo's possible engagement. Se-kyung doesn't realize this is the event she's attending since she meets Seung-jo at the lobby first.
He takes her upstairs to meet Il-nam, and the Shins and Tommy freeze at the sight of her. Tommy is absolutely flabbergasted and looks like he'd wish nothing more than to disappear like the Cheshire Cat. In-hwa's expression hardens, while Min-hyuk and Mrs. Shin are confused over who she is. Likewise, Se-kyung is dismayed to see her employers there.
Seung-jo takes her by the hand and goes right up to Il-nam. "I have someone to introduce to you," he says. "This is my girlfriend, Se-kyung." Cue Tommy squirming while Il-nam regards Se-kyung carefully. Then Seung-jo says, "Se-kyung, this is my father." Il-nam's jaw drops – his son just acknowledged him as his father? He just acknowledged their relationship, and their ties as heads of two companies.
But that's not all – Seung-jo: "Father. We are going to get married."
Drop your jaws everyone. Drop 'em.
Comments:
Whoa – isn't Seung-jo jumping the gun a little here? I mean – they just got together as a couple two days ago. Oh wait – Cinderella's prince came for her after one ballroom dance; ok, I guess they aren't fast enough. At least they had one date night.
I find it delightful that everyone learns at the same time that Seung-jo will marry Se-kyung. If Yoon-joo were there, I'm sure she would have been shocked too, but happier than the rest of her in-laws. I am still amazed that Yoon-joo can be so civil towards Se-kyung and Seung-jo's relationship, rather than completely jealous. She wants what's best for both of them, even if her advice may sometimes be misguided. I guess I'm just so used to a jealous third-wheel in all these K-dramas. What makes me like her even more is that she is just like Se-kyung and Seung-jo in that they all have a conscience and still believe in sharing emotions to create a connection and relationship. She's not like her cynical in-laws who believe that a third person must create a relationship between two people, rather than the two people working at it themselves. I bet Min-hyuk won't be able to find out what's going on with his wife recently; he'll need a couples' therapist to tell him.
I'm not wholly satisfied with this episode because it left me still wanting to know when Se-kyung is going to tell Seung-jo the truth, and it opened up a whole new moral battle inside my head. Se-kyung seemed so determined in this episode to tell the truth that I feel like it will happen no matter what. And I want it to happen soon because I desperately want to know how Seung-jo will react. Se-kyung seemed to accept his secret easily, which makes it seem like his secret wrongdoings are not as great as her secret. And that's where the moral battle comes in – I wonder, whose secret is worse?
Is it Seung-jo's, where he bears a grudge against those who hurt him and resorts to petty, slanderous tactics that hurt many more people in the process?
Or is it Se-kyung's, who keeps up a little white lie of pretending not to know Seung-jo's real identity before he told her, and that white lie really only hurts him?
It's difficult to compare their secrets/sins. K-dramas have made us – or perhaps, just me – believe that Se-kyung's lie is worse, and more hurtful. And yet Seung-jo has proven to be equally as selfish and immature with his wrongdoing. I even felt that the last scene where he introduced Se-kyung to his father was another moment of one-upping his father, proving to Il-nam that he could live a different life from the rich and find another "poor girl" who'd love him for who he is. I want to know how he reacts because it might give an indication to what the writer thinks is the greater evil – Seung-jo's selfishness or Se-kyung's dishonesty. Either way, their imperfections should make them perfect each other.
Hand me a nervous bunny please.
RELATED POSTS
Tags: Alice in Cheongdam-dong, featured, Moon Geun-young, Park Shi-hoo