Alice in Cheongdam-dong: Episode 12
We're getting to that point in that series where the story is starting to drag as all the characters inch ever closer to the startling truth that Se-kyung and Yoon-joo are –gasp!- gold diggers. There are no surprises in this episode, which makes me feel like we're really winding down to the last four episodes. While I commend the story outlining – because it's about time we're here in the series – I do wish it had retained some of the old charm and quirkiness that it had about 8 episodes ago. But oh well – let's just get right on with how In-hwa is becoming that villain we always see.
SONG OF THE DAY
Lee Seung-hwan, feat. Yozoh – "I'm Sorry" for Alice in Cheongdam-dong OST [download]
Audio clip: Adobe Flash Player (version 9 or above) is required to play this audio clip. Download the latest version here. You also need to have JavaScript enabled in your browser.
EPISODE 12 RECAP
In-hwa now understands why people as "unworthy" as Yoon-joo and Se-kyung were able to get the most eligible bachelors in Cheongdam-dong – they were cunning women who manipulated both her men, and herself. In-hwa angrily crumples up her interview questionnaire on Se-kyung and throws it, furious that they messed with her.
Honey, no one messed with you. They messed with the men; they couldn't care a bit about you.
When Yoon-joo leaves the room though, she does feel a bit unsettled with how oddly In-hwa is acting. When her husband comes home, she directs him to the study where In-hwa is waiting for him for a chat. In-hwa only wanted to know how much Min-hyuk loved Yoon-joo when he married her. Min-hyuk thinks In-hwa is still hurting over Seung-jo and tells her to forget it. Their father is returning from a business trip in France, and so she ought to put on a strong face and concentrate on the business.
Yoon-joo's been listening outside the door the entire time, and quickly shuffles away when she hears In-hwa coming out. While Yoon-joo is trying to be overly pleasant, In-hwa just snarls at her and grips her tablet more tightly before leaving.
Meanwhile, the memorial rites have concluded, and Il-nam once again looks at the photo of Se-kyung washing dishes, which she had given him earlier with her artwork. He laughs heartily to himself, and then thinks of how his son actually showed up at the memorial rite ceremony. Um… Daddy Cha, did you get a personality transplant too because of a photo?
After Se-kyung and Seung-jo high-five in the car, Seung-jo wants a reward from Se-kyung for being so good. Reward? Yep! A peck on the lips! And then he brings Se-kyung to his home because he has something for her. As they pull up to his apartment, In-hwa witnesses them go up the building and sees which apartment lights turn on. Well, he's on the top floor… and right across from Yoon-joo! This revelation makes In-hwa even more suspicious of Yoon-joo.
Seung-jo unwraps a box and presents Se-kyung her newly issued passport. (So fast?) He promises they'll fill it up with stamps together. Se-kyung invites him to have dinner with her parents as a way to also win her father's approval. Seung-jo agrees to go, as he'll do whatever it takes to win Se-kyung's hand. They smile at each other awkwardly when they realize they have nothing else to say to each other. So… uh… Se-kyung ought to go home now… right?
Not so fast. Seung-jo grabs her around the waist and swings her around. Sleepover party!?
The following day, the secretary informs Il-nam that there are a lot of media outlets asking for confirmation on whether or not Seung-jo is his son. Il-nam tells him to confirm with only one media outlet, and the article that subsequently comes out also mentions his attendance at his grandfather's memorial service. When Tommy sees the article, he laughs to himself, seeing Se-kyung's influence written all over Seung-jo's actions. He's looking towards her quite favorably nowadays.
But one person is still incredulous over Tommy's change in attitude – Yoon-joo. To her knowledge, Tommy isn't the type to just make any deals with anyone. Se-kyung explains to her that he must have accepted her proposal because he realized that working with her is beneficial to him in the long run. Even if he may not actually trust her, Tommy sees himself in her, and that may explain why he is so keen towards her. The best part about their deal is that Tommy deleted the video right in front of Se-kyung.
Now that the threat of blackmail is gone (to their knowledge), Yoon-joo offers one more advice – Cha Il-nam looks at all relationships as a business, so Se-kyung ought to do something that will make her invaluable to his company as well. Se-kyung can't fail in this, as Tommy and her future ride on Se-kyung's.
Se-kyung then visits Il-nam in his office to invite him to dinner that evening with her parents. It's a meeting of the in-laws essentially. She appeals to his ego by saying that she's not trying to impress him with her good manners, but wants him to go for Seung-jo. Attending the memorial service was Seung-jo's way of extending the olive branch, she claims, and so attending this dinner would show that Il-nam is supporting his son. She tells him the location of the restaurant and hopes to see him there. When did Se-kyung get so masterful with her words?
She then heads to the bakery to beg her father to come to the dinner. Instead of saying that she's trying to make her father like Seung-jo more, she just wants him there as she tries to impress Seung-jo's father. Ha! She assures her father that she's happy with Seung-jo now, happier than before.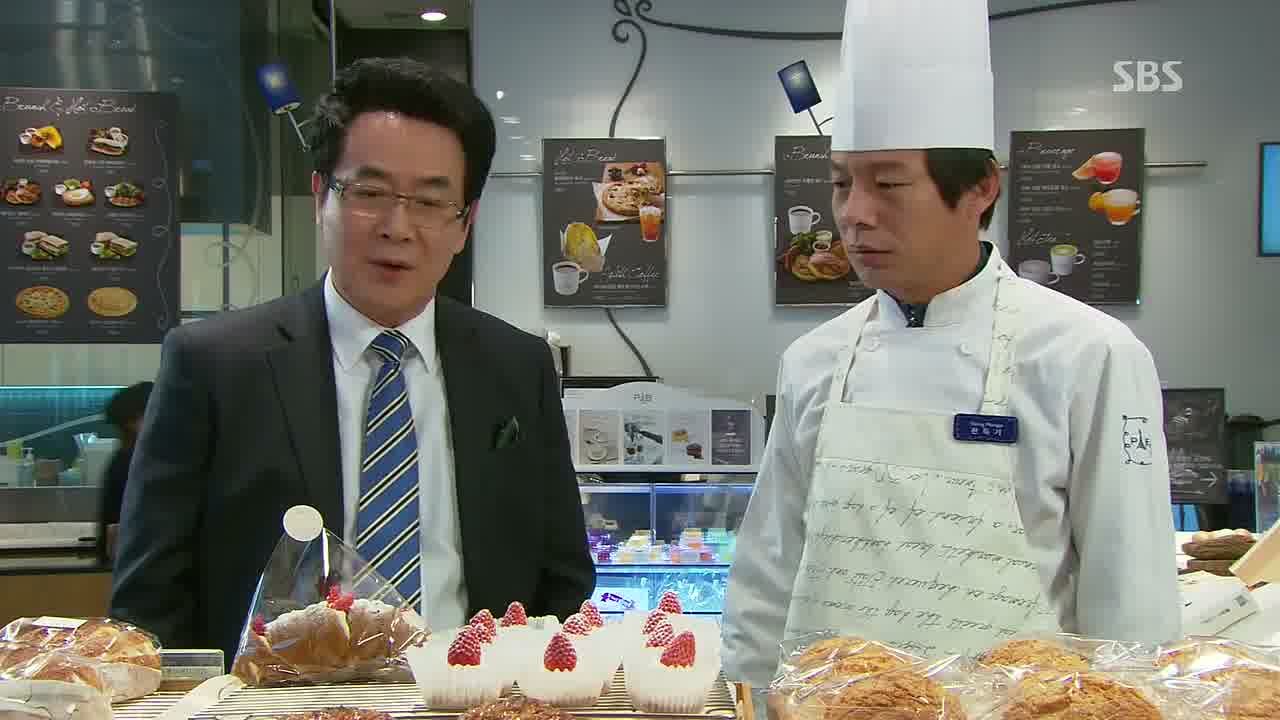 As she leaves, Il-nam arrives at the bakery to have a little chat with his "most favorite baker in the world!" Deuk-gi. He's really curious to know if Deuk-gi's already had a formal meeting with the in-laws regarding the boy his daughter likes. Deuk-gi admits that he was invited to meet them, but doesn't approve of the boy because he comes from a very different economical background, and the family is a bit of a "mess." HA! Il-nam agrees – a messy family is the worst thing to have to deal with. HAHA!
Il-nam likewise reveals that he has been invited to meet his son's in-laws but doesn't approve of the girl because she and her family have nothing. While Deuk-gi can understand Il-nam's reservations about the girl, he does encourage him to connect with his son more. I'm just amazed that Il-nam doesn't recognize Deuk-gi as Se-kyung's father, as I thought he knew who they were when he saw them talking and hugging outside the bakery a few episodes ago.
That evening, Deuk-gi arrives at the arranged restaurant first, while Se-kyung and Seung-jo head over with her mother and sister separately. When the sliding door into the private room opens, he's shocked to find Il-nam there. What are they doing there? Is it for a meeting with the in-laws? But… wait – are their kids Cha Seung-jo and Han Se-kyung!?
Both fathers engage in a shouting match. Il-nam: "What – my family's a mess?!" Deuk-gi: "What – my family has nothing!?" Heehee. They keep poking at each other's flaws but agree on one thing – they will not have their children marry each other. Their shouting can be heard outside the room, much to the horror of Se-kyung and Seung-jo when they arrive.
Seung-jo is shocked to see his father there, and quickly ushers him out so that they can talk privately. Il-nam declares, "You just got rejected by the father! What are you going to do now?" Haha – I don't know why that was funny, but it was like Il-nam was hosting a reality TV show there. He drags his father out, leaving Se-kyung with her family. Her mother is also shocked that Mr. Cha ended up being the head of Royal Group – the one that ended up controlling Deuk-gi's career. Deuk-gi is sorry he's ruined this meeting, but wants the wedding called off.
Meanwhile, Seung-jo blames his father for ruining this meeting on purpose. His father has a gruff way of trying to defend himself by not really defending himself – "I was going to turn her down nicely, but then he [Deuk-gi] rejected you first!" Thankfully Se-kyung interrupts their fight. She apologizes to the both of them, and then orders Seung-jo to apologize to his father. Seung-jo: "EHHHHH?!"
Se-kyung explains that Il-nam came to tonight's meeting as a favor and out of concern for Seung-jo. Now Il-nam's feeling all smug – see? He's not to blame, ha! But then, Se-kyung tells Il-nam to apologize to Seung-jo too. Even though Il-nam was insulted, he really did ruin this meeting. Haha! She gives Seung-jo a stern look and forces him to apologize, leaving him no choice but to listen to his lady love. (Learning the main rule in marriage here: always listen to the wife.)
Seung-jo mutters out "Sorry," and Il-nam returns with a dismal, "Me too…" As a way to end the awkwardness, Seung-jo mentions that he will be hosting a welcoming party for when the head of Artemis, Chairman Robert, visits Seoul. Il-nam mutters that he will attend, and then Seung-jo quickly makes a run for it. Hee.
Back in the car, Seung-jo tentatively asks if Se-kyung is still mad at him, and thus giving him a silent treatment. She only wishes he'd understand that his father is trying to reach out to him, but is just an awkward guy. She wants them to try harder but Seung-jo doesn't want to. His father's hard to please, and he's afraid that it'll be too much for Se-kyung to bear that she'll eventually leave. She reminds him of her promise – she's never going to leave his side.
Yoon-joo still cannot dispel her doubts over Tommy's motives and why he'd agree to help Se-kyung so readily. She meets him in his office to confirm that he deleted the video, and asks why he made the deal with Se-kyung. He can't possibly believe in her, can he? Tommy turns it back on her – why is she helping Se-kyung? Yoon-joo makes it seem like it's all out of friendship, so Tommy admits that he's not sure what made him accept her proposal. Was it her cleverness? His own deep-seated resentment? Yoon-joo: "Do you like her?"
Oooh – to the point! But Tommy says he doesn't. Somewhat satisfied, Yoon-joo notes that they're now all on the same boat. Tommy also warns her to be on her toes, as In-hwa came by several times to ask about Se-kyung. As Yoon-joo leaves, she notices his tablet and the unique patter on his cover as well.
Meanwhile, In-hwa is already doing her own digging. She visits the boutique that Yoon-joo used to work at and has one of the employees to look into Yoon-joo's resume for her. Once it's found, she wants it faxed over. The employee finds it a little sooner than expected; as it is sent through, Yoon-joo is led into In-hwa's empty office to wait for her. She looks around, slightly bored, and then sees the fax. Just as she's about to reach for it, In-hwa arrives. Darnit! In-hwa smoothly grabs the faxed resume and folds it, asking why Yoon-joo is here. Yoon-joo just wanted to assure her that she'll find In-hwa a better match, as she promised her husband.
Yoon-joo turns to leave with some trepidation, and In-hwa takes a look at the resume. Everything checks out, except her reference is none other than Cha Il-nam. Imagine In-hwa's shock when she realizes that Il-nam is also "in" on this charade.
After the disastrous meeting, Il-nam heads over to Tommy's studio. Tommy is still extremely apologetic over the failed match, but Il-nam wants to know more about Se-kyung. This is his chance to help! Tommy says that the couple truly loves each other, and so it might be best if he just accepts Se-kyung. Thing is, Il-nam still rues the loss of In-hwa, as she was a perfect blend of business savvy and charming housewife. He's not sure if Se-kyung could ever compare.
The following day, Min-hyuk picks his father up from the airport and updates him on the latest news. Artemis is nearly done in taking over Roman and their outlets, while GN Fashion is close to tying up their deal with Royal Group. When GN Fashion gets tied up with Roman, then the three main companies will once again be tied up together.
Mr. Shin arrives at home in the arms of his doting daughter, daughter-in-law, and wife. They get together to eat lunch, but In-hwa is noticeably absent from the table. That's because she's thinking of revealing Yoon-joo's treachery through the video during lunch. The entire time, In-hwa looks around nervously, gripping her tablet, waiting for the right time to speak up. Yoon-joo, sitting across from her, can't help but stare and wonder what's going on with In-hwa. She does get a little paranoid that In-hwa may do something, especially when she recognizes the identical tablet case.
Meanwhile, Tommy calls up the company whom he believes sent him the new painting the other day. They tell him he must be mistaken, and that's when Tommy realizes it could possibly have been a ploy by In-hwa. He needs evidence though, and orders his secretary to go find out who bought that painting. He then calls up Se-kyung – is she okay? Has anything happened to her yet? Nope – she's still working as usual at GN Fashion.
Finally, In-hwa speaks up, as she has something to share with the family. If only the timing couldn't have been better – she is interrupted by a phone call when Min-hyuk is notified that Chairman Robert just arrived in Korea. Mr. Shin then announces to the family that they are close to signing a deal with Artemis as well, one that will bring Royal Group on board in dealing with Artemis. With all these deals at stake, In-hwa can no longer reveal the truth and ruin all of her brother and father's efforts.
Yoon-joo is somewhat relieved but wonders if she was being too paranoid. But then In-hwa comes in to her dressing room and asks if she's happy with her position in the family. In-hwa: "I planned to marry for business too." She was surrounded by business growing up, and wanted to marry for strategic reasons. But now, she has to admit that marrying for business makes her feel very uncomfortable. Guess she's cravin' for some tender love and care… and realizing that marrying for business would make her a gold digger just like Yoon-joo. She adds, "I wonder how much longer you can hold it in…" What she says is enough to haunt Yoon-joo as well, who now really believes In-hwa could have seen the entire video.
Meanwhile Seung-jo prepares Se-kyung for her meeting with Chairman Robert. The chairman is like a father to him, having trusted and listened to him all these years. Of course, that makes Se-kyung even more nervous, as she's adamant about doing well. She must be a girlfriend worthy of Seung-jo. He'll help her make a good impression, right? And by "help" she means giving her details about Artemis and Chairman Robert.
Thus begins her lesson. Seung-jo describes the numerous branches to Artemis and how Chairman Robert only uses Artemis products. He describes the chairman's tastes in art, taking the opportunity to show her his favorite painting too and kissing her numerous times on the lips, and introduces her to the most luxurious and expensive wine that Robert enjoys. Surprisingly, Se-kyung has fine tastebuds that help her appreciate it.
Tommy also gives her a call, as he now wants to offer his help; he takes her to a France-based bookstore where all the books about Artemis and its branches exist. If she reads any of the books there, she will certainly have the leg up to impress the men there. He points out that men usually bring women to business meetings to help give that "feminine touch," since the men can only provide all business. Se-kyung is confident she can do it, and flips open a random book. She looks at one of the pages' intricate designs and remembers an article describing Artemis as a spider with all of its branches in a web, and it gives her an idea.
When Se-kyung remembers to ask about Tommy's frantic and mysterious call the other day, he quickly brushes it aside as nothing. Giving her a kind smile, he tells her to just focus on this upcoming meeting. Methinks he likes her for a moment, or is suddenly being that protective second-lead we always secretly love.
Yoon-joo heads over to Tommy's studio again and informs him that In-hwa has the exact same tablet case as he does. It could all be coincidental, but it certainly makes her very suspicious since Tommy's tablet contained the video. At least they're safe for now in knowing that In-hwa can't reveal anything until at least all the deals are signed.
Secretary Moon gives Seung-jo his schedule for his meeting with Chairman Robert and then gets a call from someone he addresses as "Madame." He sounds very accommodating on the phone, leading Seung-jo to wonder who this "Madame" is. Why, it's Se-kyung of course. She is going to be the madame soon, isn't she? Seung-jo gets all huffy and jealous over why Secretary Moon and Se-kyung are having secret conversations behind his back, and Secretary Moon adds fuel to it when he says, "Oh, I can't tell you since it's a personal call with the Madame." Hee! As annoyed as he is, Seung-jo can't help but be giddy over the fact that Se-kyung is becoming a "Madame" for his company.
He pesters Se-kyung over the phone call when he follows her shopping for her dress. She doesn't answer him directly, and just picks a dress to try on – a black lace cocktail dress. (Ugh – black again?!) She emerges looking quite pretty (but boring in black) and practices her French for Seung-jo. He's thankful for putting in so much effort, even though it's what she calls her job to make sure she adds honor to his reputation. She grabs his hands and makes them into fists – "Fighting!" she squeals. Ha! Seung-jo is embarrassed – so she was awake the night he confessed to her when she was drunk!
Finally it's the day of Chairman Robert's arrival. Seung-jo introduces the chairman to Il-nam, Mr. Shin, Min-hyuk, and In-hwa, and Chairman Robert is very much taken with In-hwa's designing talent. Secretary Moon then brings out a wine bottle for them to drink with to celebrate, and Chairman Robert is surprised to see that though it is his favorite wine, it is not the vineyard's label. Secretary Moon explains that Se-kyung had specially designed the label for this location, drawing instead a vine with each petal representing an Artemis brand. It was her take on twisting the public's perception of Artemis as a spider weaving its web.
And with perfect timing, Se-kyung finally arrives at the party. As the reporters snap away, Seung-jo introduces Se-kyung as his fiancee and she greets him in French. Thankful for such a thoughtful gift, Chairman Robert loudly shows his approval for Se-kyung, and notes that Seung-jo is very lucky to have someone like her. Of course, that comment doesn't go unnoticed by the Shins, and only In-hwa burns with rage at the compliments.
They all then gather around for some wine, and Chairman Robert asks why the suggestion for a collaboration over the outlet came from GN Fashion and not from Royal Group, when Il-nam is Seung-jo's father. No one quite knows how to answer without revealing too much of their inner motivations, and so Se-kyung pipes up. In French, she says that Il-nam is still young (heh!) and didn't want to piggyback on his son's success and connection to get the deal with Artemis. Il-nam didn't want to be a burden upon his son, which is a nice way of glossing over the fact that father and son want nothing to do with each other. Il-nam agrees, saying that he was confident he could win the deal on his own merits by collaborating with GN Fashion than directly with his son.
Satisfied with that answer, Chairman Robert leads a toast for their new working relationship, and they all clink glasses. He also toasts to Se-kyung and Seung-jo's impending marriage, and this time In-hwa can't bother to raise her glass. Reporters come swarming to take photos, and practically push the Shins away from the table. They've been totally slighted! One of the reporters is so befuddled he asks In-hwa again if it's really true that she's not marrying Seung-jo. Wow, what a way to rub salt into the wound.
As the photographers snap away, Se-kyung makes another act of selflessness by bringing Il-nam over to Seung-jo's side so that father and son stand next to each other. While it makes them a little uncomfortable, they are presented as a reconciled pair, and In-hwa seethes even more at how good Se-kyung looks now to everyone.
Il-nam and the Shins depart from the party together, with Mr. Shin congratulating Il-nam on his new daughter-in-law. He can objectively say that Se-kyung is a very talented young lady, and even Min-hyuk has to grudgingly admit that she is kind of smart. But In-hwa is still resentful and doesn't recognize her as smart or savvy – to her, Se-kyung is just a skillful gold digger.
While they're all away at this party, Yoon-joo has taken the opportunity to sneak into In-hwa's office and look for her tablet. She can't find it anywhere, but spies a sketch book with the design of the tablet cover drawn in it. She asks the manager what that is all about, and he cheerfully says that In-hwa had him buy that tablet cover for her a few days ago. It's all coming together now for Yoon-joo…
As In-hwa gets into her car outside the department store, she sees Seung-jo coming out with Se-kyung and swinging her around in happiness. He takes her out, as he's reserved something special for them, and their happiness just makes In-hwa even more jealous. Egh – of course. She calls up Tommy and tells him that she doesn't care what he's planning now – he's failed. She hangs up, and Tommy's secretary bursts in with news: the person who bought the painting gifted to him was from GN Fashion.
Tommy frantically calls Se-kyung – is she all right? She is, and wonders what could be the matter this time. She's currently at a dress shop, as Seung-jo had made reservations for a wedding dress fitting. He tells her to stay put, and warns her that In-hwa might know something. He then calls up Yoon-joo, but she rejects his call as her husband has just come back from the party. He goes to the bathroom first, and that's when Yoon-joo sees that he's gotten a text on his phone. Suspicious, she doesn't tell her husband and looks into it herself.
It's a video from an unknown number – the video of Yoon-joo and Se-kyung. Freaking out, Yoon-joo runs out of her husband's office and deletes the video. She tries calling Se-kyung but there's no response, so she calls up Tommy. Though it was an unknown number, the logical assumption is that In-hwa sent it. Both of them freak out when they realize that Se-kyung will be targeted as well, and that she's not picking up her phone, so Tommy runs to the dress shop she said she was at.
In-hwa is not done with her revenge just yet, as she has to send the video to Seung-jo as well. But man, I have never seen a villain hesitate for so long to press the send button when it's to her benefit – is a feeling of guilt washing over her? She finally sends the video to Seung-jo… but he doesn't immediately notice it as he's pacing back and forth, anticipating Se-kyung's dress.
Bored with waiting, he checks his phone and sees the text. And at that moment, the curtains open, and Se-kyung stands before him in all her bridal glory. Seung-jo's face lights up, and it's this happy scene that Tommy intrudes upon. The couple don't notice him at first, but Tommy can see that if Seung-jo is this happy, he hasn't seen the video. His eyes fall on to Seung-jo's phone on the table, where the video has been opened up. How to get to the phone!?
Tommy gives Se-kyung a worried look, and she catches sight of him. Her gaze prompts Seung-jo to look as well, and he wonders why Tommy is standing there. And Tommy can only think of how to get to that phone!
Comments:
There were a couple of issues that I had with this episode, with predictability being one of them, and personality amnesia being the other. The predictable aspect was that everyone acted accordingly to what their role dictated; I don't mean their role in society, but their role in the drama. The fathers are the objectors to marriage, the second male lead comes swooping in to help protect the girl, the second female lead becomes a complete villain out of jealousy, and the leads get their triumphant moment when the girl impresses people outside of her social class. Every drama has these predictable aspects, but it annoyed me especially because this drama was not about being predictable in the beginning. It was more subversive towards what we thought a Candy girl was, and made us rethink our perceptions of K-drama gold diggers. It made us think about who really is the villain, and who really is the hero. But now, we've completely undone everything we thought these characters were – or could have been – by making them exactly who we expected them to be from the start, before we watched an episode. There's no surprise, and that made this episode – dare I say it? – boring.
The second thing that annoyed me was the personality amnesia Il-nam and In-hwa seem to have gone through. I could have sworn Il-nam knew that Se-kyung and Deuk-gi were related after he saw them talking outside the bakery one night. Is it possible he didn't recognize Se-kyung because of the scarf she was wearing? I was kind of annoyed that he was so surprised about Deuk-gi and his family because it felt so blatant that he knew who they were, but I guess we were only to come out of watching those scenes with the fact that Il-nam just wants to know how to improve his relationship with his son. But then he goes into this weird split personality where he laughs at everything related to Se-kyung, and shows gruff disapproval at his son and Se-kyung when he's faced with them. Even if one can defend and say that he's not good at showing his emotions, it makes no sense how he suddenly likes Se-kyung because of a few pictures. His delight in seeing her old drawings and photos do not match his usual personality of being more reserved and awkward.
And then In-hwa! I really really really really really wish she stayed being cool, because if she were, I felt she could have been a more intriguing character. She could have shown us that a woman can rise above such petty things like love and really achieve her own ambitions, which is what I thought she really was. Now she's just giving up on all those business goals for something petty over jealousy. Instead of being jealous, why don't you just prove that you're better, and one-up Se-kyung like you usually one-up your sister-in-law? That might be cooler than you trying to destroy her with a video.
Here's hoping that next week is better. I am shaking my Angry Bunny at the show right now.
RELATED POSTS
Tags: Alice in Cheongdam-dong, featured, Moon Geun-young, Park Shi-hoo