Alice in Cheongdam-dong: Episode 13
FINALLY! I feel this episode makes up for last week's horrendously dragging episodes. (I exaggerate a bit, but I certainly wasn't pleased last week.) Revelations abound, but with somewhat unexpected results. These results are both infuriating and satisfying, because even though I wish they turned out differently, the reactions to the truth have allowed for relationships to be strengthened.
EPISODE 13 RECAP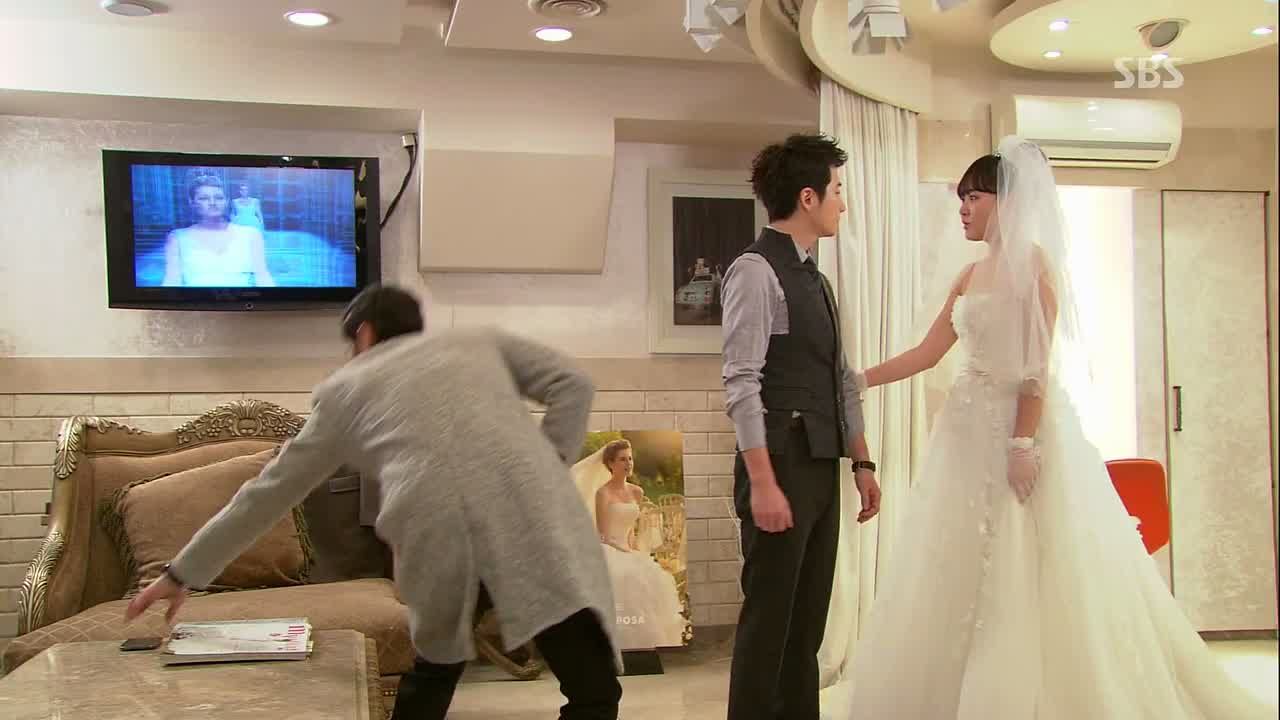 Seung-jo is clearly not too pleased to see Tommy burst into their private dressing room, especially since he warned him to stay away. But seeing her secret-comrade-at-arms prompts Se-kyung to step in and calm her man down. It's enough to distract his attention for a moment so that Tommy can swipe the phone. He then congratulates Seung-jo and Se-kyung again and quickly exits the room to delete the video. Now how to return the phone?
It takes some gall from Tommy to go back into the room and offer to sponsor Seung-jo and Se-kyung's wedding. Seung-jo's all, "Why do I want you to sponsor my wedding?" so Se-kyung tries to calm him again. In that split second, Tommy leaves the phone back on the coffee table, hopes that Seung-jo will consider his proposal, and leaves. This time, Se-kyung notices Tommy returning the phone, and she starts putting the pieces together.
Tommy informs Yoon-joo that all is well – for now. She makes up an excuse to her husband that she has to see Ho-min and rushes off, unaware that In-hwa is watching them, and suspicious over why her brother seems to be so calm. Likewise, Se-kyung tells Seung-jo that she'll be heading into her office for a bit and will call him later. The two gals then convene at Tommy's office, wondering how In-hwa could have gotten hold of the video. Tommy suggests hacking into her email to delete the file, but Se-kyung posits that she could have kept the file in numerous places.
Next thing they know, In-hwa bursts into the office, carrying the tablet that holds the video. She dares them to erase that video, since clearly Yoon-joo must have erased the one sent to Min-hyuk. Yoon-joo is the most desperate of the three, and she quickly falls to her knees, begging for forgiveness. But In-hwa spitefully ignores her because that's what Yoon-joo's "kind" always ends up doing when they have no hope left – they just beg. "Think about it this way," she suggests. "You won't lose everything. You'll just go back to where you started."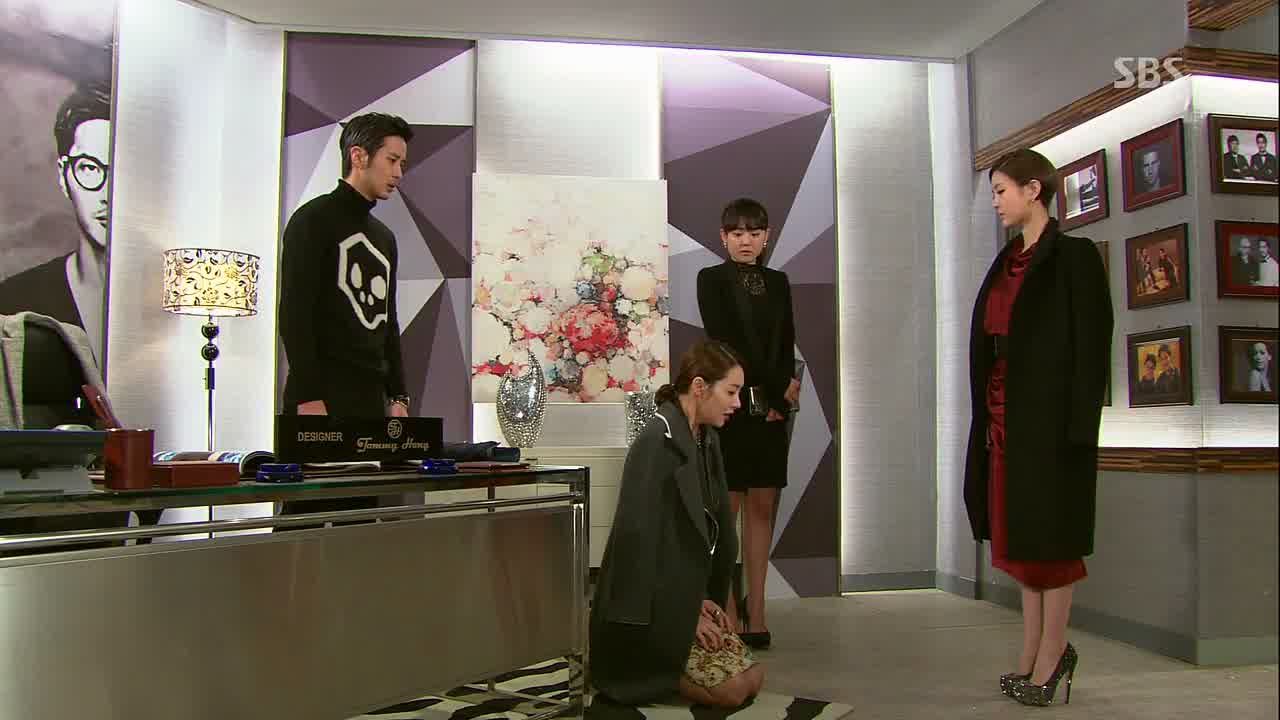 In-hwa states that her sole motivation in sending those videos is not because she wants to take revenge on Se-kyung and Tommy for ruining her arranged marriage, but to punish the two gold-diggers. She will have her justice. In-hwa's Cheek, meet the Palm of My Hand.
Se-kyung finally speaks up: "If I'm a gold-digger, then what are you?" (Fist-pump in the air!) The only difference between them is that both come from different financial backgrounds, and because of that, In-hwa will never be called a gold-digger. Se-kyung also points out that Seung-jo means the whole world to her, while he's just a business transaction to In-hwa, so on that level she's beaten In-hwa.
If In-hwa wanted justice, she should have revealed the video openly instead of anonymously, and own up to the fact that she would be ruining Seung-jo and Se-kyung's love, not some random person. Se-kyung really rubs it in deep by calling her crazy and making her motivations seem grander than they really are. Though it does bruise her pride, In-hwa fires back that if the truth is revealed, her life will go on as before, but Se-kyung will lose "her world."
In-hwa heads out, but with a moment of self-doubt over what she's doing. But Yoon-joo has no doubt that Se-kyung did the wrong thing in challenging her sister-in-law. In this instance, she believes that begging for forgiveness is the right thing to do. But that would just give In-hwa more reason to trample over them, because it's perversely fun to see them suffer. Yoon-joo blames Se-kyung for everything – if she had never shown up in Cheongdam-dong, no one would have ended up in this mess.
Yoon-joo storms out, leaving Se-kyung alone with Tommy. She thinks he's going to rail against her too, but instead he suggests confessing to Seung-jo now. Se-kyung doesn't want to, because it may be more shocking to him than if In-hwa revealed it directly. If he hears it from someone else, he will have time to prepare himself before he faces Se-kyung again. Whatever he decides to do, she will accept responsibility.
Tommy doesn't regret meeting Se-kyung, as he's not the type to wonder about what-ifs. Even though he's afraid of what may come, at least he's looking forward. Se-kyung then gets a call from Seung-jo, and as she assures him that she's heading home soon, Tommy observes her demeanor. He can see that despite the "greed" factor, Se-kyung's face lights up when she talks to him – she loves him.
The following day, articles come out regarding the new outlet opening, with Se-kyung pictured beside Il-nam and Seung-jo. The family's excited except for Deuk-gi, who's still on the fence about Seung-jo. Il-nam isn't though – and he visits Deuk-gi's bakery to apologize to him for ruining the dinner meeting. He admits that he likes Se-kyung because she was the first person that truly tried to mend his relationship with Seung-jo, and even brought them closer. He doesn't want to stand in the way of his son's marriage, so if he could repair his relationship with his son, would Deuk-gi approve of him?
Deuk-gi doesn't reply right away, which makes Il-nam roar his request. And I mean "roar," heh.
That evening, Seung-jo invites Se-kyung over to show her Chairman Robert's gift – a treasured painting. Despite the grand gesture, Se-kyung still has a shadow of sadness all over her face, which Seung-jo interprets to be sadness over her dad's disapproval of him. As great timing would have it, Il-nam calls up Se-kyung to have a meeting with her, while Deuk-gi calls up Seung-jo. Without telling each other why, they both head out… and end up in front of the same karaoke bar.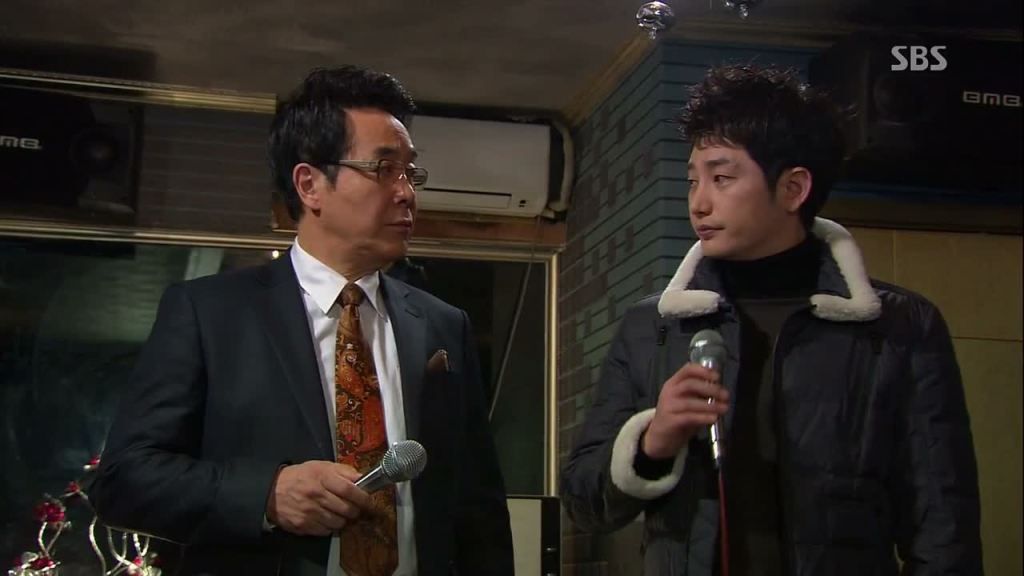 It's a sight to behold when they see their fathers drunkenly singing together. When they spot their children, Deuk-gi quickly invites his "son-in-law" to sing with him first. Approval won. Sitting with Se-kyung, Il-nam confides that he was jealous Deuk-gi got to sing and drink with Seung-jo. Today is a happy day for him, because now he gets to see his son sing, and it's all thanks to Se-kyung.
Il-nam finally gets up to sing "My Way" with his son, and both start off awkwardly, since they've never sung together before. With Deuk-gi's encouragement, Il-nam's voice strengthens, and father and son both take a moment to appreciate the other's singing. Se-kyung sings along too, hoping that she can go about her path "her way." When they all head home for the night, Il-nam instructs Seung-jo to bring his fiancee around for dinner. As much as the news heartens her and her father, Deuk-gi cautions her to be careful with these lonely, rich people, and she hopes that she won't lose her entire world overnight.
As soon as Se-kyung reaches her room, she gets a call from Tommy. He's been worried all day, wondering what happened between her and Seung-jo since his fate depends on hers. Did anything get revealed yet? Se-kyung assures him that nothing happened, except that Il-nam finally approved of the marriage and even asked her father for approval. Tommy thinks that Se-kyung is crying over the phone, but she stops herself from getting too emotional. Crying would just admit to her guilt that she really is a bad girl.
Afterwards, Se-kyung calls up Yoon-joo to meet; her friend is still holding up even though she's fully aware that all of her comforts in life could disappear in any second. Se-kyung is curious to know Seung-jo's condition after Yoon-joo left him in Paris. Well, he ended angry enough to want revenge, but Yoon-joo feels he'll react differently towards Se-kyung because he knows now that revenge doesn't work. Yoon-joo tells her to ask Dong-wook instead, since he'd know how Seung-jo really was. She's already starting to wonder if Se-kyung's path of honesty just may be the only option left for her and her husband.
Yoon-joo heads to GN Fashion, where In-hwa spots her going into Min-hyuk's office. It's clear Yoon-joo is contemplating on telling him the whole truth, but she first asks her husband a crucial question: "Do you love me?" Min-hyuk sputters in surprise – where did this come from?
Before he can answer, In-hwa bursts into the room to have a word with Yoon-joo first. Her fake smile disappears as soon as they're out of Min-hyuk's sight, and In-hwa turns against Yoon-joo. She knows her sister-in-law was trying to tell the truth, but under whose permission? She orders Yoon-joo to not tell the truth, as it would not go along with her plans. And what are her plans exactly? Well, Se-kyung's bold statement about her cowardice made In-hwa think a little more carefully about herself and her motivations. She's actually thankful Yoon-joo deleted the video from Min-hyuk's phone, because otherwise it would have made her a coward, and subsequently given her a flaw in her "perfect personality." She realizes she wants to be the "Shin In-hwa of before," meaning the one who only cared about business. Yoon-joo's confession would tear her family business apart.
Yoon-joo commends her on how tough she must be then, and In-hwa leans in close. She whispers something we don't hear, but it's enough to make Yoon-joo stiffen.
She walks away, and Min-hyuk finds his wife in the hallway. Yoon-joo makes up the excuse that In-hwa wanted to talk about her matchmaking, and Min-hyuk also apologizes for not having replied to her question sooner. He embraces her (after checking the hallway for no spectators, natch), and tells her that he does love her. If she has any troubles, he would rather she tell him so that she wouldn't have to suffer any further. I want to say "Aww…" but I'm still scared of Min-hyuk…
Il-nam's secretary has made arrangements so that he will have time to attend dinner, but unfortunately he has In-hwa waiting outside to see him. Oh crap… At the same time, Se-kyung asks to talk to Dong-wook about Seung-jo, but he's not available until the following day. Is it futile to hope for nothing to happen with In-hwa and Il-nam at this point?!
In-hwa's purpose in visiting is to show him something – the video of Se-kyung and Yoon-joo. Il-nam's face is like stone as he watches the video, and In-hwa explains that she is showing him because if Se-kyung enters his house, his and Seung-jo's name would be smeared. Yoon-joo herself would be "taken care of" by the Shin family. Il-nam says, "Thank you," and In-hwa breaks into a smile. So her revenge has gone out successfully.
Not so fast… Il-nam asks her of a favor. Since both are business partners with Artemis, and are in need of Artemis' help, he asks In-hwa to keep this news a secret. It will not benefit any of the parties, and as Seung-jo's father he knows that his son will be unable to handle it. In-hwa can barely conceal her shock over his request, even though she has no choice but to acquiesce.
She trips on her heels outside – that's how shocked she is – while Il-nam slams his fist against his chair, pitying his poor son who's now been duped twice.
Dinner in the Cha household is a quiet affair, though Seung-jo presents his father possible dates for the wedding. Il-nam later offers to give Se-kyung a private tour of Seung-jo's old playroom, where all of his toy models are on display. These models were all Seung-jo ever loved, and when Il-nam tried to throw them away, his son just spent the entire day scouring the neighborhood for them. He was starved for love, but Il-nam could not bring himself to say "I love you" to his own son every day. He hopes that Se-kyung can, and she solemnly promises.
Il-nam: "Do you also have the confidence to keep your secret for the rest of your life?" Se-kyung's eyes widen, and Il-nam confirms that he knows everything thanks to In-hwa. He is so tempted to kick her out and tell Seung-jo off for being a fool about love. But Il-nam knows that his son would rather die than believe in the truth about Se-kyung, so it's futile to tell him anything. He won't allow for Se-kyung to ever tell the truth, even if it's just to make herself feel better. What irks me is that she swears to "atone for this sin for the rest of her life," as if she murdered someone. She hasn't… yet.
And gah – I was really hoping for a confession scene!
After the tour, Il-nam invites Seung-jo to stay for the night – just Seung-jo. Se-kyung encourages her man to humor his father this once, and as soon as she's gone, father and son retreat to the living room for drinks. Il-nam asks Seung-jo if he likes Se-kyung a lot, and he does. It's because Se-kyung has so much more than them (aside from material wealth), and can give so much love. He hopes Il-nam can treat the girl he loves well. It's painful for Il-nam, whom you can see is practically suffocating from his inability to tell his son the truth out of love.
Instead of heading home, Se-kyung meets Tommy and tells him that Il-nam knows everything because of In-hwa. Luckily enough, she and In-hwa were ordered to bury the secret, so now Se-kyung thinks she can fulfill her promise to Tommy and be the madame of Royal Group.
Tommy offers her another chance to go to Paris – he can easily get her a ticket and cover all her expenses, and just take the fall for everything. He's that afraid that things could still fall apart this late in the game.
In Tommy's opinion, Se-kyung should have worked the system within Cheongdam-dong and kept her desire and greed alive. Now it looks to him like she's pretty much decided to take whatever chance she can get to preserve herself and be as sincere as possible, when before she was willing to manipulate to protect her love. If her plans eventually crumble, her sincerity will not necessarily help her in the aftermath. Se-kyung defends herself by quoting Tommy from an interview years ago: "I don't think about failure because it's useless in any case."
Tommy can't deny he once said that, but for the first time, he's actually thinking about failure.
Seung-jo assists his father into bed after several drinks, and his father finally opens up to him. He knows he's been very harsh on everyone around him, and his manner cost him Seung-jo's mother. She didn't leave because she hated her son, but because she hated her husband. Il-nam apologizes for that, and it brings tears to both their eyes.
Seung-jo returns to his room and snaps a photo of him smiling to send to Se-kyung. Yep, he's doing well. Back at GN Fashion though, In-hwa is not pleased that her plan has not worked as effectively as she wished, and she plans another stab at revenge.
The following day, Yoon-joo brings an important document regarding their partnership with Artemis and Royal Group to her husband to review. He is going to attend the meeting with Seung-jo since In-hwa would be in an awkward position. As she leaves, she gets a text from Tommy to meet up.
Thankfully she misses In-hwa going into Min-hyuk's office. She wants to attend the meeting instead, since she can't avoid him forever. He entrusts the documents to her, and she carries them off to her meeting – along with her tablet.
Tommy fills Yoon-joo in about In-hwa and Il-nam's exchange, and the fact that Se-kyung was instructed to hide it from Seung-jo forever. They can only hope that In-hwa will abide by Il-nam's wish; if he told her to keep the secret for business, she most likely would. Unfortunately, Tommy receives a call from his spy that In-hwa has just arrived at Artemis to meet Seung-jo, taking Min-hyuk's place at the meeting.
Yoon-joo flashes back to that conversation in the hallway, and we now learn what In-hwa had said so quietly in Yoon-joo's ear. When she had commended In-hwa over her business sense, In-hwa replied, "Do you think I'm doing all this because I'm a person who solely does business?" It's now coming together for her: "I think we've failed, Tommy," she says. "We forgot one thing – Shin In-hwa is a woman after all…"
Um. Yeah.
Seung-jo greets In-hwa in the conference room, and he apologizes for the failed marriage talks between their families. In-hwa brushes it aside and suggests they discuss the outlet's location while watching a video. A video?!
Cut to Dong-wook's office, where Se-kyung has arrived to find out more about Seung-jo's condition after he broke up with Yoon-joo and cut ties with his father. Dong-wook says he went to visit Seung-jo in Christmas 2006 in Paris, but didn't find out that his girlfriend had left him until after he returned to Korea two weeks later. Seung-jo had never told him about the breakup during his stay.
Back to the meeting – In-hwa prefaces the video with the pros about the location, and then clicks play. It's the video of Se-kyung and Yoon-joo. SHE REALLY DID IT!
Meanwhile, Dong-wook replies to Se-kyung: "It's not that Seung-jo never told me about the breakup. It's that he never accepted reality. If he had, he wouldn't have been able to live."
In-hwa watches Seung-jo's reaction as he hears the truth laid out in front of him. At the end of the video, a small smile grows on his face. "What's all this?" he asks calmly. "There are look-alikes to two people I know."
Comments:
Hah. Wow. Whoa.
Those were my three consecutive reactions at seeing the final five minutes. I knew In-hwa couldn't go down so easily, and I'm glad that she finally revealed the truth to Il-nam and Seung-jo. Revealing it to them will have a greater impact on the proud Se-kyung, as she's the only one who challenged her and her status. Yoon-joo did nothing but affirm her status and power by begging her, so In-hwa won't have to reveal anything to the Shin family just yet. (Or ever.) But I am quite surprised over how Il-nam and Seung-jo took to the news.
For Il-nam, it's clear he's changed from the time he treated Yoon-joo, as he's now more understanding of his son and wants what's best for him, even if it means keeping a few dirty secrets from him. I'm glad he confronted Se-kyung about it, but at the same time I felt like he threw Se-kyung a bone. It was too easy. It made me think, "Wait, so Seung-jo is never going to find out and that's it?" I thought it was too easy, and that made me angry. I want Se-kyung to struggle! This drama needs conflict! So thank goodness In-hwa turned out to be a "woman with emotions" and revealed the truth to Seung-jo. (Not an incredibly unpredictable move, but I wasn't sure if it would happen in this episode or not.)
I found it quite laughable that Yoon-joo had this epiphany while talking to Tommy; these two have sorely underestimated the power of human emotions. They're interesting characters, because Yoon-joo's actions in this episode have underscored the fact that she is someone who gives up easily. She's willing to put her life in the hands of others, and this is why she was more prone to breaking apart than Se-kyung, who is more logical and more ready to take control over her own life no matter what may come. As for Tommy, he's hopeless when things don't follow a certain "procedure" that he's used to; playing this game on Se-kyung's side takes him totally out of his comfort zone. With two such nervous wrecks, I wonder if Se-kyung needs stronger supports by her side!
Seung-jo's reaction to the video was a bit unexpected for me. While I knew that he loves to live in his fantasy world and apply it to the real world, I was not expecting outright denial from him after seeing the video. I'm sure In-hwa now sees how crazy he is and is glad she got away from this match. I'm quite intrigued – once again – in this series, as I'd like to see how Seung-jo will develop. We've seen everyone change around him; it's now time to see him grow up and (hopefully) handle the truth differently than he did before.
RELATED POSTS
Tags: Alice in Cheongdam-dong, featured, Moon Geun-young, Park Shi-hoo