Alice in Cheongdam-dong: Episode 14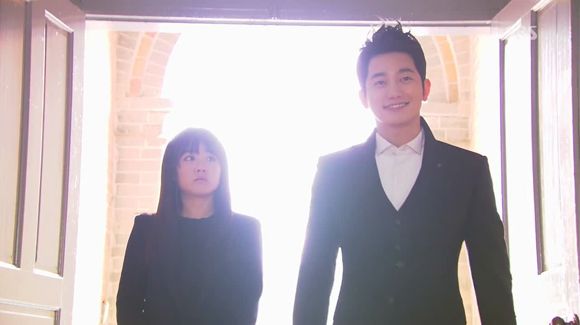 Lots of yelling. Lots of heartbreak. Lots of satisfaction. For me, this week truly redeemed last week's. Even though I'm averse to watching characters have their sufferings dragged out for several episodes, I do hope to watch Seung-jo and Se-kyung suffer for a bit. If we're going to build up this little white lie into a big crisis that everyone else in Cheongdam-dong is treating it, then we ought to have a big blowout, right?
EPISODE 14 RECAP
In-hwa can barely believe Seung-jo's calm reaction – how could he think there are impostors in that video? Didn't he watch it carefully? Seung-jo assures he did, and tells her he will get back to her once he's reviewed the documents regarding the outlet's location. He leaves In-hwa more confused than ever before – could he have possibly known about this video already? And is he going to try and cover it up?
As for Dong-wook, after he found out about Seung-jo cutting ties with his father he had returned to Paris to look for him. By then, Seung-jo had left his apartment, and Dong-wook spent 6 months looking for him. He found him practically insane living in a storage warehouse. It's painful for Se-kyung to hear this, but she wonders what would happen to him if a similar traumatic experience were to occur again. Dong-wook doesn't know what she's talking about, but firmly instructs her to stay beside him. An experience like this cannot happen again, because he might self-destruct again.
Seung-jo returns to his office, the same fake smile still on his face. But as the truth registers slowly, his smile slowly turns to a grimace, and his brows furrow in confusion and anger. Clearly, he is not fine. Neither is Se-kyung, who leaves Dong-wook's office more worried than before. But she ends up getting a call from Seung-jo, and heads over to his place to meet up.
Se-kyung finds the apartment door unlocked, and searches through the rooms, but he's not there. It worries her that he might have run away because he learned the truth somehow. Thankfully she finds him in the kitchen, where he sets up two glasses of wine for the both of them. It looks like he's in a good mood, and once Se-kyung feels assured of that, then she can enjoy her wine.
Tommy gets a call from his spy and learns that the meeting ended early, but Seung-jo seemed to have left the office in a good mood. Could it possibly be that In-hwa changed her mind at the last moment? But Yoon-joo isn't assured, and wants to get a confirmation back at the GN Fashion office.
In-hwa storms back into the office, leaving her manager feeling perplexed. Yoon-joo arrives in time to ask what's wrong, and the manager fears that the presentation he worked on – with In-hwa's "edits" – wasn't satisfactory since Seung-jo apparently had no reaction to it. In-hwa comes out to see her sister-in-law, and they walk to a private corner. "Did you tell him?" Yoon-joo asks. In-hwa smiles – Jean Thierry Cha is an impressive man, but surely he will break sooner or later, right? That's all the confirmation Yoon-joo needs to pass along to Tommy.
Se-kyung looks over Seung-jo's child pictures and compliments how his eyes have remained pretty since he was young. But this time the flattery is met with a quiet response, as if Seung-jo is wondering whether she is lying to him or not. He goes to grab another bottle of wine, and Se-kyung receives a call from Tommy. She escapes to the bathroom before picking up.
Tommy is surprised to hear that she's at Seung-jo's apartment, and that nothing has happened so far. After all – In-hwa had told Seung-jo everything that afternoon. Se-kyung can barely breathe as the world around her swims before her eyes. Dong-wook's warning that he may self-destruct if he accepts reality rings in her ears, and she barely realizes that Tommy is frantically calling out her name, wondering why she won't respond.
She finally registers hearing Seung-jo calling out for her and quickly hangs up with Tommy. She emerges from the bathroom to see Seung-jo opening another bottle calmly. He calls her over, as they need to talk. Yikes!
Seung-jo: "Starting tomorrow we'll be busy looking at wedding halls, looking for our new home, preparing for the wedding, and sending out invitations. Let's do them all one by one, step by step, okay?" Se-kyung barely manages to give him a small smile as Seung-jo drinks more wine, probably getting quite buzzed. I feel this is worse – having to tiptoe around him for the rest of your life.
Tommy tries to call Se-kyung back but she's already turned off her phone. He's reaching a breaking point in nervousness, as he can't figure out what's going on in Seung-jo's mind. Shouldn't he be yelling or cursing her out? How could nothing be happening so far? Is he going to try and bury the truth as well? Yoon-joo has nothing to say, other than the fact that it has now become Se-kyung's burden to deal with Seung-jo and the truth.
Seung-jo drinks himself to a stupor, so Se-kyung tucks him into bed. Il-nam and Dong-wook's words go through her mind – both of them want her to stay by Seung-jo's side no matter what, as they know only she can help make Seung-jo better. She holds onto Seung-jo's hand and silently reaffirms her vow to stay by his side no matter what, even if their relationship came to an end right now.
The following morning, Seung-jo wakes up with the image of Se-kyung on the video seared in his head. Doubts start filling his mind again, but he hears plates clattering in the kitchen. It's Se-kyung preparing breakfast – she had stayed in the living room overnight. He smiles as she scolds him for having such low tolerance for alcohol, and it does warm his heart that she seems to care so much for him.
Se-kyung then mentions that despite what Seung-jo says, he doesn't seem to be a petty man. But she hopes that he can show her different sides to him, rather than always the good side. Her conversation is veering too close to revealing her secret, and Seung-jo interrupts her – he has someplace he wants to take her, so they should eat quickly.
It's a quiet car ride as Seung-jo takes her to a secluded, small church. He envisions white flowers along the side, their close friends and family sitting in the rows near the front, greeting them. She joins in on the fantasy, waving at Dong-wook and greeting Il-nam. It's hilarious how his face is brimming with pride, and then when he sees her, he gives her a disapproving glare.
They reach the altar, and the priest asks for their vows. Seung-jo replies, "I do," and Se-kyung follows suit. They pretend to exchange rings, and repeat their vows. The priest then asks if there is anyone with any objection to the wedding. Seung-jo has none, but when the priest asks Se-kyung, she freezes up. Memories of Seung-jo once again believing in love rip her to pieces, and she finally speaks up: "Seung-jo, I have something to tell you… I lied to you…"
Her voice falters as Seung-jo's smiling face disappears. He stares at her coldly: "Don't. If you say one more word, I will kill you." (Ohshitohshitohshit. Sorry – but I believe him.) He warns her not to say another word, as nothing has changed between them. But Se-kyung can't help herself. She apologizes profusely and takes all the blame. If anyone has to go to hell, it should only be her. He shouldn't try to deal with the issue by himself.
Seung-jo: "You… ruined everything." And he leaves her in the church to deal with her guilt and heartbreak. Cold.
She remembers him telling her that love means embracing each other's flaws no matter what. That stops her crying and she chases after him, but it's too late. He's gone. She calls him several times, but he refuses to pick up. He does, at least, stop driving for a moment and lets the tears fall.
Se-kyung frantically calls Dong-wook without an explanation to see if he can get in touch with Seung-jo. He gets the voicemail too, and when they rush over to his home, Seung-jo is nowhere to be found. She instructs Dong-wook to stay in case Seung-jo returns.
Seung-jo isn't in his office either, and Secretary Moon can't get in contact with him. Il-nam learns of Seung-jo's disappearance when his secretary can't confirm their meeting time, and he immediately suspects Se-kyung. Boy is she really in for it; Il-nam roars that she should have lied and denied everything, but Se-kyung couldn't. She couldn't continue when she saw how much it was tearing Seung-jo up inside.
As she walks through the streets of Cheongdam-dong, she passes by the tea parlor he took her to before. His painting has been removed, and one of the waitresses mentions that Seung-jo had arrived earlier and asked the same thing. She directs Se-kyung to another gallery.
Il-nam has sent his secretary to contact the police to see if any accidents have been reported yet. Scary how the father's first thought goes there. The meeting with GN Fashion is still happening though, as they've all arrived. Before they can even start discussing, Il-nam informs Mr. Shin that he will not work with GN Fashion; Royal Group will find another partner to work with on the outlet. Why? Ask In-hwa. HAHA – sucker.
Of course, Min-hyuk and Mr. Shin turn on her and ask what's going on, but she'll explain at home. Mrs. Shin arrives at Yoon-joo's home with the news that the deal was called off, and the two of them wait expectantly for Min-hyuk, In-hwa, and Mr. Shin. In a way, Yoon-joo seems to know what her fate will be.
As soon as they arrive, In-hwa plays the video back for her mother and brother so that they'd understand why the deal was cut off. Before the video ends, Mr. Shin orders the tablet to be shut off (even though Mama wants to keep watching). Pissed, Mrs. Shin grabs her glass of water and splashes it on Yoon-joo's face – she never should have accepted a nobody like her into her family!
Mr. Shin tells his wife to shut up – yay! – and then Min-hyuk leads Yoon-joo away for a private talk. And then, Mr. Shin became my sole savior for this episode: "In-hwa, who taught you to act so low?" Ooooooh – In-hwa is hurt that her father turned against her, because her marriage got ruined by these two scheming women, and her father would have buried Se-kyung's secret. Mr. Shin: "Of course! That deal was worth hundreds of millions of dollars and you wasted it on your feelings? What did you gain from it? You just ended up showing your true colors, and hit rock bottom." If a business partner changes partners, then it's simply their loss.
While it's full of tough love, I'm glad Daddy Shin set In-hwa straight for her spiteful actions.
Min-hyuk is disgusted with Yoon-joo, thinking that she must have wanted to beg him for forgiveness earlier so that he would let her stay in the family. Did she want that material wealth that much? He wants to know how and why she decided to hide the truth about her past from him, even though that doesn't really matter now.
Yoon-joo tearfully says it wasn't all greed that motivated her. She wanted to protect her marriage, and to be the best wife to her husband. It was difficult for her too. At least Min-hyuk could understand a little of her plight, as he softens a little. He's not willing to completely end his marriage yet, even though Mrs. Shin is pushing for a divorce based on the prenuptial so that Yoon-joo won't get a cent.
Divorce is the least of Mr. Shin's worries – he needs to find a way to salvage this deal. He worked too hard to get the outlet to come to Korea, so he's not going to let Royal Group take all the profits. Before the divorce can happen, he orders Min-hyuk to find use in his wife to help them.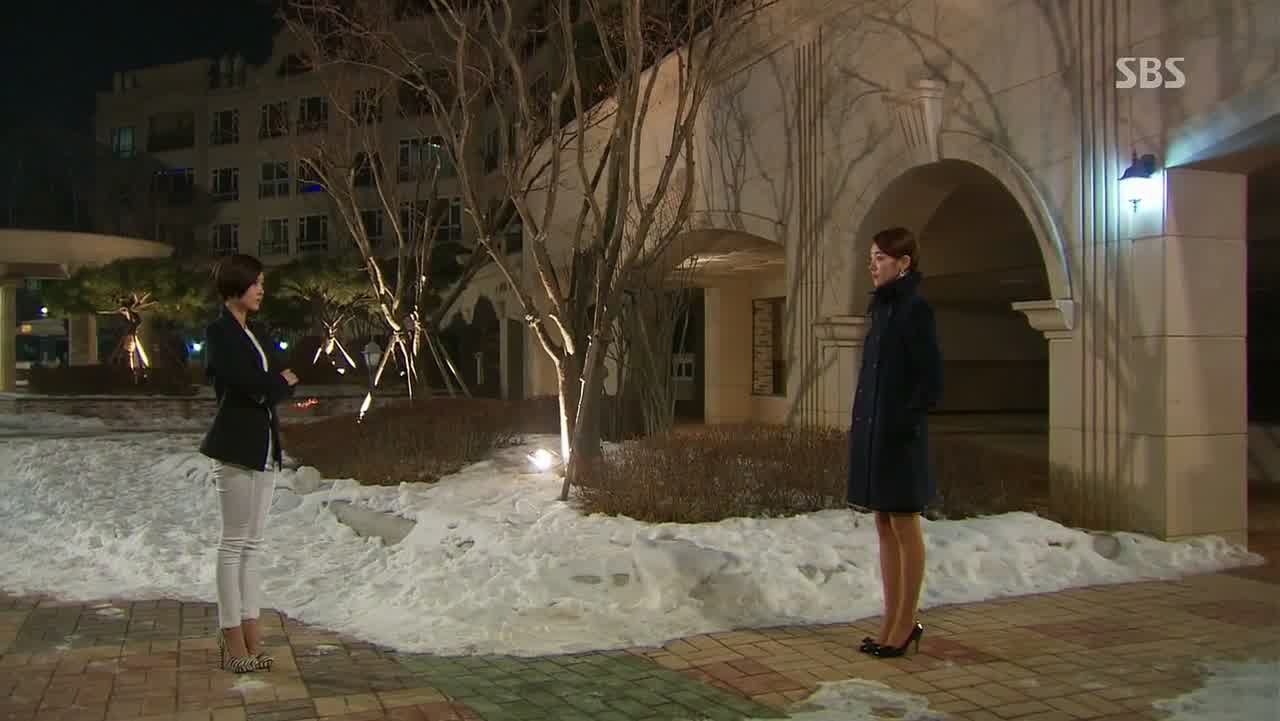 Yoon-joo walks outside to clear her head and bumps into In-hwa. This time there's less animosity on In-hwa's side. They've both been bruised because of love, and no matter their background they're on level ground.
Se-kyung races to the gallery where she sees Seung-jo's painting. One of the ladies there remembers seeing him staring at the painting for the longest time, and notes that he only left two hours ago. She runs back out again, and nearly gets hit by an oncoming car. Startled, she returns to the curb to catch her breath, and gets a call from Tommy. He's heard from Yoon-joo – it's game over for all of them now. Se-kyung can only sob, "Seung-jo is gone!" and Tommy rushes out of his office to look for her.
He sees her walking despondently on the street and tries to send her home. But Se-kyung is insistent on finding him. There's still a lot she needs to do for him, including proving to him that love really does exist, and showing her true self to him. Tommy suggests that he may have returned home already, and drives her back to Seung-jo's place.
But Seung-jo still isn't home. Se-kyung goes into his study to find a picture of Paris that she had drawn up. Suddenly it hits her – Seung-jo had run away to Paris before, and he could do it again. She gets a call from Secretary Moon and they simultaneously tell each other of their discovery. Secretary Moon tracked Seung-jo down and found him on the 10:30 PM flight to Paris.
Se-kyung and Tommy make a mad dash to the airport, where Seung-jo is waiting to board. As he gets on line to go through the gate, Se-kyung and Tommy arrive looking for him. She locates him just as he's next to go in, and drags him out of the line. Even though Seung-jo resists, she won't let him go.
Seung-jo declares it's over between them. He tried to forget about her and her betrayal, but he can't erase it from his mind. He had hoped she could just disappeared. But what good would that have done? Se-kyung points out that running away would not solve this issue they're having. If Seung-jo wants to break up, they'll break up, but not before Se-kyung has had her say.
Seung-jo got to reveal his entire self to her and she still stuck by him. Now, it's her turn.
Comments:
Thank goodness Se-kyung finally gets to have her say, since Seung-jo got to make his big announcement about his misdeeds. I hope the path to forgiveness won't be easy though. Se-kyung forgave him pretty quickly, but since the drama has focused on and intensified her crisis, I think the writers might as well gives up a pretty big payoff. If the drama wants me to believe that her problems are seriously sinful, then I want to see the consequences – and her actions to redeem it – match the gravity of her sin. (Honestly, I don't believe in her "crime" being so heinous, but I can understand it just enough to let it fly by for this drama.)
I'm glad that Seung-jo grieves in this episode. He didn't grieve when Yoon-joo left him, but he now cries when he learns of Se-kyung's betrayal. It indicates a deeper love that he's developed for her, as well as a sign that he is healing, even if he's now heartbroken. But other than that, he sure does take reality hard. For someone who can't stand Wonderland, he sure has a hard time seeing anything but a fantastical Wonderland.
I do have this feeling that things are going to be rushed at the end, since at this point there's not much story left to tell. We've followed Se-kyung's struggle to becoming a Cheongdam-dong wife, and dragged out the conflict in every way possible. We can only get a neat bow at the end, with snippets of everyone else's fate, right? That would be a pretty solid state to leave the series in, but it does leave me wanting for more. With the culmination of the truth being revealed for everyone in this drama, I really want to see more about how Yoon-joo will help salvage GN Fashion and become an integral part of the family in the business sense, and I really want to see Tommy do more than calling people up and trying to save Se-kyung wherever she is. I have a lot of hopes and wishes riding on the last two episodes, most of which I'm not sure will be fulfilled, but we'll see.
I've certainly returned to that feeling I had in episodes 1 and 2, where I was curious to see where this series was going, even if it hasn't hooked me completely yet.
RELATED POSTS
Tags: Alice in Cheongdam-dong, featured, Moon Geun-young, Park Shi-hoo