Conspiracy in the Court: Episode 3
The political storyline takes an upturn as our characters hone in on the king, though the conflict reaches much farther than just the palace gates. Our hero is nearly beaten to death with the Rules of Reality this episode, and it'll be a wonder if the pure and good side of him will survive all the cold hard truth the world is trying to shove down his throat.
Then again, maybe getting showered by someone's throat blood is as good a time as any to reevaluate one's priorities. Sang-gyu, fighting!
SONG OF THE DAY
Conspiracy in the Court OST – Seon Ye – "일월지가 (Song of Sun and Moon)" [ Download ]
Audio clip: Adobe Flash Player (version 9 or above) is required to play this audio clip. Download the latest version here. You also need to have JavaScript enabled in your browser.

EPISODE 3 RECAP
Sang-gyu and Joo-pil are brought to Hwang's corpse the next morning, since all evidence of the scuffle from the night before has now become a crime scene.
He's tormented as he looks down at the body, remembering his father's warning words: "Do not try to find out. They are people you cannot do anything about."
While Joo-pil tries to make the connection between the group that killed Hwang and Hwang's purpose (so he knows there are two fighting groups – Man-oh's men and Hwang's cohorts), Sang-gyu acts on a hunch and pulls Hwang's clothes aside to reveal his body tattoo of acupuncture points.
The sight of such dedication frightens him, as he wonders why Hwang would go so far.
Sang-chun gets beaten by Man-oh's always-grinning companion, DO-SOOL, for letting three of their men die in last night's ambush against Hwang. He stands by the fact that he was protecting his master, Man-oh, and it's he who comes to his loyal bodyguard's rescue.
Do-sool isn't happy about the interference, but Man-oh is their leader. (A point of contention, by the looks of it.) Once he's gone, Man-oh asks Sang-chun about Na-young's whereabouts, unable to comprehend why she'd still be in the capital when authorities are combing the city for her.
The mysterious woman at the head of the secret organization, COURT LADY JO, pushes Na-young through a test to become a royal physician. Lady Jo walks in plain sight once in the palace, and now with Na-young, they've officially infiltrated the palace walls without anyone knowing better.
Na-young's extensive medical skills are put to the test with an ailing court lady, and though the Queen Dowager arrives to chastise Lady Jo for allowing Na-young in, the court lady is cured and the Queen Dowager's temper is soothed. For now.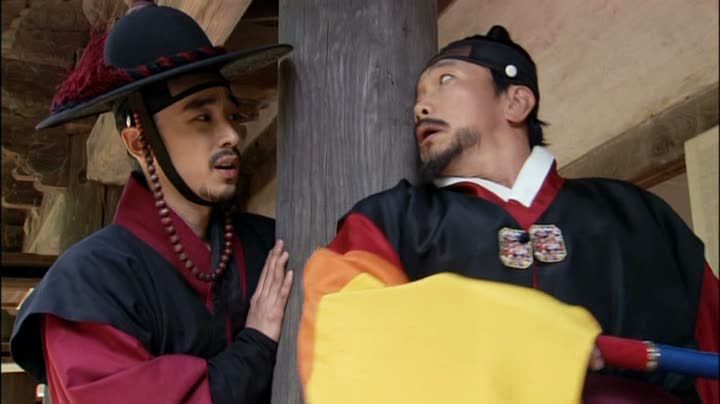 Sang-gyu has to chase around his frightened Police Chief in an attempt to get him to care about catching the female assassin, though it seems clear that Chief is either too scared of the consequences or that he's been bought off.
Either way, Sang-gyu's request for more men to be assigned to the case falls on deaf ears.
We cut to the King* and the Queen Dowager as she brings to light his nightly strolls outside the palace in the guise of a nobleman, comparing him to a dragon and the people to a snake – the separation is what's important.
She's worried that his legacy will become clouded by his association with the common man, to which he replies: "If I could only bring peace and comfort to my people, why would that mighty dragon refuse the company of snakes and vermin?" What a good king.
(*So far, a specific name for this king hasn't been mentioned in the drama. All signs seem to point to King Jeongjo, who reigned from 1752-1800, and is well known for his successful rule and mysterious death, spawning countless conspiracy theories. But, for now, we'll just call him the king.)
Protests continue outside the palace against the capital move, with Sang-gyu manning the front lines while punches and kicks get thrown his way. Finally, a minister comes out to announce that they'll be let inside to formally voice their grievances to the king, but not before he recognizes Sang-gyu as Minister Park's son, and as the man still investigating the Minister of Personnel's murder.
Even though the Minister of Personnel's case has already been considered solved (by natural causes), he's on Sang-gyu's side in believing that there's more to the story, and urges him to keep searching for clues.
Sang-gyu and the protesters are let in to see the king, and Sang-gyu's jaw drops once he finally recognizes him as the nobleman who was shot during the ambush, and the same one who was loitering around Na-young's house. It's safe to say his mind has been blown.
Meanwhile, Na-young is brought to the care of other court ladies/physicians, though there's a hiccup when one girl recognizes her as the daughter of a treasonous father. She lets one of the higher court ladies, LADY HAN, know what she's found. Eek.
The King hears from the protest's spokesman against the capital move, since he believes that the people's hunger can be assuaged by simply giving them alms.
When the King argues that most noblemen are only concerned with themselves (drawing a few side eyes from all the noblemen standing behind him) and that a move is the answer, the spokesman asks if the King will move the capital again when history repeats itself, and hunger strikes the new capital.
"If I could only quench my people's hunger, not only once, but ten, a hundred times will I move my royal dwellings for them!" The King cries out.
Another man stands among the group, and his introduction sets fear into the hearts of the ministers as well as Sang-gyu, since his father and brother were victims of the Catholic Persecution of 1791. Since the King was using Confucian teachings by Mencius against the protesters, this man now uses another Mencius teaching against the King, citing vengeance for dead fathers and brothers.
Ergo, he's declaring that he will take vengeance on the King. Uh oh.
He's a master martial artist, and he more than holds his own against all the police forces and guards gathered to protect the King. He starts to cut his way up to the throne, and the idealistic Sang-gyu opts to not try to kill him, but instead grabs him in a chokehold and asks him to stop. Clearly, that doesn't work, and the man throws him off.
Most of the guards are dead, and the ministers just stand by as the man raises his sword, just feet away from the King. He readies to make the killing blow…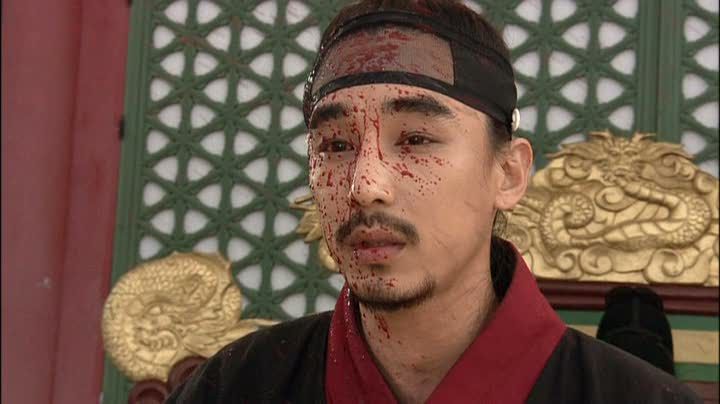 And Sang-gyu jumps in front of the King, so that the man slashes his back instead. The King doesn't even bat an eyelash.
This gives the guards time to impale the man with swords until Minister Lee (Jang Hyun-sung), who'd talked to Sang-gyu about the Minister of Personnel earlier, beheads him. Arterial blood spray rains down on Sang-gyu as all sounds quiet, he's in shock.
Blood rains and rains on him as he stands stock still, until he finally collapses from his wound. His father's gaze doesn't change as their eyes meet. You'd think he'd be proud that his son just saved the King's life, but whatever.
As Sang-gyu lies on the ground, he stares into the eyes of the decapitated man. And the man almost seems to… smile. That's creepy. Really, really creepy.
An emergency trauma ward is set up within the palace to treat the wounded guards, as well a Sang-gyu, while the men carrying him declare that the King has ordered his life be saved at all costs.
Na-young is with her fellow court physicians, and stops when she sees Sang-gyu lying among the wounded. His eyes are open just a crack. Has he seen her?
Na-young gets past her fear of being recognized in order to treat him, since he's on the verge of death. She jabs an acupuncture needle in his chest and sets to sewing his back back together.
The King is offered new robes to replace his bloodied ones, yet he only asks after Sang-gyu's life. (The prognosis is grim.) While the ministers offer to punish whoever can possibly be held accountable, the King refuses and claims he'll just pretend today never happened.
This shocks Minister Park especially, though we don't know why. The Queen Dowager's anger won't change his mind, either – he just wants to see about Sang-gyu.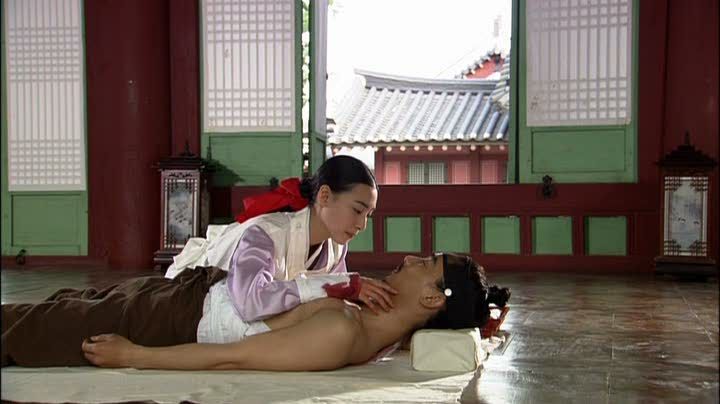 Na-young is left alone with a bandaged Sang-gyu, who may or may not be somewhat conscious. Staring at her former lover brings tears to her eyes.
Na-young: "So you became a capital bureau officer? I am glad you did. So you rescued the King? I am glad you did. Did you get married? Do you have a consort by your side?" she wonders, as she hopes for nothing but his happiness in the future. "The pieces of our long lost relationship, our innermost feelings trapped by time… They are now free to wander in the desert of the past."
He must recognize her. It's like he wants to stop her from leaving, but he doesn't have the strength.
Outside, Na-young is assaulted by Court Lady Han and her minions, and thrown into a shed.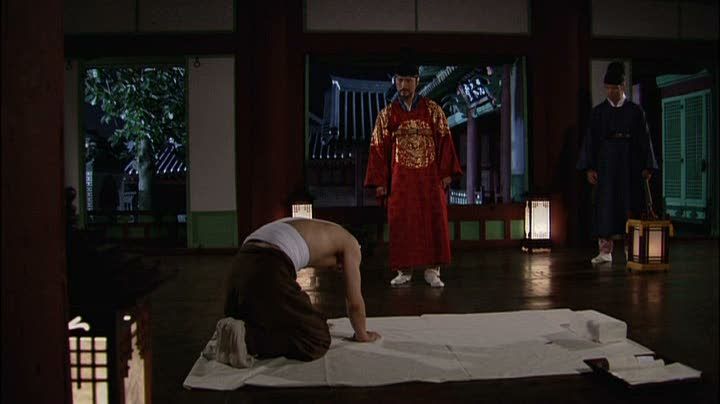 The King visits Sang-gyu that night, not to thank him, but to ask him why he didn't slay the man when he had the chance. He asks Sang-gyu if he took the blow to save the King, or to save the man.
Even Sang-gyu doesn't know for sure, which prompts the King to applaud his consideration for all life, "but you must realize that each and every life under heaven is valued differently."
Sang-gyu's in shock, and stammers, "How could some people's lives be worth more than others?" He literally doesn't understand this concept.
So the King poses him with the question: "If you had to choose only one between that man and me, what would you have done? You might believe rescuing both is always the best solution, but look what that brought us. There will never be a best solution everyone can agree with. You will always find yourself choosing the lesser evil, favoring one side over the other. Time will force you to choose one option."
Ah, but here we see the King's self-loathing creep into his eyes – it's like he's trying to talk Sang-gyu out of his idealism because he's been there, tried that, and it just doesn't work. I love these layers to the King – it makes all his conversations have multiple meanings.
Na-young's head is forced into a bucket of water while Lady Han watches impassively, her fellow female court ladies acting as minions. She holds up the likeness of Na-young circulating around town, and recognizes her. Na-young has been caught.
However, she's not eager to turn her in as long as Na-young tells her everything, claiming, "I know why you were brought here."
But Na-young remains silent, and is drowned until she stops moving.
Sang-gyu's back up and about, though he plucks out a golden acupuncture needle still in his neck. The Royal Doctor notes that the girl who used it is one of the few with such a skill, though he denies Sang-gyu an audience with her since she's still a court lady, and all court ladies belong to the king.
However, we find Na-young('s corpse) being carried out by Lady Han and her minions, who are just trying to dispose of her body quietly.
Sang-gyu's drunk mother parades him through the household, announcing that her son saved the king and will be appointed to a high position soon. You can tell how much it hurts him to see his mother this way, but he goes along with what she wants so as not to hurt her feelings. What a good son.
She's all proud to show him off to Minister Park, but his father is dismissive at best. She doesn't let it affect her in the least, only wanting the best for her son. Aww.
Man-oh speaks before an enormous crowd of merchants, of whose proprietary rights he's worked to own so he can command the lot of them to achieve his dream: To sell everything at ridiculous prices to the rich so that they can use that money to help the poor. (We see the port market chief present, the one Man-oh convinced over last episode.)
Basically, he's organized one big secret strike (inversely), which is why he went through such pains to gain lordship over every merchant in Joseon. He gives a rousing speech about how they'll gain the trust of the people for the sake of their descendants, and therefore lessen the gap between themselves and noblemen caused by the class system.
He dreams about the day when they will lack nothing compared to noblemen, and that such a takeover won't take a revolution of blood but one of money, and that's what he'll get on his side through the merchants: "Money that we will use to create a new world, made by tradesmen like us!"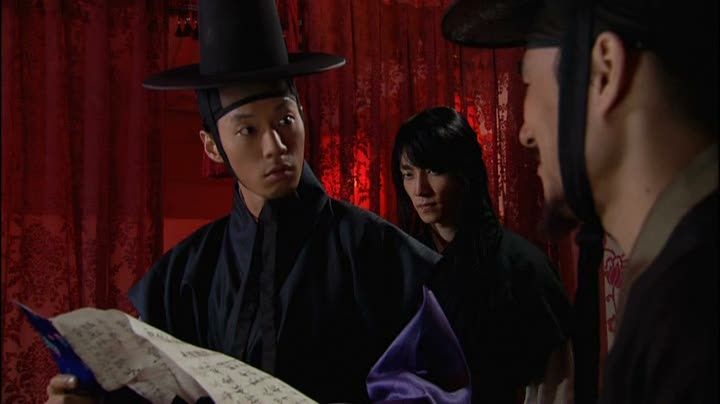 Man-oh is called to his hideout (though it's more of an open tavern) to meet with the grinning man, Do-sool, and a woman with two hungry children. They're the family of the man who attacked the King, but they've brought with them a certificate Man-oh had given to Minister Park…
Which means Minister Park was behind the attack. Ohhh man. Man-oh knows he has an ace in the hole, and doesn't want to waste it on merely alerting the authorities. He instead chooses to shelter the dead man's family while he plans something grander.
So now we realize why Minister Park was so unhappy with his son saving the King since he planned the whole scheme to kill the King. Sang-gyu's cottoned onto this fact and confronts his father, more confused than anything about why his father wants or needs any more wealth or riches than he has.
Poor Sang-gyu has such a naive idea of politics ("Politics is the spirit to devote one's efforts for the sake of his people"), and his father shoots that down quickly by asserting that their King is a traitor, and so is every subject serving him.
"It is not to gain anything more, it is merely to survive. Only power and the wealth that comes with it will help you survive. The stronger you are, the more you will gain. And the more you gain, the stronger you will become. Survival of the fittest," Daddy Dearest says.
He tops it off by reminding his son that even if Na-young, his long lost love, were to appear before him now, he'd be too powerless to do anything to help her. Ouch.
At the mention of her name, Sang-gyu faintly remembers the outline of the woman who saved his life. I think he thinks it's Na-young.
Speaking of, we see the previously-dead Na-young wake in a room with both Lady Jo and Lady Han. They were in this together? Huh.
Turns out the torturing was yet another test of Na-young's resolve, as Lady Jo cautions her that she'll only be kept alive for as long as she proves useful to their cause.
Sang-gyu bribes the Royal Doctor to get into the palace to see Na-young, convinced that he saw her. "There is no best solution in this world," he murmurs to himself, remembering the King's advice.
Do-sool is running a large-scale counterfeiting operation out of the hideout to make obscene amounts of fake nyang, while Man-oh greases the palms of an official who helped them.
As he transports the chests of fake money through the market, Man-oh wonders why Na-young hasn't sought him out now that her keeper is dead and she has nowhere to turn. Do-sool remarks that she might have gone to Sang-gyu, and it's like Man-oh can't even understand why she would. Aww, poor puppy.
Cherry blossom petals rain down as Na-young steps out to meet Sang-gyu, who becomes almost frozen with emotion. Of course, when he hesitatingly asks, "Have you been well? I've been well," how could she even begin to respond?
He returns her gold needle, and she coldly refers to him as naeuri (sir/lord) before walking away. He knows she's the one who saved him and calls after her: "Do you realize how much I thought about you? Day by day, how many times your memories clouded my mind… You don't know."
He adds that they should have never parted ways, and asks if she feels the same. We find her hiding around the corner holding back her tears as she affirms to herself: "I have forgotten it all."
Yet she's the one who flashes back to their days of youthful flirting, when they'd tested telescopes and hinted at their eternal love. They were both so happy then.
In the present, the Royal Doctor hands her the herbs only the King gets to eat – the ones that look 100% similar to the poison herbs she uses. (And that's the point.) She's instructed to make the herbs into tea for the royal family. Uh oh.
We've got Minister Park meeting with another minister as they maybe-sort of-kind of secretly discuss taking down the Queen Dowager before they try to take down the King, since she's the tougher opponent.
Sang-gyu drinks with Wol-hyang, his heart heavy from Na-young's cold dismissal. Then he remembers his father's words about his inability to help her and feels all the more pitiful for it.
Man-oh pays Sang-gyu a visit in order to trade information he knows about the murderer for Na-young's whereabouts, despite the bad blood between them. Sang-gyu confesses that she's a palace physician now, which hits Man-oh like a ton of bricks. He knows why she's there.
When Sang-gyu asks about the information, Man-oh turns on him to tell him that Na-young IS the murderer he's looking for. Sang-gyu can't believe it, but Man-oh has already come to terms with it: "Trusting my words or not is up to you. What I must find is a way to rescue her."
Sang-gyu can only stand there in shock – the girl he loves is a trained killer.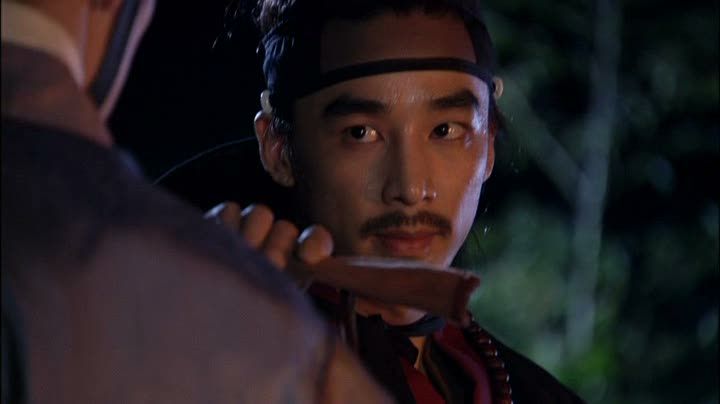 He's so determined to prove it isn't her that he ends up proving it is her, by taking evidence from Joo-pil (golden needles used in the murders) and digging up one of the corpses to check it for another gold needle. He finds one, and knows she was behind all the killings.
Unfortunately, Joo-pil was onto him, and threatens to arrest him for desecrating a tomb if he doesn't share what he knows.
You can tell that these two friends love each other, but Joo-pil is after the truth. Sang-gyu asks for just a little more time, but several murders and a dead Minister of Personnel has made Joo-pil justifiably impatient, and he's willing to torture Sang-gyu if it means an answer.
Meanwhile, Na-young is led by Lady Jo to serve the tea, which I'm guessing has already been infused with poison.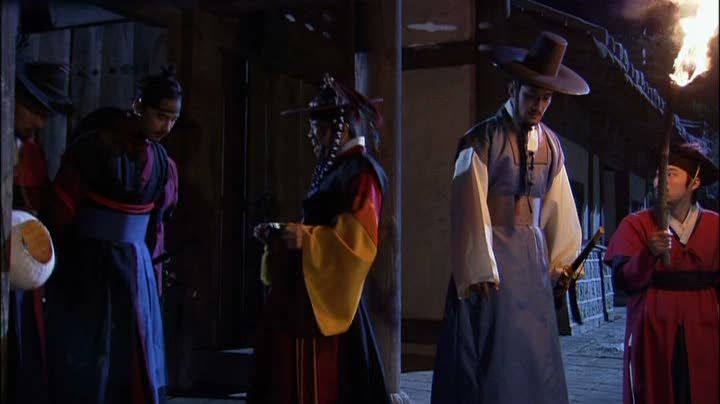 Sang-gyu is saved from torture at the last minute by Chief, who claims he's been summoned to the palace tomorrow to be given a position as payment for saving the King. His authority supersedes Joo-pil's, so Sang-gyu is set free.
Joo-pil is onto him, however, and vows to find out who the girl is.
Lady Jo and Na-young enter the Queen Dowager's chambers with the infusion, and the old broad takes notice of Na-young's trembling. Still, she takes the cup (of poooooison) and raises it to her lips…
But then sighs at the last moment, since she's still upset over the assassination attempt on the King, which she sees as a slight against the entire royal family.
She has one last moment of suspicion before Lady Jo urges her to drink the tea, and she does at last. She immediately starts to heave afterward, and shoots Na-young a death glare, knowing very well what's happening.
"What on earth… was this infusion made of?" The Queen Dowager asks, and Na-young just stares, eyes wide open.

COMMENTS
So there's a chance that it's not poison, and that they're trying to gain the Queen Dowager's trust so that they can make it to the King with the real poison. But there's no way of knowing until we watch the next episode, so for now I'm assuming that it maybe is or isn't poison. (Vague, right?)
One of the most interesting moments out of this episode came from the King's conversation with Sang-gyu following the assassination attempt. If last episode afforded us a peek into what makes Man-oh tick, then this episode was more for Sang-gyu, since his attempt to save a man trying to kill the King spoke more volumes about his character than any spoken exposition ever could. Up until the bitter end, Sang-gyu wanted to give the man a chance, and even sacrificed himself in the process. To that idealistic end… What on earth is he doing in police work? I almost feel like he'd never even prosecute a criminal, he'd be too busy trying to understand them.
Still, it brings to light some interesting things about him, and puts him in direct idealistic confrontation with everyone else in the show who's lived long enough, or experienced enough, to know better. Or to think that they do, because when you have the King arguing with our hero over which lives have more worth, which side do we really want to root for? The jaded side that may or may not be right in this politically charged environment, or the idealistic side which clings to the idea that every man is equal?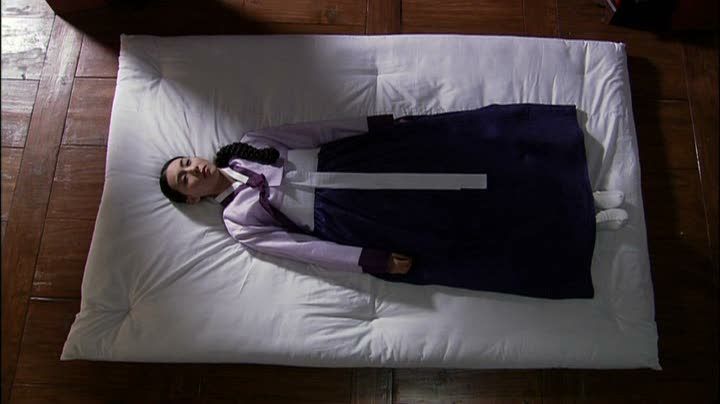 In that sense, Sang-gyu is far ahead of his time, a commonality he and Na-young shared in their love for knowledge and innovation. It's interestingly enough a commonality he seems to share with the King, who is also ahead of his time in idealism and is hated for it. There really hasn't been a performance of Ahn Nae-sang's I haven't liked, but I love the depth he's bringing to the King, the way his eyes will widen just slightly as he goes to war with the idealist and realist sides of himself.
I got the impression that he both admired and hated Sang-gyu for saving that man – admiration for his courage, hatred because he doesn't have the same freedom to make such righteous choices at whim. He has to play politics, and as Minister Park said, politics is where only the strong and powerful survive. It's a lesson he feels Sang-gyu hasn't yet learned, so it's like his determination to teach Sang-gyu about the horrors of the real world is his way of stamping that same idealism out of himself. At his core, I'd say the King is exactly as idealistic as Sang-gyu is, only much less naive.
I'm interested now to see the conflict between Joo-pil and Sang-gyu play out, since Sang-gyu will have to start breaking some laws if he wants to protect Na-young. And that goes against every principle he's ever believed in, which makes the impending doom all the more nervewracking. Bring on the pain.

RELATED POSTS
Tags: Conspiracy in the Court, featured, Jin Yi-han, Kim Ha-eun, Lee Chun-hee