Extensions for I Miss You, School
Oh dramaland, you wouldn't be you if you weren't fickle and pulling last-minute changes left and right. We've got some extension news for dramas that were preempted for one reason or another, and now face ending a day short of normal broadcasting schedules. First: MBC's Wednesday-Thursday melodrama I Miss You was originally planning to end with 20 episodes and a special to round out the count, but has decided to add an episode, with only two weeks left till the end of its run. Eep, there have certainly been closer shaves than a three-episode warning, but not many.
I Miss You's ratings have run the full gamut, from Wednesday-Thursday leader all the way down to last place, so the extension is more about keeping ratings steady than anything, since an episode will bring in much higher ratings than a special with clips or interviews. An extra episode this late in the game is usually not a good thing as far as storytelling goes, but who knows — maybe they'll feature a dream episode where it turns out the hero doesn't get shot in the brains and doesn't die alone in a cold empty warehouse? I suppose the one upside to such a dark flash-forward to open your show is that the audience's expectations for happily ever after are set as low as "breathing" or "doesn't bleed to death."
KBS's Monday-Tuesday drama School 2013 is also one episode off its count, and on the current schedule would end at 16 episodes on January 28. School has remained in second place in the ratings game, but its numbers have been going up steadily, and is giving The Horse Healer a run for its money on Mondays and Tuesdays. KBS and the producers are considering everything from a special to a 1-episode extension, to even 3 episodes as a possibility.
I'm torn about School, since I love, love, love the show. More heart-tugging bromance is something I'd never say no to, but I also don't want the series to lag in any way. It's going to kill me to say goodbye to that show, but I'd rather say goodbye when it's awesome and not have to witness any decline in quality. If an extension is confirmed, we'll have to work some collective rain dances of non-suckage.
I Miss You's extension doesn't change Level 7 Civil Servant's premiere (January 23). School's extension may push Ad Genius Lee Tae-baek a week or two behind, but that show doesn't even have a confirmed cast yet, so I don't think they'll be crying about it anytime soon.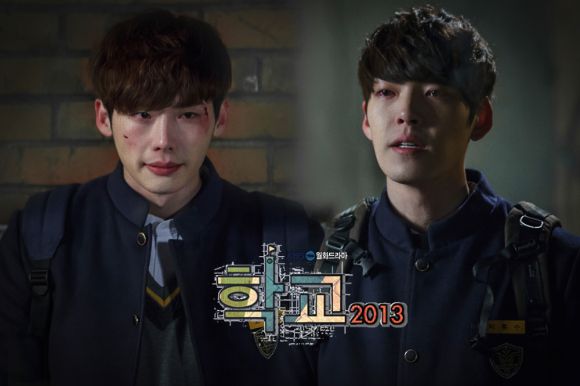 Via My Daily, Sports Seoul
RELATED POSTS
Tags: I Miss You, School 2013