King of Dramas: Episode 17
There's only one episode this week before next week's finale, as our drama within a drama tackles a last-minute extension and live shooting, which should all sound very familiar. That's all stuff I'd like to see, but we instead get taken for a ride as Anthony goes the noble you-know-what route with our World Boys and Go-eun, which makes me simultaneously want to hug him and strangle him with a fur collar all at once.
Oh, Show. Please be going somewhere with this.

EPISODE 17: "Do Not Be Afraid of the Darkness"
Anthony asks Go-eun about when she started liking him, as though he needs to know why she even would. She can see something's wrong, even though he denies it when she asks.
The tear falls, but he doesn't fight it or wipe it away. She tries to call after him as if to answer his question, but he leaves before she can say a word.
It seems like Anthony goes for a second opinion, but the diagnosis is the same. He even does independent research only to reveal what he already knows: There is no cure. He has to take his pills to prevent himself from crying at the news.
At least he's preparing by buying books for learning braille, since a voiceover from the doc tells him (and us) how long it takes to become a functioning blind person, and how difficult even the simplest of tasks can be.
We can see the weight of all this hitting him as he strolls through the city, stopping once he sees a vision of himself as a boy standing alone in the crowd.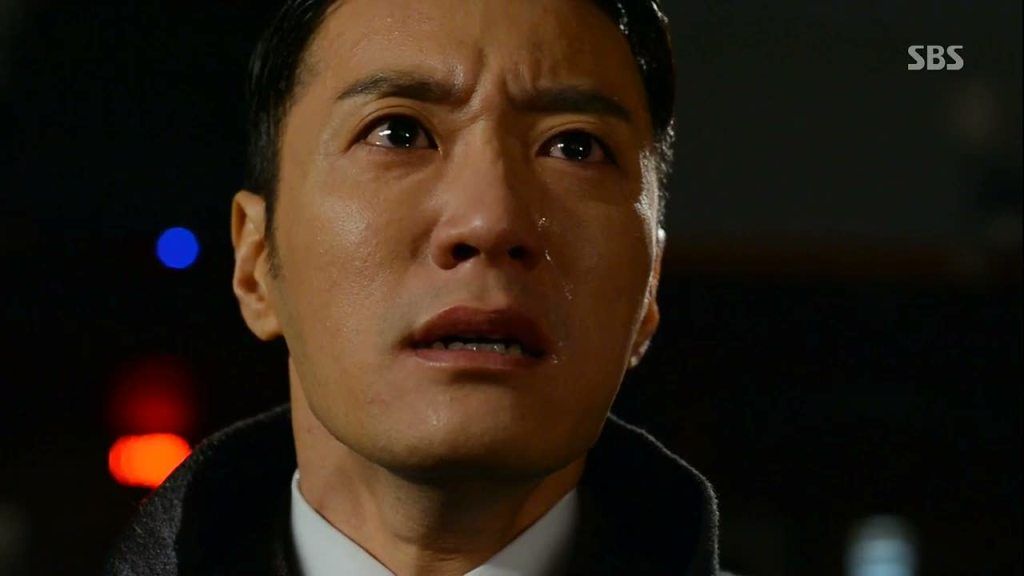 He ends up in a church, and in a somber moment, addresses God, his eyes filled with tears.
Anthony: "Why is it me? My mother wasn't enough? Why are you even doing this to me? I have finally found the reason why I must produce dramas, and I have also found the person who pointed it out to me. And yet, after all this, why did you choose me? Tell me. If you're there, tell me! Why is it me? Why?"
Hyun-min's turned over a new acting leaf, and asks for multiple takes of the same scene so he can work on improving each take. Min-ah knows what he's doing and tries to tell him he did fine, probably because she's freezing, only for him to reply: "I appreciate your comforting words, but you have to clearly point out my flaws for my acting to improve so that I can become a good actor."
Lo and behold, third time's the charm. Hyun-min's expression even manages to make Min-ah tear up, and that's the take he goes with. When Director Goo asks, Min-ah tells him Hyun-min is working on his acting skills, which comes as a surprise to the industry veteran.
Go-eun calls Anthony while he's making a bucket list of sorts to invite him to the cafe they were originally supposed to meet at. He comes across the copy of In Search of Lost Time which she's borrowed frequently, remembering its significance in her favorite movie, Love Letter.
He either reads it by osmosis or just skims all of it, since Go-eun arrives when he's at the end of the book.
She gets to the point once she sits him down: "I will answer the question you asked yesterday. It's true that I like you. I don't know since when, but it's correct that I like you." She pauses. "I will ask you one question: Why did you cry yesterday? There's something wrong, right?"
Anthony's expression doesn't change through her confession, nor does it when he explains that he was crying due to his three-year depression. But then the conversation takes a turn when he tells Go-eun to pretend like the issue of contract renewal never happened.
So it turns out even our dear Anthony is not immune to noble idiocy, since he explains to Go-eun that they can no longer work together professionally because she started liking him. (Oh, now it's her fault?)
I like that she's quick to bring up the fact that he dated Min-ah and mixed professionalism with personal life, but he just shrugs that off. Now he's implementing a No Emotions rule. And then he just leaves.
Go-eun pays a visit to his mom in the hospital, and ends up finding out more about how her blindness progressed – and the order of her symptoms mirror Anthony's. (Though Go-eun doesn't know that yet.)
Through their conversation, Mom is able to glean that Go-eun must be special to Anthony, for him to have told her so much about his past. That's when Go-eun gently brings up the fact that she confessed her feelings to him… and then she was rejected.
But Go-eun is as cool as ever as she commiserates with Mom that Anthony really must have no eye for women if he rejected her. Ha.
Anthony is really taking this blindness thing seriously, since he even breaks off his contract with Taesan Group in preparation. Eek.
He tries to ignore Go-eun once he gets back to World, and she calls him out for being childish, and for him to just tell her if he doesn't like her. Instead he tells her to get writing.
She sets to finishing the penultimate episode while he crosses "Cancel the investment deal with Taesan" off his to-do list. The only thing she's worried about is how Hyun-min will react to his… hair? This should be interesting.
It turns out that she wants him to cut it shorter, as symbolism for his character starting a new life. It's his agency president that goes to see her first, and persuades her out of it because Hyun-min has a shampoo CF coming up. She knows how important CFs (and money) are to him, and decides to write it out.
However, Hyun-min comes banging on the door, forcing Prez to hide in her apartment. She lets Hyun-min in, thinking he's come to complain…
But he bursts through the door, having already cut his hair. Hello, handsome. Hyun-min is really serious about becoming an actor now, isn't he? (Siwon deserves a slow clap, too. Isn't idol hair insured or something?)
I love how she's all, B-but… your shampoo CF! Only for him to respond that CFs mean nothing to him. If it's for the drama, he'll do anything. Both Go-eun and Pres are shocked at Hyun-min's new fighting spirit. Ha.
We were waiting for extension meta to come up, and here we have it: Director Nam argues with the executive board at SBC against extending Kyungsung suddenly by four more episodes. He explains that extending it now will make everybody think they're in it only for the ratings (aka money), and that it's better to finish the drama with its current quality rather than having an inevitable drop in quality by prolonging the story.
Of course, with the show doing so well, Director Nam is overruled. He calls Anthony to let him know that they're going with the extension, which Anthony seems slightly reluctant to agree to. (I'm sure it's more than intentional that the extension happens during our first extension episode.)
Anthony calculates that the extension will take at least four more weeks, and hopes that his eyesight will hold on till then.
Director Goo gives his worn-out crew a pep talk for the upcoming extension, only to be floored when Hyun-min shows up with his new 'do. "Your hair… Why did you cut it so soon?" Director Goo asks. HA.
Hyun-min was somehow not told about the extension, which means his haircut also should have been extended. He's all upset now that the big impact is gone, and scoffs at Pres' hope that they'll break 30% in ratings and make lots of money.
"Hyung, are you only concerned about money?" Hyun-min asks incredulously. "From now on, don't ever insult my passion and spirit for acting with mere money." Call a priest, we've got a possession going on.
At least Old Hyun-min isn't quite gone, since he does ask how much more money Min-ah is asking for with the extension.
As it turns out, she's asking for nothing more than what she's getting. CEO Oh isn't happy about her agreeing to the extension since she's got a movie coming up, and gets more than a frustrated reaction from her when he asks if she's doing this for Hyun-min. Someone doth protest too much.
Anthony seems sympathetic as he informs Go-eun of the extension and all the things that will change because of it, like Episode 19's script and the schedule. They're going to end up so deep in live-shooting that she'll have to be sending them the script page by page. Eek.
Go-eun at least stops him from making a hasty retreat, citing how she needs his help with plotting out the extension. She quotes his words back to him: "I'm not writer Kim Soo-hyun or anything." Ha. And she assures him she has no ulterior motives, but I like her forwardness. What a refreshing heroine.
They go back to the drawing board to plot Episode 19, and it's cute how Anthony makes sure she doesn't ever catch his gaze. But when she's turned away from him, he can't help looking at her.
She asks him to pour her a glass of water, and his vision starts faltering. (Any time now, I'm expecting the writer to reveal we're being trolled. Any. Time. Now.) He can't see well enough to tell that the glass is overflowing, but he passes it off to Go-eun as something he did on purpose so she won't notice something's wrong.
Hyun-min tries practicing his romantic lines with new manager Sung-mo, which results in a hilarious bit where Sung-mo ends up cross-dressing in order to be a more convincing Min-ah stand in, replete with a wig and a feminine voice. Ha.
After hugging attempts with Sung-mo get too awkward, Hyun-min decides that practicing with the real thing is best, and decides to call Min-ah incessantly until he interrupts her meeting (for the upcoming movie she's in) to tell her to get to the shooting site early so they can rehearse.
Even her future director thinks she and Hyun-min are a pair, which can't be good for the rumor mill.
They practice in the dressing room, and Hyun-min knows just how to bait her in order to get her to do what he wants, which is to practice the scene with full emotions and body movements. (He makes this motion of reeling her in after he baits her, which is just one of those moments of comedy gold that seems made up on the spot. All the better for it.)
Of course, it just so happens that when Hyun-min pulls her close as part of the scene, the Maknae FD walks in. HA. Both he and Min-ah stay frozen in shock until she leaves, and her attempts to get him to resolve the misunderstanding result in his declaration: "Is that petty little misunderstanding that important? My burning passion for acting won't die because of it!"
Min-ah's eyes go wide as she stutters out, "W-why do you have to be so extreme in everything?" So true.
Go-eun resists the urge to address Anthony as "Bong-dal" when she texts him that she's done with one script, hinting that he should come to help with the next. Even though he's got his eyes on her rooftop longingly, he sends her a terse return that she should start outlining on her own.
Instead, Anthony uses the time to negotiate sending the World Team to different production companies, making sure that they'll be paid handsomely by their new employers. That's sweet of him.
Dong-seok is the first to get a call by a company offering a 20% pay increase, though he's hesitant to leave World Productions. They give him time to think about it while finishing Kyungsung.
He walks into the office all pleased with himself, only to find that all the other boys got offers too. Even though the increased salary is tempting, they all want to keep working for Anthony. D'AWW.
So Dong-seok comes up with a way for them to have their cake and eat it too – they'll "threaten" Anthony that they'll take these offers in order to get a 10% pay increase. If this is heading where I think it is – Anthony being mean to them in order for them to want to break their ties with him – I'ma throw something.
Anthony isn't malicious, but he lies that he's closing up shop for World Productions after Kyungsung is finished because of a partnership deal with Taesan, and none of them were hired with him. He tells them to find new jobs and leaves it at that, which leaves the boys feeling like they've been backstabbed by the person they trusted most.
Another item gets scratched off Anthony's to-do list, in transferring his employees to close the company.
Go-eun calls Anthony over (so cute, he has her in his phone as "Sweet Potato") to read her completed outline of Episode 20, only his vision blurs too much for him to finish reading it. She knows something's strange, but he makes sure to cover his tracks with lies.
Thank goodness, at least, that he decides against driving with his eyesight. That would have been a terrible idea.
Anthony goes to see the doctor, who only bears more grim news in that Anthony's right eye is already completely blind. His left will go next, in anywhere from four weeks to two months.
Well. This storyline isn't any fun at all.
Go-eun's handling Anthony's change in attitude surprisingly well, mostly because she knows she didn't do anything wrong (like be clingy, etc.). It's only when she realizes that there's a duplicate page in the outline that she starts putting the pieces together, since Anthony had lied about reading the end when there was no end to read.
Only then does she line up his symptoms with how his mother said her disease progressed. She figures out what could be happening but hopes it isn't true, and her fears are only made worse when she sees his precious car still sitting in the lot.
She heads to his vacant room in an effort to find him, and only finds his book on learning braille instead. Inside is his diary with the list of things he needs to do, like learn braille and find a care facility for the blind. At least she figures it all out pretty fast.
On set, Anthony asks Director Goo if he could finish Kyungsung without him. Director Goo thinks this is because of that partnership offer with Taesan, which is the story Dong-seok has been telling. Across the lot, Dong-seok sends Anthony a betrayed puppy look. Aww.
However, Director Goo confesses that despite all the names he's called Anthony, "This drama doesn't even work for a day without you." So he's not giving Anthony an out, he's got to stick with it.
Min-ah asks Anthony about his move to Taesan, and he carefully avoids answering since he canceled that contract completely. She thinks it's strange that he wouldn't have a date set, and doesn't look like she'll let the matter rest easily.
Go-eun keeps staring at Anthony's to do list, more specifically at an entry he made at the bottom of the page: "Forget Lee Go-eun." Except it's already crossed out like he's completed it, even if some of the text is smeared by an obvious tear stain.
Thinking about how he pushed her away and why, Go-eun's eyes start to well up too. Her tears cause even more of the text to disappear. (If this is symbolic, I'd guess that's a good thing.)
Anthony pays a visit to his mom, who's unknowingly sporting the scarf Go-eun made for Anthony, which she gifted to his mom when he rejected her. (With the initials for his real name, Kim Bong-dal.)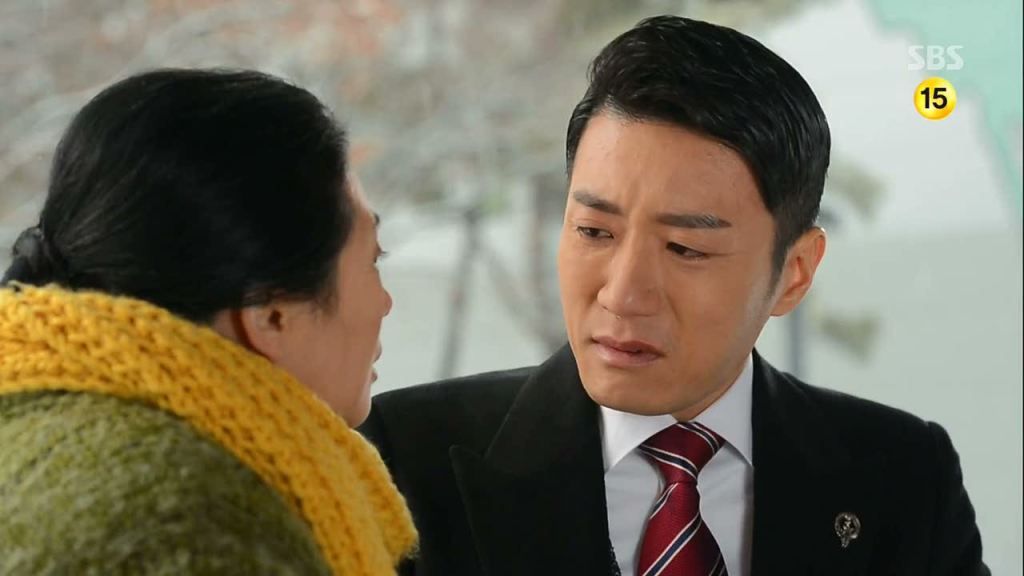 He's on the brink of tears as he asks his mom what it was like for her when he was young and would be mean to her because she was blind. It's clear he's feeling more than sorry now, but his mom is a sweetheart as she reassures him that it was a long time ago.
"I'm sorry, Mom," he says, unable to stop from crying. Aww. He tells her that he'll be going abroad soon because his business is doing well (lies) and that he won't see her for a while. So he just stares at her face in an effort to memorize it.
Mom can't keep a secret long, so when he finally asks about her new scarf, she admits that it was a gift from Go-eun, even though Go-eun didn't want her to tell him.
We see the gifting scene in flashback, which is sweet, as Go-eun gives her the scarf and explains the meaning of the initials. In the present, Mom tells Anthony that he should tell Go-eun the truth if he's going abroad, because she's such a nice girl. See, Anthony? Listen to your mother.
He tries to avoid Go-eun when he gets home, even though she's been waiting for him outside and confronts him right away about concealing the fact that he's going blind. Go you, Go-eun.
Anthony sticks by the adage that it's none of her business – and even if it is, what can she do for him?
"What you're saying about my not being able to see is correct. I won't be able to eat by myself or go to the bathroom. I won't be able to see the dramas that I made," he takes a pause here, referring to Go-eun specifically, "or the scripts, either. I won't be able to see your face. Where you're standing, whether you're smiling or crying, I won't be able to see."
With tears in her eyes, Go-eun asks, "What if I say it doesn't matter to me? For me, it doesn't matter."
It's a heartfelt confession, and Anthony knows it. Her words seem to break the spell as he approaches her, slowly, before kissing her.
And maybe she learned something from her mummy-hands dream, because she kisses right back.

COMMENTS
I'm going to be honest and say that I'm not a fan of Anthony's blindness arc, even though it's being handled decently, for the most part. He's selling it as a character and the other characters are buying it with what information they know, and on some level I have to buy it as a viewer. But strictly speaking, it just doesn't seem all that necessary.
There are parts of the debilitating illness trope that Anthony subverted, namely by actually seeking care for his sickness, while the normal drama hero would just ignore it until the most dramatic moment. It's in keeping with Anthony's character that he doesn't want to just go quietly into the night, and it's admittedly hard to keep hoping for a miracle when your doc basically says: "Yeah, there's no cure. Good luck."
However, I was really hoping we'd subvert this cliche somehow, and held out that hope until the final minutes of the episode. The kiss was certainly welcome, but again I'm left scratching my head, trying to figure out what we're supposed to take from this. Maybe this arc would have been better served had it been addressed earlier – and I'm not counting the hints, I'm talking about the sort of stuff that condensed into one episode here, with the fallout and bouts of noble idiocy. Since so far, we've had a drama about making dramas, and within that, we've had a story of love and friendship; only now it's become a different story, one which hinges on Anthony's ability to see.
It's not the worst track ever, but it seems like such a derailment from where we were headed even a few episodes ago. Because this is the first of two episodes tacked on as an extension (let's face it, King of Dramas wasn't extended for the ratings), there's an undeniable last-minute quality to Anthony's illness, simply because we know there's not a lot of time to deal with it.
Let's say that if Anthony and Go-eun were heading down two separate roads before the blindness hit, I'd tentatively buy the introduction of his blindness as a plot device with which to bring them together. Not great, but okay. In reality, Anthony and Go-eun were clearly already on a collision path with each other, replete with couple rings and hand-made scarves. Where we ended up is exactly where we were.
So the only impact his illness had on their relationship was to delay it a little, which makes me feel like we've just spent an episode watching this show spin its wheels. And that's just not the kind of drama this drama seemed to be preparing us for.

RELATED POSTS
Tags: Choi Siwon, featured, Jung Ryeo-won, Kim Myung-min, King of Dramas