King of Dramas: Episode 18 (Final)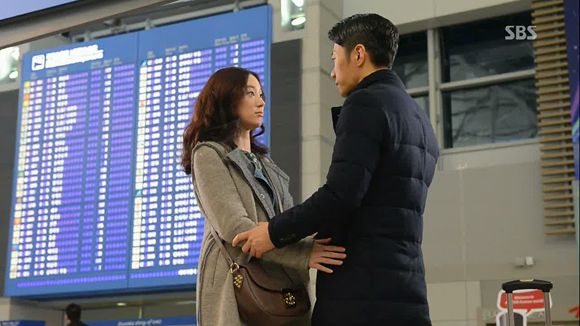 Everything gets tied into a neat bow as our characters go through the wringer trying to prevent a broadcasting accident. What goes around comes around, it seems, and Anthony is made to choose between saving himself or saving his drama. For anyone who knows Anthony, the decision he makes shouldn't come as a surprise.
Last Ratings Report: The final episode of King of Dramas clocked in at 6.7%. Alas, no big shake-ups.
SONG OF THE DAY
King of Dramas OST – Big Baby Driver – "Tuesday Song" [ Download ]
Audio clip: Adobe Flash Player (version 9 or above) is required to play this audio clip. Download the latest version here. You also need to have JavaScript enabled in your browser.

FINAL EPISODE: "The End of the King or The Final King"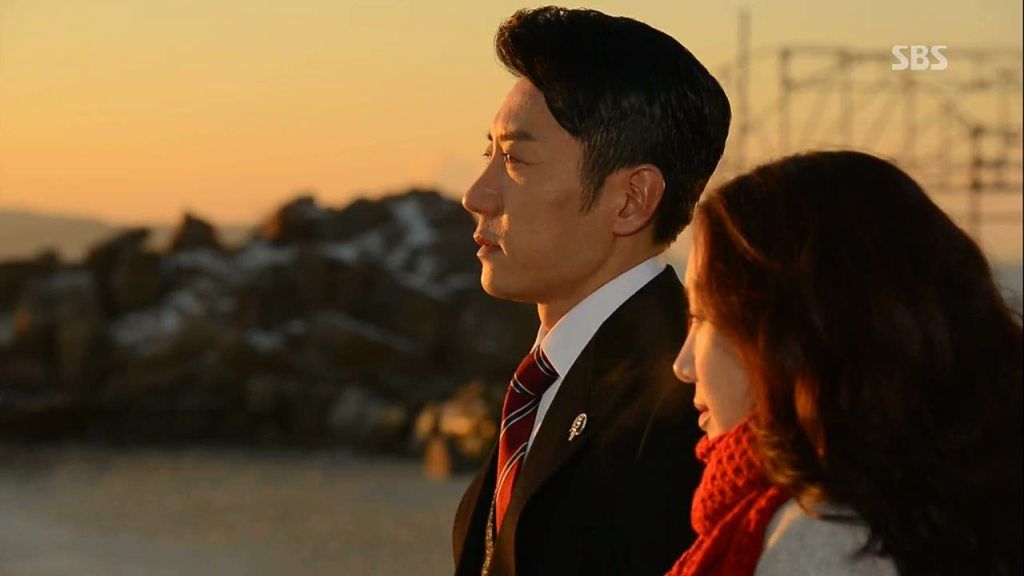 After the kiss, Anthony questions Go-eun's resolve going forward only once, in reminding her that his blindness will be hard for her to endure. She's adamant that it doesn't matter to her: "Let's go together."
They go to see what could be Anthony's last sunrise, as Go-eun thinks to herself, "Even if you can't see, I will make you feel it. And I will be there beside you. Even if you can't see the dramas you made, even if you can't see my face or my drama, where you're standing, whether you're smiling at me or crying, I will see all of it."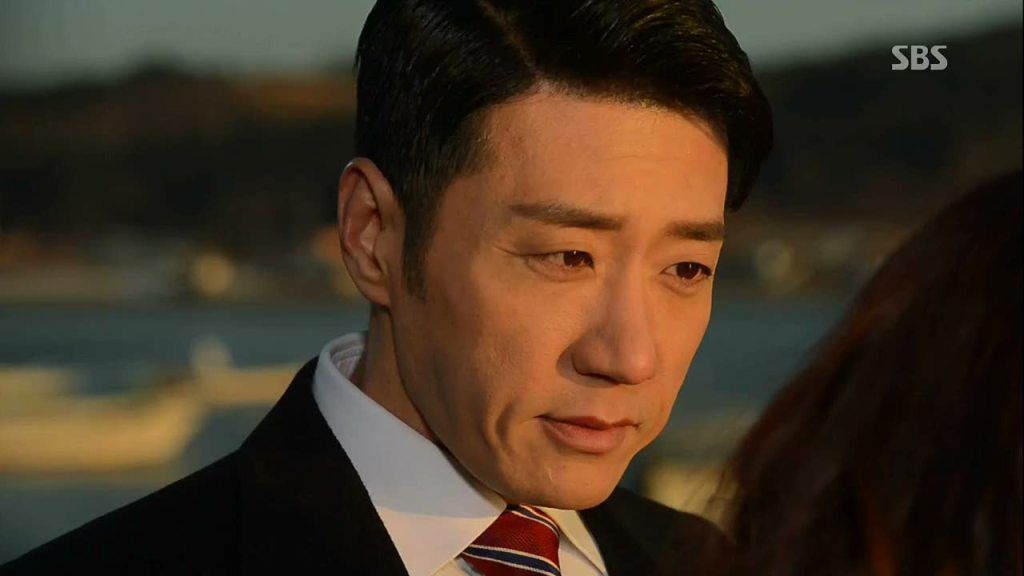 Once that's over, Anthony asks her if they'll have time to "sleep." Go-eun, of course, takes another meaning from the word and stutters that she's not that easy of a woman, to which he replies that he'd just planned for them to take a short nap in the car before driving back.
"So vulgar," he teases her. Ha.
Go-eun ends up driving them home, and she's absolutely terrible at it. Poor Anthony.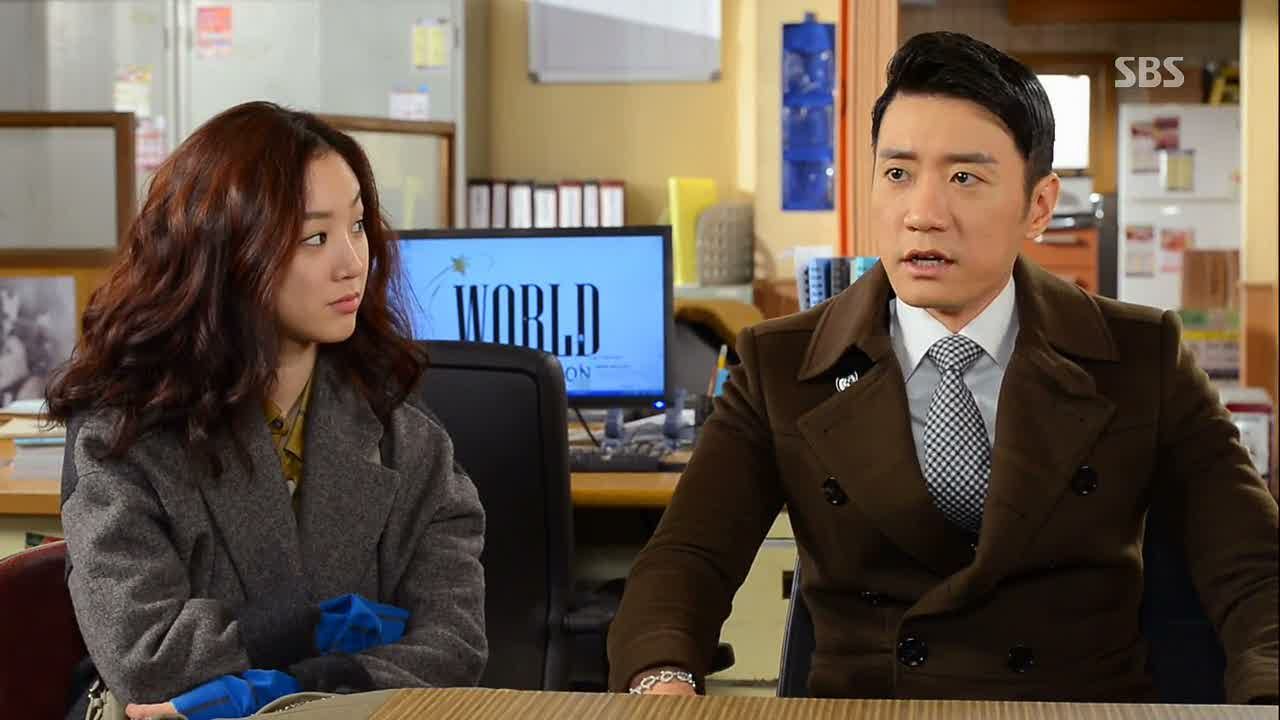 He gives a pep talk to the World Boys to prepare them for the live-shooting madness ahead, claiming that their only real problem will be Min-ah's conflicting schedule since she'll be doing a film at the same time. Go-eun promises to lessen her scenes and, if she must, to kill her character off. The show must go on.
No one's happier than Hyun-min that Min-ah has less screen time, although he thinks it's because his acting talent is finally being recognized by Go-eun, because he's still keeping score of how many scenes he has compared to Min-ah.
Go-eun figures out a way to write the scenes so that Min-ah's portions can be filmed all at once in order to save time. Anthony's there to encourage her, and winks when she asks whether his sight is fine. "The other eye is still fine," he reminds her.
Anthony surprises her by asking again when she started to like him. She asks him the same but he asked first, so she hesitantly replies that her affection started when he defended her during the plagiarism scandal.
And then, he cheats out of telling her when his affection started, saying he'll tell her when she finishes the script. A very Anthony-esque reply, though it's nice to see him not wallowing in depression.
On set, Hyun-min keeps flubbing the takes because he can't remember all his lines. He's all offended when Min-ah suggests he use a prompter, insisting that he can memorize it all and act it all perfectly.
After a short break, he still can't remember… but a look to his right reveals writing on the wall, literally. Aww, cute – Min-ah wrote his lines there to help him out.
Oh, okay – so NOW Anthony's Doc tells him that there might be hope for his eyesight yet from an experimental study in the States. The rates of success can't be guaranteed, of course, but at least there might be a light at the end of the tunnel.
Go-eun's Mom comes for a visit only to freak out a the sight of two toothbrushes and men's skincare in Go-eun's bathroom. She immediately thinks it's that Kim Bong-dal fellow and vows to give him a piece of her mind, which is right when Anthony comes in to claim that Bong-dal isn't a bad guy. Ha.
So Mom takes the initiative by calling "Bong-dal" from Go-eun's phone… and of course, Anthony's phone rings. He passes it off as his alarm and Mom seems to buy it, maybe because the thought of Anthony and Go-eun as a couple is that absurd to her.
Hyun-min offers Min-ah some coffee with sugary assumptions, acting cool as a cucumber as he begins, "Most women don't know their own feelings. Fine. If your feelings for me are that deep, I won't resist them any longer. Not like I did before."
Hah, the look on Min-ah's face. He's sure she's fallen for him, despite her running off at the first opportunity. "Cute. Lovely. She's charming, just like coffee," he remarks to himself with a smile. (Hi there, product placement.)
Min-ah gets an offer to work on Kim Eun-sook's (Secret Garden, A Gentleman's Dignity) next drama, and finds out that Anthony rejected the offer from Taesan in the process.
She calls Anthony to ask for the reason, only for him to reply that he'll tell her once Kyungsung is over. In the meantime, he studies Braille.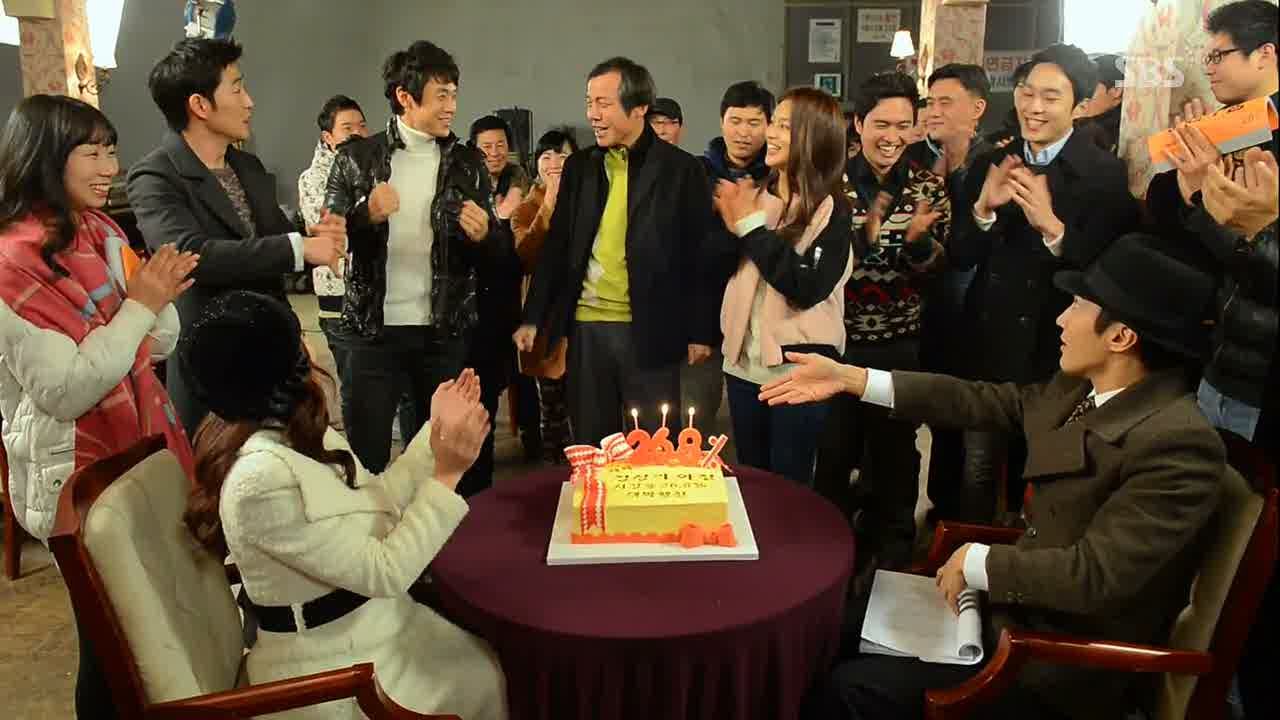 Filming continues, and ratings keep climbing up. New Year's is celebrated both on set and in Go-eun's studio, since dramaland doesn't rest even for the holidays.
They're in live-shoot for sure, since Go-eun is sending over the script scene by scene. But the ratings keep climbing closer and closer to that sacred 30%, and Dong-seok's love for the Maknae FD keeps going unrequited. Aww.
Finally, Kyungsung's script is finished, though Anthony gives Go-eun no time to rest as he takes her out to see his Mom. After introducing her, Anthony tells his mother, "I kept my promise." (To bring the girl that he likes?)
They're interrupted by a call by Anthony's doc, who at least has good news when Anthony and Go-eun go to the hospital together: Anthony is eligible for the clinical trial that might just save his eyesight.
The only problem is, he'd have to leave for the States the next day to make it in time.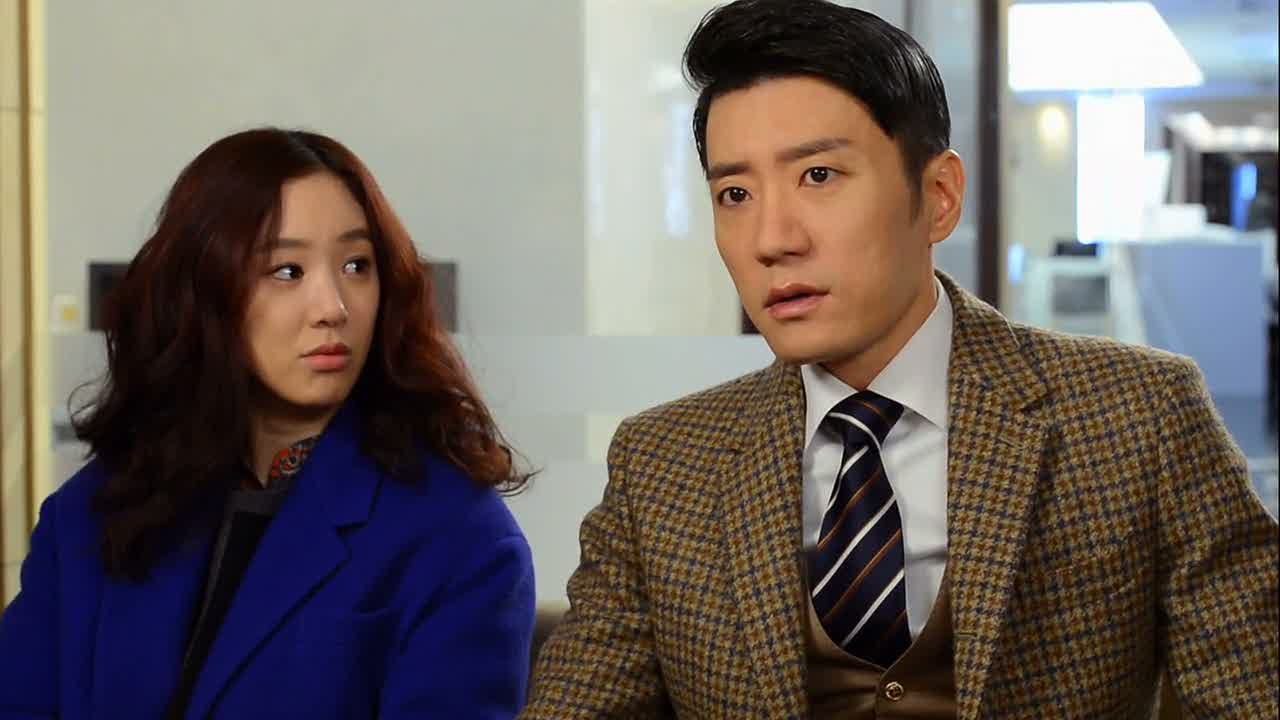 Go-eun's more than supportive of his going off to the States as she tells him, "You said before that a miracle is not something you wait for, but something you make." If there's even a shred of hope she's all for it, so that he can achieve that miracle and come back to see her face.
She goes to her rooftop that night when she's unable to sleep and finds Anthony standing on his. They share a conversation over their cell phones, as he tells her when his flight is and she assures him she'll notify the team.
"You can't sleep because you're thinking about me, right?" she teases. Anthony scoffs that it's not true, which causes another round of cute bantering. Now the "I'm acting like I hate you when I love you, for no reason" kind, but the "I love you and you know it but I'll tease you anyway" kind. Which, in my opinion, is the better of the two.
We finally get a moment with Director Nam and Anthony, as the former fondly remembers how he punched Anthony the last time they met on the company roof. "Time flies so fast, right? Already it's the last episode," Director Nam remarks. It's meta, and it's true.
Director Nam is eager to work with Anthony again, although Anthony encourages him to hold onto Go-eun. "So far, I've been thankful to you," Anthony admits, which has Director Nam curious. His words sound like a farewell.
"I'm thankful to you too," Director Nam finally admits.
I was wondering when we'd tie up CEO Oh's very loose end, as he and Anthony run into each other in the hallway. Anthony offers a sincere apology for CEO Oh having missed his father's funeral, since he was unaware of it at the time.
It's unclear whether CEO Oh will forgive him, but at least the apology has been made.
Go-eun sees Anthony off at the airport, and the two share a long embrace. Anthony assures her that he'll be back soon, and both of them are reluctant to let go of each other's hands.
Anthony makes it just past the gate before he gets an urgent call from Dong-seok that Min-ah's filming schedule set her back, and she won't make it to the filming site until seven that night, which means they won't get her scenes in time for the broadcast that evening.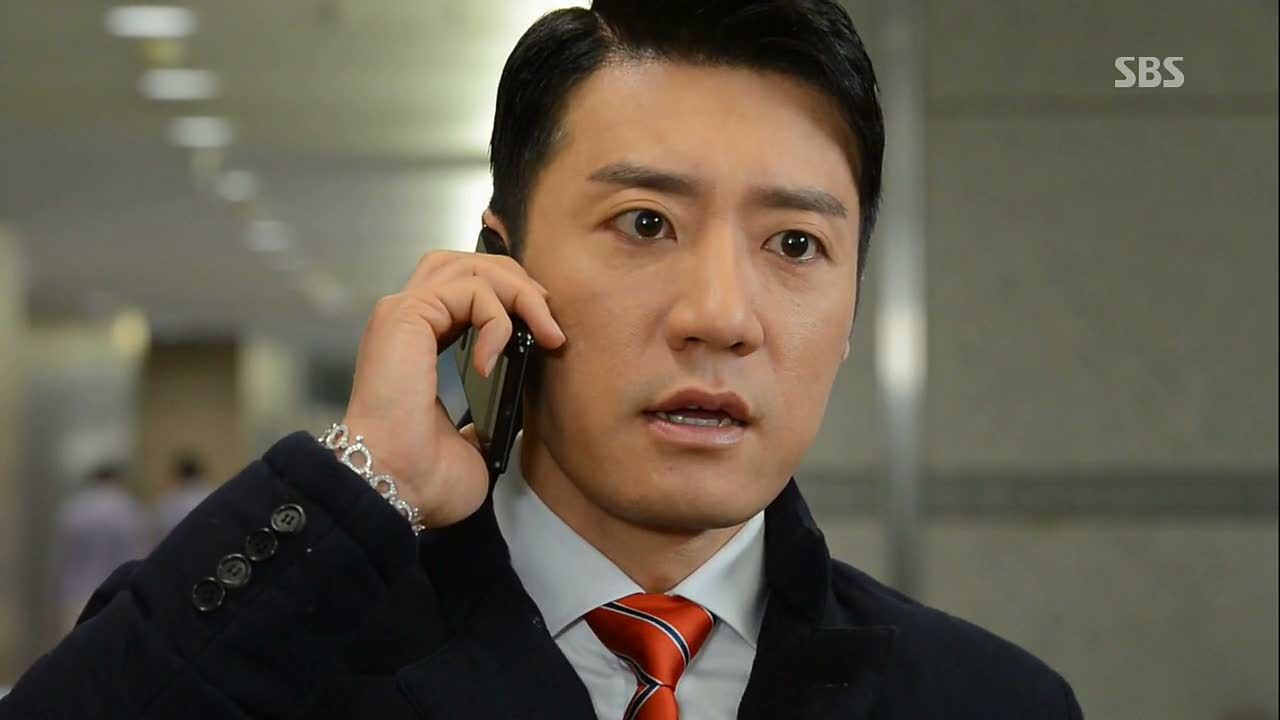 "It will become an unprecedented broadcasting accident," Dong-seok says gravely. Anthony vows that he won't let it happen, but it means giving up on his chance to see again. He's going to choose the drama, isn't he?
Go-eun's ready to push him back on the plane when she sees him, telling him that there'll be someone else who can take care of the problem. She's treating it like we've seen in every drama before, where one missed flight means the end of everything ever.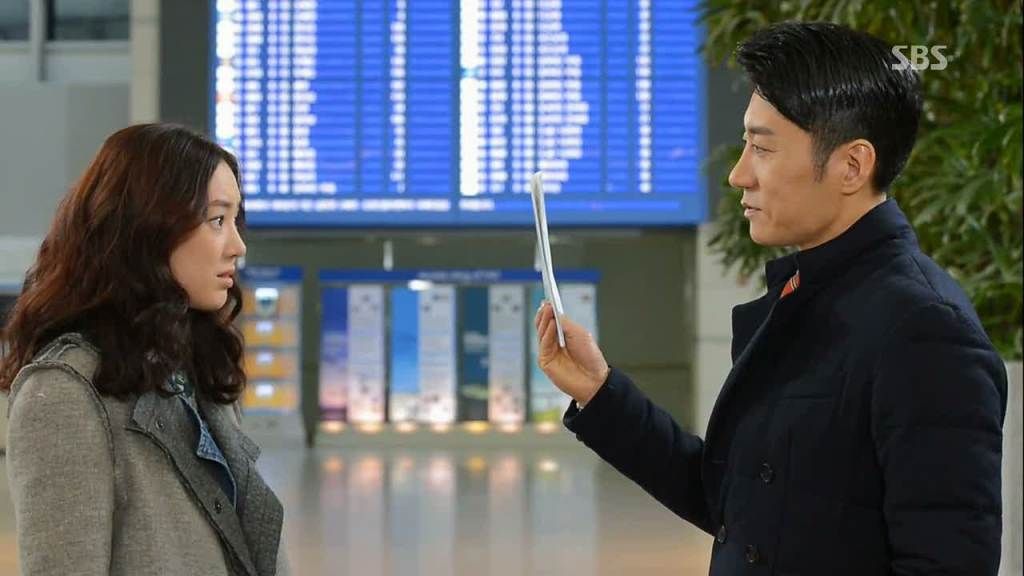 However, Anthony subverts that cliche quite nicely by producing a plane ticket for a later flight to the States that evening. Because, as it turns out, later flights do exist in dramaland. Who knew? (Props for this one, seriously.)
Now they have to go into damage control mode, which means Go-eun has to revise the script in order to cut down Min-ah's scenes in order for there to be enough time to film them. In absence of a laptop, she uses an employee's desk at the airport. Ha.
Min-ah's stuck behind an accident on a snowy country road, so Anthony instructs her to stop the first motorcycle that passes in order to take her to the filming site. At least this time he advocates slow, careful driving to avoid any accidents.
She agrees, knowing how grave the situation is.
While Go-eun furiously works on her script revisions, Min-ah bribes a motorcyclist with an autographed picture to be on her way.
Meanwhile, Director Nam and the rest of the crew at SBC gets wind of the delay. Their panic is understandable, but they have no choice but to wait it out when there's nothing they can do.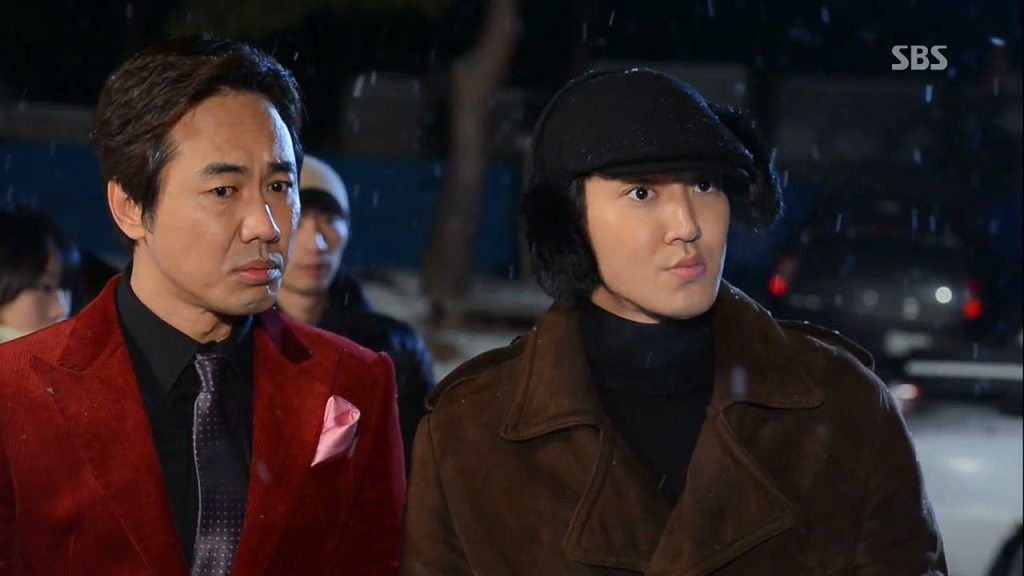 Anthony does his part to help Go-eun by instructing the editing room to edit in about five minutes of flashbacks to help fill air time while Min-ah rushes to set on a motorcycle. Everyone on set waits nervously.
They're cutting it close by sending in tapes to broadcast while they haven't finished the end of the episode, but Anthony arrives on set to (hopefully) save the day. He suggests they film Hyun-min's close-ups first, and they have the Maknae FD stand in for Min-ah. I bet this happens on real drama sets when time is of the essence.
Go-eun manages to send in the revised script just as Min-ah arrives on set. Things are looking cautiously optimistic.
Min-ah catches Hyun-min off guard by offering a sincere apology for being late, enough so that he can't argue the point. They get to filming.
The last of the tapes is given to Anthony to deliver to the broadcaster on time, which is giving me bad vibes considering what happened the first episode. At least he's not driving the car? And it's an actual car?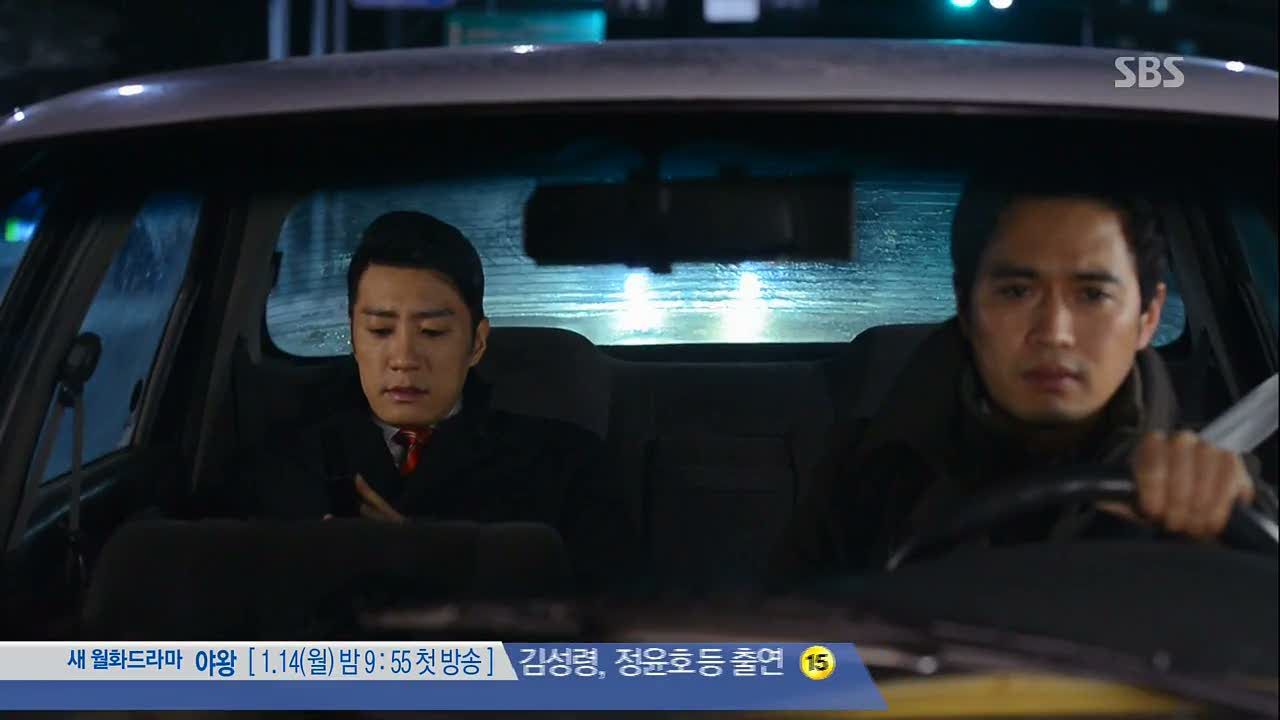 Go-eun scolds Anthony for cutting his flight time so close with his insistence on delivering the tape himself, especially when it's a job Dong-seok could have done alone. "Do you have to do this to the end?" she asks exasperatingly.
"Because this is the end, I really want to hand it over myself," Anthony replies. She at least seems to understand, and agrees to wait for him at the airport. Dong-seok overhears the conversation even though he has no idea why Anthony is really headed to the States.
The SBC Execs are notified that Anthony is on the way with the tapes, and can breathe just a little easier.
While waiting, Go-eun finally thinks to check the board of departure times… and doesn't find Anthony's red-eye flight time listed. Which means he lied to her, and he really did give his eyesight up for the drama. Sigh.
At least she calls him up straight away to confront him on his lie, which he admits he used because he knew she wouldn't let him go if he told the truth. Which is true, since she tells him this was the last chance to treat his eyes.
Anthony: "That's right. It might have been the last, very tiny chance. Maybe I wanted to find that slightest hope, like a piece of thread. But this is my last drama. When I knew that my last drama could be horribly ruined, I couldn't just leave it behind."

Go-eun: "Are you saying it was more important than your own eyes?"

Anthony: "Yes. Because this is my last drama, as well as your first drama."
He apologizes, but there's nothing Go-eun can do now. Dong-seok asks about the phone conversation again, and Anthony evades the question. Again.
…And then they get in a car accident.
In the airport, the crash of luggage on the floor mirrors the sound of the accident and works to startle Go-eun from her thoughts.
Dong-seok stumbles from the car with a bleeding head, and makes his way over to Anthony's side. Anthony all but falls out of the car with an even more severe head wound, and the lost look in his eyes has Dong-seok crying in fear.
But when Anthony looks up from the ground, all he sees is the bloodied face of the motorcyclist who died kneeling in Dong-seok's place.
Despite his wounds, Anthony produces the tape from his jacket with a shaking hand. "Instead of me," he ekes out, "you should go and hand it over."
Dong-seok refuses to leave his side, and Anthony has to reassure him that the bystanders have called an ambulance. He all but orders Dong-seok to go lest he face his wrath later, and when Dong-seok finally does break away, Anthony falls unconscious.
Go-eun gets the call from Dong-seok, and her face falls. Anthony seems to be teetering on the edge of consciousness as he's carted away in an ambulance.
Meanwhile, Dong-seok delivers the tape to the station, bloodied and drenched in tears. He can barely manage to tell them that Anthony was seriously hurt.
Go-eun rushes to the trauma ward as Anthony undergoes defibrillation. He can't be revived, and terror starts seeping into Go-eun's expression.
All the while, the show goes on, though when it achieves its goal and surpasses 30%, no one at the station has the heart to cheer when Anthony's fate is uncertain.
At the hospital, Anthony flatlines. The doctors stand aside as Go-eun cries. This can't be the end. We're so being trolled… right? Right?
I don't know if it's a bit of meta that we get a series of flashbacks through Go-eun's perspective, of all the times Anthony opened up to her and trusted her wholeheartedly.
"This person isn't going to die so easily," Go-eun assures the doctors as she kneels by Anthony's side to take his hand. She urges him to wake up and open his eyes.
And then, as if on cue, Anthony comes back from the brink. He's alive.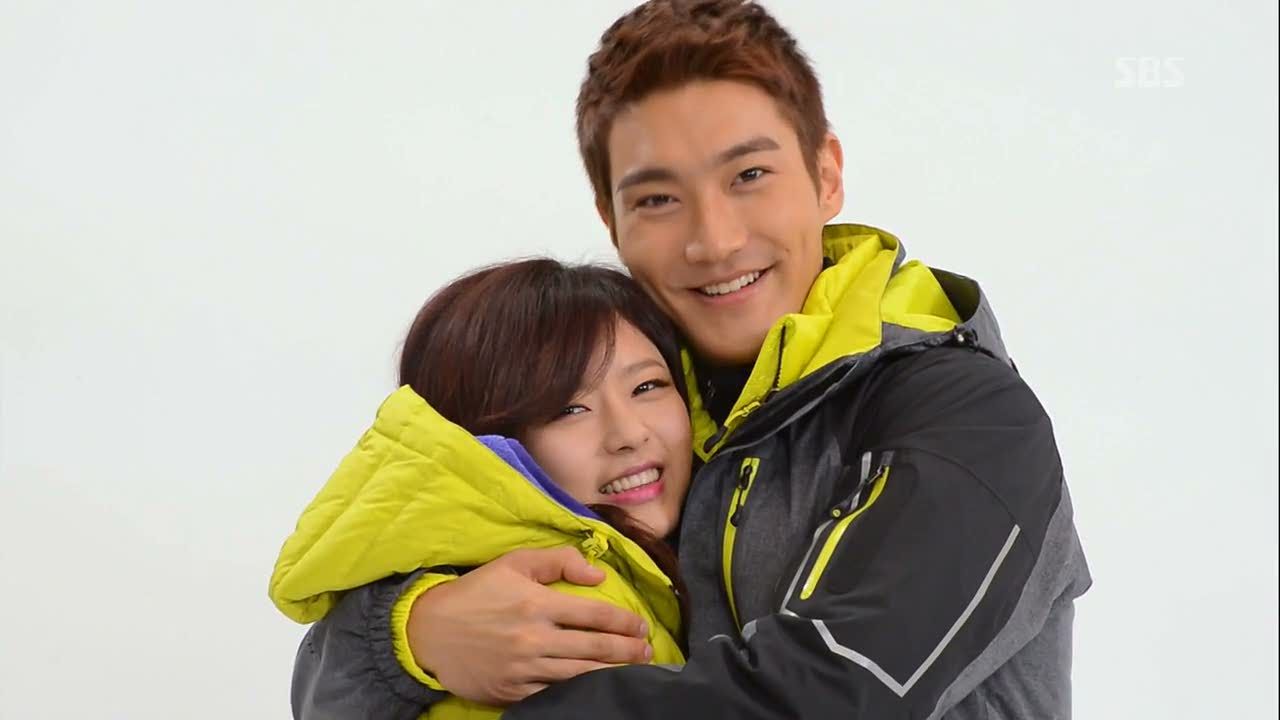 Some time later, Hyun-min and Min-ah work together on a photo shoot, with Hyun-min back to his old antics as he tries to push her out of the frame with his butt.
However, the atmosphere is a bit different as they share a few loving touches, only to be confirmed when the photographer notes that they've earned the fame of their title, "The best couple in the entertainment world."
Backstage, Hyun-min talks future CF deals with his "darling" Min-ah, so that they can catch up to Brad Pitt and Angelina Jolie. It goes without saying that they're adorable together, with Min-ah playing into his ego by saying maybe the best thing Hyun-min could ever hear: "You're smarter than Brad Pitt!"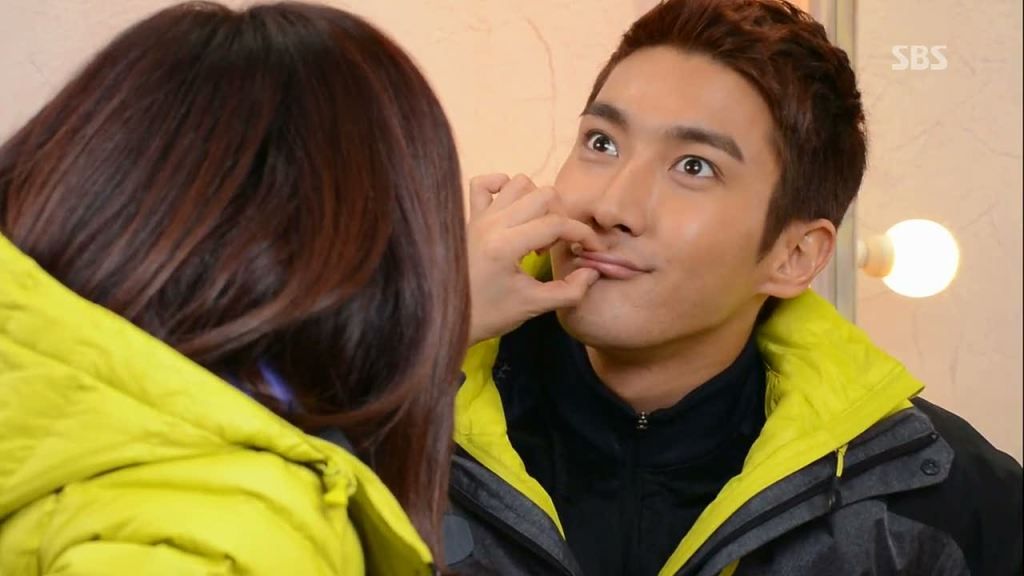 Haha. He is on cloud NINE with that statement. "Then my honey is like Angelina Jolie," he replies in a lovey-dovey voice as they prepare to do some smooching.
In voiceover, we hear Go-eun comment: "After one year, those two with a lot of rumors and scandals became a real couple."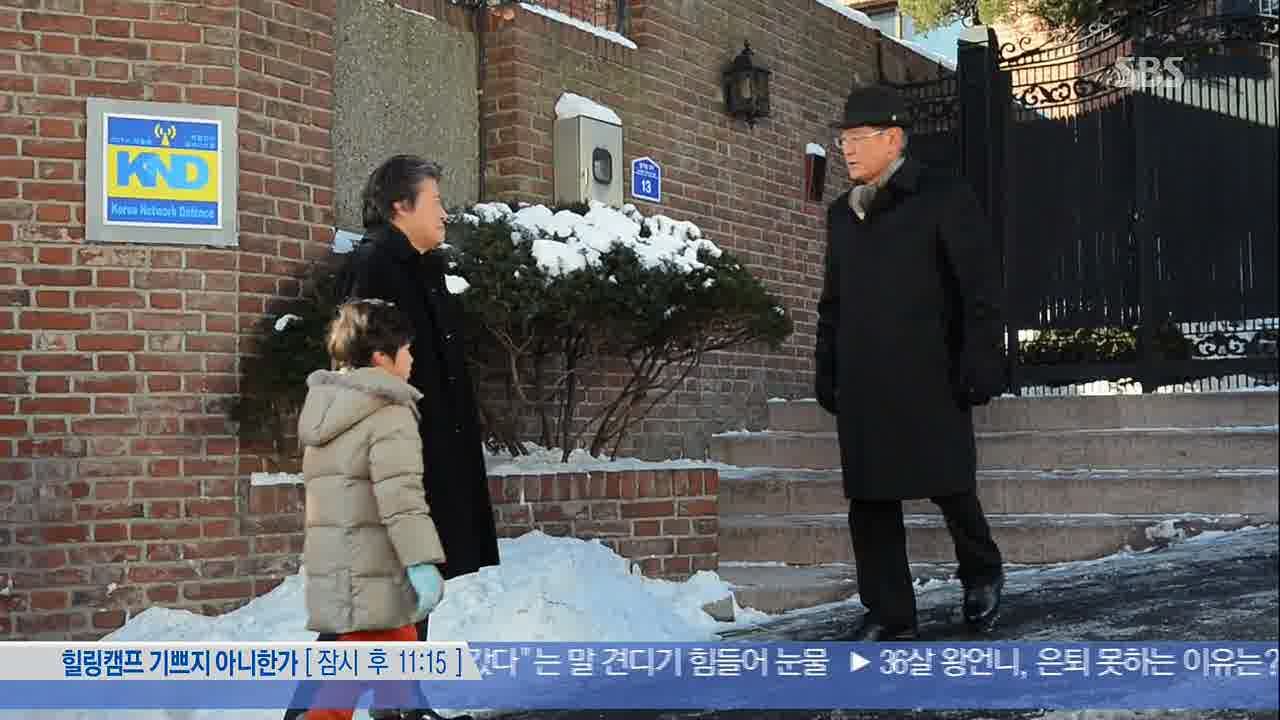 We see Daddy Chairman as Director Nam greets him with his son. In voiceover, Go-eun says that Director Nam was promoted to Chief Director of Production, and that he made up with his father.
In real time, Daddy Chairman gets to greet his grandson and his son happily.
Go-eun: "Now, there is no one who doesn't know that Director Nam's father is the Chairman of Empire Production. And Empire Production is still the best drama production company in Korea."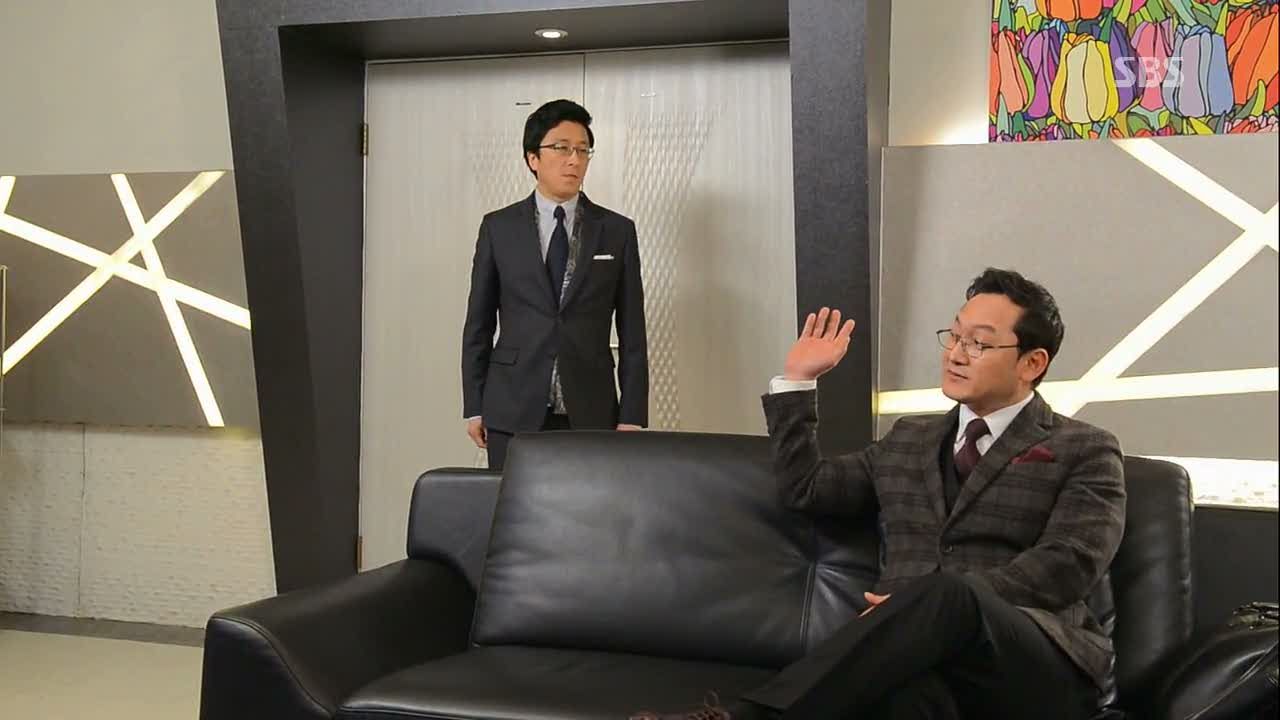 The doors to Empire open as the new Chairman walks through the hall… and it isn't Anthony, or CEO Oh, but CEO Oh's minion. Hah. What goes around comes around, since CEO Oh finds himself in the same position he once put Anthony in.
Go-eun: "CEO Oh, who got kicked out, is trying hard to come back. That's about it." Ha. She goes on: "And Anthony Kim, the producer of my debut drama Kyungsung Morning… No, my Kim Bong-dal…"
We cut to Anthony giving a presentation about a possible comeback for radio dramas in Korea, but his eyes keep wavering from one spot to the other. …He's gone blind, hasn't he.
He introduces Go-eun to the audience as the top star writer in the drama industry capable of bringing radio back, and the audience cheers. Yep, he's definitely blind.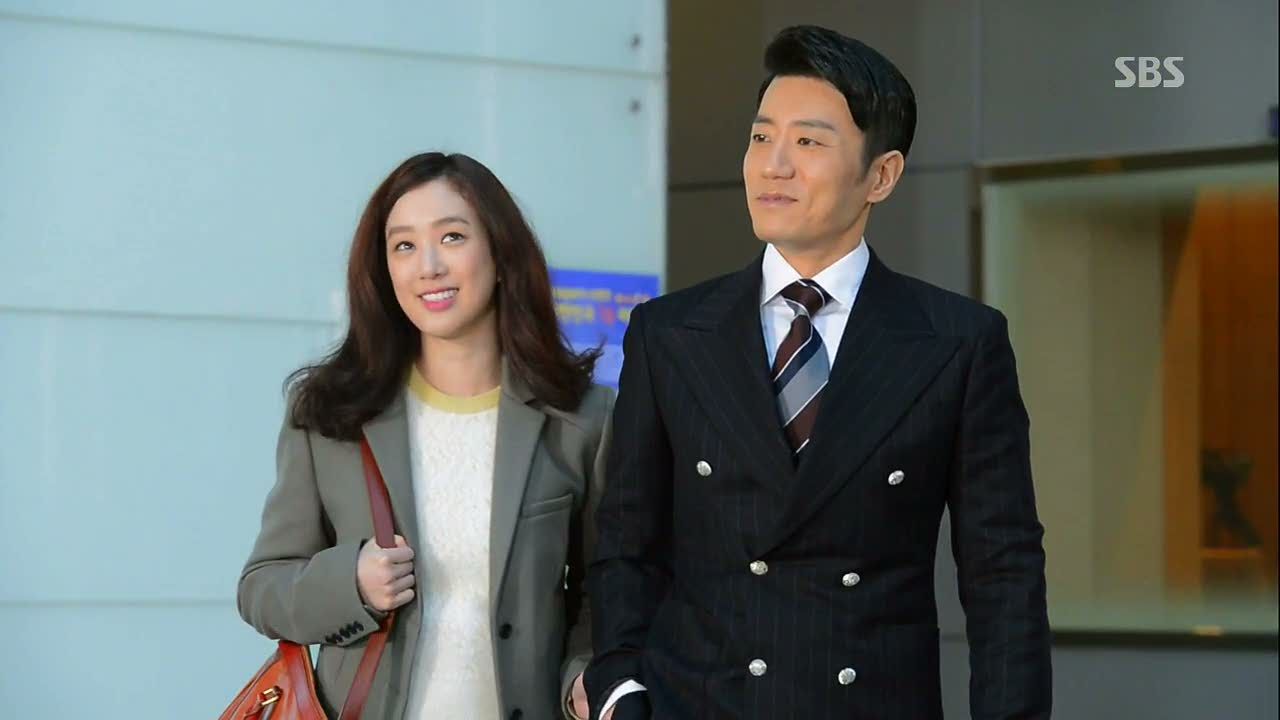 She helps him walk out, both of them wearing the couple rings he'd originally bought. He pulls out his I'm Blind Sunglasses, which he claims make him look cool. They talk and laugh over who's taking a loss if she turns to radio dramas, and walk with each other outside.
Go-eun: "Even though he's just a third-rate producer now, he's forever the king of dramas in my mind."

COMMENTS
Having not been a huge fan of last week's angst-filled episode, this week's finale amped up the tension well enough and provided some thrills we'd been missing from the early days. I liked that we brought the drama back to the drama production, which is where the fun is at in this show. Lots of stakes, tension, and all of it riding on avoiding a broadcast accident.
Anthony's blindness arc was much easier to swallow when he was being active about it, and I found myself hoping for a miracle after last week's assuredness that all hope was lost. We were given that sliver of hope, Anthony was given that sliver of hope, and then it was taken away. The thing about the airport ticket scene that got me was that the writer was aware of the "If I miss this flight, everything is lost" trope, and had Anthony produce another ticket. I'm pretty sure I cheered.
Except the ticket was a lie, so really we just ended up at square one. Which wasn't the worst thing ever since he clearly made his choice. It was handled well, his blindness wasn't treated like the end of the world. He was able to function and pitch a classic idea to a roomful of less-than-enthused directors. He's not going to be the King of Dramas because Go-eun tells us that he's just a third-rate producer.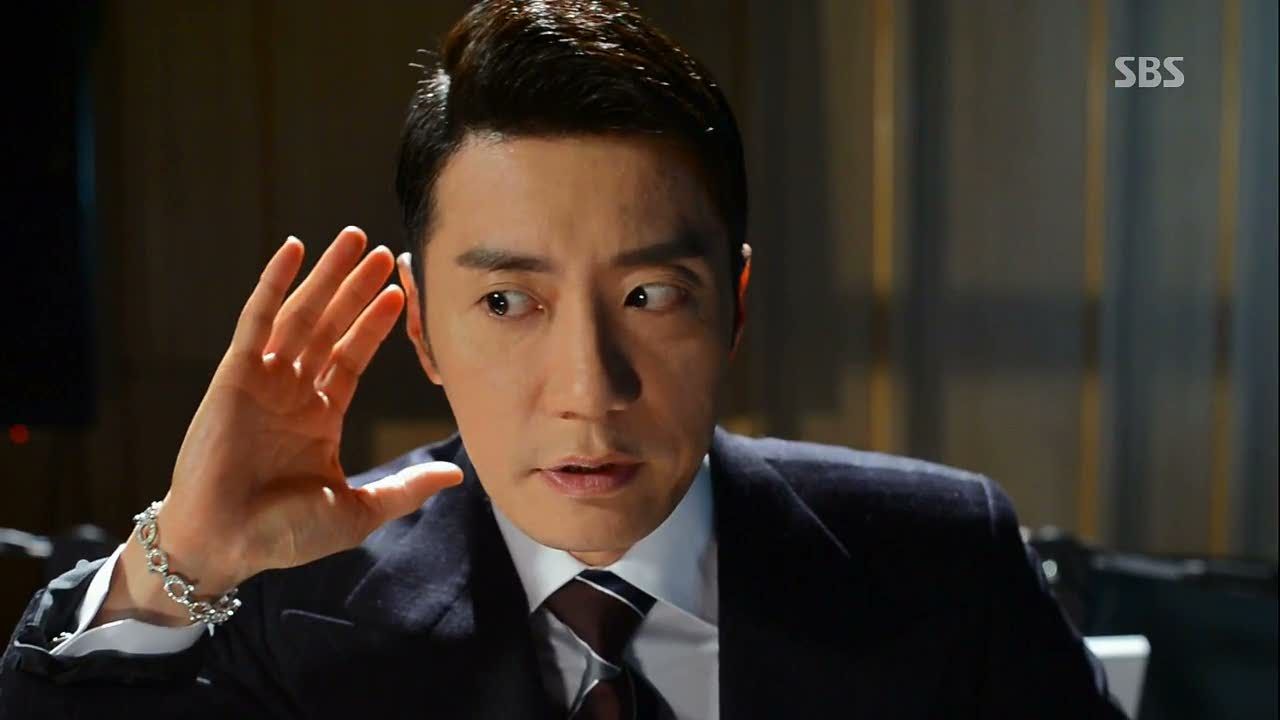 One could argue that the ending was realistic, and I'd agree. But this drama wasn't peddling straight realism, and in fact mostly gave us a sort of hyper-reality, which I was fine with. But in one episode we went from a literal unexplainable miracle (Anthony returning from the land of the dead) to a scenario where we could use a miracle and didn't get one, so our hero ends up blind. Again, I'm not sold on it, but would give it a tentative pass if there was some hope there. Sure, his radio idea might take off, but for the moment, he's a third-rate producer. (I can't get over that line.)
What's most important is that Anthony as a character is able to live a fulfilling life, though I do feel sad for the boy who lived his life escaping reality through dramas. But I'll admit it's just wish-fulfillment on my part when I admit that I wish he could have achieved his dreams in becoming the best drama producer and the literal king of dramas – this time with a heart, a team of people to support him, the love of an awesome person, and a successful hit under his belt. One that didn't require anyone to sacrifice their lives.
That aside, King of Dramas wasn't a disappointment by any means, even though we didn't end with the same kind of zippiness we started with. (Something that's becoming like the rare white elk of dramaland, to end a show without any tonal or quality loss in the live-shoot system.) It was filled to the brim with endearing characters, even when the week-to-week story started to lag. When problems were presented and solved before we could blink, our cast was there to ground us and make us laugh. If nothing else, this was an insanely funny show.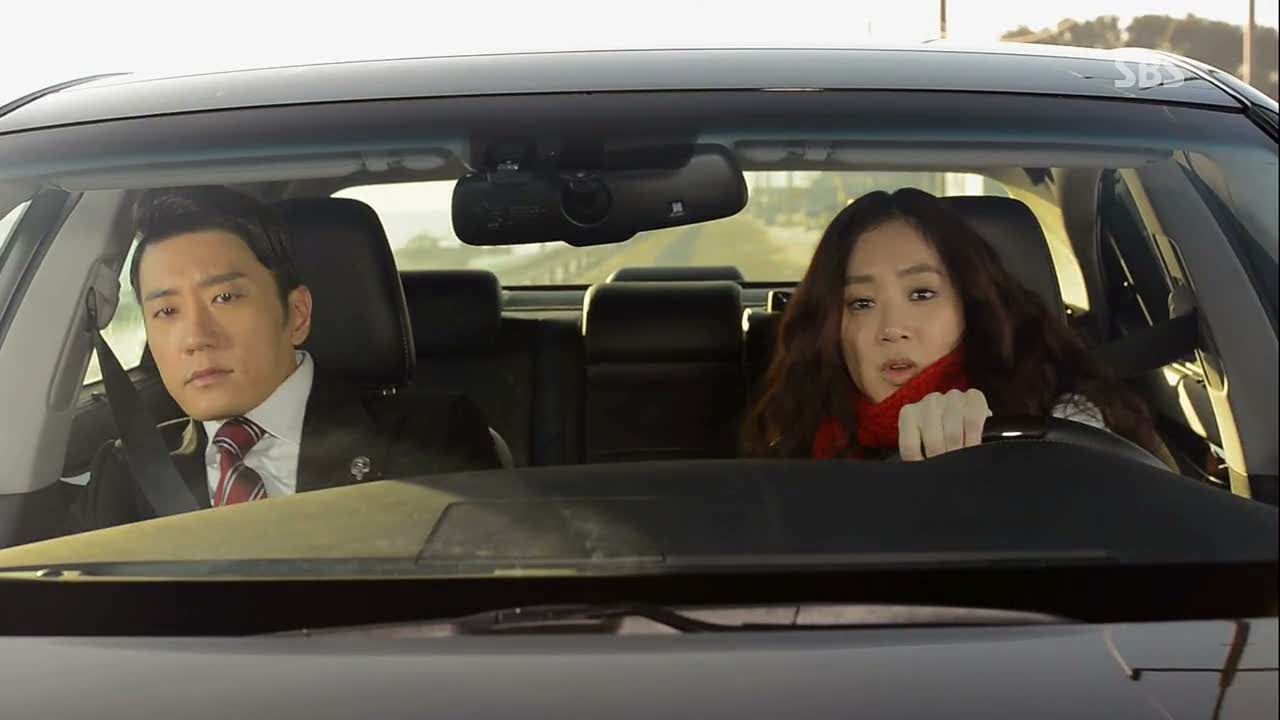 Unfortunately it seems like we fell prey to low ratings and the live-shoot system, especially in instances like Min-ah's fly-by-night makjang side, or CEO Oh's constantly-changing perspectives on how to deal with Anthony. It sort of felt like the writer was throwing plot thread cupcakes at the ratings wall to see what stuck, introducing things here and there to test the waters. If a thread didn't work, it was quickly cut. Which I suppose we can be thankful for, rather than seeing things we didn't want dragged out for ages. But it did make me a little wary of every sudden turn, always curious whether it was going to really impact where we were going or whether it was just a fleeting thing that would disappear in the next week's episodes.
Again, it's not necessarily a bad thing, since we got a pretty breezy watch out of it all. This is a show that provided fun, escapist entertainment, and though it lacked any huge messages, the meta commentary was as fun to watch as our cast interactions. I loved everyone from Anthony down to Director Goo, and appreciated that we had a heroine with just the right amount of spunk and naivety. There wasn't a dud to be found in the entire cast, with a memorable comic performance by Choi Siwon that never failed to have me in stitches every single scene.
I can safely say I'll miss this ensemble, and I hope the World Boys will see a bright future waiting for them in the world of radio entertainment. I have a feeling that if only one adage survives from this drama, it will be this:
What Would Anthony Do?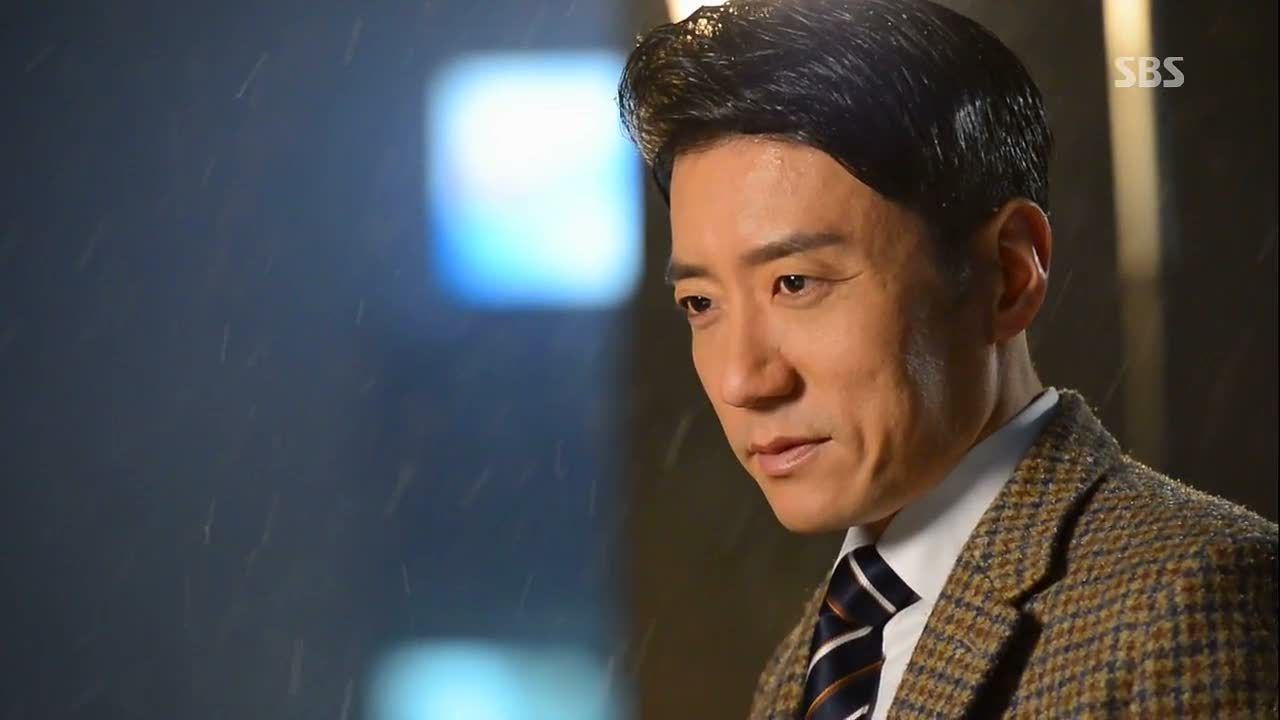 RELATED POSTS
Tags: Choi Siwon, featured, Jung Ryeo-won, Kim Myung-min, King of Dramas