Running Man: Episode 129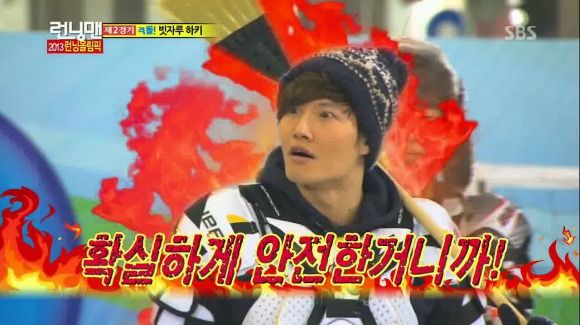 The Idol Team is back to face the Running Man Team in the 2013 Running Man Winter Olympics. Just because it's winter doesn't mean the games can't be fierce. The competition is tough, the games brutal, and there can only be one victor. Will the Running Man Team be able to clinch a victory over the fresh-faced idols?
EPISODE 129. Broadcast on January 20, 2013.
The 2013 Running Man Winter Olympics kick off at Gimpo Airport and right off the bat we're introduced to our "upgraded" Idol team. First, we have Kwang-hee (ZE:A) who mirror the boys' disappointment that there's a disproportionate guy/girl ratio on the idol Dream Team.
Then there's SHINee's Minho and immediately everyone complains that he's like an athletic powerhouse. Does that make him Spartakooks Junior?
But his welcome is nothing compared to Sulli (f(x) and now it's Minho's turn to grumble about his lack of fanboy fanfare. Ha, then Kwang-hee tells him that he was practically scolded when he arrived.
Heyy there, Yong-hwa and Jong-hyun (CNBlue) – we just saw you guys a few weeks ago! Then there's Lee Joon (MBLAQ), and L aka Myung-soo (INFINITE) to round out the rest of the idol team.
Jae-suk marvels at the Pretty… and then record scratches at Kwang-hee. The idol takes it like a champ, until he's compared to Kwang-soo. At least they're BOTH upset at the comparison and Kwang-hee defends that it's like a Before and After Photo (Kwang-hee's plastic surgery is no secret in the variety world.).
The Olympic torch is lit by resident figure skating star, Maknae FD, to commemorate the start of the Running Man Winter Olympics.
As expected, Kwang-hee's a chatterbox in the Idol Team car. He's all, Let show 'em what the hot young'uns can do! When the others point out that that has nothing to do with whether they'll do well today, Kwang-hee says brightly, "We're the forerunners in Kpop!"
The Running Man Team hits the nail on the head when they note that Kwang-hee seems more concerned about being funny than winning today. Their Summer Olympics loss still fresh in their memory, they resolve to bring their A-game today.
Speaking of being young, the Idol Team note that they've never ridden a sled before (gasp). The Running Man Team are all, Sure, neither have we! and Kwang-soo mumbles that he's not that much older than the idols.
The Running Man Team are confident that they can at least beat some of the less-athletic idols (e.g. Kwang-hee, Lee Joon, and Jong-hyun). Now I'm getting flashbacks to when Jong-hyun carried Choi Ji-woo and Lee Joon's heodang spy days.
Yong-hwa asks what it'd be like if Kwang-hee ripped off Jong-kook's name tag and Jae-suk replies, "It'd be funny!" Because everything he'd do with that high-pitched voice would be funny?
They start the ski-sled relay race and woah, Suk-jin's actually good as he glides on the ice with ease. But then he jets in the wrong direction, completely missing the turn. Whoops.
He makes up for lost time and then Kwang-hee's huffing and puffing behind him. Suk-jin: "You're the first idol who's lost to me!"
There's a considerable gap between the teams by the time it's Yong-hwa's turn, but before you know it, he's right on Haha's tail. L closes in on that gap, skidding right behind Gary. How appropriate that they play INFINITE's "The Chaser"?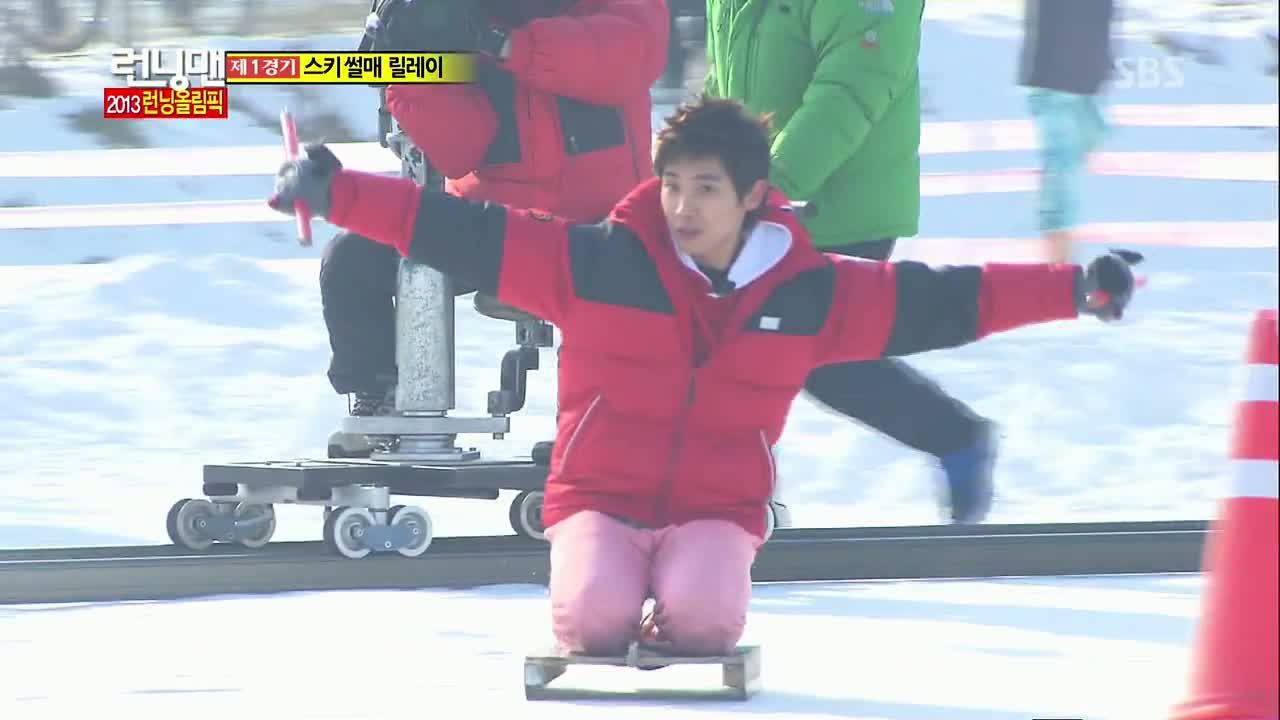 Lee Joon takes full advantage of the lead, even posing for the camera. But he sees Jae-suk ski towards him so he madly starts trying to ski backwards. LOL.
It's down to Minho versus Jong-kook and now a giraffe kick turns out to be useful, giving the Tiger a needed headstart. Kwang-soo tries to give him another kick but falls on the ice. Animal karma?
They're neck and neck as they approach the final turn but Jong-kook miscalculates and turns too late on the corner. He nearly skids out of control just as the finish line is within reach and Minho slides past for the win.
But they quickly shift the blame on Kwang-soo and Jong-kook asked if he kicked him or pushed him. Kwang-soo: "It's 50:50."
The cast continues to tease Jong-kook in the car and Jae-suk aptly describes Spartakooks in a few words: He's got power but doesn't know how to use it. HA. Then they mention how Kwang-hee's the weakest link on the Idol Team, which makes him a prime target.
Funnily enough, the idols are talking about that very topic in their car. Kwang-hee defends that he was reining himself in so that he wouldn't scare the fans with his uber strength.
Yeah, I don't think anyone in that car or on this side of the screen is going to believe that right now.
Mr. PD introduces their second game as an ice hockey match. But it's not so much ice hockey as it is hard floor hockey and that ice puck looks more like a robot vacuum.
The boys comment that Sulli looks super cute in her goalie suit and her voice drops a few registers to tell them to knock it off. Why am I getting the feeling that this level of pseudo testosterone was eerily absent in a certain drama?
The relay race loss is still fresh on Jong-kook's memory and he asks the staff to put a disclaimer in post-production. Something like "No idols were hurt in the filming of this show."
Jong-kook fulfills his warning as he plays rough with the idols boy in the rink. Turns out that the Ace is also an ace goalie and the boys are amazed when she blocks two goals in a row. She's like, "I have to block them!" And then her helmet covers her eyes. Hee.
Jong-kook continues to ram into the other team and they're a good sport about it, falling down laughing when they get hit. Then Kwang-soo earns a minute penalty (for throwing a player's broom) and when Suk-jin readies himself to shoot… Lee Joon pushes it out of the way. Ha.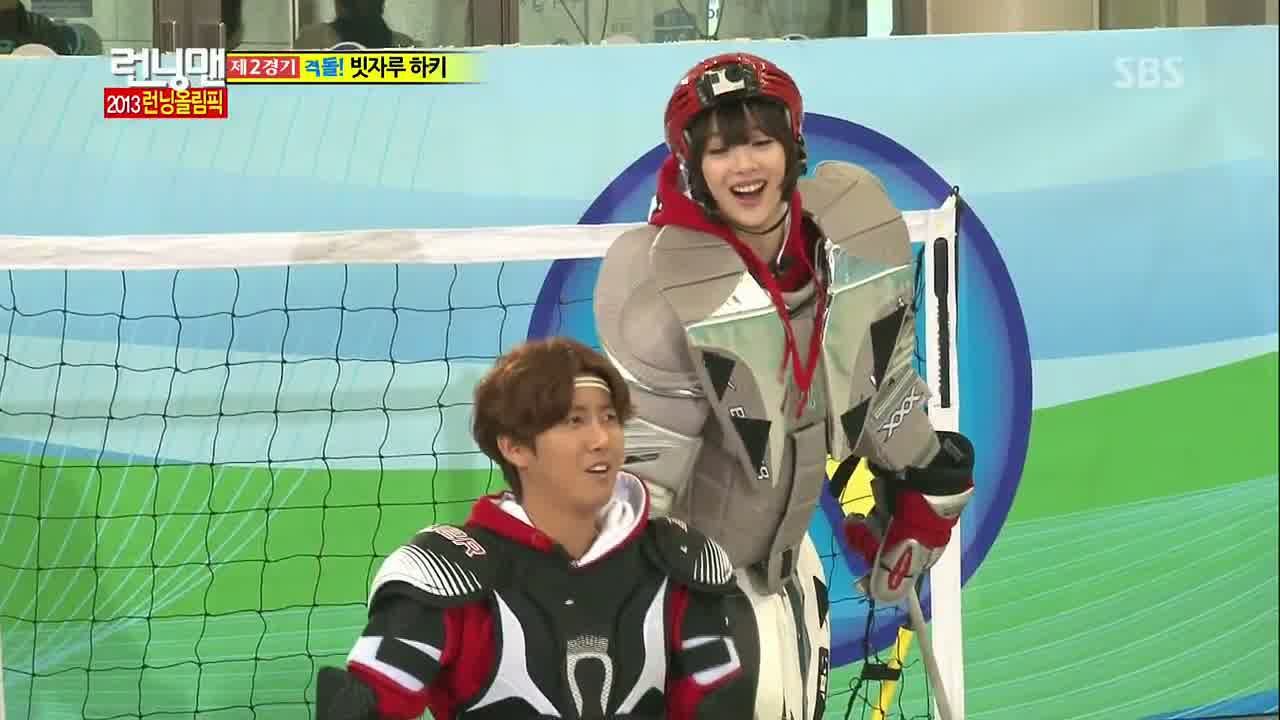 Kwang-hee finally gets a chance to play but he takes one look at the other players fighting for the puck at the other end of the rink and he freezes. Then Sulli is all, "Oppa! Go over there! They're probably all spent!"
There's suddenly a chorus of screams and a moment later, we see that it's all from Kwang-hee, who freaks out whenever the puck comes towards him. So, when are you going to show us that uber strength again? Hehe.
The puck flies past and Yong-hwa picks it up. He shoots at the goal and Ji-hyo blocks it. Then Jong-hyun gets possession of the puck and it slides into the goal.
A hockey match is no fun without a brawl. Haha grabs Yong-hwa and they start rolling on the ground together before Maknae FD breaks it up. But then Haha's outburst initiates a domino effect and soon, all the players are wrestling each other.
L breaks out of the pack and it's just him versus Ji-hyo… he misses. Then he dives in front of the goal to block the Running Man Team. HA – it takes me a minute before I realize that Kwang-soo's pants are at his knees again. Is he just too tall for the suit?
Haha finds any opportunity to take on Yong-hwa and they both earn a penalty. They continue to wrestle each other to the ground. Don't worry – given the EIGHT times Yong-hwa's been on this show, he's practically family.
Kwang-soo puts in a goal for the Running Man Team and everyone's like, "Pull up your pants first BEFORE you celebrate!" By halftime, the score's tied 1:1.
Sulli wonders if she can sit down in her suit and her To the Beautiful You co-star helps her out… by lying her on the ground. Hahahaha.
Haha and Kwang-soo start concocting imaginary ideas (like secret weapon AZ887), as if writing their own sports drama and Jae-suk comments that the Idol Team look like they're writing their own high school love story.
The Running Man Team agree that they'll work to make sure the other team ends up in the penalty box as many times as possible. Haha: "This is what 'AZ887' is!" That way, they'll leave Jong-kook and Kwang-hee on the ice alone. Brilliant.
Jong-hyun comes over to play, curiosity getting the best of him. When they ask what their secret weapon is, he gets fairly close: "AZ0885!"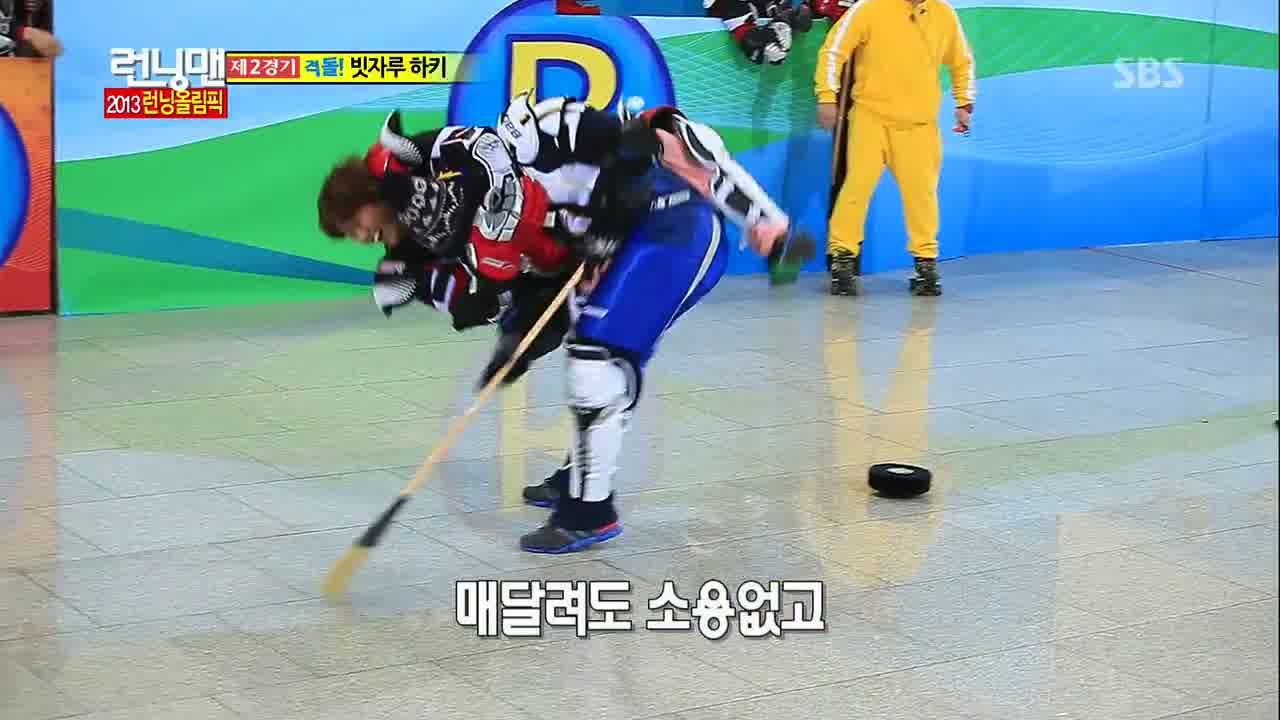 The second half kicks off to pure madness as Operation AZ887 kicks in… and the Running Man cast literally take down their opponents. Save for Kwang-hee who initially runs in the opposite direction before ramming into Jong-kook… and skids to the floor.
The Idol Team watch helplessly from the sidelines as Kwang-hee gets a beatdown from Spartakooks. The score is 2:1 by the time everyone's back on the rink but L and Minho work together to tie the score again.
Surprisingly, Kwang-soo sinks in another goal and he jumps on Jong-kook in celebration who's like, Gerroffme. And though the idol boys put in their all in the final minutes, the Running Man Team win the match.
The Idol Team reminisce in the car (and I love how Yong-hwa turns to L, all confused, "Your name is Myung-soo?") and Minho says that he can't acknowledge Kwang-soo's goals.
Their third game takes place at a swimming pool and Mr. PD introduces this as a ski jump/diving match. D'aww, now you're just mixing any two sports together.
I'm highly amused as Mr. PD explains the rules and he's like, "If you don't think you can jump, you don't have to!" But he adds the caveat that means their team's total will be that much shorter aka you have to jump.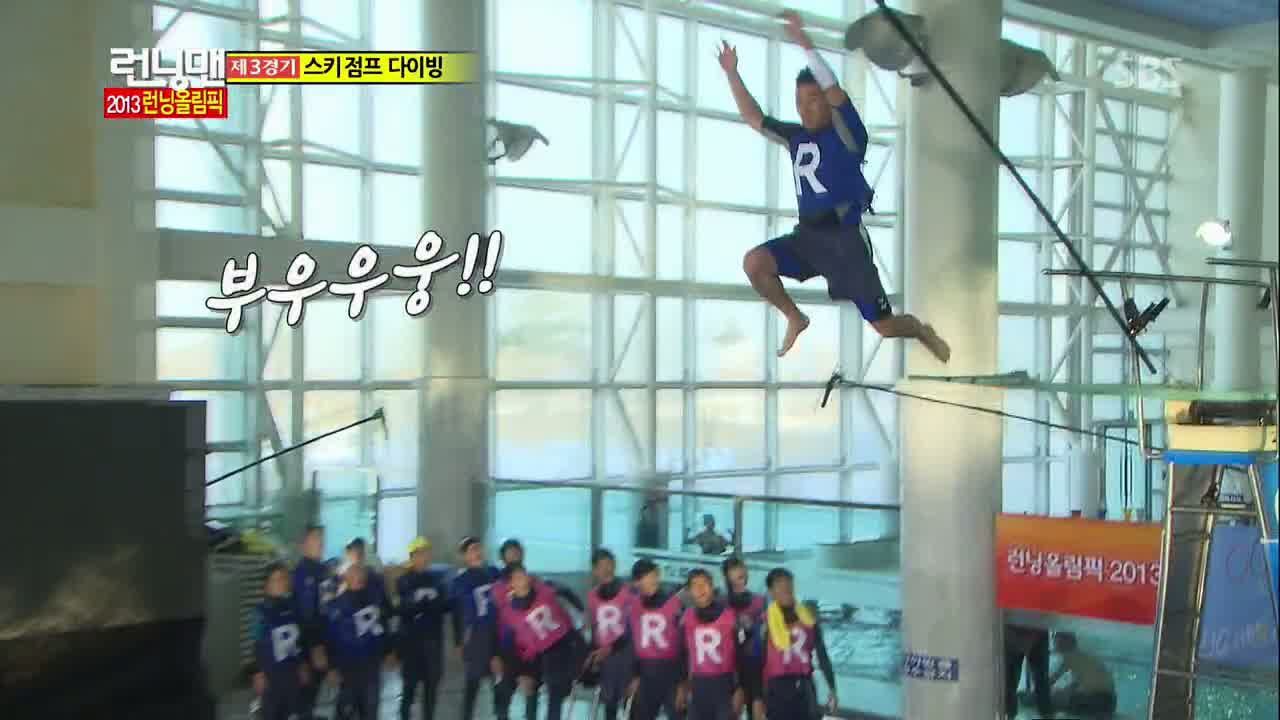 Gary's up first and he lands face-first into the water (Ow!) and everyone jumps in concern. He does, however, rack up 5m for his team. Kwang-hee grabs onto anything he can find but with some encouragement, he dives into the water. It's just that he's now treading water 'cause he can't swim. Aw.
They don't call Ji-hyo the Ace for nuthin' as she fearlessly bounces on the diving board and then dives in, feet first.
Aw, Yong-hwa, are you trying to be all cool? You can't fool us; we know you're adorable! He sets a new record as he flies off of the diving board. Then L matches that record.
Kwang-soo lays down on the diving board and tries to measure the distance in his head as the others crack up, laughing: "If you fall there, it'll only be 1m!" Then Haha spits out that this is his only chance to beat Song Joong-ki, and that finally spurs Kwang-soo to jump.
He jumps. Far. Man deserves a standing ovation for that courageous act. Not that the cast will humor him anytime soon and they joke that celebratory time is over.
The teams are pretty close by the time they get to their final contenders. But Jong-kook doesn't set up a wide enough gap and they anxiously wait for Minho's jump.
Minho looks totally determined and Jae-suk jokes, "We're filming Running Man but it looks like he's on Dream Team!"
Minho makes an impressive jump… but the Idol Team still loses by a mere 20 cm.
Now nice and dry, the teams head inside for today's finale: Hide-and-Seek, Olympics style. As a reminder, the teams will switch off every 10 minutes between hiders and seekers.
The Running Man Seekers wait patiently as the idols search for hiding places. Granted, Kwang-hee's infectious laugh might make him easy to find. Hee, then Kwang-hee just follows Lee Joon around, who tells him, "Keep quiet!"
The Running Man Team flexes their hide-and-seek muscles – this is a game they excel in. They catch L make a run for it and they corner him before taking him out with ease.
The remaining idols are shocked at how quick the Running Man Team are, but these guys have got this game down to a science. Rule #1: When your teammate call you, you run.
The ringing sound of the bells are enough to raise the hairs on the back of the idols' necks. Couple that with the name "Jong-kook" and the idols freeze in place. To their great relief, Jong-kook passes by them without a second glance.
HA – it's funny that Suk-jin is all suspicious because he looks into rooms that he would use as a hiding place. He doesn't quite search the places so much and overlooks both Lee Joon and Kwang-hee.
Well it's a good thing Big Nose Hyung starts looking for his own hiding place and discovers Kwang-hee hidden among some boxes. He asks Kwang-hee which Running Man member he likes the most and Kwang-hee whispers back: "Ji Suk-jin!"
Before you know it, Kwang-hee's out and he jokingly takes out the compliments he doled out minutes before. And with that, only four idols remain.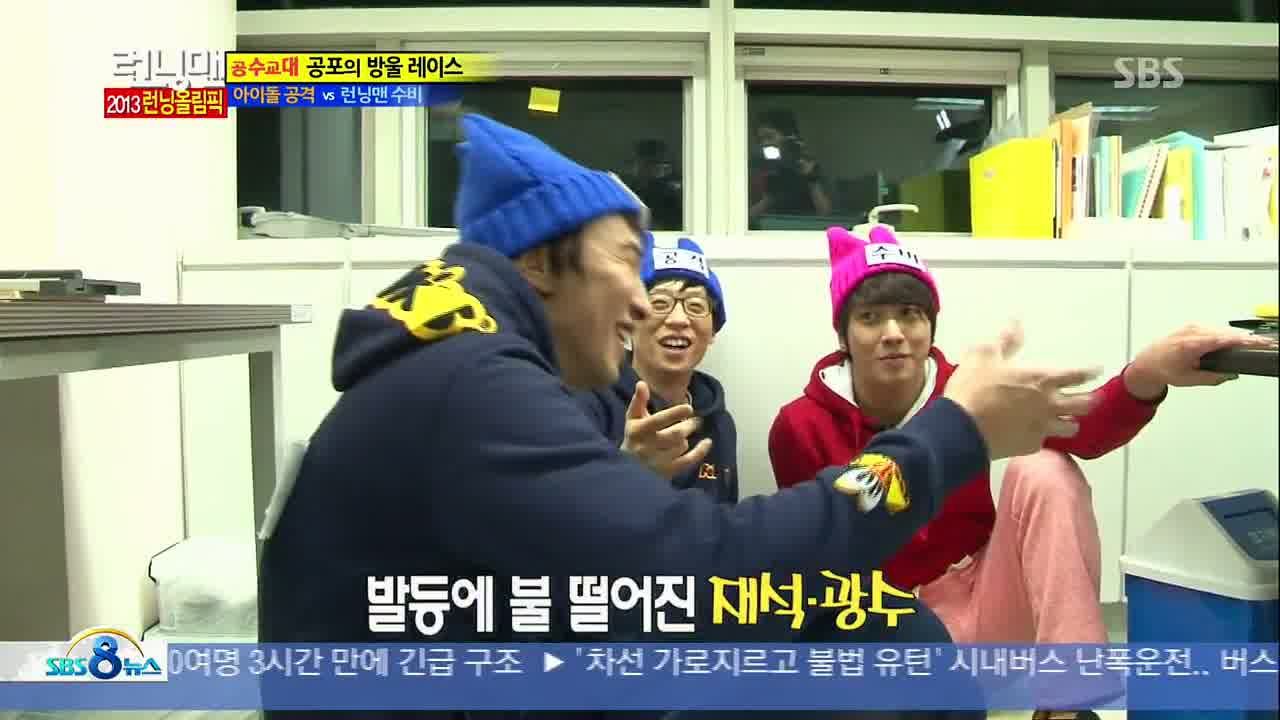 There's a minute left before the switch and the Running Man Team spot Ace Yong-hwa. They give chase and corner him in an office. But time is quickly running out and Yong-hwa manages to buy his last few seconds to freedom.
So he sits there with Jae-suk and Kwang-soo who are probably thinking, "We're screwed now…" The idols ready themselves to launch their revenge and that little smirk from Lee Joon kills me.
Now that the tables are turned, Yong-hwa takes both members on simultaneously. He rips Kwang-soo's name tag off (Not before giving us a peek of Kwang-soo's undies again. Seriously, it's like a theme now.) before he goes for Jae-suk.
Lee Joon literally skips through the halls and runs into Suk-jin, who's surprised to see him. They greet each other and when Suk-jin learns that the idol was hiding near where Kwang-hee was, he points out that he's let Lee Joon off the hook. Lee Joon: "You could see it that way…"
Suk-jin gets about five feet away before Lee Joon bellows, "Yong-hwaaa!" Then Lee Joon hands off the name tag ripping responsibility over to Minho and clarifies, "I left you off once!"
The idols resolve to find decent hiding places with just a minute remaining when Sulli suddenly points to the end of the hall: "He's over there!"
She means Jong-kook and they run to catch him before time runs out. Jong-kook slips into a bookcase and with mere seconds left, both he and Ji-hyo drag Yong-hwa towards them. Uh oh.
They sit there, immobilized and Yong-hwa confesses that as soon as he saw Ji-hyo, he knew that he was caught.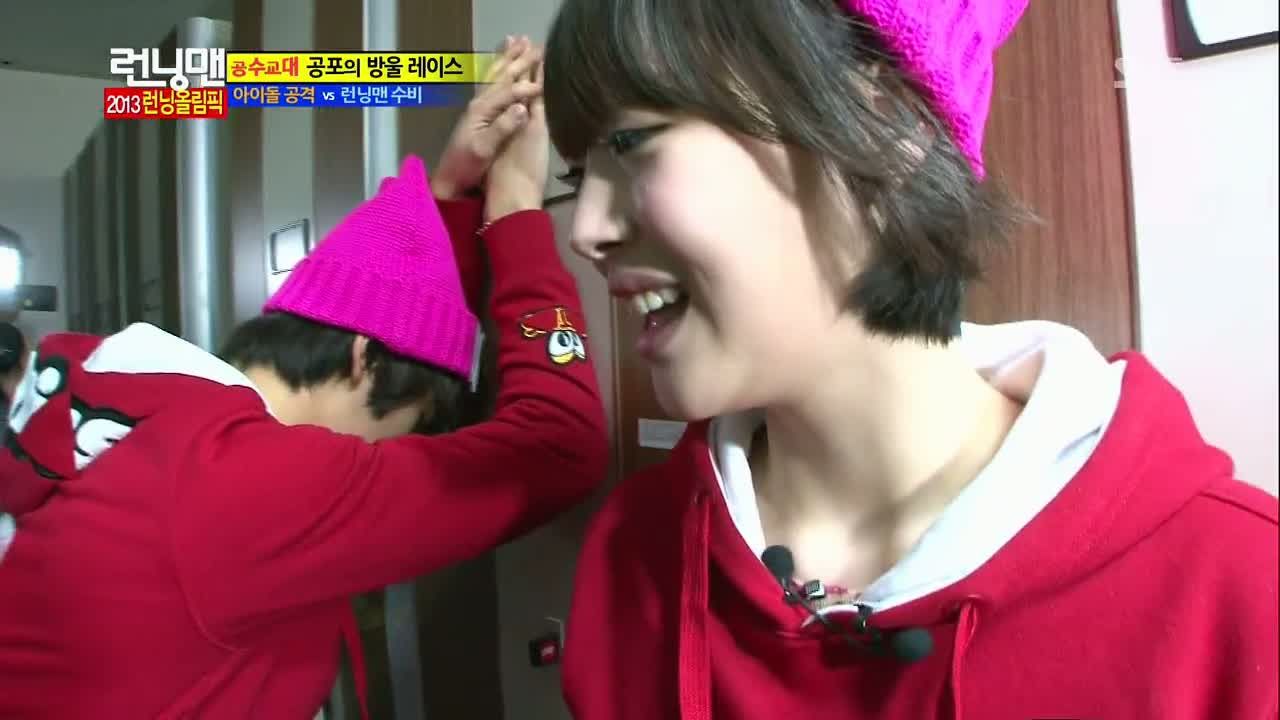 Minho and Sulli make a run for it as soon as the speakers announce the switching, leaving Yong-hwa to fend for himself. Jong-kook immediately wraps his arm around Yong-hwa's back… and eliminates him.
SpartAce search for Minho and find him behind a display. They quickly take him out.
The jailed are surprised to see Minho join them and they all marvel over Jong-kook's keen ability to hone in on his opponents. Minho confirms that the idols' original plan was to take Spartakooks out first, but he was nowhere to be found.
Gary: "He was probably on the ceiling."
I love that mixed look of shock and confusion on Lee Joon's face when he learns that only he and Sulli are left to take on SpartAce and Haroro.
He opens a random door, saying that there's plenty of hiding spaces back here to be met by a frightening sight: a Kookie fly trap Version 2.0. Sulli pretty much takes over as she rips Haha's name tag whereas poor Lee Joon's on the receiving end of one of Jong-kook's holds.
In fact, Sulli even creates an opportunity for Lee Joon to rip off Ji-hyo's name tags but he helplessly cries back, "I want to! But I have no hands!"
SpartAce whimpers that the Idol Team won the last time and then in a surprise turn, Jong-kook slips outside, leaving Ji-hyo behind. He muffles his apologies to his teammate and the Ace is quickly taken out.
Jong-kook tries to reason with her during the switch – she had to take one for the team. Ji-hyo gives him a thumbs up, leaving their team's fate in his hands.
As soon as the switch is complete, Jong-kook opens the door and eliminates Lee Joon in seconds.
Jong-kook finds Sulli sitting on the staircase and he accidentally knees her chin. She starts play-crying and Jong-kook panics because he's weak to ladies' tears.
Everyone gathers together and the idols initially cheer when Sulli lifts Jong-kook's name tag above her head. But they both have each other's names in their hands, leaving the others hungry with curiosity. Jong-kook cries out, "We won!"
Flashback to Jong-kook and Sulli's earlier conversation and Jong-kook offers that he'll do anything for Sulli the next time she visits if he lets his team win. Her condition: that Jong-kook acts as her bell aka her slave.
Jong-kook laughs at this and promises that he'll let her win the next time she drops by but Sulli misinterprets this. "One year?" (Both 'episode' and 'year' sound similar.) They reach an agreement and Jong-kook rips off her name tag.
The Running Man Team look at their prize box with hopeful eyes – gold medals? They take out gold colored name tag medals instead and raise them high above their heads with pride.
RELATED POSTS
Tags: featured, Haha, Ji Suk-jin, Kang Gary, Kim Jong-kook, Lee Kwang-soo, Running Man, Song Ji-hyo, Yoo Jae-suk