Ryu Seung-ryong gifts movie daughter Park Shin-hye with food truck
So. Much. Cuteness. Why is this man so full of win? Ryu Seung-ryong has another hit movie on his hands, the heartwarming comedy The Gift of Room 7, where he plays a jailbird dad to Park Shin-hye (and her childhood version, Gal So-won, pictured above). And just to be a good dad to his movie daughter, he sent a food truck to the set of Park Shin-hye's current drama, Flower Boy Next Door. Adorable.
It's common practice for celebs (and fans) to send each other food trucks to feed the cast and crew of their latest projects, but it's especially endearing when they're from movie parents. Of all the ways to promote a movie, it's definitely one of the sweetest. The banner reads: "Ryu Seung-ryong is buying for his daughter! Our Shin-hye has to eat rice. Rice~" (mimicking his character's funny speech pattern). He even visited the drama set in person to deliver the late-night food truck, and Park Shin-hye tweeted that she was especially thankful, on a day when her character Dok-mi was crying. Awwww.
The Gift of Room 7 stars Ryu Seung-ryong as a man with the intelligence of a 6-year old, who gets convicted for murder and sent to a maximum security prison where he's assigned to Room 7, home to the meanest baddest baddies around. But the group of hardened criminals starts to take care of their new childlike roommate, and decide to help him fulfill his only wish: to break his daughter into prison, so he can be with her. It's a daddy-daughter heartwarmer and a zany comedy, and I can't wait to watch it.
It opened in first place at the box office and sold over 2.5 million tickets in its first week, proving that Ryu Seung-ryong is on one crazy hot streak these days. The Gift of Room 7 is in theaters now.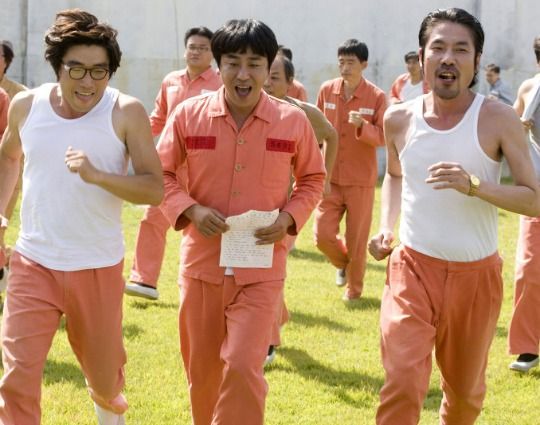 Via DongA
RELATED POSTS
Tags: Park Shin-hye, Ryu Seung-ryong