Still injured, Choi Su-jong resumes filming in voice only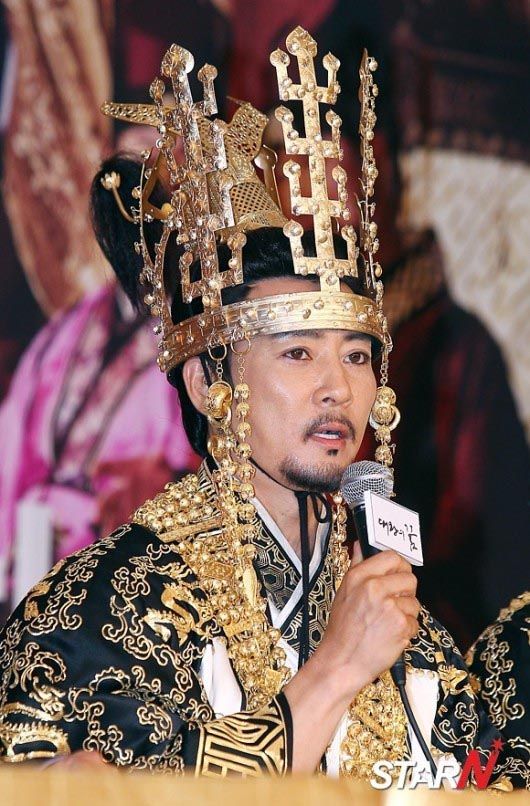 GOOD LORD. Okay, here are the facts of KBS's weekend sageuk drama King's Dream:
Lead actor Choi Su-jong was in a car accident in September. He was told to take four weeks off. He returned to work right away.
Lead actress Park Joo-mi was in a car accident in October. Her stylist broke her leg. Park Joo-mi's esophagus was seriously damaged (crushed).
The next day, Choi Su-jong was in a horseback accident while filming. He fell from a horse and tore a ligament in his (sword-wielding) arm.

By the way, another actor also had an accident while filming on horseback, early on in the drama's production; Kim Yoo-seok replaced injured Choi Jae-sung.
Park Joo-mi canceled shoots, but went back to work earlier than advised. This time the attempt to act inflamed her vocal cords and she literally could not speak.
King's Dream was forced to take several weeks off the air while its leads rested.
Park Joo-mi's health worsened and she was replaced by actress Hong Eun-hee.
King's Dream resumed broadcasts in mid-December after five weeks. Ratings were largely unaffected.
In late December, Choi Su-jong underwent seven-hour surgery for his broken collarbone and fingers. King's Dream took another weekend off the air.
Choi Su-jong still insisted on coming back to work despite doctors advising him to take much more time off. To avoid further postponements and missed broadcasts, KBS and producers have finally decided that for the next three weeks, Choi Su-jong will continue to act for the drama, but only with his voice. He will not film any scenes, and will only voice-over scenes.
Scripts are heading into major revisions, to cut his character out of as many scenes as possible.
King's Dream is slated for 80 episodes. It has aired 26.
I have one thing to say about this madness: JUST QUIT ALREADY.
Okay, maybe I can rustle up a few more comments: It is commendable for an actor to feel responsibility for his role as headliner and mood-maker and perhaps even source of income for a whole crew of hard-working staff who would be otherwise out of a job. And when you've poured so much time and effort and money into a project, I get that you don't want to just let it fizzle away.
But you know what? At a certain point you look at the chips and you walk away. You think, Hey, this is insanity. Maybe I don't want to work in these conditions. Maybe it's better for all of us to call it a day. Nobody can accuse us of not giving it a decent shot.
Remember when Wolf got canceled barely a few episodes into its run, when its star (Eric) got into a massive car accident while filming? It seemed so dire at the time, but you know what? Life actually went on. People got new jobs and new dramas and the world didn't fall apart.
I KNOW. It's a concept. Sometimes in life, you have to know when to let it go.
Via TV Daily
RELATED POSTS
Tags: Choi Su-jong, drama production, Park Joo-mi, star accidents