Teaser for Kim Bum and Kim Kang-woo's Psychometry
Ah, this title makes more sense: Psychometry is the paranormal crime thriller starring Kim Bum and Kim Kang-woo that formerly went by the (vaguer, less interesting-sounding) Miracle. While Psychometry is fairly literal as far as monikers go, it does seem much more fitting to the murder-investigation plotline.
The teaser's out, which hints at an entertaining movie—maybe not the most original, no, but suspenseful and intense, and hopefully well-acted. Kim Bum is the mysterious young man at the center of our paranormal premise, because he's got the uncanny gift of psychic reading. Kim Kang-woo is the dogged cop who's on the tail of a serial child abductor whose most recent victim turned up dead, and the investigation leads him to suspect Kim Bum, a graffiti artist who paints an alley mural that's suspiciously similar to the murder scene.
The trailer hints at an underlying motivation for our cop, who is fueled by the need to save missing children. Kim Bum at one point uses his powers to read his past: "Is that why you're chasing him so hard? You think if you find those kids, your kid brother will come back alive?"
That freaks the cop out, needless to say. Till then the delinquent was just his suspect, but after he cottons on to his talents, he pleads with him to help. Time's ticking, and they need a lead. Tick-tock, tick-tock.
I'm pretty sure I've seen bits of this story in multiple other projects before, and it does have that touch of familiarity. So I wouldn't go into it expecting major surprises or unexpected twists. On the other hand: Kim Bum and Kim Kang-woo, facing off, lookin' fierce, and then joining forces. Really, do we need more reasons?
Psychometry releases in theaters in March.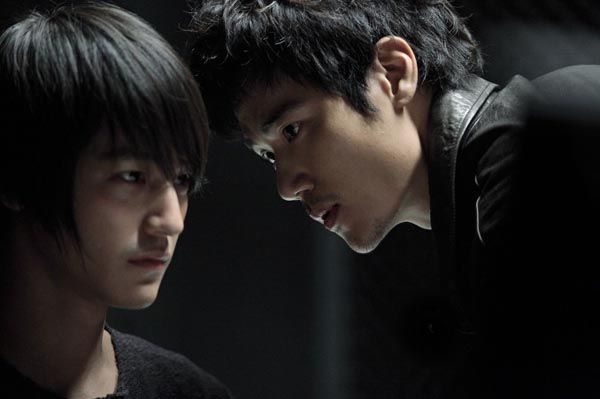 Via Review Star
RELATED POSTS
Tags: Kim Bum, Kim Kang-woo