Incarnation of Money: Episode 3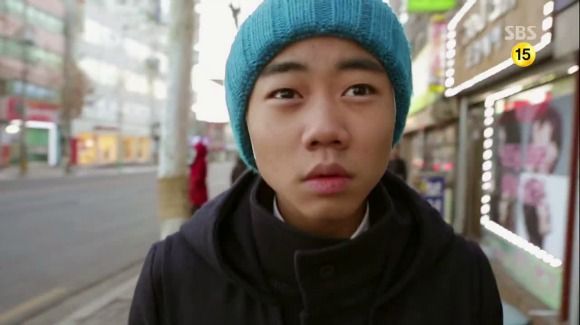 What do you do with an amnesiac who can memorize the Iliad and recite it back to you? Our story keeps moving forward as Kang-seok finds himself both lost and found in a world he can't remember with a girl who vows to make him hers. The funny notes are sprinkled throughout this episode and they lift our spirits from the dreary world that bogged us down for so long.
There are some signs of life in the ratings – Episode 3 had a small blip of an increase with 10.2%.
EPISODE 3 RECAP
We learn more of Kang-seok's prognosis when the doctor sits down with Boss Bok's family once more. Along with retrograde amnesia, the boy's language production and comprehension is severely impaired.
Therefore, it's virtually impossible that he'll ever be able to speak more than a few simple utterances.
Back in the hospital room, Kang-seok flips through the channels wearing an expressionless face. But then he focuses on the reporter's lips and then silently mouths the syllables as if following along. Curious, that.
Suddenly, the screen goes blank – it's Jae-in, who blushes again in his presence. After she pinches his cheek to make sure she's not dreaming, she thanks God for this blessing. LOL.
Jae-in plays with her new toy, teaching him her name in a sing-songy voice: "Bok-Jae-in-is-pretty~!" She gets the same vacuous stare in response. But Jae-in is nothing if not determined and promises that she'll take care of him.
She then brings his hand to her face and turns another shade of pink. Though Kang-seok's unable to speak, he scrunches up his face in displeasure.
When Boss Bok hears that the boy's parents are still nowhere to be found, she orders Assistant Kim to bring him home with them. She makes it clear that she doesn't intend on raising the child herself. Rather, she'll transfer him to an orphanage if they can't find his parents in a month's time.
She clucks in pity for the boy's parents as a fellow mother, feeling sorry for the child.
Things are even darker for Mom in the psych ward. Her constant requests for the doctors to find her son are ignored and she starts to panic at the sight of the needle. She resists – the doctor said she was normal – and they hold her down to administer the shot.
It must be some kind of tranquilizer and it's a sad sight to watch Mom suddenly go still and mumble. And Lawyer Hwang watches just outside the door.
Once outside, Lawyer Hwang relays that Kang-seok is dead (or so the Traitagon thinks). He entrusts Mom to the doctor's care, handing him an envelope of money. The doctor refuses but he insists, and the doctor finally accepts it.
Traitagon's ringleader, aka Se-kwang, is pleased that they won't have to worry about Mom anymore. However, he isn't that happy to see Bi-ryung, who comes bearing flowers to congratulate him on his prosecutor inauguration ceremony.
She's miffed at his cold dismissal and scoffs when he tells her to be more careful about her coming and goings. Bi-ryung throws back that he's changed ever since he became a prosecutor, ignoring her calls and saying that he's been busy. Is he seeing another woman?
But he simply tells her to see herself out, throwing the keys onto the table. Bi-ryung can only laugh in disbelief.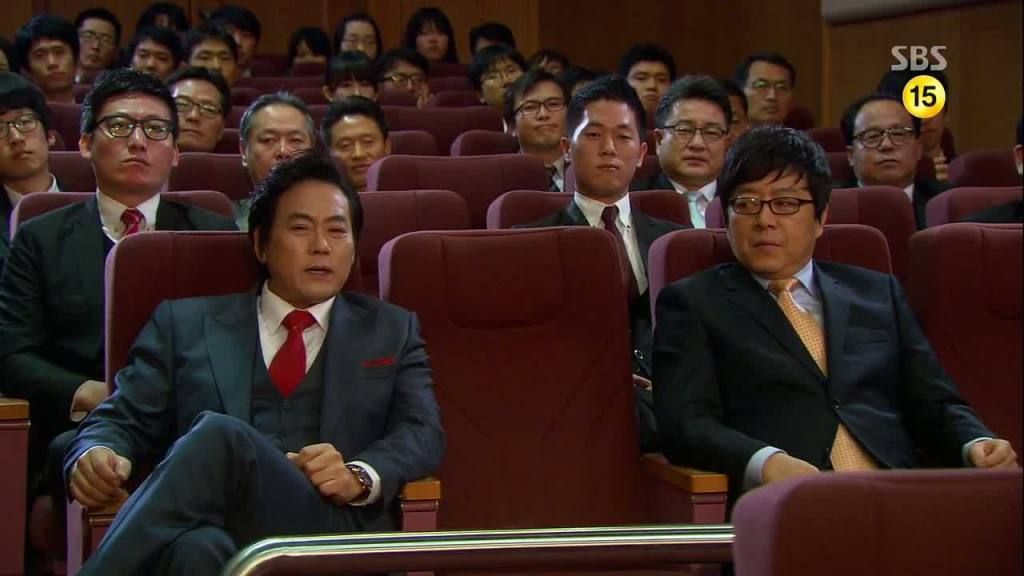 At the prosecutor inauguration ceremony, we see that Chief Prosecutor Jo has taken a liking to Se-kwang. Seated next to him is Prosecutor Kwon, who finds the man's interest in the new recruit highly uncharacteristic of him.
Their dynamic is an interesting one and I gather that the two were once cohorts but it was Chief Prosecutor Jo who got the job promotion. I mean, the man certainly doesn't miss the opportunity to rub that fact in Prosecutor Kwon's face.
When the chief prosecutor rises, Reporter Go plops down next to Prosecutor Kwon, grumbling about taking souvenir photos of the event. But he's all ears when Prosecutor Kwon baits him with a possibly juicy story.
He's heard that Chief Prosecutor Jo has a sponsor: a well-known underground loan shark. Interesting that no one seems to know the boss' true identity, though the name alone elicits both an intrigued and frightened reaction.
So how about it – does Reporter Go want a chance to bring down both a loan shark and a corrupt prosecutor? Er, shouldn't you be asking yourself this question?
Chief Prosecutor Jo invites the newly sworn-in to dinner at Boss Bok's restaurant. Boss Bok joins them and pours out as many compliments as there are drinks on the table.
Prosecutor Kwon leans towards Se-kwang and whispers, "In this restaurant, the one thing you need to be careful of isn't alcohol, but that woman." It seems that Boss Bok laid a trap for him once but he doesn't get the chance to explain Se-kwang the details.
Meanwhile, Jae-in studies with her tutor but she doesn't so much as study than sneak bites of food. It comes as no surprise then that she's a poor student, though it doesn't help that her tutor is more interested in solving his Rubik's cube than teaching.
Kang-seok sits still in a corner and only his eyes occasionally dart back and forth, which makes me wonder if he's second-handedly absorbing the information.
Then we get this hilarious sequence: the tutor is sandwiched between scolding Jae-in, who's stuffing her face with pastries and Kang-seok working to solve the Rubik's cube. In fact, we only see his hands and hear the furious click click sounds.
He solves it in no time and sits outside. Kang-seok can still hear the tutor drill Jae-in with math questions but now, he repeats the textbook answers aloud word-for-word. As the music quickens, he spouts off information of rational and irrational numbers at top speed.
Inside, the tutor wonders if Kang-seok figured out the Rubik's cube and Jae-in coughs up her donut. She yelps, "He might be cute but he's mute!"
Chief Prosecutor Jo strikes a nerve when he brings up the prosecutor's loss to Se-kwang in court. Prosecutor Kwon gets up in a huff and is still fuming when Assistant Kim walks into the bathroom.
He asks after the chief prosecutor's sponsor but Assistant Kim says that he doesn't know. So the prosecutor punches him in the gut and stuff his face into the sink. Boss Bok enters, telling the prosecutor that it's no use threatening her assistant. If he wants information, he can speak with her.
They relocate to a different room and Boss Bok tells Prosecutor Kwon that she's never met the man he's looking for (Before we go any further, an explanation: Prosecutor Kwon is looking for "the Gentleman of Jingogae." This phrase is usually reserved for men who are considered nice, though it seems to be used more like a nickname for a mob boss here.)
Boss Bok has heard rumors of the said sponsor: some say he's a Westerner, others say that he's passed away. The point is, the chances are slim and she politely tells him that he's better off looking for a guardian spirit in the mountains.
Prosecutor Kwon doesn't budge and says that money from that same sponsor helps run this restaurant. Boss Bok doesn't deny it and simply asks why Prosecutor Kwon is looking for him.
Now we learn why Prosecutor Kwon holds such a vendetta: he once borrowed money from the loan shark (It makes sense since he used to grumble in previous episodes about his family's debt). But things took a turn for the worse and he lost his chance to be promoted.
He's convinced the chief prosecutor and the sponsor are working together to seek vengeance on him. At that very moment, the door slides open and Chief Prosecutor Jo stands at the doorway. He laughs heartily as Prosecutor Kwon is dragged away by Se-kwang.
Boss Bok worries after the chief prosecutor, but he reassures her that Prosecutor Kwon will soon see the end to his career. He asks her to relay his thanks to the loan shark and she nods.
It's cute how Jae-in has now taken to call Kang-seok, "good looking dummy" as she searches for him. Our amnesiac is busy roaming the grounds and overhears voices just over the gate – it's Prosecutor Kwon and Se-kwang.
Prosecutor Kwon informs Se-kwang that the Ministry of Justice will soon look into corrupt prosecutors, Chief Prosecutor Jo among them. He laughs that money really did open doors and now he gets to repay the chief prosecutor for snitching on him once.
He figures that Boss Bok's restaurant will be targeted, since that's where the chief prosecutor has been securing his funds. It's an easy enough for Se-kwang since the chief prosecutor has already taken a liking to him. Se-kwang can deliver the final blow and Prosecutor Kwon will alert the press at the right time.
Se-kwang doesn't see why he needs to get involved in the senior prosecutors' feud, and Prosecutor Kwon smiles, "Why else? Aren't we blood brothers? Sworn by Lee Kang-seok's blood?"
Se-kwang retorts that the Traitagon swore to forget about Kang-seok and Prosecutor Kwon counters that it isn't something so easily erased in their memories. Why, they've gained so much from the boy's sacrifice. Kang-seok listens to this entire exchange just over the wall and cocks his head back and forth in curiosity.
A sound alerts the men and Se-kwang peers over to see Jae-in laughing at Kang-seok, who's fallen over. Se-kwang can't see Kang-seok's face, so he dismisses the matter and the men leave.
Kang-seok whirls around and parrots Prosecutor's final threats back to Jae-in, who's more surprised that the kid can speak. She marvels that "good looking dummy" must not be mute after all.
Se-kwang returns to his apartment to an all-out congratulatory party with balloons, candles, and cake. Bi-ryung sings her congratulations (and hums the parts she doesn't know, ha) but Se-kwang doesn't seem all that chipper.
She excitedly hands him her gift: a set of diamond rings. She comments how expensive they are before taking it back: "Let's not put a price on our love." And then she asks him to marry her. Eek – I don't think Se-kwang's in the mood for romancin'.
Bi-ryung knows it looks desperate for the woman to propose. Slipping the ring on his finger, she tells him it's to mark her territory and tell the world that Se-kwang is her man.
And then Se-kwang immediately slips it off his finger and drops it in the fish tank. Bi-ryung looks devastated. I know she's a witch and all, but as a fellow woman, that's a huge blow.
Not facing her, Se-kwang tells her that they're finished. "If we go on, we'll both end up unhappy." Bi-ryung can barely hold back her tears and bites back that she put her life in Se-kwang's hands, even killed for him. She shrills, "I went all-in for you, you bastard!"
Se-kwang: "You already got what you wanted! More than you deserve." Their relationship was purely business, Se-kwang tells her. "From the moment we plotted [his murder], we chose money over love."
Bi-ryung tells him to stop pretending to be so noble and Se-kwang admits that it's not because he hates her but he thinks he will if they don't end things. Oh okay, that's much better then. She slaps him.
Elsewhere on the porch, Jae-in paints Kang-seok's pinky nail a hot pink and tells him that it officially marks him as her servant. She asks, "Who am I?" and I love how she gets all snippy when he doesn't answer right away. He stutters, "P-princess…" HA.
Then she instructs him what to say when he's hungry or sleepy: "I like you" and "I love you," respectively. To top it off, she teaches him to say, "Hug me" when it's cold out. Man, this girl is brilliant. She could write her own manual on love.
They pinky-swear and she calls it their secret code. She tries it out and he parrots back what he's learned. It's really Kang-seok's blank expression and deadpan delivery that sells it.
This is where Boss Bok finds them and she scolds her daughter, threatening that she'll send Kang-seok to an orphanage. Jae-in throws back that she'll just bite her tongue and die. Mom whacks her broom at them and chases them off the porch.
But Boss Bok has bigger things to worry about as the headlines churn out the story between a certain Prosecutor A and the loan shark. Reporter Go worries that Se-kwang will be able to take down the chief prosecutor.
Prosecutor Kwon reassures him with a metaphor that "minnows can't each other, but a shark eats other sharks." And though he may not look like one now, Se-kwang is a shark.
Chief Prosecutor Jo fumes, cursing out Prosecutor Kwon and Se-kwang points out that there's no supporting evidence that the man was behind it. Chief Prosecutor finds that hard to believe, given their recent run-in. Se-kwang asks if the chief prosecutor admits to being said Prosecutor A.
Se-kwang points out that the chief prosecutor is on the investigation list. However, if he's never met the so-called sponsor, then he should have nothing to worry about. Chief Prosecutor Jo asks Se-kwang to give him real-time updates on the investigation – if he helps him this time, he'll make sure to advance Se-kwang's career.
Looks like Boss Bok actually made good on her word because in the car, Assistant Kim gets a frantic call from Jae-in. She asks after "good looking dummy" (Kang-seok's ears perk up, heh) and her mother hangs up, telling her to stop her pubescent first love with the crazy boy. Commence temper tantrum.
Unfortunately, Assistant Kim loses Kang-seok at the orphanage after his meeting with the director. He calls Boss Bok and reports that their hands are clean – there's no way the boy will find his way back.
Little does he know that Kang-seok is currently walking back, reading off the store names to find his way (He memorized them in the car.).
Jae-in drowns her sorrow in pastries and milk and Boss Bok looks on, heartbroken. Both adults grow concerned over Jae-in's emotional eating and Boss Bok tells her assistant to take care of it, since her presence will just trigger Jae-in to eat more.
Grilling Hanwoo meat is your way of taking care of it? LOL. Assistant Kim notes that she's not the type to stop eating when she's upset and she gives in. Damn it, now I'm hungry.
A cold and tired Kang-seok reaches the house. As soon as he drops to his knees, the prosecution team, led by Se-kwang, storms the house. He doesn't notice Kang-seok on his way in.
Chief Prosecutor Jo calls in about five seconds too late and I love Boss Bok's exasperated sigh. You should have told me sooner!
Boss Bok removes the legal documents from her safe and rushes to hide them as the prosecution team approaches. In a last ditch effort, she throws them outside and they land right in front of Kang-seok. Uh oh – should the boy who can memorize an encyclopedia have access to that?
By the time Se-kwang and his men burst in, Boss Bok is cool as a cucumber. Se-kwang comes bearing a warrant so she invites the team to search the place.
We cut back to Kang-seok, who indeed is leisurely reading over the reports. Assistant Kim runs over and instructs him not let anyone take it from him and run.
Kang-seok does as he's told and searches the ground since a few officers are on his tail. He spots the grill. Kang-seok reads the pages quickly before tearing them out and letting them burn in the fire. By the time the men approach, it looks like he's innocently grilling meat.
Chief Prosecutor slaps on a proud smile when Se-kwang and his team returns with boxes of Boss Bok's documents. But that smiles fades once they're alone and he asks if Se-kwang usually betrays others like this.
Se-kwang replies politely that he reiterates the chief prosecutor was on the investigation list and is just following protocol. He tells the chief prosecutor that he's not anyone's lackey but a prosecutor in Korea.
The only person excited to see Kang-seok back is Jae-in whereas the adults scratch their heads over how he got back. Then Kang-seok starts muttering store names in rapid succession.
The adults first gape that Kang-seok can speak and then try to decipher his mumblings. Boss Bok asks if he memorized how to get back. Kang-seok abruptly stops and in a robotic voice, he utters, "Memorized it." HA.
He keeps on repeating, "Memorized it. All of it." and that triggers Boss Bok to ask about the burned reports. He nods. Kang-seok's eyes narrow and they wait a long moment as he open his mouth… and yawns. HAHAHA.
Boss Bok is about to flip her lid but then Kang-seok rattles off the reports. They stare in amazement.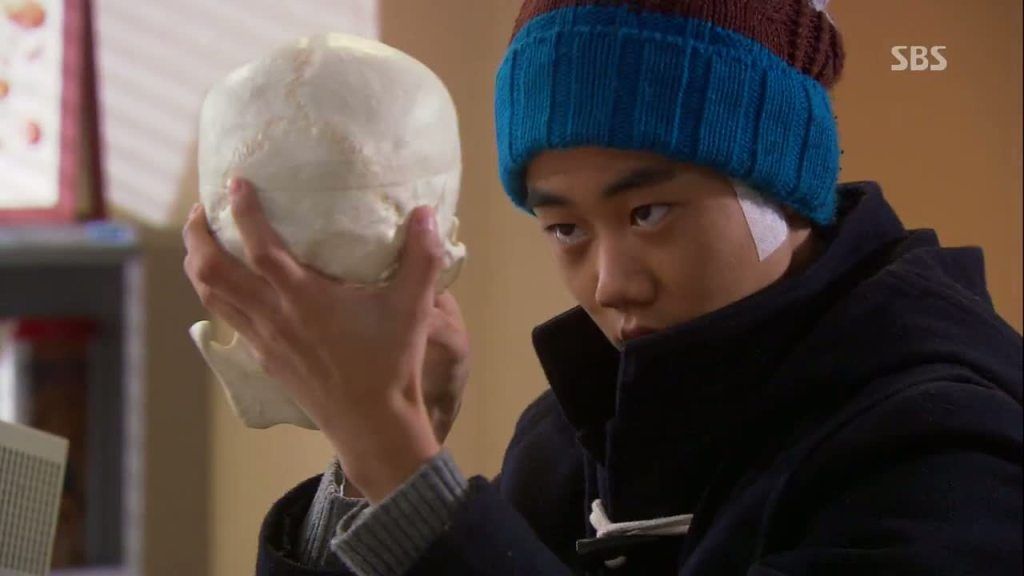 Kang-seok is put through a battery of tests and the doctor reports that the child's memory and learning capabilities are supercharged. Thanks Doc, I could have told you that much. He attributes it to a side effect of the surgery and Boss Bok asks in amazement: "So he became a genius?"
The documents from Boss Bok's house turn up nothing and the team reports that they can't incriminate someone they have no leads about. But before Se-kwang can dwell on his frustration, he gets a call from Bi-ryung, who tells him that she's leaving overseas.c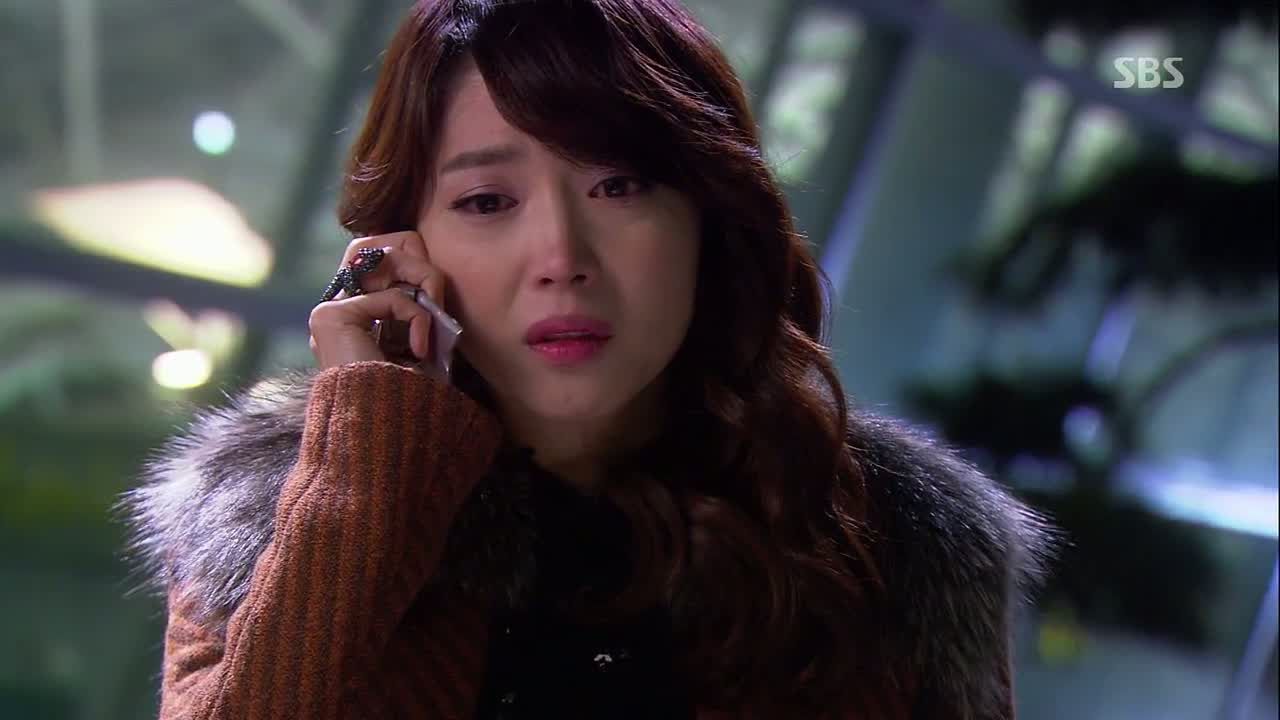 She asks that he come see her off just once if he ever loved her at all. Se-kwang's eyes tear up but he tells her goodbye and hangs up. He lets out a deep sigh.
Bi-ryung holds back her tears and says aloud, "Have it your way. We shouldn't leave a trace of our memories or feelings. That way, I can become more cruel later."
Back at the house, Assistant Kim lays out a contract in front of Kang-seok but then Boss Bok just cuts to the chase. He can either become her son or be sent back to the orphanage.
Kang-seok answers no and when asked why, he looks to Boss Bok: "Because you're not my mom." Assistant Kim asks if he's willing to give up this lavish lifestyle for a mother he can't remember and Kang-seok replies, "My mom… is looking for me."
Boss Bok tears up the contract and dismisses him.
Jae-in is relieved to see that Kang-seok didn't sign the contract and lights up to see that the pink nail is still there. She asks him who she is, fully expecting to hear "Princess", but this time Kang-seok answers, "Ugly fatty." Oh honey.
He turns to leave but Jae-in tells him to repeat himself. So he does: "I hate chubby girls the most." Kang-seok storms off and Jae-in gives in to her tears.
But Jae-in is nothing if not determined. She gets on her treadmill and starts running, pictures of models stuck on the wall. She vows to get her revenge on the kid who called her chubby.
Somehow Kang-seok makes it back to the orphanage and memorizes bits of newspaper. Boss Bok watches from a distance.
Turns out she hasn't completely cut ties from him as Assistant Kim hands the director funds to make sure he gets the best education and appropriate legal documents. Including the boy's name: Lee Cha-don (for the curious, his name means 'second/next' and 'warm-hearted').
The director promises that the benefactors will remain anonymous. However, he stops at the philanthropist's unique name: the Gentleman of Jingogae.
Boss Bok aka the Gentleman of Jingogae, doesn't regret her choice in the least. "He's going to become my life's investment."
Cha-don looks into the mirror and thinks to himself, "I miss you so much. Mom, Dad… what do you look like? Who do I take after? Where are you right now?" He looks down to turn off the shower faucet and the camera pans back up…
…to reveal the older Cha-don (Kang Ji-hwan). Cha-don puts a hand to his face and says aloud: "Daebak. Who do I take after that I'm this handsome?" Pffft.
Adult Cha-don already cracks me up. He literally stops to greet every person he meets on his way in, shouting, "Hello! I'm prosecutor-in-training, Lee Cha-don!"
As for Jae-in, she works at a bank but is nowhere to be found. Her boss looks for her in the lounge, where a skinny employee walks right past him. So… not Jae-in. She's actually the one chomping on a hamburger, gurgling it down with soda. Hee.
Chief Prosecutor Jo seems impressed that an orphan can grow up to become a prosecutor. Se-kwang walks in and Chief Prosecutor Jo introduces him as the training director.
The new recruit barks that he'll introduce himself now and shouts, "My name is Lee Cha-don!"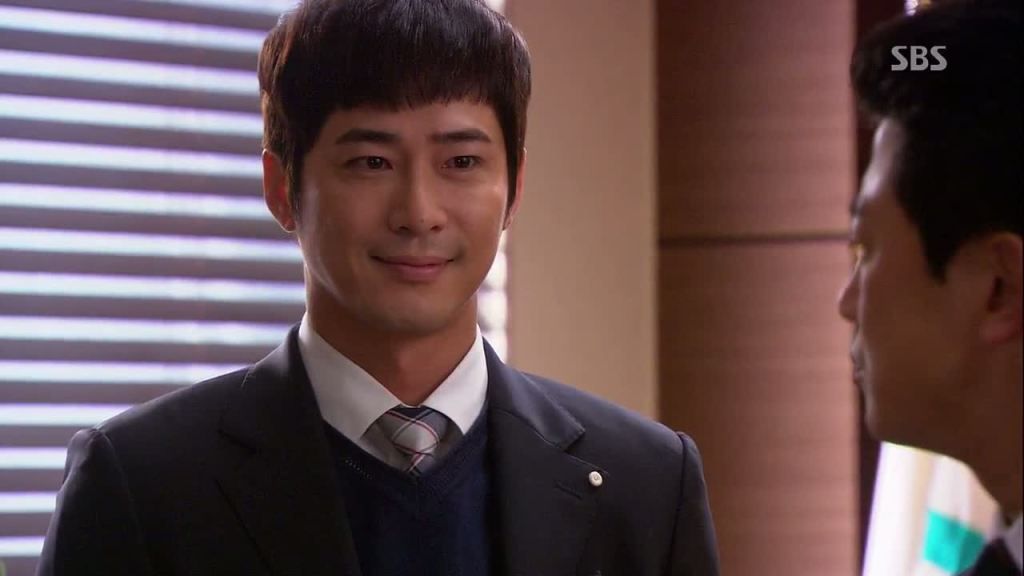 COMMENTS
Boy, that certainly seemed like a long wait. And not just for Kang Ji-hwan. It felt like we had to wade through a lot of knee-deep melo to finally get to the funny and if this episode is any indication, this show is going to be a riot. Right now, I'm scared that I might scare the funny away. The humor is reminiscent of History of the Salaryman, which had these great running gags that had me in a fit of giggles. We already see some of these in Incarnation: Kang-seok's rote memorization skills, Cha-don's vain sense of self, and Jae-in's love of food.
There's something about balancing the show's tone that makes me both cringe and giggle at the same time. Did anyone else start laughing when they saw Kang-seok's head peek out from the wall? They're talking about blood brothers and you see this teenage kid's head in the back, memorizing the conversation. I loved how those particular dramatic moments were then upstaged by the hilarity, sometimes even with witty one-liners. But then you have some other moments where the gravity of the conversation seems obvious and lacks suspense. I get where you're going Drama, but if I've already figured out who the Gentleman of Jingogae is as soon as you mentioned it, then the Big Reveal isn't all that revealing. There are still plenty of other tiny mysteries that buoy the story along and I hope the show doesn't try to act like it's wearing silk robes of narrative when we can see past its translucent lacy veil.
I love Kim Sumi's character as Boss Bok. She's a feisty, sassy, and smart lady of the house and is an absolute hoot. She knows how to run her business, know who to make friends with, and where to put her money. She provides an interesting foil to our Traitagon characters who know nothing but to spend their money to buy power and happiness. But she invests in things that are worthwhile. Will her daughter Jae-in, take after her lessons?
Speaking of Jae-in, I am so glad that Jae-in didn't change and that she still loves food. Sure it may not be the best for her health, but I hope that she still has that sharp tongue that made her so damned lovable in the first place. I don't always agree with how dramas play up the extremes of weight loss and gain, but I think it'd be so sweet if Cha-don fell for the chubby Jae-in before she slims down.
Adult Cha-don cracks me up already. I love that he retains much of his former, younger self who believes that everything is systematic. Though we only get a glimpse, we see that he retains his memory for his parents, though it doesn't compute why he recalls parents (he thinks) he's never met before.
I can't wait until we see more of his interactions with Se-kwang, the uptight prosecutor who abides (?) by the law. After all, does that guy know how to smile?
And just because…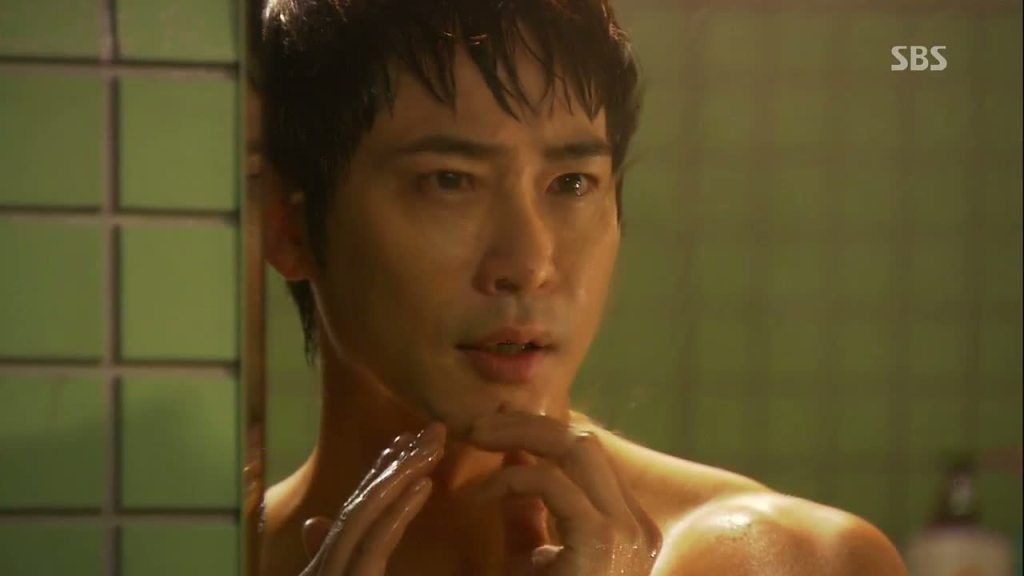 RELATED POSTS
Tags: featured, Hwang Jung-eum, Incarnation of Money, Kang Ji-hwan