Level 7 Civil Servant: Episode 6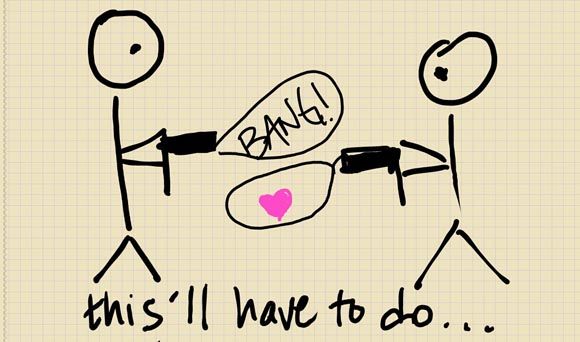 Now that the show is capitalizing on its central premise, it feels like we're finally getting into the right rom-com groove. As the attraction starts to grow, so does the conflict between country and comrade, and our heroine finds herself trapped before she's even decided where she stands.
Finale week brought a swap in the ratings game: Jeon Woo-chi regained first place with its final episode today, coming in at 15.2%, and Level 7 Civil Servant came in second with 14.3%. The Great Seer brought in the rear at 8.8% with its finale.

EPISODE 6 RECAP
While Seo-won and Gil-ro go on their movie date, the NIS agents start taking down the cosmetics storefront. Do-ha grumps that you can't just force people on dates, and Sun-mi catches his nervousness that Seo-won might succeed on her Mission: Seduce Ex-Comrade.
Young-soon primps for yet another blind date, and sighs that the whole mission is cruel to both parties—having Seo-won betray the man she likes, and having Gil-ro watch his father not knowing he's the bad guy.
Well at least we know now that even if team captain Won-seok is running a rogue operation on the side, Young-soon is in on it.
Seo-won and Gil-ro head to a café, where she asks how he tracked her. He puffs up proudly, saying that if he hadn't gotten kicked out of training back then, he'd be 007 by now. She muses that it might've been a better path for him than being just another corporate suit.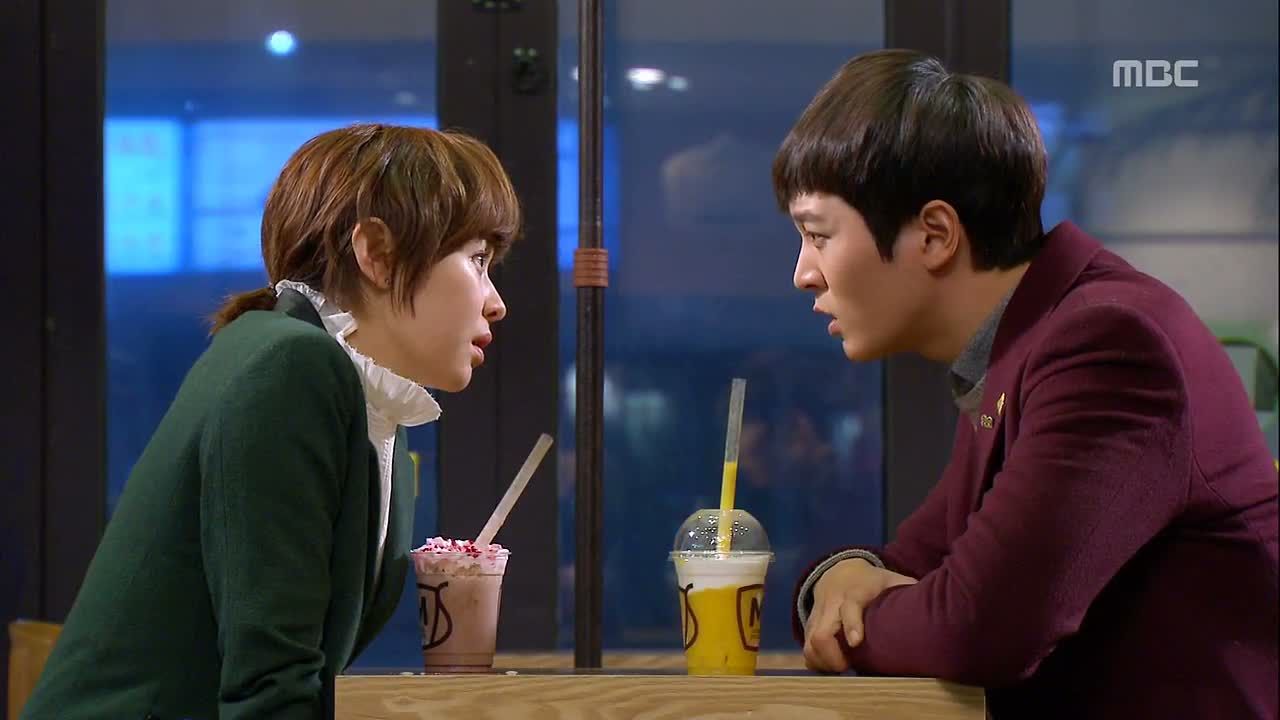 He swears up and down that he's not like his father, and the reason he refuses to inherit Dad's company is because Dad doesn't know how to distinguish between clean and dirty money—to him, it's all just money.
Seo-won sees it differently, that he could choose to do something because he really likes the work, rather than considering everything in terms of money. Er, isn't that more your problem in life?
He fixates on her habit of eating the whipped cream off the top of her drink and asks why she does it, and she bites back for him to stop being interested in anything she does. "Han Gil-ro, I'm warning you: you can't like me! And I can't like you. We can't, ever."
He asks why, and she starts to say, "Truthfully…" but trails off and sighs that he doesn't trust her anyway, so what's the point? Gil-ro: "I trust you now." Ack, you're making it worse. He sees the dab of whipped cream on her lips and reaches over, all prepared to play the rom-com hero…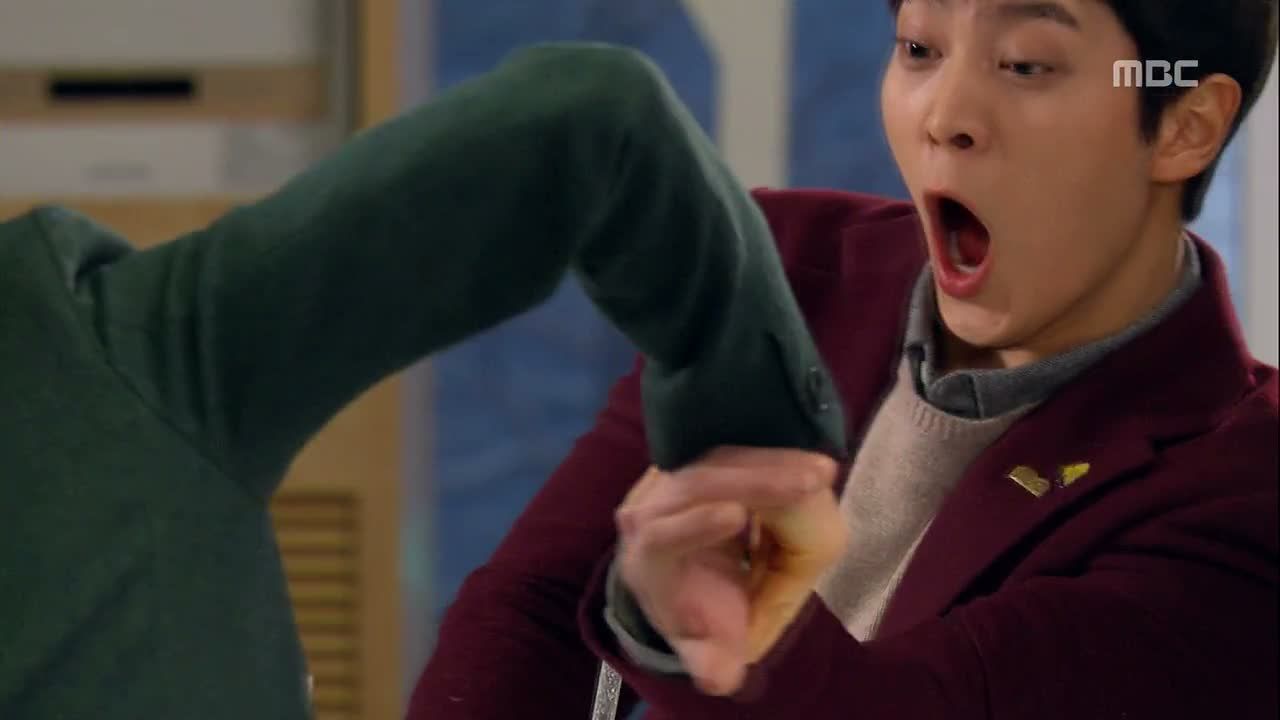 But she freaks out at the sudden movement and grabs his wrist and twists it back until he screams in pain and falls to the ground. Hahahaha. What a reversal on the classic scene.
He gets up, mortified, and mutters, "What're you, showing off your training?" He stands his chair back up, and then plops down in this mini tantrum, with clopping feet and whiny voice.
She says he's the one who attacked without warning, and he gapes: "My coming near you is an attack?" She points out that he did hold her hand without permission, while he wonders why those things can't happen naturally.
Gil-ro decides to just shoot straight, and offers up that if she's playing hard to get, he can handle it, but if she doesn't like him… "then I can make you like me." Pffft. And you were doing so well in the first half of that sentence. *facepalm*
She insists it's neither, but just that she's not in a place in her life to be in a relationship. She says that there's this unni she knows, who didn't date for a really long time. She thinks the reason is clearer now, and she understands why that unni chose not to date, rather than being unable to.
Cut to: Young-soon on her blind date. Hee. She's not exactly thrilled to be sitting across from a balding middle-aged man, but it gets even worse when he turns out to be a balding middle-aged man who calls her OLD.
He starts to inch closer to her, so she grabs her phone to serve as a distraction, and calls Seo-won to check in on her date with Gil-ro. When she hears that it's about to end, she tells Seo-won to take him home and make him dinner or something.
Seo-won whines that she can't, so Young-soon loses her cool: "Do you think men like Gil-ro are everywhere? Is he short? Old? Rude? IS HE BALD?!"
She growls at her to stop complaining or else, and it's enough to scare her into inviting Gil-ro over. He doesn't get the sudden change, but isn't about to look a gift horse in the mouth, so he quickly agrees. I love that when she's upset Seo-won reverts to her country accent, and Gil-ro mimics it when he answers.
She makes him wait outside while she speed-cleans, and once he's finally let inside, he zooms straight over to her bed and plops down. She immediately reaches for a newspaper and starts rolling it up to use as a weapon.
He says he's just giving her a housewarming gift, and takes out a stuffed monkey to leave in her bed, telling it to stay right there at all times and keep other boys out. Hee, so cute.
But when he tucks it in bed under the covers, he finds the pile of laundry she hid there, and out comes black lacy lingerie. He pulls it out wide-eyed, and then does a dance with it. Could you be any more of a child?
Seo-won freaks out and attacks with the rolled-up newspaper, and he goes down bloody, as is their usual pattern by now.
Moments later, the monkey is positioned head-down in punishment, and Gil-ro has a tissue stuffed up his nose. He pouts at her idea of making him dinner—ramyun with instant rice—and decides to take over the cooking.
She watches in amazement as he dons an apron and actually starts to cook, and presents her with three complete dishes out of the measly ingredients she had.
But when she tastes the food, her expression is rather dark. She covers it up, insisting that it tastes good, but he says that isn't likely—he learned to cook in the army, so there's no way it would taste good. Ha.
Still, he says it's the first time he's cooked for a woman, and that gets a smile out of her. They share a laugh over his army-trained speedy but terrible cooking.
He looks around the apartment and remembers something from their NIS training, when they were told not to leave any traces of themselves behind. He says that she isn't an agent anymore, so she should make memories and have photographs and start leaving traces behind, because her home doesn't feel like hers.
President Han sits in his office late that night, thinking over Mi-rae's warning that if he doesn't comply with her demands, she'll go straight to Gil-ro next. He calls his scientist buddy for a meeting.
Do-ha and Sun-mi keep watch over the scientist's house, waiting for any suspicious activity. Sun-mi takes advantage of the stakeout to draw a sketch of Do-ha. Aw, does she have a crush?
Gil-ro returns the next day to buy ten more sets of cosmetics, to be credited to Seo-won. Mostly it just annoys the NIS agents that he keeps coming back. He comes to work and distributes them as holiday gifts for his team, which raises Seo-won's hackles.
She complains that he's trying to buy her, while he thinks she's being overly sensitive. So he finally relents and lets her repay him, to the tune of 650 dollars. Suddenly she's stuffing her money back into her wallet and running off to answer her phone.
It's her old friend Jin-ju calling, and she comes by to ask her to get her NIS agent friends to sign up for her matchmaking service. Seo-won insists she's not a government employee anymore, but Jin-ju says her mom told her otherwise. Hm, this could get complicated.
Mi-rae makes sure to warn President Han about the danger to his family if he doesn't comply, and sends him off to his meeting.
Seo-won calls her parents and says with exasperation to stop telling people about her job, while Mom passes the blame onto Jin-ju, saying she said it was a secret. Listen, if your parents are going to be a security leak, shouldn't you just lie and say you're working at your cover job?
Before heading back inside, she happens to overhear Mi-rae making a phone call. All she hears is that President Han is on the move, before Mi-rae spots her and she rushes away awkwardly.
The NIS team sees President Han and the scientist on the move at the same time, and Won-seok calls Gil-ro (while he happens to be writing a card to Dad along with a New Year's present) to do his job and follow him.
So he does, not thinking much of it, and just misses catching the elevator ride up with Dad. Someone else manages to make it in time though—it's JJ, who follows Dad just a few steps behind.
When they're alone, he pulls out a knife and stabs him, just to serve as a sick warning: "Next is your son." He's still standing above him when Gil-ro arrives and sees Dad bleeding from the gut.
He tells Dad to hold on, and goes after JJ. They duke it out in the stairwell, and he loses pretty quickly. Augh, that's not what Gaksital would do! I can't help it; my brain struggles with that disparity.
JJ gets away, and Gil-ro calls Won-seok to relay his position and the man's description, before running back to Dad.
Do-ha is following the scientist when he gets sent the description of JJ as his first priority, and turns around. Sun-mi gets the same description, and she's the first to run into him in the parking garage.
She radios Do-ha and attacks JJ, but he quickly overtakes her. Thankfully Do-ha arrives before she gets stabbed, but their fight doesn't end any better, and soon JJ has Sun-mi as a hostage.
He slits her wrist as insurance for his getaway, and despite her pleading for Do-ha to go after him, he stays to keep her alive.
Seo-won receives the same NIS text while she's in the office, and remembers Mi-rae's phone call. She sneaks in to search Gil-ro's office and opens his locked drawer to take a picture of Mi-rae's personnel file.
She discovers the half-written card on his desk, addressed to his loving father and apologizing for being a bad son and promising to be better in the new year.
Gil-ro watches over Dad in the hospital, his shirt covered in Dad's blood from carrying him to safety. Won-seok comes to check on him and Gil-ro sighs that he became too careless, after a year of uneventful watching.
Seo-won arrives at the hospital just as Won-seok is leaving, and I can't tell if she sees him or not. I'm assuming not, otherwise she'd have questions, right? She stops short when she sees Gil-ro sitting there, and turns back around.
Do-ha sits by Sun-mi's hospital bedside, and she asks why he jumped in to save her from being stabbed in the face. (He had made the argument that she's a woman, as if that would stop a terrorist.)
He explains now that it was because having a facial scar would make her instantly recognizable, and make it hard for her to continue covert fieldwork. She pouts, having expected a more because-you're-pretty type answer.
And then she turns around and grumps that he shouldn't have stayed to save her, because she hates that in movies men are always saving women, like women are simply passive objects needing rescue.
Do-ha corrects her that it's not the case in all movies, citing My Sassy Girl as evidence. Pfft.
Gil-ro cautiously touches Dad's hand while he's asleep, but shrinks back when he wakes, which kind of breaks my heart. Dad can only think of the threat to Gil-ro's life, and does what he does best—pushes his son away, with gruff nagging that it's more uncomfortable if he's around.
Gil-ro takes it badly, and says he won't come back ever, and storms out. He finds Seo-won waiting outside the room, and she makes sure to ask if he's okay. They head outside for some fresh air… but someone is watching them. It's JJ, standing just outside Dad's hospital room, dressed as a doctor.
Seo-won wonders if it's okay for him to leave his Dad alone, and Gil-ro sighs that Dad prefers it this way. He tells her that when he was little, he'd see the other kids at the public bath with their dads, and he asked his dad once if they could go together.
Dad just shoved money at him instead, telling him to go alone because he didn't have the time, and when he did, the ajusshi there asked if he didn't have a father. Gil-ro: "I said I didn't. For my dad and me… it's easier that way."
She hands him a bag of clothes to change into, and he dies laughing at her terrible fashion sense, but of course refuses to give them back. He brings up the money she's supposed to repay him (on her own insistence), and instead apologizes: "I thought I could buy time with money, like my father. Like an idiot."
She tells him he's not an idiot, and admits that it's because she was afraid that spending more and more time with him would start to change their friendship. He pouts, suggesting that she save friendship for her dog.
Won-seok gets reamed for botching the mission, and though the director tells him to give it all up, Won-seok doggedly sighs that it's his team and his mission. His spirits are lifted when he comes out and gets greeted happily by all the rest of his trainees, now analysts at headquarters.
Gil-ro returns to work in the morning, and checks his office security footage, as is his habit every day. Only this time, he finds Seo-won snooping around in his office, looking every bit the secret spy. OH SHIT.
Do-ha comes by with beer to check on Seo-won. He tries to convince her to hurry along the mission, but she hems and haws, worried about betraying Gil-ro. She says that sure, he's childish and kind of an ass, but he's cute too, and has some depth. She quickly adds that she doesn't like him or anything. Uh-huh.
Do-ha tells her about Sun-mi getting injured, and says that they're all in danger the longer she drags the mission out. He says that more than Gil-ro, it's her colleagues she should be worried about. He hands her a gun, insisting that she keep it for protection.
Suddenly her doorbell rings. It's Gil-ro, demanding to come inside. They panic, and she shoves Do-ha back into the closet. This time it's filled with clothes, so they literally have to stuff him in there.
She lets Gil-ro in and he charges inside, demanding to know what her deal is—why did she come to his company? Who is she? What is she really doing there?
She counters defensively, but he notes two beer cans sitting on her table, and asks if someone is here. She says no, and then of all moments, her closet door pops open. Eep.
He runs over to open it, and she barely manages to block him. It turns into hand-to-hand combat, where they each take turns gaining the upper hand.
It lands them in bed, one on top of the other and back and forth. He turns the tables and sits on top of her, demanding to know what she's really up to.
Just then, her parents arrive, having decided to pay her a surprise visit. Oh crap. This isn't what it looks like! But in two seconds flat, Dad has Gil-ro by a fistful of hair and starts beating the crap out of him. Pfft.
And then, just when you think things can't get any worse… Do-ha pops out of the closet and spills out onto the floor, and suddenly it looks like she's got two men in her room at the same time.
Dad freaks out and grabs Do-ha, so now he has both guys by the scruff, one in each hand, and then Mom yanks Seo-won by her hair so she can't get away.
HAHAHAHA. Okay, that's pretty damn funny.

COMMENTS
That is not how I expected that last scene to go. While the tone of Level 7 Civil Servant is overall too silly to be taken very seriously, it does do a good job of turning the expected rom-com setup on its head, whether it's whipped cream kisses or double-boyfriend three-way misunderstandings. In moments like that I appreciate the show's light touch. And really, thank goodness it's a comedy, because let's face it: never has there been such a group of terrible spies. It's just a good thing that there are only two bad guys to contend with.
I'm starting to warm to Seo-won and Gil-ro's connection, when they slow down enough to reveal tiny earnest tidbits of themselves. And I'm definitely liking Seo-won more now that she's struggling with the choice between staying on mission or protecting Gil-ro from getting hurt, because it's got the extra layer of forcing herself to ignore her feelings for his sake. It sort of makes her seem like she's playing him hot and cold, because one minute she's following orders and going on dates, and the next minute she's pushing him away because she feels a pang of guilt. It's funny, but it's also a good way to keep that tension going, where she can't actually give into her feelings for a valid reason, and one that we can respect. She genuinely doesn't want to hurt him, and that makes me like her.
Do-ha isn't making it any easier when he points out that as her teammates get injured, it becomes more directly their safety versus Gil-ro. That seems to be the sticking point for them—she still sees Gil-ro as one of them, while he doesn't. I don't blame him either, because I don't think it's wrong, and for as much as he's jealous, he's not acting for his personal gain.
I'm just looking forward to how the boys' old rivalry will reignite, given the bedroom hijinks that closed the episode. Assuming that somehow Seo-won manages to convince Gil-ro that she isn't a spy, there's the unmistakable boyfriend in the closet that she has to explain, not to mention with her parents present. Just trying to imagine what on earth you could say to explain that situation cracks me up. There's just nothing, save for turning Do-ha into a pervert/thief/stalker, the poor guy. Maybe he'll get to play the boyfriend after all, which would be a fun addition to the crazy mountain of lies.

RELATED POSTS
Tags: Chansung, Choi Kang-hee, featured, Joo-won, Kim Min-seo, Level 7 Civil Servant