Level 7 Civil Servant: Episode 8
I like this couple much more when they're being cute than when they're yelling or lying, so this week as a whole was an improvement for me. I hope that once the romance is in full force we're not heading too far into angst territory, since this show is better being silly than it is being serious—because really, you can't take it seriously. Treating this like a "real spy" drama would be an exercise in futility, so I'm taking it as more of a tongue-in-cheek spoof.
Ratings note: IRIS 2 dropped a couple points to 12.4%, which is the same number logged for That Winter. So they're tied in first, with Level 7 Civil Servant hot on their heels at 12.1%. Numbers-wise we're on a level playing field. I do wonder if IRIS's trajectory is concerning (it had a dip from yesterday), but if we're playing that game we have to note that Level 7 also dipped from its high in previous weeks. But it's too early to tell at this point.
I find things to like about all three shows, but at the same time they've all got flaws so none of them really has a claim on my heart. Thus I'm not too invested in the ratings race, though I do always enjoy seeing how they shake out and change.
SONG OF THE DAY
Never Mind – "밀고당기기" (Push and pull) [ Download ]
Audio clip: Adobe Flash Player (version 9 or above) is required to play this audio clip. Download the latest version here. You also need to have JavaScript enabled in your browser.

EPISODE 8 RECAP
Gil-ro and Seo-won hug it out, watched on camera by one cheery NIS agent (Sun-mi) and one much less cheery one (Do-ha). The sight just hammers that "Let's just be friends" speech into Do-ha's brain. Poor perfect second lead. Better luck next drama.
Thankfully Gil-ro does end up going to a hospital, and as they leave with his arm in a cast, he explains the accident as a mere hit and run. She offers to contact a sunbae at the police station so he can report it, and he says he has a sunbae too. Is it the same sunbae?
He's hungry, and she invites him back to her place for a home-cooked meal. He asks about her parents, and she actually recoils to remember that they're still here. She predicts that they're playing Go Stop and fighting, which is right on the money. Dad's a sore winner and Mom's a sore loser, and soon there are cards flying everywhere.
Gil-ro smiles and surprises her with a hug, which is cute. Now that their feelings are confirmed, he's just brimming with the wuv. She tells him it's not good manners to get handsy just because she hugged him once, and he slings an arm around her: "Why is it I have so few manners?"
He asks why she took so long to come to him. As in, why'd she deny her feelings for so long? He swoops in, all purposeful and romantical-like, lips nearing… and she pokes his injury to get him to back off. Oh honey. The things I would teach you.
He protests that it hurts, and she laughs that liking someone brings hurt, and with more feelings comes more hurt. Yes, so how about we not help it along?
Seo-won proposes, "How about we just like each other, and not love?" He notes that this is her very first time uttering the word love. She quips that she's got an ideal type who's not him (which makes him pout), and describes how cool Won Bin was in the movie Ajusshi, the total opposite of Gil-ro. Won Bin was all, "Stand back, I'll get blood on you" while Gil-ro got all huggy and didn't care about staining her with his blood.
So on they go to buy her a new outfit, which is funny since he's the one soaked in blood, looking like he just stepped out of Ajusshi. This obligatory shopping montage feels pretty shoe-horned in. Aw, this is one cliché they didn't subvert. Poo.
Gil-ro works with a police artist to come up with a rendering of JJ's face, while Seo-won briefs her team on their findings into Mi-rae's background. Mi-rae's working a pretty believable front at the company, but they know she's working with President Han on a new venture.
Gil-ro spends meetings sending Seo-won moony eyes, and Seo-won's looking happier as well. Too happy, in fact, which is a point of concern for Young-soon—what if Seo-won has actually fallen for Gil-ro instead of just pretending? She worries that bringing Gil-ro into the mission was a mistake, but Won-seok stands firm: Seo-won can handle her emotions, and they need Gil-ro to monitor his father without rousing suspicion.
Won-seok adds that while he trusts Gil-ro, he's aware that Gil-ro may ultimately hesitate because it's his father. That's when they'll send Seo-won in. Eek, don't envy her that job. Break your boyfriend's heart, then destroy his father, go!
Won-seok instructs Young-soon not to report any of this to their boss, Director Oh… which seems rather shady. I get that he's keeping Gil-ro on the side as an unofficial operation, but it makes me nervous to see him going too rogue; every time he's confronted with a potential conflict he reminds Young-soon of their dead colleague, and he's not too far from letting that vengeance drive him…
But for now he and Young-soon both report to Director Oh that they've got no leads on the President Han case, and no sketches of his attacker. He's mildly suspicious that they're lying, but for now he just warns them to do their jobs properly.
Gil-ro and Seo-won kick off their official relationship with a scenic drive and a meal. In the car ride he keeps making grabs for her hand, and she swats him aside and asks whether he's affection-starved. Not missing a beat, he replies, "Yes. Give me affection." Cute.
Eager to do more coupley things, he suggests going on trip: "If I suggest you going on one night and two days [snerk] you'll definitely say no… so choose between two nights and three days, or three nights and four days." She thinks it over for a second, and agrees to it.
He screeches to a stop, shocked that she'd agree so readily. She gives him one condition: that she meet his parents first. Another screeeeeech.
Ah, so she's working the spy angle with this—her orders are to get inside the Han mansion and find that safe. Gil-ro protests, assuring her that it's not Seo-won he's embarrassed about but his parents. But confronted with the prospect of no trip, Gil-ro caves. Wrapped around her finger, he is.
They stop to eat at a rustic restaurant, and he supposes he ought to meet her parents too. (He means the formal introduction as boyfriend.) Just the thought makes him grab his hair, wincing. She says they can wait on that and, in an indulgent mood, tells him to enjoy his beer. They can wait around here while the alcohol wears off.
He asks musingly whether they'll ever fight again in the future. To which I ask: Do you even know her? She says that their future fights could be really big, but asks him to believe in her all the same. Gil-ro the romantic disagrees that they'll fight: "It wasn't your identity I couldn't trust, but your feelings. Now I believe everything."
Such faith shakes her, and her smile fades.
I'm going to assume that Gil-ro's definition of fighting is the serious, relationship-threatening kind and not the everyday yelling they do, because they're back at it the moment they're back in the car. Seo-won takes the wheel, having decided not to wait for him to sober up after all, and her poor driving has him shouting in frustration. (But… you're a spy. You can lie, gamble, cheat and steal but you can't drive?)
They've got a line of angrily honking cars behind them and she recites stuff she learned in driver's ed, ignoring the advice he's giving her until he screeches, "Don't you know what a brake is? Are you dumb?!" At least in this case, I don't hold their frustration against them since I've been on both sides of this equation.
By the time Seo-won and Gil-ro pull in to the parking lot the bickering is at full decibel level as she gives reverse parking an attempt. It does not go well. Finally she's had enough of his yelling and gets out, and he chases her down.
They're both in the wrong, but thankfully they're also both willing to back down a bit to end the fight. Which is a relief since she's just about to bite out that they should break up. He promises that he won't yell anymore, and she sighs in a rather cryptic way, "You can yell, because I'll have to accept it when you get angrier than this."
Restored to good humor, Gil-ro sweeps her up in his arms and runs back to the car giddily. He opens the car door for her, saying that in the future if he does this it means he's sorry and won't do it again. She replies that if she then gets in without replying, even if he doesn't apologize, it means she's let go of her anger.
President Han finally gives in and tells Mi-rae that he'll procure the technology she's after. But they'd better leave Pil-hoon alone, and if they mess with him he'll turn over everything to the police. He doesn't care that it'll incriminate him, willing to go to prison (or even face execution) to keep his son safe.
Mi-rae tells JJ that he wins this time—his threatening tactic worked and President Han is complying with their demands. When they get that technology, the agents will mobilize and they'll get their shot at killing the director. So this whole scientist-President Han maneuvering is really just bait for their revenge.
JJ isn't satisfied with such a simple end to the plan—merely killing the director won't get anyone to acknowledge their revenge or an admission of wrongdoing. He wants the director's apology. Mi-rae argues that he won't get it.
JJ notes how Gil-ro fought like an agent, and is unsettled because he doesn't quite have a read on his character. Mi-rae is less worried, saying that they have no need for the son now.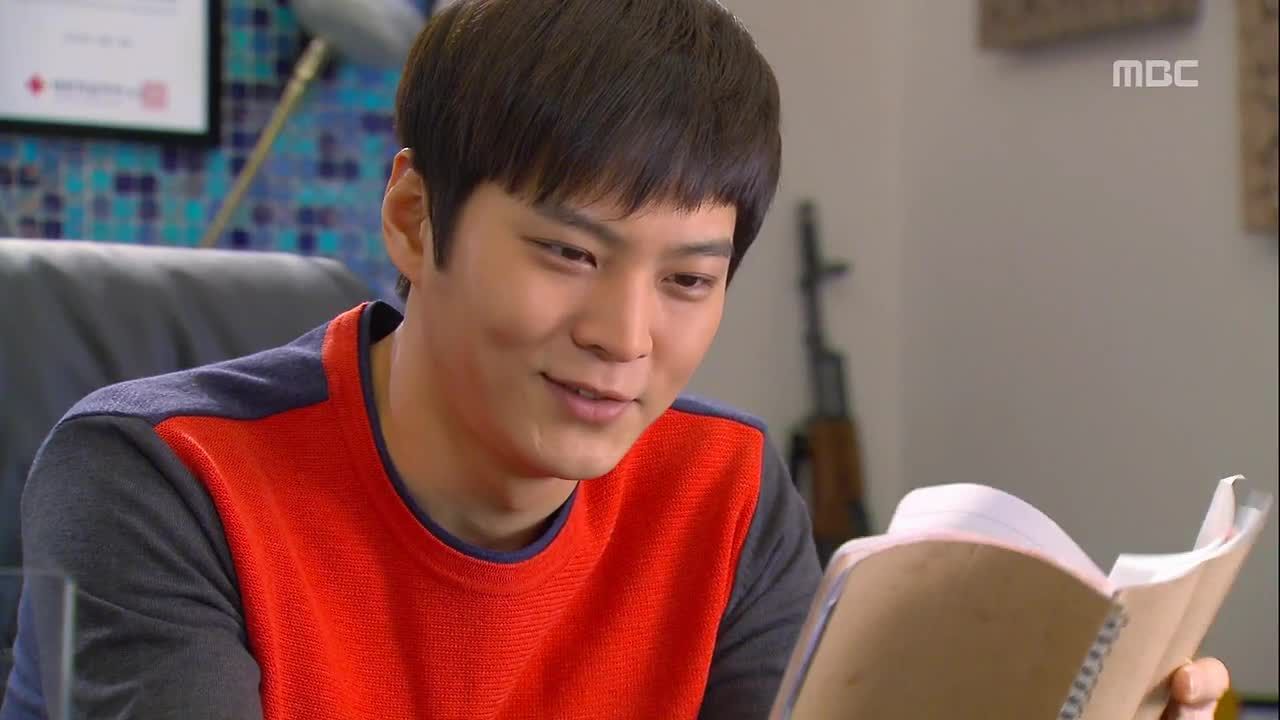 At home, Gil-ro belatedly looks through a notebook—one that Seo-won's father had used to beat him over the head, ha. It contains maps and sketches of an experimental eco-village, one that would convert its current energy sources to greener ones like biogas. He smiles and starts reading.
We've known for a while that Dad has bigger aspirations, but this is the first sign that he's actually working on doing something about it instead of just talking a big talk. At breakfast, he prattles on (while Seo-won and Mom ignore him) about all the improvements and advancements he wants the government to do for rural villages.
While Dad rambles, Seo-won tucks her Gil-ro monkey back in bed (Dad had put it back in punishment mode) and tells her parents that from now on, her name is Jung-won, got it? I guess you're not a real spy till you've got so many names that everyone's confused about what to call you.
At headquarters, the team is briefed on what the agency knows of our baddies. They're not entirely certain whether JJ is aligned with Mi-rae and President Han, but Seo-won confirms seeing him at the company in Mi-rae's company. Asked how she's certain, Seo-won says matter-of-factly, "He's good-looking." Ha.
Seo-won gets additional orders to get friendly with Mi-rae. She confirms that she's working on that invitation to Gil-ro's house, though the reminder of the fake-but-real relationship with Gil-ro is enough to get Do-ha excusing himself with his frowny face on.
Gil-ro says he wants to introduce his girlfriend to his parents, which has Mom so suspicious she immediately asks whether he's knocked her up. And then what zodiac sign she is.
He figures there's no need to unleash the whole, unvarnished truth and lies that Seo-won is a tiger sign, and her family is "dynamic and active." Mom is suddenly excited at the idea of marrying him off to a good match and insists on observing the most proper formalities, because their family line isn't really that illustrious and they want to impress the in-laws. Okay, that's cute, that now she's the one feeling insecure.
Gil-ro insists that they're not talking marriage, to which Mom retorts by asking why you'd date without marriage, and round and round they go.
But Dad deflates the proceedings by barking at Gil-ro to go to Canada immediately and learn business from his friend. We know he's afraid for his safety, but the only way Dad knows how to communicate is by being gruff and indifferent. Sadness.
The agents spot movement on their monitors and are ordered to mobilize. They grab their weapons, and Sun-mi's gun goes off in her hand. (This agency, I swear.) Do-ha quickly disarms her and grabs her in a lock, to which she actually simpers that he's got good form. Really? Oh, honey. You misfire your gun at headquarters and you're swooning before you're shaking in terror at your own incompetence?
At least she gets a thorough reaming from Young-soon, though she's not punished; she gets the warning that if she does it again she'll never hold a gun again. Sun-mi and Do-ha move out.
The mission is to stake out Dr. Park, the scientist contact who arrives to take a meeting with Mi-rae and President Han. Sun-mi settles back for the wait and playfully turns her gun on Do-ha, challenging him to take it away.
He tells her to never raise a gun to her colleague, even if it's empty or in jest. I'm beginning to think Do-ha's the only agent worth having around here. Though he is terrible at stealthy break-ins. There is that.
Do-ha steps aside for a phone call, and now we get an illuminating flashback: Director Oh had pulled him aside with orders to report his team's movements directly to him. Ooh. He's a double agent? Ish. Technically they're all on the same side. Or they should be; this can't mean anything good.
Do-ha had refused to betray his team, but the director had presented him with one of those ethical dilemmas we've been hearing about all series long: Will you insist on loyalty even when your teammates are behaving wrongly? Doesn't that make you commit the greater betrayal—to your country?
Director Oh says warningly that Do-ha was on his side from the start, so he'd better listen to what he says. That sends us into a flashback within our flashback, when they'd first met:
It's in the aftermath of Do-ha's traumatic army mission that went bad, where he's the sole survivor. He wakes up in the infirmary as Director Oh approaches and alludes to his upcoming court martial for disobeying direct orders to fire on the enemy. Doesn't he feel wrongly accused? How about Do-ha come onboard a bigger mission and serve the country for the NIS?
Interesting that Director Oh seems to use this as emotional blackmail over Do-ha—I saved you from trial, you owe me forever. So now, despite being conflicted about spying on his fellow spies, Do-ha makes the call. He informs Director Oh of the meeting taking place.
And then… Gil-ro walks by. Do-ha adds to his report, "Han Gil-ro has joined them." OH NO.
Mi-rae and President Han are busily pressuring Dr. Park to join them in stealing that shipping technology, promising a big payoff and a scot-free escape. It's mid-conversation that Gil-ro arrives, armed with the excuse that he had a meeting here and recognized Dad's car, and even recognizes Dr. Park as an old family friend.
But Dad's freaking out to have Gil-ro right in the hornet's nest and barks at him to go away, NOW! He even throws a water cup at him, just trying to get him away as fast as possible. Awwwww. Something about that just tears at my heart.
Hurt, Gil-ro leaves. Curiously, Dr. Park thinks this is about something else entirely and asks if Dad is still holding on to "that thing" from ages ago. He urges him to let go already, defending Gil-ro as being really young: "He wasn't trying to kill you on purpose." WHAT NOW. Mi-rae looks interested to hear this, and we can bet she'll be exploiting it if at all possible.
Gil-ro storms back to his car, ready to abandon his stakeout of Dad's movements. But he remembers how Dad had urged him to run away in the moments after he was stabbed—even then, he'd been worried about Gil-ro's safety. That saps away some of his anger, and he stays put.
Young-soon offers Seo-won some advice about her mission, telling her not to let her guard down about Gil-ro—men always say they trust you, but their curiosity always trumps trust. Seo-won's so deep in the throes of romance that she just says that Gil-ro will be different, so Young-soon takes a different approach, asking what she'll do about Gil-ro after she gets that safe open and her mission is over?
Seo-won says she'll "take responsibility" for everything—her feelings and his. Ack, understandably Young-soon buries her head in her hands at that, since there are about a thousand ways that can go awry.
Young-soon tells a story about her earlier days as an agent, when she went overseas on a mission that required her to disguise herself as a newlywed with a fellow agent… and she ran into her boyfriend, who was there on business. She'd cried and pleaded with him to believe in her, saying that she loved him and would explain later, but he dumped her.
That scared her off dating, and made her realize that no man out there will ever believe you unconditionally. When Gil-ro finds out, will he believe her feelings? Seo-won answers, "Of course he won't. But I'll make him believe me, because my feelings are real."
Gil-ro sits in his car, completely unaware that from a nearby building, he's been sighted. JJ sets up his rifle and gets him in his sights, ACK!
Then… the sight moves to a nearby car, settling on Do-ha's face instead. Oh phew. I mean, not phew entirely, but still. Phew.
JJ shoots, but his bullet pierces the mirror instead, and immediately the agents duck for cover and look around. It turns out that JJ missed on purpose, deciding that he has to send a signal to draw out the big guys.
The agents call in the incident to headquarters, and agents swing into motion searching for the possible sniper. Meanwhile, our trio of baddies emerge from their dinner meeting, and Gil-ro takes note.
Young-soon is called away by the sniping, and leaves Seo-won with a few last words of advice. She says that citizens who have been used and abandoned don't feel moved by their country, and cautions her against liking Gil-ro, who won't be able to handle being similarly used. Seo-won sticks to her optimism, and Young-soon relents a little, sighing that in her case her her boyfriend was betrayed by her loyalty to the country: "You're not the one without a right to be an agent, it's me. Good luck."
Won-seok encounters some troubles at home, this time with his daughter. While his formerly disgruntled wife is now aglow with happiness, loving the idea of moving to the States, it's his surly teenage daughter who talks back and gets caught with cigarettes. Sigh. If it's not one thing, it's something else, isn't it?
Gil-ro gives Seo-won a gift, which she finds at her desk at work—it's a new tablet loaded with parking tips, highlighted helpfully and with diagrams. Okay, that's sweet.
He walks her home that evening and tells her that his parents want him to greet her parents first, before he's allowed to invite her over to his house. She flips out at the thought of doing this today, but he figures it's best to just do it and face it bravely, "Like a man." Ha. Man-boy, I'll give you.
He rings the bell, and she frantically tries to push him away, to run while he can. Of course, Mom comes out to see Seo-won plastered to Gil-ro's side, looking indecently close, and… well, we all know this family's method of discipline. Haha.
Gil-ro rather adorably make his greetings to the parents, bowing from the waist and looking really pleased with himself. Of course, he's doing this all wrong, and Seo-won has to mutter at him to do the full bow (to the floor), and tries to correct him when his hand placement gets her parents muttering disapprovingly. (He does the girly bow, which cracks me up. Especially since he looks up at Seo-won, all, "Did I do it right? I did it right! Congratulate me!")
Her parents are far from impressed, nitpicking his every little detail, muttering insults under their breath and calling him ill-mannered. They almost call her Kyung-ja, though they stop when she cuts them off, remembering the whole name deal. Unfortunately, they don't remember what her name is supposed to be, and Dad has to ask, "Uh, who are you again?" Ha. That's not suspicious at all!
But then, Gil-ro gives Dad back his notebook on his green village, which he's beefed up with suggestions of his own. Dad is super impressed as Gil-ro runs through his research notes, and practically dies of happiness to hear that his project might merit government funding. Dad grabs him, and Gil-ro instinctively grabs his hair, which gets a laugh out of me.
Dad even invites Gil-ro to spend the night, but Mom—who is much less impressed—grumps that he should leave right away. Gil-ro agrees, but first presents Mom with a gift of her own. Naturally, Seo-won's cosmetics. Well, that gets her on his side right quick and she invites him to stay for dinner.
Do-ha arrives as Seo-won walks Gil-ro out, hanging back as they say their goodbyes in the courtyard. Gil-ro says he likes her parents, but doesn't have such confidence that she'll like his, particularly his father. She just tells him that parents are to be accepted, not judged, reminding him that he was able to do that with her despite her lies.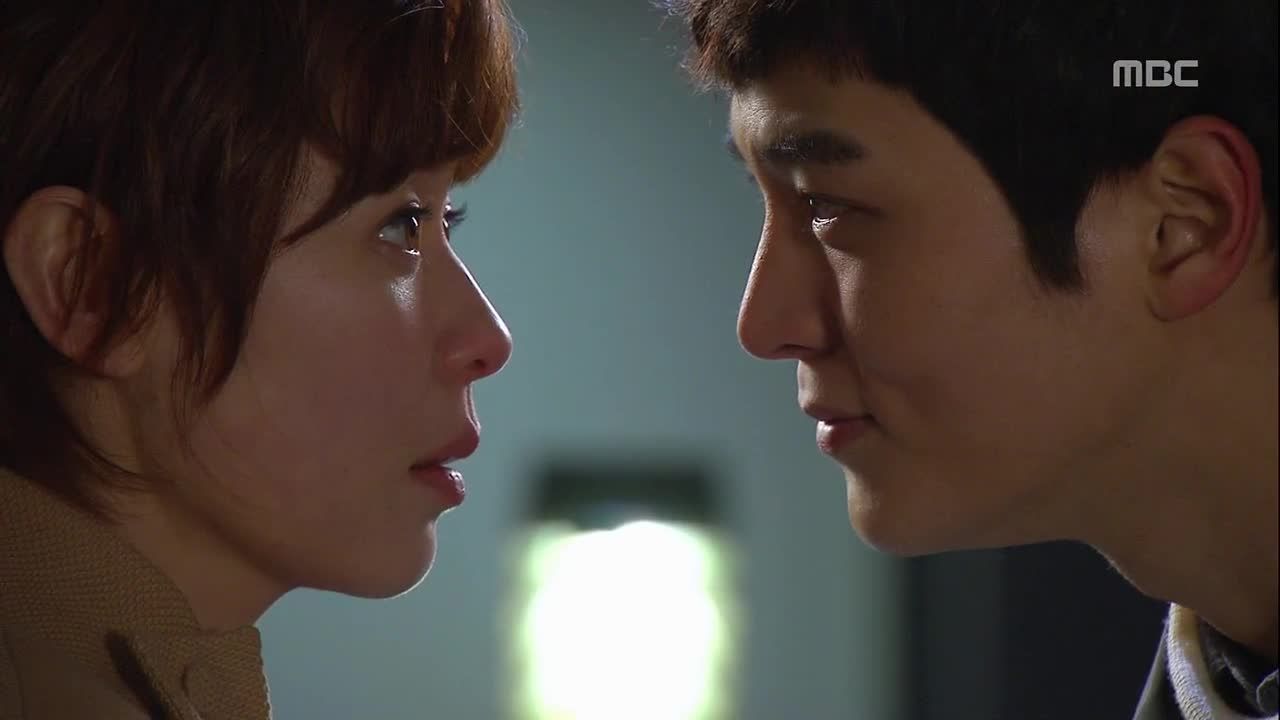 They drag out their good night cutely with mention of her parking (she promises to practice) and then he leans in. No kiss today, though (poo), and he just thanks her for putting the monkey back in his rightful place. (Her bed, of course.)
After he leaves, Do-ha emerges from the shadows, mostly here to check that Seo-won is safe but also unhappy to see how the relationship is progressing. He tells her of the attack today and tries to leave his gun with her, which she refuses, saying that they're on different jobs and that she'll decide what kind of protection she needs.
Then he drops a bomb that makes her gape: When he was being attacked, Gil-ro was present. He reminds her that nobody knows what side Gil-ro's on, and that he's merely her target. She defends Gil-ro, but Do-ha finally bursts out, "Don't do that kind of thing anymore."
She asks what he means. He replies, "This." And he pulls her in for a hug.
Juuuust as Gil-ro arrives, having turned back to get his forgotten phone. Ack! Gaksital will never forgive you!

COMMENTS
I'm of two minds about this show, and every recap is a bit of an exercise in balancing the two. On one hand, I find things about this show seriously flawed and lacking, and there's no reason I won't be honest about how I feel about those things. But on the other hand, I do also recognize that there's a need to take the show for what it is, or what it's trying to be, and not hold against it something it's NOT trying to be. I get that. It helps get past some of the logic fails or agent stupidity moments, thinking of this more as Kim Possible than, oh, Bond or Alias or 24.
The spy biz in this drama, for instance, isn't striving for coolness—at least, not in the way that those others do—and its rom-com angle is always its priority. I do appreciate that, so I'm taking that into account. It does alter my expectations to a more manageable bite size, which makes for a more entertaining viewing experience. And Level 7 Civil Servant does make me laugh. At the end of the day I just really want my dramas to entertain me, whether with tears or laughs or thrills, or a mix of them all.
But even when approaching this show as a comical lightweight, I would argue that there's a line between silly-funny and silly-stupid, and it's a line the show has toed from time to time. So calling it silly doesn't absolve it of the responsibility to make sense, for instance. And we have had enough of those moments to make me check halfway out of any of the spy shenanigans. Comic scenarios (like in the movie) are well and good. But sheer incompetence in the agents, like accidentally firing a gun in headquarters and then giggling about the hottie who disarmed you? Ugh. Sun-mi, please grow some common sense, otherwise find some really important Other Thing To Do in any scene that isn't currently being shot.
Right now Do-ha's probably my favorite character next to Young-soon, for that reason. I don't actually love HIM so much, but kudos to any spy who's actually taking his spy job seriously. If we're talking rom-com, I'd much rather watch the cute bickery couple at the center. But if we're going on a covert ops mission, I want Do-ha to be the one on my team.
RELATED POSTS
Tags: Chansung, Choi Kang-hee, featured, Joo-won, Kim Min-seo, Level 7 Civil Servant