Script readings galore for spring's upcoming dramas
Lots and lots of dramas are gearing up for production in the upcoming wave, which means we've got lots and lots of casting announcements and table reads. We're just swimming in casting news these days, with some rumors falling through or others changing their minds and jumping productions, which means it's all I can do to keep my head on straight about who's doing what and when.
Let's start off with one of our highly anticipated upcoming dramas (though I wouldn't say any of these aren't anticipated): Gu Family Book. The MBC fusion fantasy sageuk about a half-gumiho hero boasts a solid cast and crew, from its Secret Garden and Gentleman's Dignity director to its Baker King Kim Tak-gu writer to its lead stars to its supporting lineup.
Headlining the project is (and is there a way to say this without being a jinx?) ratings hitmaker Lee Seung-gi, pictured here at the drama's script reading a few days ago. His co-stars in the photos below are Suzy (Dream High), Choi Jin-hyuk (Panda and Hedgehog), guest star Lee Yeon-hee (Ghost), Jung Hye-young (Playful Kiss), and Yoo Yeon-seok (Wolf Boy).
Gu Family Book will be a Monday-Tuesday series and premieres in April.

Next, we have KBS's upcoming You're the Best, Lee Soon-shin, which held its script read on February 4 and assembled an even bigger cast. Makes sense—it's a weekend family drama, so there'll be multiple generations and lots of characters.
In the lead role is IU as Lee Soon-shin, whose leading man is played by rising star Jo Jung-seok (The King 2 Hearts). The character is an aspiring actress, and her older sisters are played by Yoo Inna (Queen In-hyun's Man) and Sohn Tae-young (Two Wives).
Other faces you may recognize in the crowd: Lee Mi-sook (Can We Get Married), Kim Young-chul (Nice Guy), Go Joo-won (Kim Suro), and Go Du-shim (Twinkle Twinkle).
You're the Best, Lee Soon-shin follows current mega-hit My Daughter Seo-young and premieres on March 9.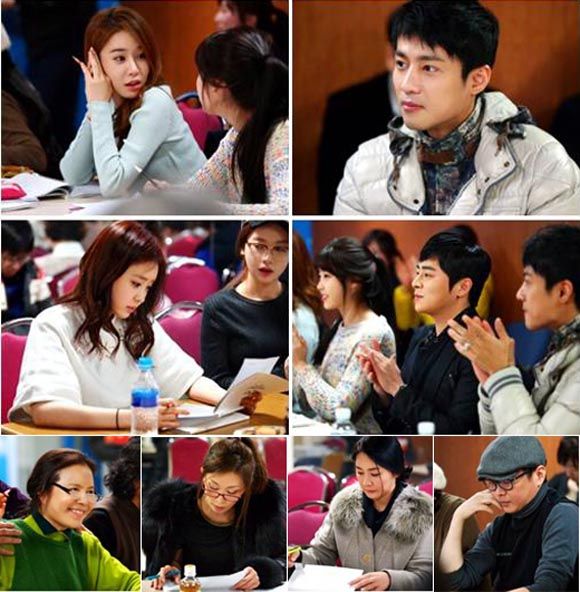 Ah, here's more on the cable series The Virus, which has been flying under the radar a bit. In keeping with OCN's darker, thriller bent (its drama lineup includes Vampire Prosecutor and Ten), The Virus is also going for mystery-thriller vibes as a deadly contagion spreads, giving victims a mere three days from infection to death.
The series centers around a specialized task force working to stop the virus, and is led by scientist Eom Ki-joon (Scent of a Woman). His team includes Lee Ki-woo and Park Min-woo, both of Flower Boy Ramyun Shop, while Wonder Girls pop star Yubin plays a genius hacker on their side.
The 10-episode drama premieres in March.

Last but not least, here we have the stars of Jang Ok-jung, Live For Love, SBS's sageuk series telling the B-side to a familiar story. Kim Tae-hee plays the much-maligned Jang Ok-jung, though it remains to be seen whether her heroine will be misunderstood by history or simply made a more sympathetic femme fatale in this telling. Yoo Ah-in is the king who makes her queen consort after getting rid of his first one (to be played by Hong Soo-hyun). Yeah, history didn't like that either.
Included in the cast (but difficult/impossible to make out in the photos) are Jae Hee (May Queen), lovelorn Lee Sang-yeob (so faithful to Moon Chae-won in Nice Guy), and Han Seung-yeon of KARA. Ha, every drama on this page has an idol starlet in a prominent role. At this point we should just expect it.
Jang Ok-jung will follow Monday-Tuesday drama Yawang and premieres in April.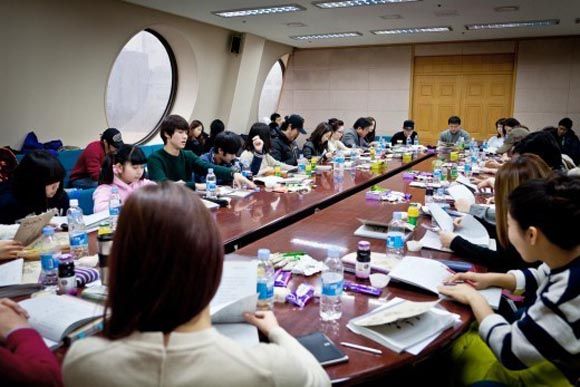 Via My Daily, TV Report, Osen, Mk.co.kr
RELATED POSTS
Tags: Eom Ki-joon, IU, Jang Ok-jung Live By Love, Jung Hye-young, Kim Tae-hee, Lee Seung-gi, Park Min-woo, Suzy, Yoo Ah-in