Song Seung-heon made of wax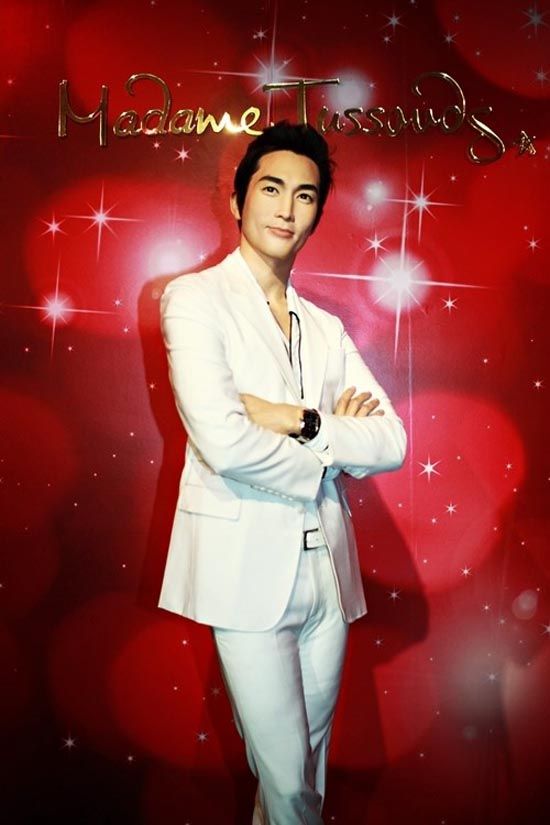 javabeans: …just now, I mean. As in, by Madame Tussaud's in Busan. Although, should we be scared that the wax doll looks eerily like the human version?
girlfriday: They all look eerily like the human versions, but should the question really be: Which came first?
javabeans: You mean, is there the possibility that there was this beautiful wax creation somewhere who woke up one day and longed to be a real boy?
girlfriday: Yes! I've seen Mannequin.
javabeans: And he thought that acting would help put him in touch with the range of human emotion? In which case… I'm not sure that experiment worked.
girlfriday: Don't deny that you've had similar thoughts about Song Seung-heon's origin story.
javabeans: [prolonged silence] The thing is… that line of thinking is almost so obvious that I wonder if it's too easy to make the joke. Like, low-hanging snarkfruit.
girlfriday: *thinks dirty thoughts about low-hanging fruit*
javabeans: *is grossed out by thoughts of low-hanging fruit being dirty* Must wash brain with eye candy. Though this photo above is just as creepy as it is pretty. You know, I've always said that Song Seung-heon was so beautiful as to be artificial, like one of those androids in A.I.
girlfriday: So then is his artificial wax replica impressive or just redundant?
javabeans: You could argue that the world can never decry an extra Song Seung-heon lying around to be admired.
girlfriday: Ain't that the truth. And now I'm distracted by thoughts of a Song Seung-heon in every household…
javabeans: And hey, that gives the Real Deal extra time to go out and act and stuff while his backup fills the posing quota. Send Waxy out to Vogue shoots and you can hardly tell the difference! …though I suppose you could argue that there's little difference on the acting front too. *badum-ching*
girlfriday: There goes the low-hanging fruit.
javabeans: I tried to avoid it, really I did. But low-hanging fruit is low-hanging that way. Gets in your way until you just have to pay it attention. The real question is, is he beautiful like a robot, or was there just an extra dose of loving, detailed, time-consuming attention paid to his wax doll?
girlfriday: What you really mean is, who gets to do that measuring job?
javabeans: "I detect a flaw. Must call him back. And hey, must make sure it feels the same too…" Considering that the thing took 200 million won to produce, I wouldn't be surprised if "attention to detail" were the culprit. On that note, I think the complaint must be noted that a replica of Song Seung-heon is blatantly inaccurate without inclusion of his choco abs.
girlfriday: Seriously, why make one at all then? We demand a recall!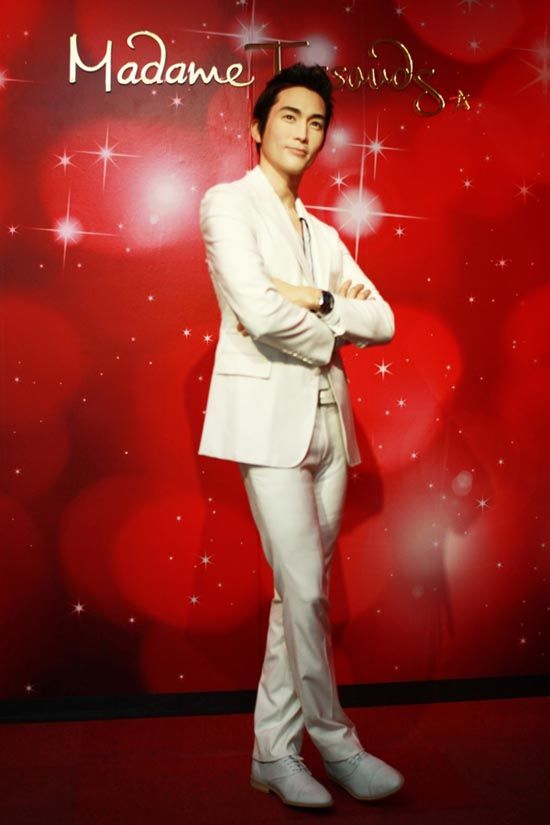 Via Review Star
RELATED POSTS
Tags: conversation post, Song Seung-heon