That Winter, The Wind Blows: Episode 3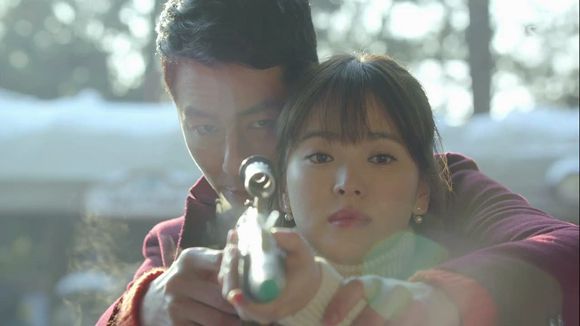 This is the first show of 2013 that has me wholeheartedly, head over heels invested. I'm talking the kind of invested where you laugh way too hard at the funny bits (which come as a pleasant, but not at all unwelcome surprise this episode) and hold your breath way too long during the romantic moments. The kind of invested that makes every tear shed on screen feel real because you know just how broken Soo and Young are, and darn it, you just want them to be happy.
Ratings-wise, That Winter managed to hold its own against big-budget competitor IRIS 2 this episode by tying at 12.4%. Already-established Level 7 Civil Servant fell behind at 12.1%, but that's a minuscule difference. I love a tight ratings race between worthy shows, so let the games begin. Or let them continue, in this case.

EPISODE 3 RECAP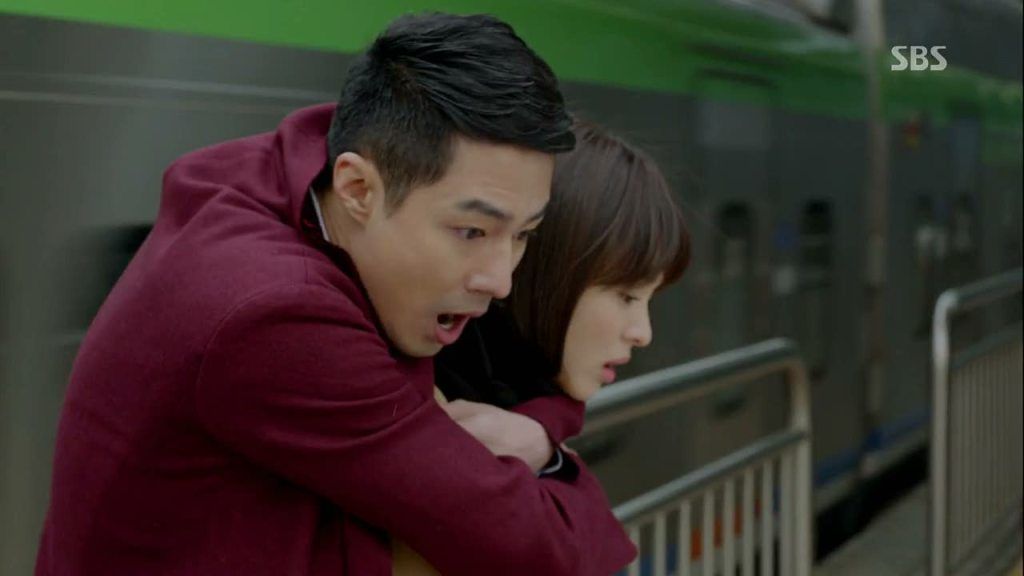 The moment of truth comes as Young steps toward the oncoming train, but Soo springs into action by throwing his arms around her and putting his body in between hers and the train. No one's hurt, but Soo is rattled as we hear his thoughts:
"I, who wants to live, met a woman who wants to die. We are clearly very different. But for some reason… at that moment, that woman seemed like me. For the first time, I became curious about that woman."
While running reconnaissance at the coffee shop where Mi-ra works, Jin-sung and Hee-sun end up with front row seating during Secretary Wang's tirade, since she's found out that Mi-ra left Young with her brother and is NOT happy about it.
One of the other shop employees stands up to her, citing that she isn't even Young's mother, but is cut down when Secretary Wang reveals that she loaned money to get the coffee shop started. Waitaminute. This sounds an awful lot like Secretary Wang is PAYING Mi-ra to be Young's friend.
I don't know if it was intentional, but Soo's insistence that he'll never take Young to a train station again got a laugh out of me. She asks him why he didn't push her – if she were in his shoes, she would have done it.
Soo scolds her a bit when he tells her that she shouldn't speak so carelessly about dying, and she guesses that there must have been a time when he wanted to die, otherwise he wouldn't feel so strongly about the topic.
He flashes back to the accident that killed his former lover, Hee-joo, which must have been when he considered dying. But instead he lies to Young that he's experiencing that feeling now, "When the all my one and only sister wants from me after being reunited is for me to kill her. When she's telling me she wants to die. This exact moment."
Tears spill from Young's eyes at his words, especially when he finally explains that he didn't ask about her eyesight because he felt sorry that he came back to her so late. The question is, does she believe him?
Family dinners at the Young household keep escalating in awkwardness, as Secretary Wang all but throws a fit over Young's absence, and puts Soo in his place when he tries to intervene by reminding him that she's Young's legal guardian, not him.
So Young calls Lawyer Jang on the spot to confirm that she can change her legal guardian at any time. HA. I think the saying "every rose has its thorn" applies pretty well to her.
She reminds Secretary Wang that she's her employee, and can be fired at any time. When Secretary Wang insists that she spoke against Soo for her sake, she calmly fires back, "If it's for my sake… then please be quiet now." Damn. She literally just took Secretary Wang to school.
Jin-sung is wowed over Young's lack of manners toward the woman who raised her for twenty-one years, but Soo sees it as a good thing – it's better to use a mean girl rather than a nice one, right? "And the fact that she trusts no one here means she has a higher chance of trusting me."
(And yes, Jin-sung's at the table again, which makes it seem fairly certain that he got to move in with Soo. Which, hah.)
Myung-ho tries complaining to the good-hearted Lawyer Jang about Soo's intentions, but he isn't provided with a sympathetic ear. At least Myung-ho has his minion to remind him that Secretary Wang let Young's father die so he could become chairman. Jeez, is all the money these people make coated in angel dust? Why are they all psychopaths?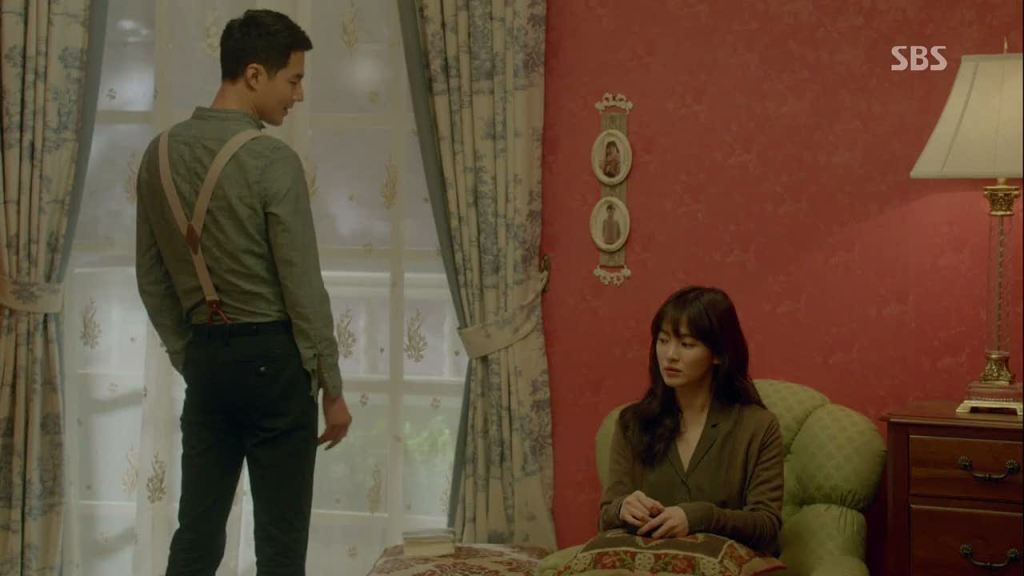 Soo visits Young's room that night, and cites a passage he's memorized from the book she's listening to. She instantly picks up on the change in his voice when he's reciting the words, and recognizes that same voice… from the man who read her brother's letter to her one year ago. He's caught.
She's her usual collected, alllllmost smug self as she tells him that being blind doesn't make her a fool – her ears are her eyes, and she remembers his voice. She can also pick up on how he clenches his teeth when he talks: "It's proof that you're thinking a lot on what you could say to stir me, what you could say that I'd like. You're coming up with tricks all the time."
Soo intentionally rolls up her sleeves before he takes her by the shoulders, wanting her to touch the burn wound as proof.
"You're right," he says with a half-nervous, half-sly smile. "I want to look good to you, and I want you to like everything I say. I desperately want that. So if you can trust me and open your heart, I'm prepared to do whatever it takes. Why? So you can be less lonely. If you're suspicious, be suspicious. Just don't take too long."
This last part he whispers next to her ear as he slips the necklace he bought around her neck. This should be squicky… but it isn't. This show makes me feel like I need a therapist.
Maybe the burn gave her pause, but not for long, since she gives him a problem he can't easily wriggle out of (which is the point): Her brother promised to buy her something special the day he left, something he used to soothe her to sleep at night. This will be her way of verifying Soo's authenticity: "Memories unique to you and I can't be fabricated. So if you bring that, then I will believe you."
Uh oh. She's smart. And for Soo, that's not a good thing.
Jin-sung notices one of the house maids stealing Soo's razor, only for her to deliver it to Myung-ho for a secret DNA verification test. Soo saves him before Myung-ho can catch him, though Jin-sung doesn't know how they'll get out of this one.
Soo's solution? Call Hee-sun, who leaves her job at a flower shop to help.
She instructs Jin-sung to find a black envelope left in Friend Soo's house, but Jin-sung arrives too late. The house has already been sold, and all the stuff inside just got thrown out.
Jin-sung chases down the garbage truck, but things are looking grim… until the garbage truck comes to a sudden halt.
And we see why: Hee-sun has thrown herself onto the street in order to stop it. You can tell she's scared out of her mind, but you gotta admire her courage. (If throwing one's self in front of a garbage truck can be considered courageous, anyway. And it can, because this is dramaland.)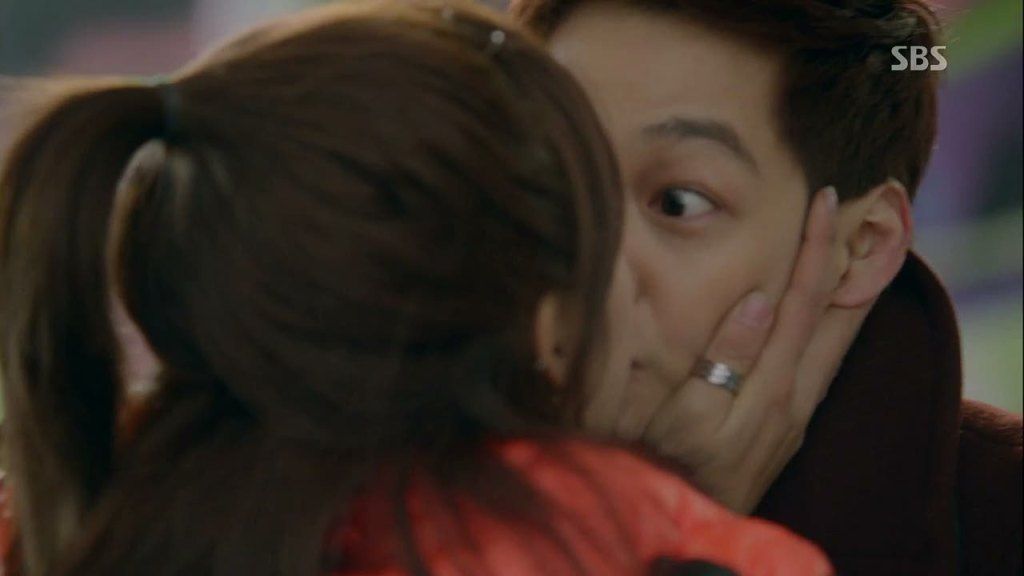 They both pick through the trash together, and Jin-sung finally finds Friend Soo's razor in his box of stuff. Hee-sun is so happy that she kisses him.
And then when realization hits, she she slaps him, like he came on to her. Haha.
Jin-sung sneaks back into the house and swiftly hides when Young comes down the stairs. She hears Soo showering and leaves… but not before she doubles back to turn off the hallway lights. Whaaat?
Jin-sung is also shocked, and goes running to his hyung claiming that Young can see. How else would she know the lights were on, in order to turn them off? Now he wonders if she can see everything, and whether she's been onto them this whole time.
Now Soo doesn't know for sure either, but then he remembers the incident at the mall, which means she must be blind. Right? Either that, or she's a better con artist than he is.
I love that Soo addresses Moo-chul's constant vigilance by asking him if he ever sleeps, because I was wondering that myself. When Moo-chul asks why he didn't just kill Young, Soo cites that any ensuing police investigation would root out his true identity. He'd never get a dime that way.
Their past with Hee-joo comes up, with Moo-chul accusing Soo of lacking human decency (says the dude who stabs other dudes). Did he save Young because he likes her?
Soo scoffs. "Even when Hee-joo died, I went on eating, sleeping, and breathing. I'm still living. Do you think I'd be affected by a total stranger? I'll do anything to survive."
Soo follows after a jogging Young and Mi-ra while Secretary Wang sneaks into his room. Moo-chul confirms his earlier suspicion that Young is blind, now realizing how Soo is pulling off this scam. This guy is as creepy as he is thorough.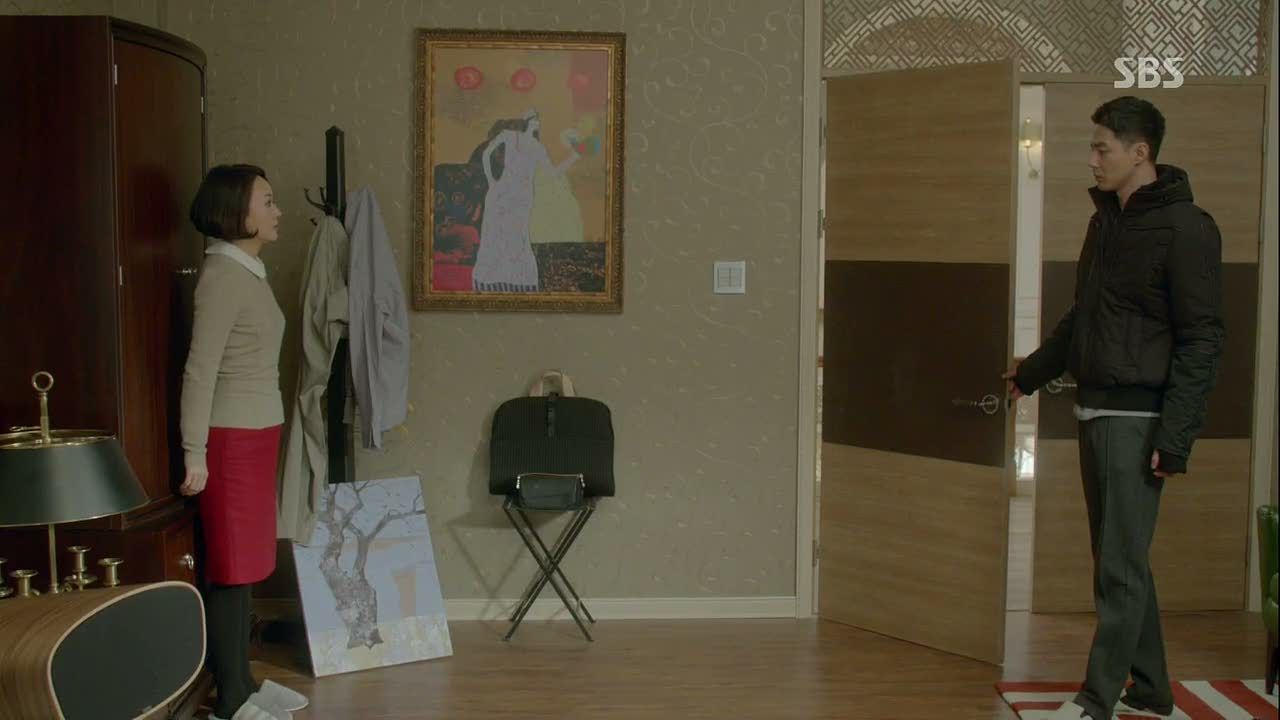 Secretary Wang eventually finds what looks to be Soo's journal, and compares his handwriting with one of the letters she'd hoarded from Friend Soo. She's smart, but lucky for Soo, he practiced forging Friend Soo's handwriting.
Her sleuthing operation is interrupted when he finds her in his room, and with her ridiculously nervous reaction she might as well write "GUILTY" on her forehead.
She scuttles out, but Soo is more than prepared – a camera in his room recorded everything. He knows she snooped in his journal and why. Good thing he's prepared.
At the dinner table, Jin-sung studies Young's every move as he looks for evidence that she can see. He even asks her if she can see some things – that's how he sees blindness depicted in the movies, anyway. Hah. Talk about hanging a lantern.
Secretary Wang answers that she's totally blind, but we're able to see through Young's eyes and it's the same picture as always. She can see some colors, faintly, as if she's looking through a pinhole lens.
Soo interrupts the meal to confront Secretary Wang on her snooping, and he produces everything she could have been looking for – from his passport to his journal. Points for being direct.
Secretary Wang admits that she doesn't trust anyone once they take their conversation someplace private, and describes what growing up was like for Young. She was never an outcast because of her chaebol status, but girls would steal her dolls, her money, her jewelry. And worse yet, they'd make her go out with them. Er.
This is where Soo stops her – what's wrong with Young enjoying life like everyone else? It's clear that Secretary Wang wants to treat Young like she's a piece of furniture who can't leave the house, so Soo tells her, "If the world is such a dangerous place, then I'll stay by her side. In the world, she'll have me. In the house, she'll have you. Let's draw our roles that way."
But Secretary Wang declines the offer because she doesn't trust him.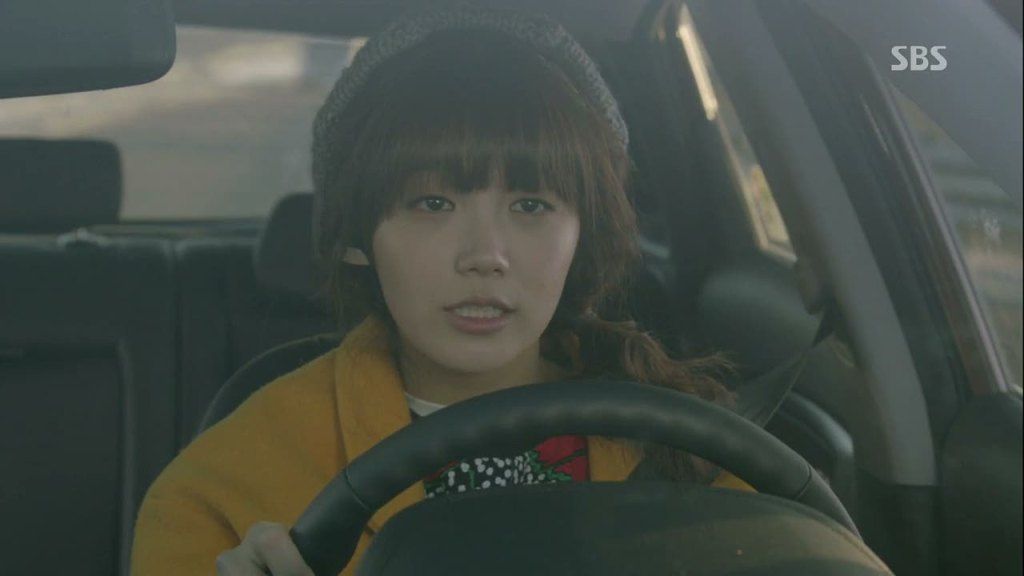 Soo is onto her when she gets a call from Myung-ho, who's currently on his way to deliver the razor for DNA testing. There's nothing to fear when Team Soo is on the case, with Hee-sun trailing Myung-ho's car and Jin-sung posting a 24-hour watch in front of the hospital. Soo, you have some seriously awesome friends.
He wishes Hee-sun luck, and she wishes him the same with Young's riddle. Ah, I almost forgot about that.
The man from the coffee shop earlier stops Soo on his way to the house, introducing himself as SHIM JOONG-TAE. He's all, "I was your mentor once!" Soo looks like he's been caught off-guard. Did this guy not come up in his studies?
Young surprises Lawyer Jang in wanting to write a will, but Secretary Wang makes an appearance as soon as Young mentions appointing Soo as her legal guardian, citing that the only reason the board accepted Young as the interim CEO was because she was her legal guardian.
She pulls out the "I've treated you like a daughter" card in an attempt to shift pity onto herself. Young knows it too and fires back, "If we were to just listen to what you say, I'm an evil person, treating someone who's been like a mother to me for twenty-one years so poorly. Right?"
Secretary Wang tries to use the defense that she could have taken the family's money at any time if she wanted it, and that it's proof of her good intentions that she hasn't. Young's voice starts shaking as she admits that she knows she's incapable of doing anything without Secretary Wang.
Young: "And the person who made me this helpless is none other than you, Secretary Wang. I'm aware of that as well. Dad died of natural causes? Do you think I can believe that?" Ooohhh. Does she know?! She's awesome.
She starts crying as she continues angrily, "My loss of sight is because of a brain tumor? There's nothing that could be done? Do you honestly think I really believe all that?!" Whoa. What exactly is she accusing her of?
Young takes her leave only to find Soo outside the door. He's heard everything, and stares holes into Secretary Wang's back: "Young had a brain tumor?"
Secretary Wang flashes back to the morning when Young woke up blind, gripping onto her arm as she called her "Ajumma."
We cut to Lawyer Jang and Secretary Wang speaking privately, where it seems he's asked her to leave the house to start a new life. She refuses, citing that exact flashback, and how everything changed when Young called her "ajumma" instead of "Secretary Wang."
"At that moment, I became a mom," she tells him. So she's staying until she can be sure that Soo is there FOR Young, and not just for her inheritance. Only when she's sure Young is in good hands will she leave. I wonder if she's actually being sincere, or whether she's just that good of a liar.
Young tells Soo that she'll write in her will that he'll get every penny of her inheritance without a police investigation should she die for any reason. The caveat? "You have to promise that you will kill me."
She's clearly testing him, so he tells her to go ahead and write it when she can't stop doubting him. I love that she doesn't make any bones about the fact that she doesn't trust him, so he all but dares her to write it to see what he does.
But for the moment, he plans to take her out. She reminds him of the homework she gave him – has he brought what she asked for?
Soo becomes nervous as he brushes the topic off, and Young can't help a little smile. She knows he's avoiding the topic. Hell, everyone knows. Poor Soo couldn't be any less obvious about it. (Internally, though, he's thinking about her brain tumor and the chances of it relapsing. Is it because he wants her to live, or die?)
He takes her to a theme park, which is just adorable. She becomes scared as people brush against her in the crowd and inches closer and closer to Soo, the knuckles in her grip growing whiter. He almost snorts: "When you're ready to die, why are you scared?"
He tells her ahead of time that he's going to hug her from behind in order to protect her. Omo. Ack, why do I feel so guilty? They're supposed to be fake-siblings. They're supposed to be fake-siblings. They're supposed to be fake-siblings.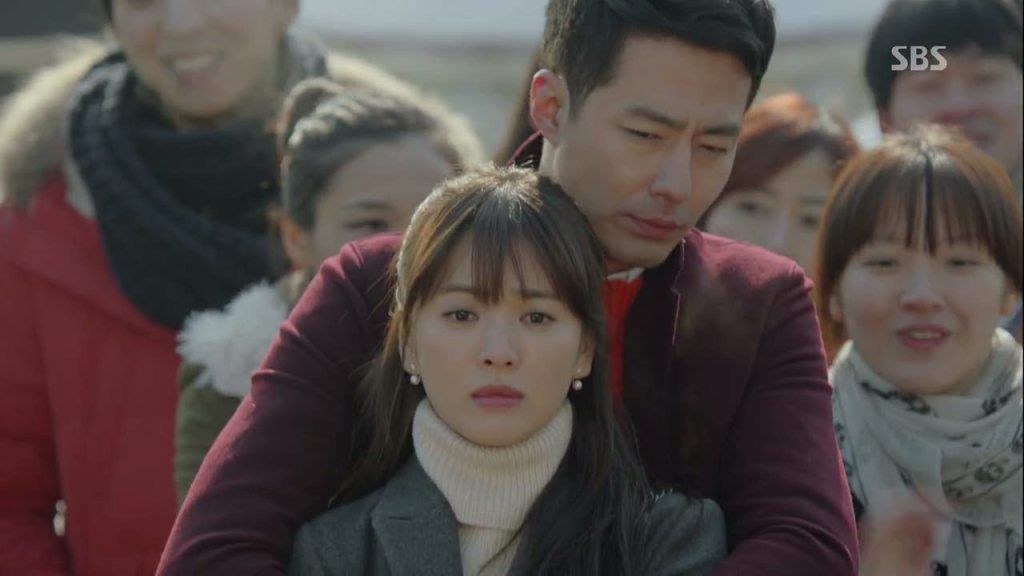 Then he actually does it, wrapping his arms around her shoulders as while he urges her to just relax, lean on him, and listen to the music. OMO. Omo omo. Omo omo omo. (Seriously, though. Is there a therapist in the house?)
Our ice princess starts to let go of his arm, starts to loosen up just a little… until they're jostled by the crowd. The moment is gone, and Soo gives a resigned sigh.
He tries to win her a doll in a game of chance and fails miserably, and his attempt to be cool about it is awkwardly adorable. Young is actually having a good time and… smiling? Huzzah!
Young volunteers to give the shooting game a try, so Soo stands behind her to help hold the gun. She fires, and gets the doll in one shot. Hah.
This next shot just has to be seen to be enjoyed:
It's a water balloon contest, so Young's goal is to hit Soo's face. Soo keeps calling out the wrong directions to her so she misses, but the crowd helps her out, and she lands a perfect hit. Soo's face is doused with water, and my stomach hurts from laughing.
He reacts nervously when she offers to dry his face, eventually giving in. But each pat of her handkerchief seems to make him more nervous. (Is it all becoming too real for him?)
As she helps him, Young remembers drying her brother's hair with a towel when they were kids. Oh no.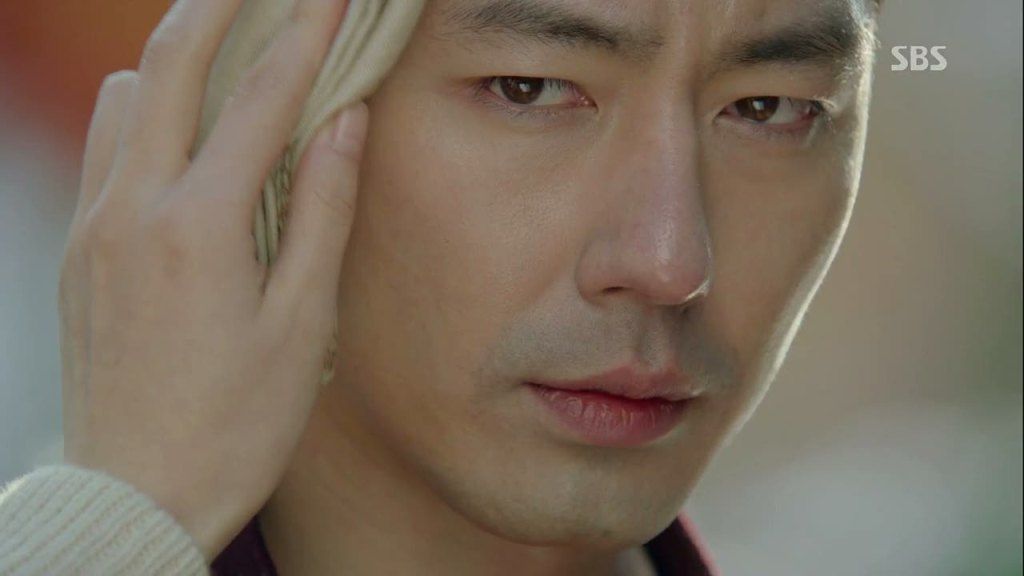 Hee-sun follows Myung-ho into the hospital bathroom on his way to turn in the DNA sample, but he catches onto her attempt to switch envelopes and turns the right one in to the lab. Mission failed. Now what?
Talk turns more serious between Young and Soo when she asks him why their mother never visited her. He claims that she always said she would later, but she died before she could.
Young has been taking some mysterious night walks, so Soo follows her when she takes the next one, leading into a locked greenhouse only she has the keys to. And then… she disappears through a secret door? Strange.
Soo picks the lock after she leaves, and goes through the secret door into a basement set up like a completely normal woman's room, filled with pictures, video tapes, and cameras. Ah, it was Young's mother's secret room, and she loved to film her children.
He sits down at the projector with some of the tapes, unable to stop himself from smiling at the happy images of Young and her brother. They were such a happy family.
Soo skips to the tape labeled "The day mom left." It's a video a young Young took herself addressed to her mother. In it, she cries and begs her mother to come home, claiming responsibility for her divorce. Heartbreaking.
Two things happen next: Young realizes that she forgot the bell she attached to her keys in the greenhouse, and Myung-ho gets the DNA test results.
She returns to the greenhouse to find the lock undone, because Soo is still inside. Oh no. Oh crap.
He knows he's caught as she comes down the stairs, though he attempts to hide himself in a corner.
She hears someone in the room and turns in his direction: "Who are you? The one inside this room right now."
Soo slowly steps out.

COMMENTS
First things first: I love this show. I completely love it. I'm a little alarmed by how much I love it, actually. I liked the first episode, really liked the second episode, and flat-out loved this one. I'd be worried about pacing for the rest of the show if we weren't in such good writerly hands, so now my only worry is how long the days will seem until the next episode. That feeling of being unable to wait until the next dose of drama crack, like a kid on Christmas Eve? I've missed that feeling. So. Much.
This drama does a really good job at keeping things tense from scene to scene, mostly due to the fact that Soo has to be on his toes at all times. He's got problems from all sides, whether it's the looming threat of a very painful death, the constant suspicion he has to fend off while living in Casa Young, or his inherent inability to control his curiosity when it comes to Young, which keeps manifesting itself in ways that he can help her. I'm sure it's all meant to help him in the long run, but unfortunately for his cause he's NOT that cold and uncaring guy I think he'd desperately like to be, because it'd make this whole ordeal so much easier on him.
And to me, that's where his character truly shines. He's not your typical cold-exterior-warm-interior kind of drama hero, in that he doesn't really have that cold exterior to fall back on in the first place. Even before Young, we could see evidence that he cared for other people, whether it's the makeshift family of Jin-sung and Friend Soo he kept under his roof, Hee-sun who he'd always give money to, or the fellow gamblers whose lives he helped rebuild. I think it's important that the gambler who betrayed him and nearly had him beaten to death mentioned that Soo didn't just give him money – which is fairly easy – but a second chance, a house, a job, a life. And I'm sure all Soo wanted in return was to not suffer blunt-force head trauma.
Soo had the realization that he and Young aren't so different, and the show has taken pains to show us that, especially with both of them suffering maternal abandonment that led to them having to chase after the cars their mothers abandoned them in. They're both broken people, and the last two episodes have done a great job in endearing Young to me, even with all her prickliness. Her character is what I wanted Moon Chae-won to be in Nice Guy, but without the early-onset personality transplant. Young does a great job of balancing the pain she feels with her desire to trust, and we can see her fighting that urge at any given moment, making for some nicely layered scenes.
So I find myself struggling, because while I want her to learn to let go and trust in others, the only person who seems capable of teaching her is bound to betray her in the end. And it just seems like that would do her in, for real, so while I want Soo to live I want Young to be happy, too. (And okay, maybe I want them to end up together.) I guess we wouldn't have much of a drama if all these things weren't mutually exclusive, but my nerves would be so grateful.
There are so many questions this show has set up as we go forward, like what influence Secretary Wang truly had in Young's childhood, why Young's mother was driven into a basement (by the way, I loved the visual juxtaposition between her mother's basement and every other set we've seen – it was the only place with warm light and a cozy atmosphere, compared to all the big, wintery, de-personalized spaces populating most of the scenes), why her mother only took one child and why it wasn't her, and what the real cause of her blindness is and why she doesn't believe it's a brain tumor. I really want to know about Soo's past with Hee-joo and just how much her death affected him, where Moo-chul came into the picture, and how.
…So, I guess that means I want to know everything that ever happened to everyone in this show. Sigh. Love hurts.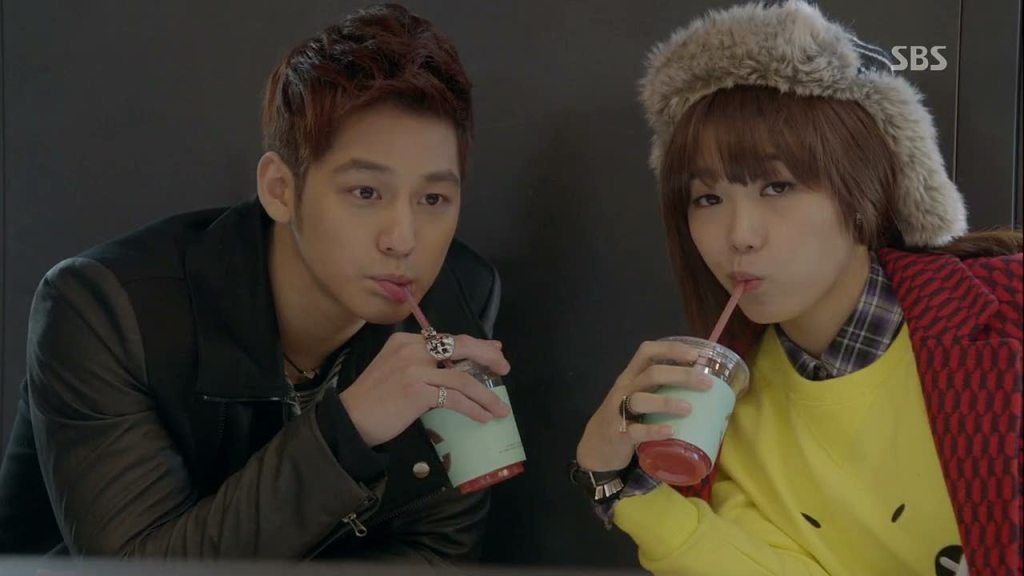 RELATED POSTS
Tags: featured, Jo In-sung, Kim Bum, Song Hye-gyo, That Winter the Wind Blows