All About My Romance begins filming
I know, I know — I wish the production of All About My Romance gave us more to go on, too. But for now we'll have to make do with this first official still, above, picturing the leads of the political romantic comedy, Lee Min-jung (Big) and Shin Ha-kyun (Brain). Then below, we've got behind-the-stills photos featuring second lead Han Chae-ah (Gaksital).
According to the producers, their approach to their previous project, 2011's Protect the Boss, was to twist the conventions of the workplace-chaebol rom-com and give it a bit of edge. That's also their goal with All About My Romance, in tackling the realm of politics. Lee Min-jung is the rookie parliament assembly member (and liberal), while Shin Ha-kyun plays the conservative. The simple case of opposites-attract doesn't stand out to me, but it's the tidbit about them having a secret dating relationship — while clashing at the workplace, of course — that makes me anticipate the drama.
Not to mention the great second leads, whom I actually prefer to the leading couple. Park Hee-soon (The Client) is the former prosecutor turned heroine's aide, while Han Chae-ah plays a reporter on the political beat who's loved by both men (lucky her), and is also Park's hoobae from law school.
I'd argue that Han Chae-ah was confined to a limited range by the writing of Gaksital (Rie was more about charisma and ambiance, which she delivered), but I really enjoyed her acting in Oohlala Spouses, even if I kinda wanted to yell at the character most of the time. She should make for an interesting rival to Lee Min-jung; I like Han more, but I do think they're sort of on the same level, acting and career-trajectory-wise, so they're equally matched. And hopefully both ladies are competent, smart characters. FINGERS CROSSED.
All About My Romance follows That Winter, the Wind Blows and premieres in April.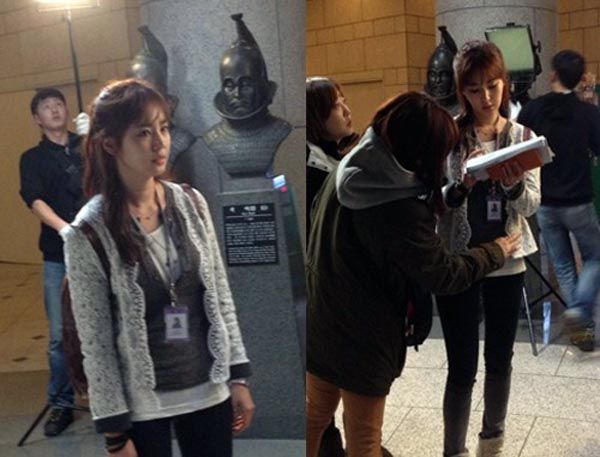 RELATED POSTS
Tags: Han Chae-ah, Lee Min-jung, Park Hee-soon, Shin Ha-kyun