Incarnation of Money: Episode 15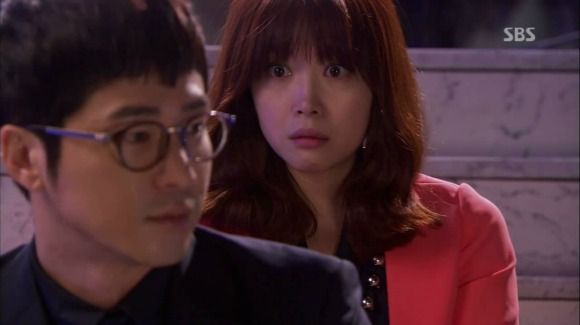 This show is just getting better and better, isn't it? It's refreshing to watch a hero and villain use their brains to try and outsmart each other in this revenge tug-of-war. Sometimes having piles of money is a crude way to get what you want, but gaining the upper hand requires a certain finesse and delicacy that no amount of money can buy.
Another thing money can't buy is ratings as Incarnation ticked upward for another series high of 16.4%.
SONG OF THE DAY
P-Type & Swings (feat. Kang Min-hee) – "Money" from the Incarnation of Money OST [ Download ]
Audio clip: Adobe Flash Player (version 9 or above) is required to play this audio clip. Download the latest version here. You also need to have JavaScript enabled in your browser.
EPISODE 15 RECAP
Cha-don leans back with a smile, drinking in the revelation of Angelina as the culprit. He's against the idea to forward the evidence to Ji-hoo just yet – their first priority is to draw out the enemies one by one. Divide and conquer it is, then.
He receives a call from Angelina, who invites him to a congratulatory dinner with the rest of the Traitagon.
Things are still tense between Ji-hoo and Prosecutor Kwon back at the prosecutor's office. Noticing the red scarf in the team's hand, he asks for updates on the case, replying with a seemingly nonchalant comment that things seem to be taking longer than expected.
When she leaves, his assistant wonders who framed Prosecutor Kwon for the lawyer's murder. Prosecutor Kwon tells him to shush at the mention of Se-kwang – dividing the alliance between the two prosecutors is exactly what Kang-seok wants.
The Traitagon are about to toast to Angelina's acquisition of the savings bank when she stops them, saying that one more will join them. Just as Se-kwang asks about their mystery guest, Cha-don walks in.
Collective looks of astonishment save for Angelina greet him. Cha-don doesn't betray his former acquaintance with Se-kwang, who doesn't return the courteous sentiment. The cold rebuff hardly ruffles Cha-don's feathers; he's here to bear good news for his former superior: a possible seat in the National Assembly.
The nomination by a certain Congressman Oh makes Prosecutor Kwon shift uncomfortably (the two had previously spoken of the same position) and Cha-don notes the man's bristled reaction.
It's enough to plant a seed of doubt in Prosecutor Kwon's mind and he takes off early. Realizing that he'll need to protect himself in case Se-kwang did truly betray him, he resolves to approach Boss Bok for help.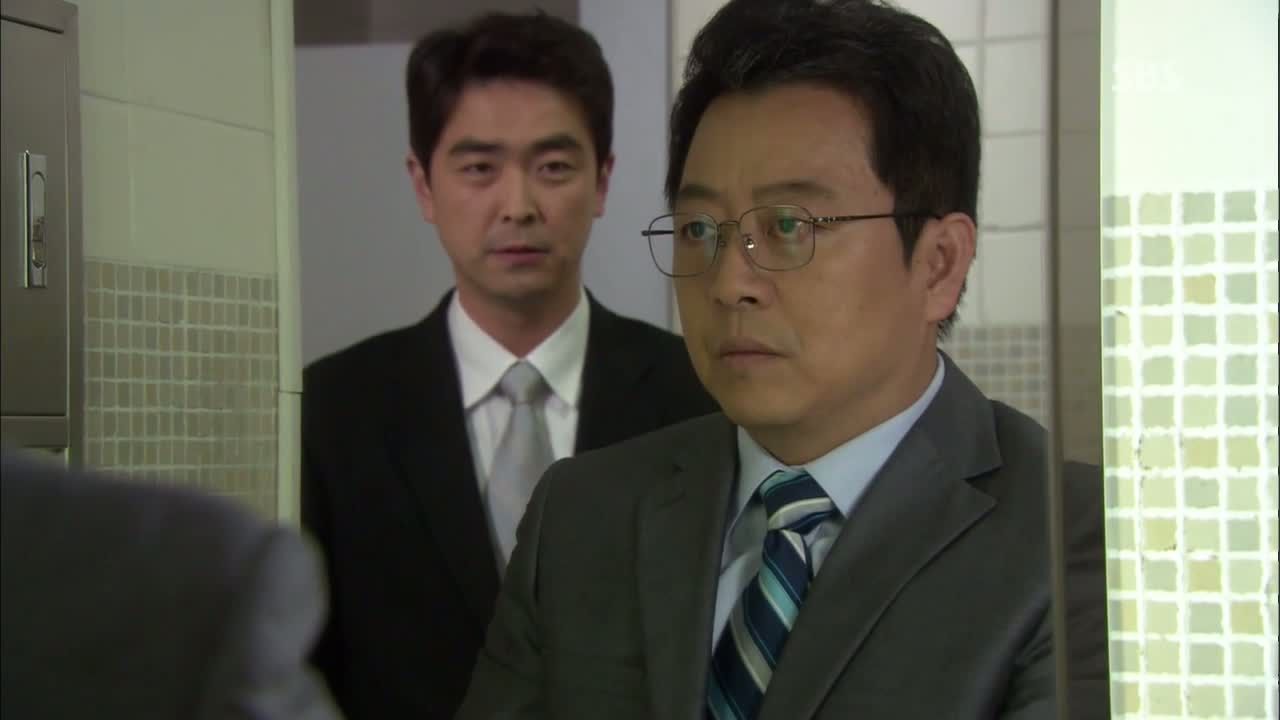 The others grow restless waiting for Prosecutor Kwon and decide to go their separate ways. As usual, Angelina pouts when Se-kwang plans to leave without her, which is when Cha-don casually mentions that Se-kwang must be the lover she previously mentioned.
Se-kwang casts her a dark look before clarifying that they're simply "business partners." That answer triggers a distinctly insulted reaction in Angelina and she silently expresses her disappointment by consuming her wine glass when Se-kwang leaves anyway.
That creates a perfect opportunity for the two to relocate back to the bar as Angelina pours herself a generous glass. She reminds Cha-don of what he told her last time: If you can't depend on someone, it's not love but obsession.
Angelina admits that those words are true – a vicious cycle where the more Se-kwang pushes her away, the more obsessed she becomes. She huffs at the suggestion that she should understand Se-kwang's ambition for success.
Her resentment towards her long-time lover builds, thinking about all the things she's done for him. She grabs the bottle but this time, Cha-don deliberately places his hand above hers to say, "Drinking alone is like drinking poison."
He pours her another glass and plays the sympathetic card, telling her that at present, she needs a friend more than a lover. The words affect her and he continues with another philosophical moment: "Love fades over time whereas friendship shines brighter with age."
"Then can you be my friend?" Angelina asks, her eyes brimming with tears. She starts to stumble over her words to hide her embarrassment when he doesn't answer right away, but Cha-don feeds her the words she wants to hear: "If you'd like me to."
He plays the chivalrous friend to a T, lending a shoulder for her to lean on in the car ride home. Angelina smiles at the gesture.
Hyuk shows his father the surveillance tape that captures someone taking off with the car, though it's virtually impossible to discern who it is at this point. He's taken aback when his father instructs him to get close to Jae-in in order to tap into Boss Bok's power network.
But it doesn't end there – Prosecutor Kwon even tells his son to steel himself for the possibility of marriage if that's what it takes. Just the idea of this setup cracks me up – can you imagine this baby-faced prosecutor trying to flirt with our heroine?
Naturally, Hyuk is against the idea to stake his life for the sake of his father's plan. He raises his voice in defiance and refuses to be ordered around like a puppet. His rebelliousness earns him a slap and Prosecutor Kwon barks that this is all for his son's future. Riiiight.
So Hyuk follows his father to the Bok estate and the parents sit down down for a chat. Boss Bok cuts to the chase, asking if the reason for the prosecutor's visit concerns the assembly seat nomination and laughs that she doesn't hold as much power as people say.
Prosecutor Kwon offers a proposition: He'll hand over his 10 percent stake in the savings bank for her influence in the political circles. Boss Bok sharply notes his current allegiance to Angelina, but plays along for now.
She wonders if they should draw up something in writing but Prosecutor Kwon laughs that he had something more traditional in mind: A marriage between their children.
Assistant Kim is sent to get Cha-don's advice on Prosecutor Kwon's visit and the team is pleased to hear that the two senior prosecutors' alliance has began to break apart at the seams.
He casually tosses out that Hyuk is interested in marrying Jae-in, which elicits a charged reaction in Cha-don. He starts to rattle on that the prosecutor isn't at all Jae-in's type and Assistant Kim is like, Why do you care so much? My thoughts exactly – Cha-don, why do you care so much?
The news that Jae-in plans to go on a date with Hyuk clearly bothers him and his jealousy is apparent to everyone even if he doesn't acknowledge it himself. Cha-don huffs that he'll have to stake out the date to figure out why the baddie wants to infiltrate the Bok family. Uh-huh, not about Jae-in at all.
That takes the team to Jae-in's restaurant as they (okay, just Cha-don) keep a sharp eye out on the two budding lovebirds. Though Cha-don denies that he has even the slightest interest in Jae-in, the daggers he shoots in their direction says otherwise.
Little does he know that poor Hyuk is as awkwardly unromantic as it comes. But Jae-in would never waste an opportunity to trigger Cha-don's jealousy, so she instigates a love-shot and feeds a bite to a surprised Hyuk.
It works like a charm and Cha-don leaves in a huff. Aww – and Hyuk is in the line of fire when she screams her annoyance that he actually left. Did you really think that he was going to stay?
Turns out that Prosecutor Kwon is a man of his word and places Jae-in in a high-ranking position at the Yellow Seas Savings Bank. Her appearance at the following executive meeting surprises both Angelina and Cha-don, though the latter seems more impressed than anything else.
Afterward, Jae-in and Cha-don bicker back and forth in the lobby. She warns him that she holds the authority to fire him at any time as the Audit Chair. The threat goes in one ear and out the other, so she tells him that he's just leeching off of others now that he's not a prosecutor anymore.
Cha-don doesn't skip a beat and tells her, "At least I'm not leeching off of your mother my entire life like you are." But before they can go for another round, Hyuk comes to collect her for a dinner date.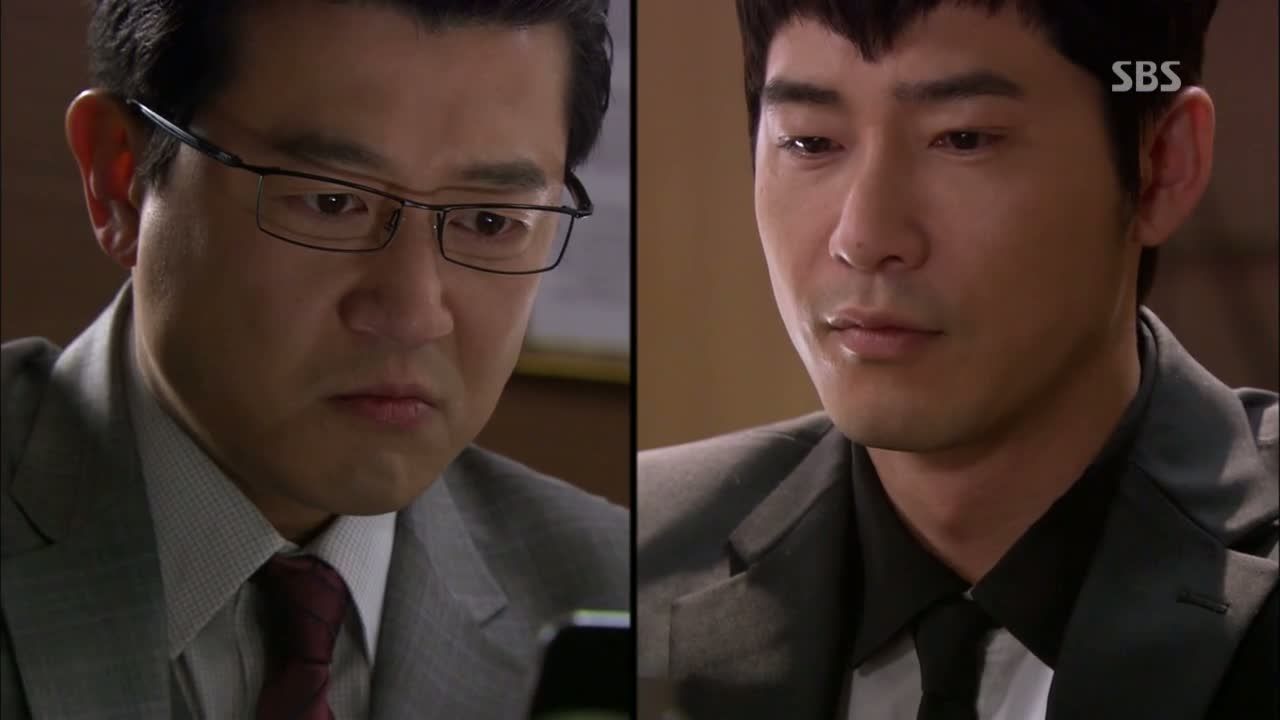 Cha-don implements the next step in his plan and this time, Se-kwang listens to the recorded conversation between Prosecutor Kwon and Mom at the hospital where Prosecutor Kwon named him as the late chairman's murderer.
A chatroom from Kang-seok pops onscreen and Se-kwang furiously types a response, accusing Kang-seok to be Lawyer Hwang's killer. He gets in reply:
Kang-seok: "I don't kill [others]. Because I won't stoop to the same level as the likes of you."
Se-kwang: "Don't fool yourself into thinking that you can shake me."
Kang-seok: "I didn't sharpen my blade for fifteen years just to shake you up."
Se-kwang: "Quit playing around with words and how about you show yourself?"
Kang-seok:"The day you see my face will be the day your life is done for."
Se-kwang shakes his fist at the screen and reads one final warning from Kang-seok to be careful of Prosecutor Kwon. He recalls an earlier conversation with Ji-hoo about her suspicions and how Prosecutor Kwon's alibi don't align with the evidence at hand.
Though furious, Se-kwang refuses to believe that his respected sunbae would betray their alliance. Then he realizes Kang-seok's divide and conquer strategy when he overhears Prosecutor Kwon worry about saving his own skin.
Se-kwang stews in his office later that night. Rolling a pair of shriveled walnuts in his hand, he recalls when he once visited his sickly father in prison, who said he'd like to eat the walnuts from his hometown. And unfortunately, he passed away before Se-kwang could give it to him.
At his father's grave, he made a solemn vow. "Watching you, I learned that the world is an unfair place. All the injustice in this world, I'll change them all. Even if I have to destroy all of them, I'll change them all, Father."
In the present, Se-kwang recalls the red scarf and calls to ask if any of the real Lee Kang-seok's blood sample remains on file. When Reporter Go confirms it, Se-kwang hangs up and chuckles.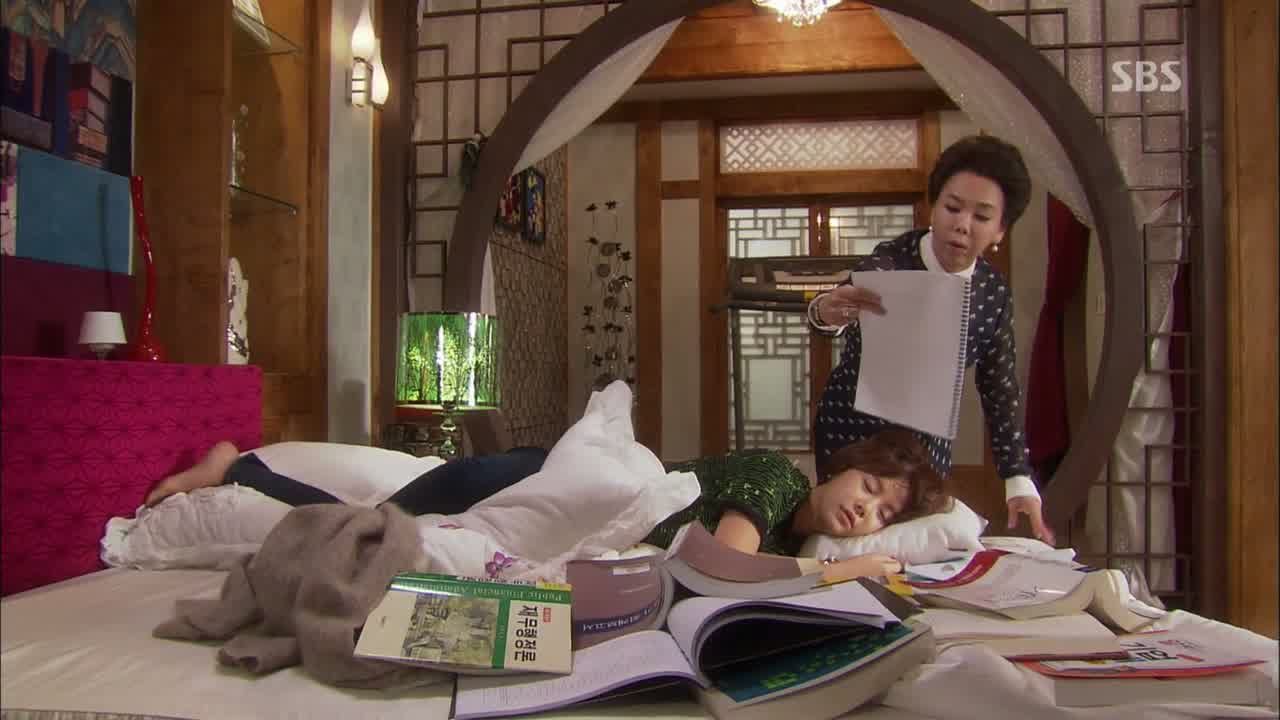 Back at the Bok estate, Boss Bok is pleasantly surprised and impressed to see her daughter sleeping amid of pile of accounting books rather than food. She chuckles, attributing her daughter's sudden change to the power of love.
We know that Jae-in is nothing if not driven and she even works during breakfast, calling for a company-wide audit check. Unfortunately no one in the audit committee shows up for the meeting and after waiting several hours, she resolves to go though the company books herself.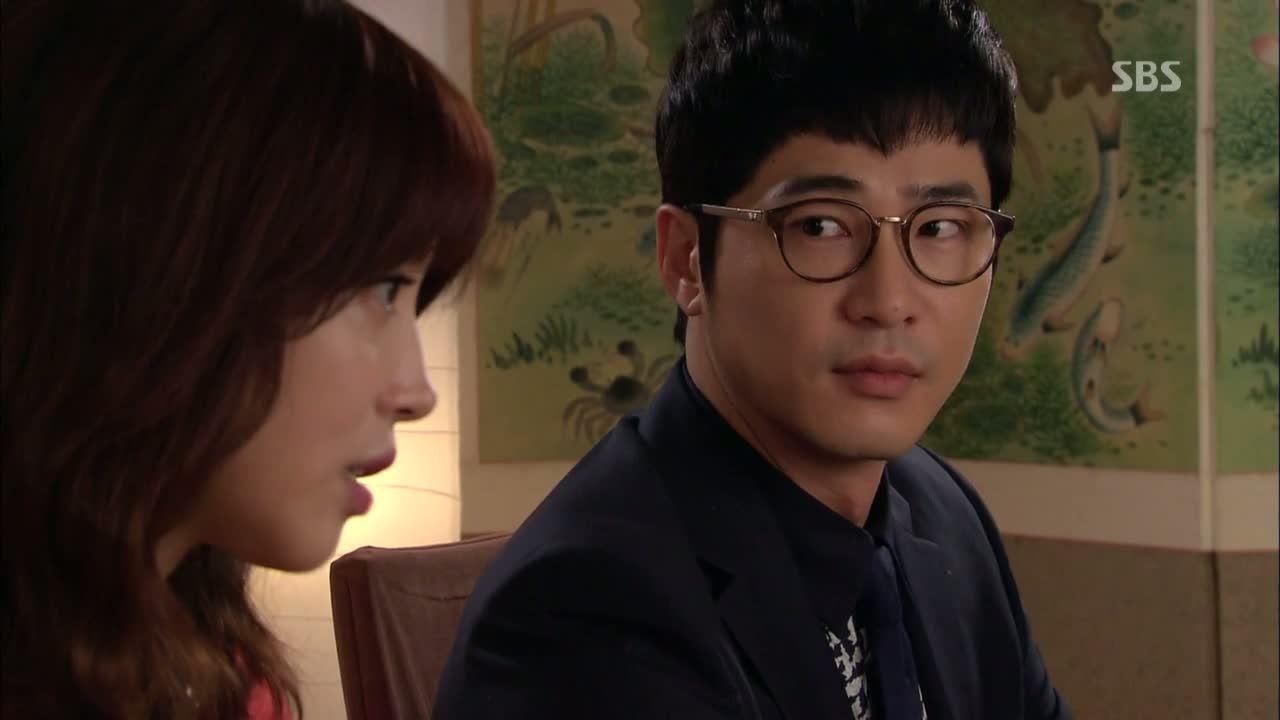 It should come as no surprise that Angelina has taken the entire audit committee out to lunch. She disagrees with Cha-don that it might be safer to have someone so clueless on staff and tells him that as Boss Bok's daughter, Jae-in is no dummy. In other words, the apple can't have fallen too far from the tree.
She enlists the committee to help her get rid of Jae-in and they drink.
Cha-don casts a look at Angelina and recalls how his assistant (let's give her a name now: Assistant Hong) discovered a recording device small enough to place in someone's shoe.
At the opportune moment, he calls Chief Yang to plant the device and later watches as Angelina leaves, none the wiser.
I have to admit – even I'm impressed by Jae-in when she sniffs out her committee members for drinking on the clock. In a clear, authoritative voice, she instructs Assistant Kim to record her employees' irresponsible behavior.
The auditors shift uncomfortably and without a bit of hesitation in her voice, she offers to forget today's mishap if they start working. So they scramble to get to work immediately. HA.
Se-kwang is not pleased to arrive to another Traitagon outing and see Cha-don present. As Cha-don courteously rises, Se-kwang reminds him to take his briefcase with him. Though Cha-don plays it off, Se-kwang's suspicion radar pings and he forcibly wrings the bag from his hand to inspect it.
It turns up nothing and in a tense voice, Cha-don asks his former superior if he thinks that he's carried a recording device into the room. He then orders Se-kwang to place the contents back into the bag and Se-kwang stares.
The rest of the Traitagon is affronted, Angelina in particular, and she apologizes on Se-kwang's behalf.
After Cha-don takes his leave, Se-kwang admits that he's heard from Kang-seok. He pointedly asks Prosecutor Kwon if he knew that the late lawyer's scarf was found in his car. Angelina drops her drink in horror.
Angelina starts to sweat as the two prosecutors go through a round of So you don't trust me?, Seems like you don't trust ME! Se-kwang diffuses the situation, saying that it isn't important who the killer is but that they should stick together.
Prosecutor Kwon isn't so sure, but Se-kwang replies that all of their problems will be solved should Kang-seok be Lawyer Hwang's killer. Ooh, are you planning to frame him?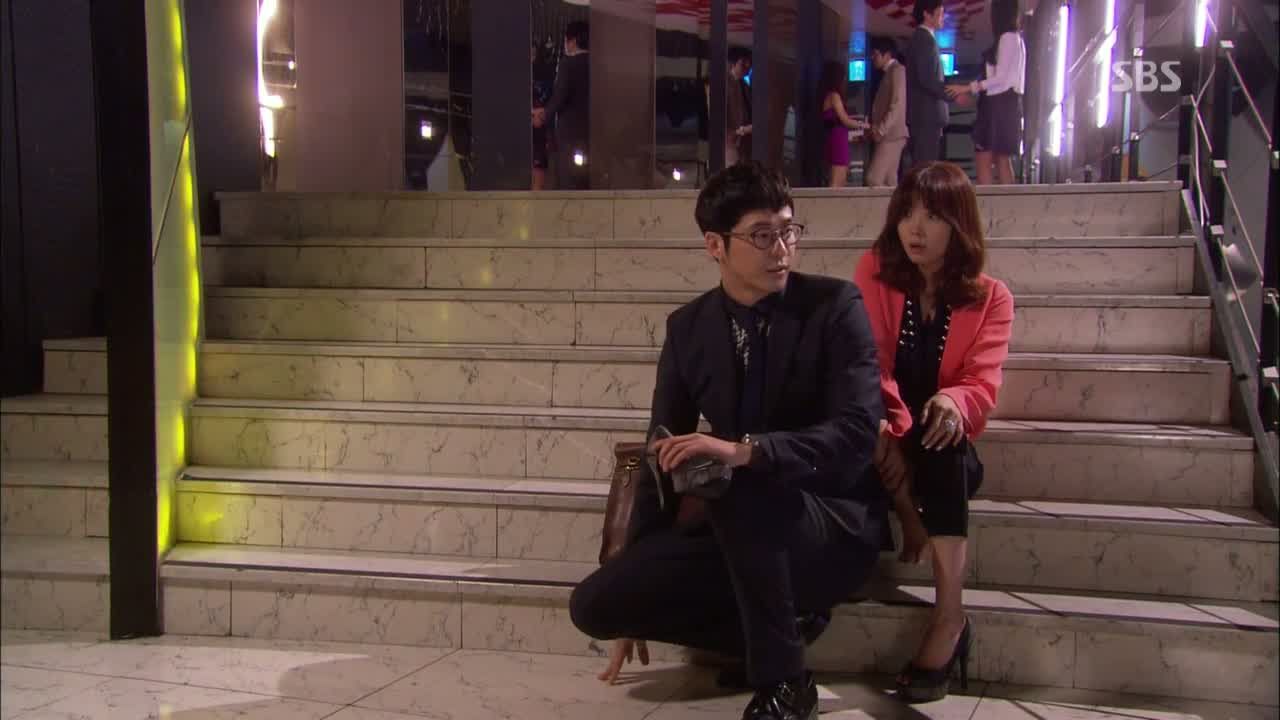 The men send Angelina away, basically telling her that the big boys will handle the situation from here on out. Angelina is positively insulted by the unanimous dismissal and gives a thinly-veiled threat before she storms out.
She calls Cha-don and breaks her heel on the stairs. Cha-don rushes to her aid and removes the recording device before showing her the damaged shoe. Then he offers to piggyback her to his car and lifts her up before she can protest.
Team Shudal listens to the recorded conversation back at headquarters, unable to figure out what the Traitagon plans to do with the red scarf. Then we learn that the men plan to contaminate the evidence with Kang-seok's blood and they toast to Se-kwang's brilliance.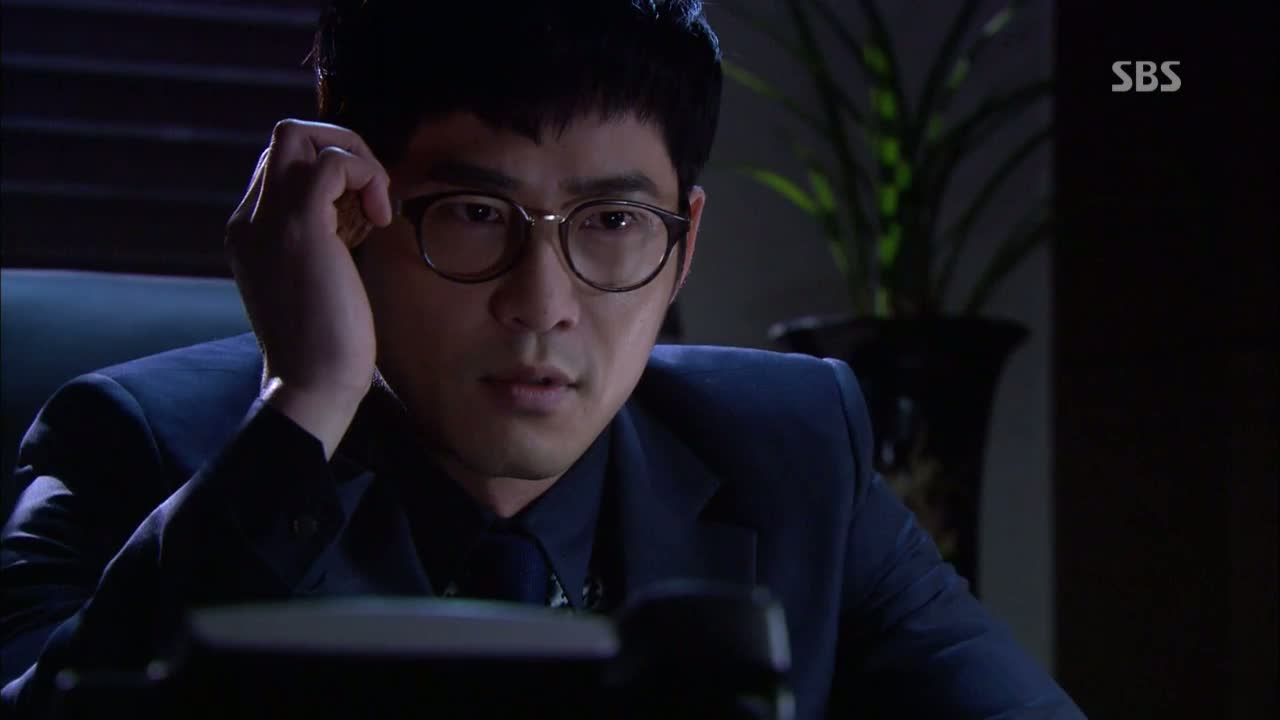 Meanwhile, Cha-don breaks into Se-kwang's office and mulls over how his enemies plan to frame him for the murder. He rolls the same walnuts in his hand and flashes back to the blood test to prove that he was the real Lee Kang-seok.
At that revelation, Cha-don smiles, impressed by Se-kwang's deduction skills.
Cha-don returns to his car to find a whole slew of missed calls from Angelina. He picks her up and as she sleeps, he's informed that the next plan is in place.
He drops Angelina off, who drunkenly walks alone across the parking garage. However, she can't shake off an eerie feeling that she's being followed. She quickens her step as she hears footsteps behind her, and rushes into the elevator, terrified.
But what awaits her there is a threatening message scrawled in lipstick, naming her as Lawyer Hwang's killer. She desperately tries to rub it off with her hands and has a full-on panic attack by the time she runs into her apartment… and finds it completely ransacked.
She calls Se-kwang in a desperately panicked voice, telling him that Kang-seok has broken into her home. But Se-kwang gets distracted by another chat instigated by Kang-seok and simply tells her to report the crime.
He doesn't know that he's actually chatting with Assistant Hong because Cha-don rushes back to Angelina when he gets her call. She runs into his arms the second he runs in, and at his prompting, she checks to see if anything is missing.
But something strange catches her eye and Cha-don watches her enter the bathroom. Angelina gapes at the mirror where a pearl necklace hangs and the words, "Remember this necklace?" written on the glass. Karma's a bitch, innit?
She recalls young Kang-seok warn her that he would put her through a thousand times more pain than she put his mother through. Overwhelmed by fear, Angelina screams and passes out.
She comes to at the hospital and sees Cha-don's face come into view. He reassures her that she can rest and she dozes off. Which is when Cha-don takes out a syringe and extracts a blood sample from Angelina.
Holding it into the air, he says, "Ji Se-kwang, you'll catch Lawyer Hwang's murderer by your own hands."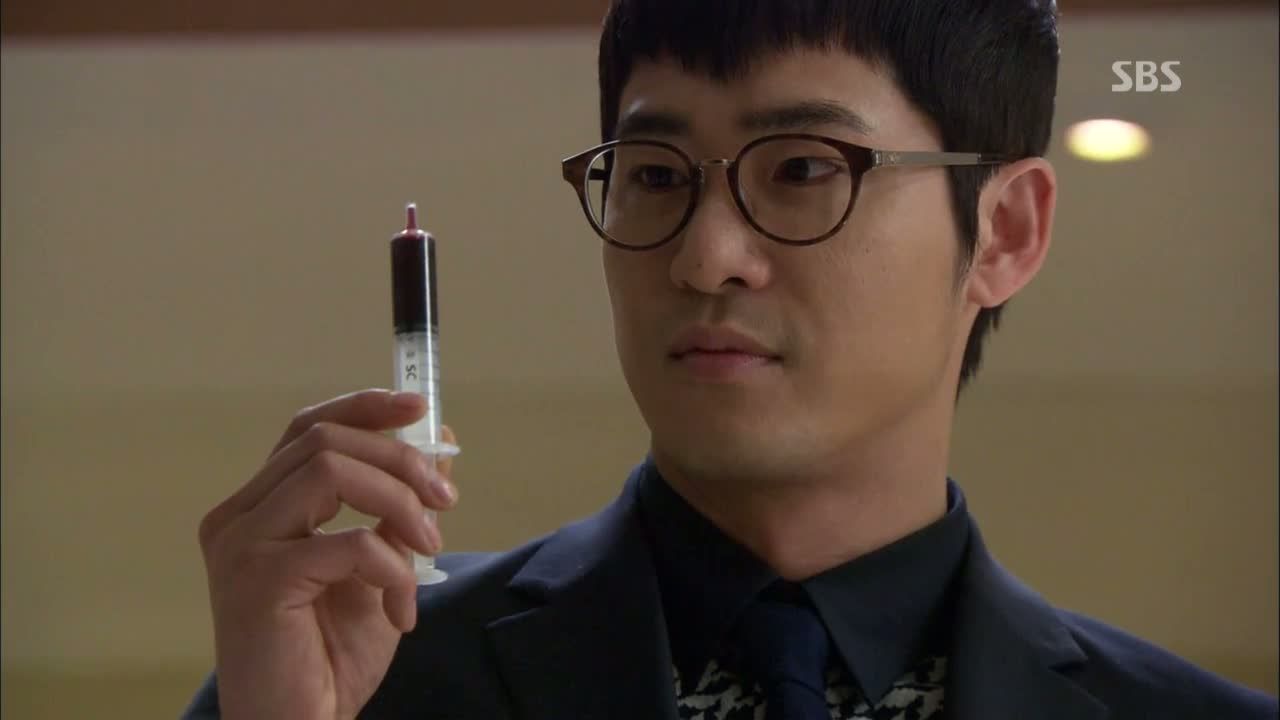 COMMENTS
Aside from the creepiness of Cha-don holding a syringe with Angelina's blood, I was impressed with how he and Team Shudal orchestrated Angelina's downfall over these past few episodes. By tapping into her loneliness, Cha-don was able to use her vulnerability to gain the upper hand. Angelina may not be the brightest tool in the shed but she is an interesting character study since she remains as one of the more consistent characters in this series. She may be as evil, shrill, and greedy as it comes, but if we shave those layers, we still find a woman hungry for love – something that no amount of money can buy.
Sure, pining over the same man who broke your heart over the course of 15+ years isn't exactly healthy nor does it justify any of her actions thus far in the series. But I do have to credit her for her awareness that she justified her evil actions for one reason: To be acknowledged by the man she loves. Do I agree with that sentiment? No, but it provides a greater insight for our hero to bring about her ruin. All he had to do was shake her heart and remind her of her underlying fear. Is it too much to ask to see Angelina get her own revenge against Se-kwang like she vowed earlier in the series?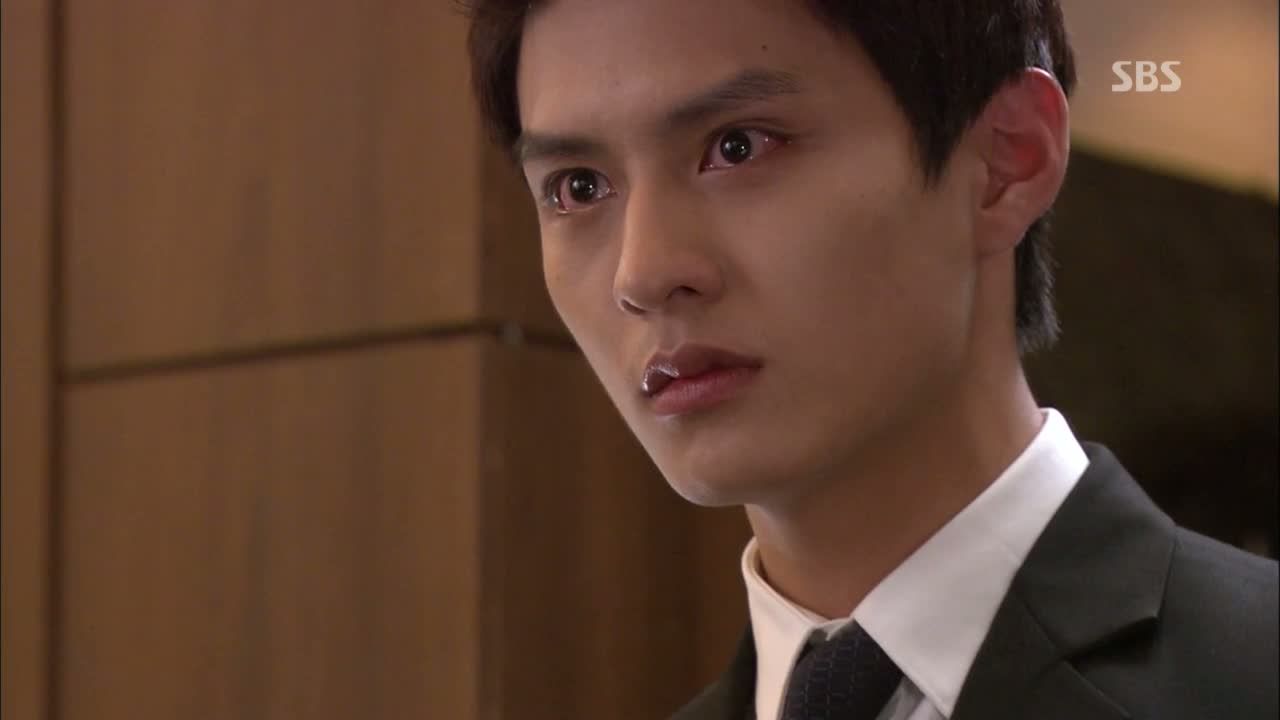 What a pleasant surprise from Hyuk, Prosecutor Kwon's son, who folds into this story quite nicely. I was wondering if he would ever be integrated in the storyline or stick to the shadows of the other evil prosecutors. Though his role in this episode was minor, I loved that he stood up against his father and refused to blindly obey his father's orders any longer. If his character remains in the main storyline, he could either become the carbon copy of his father or could be the means to bring about his own father's downfall.
Conversely, it was just freakin' adorable to see him so awkward with Jae-in and though he doesn't show nor have any feelings of affection towards Jae-in, I would personally love to see more of their interactions together. Because what's more cute than a stiff prosecutor trying to be all romantic? And I love seeing Cha-don pouting in a corner, steaming with jealousy. Serves you right for being mean to her for the first half of the series. Hrmph.
Like I said above, I love that our hero and villain both use their noggins to try and outsmart each other. It bothers them both that neither of them can read each other's minds and always ask themselves the question, What would XYZ do? It's how the baddies think for themselves and arrive at a conclusion faster than you would expect them to makes this show such a tantalizing watch. And whenever they reach a revelation, you know that they're going to give the other side a run for their money.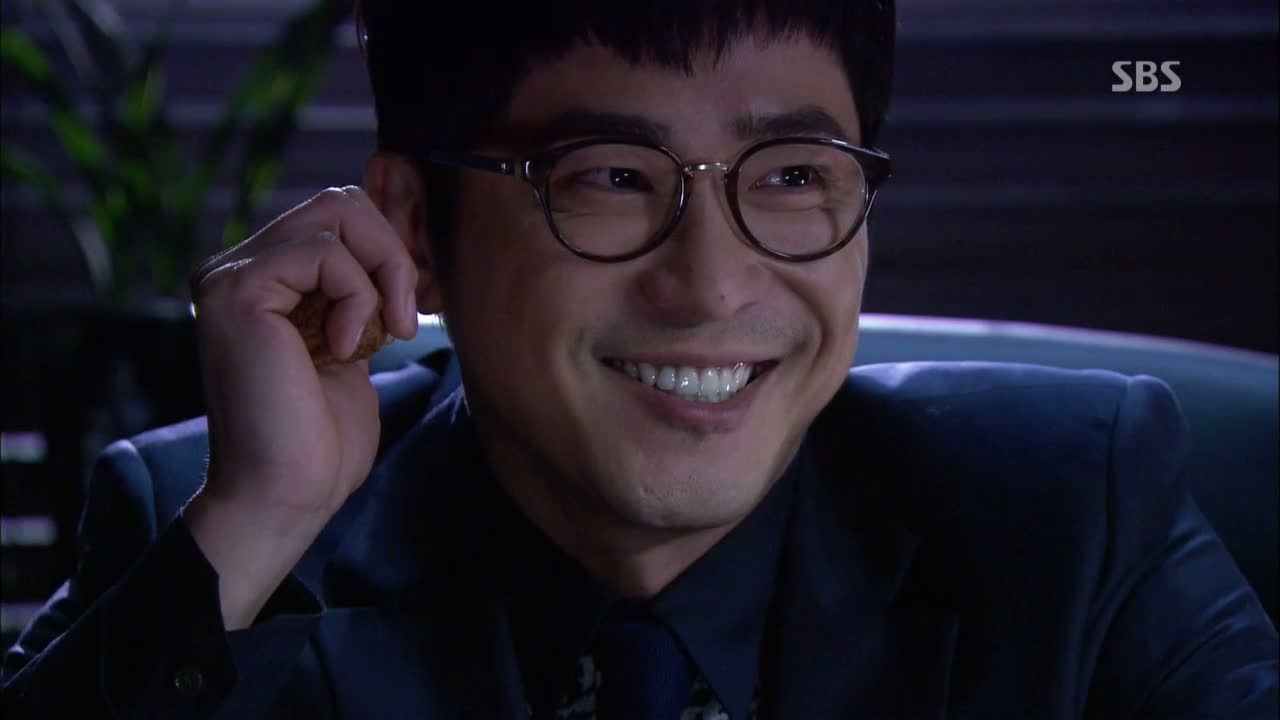 RELATED POSTS
Tags: featured, Hwang Jung-eum, Incarnation of Money, Kang Ji-hwan