Level 7 Civil Servant: Episode 14

Illustration by pumpkinattack
So you may have been around for some stuff that happened today, and though we've been given the all-clear to go back to screencapping Joo-won in all his spytastic glory, we got such hilarious drawings submitted by readers (Thanks pumpkinattack and ziggystardust!) and even javabeans got in touch with her artistic side, so we thought it'd be a shame to let 'em go to waste. So here's today's recap, brought to you by ye olde pen 'n' paper, dramaland of yesteryear, and hearty ale.

EPISODE 14 RECAP
Back to Mission: Sensical, We Swears It. In an effort to make this spy stuff more entertaining, I'm going to turn it into a drinking game. Every time a spy does something that makes no sense, we drink!
Gil-ro goes up the ski slope in a snowmobile, Seo-won follows the target up the slopes, Do-ha bleeds from the ear, and Director Oh whines like a baby about being put on lookout duty.
JJ tells Mi-rae that it's mighty suspicious that Seo-won is here, so it must mean that she's NIS. Ya think? Ten guesses as to what gave it away. Mi-rae tells him to be careful not to lose sight of the big picture. They're here for the big wigs, not the little guys.
Mom and Dad grow increasingly panicked as they call Gil-ro over and over, but he's too busy running up a ski slope to answer. I guess it's saying something that Dad is now wearing Gil-ro's watch, but it would perhaps mean more if he had prevented some of this shit currently hitting the fan instead?
Sun-mi's composure breaks when she notices Do-ha bleeding from the ear, and runs over to help him tend to it. She just barely manages to keep her cover, though she fumes jealously when Seo-won joins him for their couple cover in front of the target. Drink!
The entire team watches Director Park and realizes that they've been given the runaround (or that he has, in order to smoke out the people on his tail). The operation is a bust.
The NIS director lines up the whole team (sans Gil-ro, who's still running around looking for Seo-won—Drink!) and reams them for messing up such an important mission. He declares himself the new team leader and starts reassigning everyone willy-nilly.
Gil-ro finally joins the group acting way too flippant, even for him, and refuses to tell the director where he's been. DRINK! Are you being prideful, secretive, or just plain dumb? I'm honestly not sure which.
It effectively gets him stripped of his gun and kicked off the mission, and he stalks off with the refrain that he's used to being kicked out by now.
With a nod from Young-soon, suddenly Sun-mi pipes up that she won't stand for this treatment either, and joins Gil-ro. Okay, either you just got a lobotomy or you're for once being a spy to get information out of Gil-ro. She asks her teammates to join them, but both Do-ha and Seo-won remain silent.
So Sun-mi gets ousted from the mission too, and as they walk out, she asks Gil-ro where he was. Aha. He finally tells her that he was following the person following Seo-won, and then takes issue with the fact that Sun-mi doesn't call him oppa. Pffft. The idea that anyone would call Joo-won oppa is so wee it's adorable. Also, drink!
Once she gets her answer she sends him home without her, and reports what Gil-ro said to Young-soon. They agree on one thing that's been niggling at them: the NIS director knows things that were never supposed to be shared with anyone outside the team.
I'm just going to ignore the part where he's the friggin' director of the NIS, and agree that yes, you do have a mole on your hands. Young-soon tasks Sun-mi with catching said mole. Eep. That one's gonna require many drinks.
Gil-ro gets into his car, but then has second thoughts about leaving Seo-won exposed with JJ on the loose, and turns back around.
Mi-rae thanks JJ with agreeing to do things her way—that is, killing Director Oh and Won-seok, and not settling for some live apology. JJ asks again for her not to die in some kamikaze mission, and she reminds him that she's his hyung's girl—even if she lives, they are not going to be together. Why is she the only one making sense right now?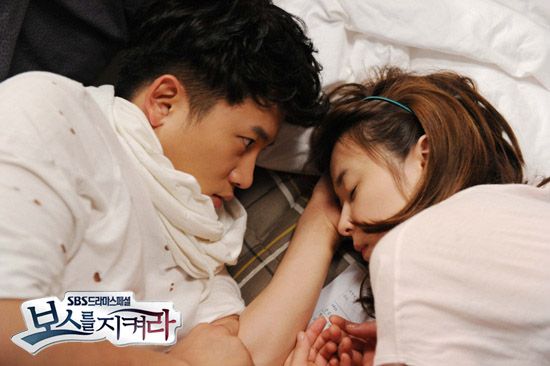 Do-ha and Seo-won take a break to eat as they continue to monitor Director Park, and argue back and forth about who should take the first nap. Do-ha: "Then should we sleep together?"
Seo-won literally does a spit take. He meant simultaneously, though he clearly said it that way to get a rise out of her, and she tells him not to say those things, even as a joke. He asks if it's because of Gil-ro, and she says no—she and Gil-ro are nothing now.
She admits to liking Gil-ro before, and says that she doesn't want to date anyone right now. No matter what, she'd have to lie again, even with someone new. Do-ha says that he'll trust her no matter what, even if she pulls a gun on him, "even if you put a bullet in my heart." Okay, that's going a little far in the blind trust of twu wuv arena, don'tcha think?
Suddenly there's a knock at the door, and Gil-ro holds up a bag of beer cans (Hey, welcome to the party! *hiccup*) with a request for a bunk. I love that he's just drunk-steamrolling this sucker and crashing the not-a-date stakeout. Way better than moping about it in your car.
He helps himself to a plate of the room service food that Do-ha ordered while chugging more beer, and explains that it's not like he wanted to stay here, but there were no more rooms available and he was too drunk to drive.
He coos that Do-ha was the first person he thought of in his time of need, and Do-ha gives him the cold shoulder. Gil-ro: "Don't be like that! Just think: If she weren't here, you and I would be dance partners!" Hahahahaha. *imagines very different drama… mmmm…*
Seo-won nags him to stop drinking and crash on the couch without a word, and he complies happily.
Won-seok and Director Oh commiserate in a hot tub for some reason, and Won-seok asks if Director Oh really told Gil-ro everything. He says yes. "Even about Chairman Choi?" Uhmforce's dad, I presume?
Director Oh freaks out at that, and says no—that part has to stay buried. Oh you people are shady. He says that if anyone finds out about what "they did," they'll both be dead.
Seo-won takes her turn on watch, and tucks Gil-ro in. He's not really sleeping, and they take turns secretly stealing looks while the other isn't looking, all night long. By morning, he finally gets up and slips out as soon as she leaves the room.
Time for this episode's Country Parents Interlude, aka time for a bathroom break from all those drinks you've been chugging. Seo-won's magical brother from outer space makes a reappearance, even though there's not even any hanky panky to interrupt this time. I'd tell you what the scene was about, but I was in the bathroom.
Mi-rae calls Director Park to say that half the money has been wired, so he needs to do exactly as they say. Seo-won watches him head out and she and Do-ha gear up to follow.
Sun-mi has been up all night secretly spying on her own teammates, and overhears as Do-ha calls Director Oh and reports Gil-ro's activities last night. Caught. A tear falls as she realizes that her beloved Do-ha is their mole.
Gil-ro's dad spends the morning lingering wistfully in Gil-ro's room, only to return to his gruff demeanor when Gil-ro finally calls Mom back. He just tells his parents he's on a trip by himself, and Dad tells him to be careful and not to talk to strangers, which gets a petulant, "I'm not a child!" from Gil-ro.
As soon as he gets off the phone, he spots JJ. At the same time, Mi-rae tells Director Park to go up the slopes. Seo-won and Do-ha follow on his tail. Argh. So, you remember that whole runabout we did at night where everyone went from one side of the ski resort to another for no reason? We're doing it again in the daytime. DRINK!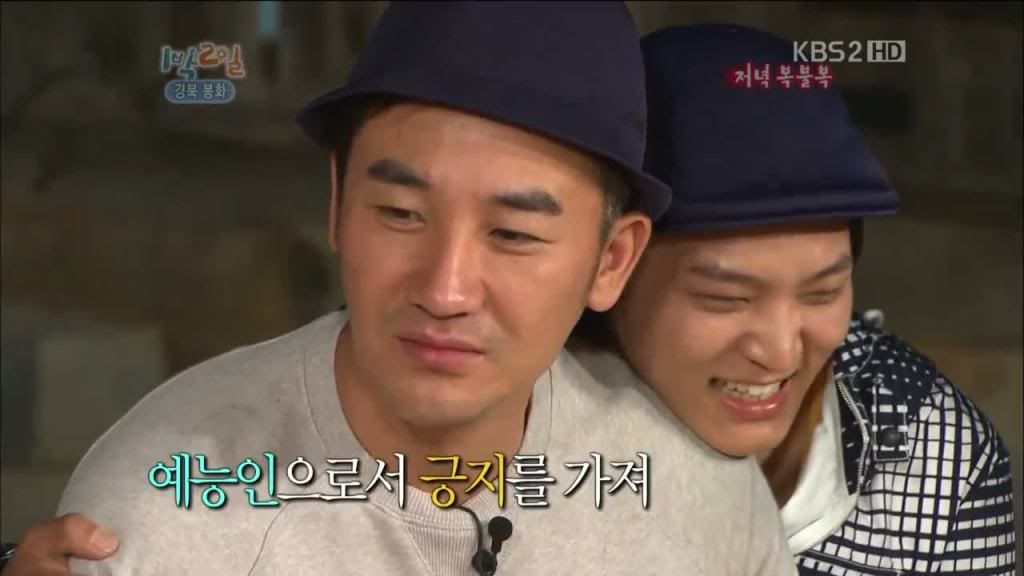 Mi-rae goes out to the slopes to meet Director Park for the hand-off, with Seo-won and Do-ha looking on. The team waits for Uhmforce to make an appearance, but he doesn't (Because he's dead! *sniff*) and instead JJ zooms past on skis and snatches the stolen research files out of Director Park's hands.
Do-ha goes after Director Park, but lets Mi-rae get away (Drink!) while Seo-won goes after JJ, and Gil-ro follows right behind them.
Ski slope chase. Drink every time you spot a stunt double! Maybe it's because I'm three sheets to the wind, but this is perhaps the slowest chase ever filmed.
Seo-won stays on JJ's tail, and Gil-ro loses them for a moment, until he steals another snowmobile to make up for lost time. When he catches up to them, JJ has already knocked the gun out of her hands and is choking her to death.
Gil-ro knocks him down with a flying kick and then takes Seo-won's gun to pistol-whip him unconscious.
Seo-won collapses to the ground in relief, and Gil-ro lies down in the grass next to her. But… what about the handcuffs? Are there no twisty-ties to secure the terrorist before you lie down in the grass for your romantic moment? Driiiiiink!
Gil-ro heaves that he can't live because of her: "Looking at your face makes me angry, but not looking at your face makes me even angrier. I can't live by your side, but without you by my side… I want to die."
She says that it's already over for them, but he says that because it's over they can also start anew. O-kay?
This time she's the one to point out that he doesn't even know her name. Gil-ro: "But you know mine." Seo-won: "I might know your name, but I don't know your heart."
She says that she can't trust that his heart won't change. Please, someone, explain to me how the person who's been lying this whole time has the grounds on which to make this argument. He says that his actions may have been different, but his heart never wavered.
The rest of the team runs over before they can finish the conversation, and I just consider it a freakin' miracle that JJ is still lying there when they arrive. Seo-won leaves with the team, while Gil-ro shouts after her that he's sorry and that he'll wait right here for her.
Mi-rae panics (which doesn't explain why she's still in the same hotel as the NIS agents—Drink!) and belatedly finds the video message that JJ left for her. He says that they're going to do things his way, because he can't stand to just kill those bastards without getting a proper apology from them.
He tells her that he rigged their cars with gas, and that once he's captured they'll rest assured. That's her chance to get them, and make them apologize publicly for what they did. He tells her to live a life afterwards, and tells her to forget this last part: "I loved you." She bursts into tears.
Director Oh sends in another team to take JJ off their hands and take over the interrogation. And then he takes the team… out to dinner? Drrrrink! Nevermind there's a terrorist to interrogate and his accomplice on the loose. It's time to party.
Won-seok tries to say that it's his case and he'll finish it, but Director Oh railroads him, like he always planned to do. Young-soon follows Won-seok outside to make sure he's not crying, and he asks her to leave so he can.
And then because this episode hasn't reached its product placement quota, we get a scene with Won-seok's ungrateful daughter getting a brand new cell phone with a hand-written note from Dad, and he gets a two-second thanks in return as an afterthought.
Once every other person leaves the awkward dinner with some excuse, Director Oh tells Do-ha that the team will be disbanded shortly.
Sun-mi comes to find Seo-won out in the lobby, and glares at her for some time before finally saying that Seo-won should've been the one to stand up for Gil-ro last night and walk out with him.
She tells her that everything Gil-ro did to break the rules was to save Seo-won, and that he may have been in the wrong, but he threw everything aside when it came to protecting her.
Sun-mi then interrupts Director Oh and Do-ha… to slap Do-ha across the face with no explanation. She says she's going to hit him again tomorrow and stalks out, leaving him dazed. Drink.
Director Oh finally gets into his car and the gas starts pouring in. He has the wherewithal to clamp a hand over his mouth and struggle to loosen his seatbelt, but not open a window (Drink!) and then a moment later he tumbles out of the car, unconscious. Mi-rae watches from above.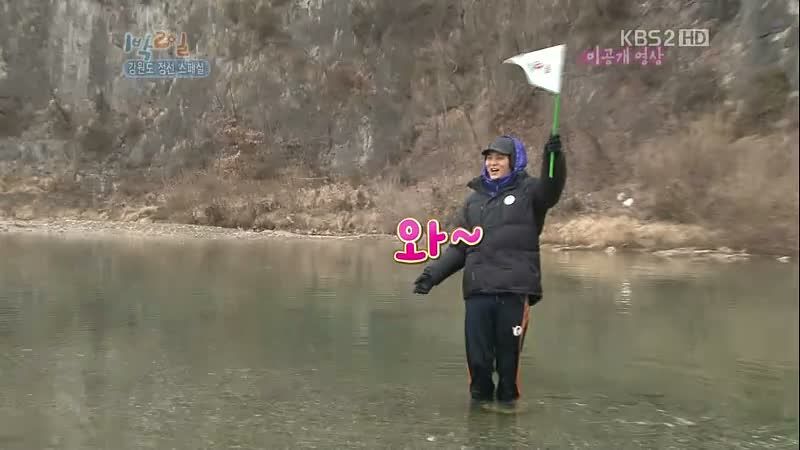 Seo-won runs back up the slopes to the spot where Gil-ro said he'd wait. Instead she finds a snowman with a lit-up heart, and then sees Gil-ro peeking out from behind it.
They stand staring at each other for a moment, and then start taking steps forward, until they're both running full force. I'll die laughing if they end up bonking their heads together. Er, head to fourth rib.
HA, they totally run smack dab into each other and fall over. Seo-won lands on top of Gil-ro and he says he's sorry—from now on, no matter how bad things get, he won't break up with her.
She tells him to shut up, but he continues: "I love you." She calls him a jerk and plants a kiss on him, and they roll around kissing in the snow.

COMMENTS
So I fail to understand why JJ's gas plan involved him getting captured at all, or why their revenge scheme even needs anything that happened in the last fourteen episodes to have happened… and I don't trust or understand Won-seok… and Sun-mi needs to pick a personality and stick with it… and I have no idea what's keeping Gil-ro and Seo-won apart in the last two episodes except for foot stomping poutiness and the part where HE STILL DOESN'T KNOW HER NAME… but there's really no point in trying to find a reason why any human being would act the way these people are acting, is there? Siiiiigh.
I feel like there was some semblance of logic holding the story together for a while. It was thin, perhaps made of bubble gum or the whispers of unicorns, but it was there. And then the secret blew up, and nobody had a consistent personality or a clear reason to back up the rampant angst and/or anger, and we got left in dust, while our characters emoted without us knowing why. Why would you do that to us? And don't even get me started on the spy business, because, well, you know from the angry liver you have right now.
I don't actually plan on numbing my logic center this much to get through every single episode of this show (we don't want to end up in the hospital, now!) but if it was ever true that you should shut your brain off to watch a show for your own safety, this is its poster child. Surgeon General's Warning: Show contains highly dangerous plotholes, character inconsistencies, and irrational behavior from adult human beings. Not recommended for those with alcohol dependencies, high risk of drama-related depression, or sense. May cause blindness.

RELATED POSTS
Tags: Chansung, Choi Kang-hee, featured, Joo-won, Kim Min-seo, Level 7 Civil Servant