Level 7 Civil Servant: Episode 15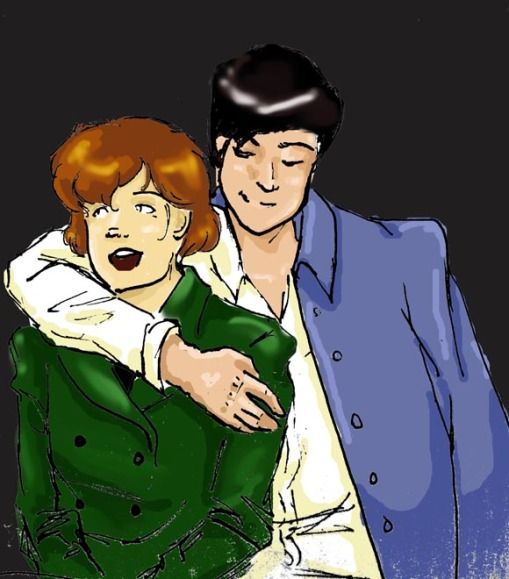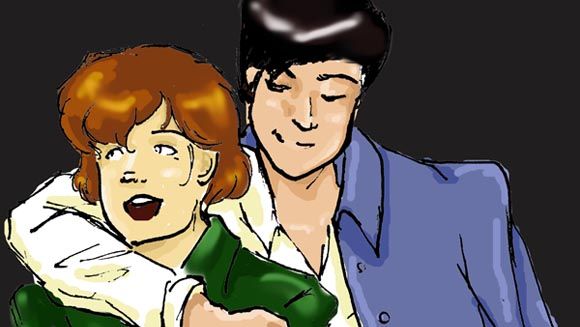 Illustration by Ally
We just had too many awesome illustrations not to include more. Seriously, how great are they?
It's more of the same for Level 7 Civil Servant, with trust stepping forward as a major thematic player and alliances shifting, sorta. The ratings are dropping, though it's little wonder now that the big relationship plot twists are mostly over: Today's episode hit 7.9%, while IRIS 2 swung back into double digits at 10.0% and That Winter, The Wind Blows remained in first with 14.2%.
SONG OF THE DAY
Small o – "That Will Fall" [ Download ]
Audio clip: Adobe Flash Player (version 9 or above) is required to play this audio clip. Download the latest version here. You also need to have JavaScript enabled in your browser.

EPISODE 15 RECAP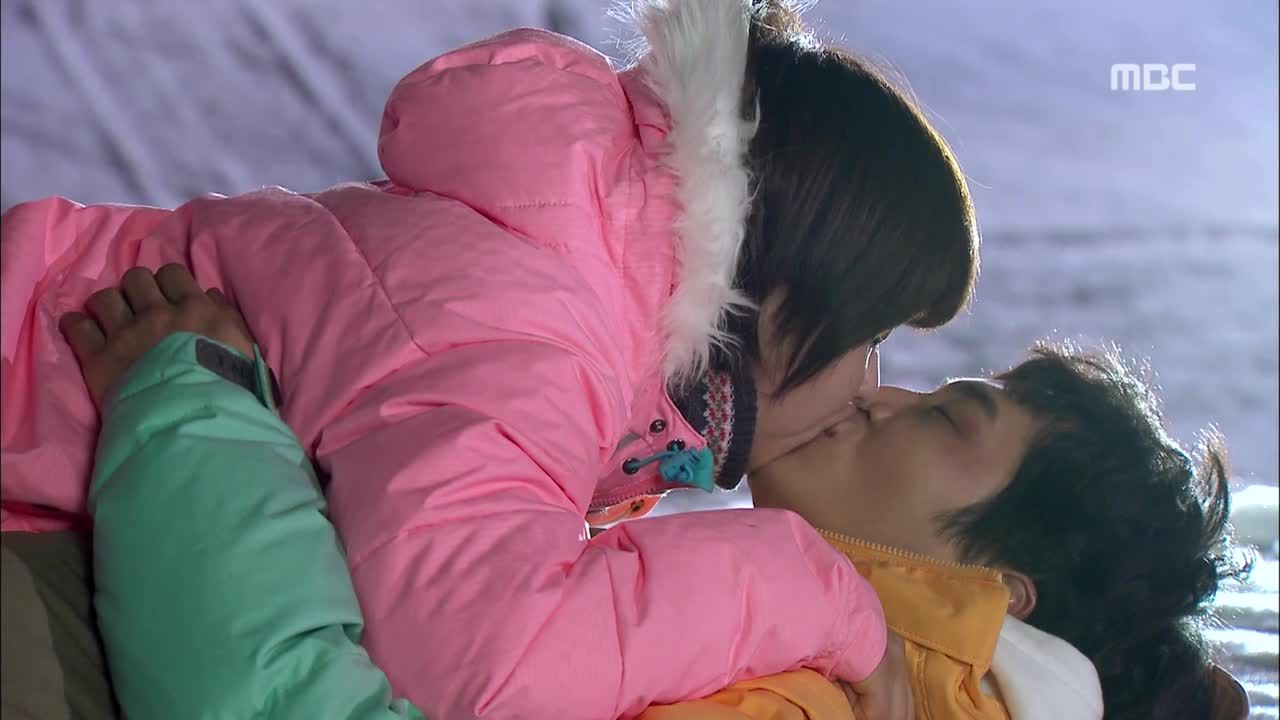 Seo-won hug-tackles Gil-ro to the snow. He confesses his love for her, to which she calls him a jerk. So romantic, right? At least she follows that with a kiss, and they lay there on the snow for a while.
Finally, it's time for this Mission of Dubious Efficacy to come to an end, and the NIS team drives back home. Gil-ro and Seo-won steal looks at each other in the front seat of the car while the agents in the backseat doze. Gil-ro takes advantage of the moment to make a grab for Seo-won's hand but she slaps him away, feeling too self-conscious with an audience, even if they are asleep. They bicker back and forth and the car swerves in its lane, till finally Young-soon mutters at Gil-ro to keep his hands on the wheel.
When they arrive outside her place, he tries to finagle an invitation indoors, which she shuts down. He tells her he's got no place to go with Dad having kicked him out again, but she says that if she lets him in, she won't want to let him go. And the problem is…?
With a peck on the cheek, Seo-won sends him off, and he's too adorably pleased with the kiss that he just laughs happily.
Once inside, Seo-won takes out her box of mementos and unbanishes Gil-ro Monkey from exile, going to bed hugging it close. And to think, she coulda had the real deal instead of that doll.
Sun-mi is silent and peevish to Do-ha the whole drive home, which he notes but doesn't understand, and frankly I've already forgotten why she's so pissy in the first place. Oh right, the mole thing. I guess that's a big deal, though it's hard to tell with the way these characters react.
Sun-mi continues the silent treatment at the office, where he asks her for an explanation. But then she turns back to confront him after all and gives Do-ha a chance to confide, asking if there's anything he has to say to her. Something he can't tell anyone, perhaps. He says no, and she's had it: "Have a nice life, asshole." She storms off.
Director Oh lies prone in the backseat of a car in the aftermath of his gassing, courtesy of JJ. Only now, he's sporting a bloody chest wound to boot, and Mi-rae looms over his body smirking, gun in hand. Just the kind of unimportant thing we don't need to see onscreen or anything.
Director Oh's assistant seems a bit cagey about his boss's whereabouts, saying that he texted in a day off. It makes me wonder what angle the aide is working, but Won-seok doesn't doubt him. He does, however, intend to disregard Director Oh's orders for him to keep his nose out of the JJ investgation, and insists on seeing him directly.
The aide refuses to allow him, but Won-seok pulls a few literal punches on the agents who try to block his way, and he barks that while the director's gone, he's in charge.
Won-seok confronts JJ in the interrogation room, who looks startled to have his target right here in the flesh. He vows, "I'm going to kill you," which Won-seok just laughs off with an indulgent Sure, go ahead and try, like he's talking to a child. JJ furrows his brow like this is all very wrong and unexpected. What, you mean there was a flaw in your amazing ski-chase-theft-diversion plan?
It's curious that they don't actually seem to know who this dude is, since the first question is, "Where is John J?" Because… John J is JJ, no? If there's another faceless spy out there going by the name John J, I'm going to slap somebody.
JJ growls that Won-seok doesn't have the investigation authority in his case, and sits there glaring at an unruffled Won-seok.
The tables turn, though, and JJ finally gets a rise out of Won-seok by referring to that old mission that went awry in Thailand — and how he should've killed Won-seok along with Choi. He taunts him with the fact that Won-seok ran away, leaving his injured teammate behind, and asks what's the value in a mission that forces you to ditch your man?
He adds that he also killed the other guy — the teammate Won-seok ran away with. Hm, JJ's talking like he's taking credit for his bro's kills, though I suppose it's a team revenge we're talking about.
Since Do-ha has been ordered to keep tabs on everyone, he logs on to Gil-ro's computer, though he awkwardly jumps to shut off the screen when Gil-ro enters. At least Gil-ro doesn't find his suspicious behavior suspicious, and Do-ha gets away with saying he was tidying up.
Gil-ro settles into his seat and tries again to break into the "classed" file regarding his father. He gets nowhere with the password and tries to actively hack the NIS server — and Do-ha sees this from his own computer, having installed a spyware program. He reports it to Director Oh like a good little mole.
Gil-ro picks Seo-won up at home to take her to work, bearing breakfast. But when Seo-won doesn't press him to explain where he spent the night, he gets miffed — basically he wants her to nag and pester while he gets to withhold, but her agreeableness makes him pout. These people, I swears. He pouts, asking why she has so little interest in what he does.
Seo-won proposes instating a Rule No. 1: "Even if we don't tell each other something, we'll trust each other." She follows that with Rule 2: Don't let the office see they're dating. Rule 3: Obey what she says. These aren't very fun rules.
Then it's over to the farm for some parent scenes. Bathroom break!
Okay I'm back. What'd I miss?
Judging from the way the parents bicker and how Seo-won's suspiciously un-busy army brother pesters Mom for food, I'm thinking nothing. So… dad wants to raise deer now? If I get anything from this couple's storyline so far, it's that they deserve for their businesses to fail.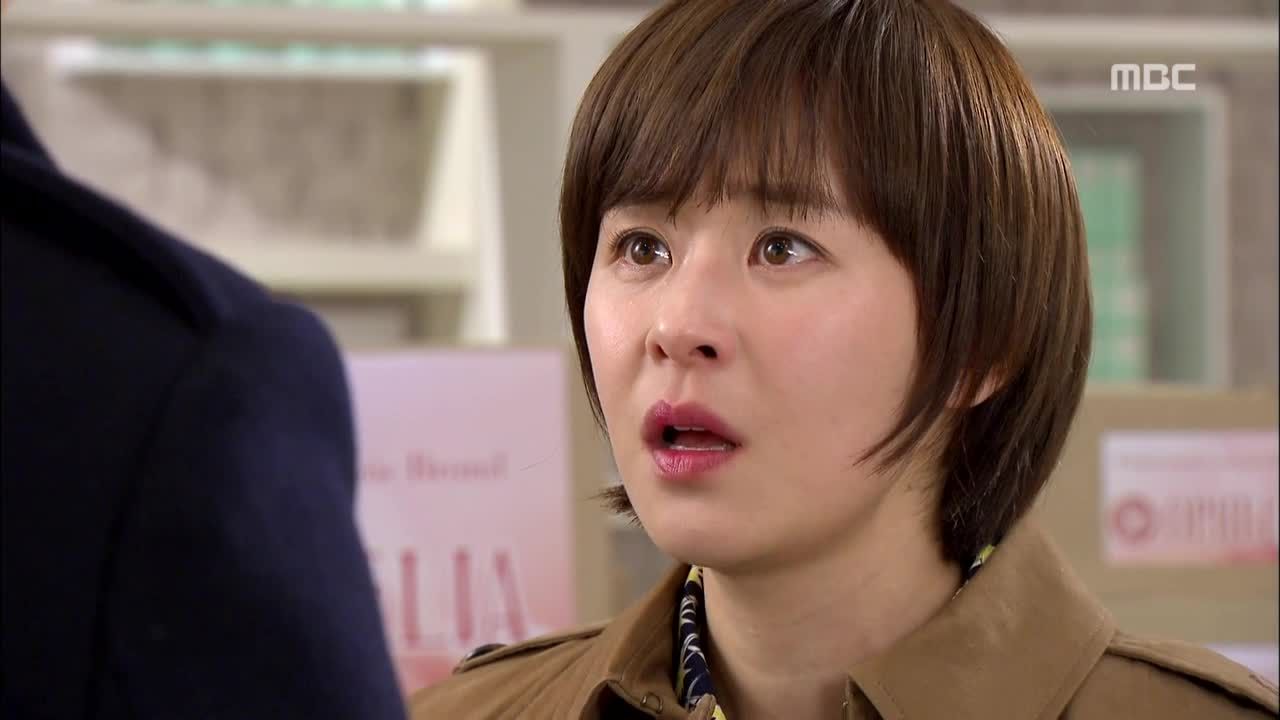 At work (where they arrive separately, making Gil-ro late), Seo-won presents him with an elongated Rules list. She has added No. 4: Don't get angry more than twice a day. Uh, are you counting yourself in these rules? Rule 5 has Gil-ro protesting immediately: Don't step one foot inside her place without permission.
They bicker back and forth until they agree that he can write up his own rules. Why do I feel like all of his are going to be about skinship?
But no, his Rule 1 is "Don't lie." But she balks at that, since it's an occupational hazard and she can't promise that. Gil-ro amends the rule to ask for her door code. She refuses that, too, ignoring his elaborate scenario where she's sick and collapsed on the floor and needs him to burst in to take her to the hospital.
Seo-won then asks Gil-ro about his father's top-secret documents and asks him to give them to her, "For both of our good." This time she's not being ordered to get them, but wants to solve this case because as long as she's investigating his father's actions, it'll be a bump in their relationship. Pointing out that he's too afraid to ask his father directly, she says that her wish is for them to solve it together.
Gil-ro bristles, as is his knee-jerk reaction to all suspicions regarding his father, and draws the line in the sand: Don't talk to him about his father. Also, he tells her to forget her rules: "Does love follow rules? No, it follows the heart." Well, I'm glad someone figured that out.
President Han gets a surprise visit from the police, who rather forcibly start to escort him out for questioning at the station. He's protesting and sweating bullets, but thankfully for him the head cop gets a call and suddenly changes his tune, apologizing for the misunderstanding. They leave, and President Han breathes a shaky sigh of relief.
Hm, could this possibly have something to do with the sudden reappearance of Director Oh? So he wasn't killed after all. What does it say that I'm actually half-expecting Mi-rae to have performed magical high-tech surgery on him so she can now control him via remote? I mean, it would be about as sensical as half the stuff in this show.
In any case, his brush with death must have had him thinking dire thoughts, because his first comments to Won-seok are, "You know I love you, don't you?" He gets Won-seok to assure him that he trusts him, and then orders the case out of Won-seok's hands. He'll take over from now on and handle the rest, so the NIS team is to be disbanded and reassigned to new tasks.
Won-seok is, naturally, totally confused by the suddenness of these orders, as well as the explanation that their information was faked and they no longer have grounds to keep JJ.
In flashback, we see the reason for his change of heart: He stirs awake from his car with a bloody wound in his side, and gets a gun to the back of the head. Mi-rae gives him an ultimatum: Die now, or make a deal.
JJ has refused to eat the food offered him, and Won-seok angrily grabs his head to growl that he has no right to waste taxpayer money. But it's just an excuse for him to grab some DNA, since he walks off with a fistful of hair.
Sun-mi reports to her two trainers about Do-ha's double-agent status, and while the initial reaction is anger, Won-seok decides this is his perfect chance to turn the tables. Their team has been ordered to disband, but this has just made him more determined to double his efforts and catch the bad guys before they're actually forced to shut down. They'll use Do-ha by feeding him false intel, and get Director Oh off their backs.
So: Seo-won and Gil-ro will be put on Mission: Get Dad's Documents, the rest of the team is to pretend like they're taking it easy, and Sun-mi is to stick to Do-ha's side like glue to hand him wayward information. So the next time she sees him, she slaps on a sunny smile and tells him the team is off early and that they'll be quitting the case soon.
Seo-won asks Gil-ro out on a coffee date, but tonight he's the one feeling tired and detached, having shut down her attempts to talk to him about his father's case. She says she's stuck between a rock and a hard place, and he sighs, "Then.. let's stop seeing each other for now." Wait, so did you break up or is this just talk?
In another flashback, we see the deal struck between Director Oh and Mi-rae, as she demands JJ's freedom. In exchange, she's prepared to offer him prime intel — a roster of names and profiles of a whole slew of international criminals and corporate spies. It's a pretty big carrot to dangle in front of the ambitious director, who would get all the credit for the captures.
Mi-rae also wants the name of Director Oh's partner, and learns for the first time that it's Won-seok. Seriously, Show? You have these baddies whipping up a twenty-year-long revenge with shadow companies and false identities and she couldn't find a single name?
In any case, that's the dilemma facing Director Oh now: Fame and accolades, in exchange for giving up Won-seok's life. Somehow I don't have a good feeling about Won-seok's life. His aide confirms that the roster of names is legit, and that seals the deal: Director Oh orders the casefiles deleted and JJ released tomorrow.
Seo-won eats a meager dinner alone that night, and gets a surprise visit from Gil-ro, armed with take-out for her. Aw. Is that his way of canceling the "Let's break up" conversation? Of course, he could just actually cancel that "Let's break up" conversation. But that would be logical.
Gil-ro sweetly doesn't press her to invite him in, though it sort of looks like he's holding in a fart for all the effort it takes him to restrain himself, and Seo-won lets him go. He trudges off glumly.
But just as she's about to dig in to the expensive sushi set, he calls from her courtyard to ask whether the restaurant included ginger. She lies that they did in fact forget, and he darts off to make a second delivery. He drops off the ginger, then leaves again, then calls again to check whether she got soy sauce. She lies and says no, and off he runs again to buy some.
Okay, so it's kind of cute, but mostly stupid. WHY is this a rule again? Are you twelve? Will your chaperone disapprove? Will your hall monitor kick you out of school if boys sneak in? See, if this was all about her not wanting to sleep with him, I'd respect that choice. But it's about her wanting to sleep with him and being afraid/embarrassed/ashamed to want to sleep with him and therefore keeping him away with lies and excuses, and that is just lame. How about you people just own your feelings, for once? How about that, HUH? *shakes head*
When he shows up with a liter of soy sauce, Seo-won yells, "Are you going to come and go all night?" Uh, and whose rules ARE they in the first place, missy? You don't get exasperation rights!
Finally she tells him, "Either go home, or press 04283* and come in!" She slams the door in his face, and he grins. He lets himself in and gives her a hug.
Then they sit eating sushi together, though when he moves in for a kiss, she shoves a piece of shrimp in his mouth. If you're going to refuse all his kisses, then you don't deserve his kisses!
Too bad the romantic(?) dinner is cut short by a drunk and sad Sun-mi at the door. Seo-won barks Rule 2 at him and shoves him into the closet, and there he sits for a long, long night of waiting.
Seo-won tries to usher Sun-mi out at every opportunity, but Sun-mi starts sobbing and wants company and they're just stuck there.
It does give Seo-won a chance to explain herself to Gil-ro, though — those captive audiences sure are convenient — when Sun-mi asks how she could stand lying to him all this time. Seo-won admits that she resented her duty and hated to lie, "Because I really liked Gil-ro."
Sun-mi doesn't explain what has her feeling so down, denying that it's Do-ha, so all Seo-won can advise is, "Don't do it." She tells her not to hurt someone even if it's supposedly for her mission, because it makes you small — even though you love someone, you have to keep begging to be trusted.
It is a sweet way to get Gil-ro to see her side, and he softens to hear the explanation. Although he's still stuck inside that wardrobe for a good long while yet, because Sun-mi invites Young-soon to join them and soon it becomes a whole girls' night in.
Toward the end of the night as the drinking winds down, the conversation turns to the topic of faith and trust (or did it never leave it?), and Young-soon muses that you've gotta hit rock bottom to realize what it is that you believe, and once you make that discovery it'll stick with you for the rest of your life. Seo-won sighs that she doesn't want Gil-ro to have to fall to rock bottom.
In the morning, finally, the ladies leave and Gil-ro falls out of the closet painfully. They get ready for the day, but it isn't work that he drives to but his home — he tells her, "I'm going to try hitting rock bottom."
I guess all that talk about trust really got to him, and he has finally decided to confront his fears and get those documents from his father and find out what the truth is. And in the event that his father is guilty and Gil-ro can't forgive him, he asks Seo-won to — because he'll need to lean on her.
So Seo-won waits in the car while Gil-ro sits with his father and asks point blank, "Who is John J?" He slides over a picture of Uhmforce and asks if Dad knows him.
Dad is immediately on high alert and demands to know where he got this information, and this guilty questioning only confirms to Gil-ro that his suspicions are right. He presses onward with more questions that go ignored, while Dad insists that all his dealings were legit. And Gil-ro connects some dots himself and says, realizing, "Is John J the son of Choi Heung-soo?"
Finally it's time to lay out his cards, and Gil-ro tells his father, "I'm a national agent." This he follows with a question: "Are you a bad guy?"
Dad doesn't confirm or deny, though his silence is pretty damning, and he leaves muttering to himself. Gil-ro is crushed.
He returns to the car heavy-hearted, trying to go for a smile as he assures Seo-won that he's okay. He reminds himself, "My father has always been able to do anything for money. So I'm not even surprised."
She takes his hand comfortingly as he breaks down, "But… even though it's obvious… even though I knew this would happen…" And he leans on her as he sobs.

COMMENTS
Sooooo… this show is feeling long, isn't it? Why isn't it over yet? The revenge plot was marginally interesting when it was still going, if only for the fact that there was a goal in sight. But now the deal is over and we're playing the perpetual game of Bad Guy 1 scrambling to save Bad Guy 2, who scrambles to save Bad Guy 1 right back. Truth be told, that's actually more compelling than anything our good guys are going through, though, because at least there are stakes and challenges.
I'm a bit tired of the whole trust game with Seo-won and Gil-ro, mostly because it seems so pointless now. They both know they're agents, they both know what the game is, all the cards are on the table… there's just very little zip and 'zazz left in this setup, so now their arguments that go 'round in circles make me want to tear out my hair. No, their hair. Why sacrifice myself for their stupidity?
The bickering could still be cute, because when it's about silly little things I can close an eye (or two) and smile along. But when it's based in an argument that Makes No Sense (like their Rules), I just want to take those rules and stuff them up her nose. Are you adults or aren't you?
As for the new Bad Guy Twist: I don't get why Director Oh had to be manipulated because we were already thinking he was up to major shadiness. So now he just goes from one brand of shadiness to another. Ho-hum. Bad guy is still bad, but in a different way. This is not a game-changer. I wish it were, because I'm ready for a new game now. Who's up for poker?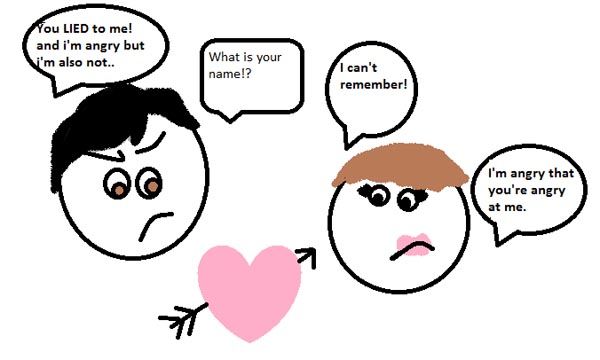 Illustration by VegePip
RELATED POSTS
Tags: Chansung, Choi Kang-hee, featured, Joo-won, Kim Min-seo, Level 7 Civil Servant