Level 7 Civil Servant: Episode 18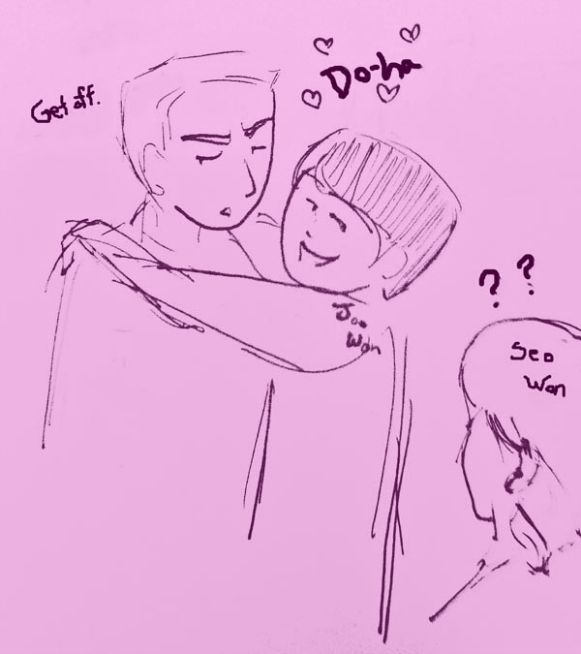 Illustration by Ally
Watching this show is starting to require active mental gymnastics. I swear, my mind is doing backflips trying to understand these characters. I'm starting to wonder if the writer might have amnesia, because sure, every show has its share of recycled plot, but here it actually seems like the show forgot that it did that scene/conflict/argument already and just runs it again. Because continuity's for suckas.

EPISODE 18 RECAP
Won-seok opens his eyes just in time for Woo-jin to come at him with a gun… AGAIN. I wish I were him, because then at least I would've blacked out the part where this puts us right back at the end of Episode 16, as if 17 never happened.
Seo-won and Gil-ro are so happy to see Won-seok conscious that they don't even notice as Woo-jin creeps into the hospital room with his gun raised…
He pulls back the curtain… and it's a fakeout. Of course it is. It's the wrong room, because our spies were smart enough (for once) to stash Won-seok in a different hospital from the start.
Mi-rae calls Director Oh, furious that he fed her false intel, and he swears up and down that it should've been right. Yeesh, sending your friend and colleague to his death once wasn't enough so you're helping them finish the job?
When Won-seok comes to, all he can think of is Director Oh's last words to him, that he's sorry and to think of this as a sacrifice for his country. He finally looks up at Gil-ro and Seo-won, and asks if this room is secure.
They tell him that Young-soon is the only other person who knows where he's staying, and all he says before falling asleep is the warning: "Don't tell anyone that I've opened my eyes."
It confuses them, though the intent seems clear enough to anyone who's even seen one spy movie with a mole. Speaking of which, Director Oh calls Do-ha into his office to find out where Won-seok is staying because he wants to visit his friend.
Gil-ro finds some handwritten notes in Seo-won's notebook about her parents' plans for their green village project. She gets up later that night to tuck him in and finds that he's typed up a fancier version on his laptop. She swoons. I don't, because we've already used this plot point before. What the eff, Show?
Each member of Team Rogue does extra spy work on the side during their day jobs, and then gathers at Gil-ro's office. Do-ha arrives and stands outside staring at the company's sign like he suddenly got a lobotomy and forgot how to read or that he's been there before. Directing fail.
Do-ha and Gil-ro butt heads over how to proceed, and Do-ha pushes for Gil-ro to put all his cards on the table, including where Won-seok is staying. Eep, don't tell the mole!
Here's the thing I don't understand: Why isn't Sun-mi telling the rest of the team that Do-ha's the mole? Why is he part of this team in the first place? What on earth was the point of her finding out that he was a mole if she was just going to continue let him being moley? I. Don't. Understand.
Gil-ro tells the rest of the team that his father did make a deal with Choi Woo-hyuk, and that Director Oh erased the file altogether. He meets Dad on his own that night and they share a friendly drink, and he asks for the whole story. Dad asks Gil-ro if he made things harder on his son, and Gil-ro lies that he didn't. Aw.
Gil-ro's mom calls Seo-won out on a coffee date and thanks her for bringing father and son together. She asks where Gil-ro is staying these days, and Seo-won blurts: "Not at MY house!" Weren't you… the one who could fool a lie detector on your first day at spy school?
She basically spends the entire conversation spouting one lie after another—that they're not living together, that she didn't know Gil-ro was an agent, that she is the correct zodiac sign for Gil-ro, according to Mom's fortuneteller reading. Mom wants to meet her parents, but Seo-won insists it's too soon for that.
Gil-ro notices on his drive home with Seo-won that they've picked up a tail, and they turn around to try and snap a photo. I don't know why it should be a mystery that it's Woo-jin—what other bad guys do you even know, agent who's only ever had one case?
Team Rogue gets together for another briefing, and Do-ha says he checked the hotels like Gil-ro asked, even though he was all huffy about it yesterday. Gil-ro puts a hand on his shoulder with a smile. Are you guys gonna hug again?
Sun-mi interrupts with news—she's found a list of Mi-rae and Woo-jin's known aliases. That it took this long for them to get this, after months of investigation is just… sigh.
She gives the team the intel, all the while giving Do-ha the side-eye while she warns them to keep the information secure. UH… or how about you don't give the mole the information?? I'm SO CONFUSED.
Young-soon arrives downstairs, and that goofy manager who's running Gil-ro's dad's company falls all over himself when he sees her, all backlit and prettified from his point of view.
After briefing the team, Sun-mi discovers her painting in the corner and Do-ha stops her from taking it, saying that it's his. She's still as pissed as ever, and rails back at him, with the rest of the team looking on awkwardly.
Young-soon storms in and yells at them for fighting amongst themselves, and Gil-ro and Seo-won gape, shocked that she discovered their rogue activities. Oh 'cause you're so stealthy and all, with half your team hiding under the table?
Sun-mi says she told her because they'd need her clearance to get anywhere, and to their surprise, Young-soon says she'll take responsibility for the team. She tells them to proceed freely and say that she gave the orders, and then literally opens up her purse and starts passing out guns.
The manager stops by to introduce himself, making sure to wink at Young-soon, to the horror of everyone in the room.
Sun-mi tries to brush Do-ha off but he won't take no for an answer today and they sit down to chat. He says he doesn't care that she's treating him so coldly, but he wants to know why. Took you long enough.
She finally tells him that she knows all about him scurrying off to Director Oh to rat out their activities. He doesn't flinch as he says he was following orders for the good of the country.
She says that she doesn't trust him, and that she gave him the intel today with the rest of the team on purpose, to see if it went back to Director Oh. If it does, she'll forget him forever.
For one, it might've been nice to know that instead of thinking you were a complete moron, and two, it seems that you might still be a moron for giving the mole yet another chance after knowing that he's already a mole. He tells her as much, calling her an amateur for confronting him like this instead of using him to lead false information. Right? That's what I'm sayin'.
She tells him not to have a one-sided love for Seo-won or anyone else, and then confesses that she has a one-sided love for him. They're acting like this is big news, which makes the scene really confusing. 'Cause yunno, I draw giant portraits of every guy I don't have a crush on.
He thanks her for the painting and tells her not to draw him anymore, and walks out. She calls him a bastard… and then swoons. What the? I give up. Does this writer know ANY women, like in real life?
Mi-rae starts to have second thoughts about the point of their mission, clearly still rattled by what Director Oh told her about their parents not being such innocent victims. She says she hardly remembers her parents' faces, and now even the happy memories she had with them are fading.
Woo-jin argues that even if they were bad guys, they didn't deserve to be betrayed and left for dead, not at all deterred by the fact that they're not on some righteous mission. She muses that he's become a lot like his hyung, though I don't think she means it in a good way.
Won-seok's wife tells their daughter about how cool he was when they were dating, and when they leave the room he opens his eyes. He sits up and cries alone in the hospital room. At first I assumed he was crying because he was touched at his wife's words, but then he flashes back to Woo-jin and being shot, like he's traumatized more than anything.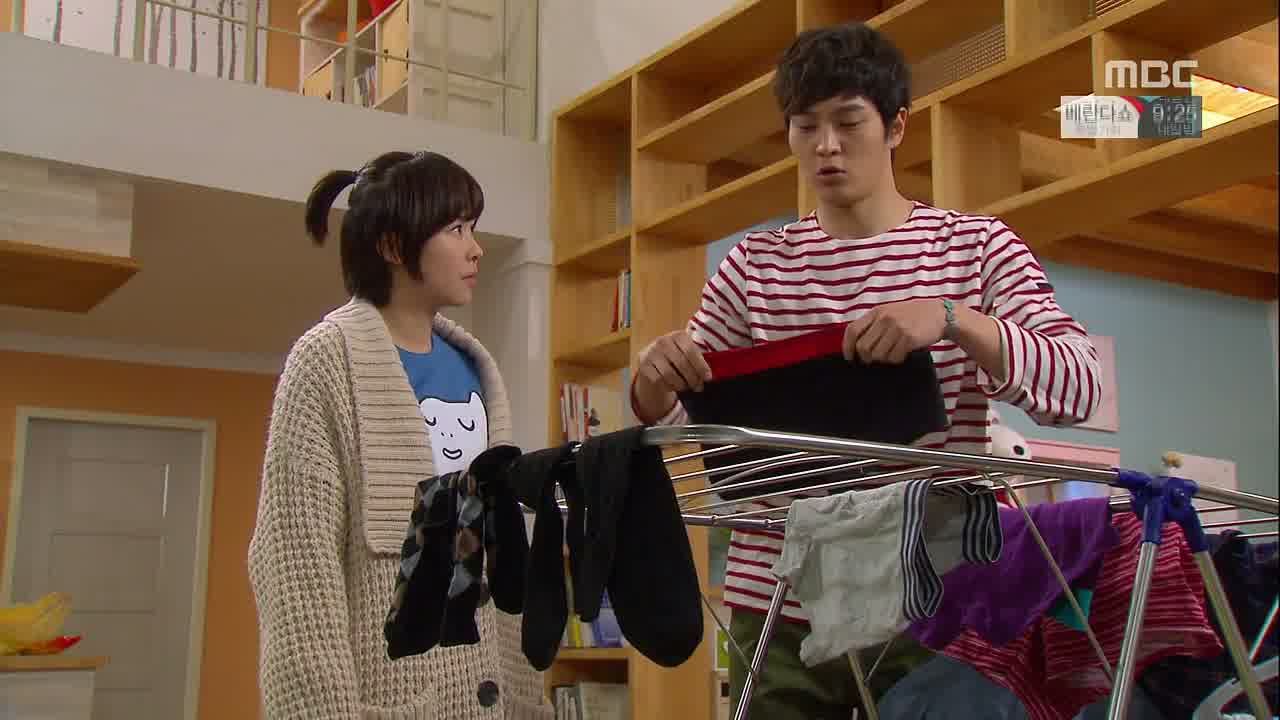 Seo-won comes home to find Gil-ro hanging his laundry in the living room, and has a panic attack at the sight of underwear. Seriously, she acts like his boxer briefs have cooties.
He doesn't see the problem with it, while she's been doing all her laundry elsewhere just to avoid this very issue. He says it's weirder that they've seen each other's underwear but not seen each other's underwear. Rawr?
He tries to get handsy and of course, she beats him up. BAH. What is wrong with you??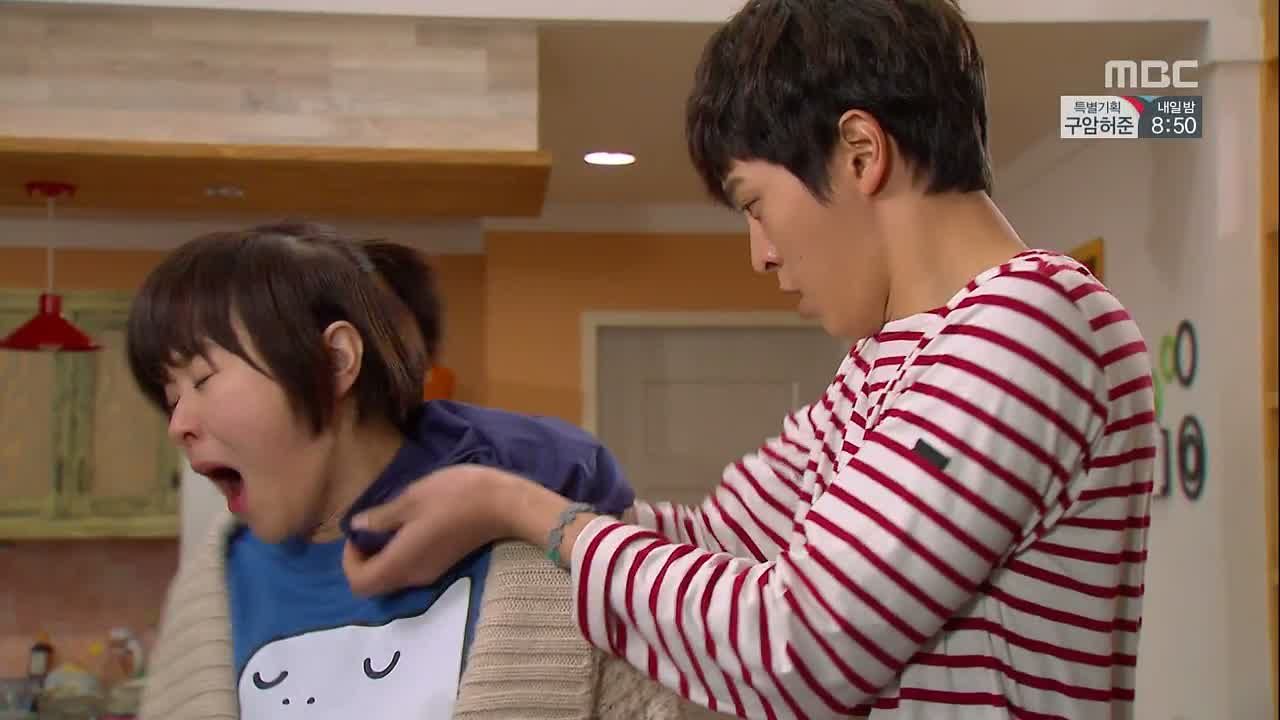 Her phone rings while she's in the bathroom, and Gil-ro has another crisis of conscience because he's tempted to check it. Are we back here again? I thought we already went through this.
He tries her door lock code on her phone, not expecting it to work, but it does. He checks the last text from her mom, thanking her for her help, along with a picture of their green village, thanks to Civil Servant Kim Kyung-ja.
THIS is how he finds out her name? After all those dramatic conversations about how she knew his name from the start but he never knew hers? I thought that if they were going to insist that two people would be this far along in a relationship without knowing each other's real names, there'd be a reason why. Guess not.
He giggles to himself over and over, and finally busts a gut as he blurts out her real name. He asks if she didn't tell him because it's so old-fashioned. She freaks out and rolls up a newspaper to attack.
He fights her off and finally wraps his arms around her and picks her up, and just when it looks like they might get somewhere… her parents walk in the door. *facepalm* At this point it'd be weirder for this show if they didn't.
They get upset at the skinship, only to really blow their tops when they find Gil-ro's underwear hanging out to dry. Mom grabs him by the hair and screams, "How far have you gone?" Um, awkward.
Don't worry Mom, they haven't gotten anywhere, and we have the drama blue balls to prove it.
Dad gets in on the son-in-law hair-pulling action… which is when Gil-ro's mom walks in and finds Seo-won's whole family beating up her precious son. Is it dumb of me to ask why you even bother to have a lock code for your door if parents in this universe can walk through walls?
Dad does get a chuckle out of me when he oh-so-smoothly goes from pulling Gil-ro's hair to pulling his arm over his shoulder like they're besties. With no choice, the kids sit the parents down for introductions, and the air is icy between the moms.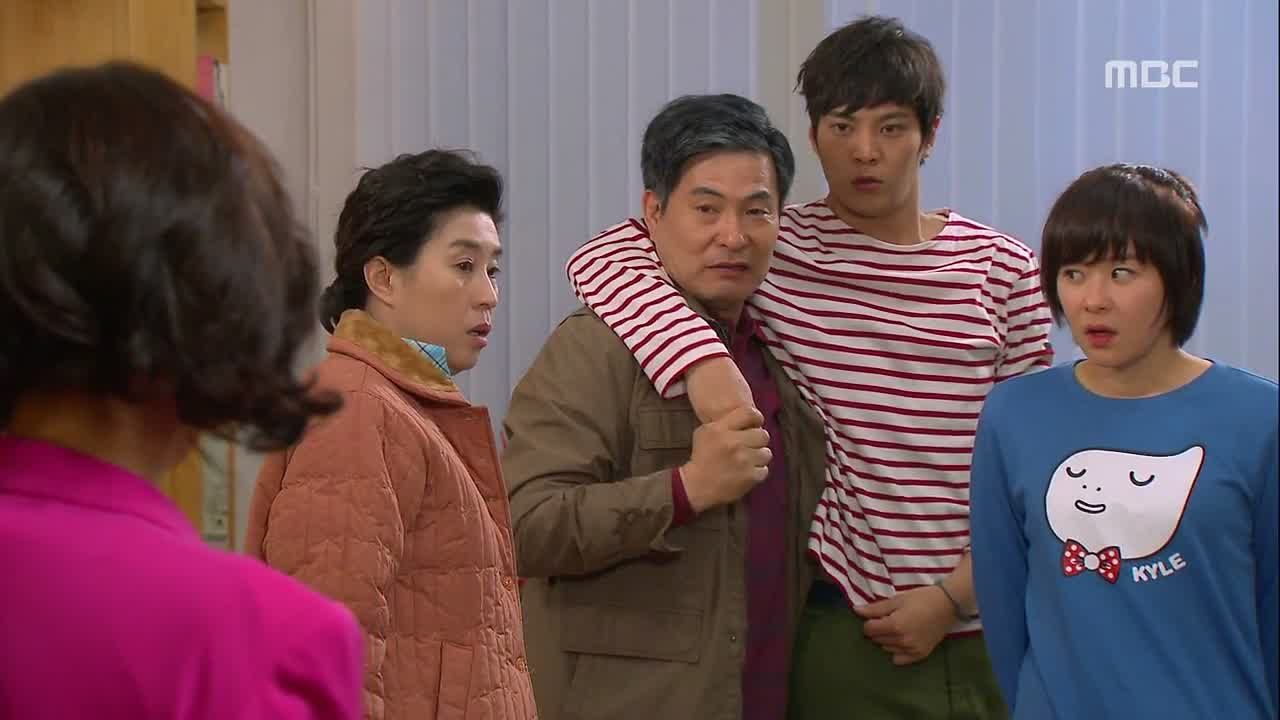 They decide to relocate to a hotel for dinner without Dad. The first bump in the road is names—each mom calls the two kids by two different sets of names, which gets confused looks all around. Gil-ro says that the aliases are nicknames, which seems like a dubious excuse, but Seo-won's mom figures that singers have stage names, so it's not that weird.
Gil-ro's mom isn't as easily appeased, but figures that it's less important than her zodiac sign, which Seo-won's mom promptly outs as the year of the ox. Uh-oh. Dinner goes downhill from there pretty fast, as Gil-ro's mom gets snobby about the food and wine, and Seo-won's mom complains about the "French makgulli" they're drinking, only to gulp it down once she hears how much it costs.
Meanwhile Sun-mi gets a ping on one of Woo-jin's known passports, and reports to the team. Seo-won happily takes the call from Young-soon and says she'll head out, leaving Gil-ro to clean up the mom mess on his own. That's mean. I wouldn't wish that job on my worst enemy.
It gets even worse when Gil-ro's mom asks about Seo-won's father being a diplomat, and once Gil-ro gets outed for the lie, he just gets up and runs away. Ha. He catches Seo-won on her way out and they go to catch Woo-jin. I suppose it would be this drama's stance that moms are scarier than international terrorists.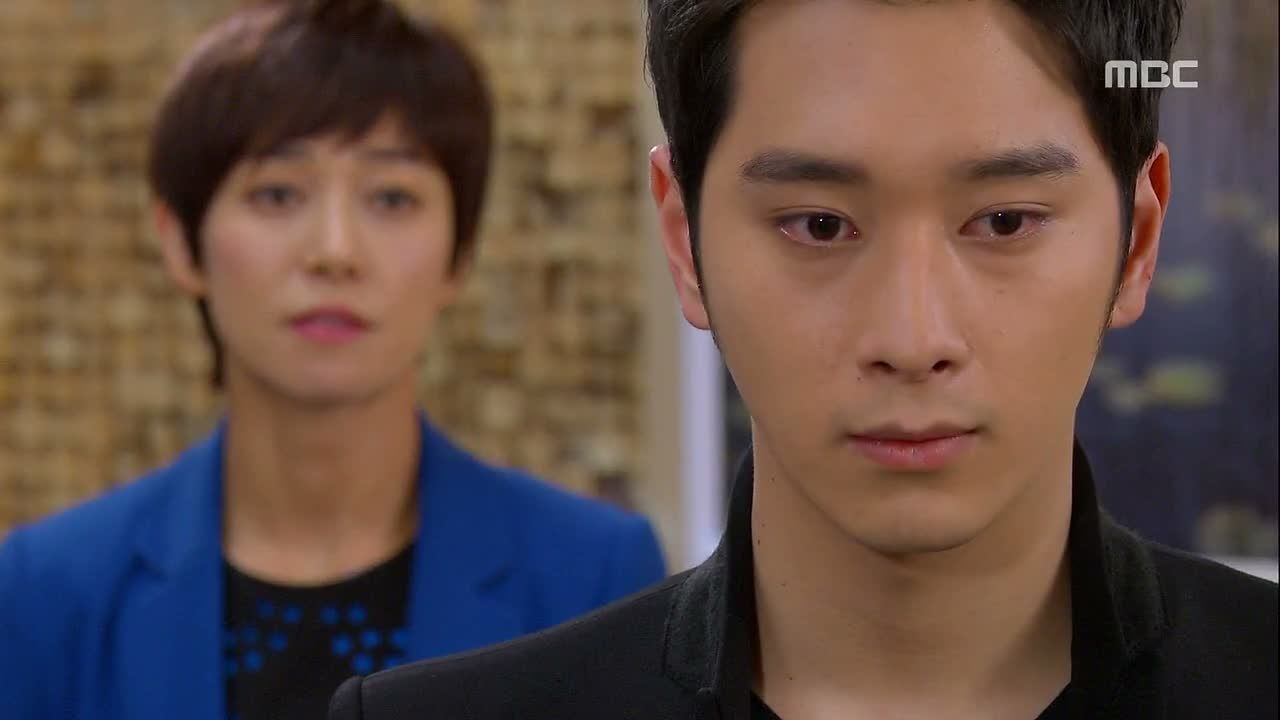 Young-soon sends Do-ha for backup and tells him pointedly that she trusts him. I think we're supposed to think that she and Sun-mi are good people for repeatedly putting their faith in him, but mostly it makes them seem like bad spies.
Do-ha heads out, and when Director Oh calls to ask his whereabouts, he hesitates as he thinks of Sun-mi's warning. But he answers: "I'm going to meet Han Gil-ro."
Gil-ro and Seo-won arrive at the hotel and make their way into Woo-jin's room, guns raised. Whatever it is they find in there, it surprises them… but we won't know till next week.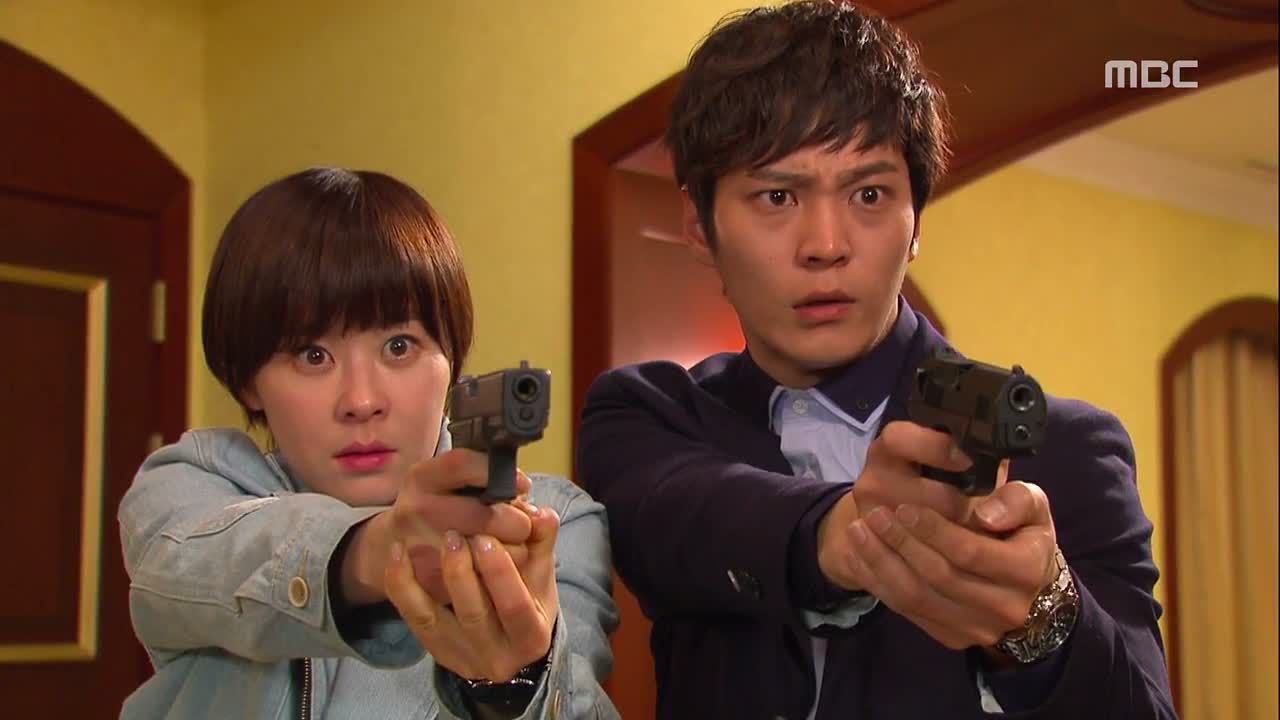 COMMENTS
What a weird cliffhanger. I suppose we're meant to be on pins and needles about who's in the room? Is it wrong that I don't care? At this point it'd have to be something really out there to surprise me—say, Director Oh in drag? I hope it's just Woo-jin and Mi-rae, because I don't know if I want to wait any longer for the big showdown. Not that I expect anything stellar from the team that brought us the medium-speed bunny slope chase or the double-fakeout boss assassination attempt.
Am I the only one who felt like this entire episode was repeats of things we've already done? And I mean more literally than before, like same scene, same conflict, same argument. I actually think the writer just plain ran out of ideas. Usually when this happens you get a sudden plot arc that comes out of nowhere and delays things with a tangent. That's standard operating procedure in any given drama. But here we're not even bothering with that, and we're literally re-doing scenes we've already done. Besides being lazy, it's confusing as hell, because you watch a show thinking that things get resolved the first time around, only to find that we're back to square one with no explanation. The lack of continuity actually hurts my brain.
The Do-ha thing is beyond comprehension for me (What on earth DID they teach you people at spy school anyway? You can trust a mole so hard that he stops being a mole?) but Gil-ro finding out Seo-won's real name that way just takes the cake. I actually laughed out loud, not because it was funny, but because I couldn't believe a show would make such a point of their whole trust/identity issue, set up an entire romantic conflict based on the imbalance that she knows his name and he doesn't know hers, make us believe that he'd date her without pushing to know her real name because trust matters more, and THEN not have the payoff where she trusts him enough to tell him her name! Huh? What? Why? What? Sigh. Pass the French makgulli.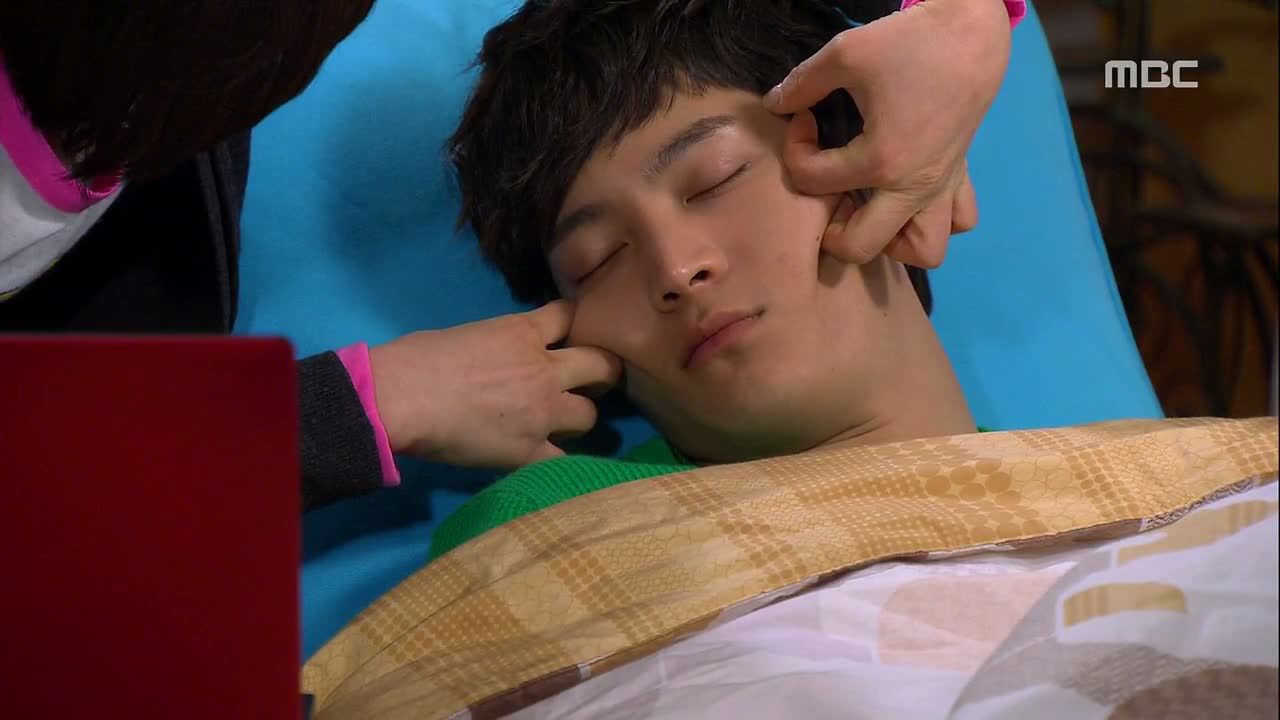 RELATED POSTS
Tags: Chansung, Choi Kang-hee, featured, Joo-won, Kim Min-seo, Level 7 Civil Servant