Level 7 Civil Servant: Episode 20 (Final)

Illustration by Ally
*peeks through hands* Is it over? Did I make it? Are we finally at the end of this One Road and all the puns we can possibly milk out of that name? You know, I misjudged this show. Even when it was on its continuous downward trajectory of plotlessness, I thought, But the finale can't be that bad. Oh, guess who was wrong. I know, you think I'm exaggerating. Pull up a chair. *pat pat* You're gonna need that whiskey and rubber hammer over to your left there…

FINAL EPISODE RECAP
Mi-rae raises a gun to her temple, while Seo-won cries into her sniper rifle. Seriously, that's a sentence, and that's what's happening right now. A shot rings out, and Mi-rae goes down…
But just kidding, because she gets back up? Oy, this show. She's only shot in the arm (also in the leg AND the other arm, because suddenly we're Tarantino) and reaches for her phone.
She calls Woo-jin to say that she was scared of being captured and used like their parents, and urges him to survive this. "Living till the end—that's revenge." Uh… says the girl about to kill herself? She adds, "I'm sorry I couldn't love you."
And then she looks Seo-won right in the sniper scope, and… turns around to start climbing her bloody ass up the wall. Now you're jumping? This is starting to become a suicide farce.
As Seo-won watches, still crying into her assault rifle, Gil-ro and Do-ha finally reach the rooftop. Gil-ro tackles Mi-rae down before she can jump, and then piggybacks her away, screaming at her not to die.
Woo-jin watches as Mi-rae gets hauled away in an ambulance, and sees Seo-won put the giant incriminating gun in her car. He jumps to the obvious conclusion, and follows her.
Do-ha reconvenes with Team Rogue in Gil-ro's office, where Seo-won asks if it was Director Oh who ordered the hit. Do-ha refuses to answer, ever the Company Man. Seo-won can't believe he'd blindly follow orders knowing it was wrong (again, still not sure when they proved it WAS wrong, but whatever).
She cries, "Is this the kind of person you are?!" Huh? OF COURSE this is the kind of person he is. Where have you been for nineteen episodes?
He bites back that she'll never have to see him again then, and storms out in a huff. Wait, should you let him take the gun? Whatever. If you three were actually friends who liked each other as you claim to be, that scene might have had some impact.
Gil-ro and Seo-won head home, and fail to notice Woo-jin following them for the ten thousandth time. They lead him all the way from their super secret spy headquarters right to her apartment.
Inside, Seo-won is still so jittery from the shooting that she drops a plate. Gil-ro pulls her aside to comfort her, and says that they did their best to stop history from repeating itself, and that she didn't act alone.
Just outside the door, Woo-jin raises his gun, and gets ready to ring the doorbell. But then something stops him, and he decides to walk away. He goes instead to the rooftop where Mi-rae was shot down, and leaves a message on her phone that he'll come for her no matter what.
Gil-ro and Seo-won go to visit Won-seok in the hospital, and because Won-seok's daughter is still such a brat about not respecting her father, Gil-ro finally blurts that her dad is a spy. Er, on what planet is that okay?
He says Won-seok deserves to be respected by his daughter, totally ignoring the fact that it's not his decision to make.
While they're out, Woo-jin saunters right into Seo-won's apartment. I knew that lock code that doesn't lock things sure would come in handy. Lawd. He takes a look around and scowls at the photo of Gil-ro and Seo-won… and then shoots it. Well that's not conspicuous or anything.
Gil-ro and Seo-won go to see Mi-rae next, and please don't tell me you put her in the same hospital as Won-seok or I will HIT YOU. She's awake now and recovering, and knows they're here for answers about Director Oh and JJ.
But Seo-won says they're here to apologize for the past. I just can't get onboard with this plot thread for the life of me. Why is she apologizing for Won-seok and Director Oh? Mi-rae pretty much has the same reaction, wondering what gives her the right to apologize.
Seo-won argues that she may not have made the mistakes, but she does feel responsible, "because that's what history is." I think I just pulled something trying not to roll my eyes. She gives Mi-rae the same speech she gave to Woo-jin—that the best revenge is to live a good life. In this case I don't blame Mi-rae for scoffing at the attempt to move her with those words.
Gil-ro says that someday she'll have to apologize to him for using his father and tossing him aside, pointing out that she's no different than the people who did that to her parents. Huh, that line of reasoning makes a little more sense. He says that it takes more courage to forgive than to apologize, but that he doesn't have the courage to forgive her yet.
Seo-won warns her that she'll catch the Woo Brothers, and tacks on yet another Lesson of the Day that she wants to share: that the best revenge isn't repaying the past, but correcting the course of the future.
Meanwhile, Woo-jin sits down in Seo-won's kitchen and points his gun toward the door. Ah, so subtle wasn't what you were going for in the first place. Gotcha.
Thankfully for them, Seo-won gets arrested before she can make it home. Gil-ro is held back as NIS agents escort her away for questioning, where Director Oh tells her that her prints were on the sniper rifle. See, I told you not to let Do-ha walk away with that gun.
He asks what she was doing there, but she keeps her mouth shut. Do-ha gets called in and makes up a thin excuse, swearing that he did the shooting and that Seo-won did nothing wrong.
Director Oh asks if he picked up the hard drive (incriminating him for selling state secrets) from the crime scene, and punches Do-ha in the face for his insubordination. For what it's worth, Do-ha actually stands up to him this time, and asks him to let Seo-won go in exchange for the hard drive.
Director Oh does one better and tells him to finish the job with Mi-rae, and he'll let Seo-won go. Do-ha offers to do as ordered if he lets Seo-won go first. For some reason, Director Oh agrees and sets her free.
Gil-ro's still pacing nervously when she calls to say that she was released… and that she's on her way home. Oh no.
She opens her door and walks inside, and makes it two steps in before Woo-jin cocks his gun. She looks up, terrified.
Gil-ro makes it home and walks past Woo-jin's motorcycle on his way up. Seo-won isn't there, but he notices the photo with a bullet hole, and then sees drops of blood in the living room.
He gets a call from her phone, and it's Woo-jin calling from inside Gil-ro's car. HA, I'm sorry, but it's kind of hysterical how easily the good guys are thwarted.
Woo-jin: "I'm somewhere close." Gil-ro: "Who are you?" REALLY? Really? Who are you? It's Jack freaking Sparrow. Who do you think it is?
Woo-jin orders him to come downstairs and take his motorcycle and lead him to Won-seok's hospital, or Seo-won dies. She yells at Gil-ro not to do it, but obviously he's not about to let her die. He gets on the bike and leads the way.
At the same time, Do-ha creeps into Mi-rae's hospital room. She takes one look at him and starts trembling, and watches as he injects something into her IV drip. She doesn't try to fight it, and sneers that they're doing exactly what she expected.
Gil-ro leads Woo-jin and Seo-won down the long hospital corridor. He flashes back to Won-seok ordering them to send his family home and then tell Woo-jin where he is. Gil-ro thought he was crazy for wanting to get shot again, but Won-seok had said that he had to save those kids before his sins grew any bigger.
They arrive, and Won-seok is either asleep or acting like he's in a coma. Kinda hard to tell which. Woo-jin figures he doesn't need the Spytastic Duo anymore, and aims his gun at Gil-ro. Seo-won struggles with Woo-jin for the gun, and he regains the upper hand and shoots at her instead.
Gil-ro dodges in front of her just in time, and gets shot in the shoulder. Seo-won runs to his side and Woo-jin just stands there talking to them instead of shooting again, when suddenly Coma Won-seok calls out: "Woo-jin-ah."
HAHAHAHAHA. I don't know why, but that was hilarious. Woo-jin jumps like he's seen a zombie, and Won-seok just sloooowly opens his eyes, calm as you please. So you waited till Gil-ro got shot, just for funsies?
He gets up and says that he's been waiting for Woo-jin to come. And the reason you couldn't have waited with a gun? Just sayin'. He walks closer and closer to Woo-jin, who threatens to shoot but backs up trembling.
Won-seok confesses that he's lived badly, but doesn't want Woo-jin to live badly anymore. He says he feels responsible for all the bad things that Woo-jin has done, calling his sins his own. See, at least with these two, this line of thinking is based in something that makes sense. Seo-won with Mi-rae, not so much.
As they talk, Gil-ro spots a gun taped to the underside of Won-seok's hospital bed. Aha.
Won-seok apologizes sincerely for not saving Woo-jin as a child. Tears stream down his face as he thinks back to that moment, but Woo-jin remembers his hyung's words not to trust them, and says he doesn't believe Won-seok's lies.
He raises his gun, prepared to shoot. Won-seok closes his eyes… Gil-ro reaches for the gun under the bed, and shoots Woo-jin in the shoulder, and he goes down.
Won-seok gets down on his knees. "Forgive me." Woo-jin breaks down in tears and Won-seok hugs him close.
In Mi-rae's room, Do-ha starts dosing her with the drug… and then says not to worry because he's moving her someplace safe.
Young-soon comes out once she's asleep, having been in on it from the start. Do-ha reminds her that this is a secret from Director Oh. Ya think?
In the aftermath, Won-seok reunites happily with his family, and Young-soon questions Mi-rae at NIS headquarters. Director Oh packs up his office, and then has a friendly drink with Won-seok, who congratulates him on his promotion. Huh?
Wait, so he sold out his colleagues, went rogue, sold national secrets, and tried to kill key suspects multiple times… and he walks away unscathed? Okay whatever.
He admits to Won-seok that he sold him out, and Won-seok just laughs good-naturedly that it was for the good of the country and he should wear a bulletproof vest next time. I don't get you people, but that's not new.
Gil-ro packs up his things to move out of Seo-won's apartment, and pouts that she won't let him leave a few things there. She counters that she never told him to leave, so he quickly changes his mind, only to have her kick him out anyway.
She wonders when they're going on their vacation, and they get all giggly and shy at the thought.
Gil-ro's dad tries to convince Mom to move to the countryside so they can live a simpler life, while she argues that Gil-ro is still baby who needs looking after. But when he comes home and tells Mom flippantly that he's going on another trip right away and that he's been transferred to Jeju for a year, she agrees to move to the country immediately.
Gil-ro and Seo-won go on their trip, and she tells him she's been reassigned overseas. Seriously, forty-five minutes into the finale and this is what you're throwing at us?
He takes it like a champ, saying he won't even ask where she's been reassigned. Only he says it a little too emphatically, about three times, and so she tells him she's headed to Germany.
He sighs at having to be apart from her, and suggests they go to bed. Of course she hems and haws and decides she wants to talk some more, and so he finally just picks her up and carries her inside while she hides her face, because heaven forbid she might act like she WANTS to have sex. We can't have that.
Do-ha gets Sun-mi to return the research that Director Oh was using in his blackmailing scheme, and she sighs that they really won't see each other more than once at year at best now that the team has disbanded.
She gives him a speech about how she's not ridiculous enough to follow him around forever, and then promptly chases him down the street to jump him and get a piggyback ride. Oy.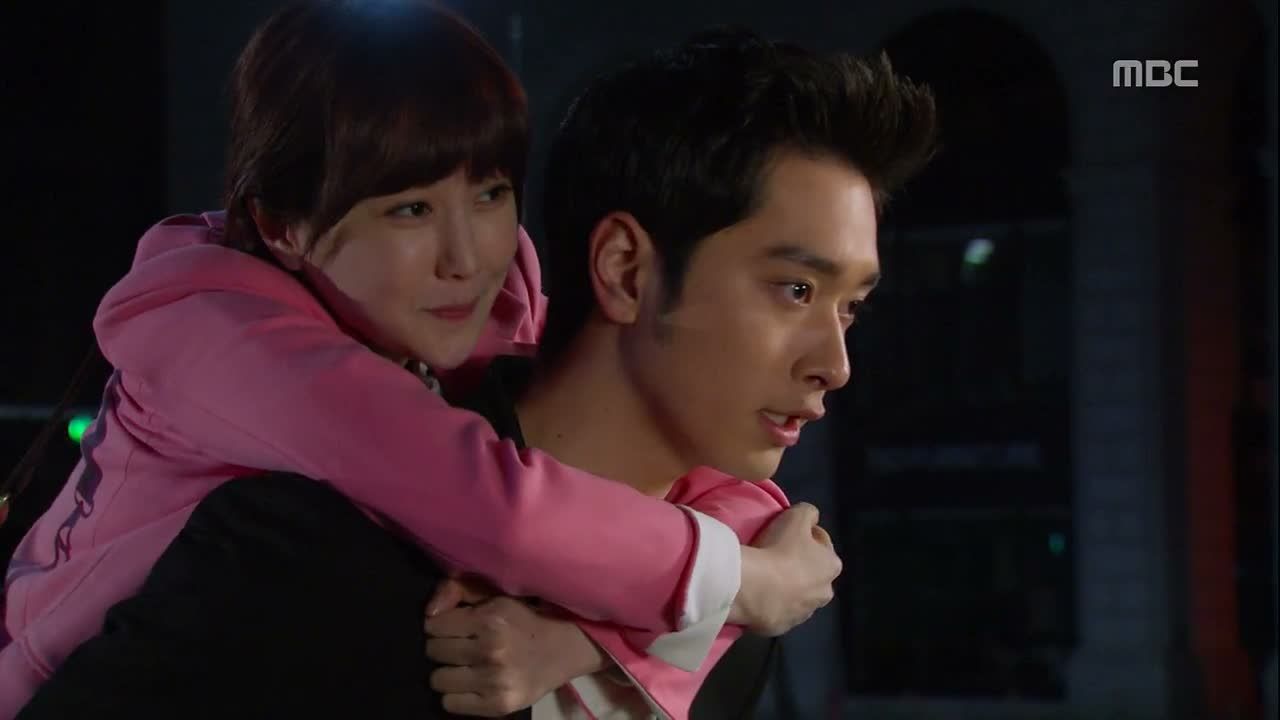 She asks him just to go ten steps, and then five more, and he counts down. But he doesn't ever get to the last five, and keeps recounting 2, 2, 3, 4. That's cute, but it sure would have been nice if he liked her back for more than ten minutes of the entire drama.
Young-soon gets set up on a new blind date, and of course it's the manager at Gil-ro's father's company. Sigh. But thankfully she actually has some standards and self-worth, and storms out on the guy and the dating service for good.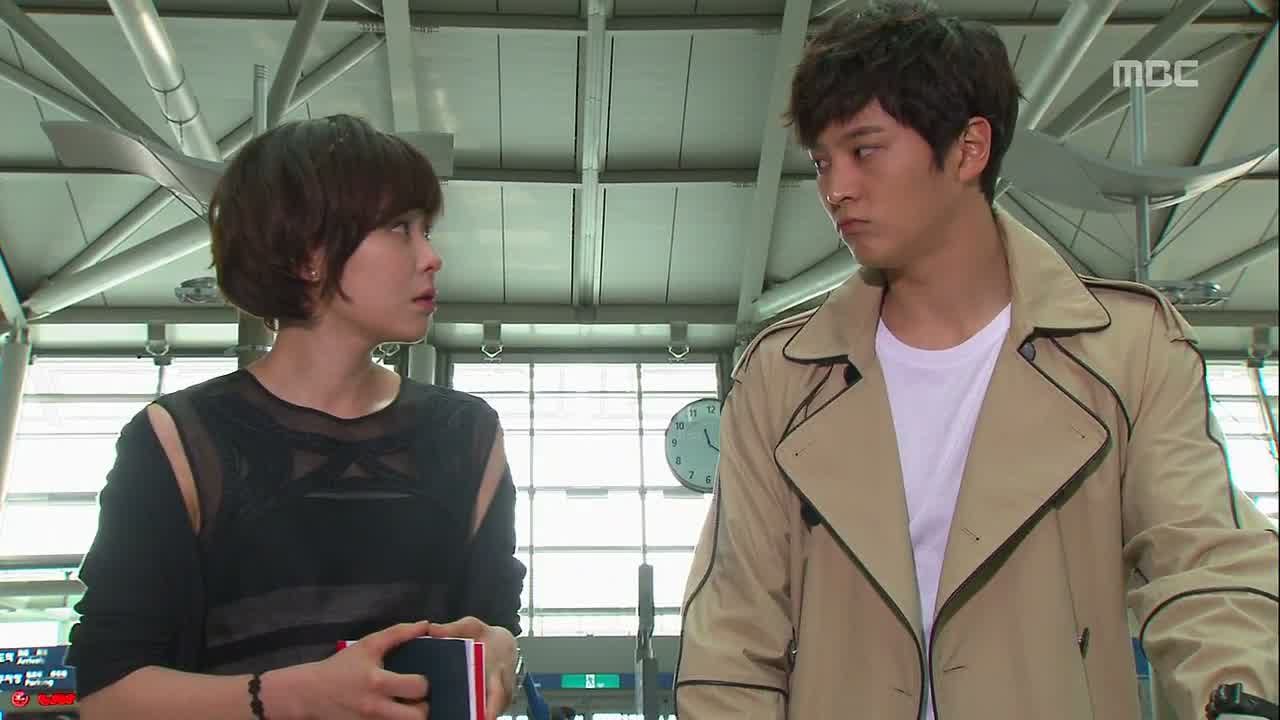 It's time for Seo-won to leave for her reassignment, and Gil-ro's bottom lip is out on pout patrol all the way to the gate. He sends her off glumly, only to change his mind and stomp back to the gate.
He picks a fight with her over how pretty she looks today, as if she's doing it to spite him or something. She says she wanted to look her best so it's the last thing he remembers, and then tells him that she's sorry she hasn't said this before: "I love you."
He finally smiles, and says, "I love you more," before sending her off with a kiss.
Gil-ro's parents head down to the country, and of course they go to the only village that exists in the world. They stop a young soldier to ask for directions to the mayor's house, and gee, wouldn't have guessed—it's Seo-won's little brother. He takes them home to his parents, where the two pairs of in-laws gasp at the coincidence.
Gil-ro calls Seo-won and apologizes for not calculating the time difference properly and waking her up. She asks if he's okay, having read that there's a storm in Jeju, and he looks around him and lies that the weather is really bad. Wait, you're not in Jeju? Oh geez, is this going where I think it's going?
Flashback (I think?) to his next assignment from Won-seok, who orders him to stay in Seoul but go undercover as if he's in Jeju. What is the point of that?
Anyway, so Gil-ro goes to an institute undercover as a professor… and in walks Seo-won in a labcoat and glasses. Oh my gah, you sent us through that entire last-minute separation storyline hullabaloo for this one joke?
He pulls her outside and they argue back and forth about who's the biggest liar. "Germany?" "Jeju?"
Why are you even mad at each other when it's Won-seok you should be mad at, since he obviously sent you both here while forcing you to lie for no apparent reason.
Gil-ro finally calms down and realizes that it's not as important as the fact that they're here together, and kisses her again.
Suddenly the cleaning lady whaps him on the head, and it's Young-soon, who's also there undercover. She chases them in circles with a broom.
The end.

GIRLFRIDAY'S COMMENTS
So… lemme get this straight: The bad guys just needed hugs. Being the director of a national intelligence agency means you can basically sell out your agents' lives twice in exchange for secrets and/or power, and said agents will just buy you drinks after. The good guys can spend an entire series looking for a guy who's already dead, never find out that he died, and it has no bearing on the plot. The team of good guys gets disbanded after all that distrust and infighting, and there's no need to reconcile them as long as they pair off and mate. The transitive property applies to apologies, and oh yeah, sex is bad. Did I forget anything?
Sigh. This finale is almost a perfect example of what not to do, at every turn. It's actually kind of amazing for that alone. I mean, even putting aside the absurdity of a world where everyone gets riddled with bullets and nobody dies, we spend nineteen episodes running ever so slowly toward one goal… which it turns out could have all been avoided if Won-seok just apologized for something that he knew and WE KNEW happened twenty years ago. We learn nothing new. Nothing changes. It has nothing to do with our lead characters whatsoever. PFFFFFFFT. What kind of a show does that?? Would it have killed you to throw in a nonsensical bomb or a terrorist attack, or SOMETHING for them to save people from, just for shits and giggles?
Obviously this show went wrong in too many ways to name, which likely stemmed from a fundamental lack of understanding of everything from women, humans in general, spies, narrative conflict, and why people watch television. But the saddest thing is that it forgot it was supposed to be a comedy. I don't understand what happened tonally to this drama, but it decided one day it was a Serious Show and got progressively more self-important… which of course made it increasingly—and unintentionally—absurd.
The thing is, you have to be a really bad spy show for me to find nothing of value in you. Like, really really bad. Because I'll put up with a lot (suspension of disbelief, badly timed romantic outbursts, gadgets o' doom) in exchange for badassery and hijinks. I don't know why it should be news to anyone that your characters ought to be base-level competent at their jobs, unless your point is to be Get Smart (and technically satire is the harder job, so I never expected that). Instead it just floundered somewhere in the middle, with the worst spies known to man, in a drama that set out to be all things—romantic, funny, badass—and ended up none of those things, and giving spies a bad name in the process. Sydney Bristow is rolling over in her tv grave.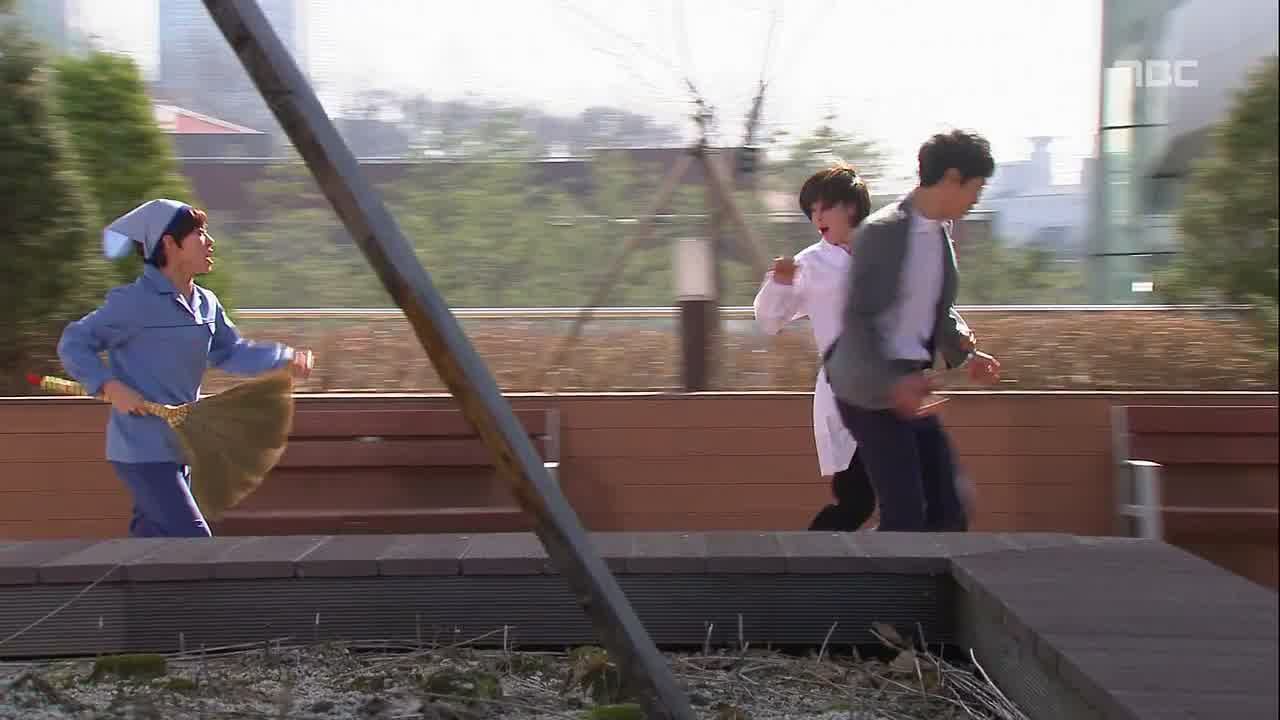 JAVABEANS' COMMENTS
Level 7 Civil Servant: "Well, if nothing's going to make sense anyway, might as well make everyone happy! Even the bad guys! Who aren't really bad! And morally corrupt people who get promoted instead of fired and/or disgraced! And the good guys, who do nonsensical things for nonsensical reasons just so we can have a callback joke at the end that isn't worth the trouble! Drama miracle happy pills, disburse your powers!"
javabeans: Where are MY miracle happy pills? *glares*
Level 7 Civil Servant: *Jedi mind trick* *waves hands around* *says magic hoodoo words*
javabeans: *wishes for mind bullets*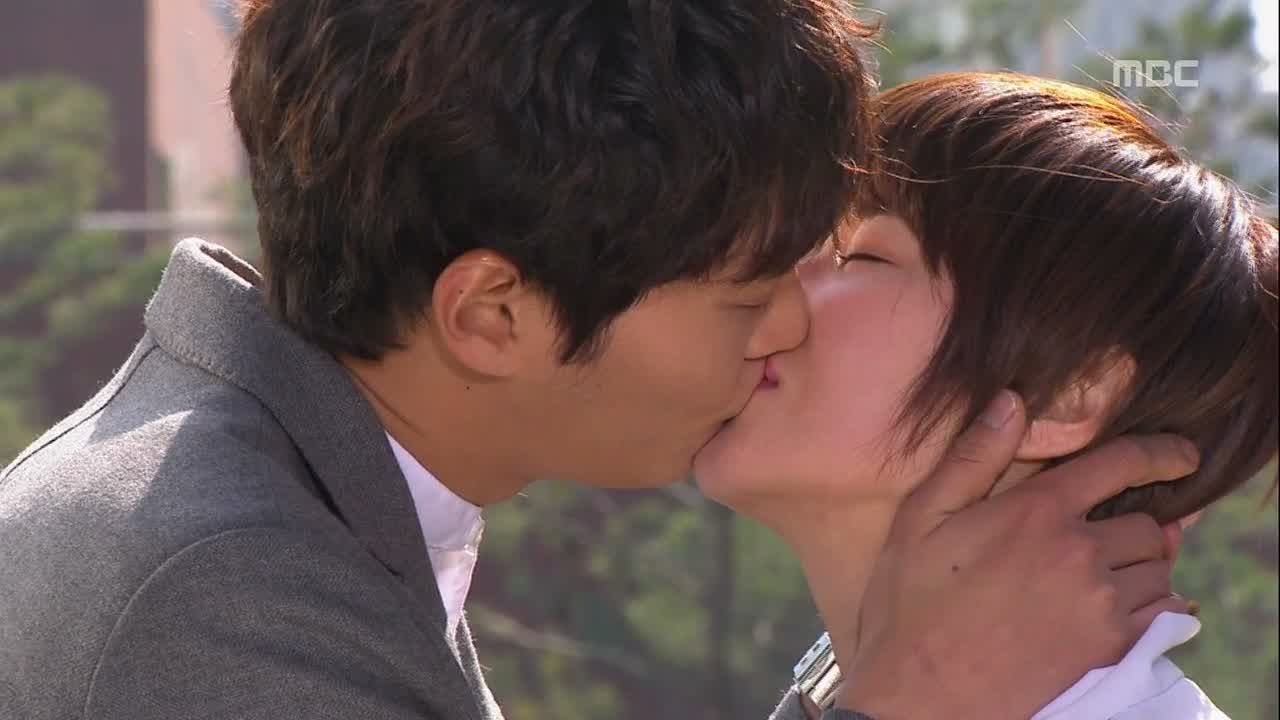 RELATED POSTS
Tags: Chansung, Choi Kang-hee, featured, Joo-won, Kim Min-seo, Level 7 Civil Servant