Nine: Episode 1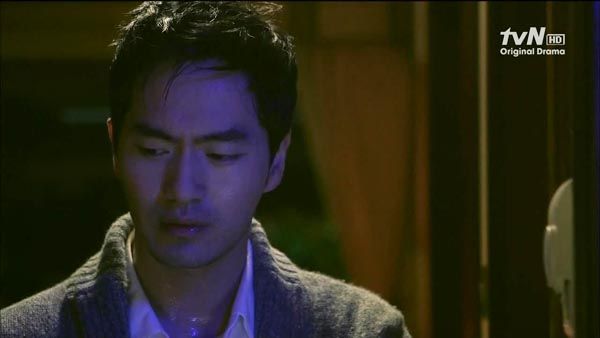 Today saw the premiere of Nine: Nine Time Travels, which I'll just be calling Nine since redundancy is redundant. Also redundant.
The show comes from the team behind Queen In-hyun's Man, and for that alone it was worth noting — In-hyun was deftly directed, gorgeously shot, and had a polished, cinematic flair. On the other hand, the similarity may have also been the thing to put you off the show, since both shows are about a time-traveling hero.
Still, the basic premise of Nine is worlds apart from Queen In-hyun, and while there are definite similarities of style, storywise I think we're in a whole new ball game. Which is good. I think.
SONG OF THE DAY
Park Soyu – "Stresssss" [ Download ]
Audio clip: Adobe Flash Player (version 9 or above) is required to play this audio clip. Download the latest version here. You also need to have JavaScript enabled in your browser.

EPISODE 1 RECAP
Himalayas. A solitary man makes the climb up a snowy mountain, face burning with frost and body struggling to hold on. It's an arduous climb, and finally he falls. Even still, his hand remains firmly clutching a small stick.
Sometime later, a chyron tells us we're now in Pokhara, Nepal. It's December 15, 2012.
A man sits in a small plane flying over the Himalayas, and is stricken with a sharp pain in his head. This is our hero, PARK SUN-WOO (Lee Jin-wook), who tells his seat neighbor merely that it's a headache brought on by "mountain sickness." Something tells me there's a lot more to it than that. He pops a painkiller.
When Sun-woo's plane lands, he's eagerly greeted by a young woman, JOO MIN-YOUNG (Jo Yoon-hee), who calls him "sunbae" and has come to pick him up. Sun-woo breaks into a grin at the sight of her, and surprises her with a big ol' smack on the lips. Ooh, already? Not that I'm complaining, mind.
Sun-woo launches right into his proposal, suggesting, "Let's get married." But he seems a dry, logical sort and he follows it up with the very unromantic-sounding clause that it'll just be for six months, and they won't even have to file the formal paperwork to register it — less hassle that way.
That has Min-young pouting, understandably, though he points out that he's doing it for her since she's the one who likes him and won't even date someone else because of it. He teasingly tells her to decide on the spot and she chooses yes. Heh. Smart girl.
As she drives along, she fills him (and us) in on some basic exposition: This is where her team of reporters is stationed for the near future, working on a story, although he has come without alerting anybody else. It makes her feel a little bit special, to be the only one he called when his personal business brought him here. He has two matters to attend to, he explains: The first was his proposal, and the second —
But we don't get to hear the second, because Min-young screeeeches to a halt at that. Wait, he wasn't joking then? He really meant to marry for six months? Fo' serious?
She's confused and he's totally enjoying her confusion as he reminds her that she was actually the first one to propose the six-month relationship.
Flashback. It's several months ago at their office — the station of broadcaster CBM, heh — and Sun-woo is fixated on his work while Min-young pesters him to date her. What about just for six months, then, or even three?
Sun-woo's not going for it, and she pouts, "Why'd you kiss me then?" He reminds her of the cold hard facts (which seem to be his specialty): That she kissed him. She retorts that he enjoyed it more, haha. But it does hurt her to see him not taking her seriously, even as it surprises him to see her taking it so seriously.
Back in the present in Nepal, Min-young recalls with some embarrassment that he's right, but says defensively that she was saying that out of drunkenness. What woman would like his cut-and-dried unromantic proposal? Sun-woo agrees to take it back, which pisses her off more.
She gets out of the car and stomps off huffily, muttering that her mother was right saying that honesty would only hurt her. Sun-woo calls out to her, then starts driving slowly alongside her as he offers to renegotiate. She bristles once more at his wording and chides, "This is why you can't get a date!"
In her pique she uses the word dangshin, which in this case is spoken insultingly (like yelling, "Hey, you!") and he gets peeved about her lapse in respect. That gets her back in the car and he smiles. Cute.
He asks to be let out at the police station, though he declines to explain why, and is greeted by a contact who's expecting him. This, then, is that second matter of business bringing him to Nepal, and he sends Min-young back to basecamp without him.
His Korean contact at the station translates for him and presents him with a box containing belongings of a deceased person. Ah, a relative then. His father?
Sun-woo looks through the things with a cool eye, but the sight of a Polaroid photograph shakes his composure. All we see is Sun-woo's face and the back of a man wearing a red parka, but he clearly recognizes it, and it's enough to prove that this deceased person is related to him.
The Korean contact hands him records of the case and explains that the body was found washed up in a river, badly damaged from being frozen through and then thawed again. Ah, the body wears the same red parka. His belongings were damaged into near-unrecognizability, but the man happened to recognize Sun-woo in the photograph.
Sun-woo asks to see the records of the case and is shown the photo album with crime scene shots. There's that hand clutching that stick again — it's incense, the contact explains. Incense is pretty common here and there are no signs of foul play, so the local police are inclined to call the case an accidental death.
The contact wonders why it took Sun-woo so long to file a missing persons report, however, since the body was found a year ago. Sun-woo just smiles ruefully, saying he wonders that himself; if he hadn't recently come into a reason to contact his hyung, he wouldn't have filed that report or known he'd even died.
Sun-woo takes the box back to his hotel room, where he gives it a cursory glance. His brother (named Jung-woo) had written self-affirming lines into a notebook like "Have courage. You can do it" and "If you have determination, anything can happen." Somehow it sounds like there's more reason for the words than self-pep-talking, though.
The box finally brings tears to Sun-woo's eyes and flashes him back to a memory, landing us in Seoul one year ago.
It's Christmastime and Sun-woo arrives at a cafe to see his brother waiting there for him. Sun-woo breaks into a smile and greets him warmly with a hug, though hyung seems rather distracted and antsy. Hyung wasn't aware Sun-woo had recently returned to Korea after work took him abroad, saying vaguely that he was out of range of emails.
A woman interrupts to offer the brothers the Polaroid photo she took of them; he'd stepped into her shot and she figured he might want it. Hyung asks to keep it, and does.
Sun-woo seems to be the calm, even-keel brother in this relationship, and it sounds like hyung has long been a wanderer and on the outs with Mom. But Sun-woo isn't angry or upset, though he does try to gently persuade his brother to return home as he hands over the money Jung-woo had asked for. Nervous and fidgety, Jung-woo merely says that he needs the money because he's "looking for something," and then asks earnestly, "Don't you want to live like we did in the past? I want to."
Hyung says intently that with Dad gone and Mom "not like she was," him returning home won't bring about that change. Rather, he wants to go back to the past for real, "The past where we were happy." Sun-woo naturally assumes he's talking figuratively, though since we know the title of this drama I'm sure we can get those brain-wheels churning now. What's he discovered?
Jung-woo's voice starts to take on this impassioned, manic quality as he says that Little Bro won't believe him yet, but he'll reveal his discovery soon. It must be sad for Sun-woo, who must be used to this kind of manic talk and just changes the subject. But when he rises to order coffee for them, Jung-woo slips away, leaving merely a note: "I'm sorry, Sun-woo. I'll come back soon."
Present time. Sun-woo blinks back tears at the memory, and finds another photo tucked into his brother's notebook. This one shows their family back in the day, looking happy.
And then he's hit with a wave of nausea and lurches for the toilet, retching.
Min-young knocks on his door in concern, having heard about his brother's death. Sun-woo is back to his collected self now, telling her matter-of-factly that he doesn't want her emotional response. Instead, he'd prefer her company as they go out to eat.
A flash of pain hits, but he covers it quickly. Slipping inside for another pill, he packs up the box of belongings, missing seeing one plastic bag falling to the ground.
As they eat in front of the most gorgeous vista ever, Min-young pesters Sun-woo to explain his six-month proposal. He counteroffers that they can date for three months if she'd prefer, but she's pouting about the part where there's an end date. His excuses sound like just that —excuses — like how it's because he's so busy, which isn't a reason that will work for her: "Who isn't busy?" Sing it, sista.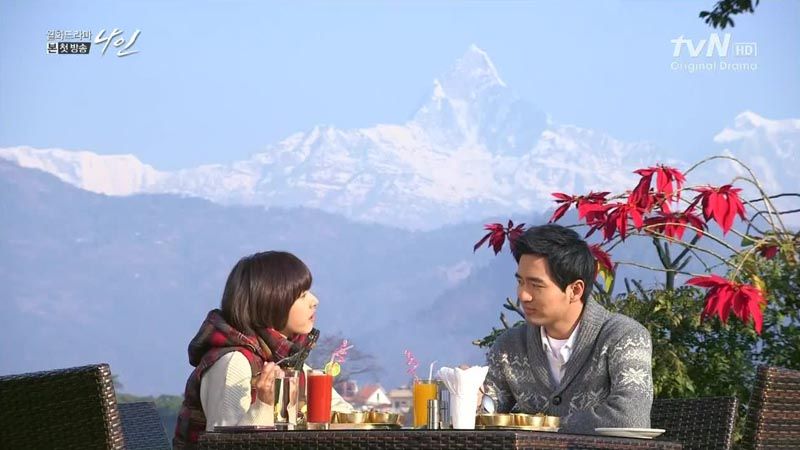 Of course, we are privy to extra information that makes me suspect Sun-woo's being entirely honest about his reasons (if totally cryptic), but to her he's just being confusing. But she doesn't get time to press him because she catches a glimpse of her teammates approaching, and it sends her ducking for cover — neither of them had told the buddies he was here.
But the reporter team spies Sun-woo right away and wonder at his presence, and notice that there's a woman's purse lying on the chair. And that the cell phone left behind is Min-young's. Ha, out breaks a juvenile chorus of "Ooooooooh, are you daaaating?" The whole secrecy bit just makes it look more damning.
That night, Min-young calls Sun-woo from her hotel room and they chitchat about the pesky co-workers. She'd wanted to show him around and invites him out for a beer, but he declines to offer because he's headed back to Korea tomorrow. He tells her to finish her work quickly and come back home, saying half-teasingly, half-seriously, "I won't wait."
Sun-woo tosses and turns in bed, trying to sleep, but has no luck. Rising from bed, he spots the bag that dropped to the floor and sees that it contains a stick of incense and a lighter. According to his police station contact, his hyung had insisted that he burn the incense before he died.
Sun-woo takes the lighter and burns the stick, not thinking much of it, and lies back down to sleep as the fragrance wafts around him.
Then he wakes up… and he's lying on a snowy mountain, dressed just as he was seconds before. The wind is fierce, and before he can react, an avalanche swallows him up.
Sun-woo opens his eyes once more to find himself lying on his hotel bed, only now his face is flecked with snow. What just happened?
The camera zooms in on the incense stick, part of its length burned off. Yeah, I think we got that.
Several days later, in Seoul. Sun-woo is back at the CBM office, standing by to anchor the nightly news. He makes a quick phone call to his mother's hospital, requesting that her nurse prevent her from watching the news tonight. It's Mom's nightly ritual to watch her son's program, although they're not entirely certain she recognizes her son — Mom's not quite right, apparently.
The nurses fear that it won't be easy getting Mom to agree, and they have to forcibly wheel her away from the television because Sun-woo explains that the news will contain a report that will upset her.
A news crew stands by in Zurich for their segment on Sun-woo's news report, and before they go on air the interview subject chooses to speak to Sun-woo. The older man is Chairman Choi, and the two know each other, though there's bad air here.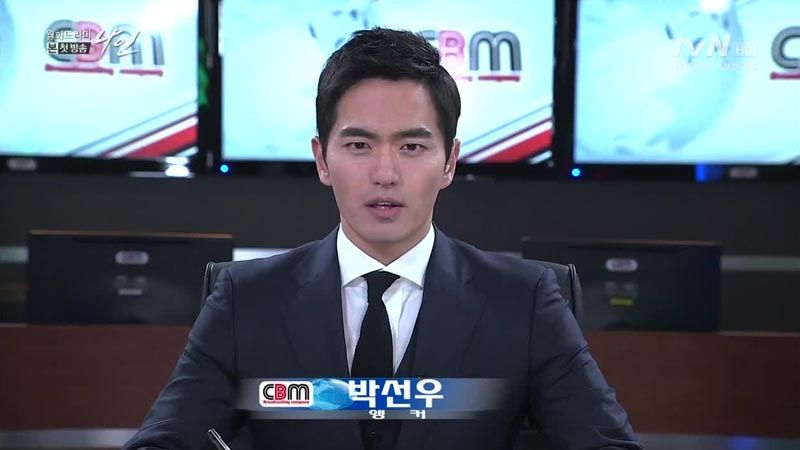 Chairman Choi speaks pleasantly, but Sun-woo has to grit his teeth as he congratulates Choi for his recent success. And when Choi asks about his hyung, that perpetually immature wanderer, it seems like a pointed barb.
Choi explains to his aide after the brief conversation that he's a friend of Sun-woo's father, though it's been ages since Dad died. It's likely that Dad's death is the source of enmity, and Sun-woo's hand shakes after the call.
The consummate pro, Sun-woo is back in control for his broadcast, and the interview with Choi begins with both men speaking from a pre-written script. There's a rather canned conversation congratulating Choi on his stem cell research breakthrough, and Choi feigning modesty as he accepts his accolades.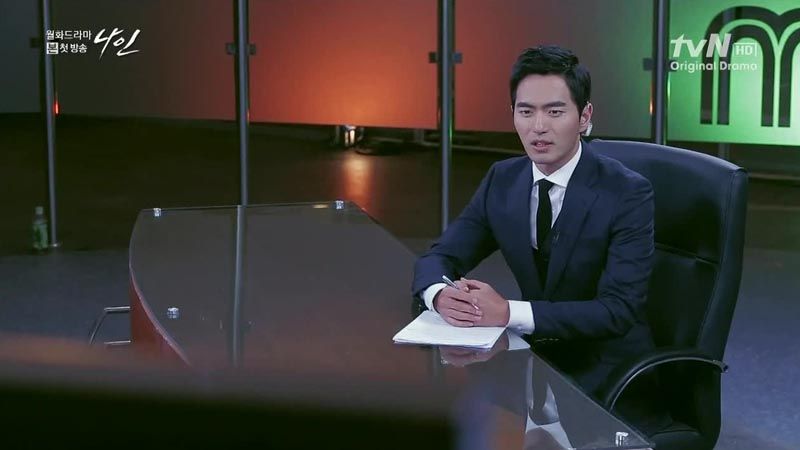 While Choi speaks, Sun-woo furiously writes notes and dutifully reads off the teleprompter for his part.
Time for one last question, and the teleprompter cues Sun-woo to congratulate Choi and sign off. But instead, Sun-woo goes completely off script as he asks — in a deceptively pleasant tone — about the sacrifices that Choi said he had to endure for these advancements to happen. Choi was just being self-congratulatory, but Sun-woo's voice sharpens as he asks whether those sacrifices refer to the intern who was paralyzed in a test, or the woman who died from the research, or maybe the hospitalized senior citizens without legal guardians who were targeted for clinical trials under the guise of free medical treatment?
Whoa, Sun-woo is badass. Balls-to-the-wall. He rapid-fires these facts at the chairman, cool as you please while his news team tears out their hair behind the cameras, trying to decide how to fix this.
Choi handles it pretty well, saying simply that this is all news to him, but that he will be researching it further and Taking It Seriously, yada yada yada. The same ole corporate bullshit. Sun-woo knows it and says sarcastically, "It's astonishing to hear that you did not know."
By the time he finally signs off and relinquishes his impromptu exposé, everyone's wondering if he's off his rocker and what sent him over the edge. Chairman Choi, however, is less surprised and just mutters that Sun-woo cracked: "I thought it was only his brother who went crazy."
The station president is up to his neck in complaints, but he doesn't immediately bite off Sun-woo's head when he comes to see him. (Ha, the president's ringtone is the same one from Queen In-hyun's Man. Gotta work in the reference somwhere.) He's fuming mad but he also seems to be something of a father figure, and he tells Sun-woo that he's looking at a minimum of six months' suspension.
Sun-woo's prepared, though, and hands over his resignation letter. He cuts right to the point: "I'm going to die soon." Headaches sent him to the doctor and he was diagnosed with a malignant brain tumor, with the best hopes of survival being two years after surgery. But he's inoperable and likely only has one year left — six months of walking and talking like normal.
The president is stunned, while Sun-woo smiles bitterly that he's actually relieved at the diagnosis, because it means he's not going insane. Not like his hyung or his mother. He'd always expected it to strike him too, so this is a relief.
Sun-woo explains his reason for telling the president, and why his brother and mother went crazy, and why his doctor father died in a fire — "Because the source of our family's tragedy goes back to Choi Jin-chul."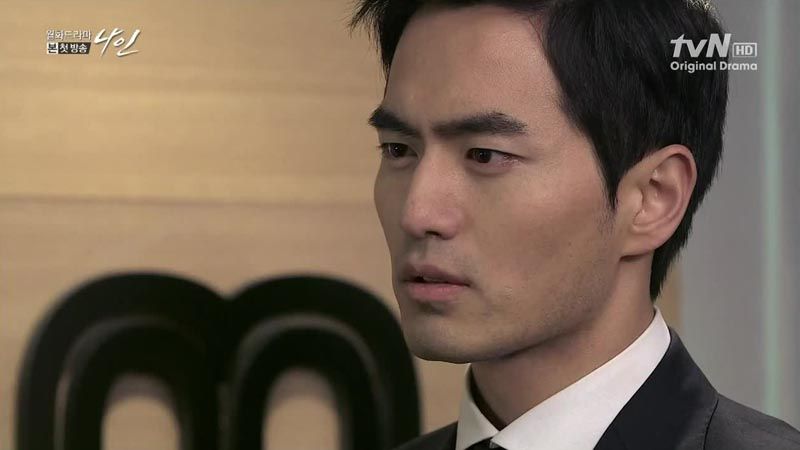 Twenty years ago, Choi burned down Dad's hospital (with him in it), and in the aftermath Mom went insane and hyung ran away. I presume Sun-woo was a minor then, and that left nobody around to protest when Choi easily took over the hospital and built it up. And how unfair that Sun-woo should have to now be the one to congratulate him for that work.
Sun-woo hands over a flash drive containing all his research on Choi. Earnestly, Sun-woo asks for the president's help, so that tonight's broadcast doesn't get swept under the rug.
The president reels from all these bombs being dropped in his lap all at once, needing time to process. But Sun-woo urges him, because he has no time. He had always thought he'd have much longer to get his payback, but the cruel irony is that he might die before Choi.
Nepal. Min-young's team heads up to take a climb up the mountain, teasing her about Sun-woo the whole way, while she thinks back to his three-month dating offer. It niggles at her, and she ends up pulling over to call him — why three months? Why a time limit?
Sun-woo says that it's so they won't get too attached, which confuses her — don't people date so that they DO get attached?
Sun-woo replies, "No, that won't do." She asks why. He replies, "Because when we break up, it'll hurt too much."

COMMENTS
Okay, first things first: Despite enjoying Queen In-hyun's Man thoroughly, I wasn't as fully onboard the Nine train, so to speak, so I approached with some hesitation. The story is interesting and the team is skilled so I had no doubts it would be a solid show, but I guess I just wasn't feeling the zing in the air. Sort of like Vampire Prosecutor 2 being similarly well-written and -directed as its first season but not having the same emotional hook for me.
For most of the first episode, that's how I felt about Nine: It's good, but I just wasn't that into it. Maybe it would make somebody else out there a great crack drama, but it wasn't pushing my buttons. I like the setup and the characters were interesting, so it wasn't a flaw that was tripping me up. Just ennui.
I do think it picked up with Sun-woo's reporter gone rogue routine, and that's when I sat up (literally) and took notice. It's also the scene that finally got me a little excited about what was to come, and made me really root for him for being so hardball about it. Yes, he has nothing to lose, but even without that fear of reprisal holding him back I think it shows strength of character and I'm very interested in seeing him pursue the bastard like a dog with a bone.
It seems to me the show did take the long way around with Episode 1, because it wasn't till that newscast that I finally got the point of the show (even though I knew it from reading promo material). The thing is, of course we shouldn't know what's happening before the show actually shows us, but really, it's right there in the title: Nine Time Travels. By not cutting to the chase, I felt detached and disengaged.
I'm still not sure if this show is going to get me emotionally, and maybe it doesn't have to. But as a revenge thriller with a ticking clock (literally!) I think it's got the goods, and it's driven by a relentless hero with a wry sense of humor, which is gravy.
*crosses fingers*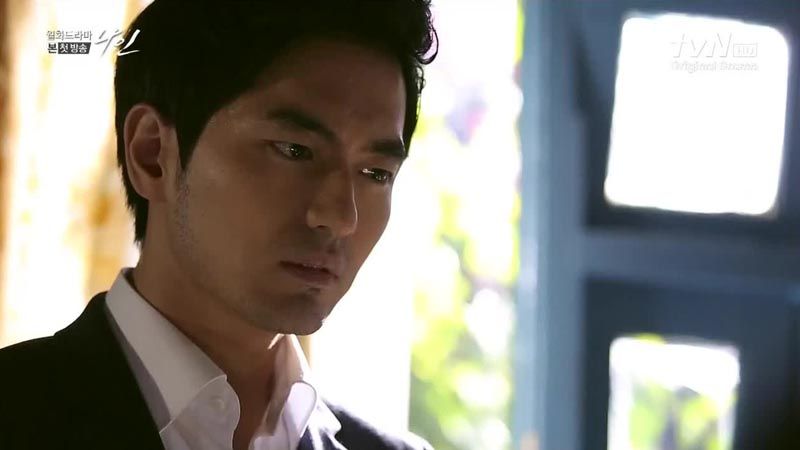 RELATED POSTS
Tags: cable programs, featured, first episodes, Jo Yoon-hee, Lee Jin-wook, Nine: Nine Time Travels