Nine: Episode 2
The second episode has a better emotional hook, as the people around our hero get a chance to react to what's happening to him. In that sense, it's nice that the story moves fast enough that we're not wasting time with big misunderstandings. But overall it's not a speedy show—the pace could use a swift kick in the rear, stat. Though I am warming to the leads, who are smart, honest, and sassy… say, not afraid to give a guy the finger when he's being an idiot?

EPISODE 2 RECAP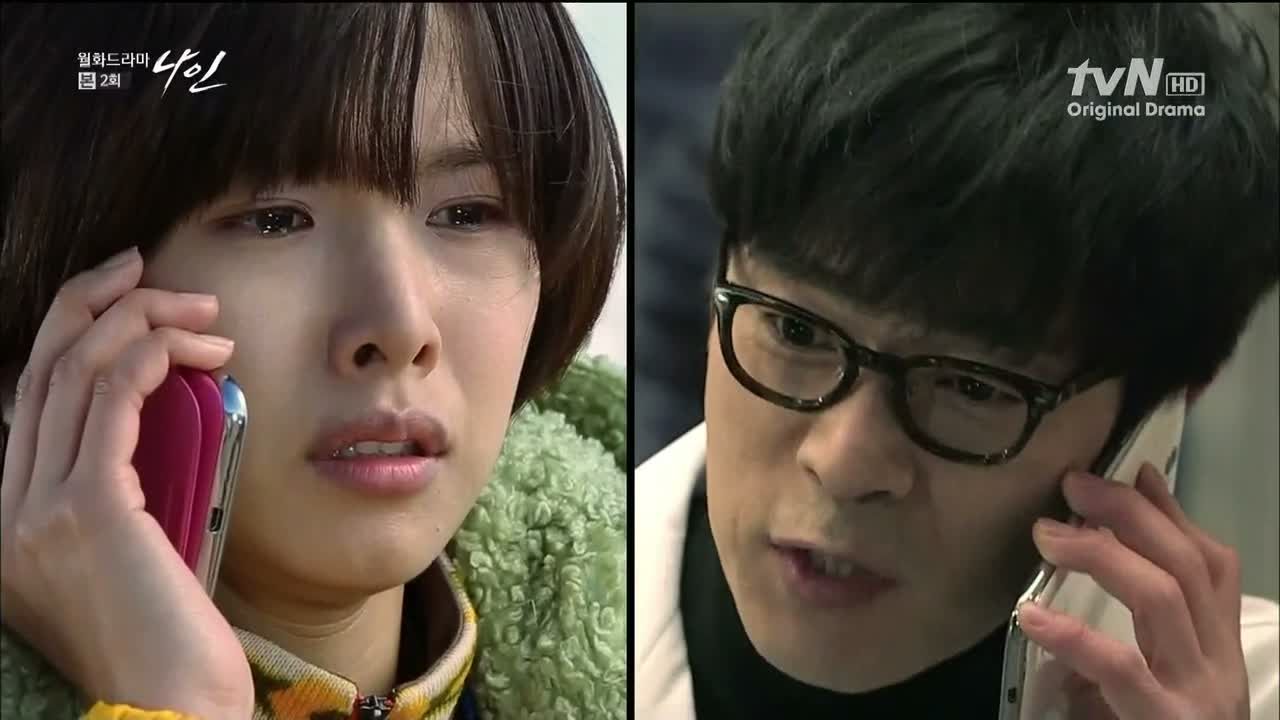 We open in the hospital with a tired, bleary-eyed doctor, Han Young-hoon, who sighs to see his colleagues watching the news broadcast touting Chairman Choi's success in stem cell research. He turns the tv off and closes his office door.
The nameplate on his door tells us he's a neurosurgeon, and then he gets a call from Min-young, asking if he knows anything about Sun-woo because she can sense something's off about him, and if anyone would know it'd be his best friend. Thanks for the exposition.
She returns to the car after the phone call looking bright as usual, but when they get on the road, she starts to cry. Back just minutes earlier to the phone call: Young-hoon tells her about Sun-woo and blurts an angry rant about how the bastard refuses treatment. Even if the tumor is inoperable, there are other things they can do to try, to do something.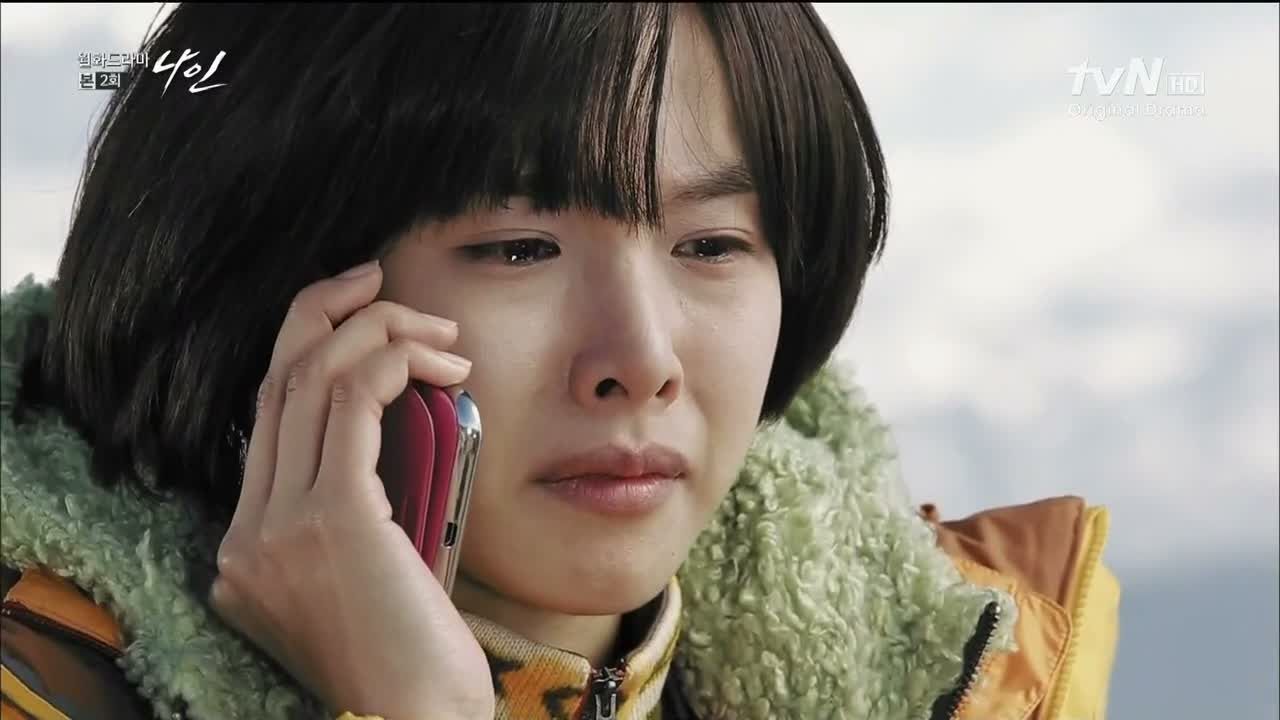 He asks her to try and convince him; maybe he'll listen to her? But she hasn't heard a thing he just said. "No matter what you do… he'll die? No matter what you do, he'll die?"
She breaks down in sobs, thinking back to the strange six-month proposal, and Young-hoon's words that at best he has six months of a normal walking-and-talking life. After that, he doesn't know how bad it'll get. Muffled between her sobs: "Son of a bitch."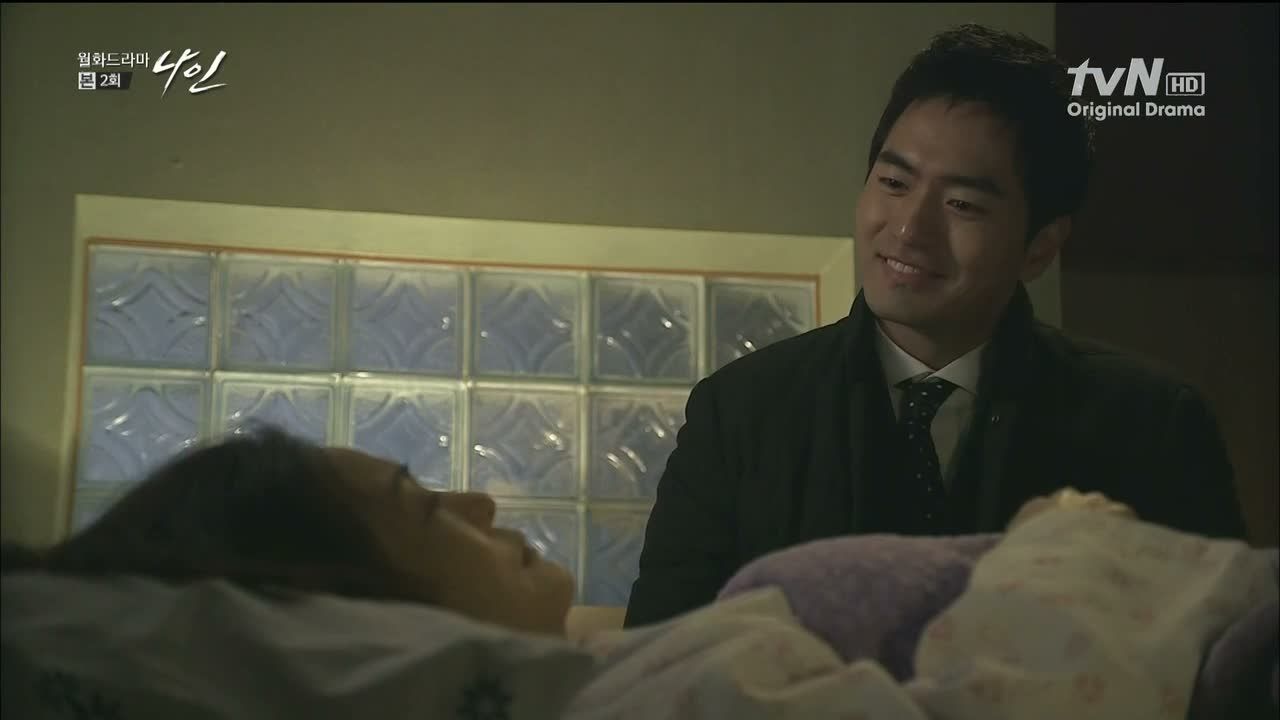 Sun-woo goes to visit Mom, who gives him the cold shoulder and brushes his hand away without a word. It kind of kills me how he puts on a happy face whenever she's looking at him, and how quickly it fades when she's not.
He gets a message from a co-worker at the station who says that all hell has broken loose since his impromptu live questioning of Chairman Choi, but that the other reporters are behind him one hundred percent.
By the time he gets home, the station president arrives just behind him to say that he looked over the file that Sun-woo handed over on Chairman Choi. He thinks it's a fight worth taking on, but worries that there isn't time to fact-check before moving on the story.
He swears that everything in that file has been checked and re-checked, and he can be trusted. The president jokes that he's being rather cavalier because he's gonna die, but what about the rest of them who have to live and face the consequences? Ha. I like this guy. He tells Sun-woo to come back to work, and doesn't take no for an answer.
Sun-woo trudges through his family's giant empty house (which he told his boss that he refuses to move out of in case Mom gets better). The only sign of life is a note from the housekeeper that she sent his hyung's red parka to the dry cleaners. On his nightstand is the incense and lighter he had put away with the jacket.
He gets another head-splitting pain, and when it wears off he decides to light the incense again. He picks up his phone to finish checking his hate mail, when suddenly he loses his internet connection.
He looks up, and he's still in his room… only it looks very different…
There are basketballs and Michael Jordan posters (and New Kids on the Block? LOL.) and a pager sitting on the nightstand.
But what freaks him out most is the sound of Mom's voice, calling him from downstairs. Lulz at the Back to the Future poster behind him—nice touch.
He cautiously makes his way downstairs, and beams at the sight of Mom, happy and healthy and talking to him as if he's Jung-woo. Only, when she looks up, she freaks out at the strange man standing in her house, and a young Jung-woo comes running out wielding a bat.
Sun-woo's so happy to see his hyung that he doesn't even register that the bat is meant for him, until it starts swinging in his direction. He runs downstairs and gets backed up against the giant aquarium in the center of the house, and Jung-woo swings full-force, breaking the glass.
Some of the glass lodges into the back of Sun-woo's neck, and the fish come spilling out. Sun-woo runs back up, confused, and sees Dad come out to ask what the commotion is. By the time he scrambles back into his room to catch his breath, it changes back into his present-day room.
He shakes it off like it was just a weird hallucination, not noticing that his shirt collar is soaked with his blood. He gets a call from Chairman Choi asking to meet when he lands in Korea tomorrow, but Sun-woo refuses.
The chairman says he offered to help Sun-woo's family, but he was the one (along with Jung-woo) who refused his help. He acts like they're the ones stabbing an old man in the back, and asks why they can't work things out.
He asks to speak to Jung-woo, thinking he'll get somewhere with him, but Sun-woo's face hardens at the mention of his brother, and finally spits out: "He's dead!" It's news to Chairman Choi, who asks why. Sun-woo: "Why are you asking why? You're the one who killed him!" He hangs up. Chairman Choi orders his minion to look into Jung-woo's death.
It's only after the call that Sun-woo notices the blood dripping from his neck, and his eyes widen in shock. He's getting stitched up at the hospital when his buddy Young-hoon finds him and sighs at him like he's a misbehaving child.
He takes over the stitching and barks at him that this is just the beginning of who-knows-what kind of blackout, and launches into this tirade that's pretty awesome. He's heartbreakingly sincere about it, but it's also hilarious because there's this doctor standing in the middle of the emergency room, swearing at a patient and calling him a bastard. Heh.
Sun-woo just smiles and calmly takes it in stride. He says the last time this happened he dreamt he was on a mountain, but this time he wasn't even asleep.
The two friends go out to eat afterwards, and Sun-woo promises he'll quit work soon, which is still not soon enough for Young-hoon. He wants Sun-woo in the hospital now, but Sun-woo says he's got all sorts of stuff he wants to do, like go on dates with Min-young. He says he can handle pity from anyone but her.
Young-hoon stops short at that—didn't she call or say anything? He tells Sun-woo that she called asking about him, thinking his behavior weird, and when she asked outright if he was sick, Young-hoon couldn't keep it from her. I love that he even tries to backpedal after that: "It's not my fault!"
Sun-woo heads back to work the next day, and struggles through another splitting headache. What do you plan to do if this happens during a live broadcast? He runs to his desk to pop another pill, when he sees a live feed to Min-young, ready to do her report in the Himalayas.
The guys in the editing room notice that Sun-woo's near the news desk looking at her on the screen, and they guess that he came by just to see his girlfriend. Guess it shouldn't be a surprise that news travels fast in a newsroom.
They connect her audio feed and alert her that Sun-woo can see and hear her right now, and suddenly her face changes. She can barely hold back her tears as she tells the rest of the crew that this is only meant for Sun-woo… and sticks her middle finger up at the camera. Hahahaha. She's great.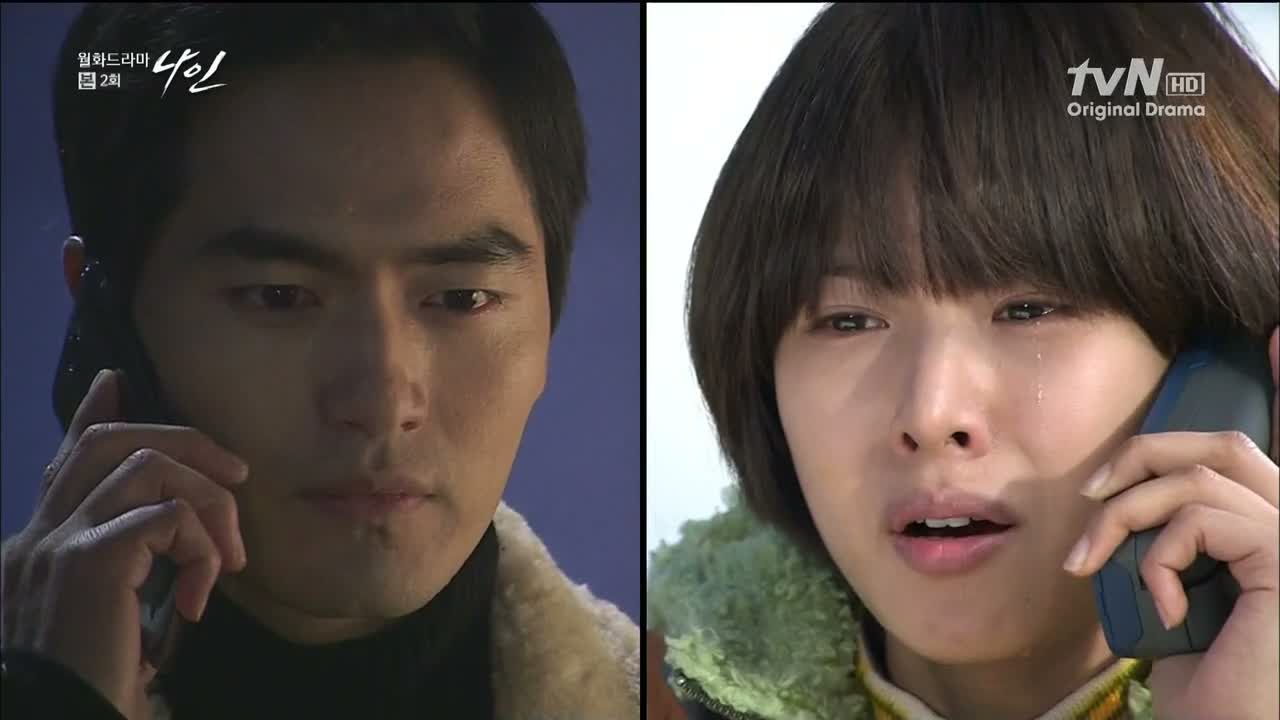 The crew wonders if maybe they had a spat, or Sun-woo cheated on her or something. He doesn't betray any emotion in front of the staff, but she runs off to cry alone. Sun-woo calls soon after, and says in his normal even-keel tone that she sure is being ballsy—is it because he proposed, or because he's dying that she figures she can act this way?
She holds in her tears without saying a word, and when he eggs her on for an answer, she finally bursts (in banmal): "You are, in one word, a son of a bitch! There will never ever be another son of a bitch like you!"
She says he's the one overstepping with that proposal nonsense, and tells him he can live alone and go alone. Angry tears stream down her face as she mutters at his unbelievable proposal. She tells him to come up with some sort of excuse.
He asks if she wants fact or fantasy, and doesn't really give her the option, as he answers factually: when he found out he was dying, he had two thoughts. One was worry for Mom, and who would take care of her when he died. That's why he went to find Jung-woo.
Two was Min-young, or more specifically, how he wouldn't be able to die without regret if he didn't sleep with her. Pffft. You really have this knack for being unromantic. He says (like an oppa, giving her love advice) that she isn't to trust any man in the future who says differently.
Sun-woo: "Do you want the fantasy version?" He says that for the past five years, Joo Min-young was nothing but a troublesome hoobae who had so much to learn. "But the moment I learned I was dying, I realized… that during those five years, I had loved her all that time."
Goddamnit. I don't want to be swooning but I am! Bastid.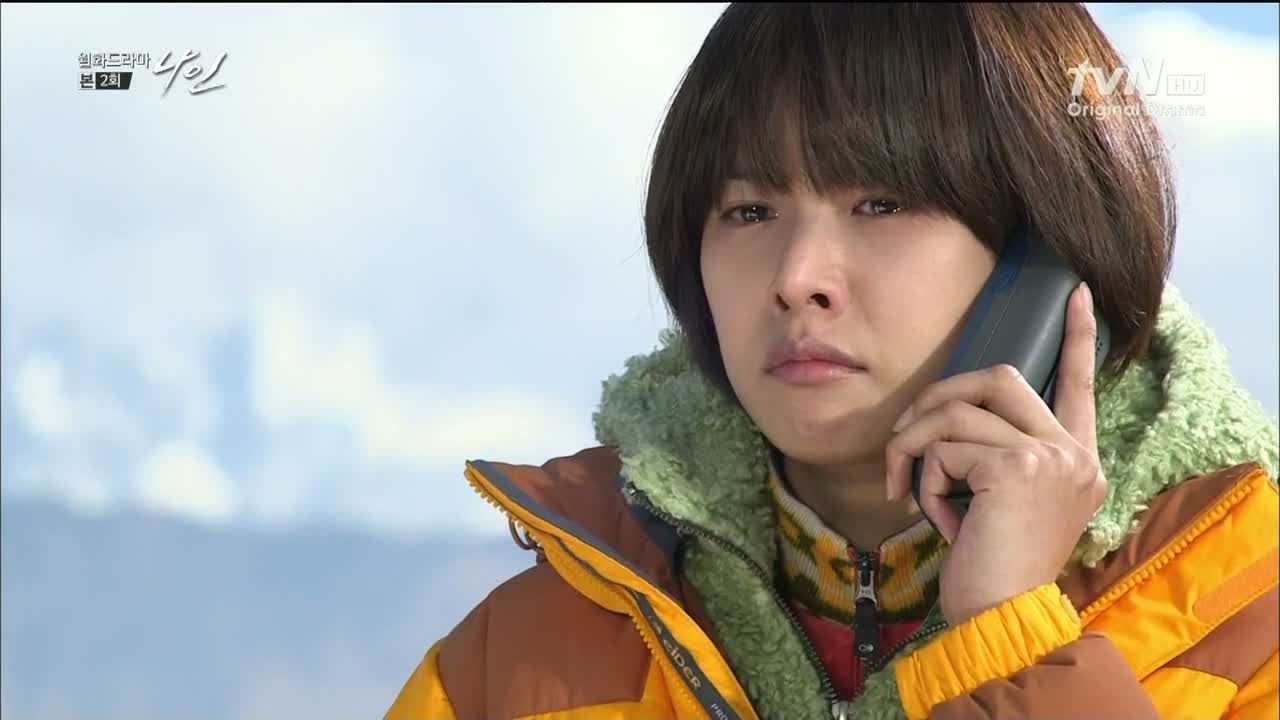 He continues: "I know now that there was never one moment when I didn't love her. But it's too late. So I wanted to spend my remaining few months with her, doing everything I could for her."
He says that if she found out he was dying, he was scared he'd never see her bright smile again, which is why he kept it a secret. "What's so important about some smile, you ask? Right now I'm using all my strength to gather some energy, but countless times a day I want to cry. It's not just a smile. To me, right now, it's everything."
And then he wraps it up with a tacked on: "…If any man spews this kind of fantasy at you, he's lying. Don't be fooled." She asks why the fantasy version sounds more real to her. He wonders why, insisting they're just a bunch of lies. Uh-huh. He hangs up with another lie that at least with a clear rejection from her, he has no regrets.
A little while later, Sun-woo gets a call from the housekeeper, who found his pager going off inside his closet. She says he left it in his suit pocket, and he says it isn't his and hangs up, not thinking much of it.
But then it dawns on him—the pager he picked up on the nightstand during his "hallucination." He calls her back to ask for the number being paged and tries it, but the number's been disconnected. But it's the same number, over and over.
You know, I'd ask how a pager from the nineties is getting calls in the present day, but these are the Inhyun people, so I should just be glad it's not also a teleporter.
He sends a messenger to pick it up, and calls Young-hoon to ask if maybe that incense he found among hyung's things could be laced with a drug. Young-hoon thinks it possible, and a good sign if it is, since that means he's not going crazy yet.
But the pager is tripping him up, because if it's not his brain tumor, and it's not drugs… what could this be? He puts a minion on pager-tracking duty, and tells him to find out anyone who's had that number that's being paged, since the time that pager was made until now.
He sits down in the dressing room and thinks over the events, and decides to give the incense another try. He lights it, and ends up in the same dressing room… but this time we get a clear split-screen of Sun-woo and another reporter, in the same space, just not at the same time.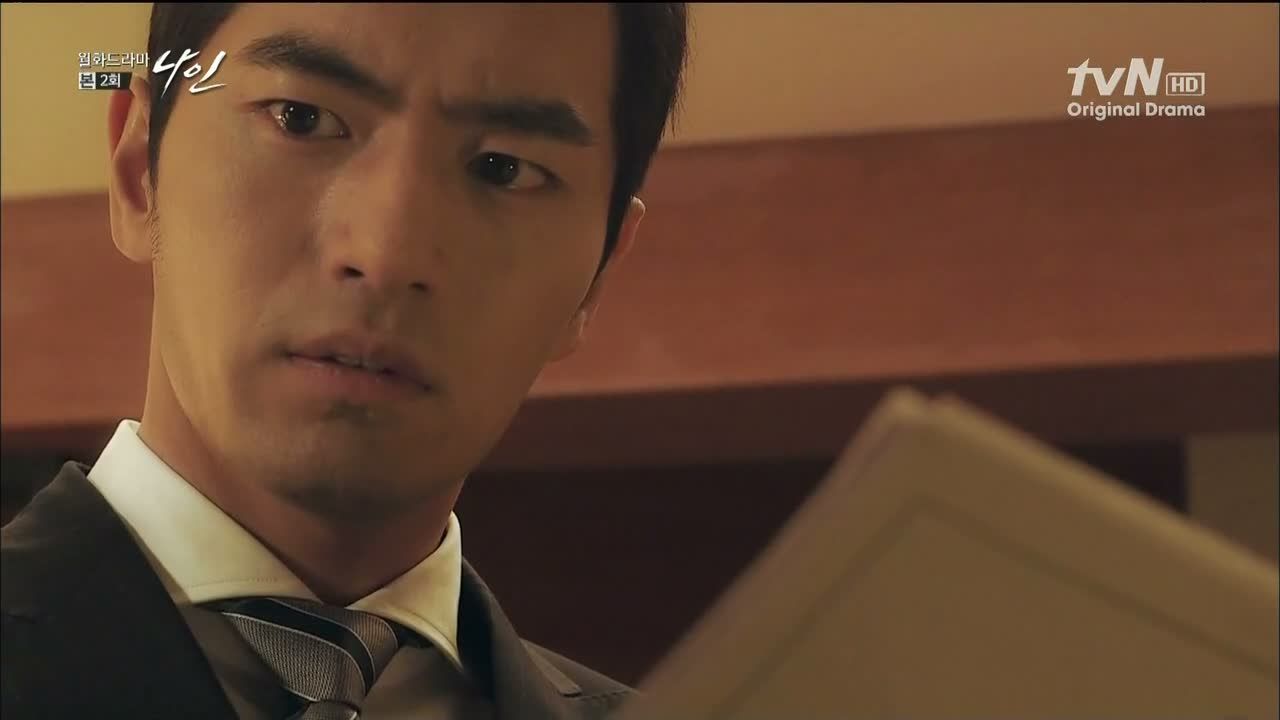 He looks over at the tv off to the side, and there's Seo Taiji, singing and dancing. As if that wasn't enough, there's a newspaper sitting on the table, and the date printed on the front page is December 21, 1992.
In the present day, the staff starts to freak out because Sun-woo has up and disappeared, with seven minutes to live broadcast. Eep. They scramble to find a backup anchor, and everyone, including Min-young who's listening in from her post, starts to panic.
Sun-woo starts to clue into what's going on, and picks up the phone to try calling the number on the pager. Someone picks up—a teenage boy. He asks if the ajusshi has his pager, and Sun-woo freezes at the sound of the boy's voice. It's familiar, and he asks who this is.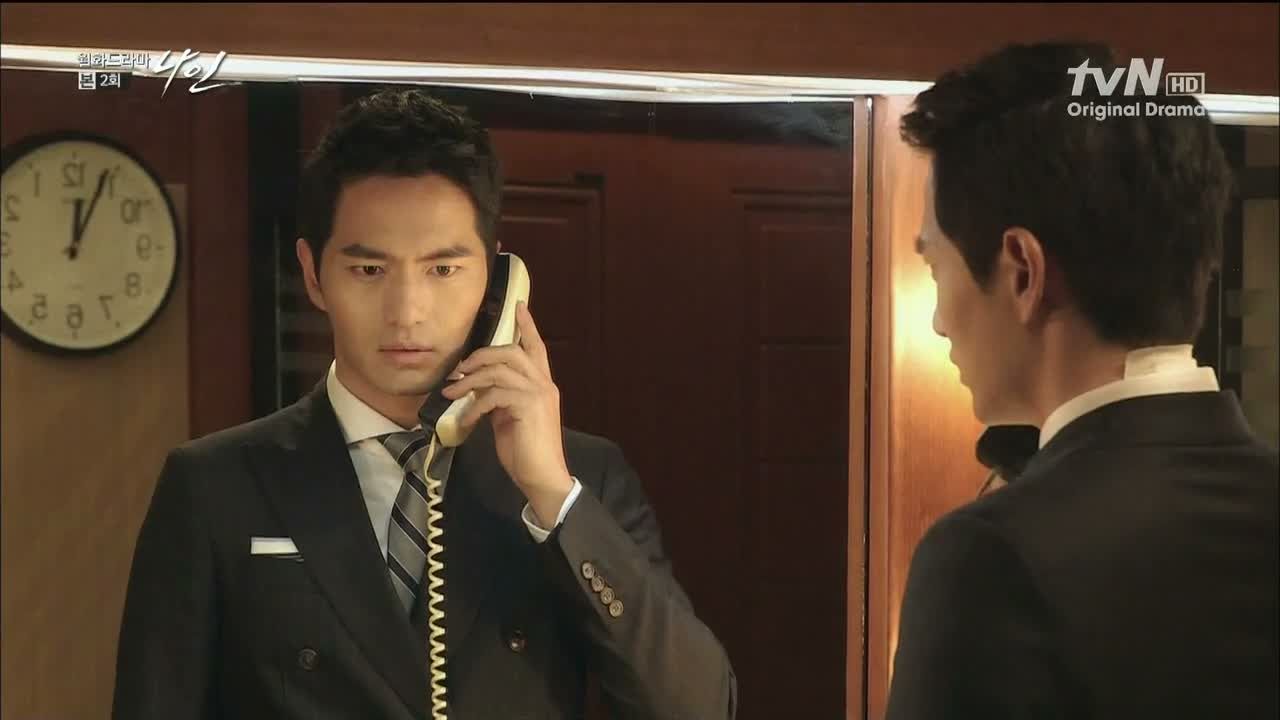 Kid: "Park Sun-woo." Dude. Are you talking to your teenage self? I like that he's actually standing in front of a literal mirror as he does this. He asks who the ajusshi is and why he has his pager. Sun-woo looks back at the date on the newspaper…
Sun-woo: "Myungjin High, second year, class 5… Park Sun-woo?" Teenage Sun-woo starts to get nervous and asks how this ajusshi knows all that and who he is.
"I know it all because… I'm you."
Omg you did NOT just say that. Split screen shows the two Sun-woos, with the same nervous tic, finger to bottom lip.

COMMENTS
For a guy who used to have a poster of a DeLorean on his wall as a teenager, you'd think he'd be a little more cautious about running into his past self and making declarations like that. In any case, I'm glad we finally got our hero up to speed on the time traveling, because you really don't want your audience ahead of your drama, going, When's he gonna geddit?
It's an interesting setup to make time travel the means by which our hero wants to change history, whereas most time travel dramas have been the other way around, with people struggling not to damage the flow of history by upsetting the order of events. (Or say, inventing things when they shouldn't have been invented, saving people who should have died…) I like the idea that he's just shuttling back and forth during his own lifetime, to fix the things that went wrong for his family, Marty-McFly-style. Of course the interesting part will be the consequences of his actions, because there's always fine print and loopholes on these time travel contracts that'll get you every time.
I still dislike the brain tumor/dying hero setup to begin with, but at least things are out in the open right away, because if he were actually planning to be with Min-young for six months without telling her, I would've dropped this show like a hot potato. Just: NO to that kind of drama. The big relief is that Sun-woo is so matter-of-fact about dying, so coolly charismatic about the whole thing, that I find myself getting invested in his character. That's a coping mechanism that I get, and maybe I just like gallows humor, but it's sort of nice to have him choose to make jokes, and more importantly, to see his remaining time as his last chance to leave without regrets.
I'm not sucked in completely yet, but I do really like both Min-young and Sun-woo's characters and their biting wit. I think they'll make for a great couple, so there's good stuff here. Though in all honesty, I do wish the whole thing felt fresher, both conceptually and in execution. We're still on a trial basis with this show, so we'll have to wait and see how next week's episodes pan out before committing to the series. What I really want is for the story to move faster, and now that our time traveling hero is aware that he's a time traveling hero… we'll get this train out of the station, yeah?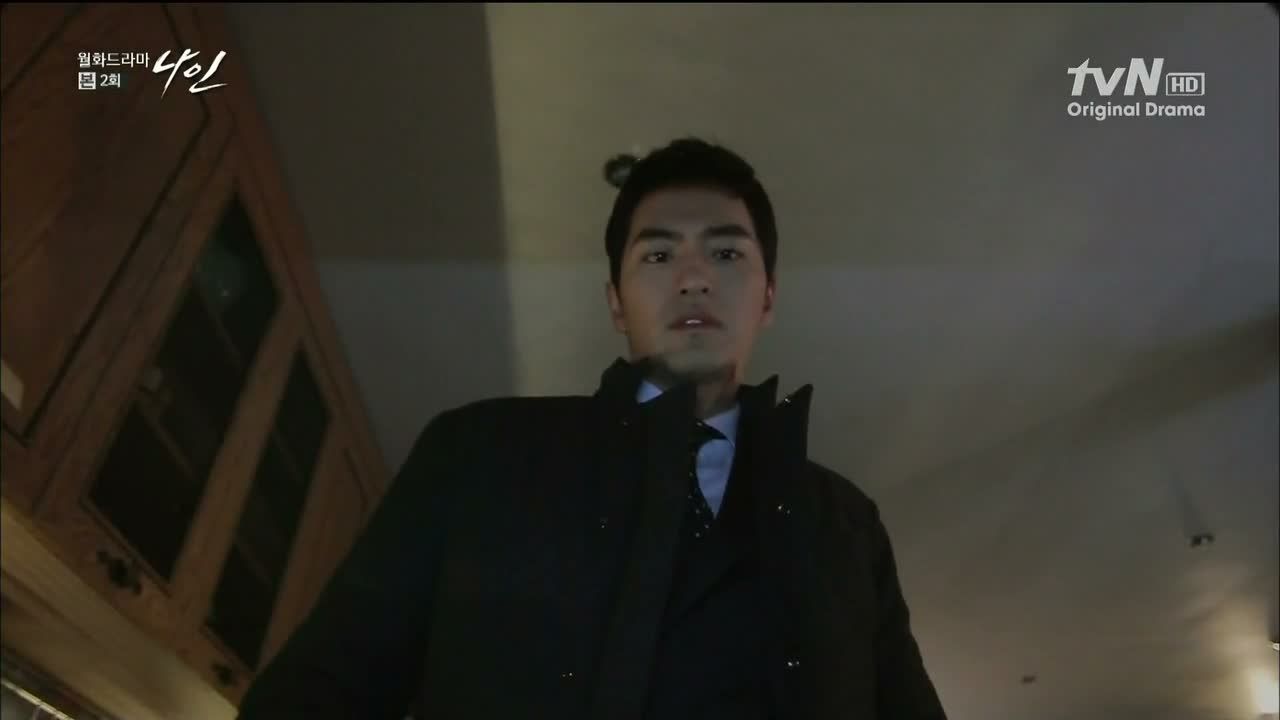 RELATED POSTS
Tags: cable programs, featured, Jo Yoon-hee, Lee Jin-wook, Nine: Nine Time Travels