Posters and teaser for TEN Season 2
This franchise sure knows how to make one graphic concept go a long way. And I don't even mean that in a bad way, because TEN's character posters always stand out for me, and I think it's helpful to have a strong recognizable style. Especially when your show's concept is just gritty crime solving. Season 2 of OCN's hit crime procedural Special Affairs Team TEN is due out in just a few weeks, and will be returning with the same creative team and core cast, led by Joo Sang-wook.
In fact the entirety of the teaser's concept is that TEN 2 will be more of the same, since the first season was such a critical and ratings darling for cable network OCN. Joo Sang-wook stars as the lead investigator on the special task force called TEN because they go after the cases that have less than a 10% chance of being solved. His character is called the monster who catches monsters — the detective who gave up teaching crime-solving to get back into the field after the brutal murder of his wife.
Kim Sang-ho plays the good-natured veteran cop who always chides the team to at least treat people like human beings, and Jo Ahn is the team's profiling specialist. Her tagline: "Is it a blessing to know when someone is lying?" Choi Woo-shik is the pretty boy rookie cop, the guy on the ground who does all the running and grunt work, and insists that this team couldn't do a single thing without him. I love the pompadour he's sporting in his character poster.
Season 2 will hinge on a new mystery that begins with Jo Ahn's character at the center. She has a secret that she can't reveal, and it'll hold the key to the larger puzzle they have to unravel. The team's dynamic will reportedly shift as well, though all of these hints are just that — tiny hints. It's basically a trail of breadcrumbs that spells IT'S A MYSTERY, so I guess we'll just have to watch to know.
TEN 2 premieres April 14 on OCN.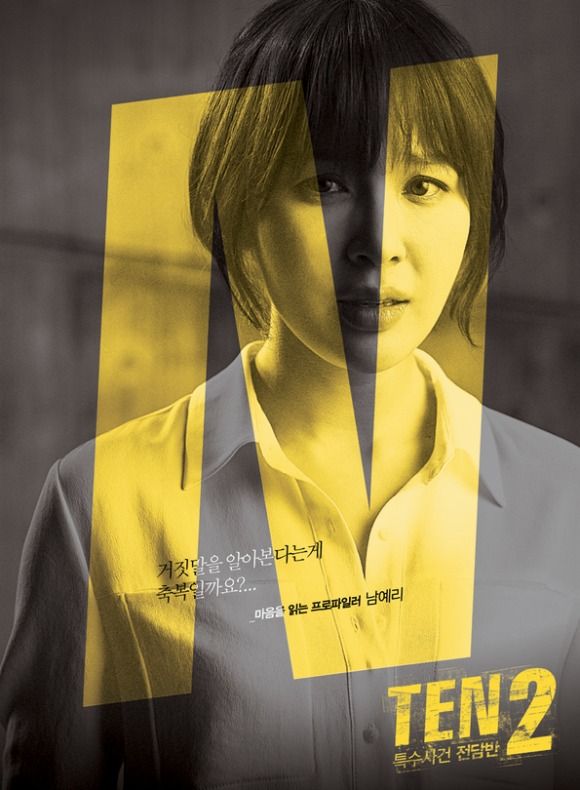 Via TV Report
RELATED POSTS
Tags: cable programs, Joo Sang-wook, sequels, Special Affairs Team TEN