Running Man: Episode 138
It's time to go back to School with the cast as rival clubs face off to find out who will reign supreme. But while you relive those high school memories, I'll be here staring at Oppa. That's right – there are times when the variety gods hear and grant your earnest prayers. It's as if Christmas came early to a beautiful you.
EPISODE 138. Broadcast on March 24, 2013.
Welcome to the Running Man locker room where our cast members are currently fighting over who's captain of the jocks. The boys hang a lantern on mat-hyung Suk-jin's age, calling him "Teacher."
Then when Ji-hyo shows up, Haha shrills, "This is the boys' locker room." Ji-hyo: "I'm a guy! I'm just wearing a skirt!"
But we know who the real captain is as the door flies open and Jong-kook walks in. HA.
Elsewhere at the gymnasium, Jae-suk gripes at his supposed backstory from star athlete to the president of the drama club. But wait until you see who's about to join you!
Actor and returning guest Kim Su-ro (Gentleman's Dignity) greets Jae-suk with a smile and playful name-tag-rippin'; followed by actors Lee Jong-seok (School 2013) and Kim Woo-bin (School 2013).
I'm just going to catch my breath here and *squeeeeeeee.* I've been fervently praying to the variety gods for Woo-bin to show up on this show ever since he mentioned that he wanted to in a previous interview. And look, dreams do come true.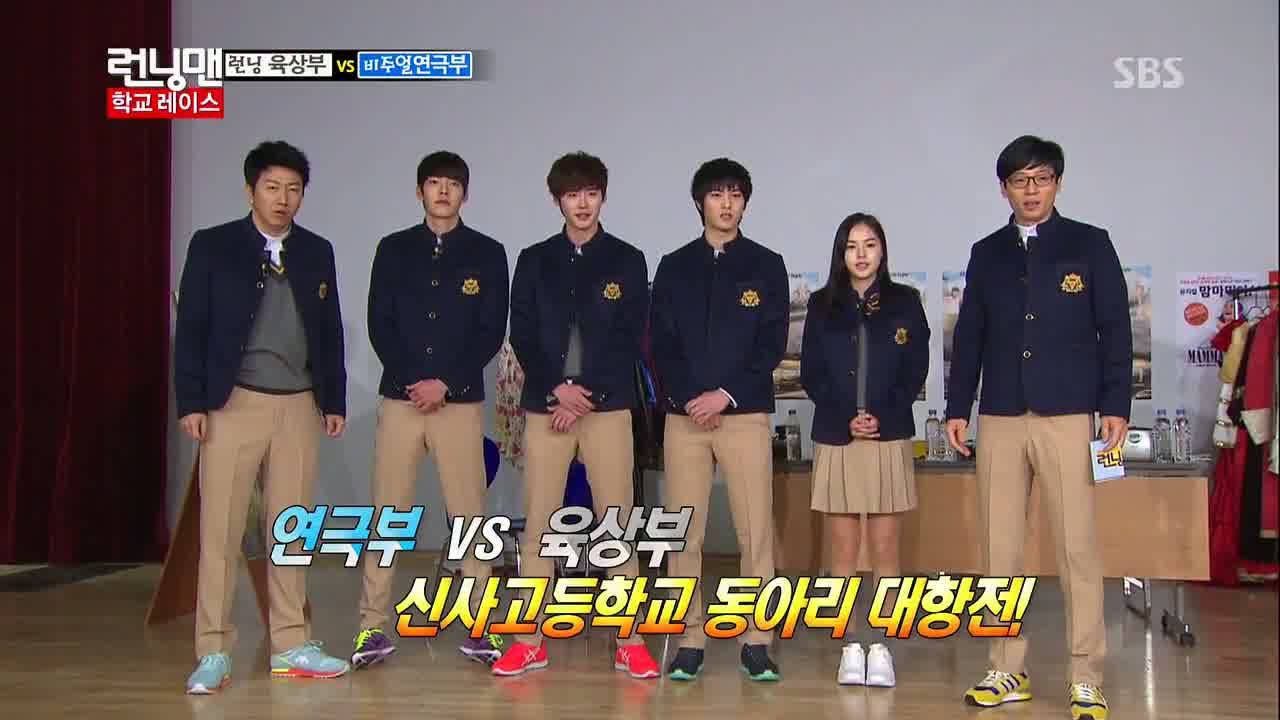 Then with the reappearance of idol Lee Jong-hyun (CNBlue), I'm starting to think that this is a flower boy special. Not that I'm complaining, that is.
But that's not all – actress Min Hyo-rin (Sunny) is here to balance out the group. Either the boys are too tall or Hyo-rin is super petite because she immediately shifts to Jae-suk's side.
Has anyone else noticed that Woo-bin Oppa has smiled more in his two minutes onscreen than the entirety of School 2013? I'm in a daze right now.
As Gentleman High students, the rival clubs will face off and must procure and protect the school's flag for their team. The first round is a 2-versus-2 name-tag-rippin' battle. It's tournament-style, where another teammate is brought in whenever someone is eliminated. So we're going to start off fierce, eh?
Jong-hyun pipes in, "I already lost!" Reminded of his first two appearances, he adds, "[The end] wasn't all that great." Because you were eliminated early in the game? Hahaha.
Su-ro aks the Game Devil isn't happy to hear that since he's got his eye on the prize. Aw, at least Jae-suk is nice enough to cushion the blow, saying that the smiling angel went out laughing.
Both teams start to strategize and send out their first batch of competitors: Jong-hyun and Woo-bin versus the Easy Brothers. Oh boy, this ought to be interesting.
As Kwang-soo roams the halls, he regales us with his bitter tale about how the drama club rejected him due to his looks. But he's got to start running because Jong-hyun has caught sight of him and gives chase.
The former Gentleman's Dignity co-stars turn out to be a great team as Jong-hyun greets Suk-jin as Woo-bin sneaks up towards the Giraffe. But soon, they're back on the ground and Kwang-soo raises an interesting observation: "It's amazing that we've been in the game for this long!" Indeed.
Suk-jin tries to feed his teammate to the wolves, but it's Kwang-soo who runs for the hills, leaving the mat-hyung defenseless. And with his elimination, Race Start!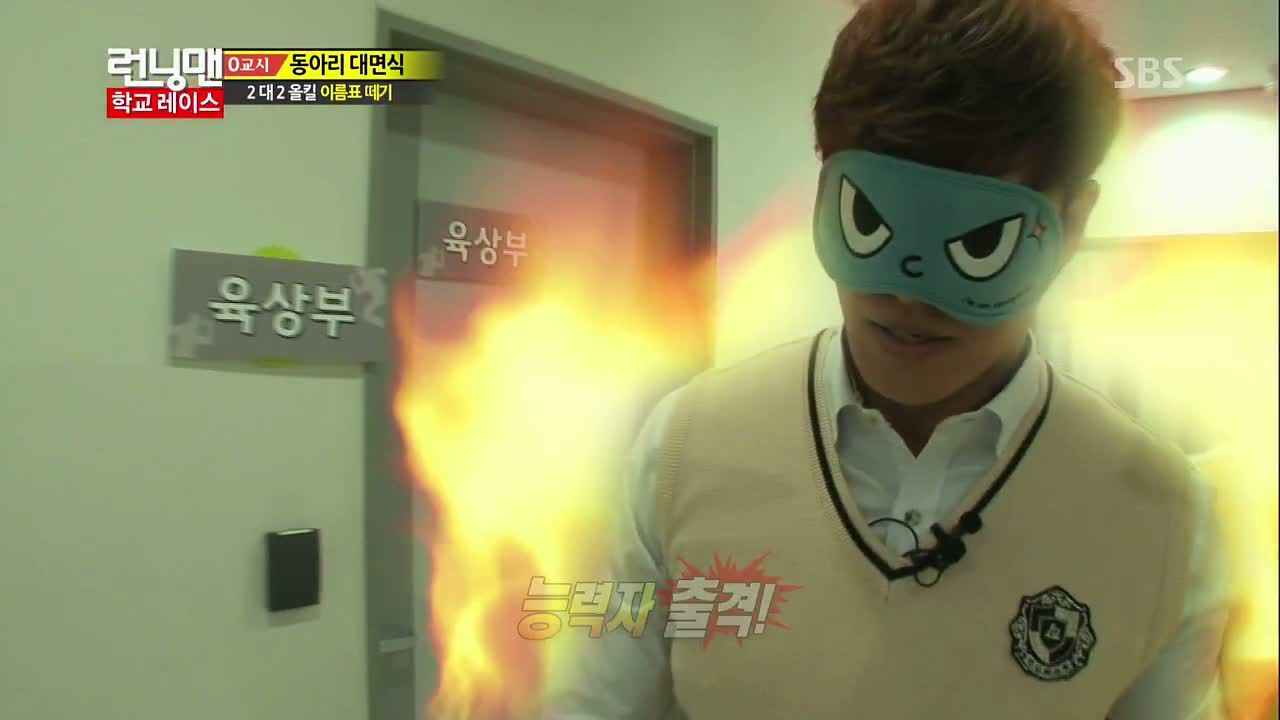 Which means it's time to send in the big guns and the Kookminator rises. I love how Jong-hyun's like, We gotta wear the hyung down 'cause they're old, completely unaware that Jong-kook's on his way down.
Kwang-soo silently guides Jong-kook to clunk into a few things before the Tiger finally takes off his mask and retaliates with a swift kick to the shin. Once he's filled in, the jocks implement their plan and Kwang-soo runs down the hall, shouting Ji-hyo's name. You're gonna bait the boys? Brilliant.
The boys bite and rush to take the opportunity to eliminate Kwang-soo. But they freeze at the top of the stairs and bolt in the other direction – they've seen Jong-kook.
Both Kwang-soo and Woo-bin grab each other's name tags simultaneously, but it's Kwang-soo who comes out victorious. Jong-hyun puts up a fairly good fight, but he too is eliminated.
Time for Jong-seok and Hyo-rin to enter the battlefield after the double elimination. Kwang-soo uses the same tactic as before, only this time Jong-seok appears to catch him. Ha, and then he lets go as soon as he sees Jong-kook. It's amazing how just a glimpse of Spartakooks can induce such fear, though given his limp it looks like his leg isn't fully healed yet.
The editing really does make it look like Jong-seok and Hyo-rin are a CC-couple (aka "campus couple" where both students are from the same school) as he takes her wrist to run away. I think it's safe to put any loveline rumors to rest for now since they address each other in jondae.
With renewed confidence, Kwang-soo approaches them and Jong-seok comments, "I've never seen you so aggressive when I watched you on TV before!" And though Kwang-soo might seem confident when it's 1:1, he freaks out when Hyo-rin jumps out to help.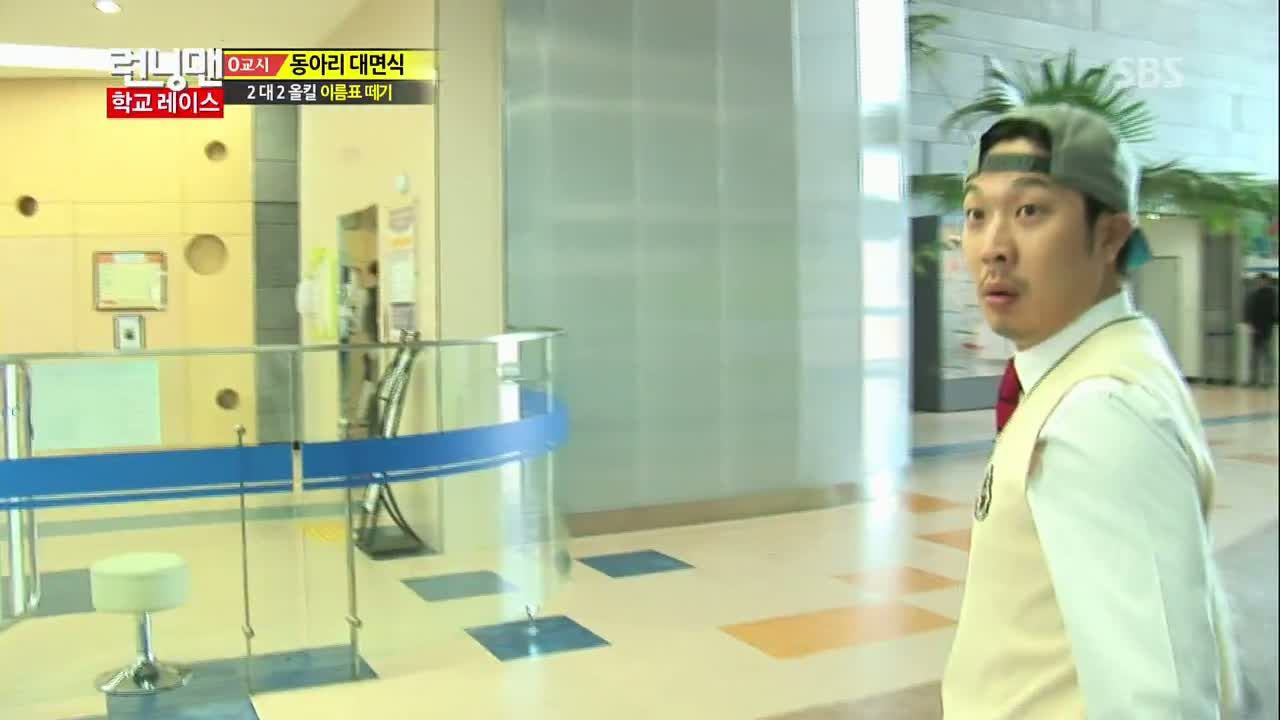 Haha comes out to play and he runs as soon as he catches sight of the other team's reflection. But he's soon captured and just like everyone else, does the one thing he can think of in his time of need: scream Jong-kook's name.
The drama club hyungs are pleased to hear of Haha's elimination, which brings the jocks numbers down to three. Ji-hyo heads out with her trademark blank expression on her face and Gary comments, "She hasn't woken up yet…"
Ooh but this means SpartAce is out on the field and they leisurely scope out the place before heading downstairs.
Jong-seok is practically out of breath by now and Ji-hyo practically throws her hands up in the air and cries, "[Hyo-rin]'s so petite! It's like I'm dragging her!" Then Jong-kook eliminates Jong-seok when he falls to the floor and Hyo-rin gets eliminated easily enough.
The CC couple climbs into the car and are in awe at the Running Man cast's stamina. Well, they HAVE been doing this for about three years running now.
Now the drama club hyungs enter the arena to face SpartAce and both sides are like, C'mere. Jae-suk's lone presence tips off SpartAce that something is off, but when they confront him about it, he yells, "There's a family situation!" as if it explains away Su-ro's absence.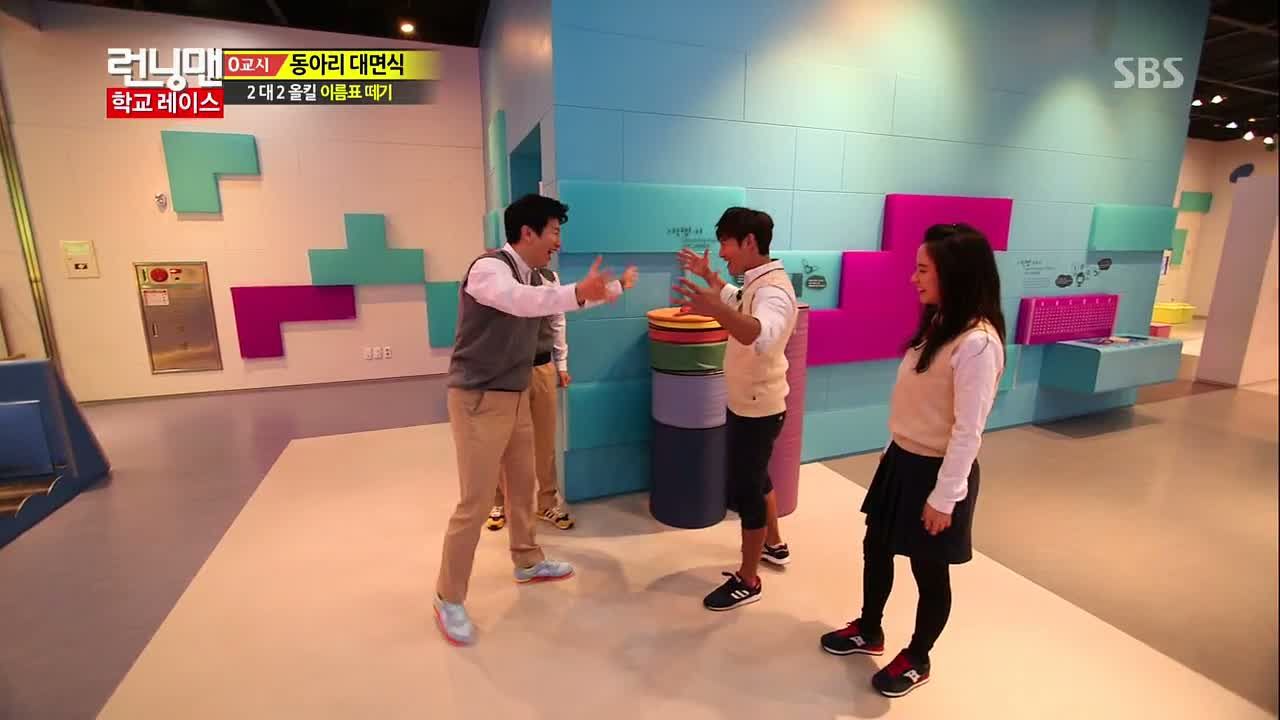 They continue to taunt each other, even as SpartAce cautiously steps inside. But then Jong-kook breaks into a smile at the sight of Su-ro, and the two air-hug because neither man doesn't trust the other. Hahaha.
They circle around each other until someone starts grabbing and a few seconds later, both Jong-kook and Su-ro have a hand on the other's name tag. And woah – in a blink of an eye, Su-ro's got Spartakooks's name tag in his hand.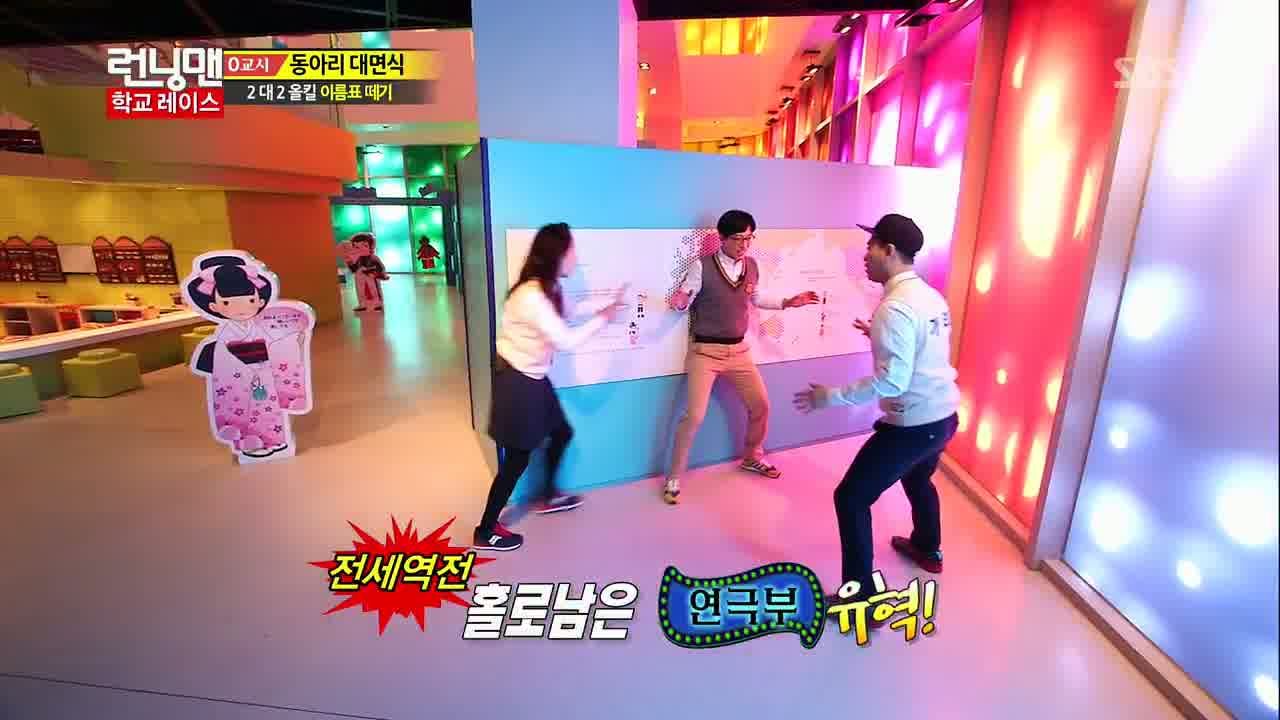 Gary is surprised to hear that Su-ro's a guest today and when the sunbae offers to shake hands, Gary yells: "You don't shake hands on Running Man!" 'Cause you end up getting eliminated.
The drama club hyungs corner the Monday Couple but in a surprise turn of events, Ji-hyo grabs a hold of Su-ro's name tag… and rips it right off. Daebak.
Then Jae-suk eliminates Gary and gets tickle-attacked by Ji-hyo, who once again proves why she's the Ace and tears off the Grasshopper's name tag.
The jocks revel in their victory and chant happily in the car… right in the drama club's faces. Oh, high school.
Jae-suk checks in with Woo-bin's thoughts about the first round, to which he gets the response: "I don't think we were all that active." Then Jae-suk comments that Jong-seok looks an awful like his younger self and Su-ro is quick to deflate that bubble: "I saw you when you were younger!"
Everyone arrives with happy faces at the next mission location where the staff will pick three games suggested by the cast members. The kicker: The losing team will pay for the winning team's snacks. So everyone happily digs in.
The clubs snap at each other as they eat and Jae-suk boasts of the tall heights of his model classmates. The jocks reply: "We've got Kwang-soo!" Touché.
The first game is a relay snack-eating race where the team with the fastest time wins. The jocks go up first and Gary reels from the hot ramyun before collecting himself. Man, that ice cream is a brain freeze waiting to happen. And nothing like ramyun soup to wash it down. Eww.
Omg, Haha's like a human chocolate shredder. Watching Jong-kook and Kwang-soo down their respective drinks is almost like watching a CF. Kwang-soo gets ready to whistle… and burps up his cola. HAHAHA.
The drama club will need to beat 4 minutes and 55 seconds and Hyo-rin eats her egg in 25 seconds. Woah. Oppa even looks flawless while eating ramyun (though Jae-suk teases him to stick to his tough guy image).
Aw, and Jong-seok gets Insta-BrainFreeze ice cream with a ramyun soup chaser. But that's nothing a bromance hand-holding can't fix. Teehee. *rewind* *replay*
Jong-hyun drinks nearly all of his water before chokes up and everyone collectively yells, "You've got some left!" Jae-suk's eyes bulge at the carbonation and ends up burping before anything else. HA.
In any case, the drama club wins it with barely a 8 second difference.
The teams are tied by the third game and for their final game, the teams will line up to create the longest collective split. Jong-kook gripes at the idea but Jae-suk counters that it'll be hilarious for variety. Truer words.
Now I'm thinking that just because you've got long legs doesn't necessarily mean you're all that flexible. Sure enough, the School boys are not but Su-ro inches his foot forward.
Leave it to Kookie to coach his teammates through the pain. That's a pretty legit split there, Gary. He extends his foot as far as he can… and it's just enough to clinch a win.
And aww, did Su-ro just take one for the team and foot the bill?
Onto a swimming pool and the setup looks mighty like it's a wrestling match ahead. The drama club members slip and slide across but the goal of this game is simple: Last person standing wins it for their team.
Our two team leaders face off and Jae-suk fails to try and scare Jong-kook off. And then he even acknowledges that Ho-dong is better at this tactic than he is. Ha. And if Jong-kook can flip Ho-dong over, then Jae-suk is just a small fry in comparison.
Then in a moment of distraction, Jong-kook approaches and Jae-suk freaks out.
Jong-kook pounces when the drama club converges to strategize, but the plan backfires and soon the rest of the drama members push the jocks into the water. It's chaotic but the jocks end up winning the first round.
Jong-seok tries to attack Gary in the second round, but gets easily tossed aside. Is this going to be a 1:1 thing now? But Woo-bin twirls Gary into the pool.
It should come as no surprise that Jae-suk overtakes Suk-jin pretty easily but then his fight against Haha ends up looking like a chaotic childhood brawl. The others try to help but end up getting flung into the pool thanks to Jong-kook.
But somehow Jae-suk stays on and manages to flip Jong-kook into the pool. It's just a domino effect from there and the score's tied 1:1.
Su-ro's eyes tell us that he's devised a plan and then he just charges head-first at the other team. The surprise attack catches them off-guard and they all end up in the water. O M G. Totally, totally awesome from the Game Devil.
Let me see if I've got this straight. Today's final mission is to place a flag on their own team's flagpole within the 30 minute time limit. Ah, and if they hang it there early, it needs to stay there for a full minute before it's declared a victory. Got it.
Su-ro suggests that they hide the flag until they definitely need it. Then when Mr. PD's like, What if they steal it? Su-ro's all, "I'm not going to hide it where they can take it. I'm Kim Su-ro!" LOL.
Everyone gets ready at their separate stations and Jong-seok's… reading? That's certainly a far cry from his School character, heh.
As they roam the halls, Jong-kook immediately deduces that Su-ro must be holding onto the flag. Hehe, I love how the team members seemingly appear out of nowhere and scare the bejesus out of their opponents.
But then Jong-kook spots Su-ro down the hall and chases him downstairs. That large lump underneath his vest looks pretty suspicious. The jocks pat him down, but it's a fake. No flag.
That's because Jong-hyun's got the flag on his person and no one can find him. Hyo-rin mentions that Jong-hyun told her that he was good hider. Well, he may be but he's not so good when it comes to the avoiding capture part.
The drama club hands off the responsibility to Woo-bin while the jocks roam in circles just trying to find anyone from the drama club. But then they see Woo-bin from the window and rush over to check if he's got the flag. Uh oh.
The jocks come over but then Woo-bin rushes out and makes a run for it. Gary opens the door to an empty classroom and completely misses Woo-bin hiding in a corner.
Completely out of breath, Woo-bin breathes, "Where's the camera?" You mean, you lost your VJ?
As it turns out, Gary didn't miss anything and he whispers to his teammates to help him ambush Woo-bin. They lock him in an inner room… or so they think because Suk-jin discovers that the window's open.
Woo-bin runs back to his original hiding place behind a locker space and then he pouts that his epic escape wasn't recorded on camera. Awww.
But he gets discovered by Kwang-soo but manages to hand off the flag back to Jong-hyun, who bolts with it. But that boy better run because Jong-kook is on his tail.
Jong-kook pins him down and the flag ends up in Haha's hands, who takes temporary refuge in a storage space. Only he's followed in by Su-ro, who has this devilish smile on his face.
After another struggle, Jong-seok runs with the flag and places it on the pole momentarily before Jong-kook appears. He runs to find another flagpole but gets intercepted by the jocks.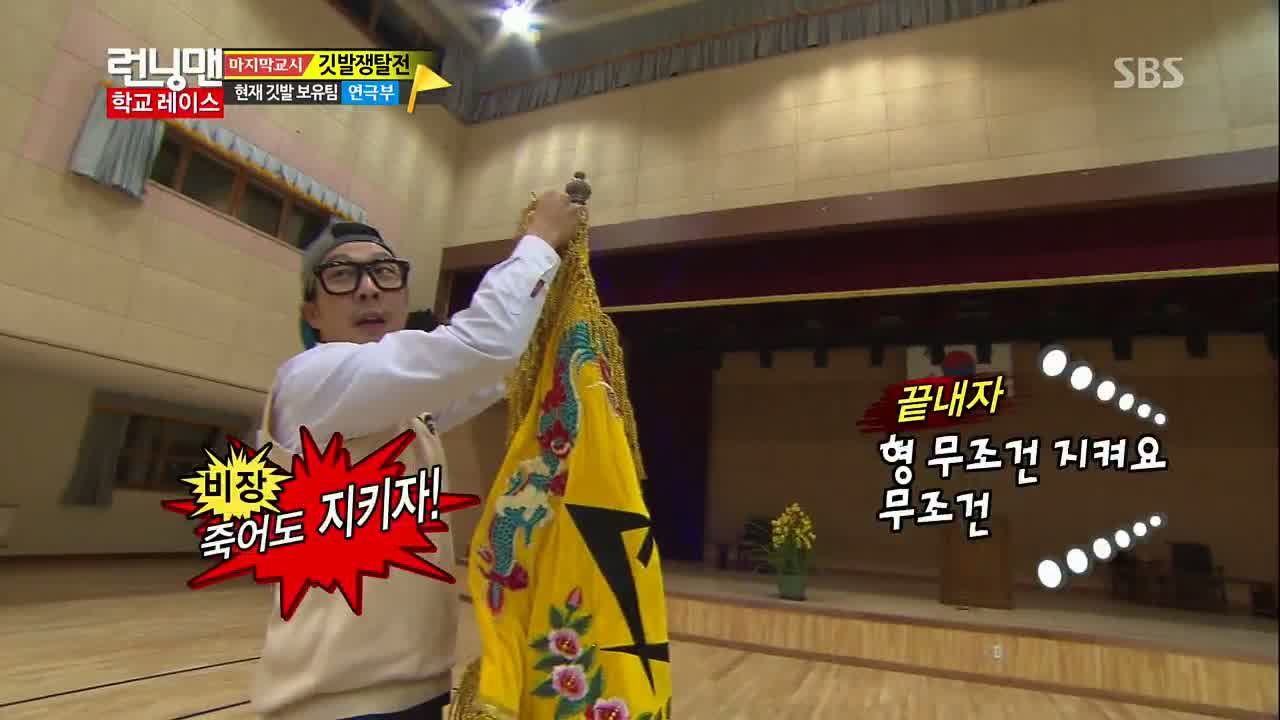 With three minutes left on the clock, Ji-hyo dashes down the hall with the flag before trading it off to Haha.
Haha runs into the gymnasium where both teams' flagpoles stand waiting for them… and he ties the flag onto the other team's pole? Hahaha. Well they're not going to fight you over that.
That is, if anyone stops to read the sign because Jong-hyun rushes in to remove the flag. Jae-suk belatedly realizes that they should have just left it there but off Su-ro goes to another part of the school.
Time has run out and now all Jong-seok has to do is tie the flag to his team's flagpole. He does it.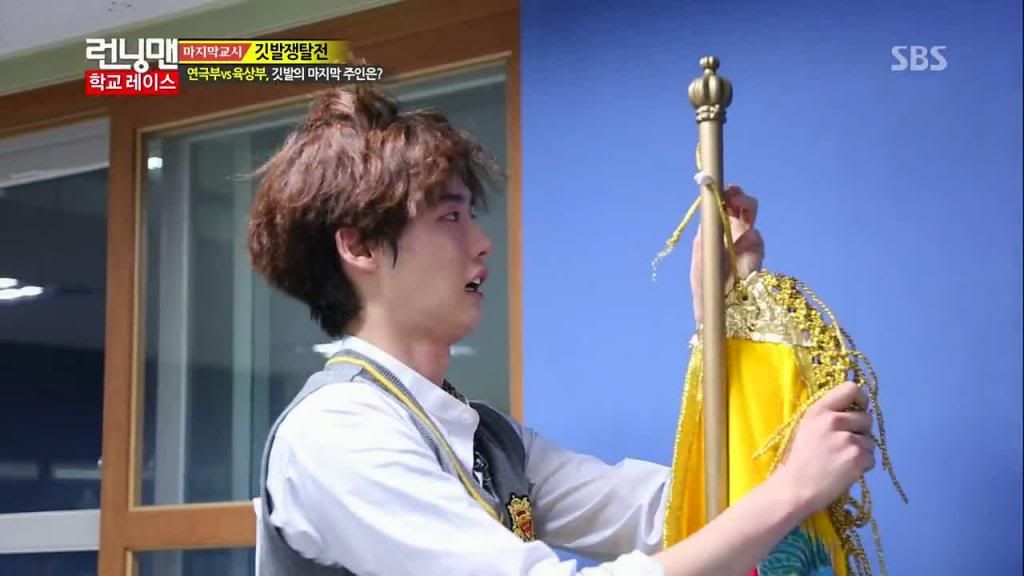 Everyone gathers together for the wrap-up and Jae-suk comments that though the guests can leave happy with their win, he'll have to face his fellow cast members the following week.
I suppose pulling a win over them can feel like a betrayal, but hey – this is variety.
RELATED POSTS
Tags: featured, Haha, Ji Suk-jin, Kang Gary, Kim Jong-kook, Lee Kwang-soo, Running Man, Song Ji-hyo, Yoo Jae-suk