Sohn Ye-jin confirms melo, awaits her hero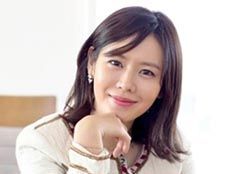 …or maybe anti-hero is more like it. It IS a revenge piece, after all.
Finally some confirmations for Shark, the melodrama being prepped by KBS. While the production has been floating several big names in the press, Sohn Ye-jin (Personal Taste, Tower) is the first to officially sign on. It's been rumored that Kim Nam-gil (Bad Guy) would make this his comeback series, but we'll have to wait to see if he takes on another revenge melo next after already doing one, albeit with a three-year army gap in between the two.
One point of interest for this show, aside from potential big-name stars, is that it's the work of a writer-director pair who brought us two notable dramas in this genre: Resurrection in 2005 and Devil in 2007. Both were dark, intense, and dramatic. I do enjoy when shows are actually dark, rather than merely flirting with the idea and then copping out at the end. (I still think of how good Bad Guy could have been — you know, if it made sense.)
Sohn's character is the only daughter to the owner of a large hotel, possessing of a strong and independent nature. She rejects the chaebol path of inheriting the family business and instead becomes a prosecutor, a job into which she pours all of her energies.
The leading man, on the other hand, backstabs the woman he loves in the pursuit of revenge. Oh, and also changes his face. HA. I know that's not supposed to be funny… but c'mon, it's a little bit funny. (Also: Angel's Temptation.) After her family is the cause of his father's death, he disguises himself with a new face and identity and reapproaches his enemies, only to fall in love with the daughter. Wait, ISN'T this Angel's Temptation all over again, maybe crossed with Bad Guy? I'm seeing words like "despair and pain," "tragic fate," and "vicious love." So, yup, melodrama it is.
I'm starting to see more stories about possible castings in the headlines, so I'd expect more confirmations to follow soon. Kim Nam-gil has been heavily touted as the likely lead, while idol star Gu Hara (City Hunter) has been floated as his character's younger sister. I actually don't want Kim Nam-gil to take a drama that's so similar in nature to his last one, so I wouldn't be too sad if we got a new hero… just as long as it's a good one.
Shark will follow God of the Workplace and is set to premiere in May.
Via W Star News
RELATED POSTS
Tags: Gu Hara, Kim Nam-gil, Sohn Ye-jin