Stills galore for upcoming spring dramas
There are so many dramas set to premiere this spring (Seriously. So. Many.) that it's been as hard to keep up with the output of stills as it is to keep all the shows straight in my head. So here's a collection as random as they come, because when it rains it pours, and every drama and its mother is gearing up for a premiere next month. First up: Yoo Ah-in and Kim Tae-hee in their fusion we-play-loose-with-facts historical reimagining Jang Ok-jung, Live For Love, due out April 8 on SBS.
We finally get some stills of the pair of them on their first shoot together, with the future Jang heebin sizing up King Sukjong for a new set of clothes. This must be where the fashion designing angle comes in? It seems a wholly unnecessary way to get them together, seeing as how he's a king who's going to take her in as one of his concubines — at least that much isn't going to change in this retelling. Mostly, I'm just thinking, I've seen this somewhere before…
There were a few more stills of Lee Seung-gi perched on a roof for Gu Family Book (MBC, April 8) that didn't seem that interesting on their own (I mean, save for the fact that it's Ponytail Puppy smiling for the camera, natch) but the one full shot made it worth it. Turns out there's a B-side to the Lee Yubi stills — while she gazes out her window, he's perched up above, sighing at his first love.
Everybody with me now: Awwwwwwwwwwwwwww.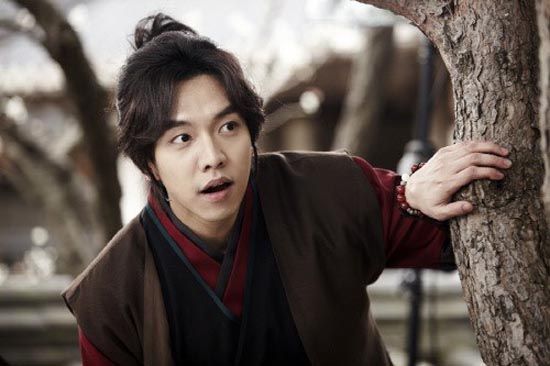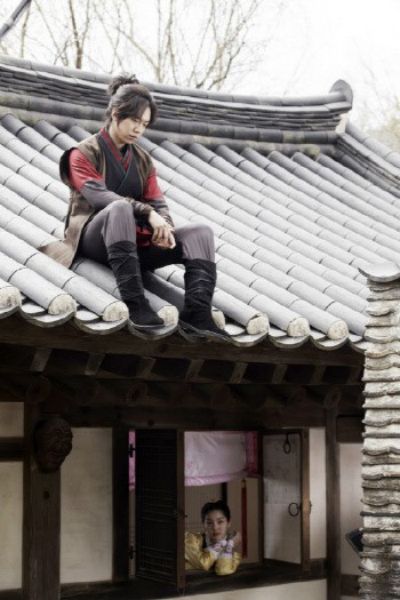 Political rom-com All About My Romance premieres April 4 on SBS, and has released a few preview shots from the poster shoot with the four leads Shin Ha-kyun, Lee Min-jung, Park Hee-soon, and Han Chae-ah, in a love square that crosses one of the most contentious social divides there is: political party lines. The poster images look strangely out of place compared to the pomp and circumstance of the rest of the stills from the show, like it's suddenly a sitcom about four wacky roommates or something, but maybe the finished poster will have a different feel?
I do think this show has one of the better love squares of the upcoming season — four strong contenders with the most potential for dynamic personalities. Shin Ha-kyun and Lee Min-jung play politicians from opposing parties, Park Hee-soon is the heroine's aide, and Han Chae-ah is the political reporter that both men are in love with. Don't know how much rom or com is actually going to end up in this political rom-com, but it sure would be nice to be pleasantly surprised.
And then weekend drama Wonderful Mama is getting ready to premiere April 13, and had such fun poolside stills from its overseas shoot in the Philippines, featuring Kim Ji-suk and Jung Yumi. They play siblings in this drama, along with maknae Park Bo-gum (you might recognize him as Kye-soon's little brother, the young soldier in Gaksital), as a trio of spoiled kids who finally start to grow up when their mother is diagnosed with Alzheimer's.
The stills are from early in the series, when the three of them blow a load of money and wreck one of Mom's business deals in the process. And I have no idea what bet the brothers lost, but they apparently end up as models in their sister's fashion show. I hope you you're not trying to sell those dresses. Werk it.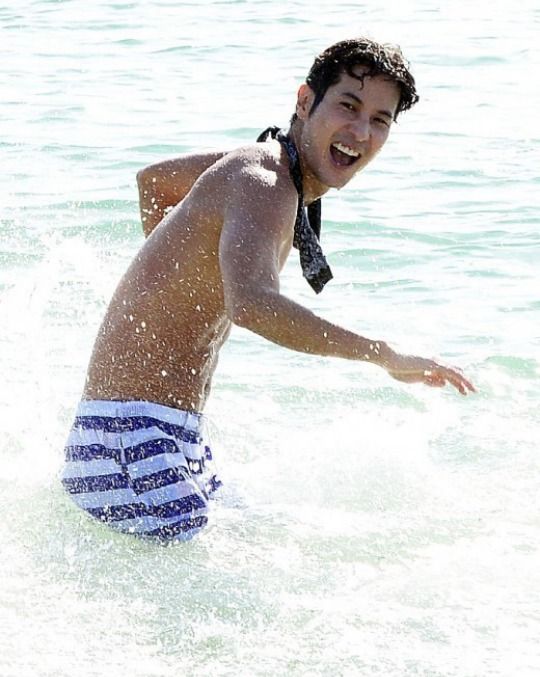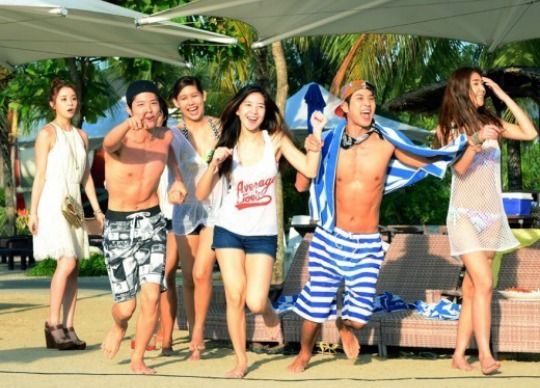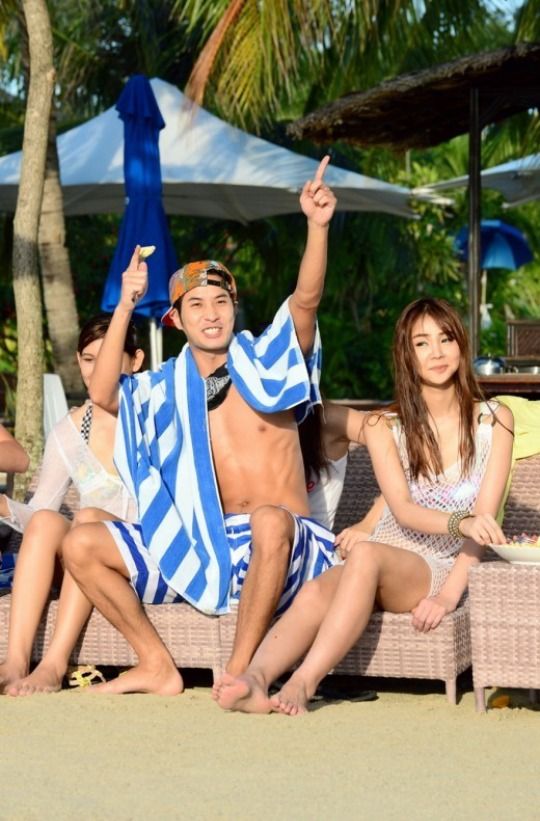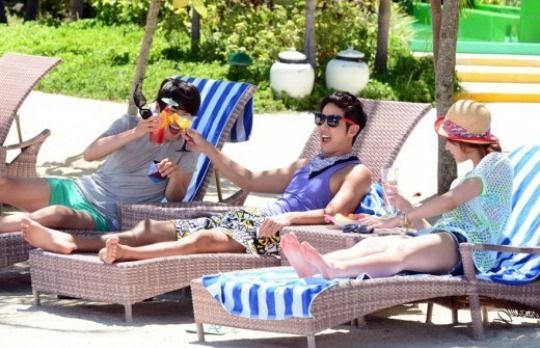 Via Chosun, Segye, My Daily, TV Report
RELATED POSTS
Tags: Gu Family Book, Han Chae-ah, Jang Ok-jung Live By Love, Jung Yumi (2), Kim Ji-suk, Kim Tae-hee, Lee Seung-gi, Shin Ha-kyun, Yoo Ah-in