Up-and-comers in Scary Story 2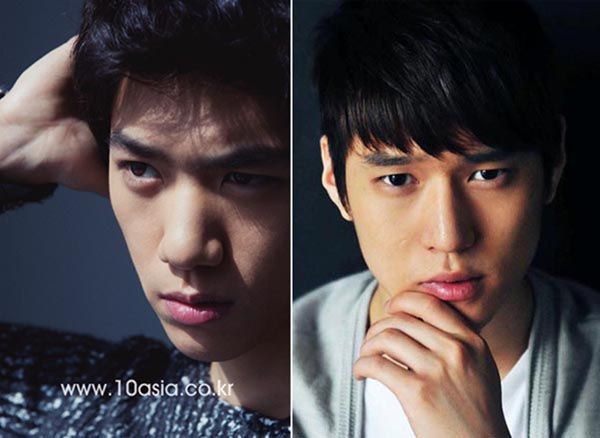 All right, there's a new horror flick out there called Scary Story 2, and for any other reason it would sound forgettable and bland… except for its cast, which is chock-full of promising up-and-comers.
First off we have Sung Joon (Can We Get Married, Shut Up: Flower Boy Band, White Christmas), whom I'd wager on as becoming a prime contender for Bright Leading Man of the Future. He's been cast as the lead in the movie, which is the sequel to an original I've never heard of. But no matter, since we've got a much more interesting cast this time around.
And while one likable cast member is hardly enough to get excited about (I'm sure we all understand the heartbreak of That Terrible Project Our Beloved Did), we've also got Go Kyung-pyo to watch for. Either this boy suddenly signed with an amazing agent, or he's gotten incredibly lucky to have his potential appreciated right off the bat: No sooner than I'd seen him be surprisingly good in the launch of Korea's Saturday Night Live did I see him racking up lots of supporting role points with Operation Proposal, Standby, and Flower Boy Next Door. He has been cast alongside his SNL and Flower Boy co-star Kim Seul-gi (she was the bleary-eyed and sleep-deprived webtoon PD)
The film is reportedly about the "chilling events" that transpire after three friends get into a car crash. I presume we're talking about the three boys, which includes Lee Soo-hyuk (Vampire Idol, White Christmas). (By the way, who else marvels at how interlinked this new generation of young actors is? With such casts as White Christmas and Shut Up and School, it's no wonder these boys are co-starring repeatedly. Winner: Us.)
But it's not just a phenomenon reserved for our boys of the industry: The two ladies in the main cast have already worked together in last year's heartwarming sitcom High Kick 3, Baek Jin-hee and Kim Ji-won.
Scary Story 2 will begin filming this month, with plans to release in June. Yeesh, that's a tight schedule. Well, nobody ever accused the K-entertainment industry of slacking.
RELATED POSTS
Tags: Baek Jin-hee, Go Kyung-pyo, Kim Ji-won, Lee Soo-hyuk, Sung Joon