You're the Best, Lee Soon-shin: Episode 6
You know, I expected to get tired of the initial misunderstanding—the heroine mistaking the hero for a con artist—but it's actually so amusing that I wouldn't mind it if we let them continue like this for a while. The more self-satisfied and smug he is, the longer I want her to snub him, even if it's based on a misunderstanding. More pride swallowing for him, more mistaken identity hijinks for us… it's a win-win.

EPISODE 6 RECAP
Jun-ho finally gets to make his grand I'll Make You a Star pitch, only he picks the worst possible timing to do it. Soon-shin stares down at the familiar business card for Shin Jun-ho, Talent Agent, and tears come pouring out.
He mistakes them for tears of joy, until she starts sobbing uncontrollably. He starts to fidget nervously, saying she's overdoing it and people will think he made her cry or something. You would be worried about that more than the crying girl in front of you.
She manages to stop her tears long enough to say that she has not even one ounce of interest in being a star, which of course is her guilt talking—she thinks her hopeless dream to be an actress is what led to Dad's death. Jun-ho tries to stop her, but she pushes him aside, saying that she doesn't have time for silly games and warns him not to bother her at work.
At home, Mom starts to get back into her normal routine, cooking and pretending to be happy and cheery in front of the rest of the family. First daughter Hye-shin asks if Mom wants to go to the police station with her today, but at one mention of that Mom turns away, insisting she's much too busy at home.
She discovers Dad's shirt mid-ironing, just the way she left it the day she ran out when she got the call. She sighs with fake relief that she'll no longer have to iron shirts anymore and how great that is.
But when she's alone doing laundry, she starts to sing an old song about growing old and spending your golden years together. Aw, I find Mom's quiet grief far more heartbreaking than say, Grandma's histrionics.
Second daughter Yoo-shin goes back to her usual routine, which involves scaling walls, apparently. Today she can't make it all the way up, and hangs in mid-air after losing her grip.
Chan-woo calls to check up on her, and she snipes at him for overstepping again. Dude, why do you even like her? He's so nice that he takes her attitude as a sign that she's back to her old self, and offers to be a drinking buddy if she needs one. Of course she turns him down cold.
Soon-shin gets ready to go home after work that night, and her boss Young-hoon offers to take the staff out for her welcoming party that got pushed back the last time.
Jae-bum, the waiter who's permanently got his knickers in a twist, gets upset that Soon-shin even gets a party, and then gets upset again when she asks to go some other time. Basically, you can't win with this kid, but nobody listens to a word he says, which is why he's amusing.
Soon-shin says she has to be home early for the foreseeable future, and makes a quick exit. Jun-ho comes in and tries to stop her for another chat, but Young-hoon plays interference so she can go.
He warns Jun-ho again not to mess with an innocent young girl, while Jun-ho thinks he's dropping a golden opportunity in her lap and she's the one who ought to be grateful. Young-hoon points out that his intentions are the problem, and calls him out point-blank for still being hung up on Yeon-ah.
Jun-ho flares up at the mention of his ex, and tells Young-hoon not to tell him how to live his life. Uh-oh, are the two buddies going to end up on the outs over this?
Soon-shin stops on her way home to collect part-time job notices in the street, and runs into Chan-woo. They're so nice and encouraging to one another, but of course Yoo-shin comes by and the conversation takes a sharp left turn.
When Chan-woo offers to take the sisters out to dinner, Yoo-shin snaps that Soon-shin ought to take Chan-woo out with her huge signing bonus. Ouch. Chan-woo steps in to defend Soon-shin, which actually makes Yoo-shin even pettier, if that's possible.
She gripes that someone might think Chan-woo was Soon-shin's real brother, and I'm about to blow my lid, but Chan-woo takes the words right out of my mouth, and says that he IS Soon-shin's oppa—someone needs to be, since her real sister is acting this way. Okay, that was kind of awesome.
She blames Soon-shin yet again for Dad's death, and this time Chan-woo yells back that it was just an accident, and nobody's fault. He asks why she can't consider other people's feelings just once in her life, but Yoo-shin won't be appeased, and says she'll be considerate and disappear then.
She goes straight home and starts throwing all of Soon-shin's things on the floor, and screams at her to get a new room, suggesting she can kick unni out of her old room, or "sleep with Mom since Dad's dead." Yeeeeesh.
Soon-shin finds Mom in the middle of cleaning every single thing in the house to keep herself busy, and doesn't tell her about the fight with her sister. Mom just tells her in general not to believe that Dad's accident was her fault.
Mi-ryung gets back to her old self as well, though she has a mini freakout when they have to cross the intersection where the accident happened. She flashes back to that night, and sees that there's a police banner on the street now, asking for eye witnesses to come forward.
Yeon-ah comes to visit her on set with lunch, and Mi-ryung has warmed to her enough to ask if she wants to be her daughter. She says that she's never once been jealous of her friends with husbands, but she's always been envious of moms who walk down the street arm in arm with their daughters.
Yeon-ah is ecstatic of course, and says immediately that she's going to start calling her Mom and she can't take it back. She can be cute, but I don't trust her not to be conniving.
Jun-ho stews over Soon-shin's unsigned contract, and his assistant In-sung picks the wrong thing to say and beams that Jun-ho chose wisely not to sign her, thinking he was out of his mind before.
Jun-ho jumps out of his chair, and it cracks me up that In-sung reflexively backs up like he's getting ready for a beating. He never stands up straight either, or else he'd be taller than his boss (which seems like a big no-no, though it's never been stated outright).
Ha, when Jun-ho goes to slap him, In-sung holds his face to Jun-ho's hand, purring that his hands are so soft. Do you two need a room?
Sadly they get interrupted when Jun-ho gets a panicked call from his mother asking if he's seen his sister Yi-jung, because Dad's on his way back from his business trip early. Turns out Yi-jung is at home, and Mom barely makes it home seconds ahead of Dad, and stashes her daughter in the closet. Oh sure, that's stealthy.
Sure enough, Dad finds her in about three seconds flat and drags her downstairs by the ear like an errant puppy. She says that she dropped out of school because she discovered her dream, and Dad calls to get a plane ticket back to New York for her that night.
He orders her upstairs to pack her things, and instead Yi-jung just runs out of the house in her bath wrap and slippers.
Jun-ho comes back down to the restaurant and orders Soon-shin to sit and listen to what he has to say. She rolls her eyes but sits still, while he gives her the big sales pitch… only it's the EXACT same speech, verbatim, that the con man gave her. Ha.
She asks if he can't come up with a fresher approach, calling him a con artist. It cracks me up how many times he uses the "Do you know who I am?" line on her, until he's actually pleading, "I'm Shin Jun-ho!" and she's just nodding like she's playing along, "Uh-huh. I'm suuuuure you are."
He gets a call and Soon-shin tells him to answer since it's probably another of his girlfriends, thinking of the blind date incident. Go figure, it's Yi-jung, so when he says, "Oppa is busy," he means brother-oppa but of course it sounds like he's dismissing yet another girlfriend.
Yi-jung screams that she's here outside his building, and Jun-ho looks out the window to see his sister jumping up and down screaming for him, in her bathwear. Ha, this hole just gets deeper and deeper.
When he runs out, Young-hoon comes by the table, and Soon-shin asks if he's really Shin Jun-ho. Interestingly, Young-hoon doesn't confirm his identity, and even adds that he must be messing with her in reference to the contract. Hm, now I'm starting to think that your interest in Soon-shin oversteps pure intentions yourself, mister.
They look out the window, and Soon-shin's jaw drops to see Yi-jung throw her arms around Jun-ho, crying, "Oppaaaaaaa~!" LOL, she looks like a crazy ex pleading with him not to leave her.
He gets her to his office, where she cries through a box of tissues at how horrible and unreasonable Dad is being, but Jun-ho says he'd do the same. She accuses him of having a double standard since he dropped out of school to pursue music, but he reminds her that he actually cut off ties with Dad to do so. Is she prepared to live without Dad's money like he did?
Her answer: "Why would I have to when I have you?" Lordy. This one. She promptly sticks out her hand for his credit card so she can buy new clothes and get a hotel room, and when he refuses, she threatens to live in his office and calls Mom to come rescue her.
She sees the pictures of Soon-shin sitting on his desk and can't believe he'd sign someone like her and not his own sister, and kicks up another fuss.
Hye-shin meets a friend to ask if there might be a job opening at her company, pretending to be bored with living in luxury. It looks like getting back into the workforce isn't going to be easy, though you might have better luck if you just told people you actually need the job.
Talk turns to her father, and her friend remembers how much Dad cried at Hye-shin's wedding, which she didn't know. Her eyes fill with tears as she thinks of him, and she takes out his phone again.
There are more texts from the bakery owner (they get increasingly less polite each time, heh) asking him to pick up his cake. So she stops by the bakery on her way home, and Bread Man SEO JIN-WOOK recognizes her as Woo-joo's mom from the cell phone incident.
He wonders if rudeness runs in their whole family, and returns the money she left the last time, only wanting the price of the cake. He has this giant chip on his shoulder for being a little mom and pop store, thinking that Dad is belittling him somehow, and goes on this really long rant about how he shouldn't look down on people like that.
He asks her to make sure to tell her father, and Hye-shin finally can't hold her tears back any longer and apologizes, "I can't tell him because he passed away." She walks out with the cake, leaving Jin-wook feeling like the biggest heel in heeldonia.
Mom continues on her quest to fill her time with anything she can, but Grandma sees her making kimchi with the radio blaring and assumes she's not sad enough that her husband died. Seriously?
Soon-shin comes home, which just adds more fuel to the fire, and Grandma asks why she hasn't moved out yet. Gah. Soon-shin pleads with Grandma, saying that she knows she did wrong, and promises to do better.
Mom finally snaps and yells right back at Grandma to stop blaming Soon-shin. She says it was her idea to take Soon-shin to that talent agent so it's her fault, and screams: "I'm sad, and so is Soon-shin. We're all having a hard time. Why can't you see that?!"
She breaks down in tears, and perhaps finally, Grandma doesn't think she's the only one suffering. Mom lies awake that night, chiding Dad for not keeping his promise to spend the rest of his days making her laugh.
In the morning, Hye-shin shows Soon-shin the birthday cake Dad ordered for her. She takes it out of the box, and written on the cake is: "Our daughter is the best!" She takes out the card, where Dad apologizes for forgetting her birthday and being late.
Dad: Soon-shin-ah… you know what a precious daughter you are to your mother and father, don't you? It's okay not to be special. No matter what you do, it's okay. You yourself are already special and precious. Our daughter is the best! You're the best, Lee Soon-shin!
Awwwwwwww. *tears*
Mom says that Dad always had a knack for surprises, and lights the candle on the birthday cake. She says they have to do this properly, because Dad might not be able to rest without finishing the last thing he wanted to do before he died. Aw, Mom.
Yoo-shin joins them and asks what the cake is, and Mom says it's a present from Dad. "It's a present from your father, for you girls to stop being sad, to be strong and live well."
Mom packs up the last of Dad's things into boxes, and discovers the old photo of him with a young Mi-ryung.
Yi-jung calls Mi-ryung that day to ask her out to lunch, and she doesn't seem thrilled about it, but agrees to meet her. Of course they pick The One Restaurant in Seoul, and Yi-jung arrives first.
She takes one look at her waitress and recognizes Soon-shin immediately as the girl in the photographs, and blurts, "How did you seduce my oppa?" That sounds wrong in so many ways.
Soon-shin has no idea what she's talking about, but Yi-jung assumes she's playing dumb on purpose, and gets so worked up that she knocks her own coffee over and spills it on herself, and then has the gall to blame Soon-shin.
She causes a huge scene, screaming like the spoiled princess that she is, and demands that Soon-shin pay for her jacket. Soon-shin points out that it wasn't really her fault, to which Yi-jung asks if that's what her father taught her.
It's just the thing to get Soon-shin fired up, so when Yi-jung grabs a glass of water to throw at her, Soon-shin grabs her wrist and fights back. They struggle, until the water spills… all over Yi-jung. Ha, well, can't say she didn't have it coming.
And that's when Mi-ryung walks in and comes face to face with Soon-shin.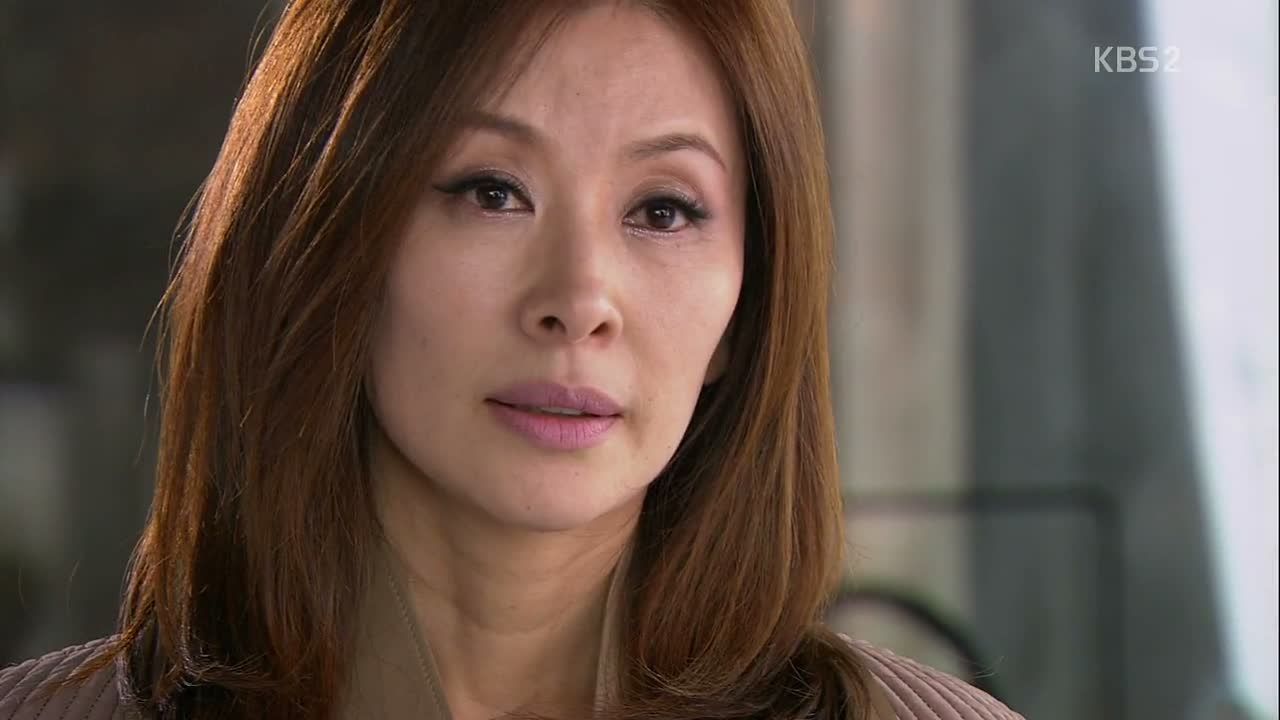 COMMENTS
It still feels a little bit like we're barely revving up to really get going, but it isn't strange to have six episodes of setup for a longer family drama. I think by now we've met all the key players and settled into their personalities and situations, and I'm starting to feel less like I need a chart every time someone new pops up onscreen. The pleasant way to think of it is that everyone only has up to go from here; the less patient side of me sometimes wants to shove a few characters into the corner until they grow up a little, but it's not so severe that I can't see myself warming to their turnaround arcs later. I spent a good long while being annoyed at Ojakkyo's maknae oppa, for instance, but these family dramas always have a way of redeeming even the brattiest of siblings until you end up loving them.
I'm so glad Soon-shin got her birthday cake from Dad, and that he got the chance to tell her that she needn't be special in the eyes of other people to be special and important to him. I know she won't stop blaming herself for his death anytime soon, but I think it's far more important for her to know that Dad was proud of her for just being her. There's just something so endearing about her character, set up as the most ordinary of ordinary heroines, where everything from her name to the title of the drama is purposely a reversal of grandness. She's not THE Lee Soon-shin, but just a girl, and she's not the best at anything, but her loving father will cheer her on and call her the best because he loves her the way she is. That just gets me *right here* and I can't help but root for a girl like that.
Mi-ryung, on the other hand, I'm still far from rooting for, but I do see how much they're setting her up as Soon-shin's opposite. She's so narcissistic that she literally spends her days facing a floor-to-ceiling slideshow of herself on a neverending loop, which—I have to hand it to the show—says everything you need to know about her. So Mi-ryung, who gave up everything to save her own career because fame was more important to her, needs to learn to love others; and Soon-shin, who thinks so little of herself that she sees no value in her place in her own family or out in the world, needs to learn to love herself. I'm not as actively invested in Mi-ryung's redemption, but I think they're a package deal. I did start to feel some sympathy for her when she wanted Yeon-ah to be her daughter, so hopefully we'll start to see more of her warmer, more vulnerable side as we get more entangled in everyone's relationships.

RELATED POSTS
Tags: featured, IU, Jo Jung-seok, Lee Mi-sook, Sohn Tae-young, Yoo Inna, You're the Best Lee Soon-shin