You're the Best, Lee Soon-shin: Episodes 1-2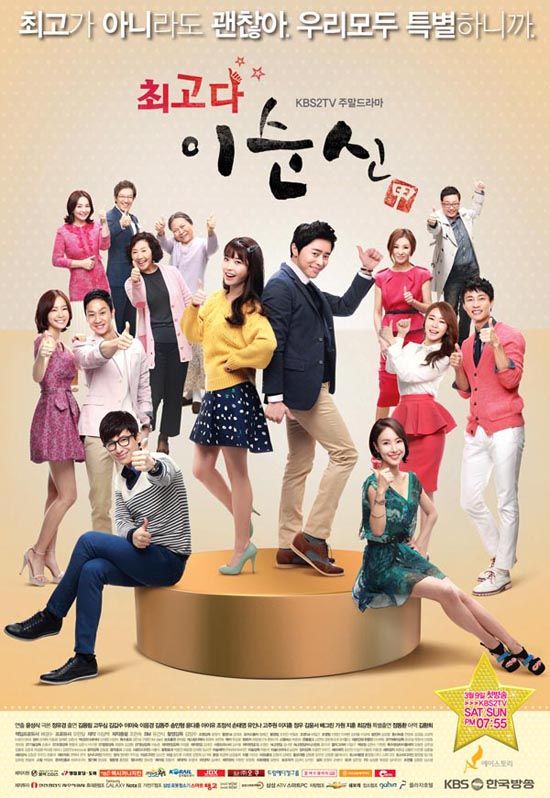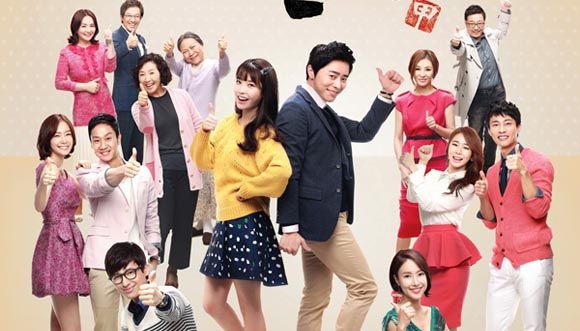 You're the Best, Lee Soon-shin is KBS's new weekend family drama, which means it's at least 50 episodes — though with its immediate hit ratings, there's a distinct possibility that number will extend. And while we haven't typically covered weekend/family dramas on Dramabeans, mostly because of the length and commitment required, there is something decidedly winning about this show. We're gonna play it by ear and see if it's a project we can keep going, if we can manage the logistics.
Watching You're the Best, Lee Soon-shin is a bit like comforting soup — tasty and familiar and safe. Nothing really new or cutting-edge about it, but it's hearty and warming. You've got the typical multi-generational cast with a large family at the center, a plucky heroine out in search of her success story, a prickly hero who isn't used to having people huffing at him, and a lot of intertwining relationships.
While I felt like the story was heading into somewhat expected waters, it's the kind of story I anticipate even though I can see what's coming. Like watching an engaging adaptation of a story you already know. I've been dealing with a stretch of drama ennui with lots of shows that seemed promising and fell flat, so when You're the Best hooked me in right away and had me tearing up for its characters in the first episode, I knew not to take that for granted. Let's all cross our fingers that it'll be able to engage our hearts the whole way through.
SONG OF THE DAY
TAHITI – "몰라몰라" (I don't know, I don't know) [ Download ]
Audio clip: Adobe Flash Player (version 9 or above) is required to play this audio clip. Download the latest version here. You also need to have JavaScript enabled in your browser.

CHARACTERS AND SETUP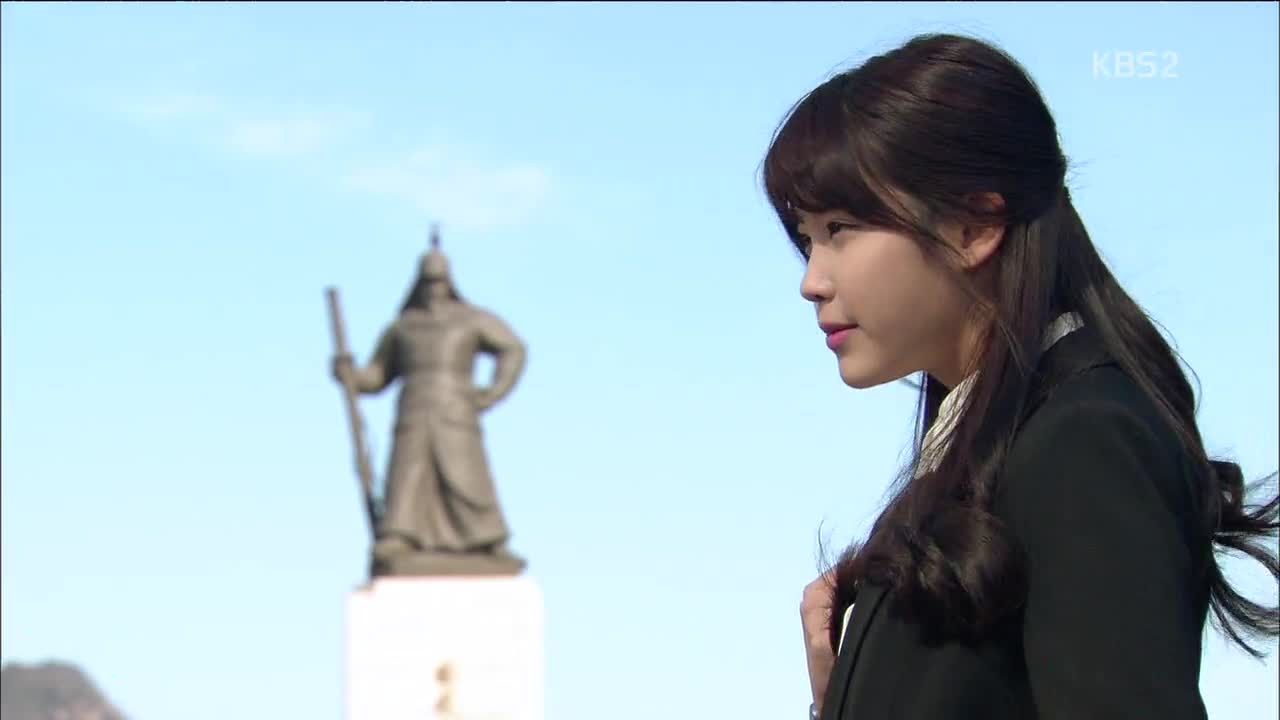 LEE SOON-SHIN (IU) is the youngest daughter of three, recent university graduate and now on the job-hunt circuit of tests and interviews. Soon-shin isn't particularly qualified for anything and she knows it — her work experience is sparse, her grades average, her skills average — but she gamely soldiers on despite failing interview after interview. Truth be told, she doesn't really know what she wants to do with her life… but it sure would be nice not to be The Family Disappointment anymore.
Her two older sisters are beautiful, successful, and smart, and all the family acquaintances sigh that Mom got lucky with a good husband and such daughters. They tend to forget Soon-shin in these discussions, as they often do at home as well. Dad and Grandma clearly favor the unnis, and Soon-shin just accepts her place as the leftover one.
Her name is something of a trial for her, because Grandma named her Soon-shin after the famous war hero (whose statue, pictured above, is a prominent Seoul landmark), and everyone she meets laughs to hear it. Of course, Grandma wanted a boy instead. The official explanation is that Soon-shin was given her name to invoke strength and courage, but her friend wonders if maybe it was too strong a name and sucked out all her life's fortune.
That's because Soon-shin's the type of girl who always gets the short end of the stick. Her family knows her as the troublemaker, not because she's rebellious but because she just happens to get into scrapes left and right. The drama bears the tagline: It's okay if you're not the best. Because we're all special. So the title's really like a cheer of self-affirmation more than anything, a chant from Soon-shin to herself to buck up and be strong.
There are hints that there's more to Soon-shin's birth story, and since this is a K-drama it's safe to assume those issues will crop up later down the line. Mom makes references to Soon-shin not being her biological daughter, and cries to recall how pathetic the baby girl looked the first time she saw her, and how she vowed she'd never let her cry again. And yet, Mom feels guilty that she hasn't been able to do much for Soon-shin, being so busy raising the family and all, and wants to do better. She also says that she identifies most strongly with Soon-shin, the daughter she didn't give birth to. (Grumpy Grandma retorts that that's true — Mom and daughter are alike for their deficiencies.)
On to the sisters. Firstborn daughter is LEE HYE-SHIN (Sohn Tae-young), who was on the fast track to a professional career when she met her fund manager husband, got married, and got whisked abroad when he was sent to Hong Kong. Her husband has just been transferred back to Seoul, so she has arrived first to find a new house and get settled.
Hye-shin is serene and sweet, though I suspect not all is well with her home life, though she tries to keep up her perfect facade. She has a school-age daughter Woo-joo, who's a bit of a brat, though that's probably because she misses her old life.
Second sister LEE YOO-SHIN (Yoo Inna) lives at home and just got promoted in her job with a fashion company. She's always harping on little sister's flaws and loves to rub it in Soon-shin's face when she fails, which frankly makes her quite hard to like. I'm anticipating that she'll get a pretty wide character arc so that may not remain the case, but for now I find myself wanting to slap her a lot.
The sisters bicker a lot, but lately Yoo-shin has been more malicious than usual, which is something even Mom and unni notice and call her out on. Yoo-shin snaps that she's just looking out for her sucker of a sister, who's always on the verge of tumbling into a scrape, but she seems a little too happy when Soon-shin stumbles and a little too grudging when things go her way.
Soon-shin has a crush on a longtime neighborhood oppa, PARK CHAN-WOO (Go Joo-won), who's back from army duty and landed his first job as doctor. He's very sweet to her, but unfortunately he seems to have a long-standing crush on Yoo-shin. Chan-woo's a bit stuffy and old-fashioned, and that's likely to clash a lot with Yoo-shin's casual-dating, free-spirited ways.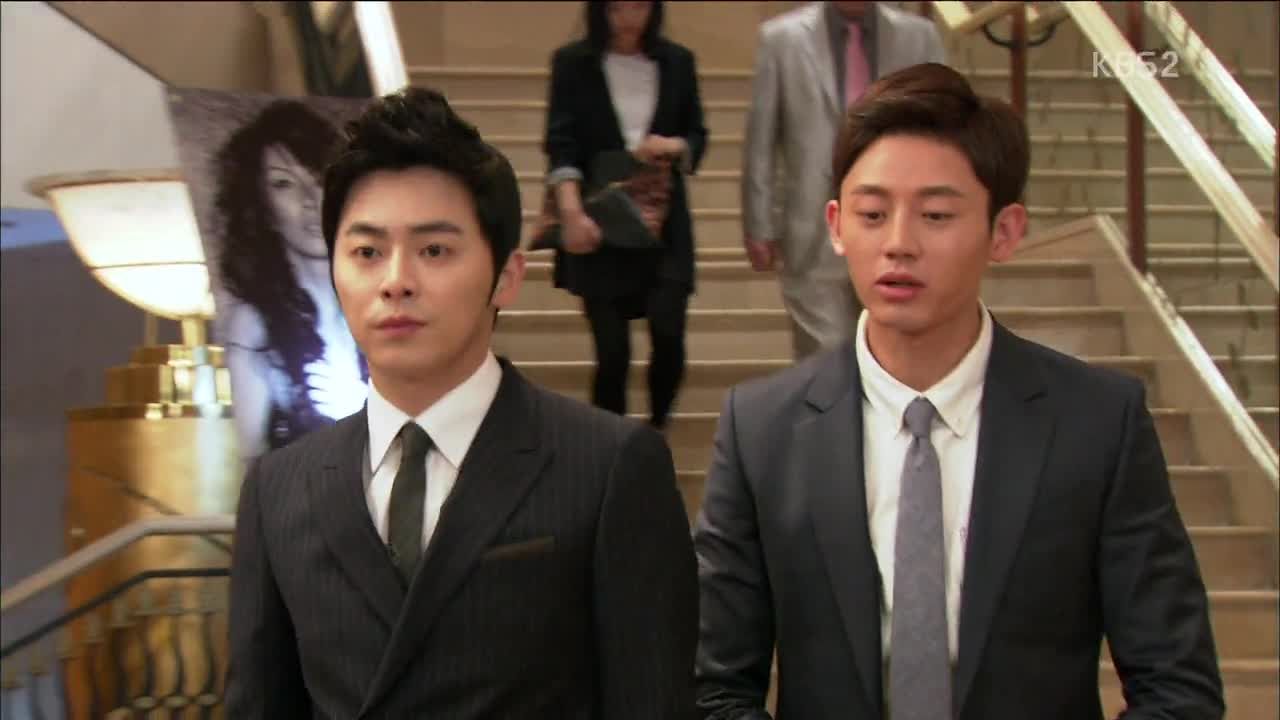 On to our hero, SHIN JUN-HO (Jo Jung-seok). Once a rising singer-songwriter, Jun-ho quit making music and set up his own talent company, the now-thriving Gabi Entertainment, of which he is CEO. His right-hand man is secretary JO IN-SUNG, a rather unfortunate name for a former aspiring actor (played by one of two Lee Ji-hoons in this drama). The two have an adorable dynamic and I think this duo is going to be one of my favorite things about the show.
At first glance Jun-ho is your typical alpha male hero, born to a rich family, a workaholic, exacting and serious and possessing of a very high opinion of himself. But there's a B-side to Jun-ho, and it's his unexpected heo-dang-ness that makes him a hoot. You see him being suave and cool in one moment — and in the next he ducks out to give himself a pep talk in the mirror about how to look suave and cool. HA.
Jun-ho has a very tense relationship with his father (Kim Gab-soo), the director of his own dermatology/cosmetic surgery hospital. Despite the fact that Jun-ho has built his company into a respected and prestigious agency, Dad barks at him to stop staining the family name. He calls actors by a derogatory term, seeing them as second-rate shysters, and fears that Jun-ho will fall for some hussy actress and bring her home as wife. That's why he's constantly down Jun-ho's throat about going on marriage dates, which Jun-ho purposely sabotages by acting like an ass.
Interestingly, Dad's new hire at the hospital is Chan-woo, whom he looks to begin grooming as his own mentee. This should be fun, especially once the Lee sisters entanglement gets going.
Jun-ho's premier client is SONG MI-RYUNG (Lee Mi-sook), a glamorous A-list actress. She happens to be good friends with his parents, and has a mentor relationship with a rising younger actress, CHOI YEON-AH (Kim Yoon-seo).
Jun-ho has clear history with Yeon-ah, and though we don't know what it is yet, we can guess it involved his heart being broken. He tellingly exerts himself to act cool anytime Yeon-ah's name is mentioned, and Episode 1 is the first time they've seen each other since he's made a success of himself. That makes him particularly eager to make a good impression and come out of the encounter with the upper hand.
Yeon-ah seems friendly enough on the surface, but I've seen enough of these dramas to have a knee-jerk aversion to her false sincerity. I'm pretty sure it's okay if we hate her.

EPISODES 1 & 2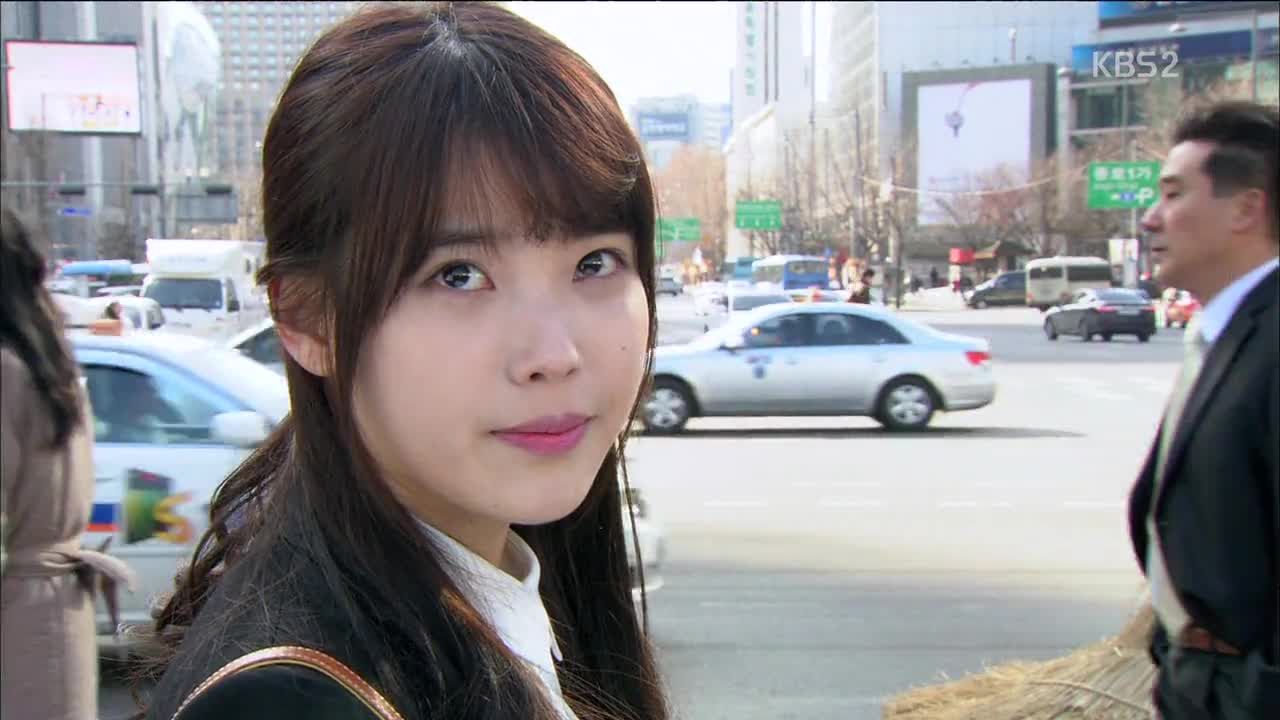 Soon-shin has a typically bad day, starting with the job interview she bombs. Not that she was given much of a shot — the interviewers saw her flimsy resumé and didn't even bother to ask a question. She trudges home dispirited, getting caught in a drizzle. Of course, it's when she's soaked and scraggly that she runs into her crush, Chan-woo, who's very nice to her but obviously interested in her middle sister. Sigh.
Soon-shin perks up to get a happy birthday text from some company, expecting more congratulations from the family. But it appears none of them remember, and she has to endure another round of insults from Grandma about how she's useless for not being able to get a job at her age.
Then there's bickering with Yoo-shin, who blames her for ruining her expensive clothes, and Dad takes unni's side. Of course. Grandma sighs that there's never a quiet moment in this house.
On the upside, Soon-shin does land a part-time job as a server in a fancy hotel. It's the book launch party for actress Song Mi-ryung, which is all glittering lights and elegant gowns.
It's also a big day for Jun-ho, who has heard that Choi Yeon-ah — the woman who's probably his old flame — will be attending. He practices a bunch of casual greetings by himself in the stairwell, which is simultaneously adorable and embarrassing. I'm just glad he doesn't get caught mid-practice-hair-flip.
When Yeon-ah finds him, interestingly his voice takes on an edge. I'd expect him to be trying to impress her, but he actually takes her down a peg or two in a mildly cutting way, commenting on how she's just the same as ever — her acting hasn't improved at all.
When she offers her phone to ask for his number, he counters with his business card, telling her she could use a better management team. Call if she wants to contract with him — and only then.
I have no idea what's in the air between them, but it is rather satisfying to see the smirk wiped from her face. He walks off feeling completely proud of himself for saying exactly what he wanted to say — but he's not immune, because he sees her cozying it up with an actor and can't help feeling jealous.
And that, of course, is when he turns a corner and SLAMS right into a server. They fly to the ground, covered in food, and then he trips again. HA. Not gonna lie, I was expecting something like this the moment Soon-shin put on her uniform, but that doesn't make it any less mortifying.
Worse yet, in their scramble to get up, she grabs his front and literally rips the shirt off his chest. Omg. Jun-ho demands that Soon-shin be fired, unsurprisingly.
Soon-shin trudges home feeling glum, which is when she gets approached on the street by a creepy-looking trenchcoat man. At least, that's my gut reaction, though she's less suspicious and lets him talk to her about being the president of a management company. Has she… ever thought of acting?
But he has a business card that seems legit, and he introduces himself — as Shin Jun-ho, CEO of Gabi. Ah, he's impersonating Jun-ho. This can't end well.
Soon-shin is rightly skeptical to hear that he was struck with her "leading lady face" that "tells a story," and only seems to half-believe it. She takes the card and he tells her to give him a call once she's decided.
That night she comes home to a loaded dinner table and thinks Mom made everything for her birthday, only to realize that it's for first unni Hye-shin, who has just arrived. Yoo-shin starts picking on Soon-shin again for getting fired from yet another job, and today this sends Soon-shin over the edge. Fuming, she finally bursts out — that she got cast as an actor.
The family's reaction is to laugh it off, saying that it sounds like a scam and that they're just going to bleed her dry for "acting lesson" fees and the like. Soon-shin wasn't even intending to call the manager back, but it's the family's reaction that gets her ire up and she yells that nobody in this family has any interest in her, none at all. She storms out near tears.
Mom is the first to come around, deciding that it's time they trust Soon-shin and give her their support. Well I'm glad somebody said it. Dad is against the idea, saying that acting is out of the question, but Mom is at her turning point and decides to do something about it. In the morning she sees the calendar and realizes she forgot Soon-shin's birthday, and then finds the crumpled CEO's business card. She makes a call, and gets dressed in her ajumma best. Aw, Mom.
Jun-ho has a slight clash with Mi-ryung, who is displeased to hear of him signing her to a teeny role in a movie. She insists on doing a drama instead, and accuses Jun-ho of mishandling her career.
He points out that the movie could get her to Venice (and hence bigger acclaim), then outs her manager for deceiving her — did she know that Manager Hwang signed her to the drama because he's in gambling debt to its director?
Mi-ryung promptly fires Manager Hwang, who does not take it well. With the vague threat that he knows too much about her, he leaves.
Mom takes Soon-shin to meet with "Manager Shin," aka our Con Man, and promises to be her cheerleader from now on. They arrive at the restaurant housed in the Gabi office building, and just as Jun-ho walks in, Soon-shin calls out his name.
Only, she's calling out to the guy next to him, Mr. Con Artist.
So Soon-shin and Mom have their meeting with the Con Man, who says all the right things and makes big promises and presents her with a contract. It all sounds very legit, and he promises to deposit the contract signing fee to their account right away. They sign.
Jun-ho and Soon-shin bump into each other outside the bathrooms (where he's giving himself another hilarious pep talk, because he's meeting Yeon-ah), and he recognizes her from the other day, calling her "100 won."
She bristles at that (Lee Soon-shin is the face on the 100 won coin), but she's feeling so good that she just lets him be his petty mocking self and leaves him mid-speech. And then he trips on his own feet, haha.
Jun-ho enjoys impressing Yeon-ah with an office tour, then gets to the point — she's here to sign with him, right? To his surprise (and displeasure), she declares her intention to set up her own company, and wants him to release Song Mi-ryung for her to manage. After all, Mi-ryung is "like a mother to me," and she thinks she can take better care of her.
Jun-ho scoffs, telling her that business is a lot harder than she thinks it is, and warns her off the plan.
Yoo-shin, meanwhile, finds one suitor particularly hard to get rid of — he's convinced that she's The One, and that she's pure and sweet and all that. She rolls her eyes and says she's not, then to prove it she strolls right up to Chan-woo — who has witnessed the exchange nearby — and fake-kisses him. Her admirer leaves in sobs. Sucker.
Chan-woo disapproves of Yoo-shin's flippancy, but she just calls him Mr. Conservative. It's a familiar back-and-forth dynamic for them.
That night, Soon-shin and Mom are in great spirits, having gotten half their sizable signing fee deposited into their account. (It's 10 million won, nearly $10,000.) Dad puts his foot down and tells Mom to return the money, but Mom refuses to give in this time, saying that the rest of the family is being disappointingly unsupportive. Good for her.
Mi-ryung is pretty icy about cutting loose her manager of 30 years, though she does betray emotion when he mentions seeing an old friend the other day — Lee Chang-hoon. Aka Soon-shin's father. And wouldn't you know it, Dad finds an old photo of him with Mi-ryung and looks wistfully at it. (Hm, I begin to see Dad's aversion to the acting life…)
Yeon-ah visits her on set like the faithful protegé she is, though we know by now that she's working the angle so she can snap Mi-ryung up for her own company. Despite a brief trip down memory lane to her youth, Mi-ryung warns Yeon-ah to not look back or have regrets on anything — that's the secret to her success.
Dad takes Soon-shin aside to try to talk her out of pursuing this acting thing, saying that it's a difficult road. She assures him that she knows, but wants to give it a try anyway. It's not that she needs to be an actor, but that she's always felt sorry to her parents for being such a poor daughter, and just wants them to be proud of her.
But sadly, as we expected, she soon finds out that she's been the victim of a scam. Mr. Con Man actually took out a bank loan in her name for 20 million won, then deposited half in her account, taking 10 million for himself. So now Soon-shin is on the hook for the whole amount.
Soon-shin tears around looking for the Con Man, and takes to haunting the restaurant where she met him. She waits there for hours, to the waiter's annoyance, only leaving when she's kicked out.
Mi-ryung has dinner with Jun-ho's parents, but gets up early when the couple gets flirty. (Well, Mom does, and Dad just puts up with it.) Mi-ryung looks slightly envious of their relationship and goes home to her empty mansion, sleeping on the sofa opposite her face projected on the wall.
In the morning she heads out for a walk, and happens to cross paths with a familiar face. It's Lee Chang-hoon, Soon-shin's father, and they're both startled at the reunion. Clearly something in the air here — not something adulterous, but bygone and wistful.
Soon-shin heads back to the restaurant for another day of waiting, and today the restaurant owner (the other Lee Ji-hoon), who's also Jun-ho's friend, takes pity on her and offers her a plate of pasta. Aw, I like him. Just then the Con Man comes in with another potential victim, and bolts at the sight of her.
Soon-shin darts out after him and chases him in the streets, but narrowly avoids being hit by a car. And who should step out of the driver's seat but Jun-ho, while Con Man gets away.
Panicking, Soon-shin looks around for her target and breaks down when she realizes he's gone. In desperation, she starts yelling at Jun-ho to give her back her money, since it's his fault she lost the con artist.
It's almost hilarious how awkward Jun-ho looks to have a sobbing, wailing girl collapsed at his feet in the middle of a street, especially when Yeon-ah shows up. But poor girl.
Heading inside, Jun-ho tells Yeon-ah to give up her plans to go solo and just sign with him. She challenges him, asking how she can be sure of his skill. Sure, he only works with the best, but that proves nothing. What would really prove his talent is making a star out of a nobody… and then a gleam enters her eye as she sees Soon-shin crouched outside, dejected and dazed.
Make that girl a star, Yeon-ah challenges — then she'll sign the contract.

COMMENTS
Ah, so Pygmalion, is it? Not the most novel premise, no, but there's something wonderfully appealing about the classic story, isn't there? Build up the girl, and then fall in love with your own handiwork while she becomes her own person?
It's especially satisfying when you've got a hero who could use a little ego-smacking, and I say that with affection. I'm totally onboard with Jun-ho's character, haughtiness and assy tendencies and all, because he undercuts that so wonderfully with that dash of bumbling idiot. It's adorable. I credit Jo Jung-seok with finding that character thread, because he always has a way of bringing a little extra something — humor, quirkiness, unpredictability — to his characters. It would have been such a shame if he'd been confined to the basic archetype. So glad we get more than that.
IU has an approachability that really works with the role, and I'm totally there with her Soon-shin as well. And really, that's enough right there for me — a sympathetic heroine and an engaging hero. Soon-shin is accident-prone and down on her luck, but she's neither too morose (that would be depressing) nor too perky (which would be aggravating). I like the balance she strikes, of showing her glumness and then struggling to push it behind her.
I don't believe she's an incompetent heroine, but rather just very ordinary in every way (as decreed by her society), and I can actually buy this line. Sometimes dramas slap glasses and a bad haircut on a gorgeous actress and expect us to buy that she's ugly, or even average-looking, and that's ridiculous. But Soon-shin's ordinariness is about her aura and her lot in life, and seeing how her family treats her goes a long way toward explaining that. And while Big Sis's constant harping wears thin pretty quickly, Mom's warmth makes up for it, and then some. I love this mother-daughter relationship, and that's not something we often get in dramaland.
I can see where we're setting up for the future, and so far so good. The parental bygone-love story isn't my favorite, but I do think it's been integrated with the characters — like how Mi-ryung gave up any claims on "normal" domestic life in exchange for her stardom, and tells herself she doesn't regret it. But then she runs into The One That Got Away (I'm assuming he is, that is), and that stirs up all sorts of old feelings.
I don't think it's too spoilery to refer to something in the character descriptions, which is that Mi-ryung takes Soon-shin under her wing, and I can understand the mentality driving her. In a way, it's like she can re-create the life she gave up with her Oppa's daughter. (I just really hope that she doesn't end up being Soon-shin's birth mother. That would be too trite, even though I'm half-expecting it already.) And the fact that Soon-shin then takes over that space in Mi-ryung's life — thereby pushing aside Yeon-ah, whom I hate purely by virtue of the fact that she's Yeon-ah — well, that's just icing on the cake. And when our heo-dang hero falls for Soon-shin too? Cherry on top.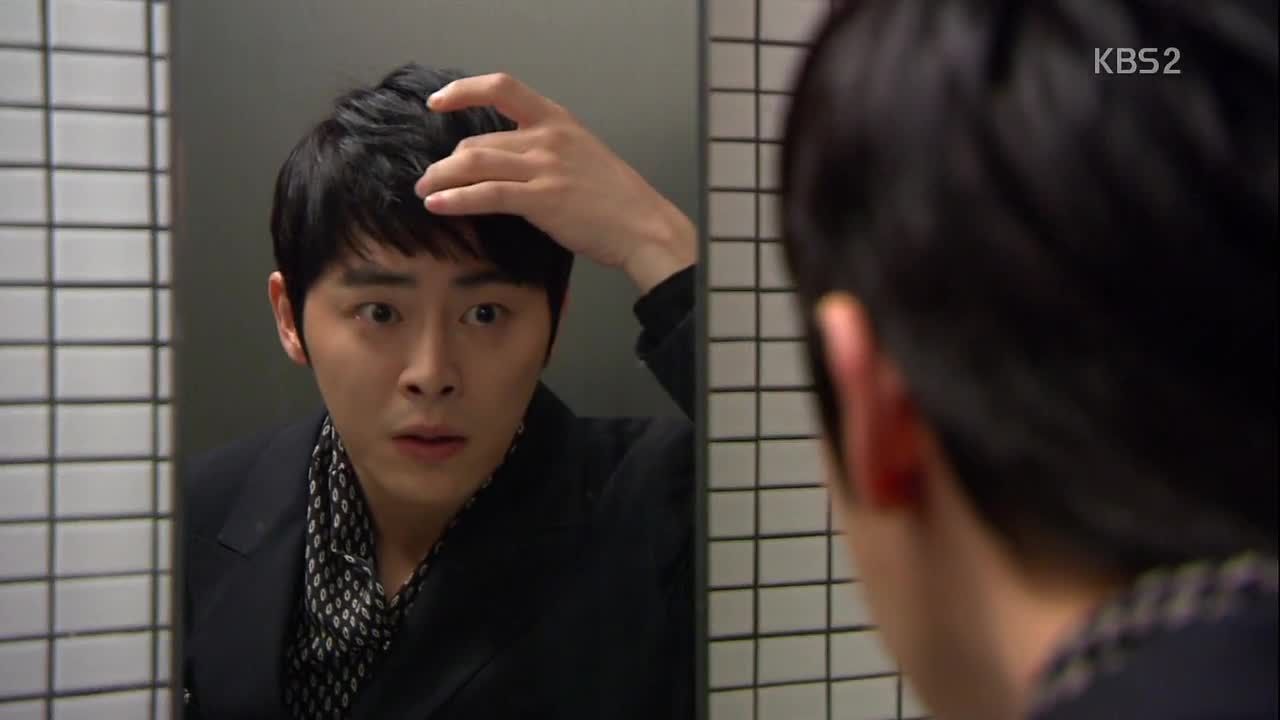 RELATED POSTS
Tags: featured, first episodes, IU, Jo Jung-seok, Kim Gab-soo, Lee Ji-hoon, Lee Ji-hoon (2), Lee Mi-sook, Sohn Tae-young, Yoo Inna, You're the Best Lee Soon-shin