Answer Me 1997's sequel to be about basketball
girlfriday: There's new news on the Answer Me 1997 follow-up drama, which was being called Answer Me 1994 up until now… Apparently it's going to be a basketball drama. Huh? As in Last Match Redux?
javabeans: Whaa? Is that awesome, or too much meta jokery? We'd be the last to have a problem with any sort of Last Match referencing — our love for that trendy-college-sports-romance series is enduring and unabashed — but it seems like an odd genre mashup. K-pop and sports? It's because 1997 was so heavily music-oriented, with the plotlines and also the usage of songs in the show.
girlfriday: Yeah I thought they were gearing up for Seo Taiji '94 version.
javabeans: I guess those were the two big trends of that year. And I can't imagine that they'd make a basketball show in 1994 and NOT reference Seo Taiji making waves in K-pop. Still, I'm like, pick ONE thing!
girlfriday: It's going to do both, apparently, though the title of the thing is (for now) Basketball Extravaganza. Er, that's lame.
javabeans: Totally lame. From henceforth it shall be known as Basketballopalooza. Although they should just call it Slam Dunk: The Drama and be done with it. Or… wait for it… The Last Rematch.
girlfriday: Cue music! *Dun dun dun dun dun dun dun dun dun dun dundundun*
javabeans: Okay you really can't just spell out the riff like that. We're not in your mind! Here we go:
girlfriday: Ah, memories.
javabeans: …all full of nostalgia and cringing and bad '90s hair.
girlfriday: I do love the 1997 team (PD Shin Won-ho and writer Lee Woo-jung) because they have seem to have the same memories of the '90s that we do, with all the same embarrassing loves.
javabeans: And supposedly the entire team is from the same college class (not necessarily the same school, but the same entry year of 1994), which gives them a pretty unique window into the time they're portraying. Which isn't always the case. The thing I loved about 1997 was that it felt like it was made by people with real, serious love for the time and place they were portraying.
girlfriday: YES. And if anyone were going to try and remake (or pay homage to) a classic like Last Match, these would be the people. I vote for a Jang Dong-gun cameo.
javabeans: I feel like he totally wouldn't (it's so in a different realm from his place in the biz), but he totally should. And the producers are getting in touch with Seo Taiji fan club members from back in the day, so you know that at least one of 1997's trademarks is gonna come back for Basketballopalooza: humanizing crazy sasaeng fans all over again.
girlfriday: What that has to do with basketball is beyond me, but maybe '94 was just a mashup kinda year.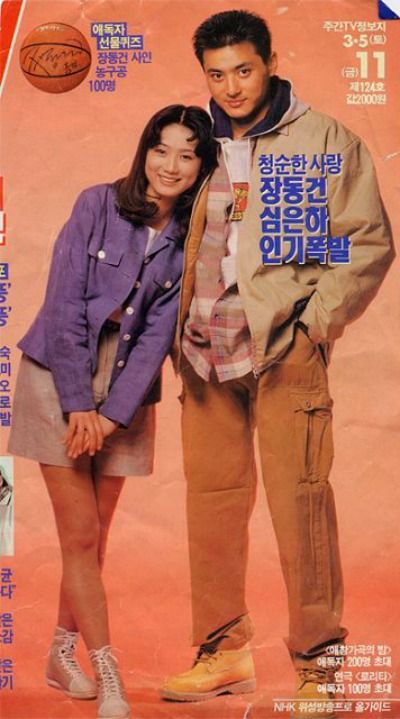 Via Joongang
RELATED POSTS
Tags: Answer Me 1994, Answer Me 1997, cable programs, conversation post, sequels