End of the World halved due to poor ratings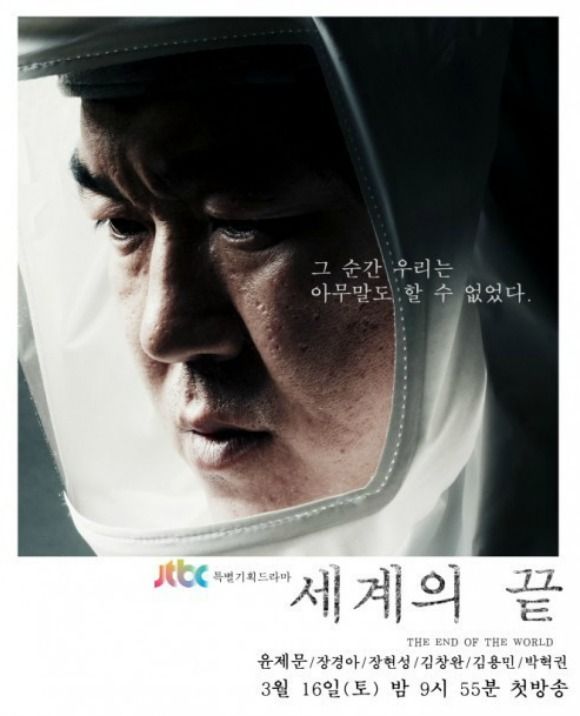 Bad news for The End of the World, the cable medical plague drama that has picked up a mania following (i.e., a cult hit), though it hasn't been able to carve out a space for itself in the ratings game. As a result, it's getting cut early to nearly half its original length.
The show has earned praise as a well-produced drama, and its producers are the team behind A Wife's Credentials — two factors in its favor. Even so, The End of the World has been unable to break 1% ratings after premiering with 0.899%. At its lowest point, the ratings dipped to a mere 0.4%. JTBC has announced that in light of the low ratings, they will be cutting the show down by 8 episodes; originally slated for 20 episodes and airing as a Saturday-Sunday series, it will now end on Episode 12. Furthermore, instead of airing two episodes per week as with conventional prime-time dramas, it will switch to a once-a-week broadcast — new episodes will air on Sundays only.
With so many cable shows making headlines and breaking ratings records, it's almost enough to assume that all cable dramas are going to hit it big and challenge the broadcast Big 3 in the prime-time market. It certainly makes for a nice underdog story. And of the cable offerings, JTBC has been the one to steadily churn out the prestige shows, with a number of lauded titles in just over a year of operation: Childless Good Fortune, Padam Padam, A Wife's Credentials, Dowager Queen In-soo, Cruel Palace: War of the Flowers…
Even so, and even despite my general frustration with television stations' knee-jerk reactions to sheer numbers, at a certain point I understand the business decision to pull the plug when numbers are that low. Nearly 1% is pretty solid, but 0.4% for a show that the station hoped would top Wife's Credential's 4% ratings? I can see the reasoning.
It does suck for everyone involved in making the drama, and for fans who are enjoying it, however small their numbers. I don't believe this is a pre-produced drama so we aren't dealing with a situation where existing episodes have to be hacked up to fit in a shorter running time (as with Tamra the Island), but the show has already aired nine episodes, which doesn't give it a huge amount of narrative room to rearrange itself into the new format.
Following The End of the World will be the Jung Kyung-ho cop drama Undercover, about detectives who infiltrate a criminal organization for a drug investigation.
Via My Daily
RELATED POSTS