Gu Family Book: Episode 6
It turns out there's more than one advantage to delaying the reveal that your heroine isn't a dude. The hero constantly puts his foot in his mouth, and you get lots of speedy skinship. Maybe this should be a cross-dressing drama. Things go from bad to worse for Kang-chi today, which I guess in dramaland is just another day.

EPISODE 6 RECAP
We open with a young Kang-chi, stewing in anger. Lord Park looks down at him calmly, and then we see the row of other boys kneeling beside him, bruised from a beating. Heh.
Kang-chi gets scolded for hitting the other boys, but he cries in defense that they teased him for being thrown away in a river. Lord Park says he's grateful that Kang-chi was abandoned in a river: "Otherwise I never would have met you. Relations by the heart can be family, no different from blood."
He calls Kang-chi his family, loud and clear for the other kids to hear. Aw. Little Kang-chi looks up in gratitude and laughs joyfully.
That laugh echoes as we fade out… and fade back in on Lord Park's sacrifice, as he jumps in front of the sword meant for Kang-chi and dies in his arms.
Dark clouds cover the moonlight as Kang-chi's fury sets in, and his eyes glow a menacing green as he growls at Jo Gwan-woong: "I will kill you."
A massive gust of wind knocks everyone down except for Kang-chi, who goes straight for his target.
Suddenly the force of a staff stops him cold. Phew, it's monk So-jung, here to stop him before he massacres everyone in sight. Kang-chi struggles against the staff, but So-jung uses all his power to subdue him, and finally the bracelet's power kicks in. All this does not go unnoticed by Jo Gwan-woong.
By the time the wind dies down and everyone looks up, Kang-chi and So-jung are gone.
Yeo-wool and Gon can finally peer over the roof to see what's going on, and it takes everyone a long pause before it sinks in that Lord Park is dead. Tae-seo breaks down at his father's side.
Both Dam Pyung-joon and Lee Soon-shin get word of Lord Park's death, and we cut to his secret vault of riches, still untouched and undiscovered by the authorities.
By morning Lord Park's body is loaded onto a cart, but the ox pulling him refuses to budge an inch, no matter how many men push from behind. Lady Yoon finally steps up and puts a hand on her husband's body, asking if he really doesn't want to go that badly.
She cries that there's nothing left and that it's time they go, and when his children do the same, the cart finally begins to move. All the townspeople gather and there's wailing in the streets the entire length of their journey. It really is moving to see how beloved this man was.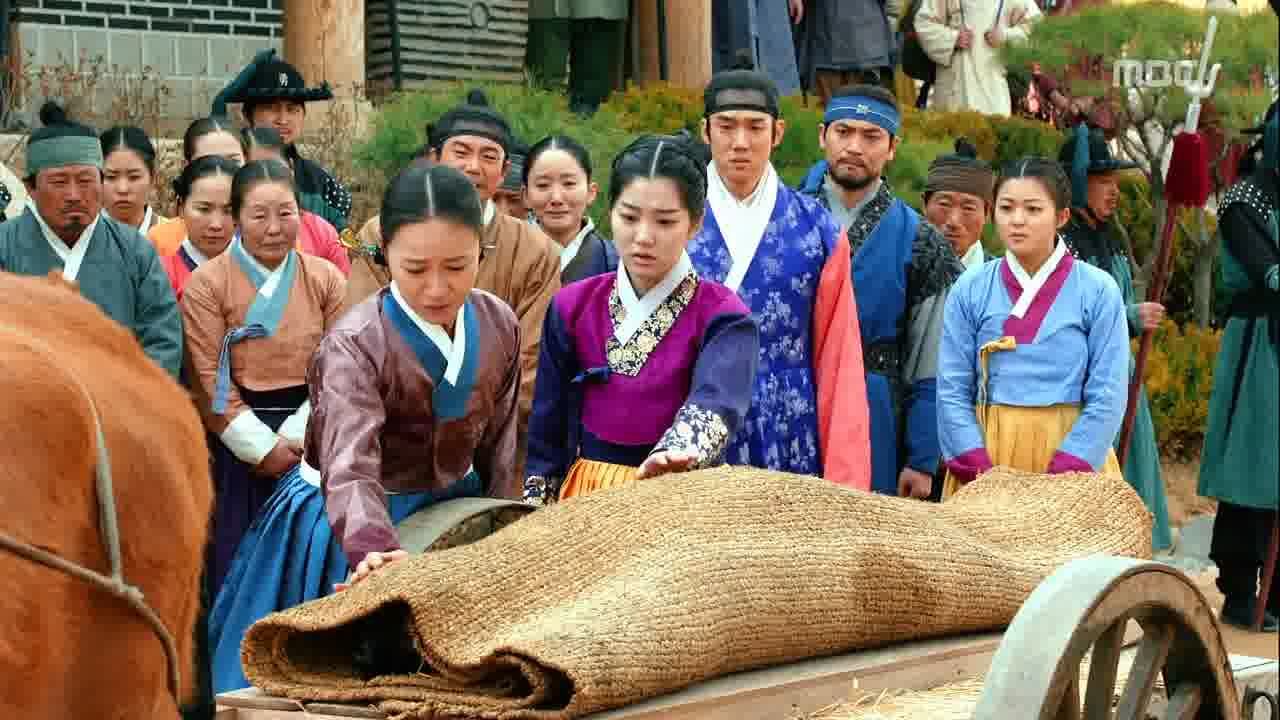 And then things go from bad to worse, as if having the family taken away as traitors wasn't bad enough: Kang-chi gets framed for killing Lord Park, and wanted posters go up all over town.
It's ballsy, given how many eye-witnesses there were, but Jo Gwan-woong clearly doesn't want the responsibility for killing such a universally respected man. Kang-chi's sudden disappearance from the scene only serves to back up the suspicions, and soon bounty hunters are licking their chops at the massive price on Kang-chi's head.
Yeo-wool flips her lid at the news and storms out to do something about it. Gon tries to argue that this is something they have to consult her father on, but she refuses to just sit here and let them accuse Kang-chi.
He tries to stop her, asking what she plans to do anyway—what, is she going to hide him away? And be an accomplice? She says she will, without hesitation, and shouts, "I have to find him first! And then thinking comes later."
Gon seethes, asking why she's doing this. Yeo-wool says she owes him her life, and twice over at that, thinking it's only natural to be concerned. She leaves Gon sighing in defeat.
All the members of Lord Park's family (servants included) get locked up, and the guards take Tae-seo away for interrogation. Mom wails that they can't take her son away, but he promises her that he won't die and leave them behind, and resolutely faces questioning.
The courtyard is filled with torture devices strung up in preparation for his arrival, and Jo Gwan-woong sits behind a screen, sipping tea like he's here to watch a sporting event. Tae-seo quakes in anger and fear, and then a few moments later his family can hear his screams. Augh.
Mom cries and cries for them to let her out, but Chung-jo is stronger, and covers her mother's ears. She tells the whole family that they have to endure and not break down. I like her. She stifles her own cries and thinks to herself: "Kang-chi-ya, where are you?"
Kang-chi wakes up in the place where he was born, still winded from the pain of So-jung's blow. He looks around the cave wondering where on earth he is, and So-jung arrives with food.
He immediately stalks off in the other direction, eager to know what happened to his family, but So-jung warns him to stay put for ten days, and that there's nothing for him to go back to.
When Kang-chi snaps at him So-jung snaps right back like he's talking to a tiny child, exasperated that he didn't listen to his very clear instructions to stay away last night. He says very plainly that if Kang-chi had listened, Lord Park wouldn't have died. Aw, sad, why are you telling him that?
Kang-chi still isn't deterred from returning to his family no matter how many times he's told to stay here, so So-jung tosses out: "It was your mother's dying wish." Kang-chi stops in his tracks and turns around.
"What did you just say? Mother? You knew my mother?" So-jung says he can do one better: "I was once your father's best friend."
Augh, Tae-seo. By the time we get back to Tae-seo, he's a limp, bloody mess. Jo Gwan-woong walks up to him to point out that it was Tae-seo's visit (and righteous tirade) that killed his father. Goddamn all you people spreading this father guilt all over the place. Gah.
Tae-seo seethes that he'll kill him and avenge his father's death, and Jo Gwan-woong laughs that countless people have said those same words to him, but he's killed them all. He says this is what taking on Jo Gwan-woong leads to, and walks away with a chuckle, leaving Tae-seo bellowing a cry of rage.
Jo Gwan-woong wonders what Kang-chi's true nature could be, and his head minion guesses that the bracelet is the source of some kind of magic that he's harnessing. He's told to capture Kang-chi alive at all costs.
The cowardly officer comes by to say that they've gotten no confessions of traitorous activities, but Jo Gwan-woong doesn't see the need for silly things like proof. He offers a promotion, and decides that he'd like to take over the Hundred Years Inn himself. And just like that, Lord Park is deemed a traitor.
Tae-seo rejoins his family and asks after Kang-chi, but the servants all say with disappointment that he must've run away to save himself. What? People, c'mon, where's the faith?
Yeo-wool and Gon follow the bounty hunters for a while and figure out that Kang-chi must've run into the woods. Gon argues that's like finding a needle in sand, but Yeo-wool says Kang-chi's far louder than a needle, so he'll be easy to find.
Gon asks what he can do to break her stubbornness, and Yeo-wool mulls it over: "Die?" I'm pretty sure he takes her seriously for a moment, being humorless and all. She laughs and says he won't, not even when she's old and gray.
The bounty hunters follow them into the woods, only to have Gon threaten them and send them running. But when he turns around, Yeo-wool is gone.
She follows one of Jo Gwan-woong's men deeper into the woods, but then realizes she's vastly outnumbered, and that they're heading right in her direction. She starts to run, when suddenly someone yanks her out of the way.
Panicking, she whirls around and sits on top of him and pulls out her knife, but of course it's Kang-chi. He pulls her close to hide behind a rock as the men get closer. They're practically lying on top of each other, but I suppose since Kang-chi still thinks she's a boy, it's not awkward for anyone but her.
One of the men gets pretty close to their hiding spot, and Kang-chi's leg happens to be dangling out from behind the rock… but then the ivy grows around it, hiding it from view. Ooh, is he getting more powers day by day?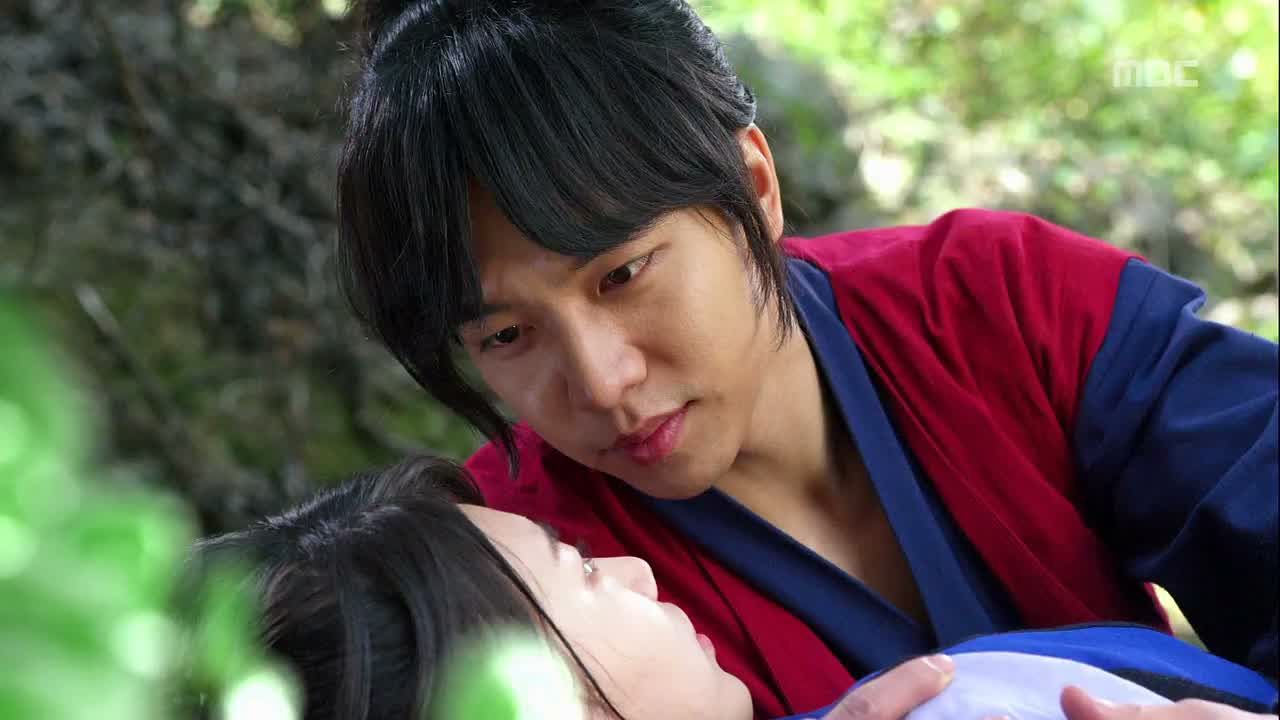 She gulps at the closeness, and then he takes a look at her face, noting that he's rather pretty, enough that people might think he's a girl. Well, you're not wrong. He adds that he's always saving her life and never getting thanked for it.
The funny thing is they're having this entire conversation lying on top of each other for no reason, and suddenly Gon's hand comes out of nowhere and yanks Kang-chi up in a flash. Hahaha. The thing is, Gon is so jealous that anyone else might notice that Yeo-wool is a girl just from his behavior, but Kang-chi's such a hothead that all he does is fight back.
Gon is so livid that he just punches Kang-chi in the face, and then they're back to holding their fists up at each other, as per usual.
Yeo-wool yells at them to stop, reminding Kang-chi that he has bigger things to worry about—his family's been taken and he's being framed for murder. She suggests they hide out till they can figure out a way to clear his name.
But Kang-chi has no intention of hiding out, and plans to head right back home. She's blocks his path and asks if he hasn't heard a word she's said, but he has. "I plan to kill someone on the way in anyway, so one murder or two, what's the difference?"
Flashback to his conversation with So-jung, who had urged him to just stay here for ten more days, after which he promised to tell him everything about his parents. But Kang-chi flatly refuses, not caring to know a single thing about people who threw him away twenty years ago.
So-jung says he wasn't abandoned and that there were reasons for all of it, and that he has to know his fate. But Kang-chi says he's never once been interested in the fate of a child tossed into a river. "I have a family! I have a family I have to save!"
He tells Yeo-wool that he's going back anyway, and just thought he'd hear a thanks from her before dying. So Kang-chi heads back into town, and all Yeo-wool and So-jung can do is watch.
His movement gets clocked by the bounty hunters as well, who follow quietly. He heads back to the inn, where happy memories just make the empty courtyard feel even more lifeless.
One of the servants comes running up to hug him, and he asks where the family is being kept. Kang-chi turns to go, and the servant calls out that Lord Park's death wasn't Kang-chi's fault. He clenches his fist but doesn't reply.
Chung-jo suddenly gets dragged out of her cell kicking and screaming, and the family gets told that Lord Park has been found guilty—Tae-seo will be beheaded in the morning, and Chung-jo will be sold off.
They argue that there's no proof, and Chung-jo demands that the case be taken to higher courts. But their cries fall on deaf ears, and as Chung-jo gets dragged away, Tae-seo faints, calling out for his sister.
Jo Gwan-woong gets told that everything is in place, and then sets his sights on capturing Kang-chi. Looks like the thug collected his reward.
Chung-jo gets locked in a cart ready for transport when her guard conveniently has to use the bathroom, which gives Kang-chi the perfect opportunity to appear right in front of her just as she whispers aloud for him to come save her.
He apologizes for taking so long and starts fiddling with the lock, but Chung-jo stops him. She tells him to save Tae-seo first. Oof. Kang-chi refuses, but she says there might not be enough time, and Tae-seo will die. She makes him do it, and he promises to come back for her.
He starts to walk away but she can't bring herself to let go of his sleeve. It drives home how deathly afraid she is, which just makes her braver, of course. He turns back to kiss her on the forehead tenderly before heading off. She watches him go and says aloud, "I'll wait for you. I'll wait for you, Kang-chi."
But we see that one of Jo Gwan-woong's men is on the roof, watching Kang-chi the whole time.
Kang-chi breaks his way into the cells and hurriedly unlocks the doors for everyone to escape. But Lady Yoon tells them she'll only slow them down, and that she'd rather be sold into slavery than be hunted.
Her servants all immediately sit down, unwilling to go without her. It's really to give her son the best chance at survival, and Kang-chi kneels to give her his word that he'll give his life to protect Tae-seo and Chung-jo.
She remembers now how harshly she had reacted the last time Kang-chi had said those words to her. This time she looks up at him through grateful tears and begs him to keep them safe.
So he takes Han-no and one other man to help carry Tae-seo, and Kang-chi leads the way, leaving all the other servants including his father behind.
But as soon as they step foot outside, Jo Gwan-woong's men are standing there waiting. Kang-chi and Han-no do what they can to fight them off, but the longer it takes the window to escape closes.
Kang-chi tells Han-no he'll keep the men busy while they sneak Tae-seo away, but Han-no says he'll have to be the one to stay. Kang-chi looks down to see that he's already sporting a gaping wound. Eek.
They promise each other they'll stay alive, and Kang-chi takes Tae-seo away. Han-no buys as much time as he can, but the minion leader sends the rest of the men after Kang-chi, and fights Han-no on his own.
They struggle and clash, while Kang-chi and Tae-seo run, and all the while Chung-jo waits and waits. Han-no gets brought to his knees, and then, a slice across his chest. Oh no, not Han-no too! Is everyone gonna die?
Kang-chi barely gets Tae-seo out of sight where a man discovers them. They panic, but he offers to hide them, saying that he owes a great debt to Lord Park. Ah it's the rice thief that he once let go.
Just then, one of the men finds them, but an arrow flies out of nowhere and puts him down. Kang-chi looks up to find Yeo-wool smiling back. She asks the rice thief to hide Tae-seo for a few days while she and Kang-chi run the men the other way.
Kang-chi's still flabbergasted and speechless, and Yeo-wool quips that he needn't say thanks because those things don't always need to be said in words. Ha.
They take off running to lead the men into the woods, and split up. But they all come after Kang-chi, and surround him, swords drawn. Meanwhile Chung-jo waits and waits, but it's her guard who returns first, and starts to lead her away to be sold.
As the men prepare to attack, one of them remembers their leader's warning that he'd have to remove Kang-chi's bracelet to capture him, and so at the first chance he gets he slices the bracelet, and the beads go flying into the air.
The entire mountain trembles as birds fly up and the wind starts to swirl violently. So-jung and Yeo-wool each feel the energy start to change, and then suddenly… an eclipse darkens the sky.
Day turns to night in a flash, and then one by one the swords slice at Kang-chi and cut him down. He wonders why he feels this way, like his insides are cooking, and grits his teeth to get up because Chung-jo is waiting.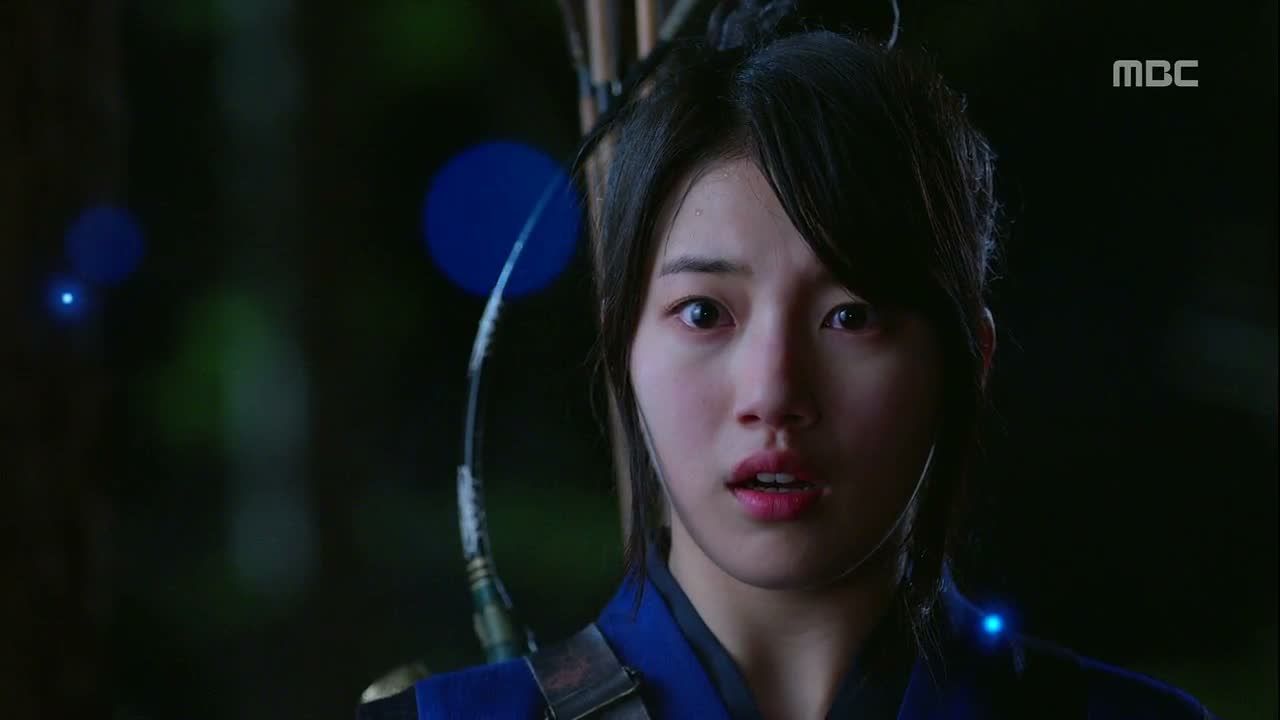 Yeo-wool finds him and is about to run up, when a glowing blue light appears and she stops. She watches as more lights descend upon Kang-chi. One by one they heal over his wounds.
As he starts to stand, the men all yelp and back away in fear. We see his gumiho claws and then pan up to his glowing green eyes. Yeo-wool's eyes widen and she gasps, "Choi Kang-chi…" as he growls like a beast.

COMMENTS
I'm surprised that Yeo-wool learns about Kang-chi's gumiho side so soon (sooner than he figures out she's a girl, which is funny), but I do like that it gets rid of any chance of a Big Misunderstanding type of story between them. This was the problem from the get-go with his parents, since Wol-ryung thought he could marry Seo-hwa and become human before she'd notice, which was a little optimistic, to put it nicely. I just hope he doesn't go ripping people's arteries out before she has a moment to adjust, because that was unpleasant and frightening enough the first time.
Now that we're six episodes in, I'm itching for So-jung to spill the beans about what he knows, mostly so that we can get our bearings as far as gumiho lore goes in this universe. Like what happens in ten days when Kang-chi turns twenty. Does the bracelet stop working? Or has it already been stripped of its power? And more importantly, what is this fate he's supposed to live out?
Today's episode had some really moving moments in the aftermath of Lord Park's death, but it also suffered from some obvious pitfalls. Until Kang-chi's intervention, we just saw history repeat itself with Chung-jo as Seo-hwa, and while the noble sacrifices are all noble, I think one (Chung-jo's) would've sufficed. Hers, and then her mother's, and then Han-no's… it started to feel silly. Not the sacrifices themselves, mind you, but the execution one after another. Like they were all lining up to take a number and go over the cliff or something. It's just that nothing about the prison escape felt organic—suddenly a guard had to go use the bathroom, and Kang-chi can get the keys to one lock but not the other, Han-no stays behind for nothing—not perilously logic-failing stuff, but also clearly just cogs set in place to get a very specific outcome, not actions based on situation.
I'm fine with it inasmuch as it doesn't make or break the story (it's not a prison break drama), and what we care about is Kang-chi's emotional connection to this family. But I do hope the producers up their game with action scenes in general. This show's strength is in the emotional beats so that other stuff tends to fall away, but it would be nice to have the story logic not fall under scrutiny. It's not in bad territory yet, but the seams definitely show—put A in place to get to B—which is something you want to hide.
But Kang-chi's love for his family is beyond moving, and it really does just carry the story right along, because at the end of the day we care. He's a great character and already such a hero, which makes it so easy to root for him to save the day. And knowing how much he has on the line now with Tae-seo and Chung-jo holding on by a thread, it only raises the stakes higher and wrings my heart more.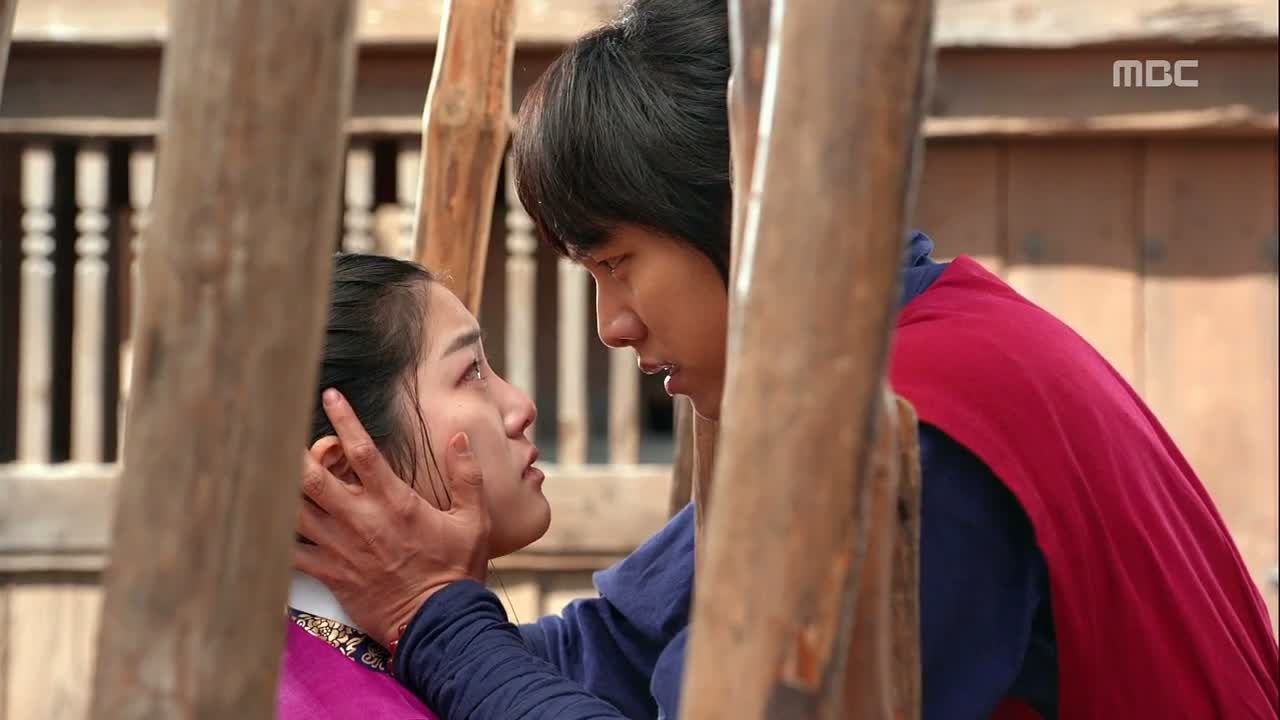 RELATED POSTS
Tags: featured, Gu Family Book, Jung Hye-young, Lee Seung-gi, Lee Sung-jae, Suzy