Gu Family Book: Episode 7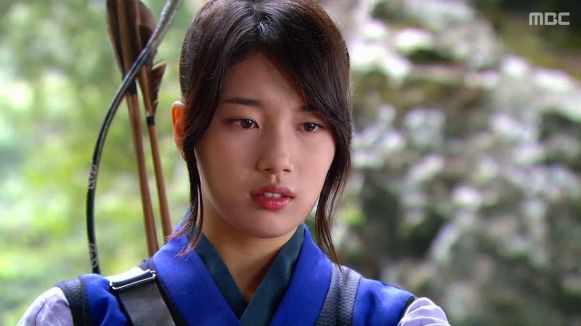 Kang-chi finally learns the hard way who, or what, he is, and faces his demons quite literally in a war between his beast and human halves. And in a refreshing change of pace in dramaland, our heroine steps up in a big way to save his bacon. Now if only he could figure out that she's not a boy…
SONG OF THE DAY
Baek Ji-young – "Spring Rain" from the OST [ Download ]
Audio clip: Adobe Flash Player (version 9 or above) is required to play this audio clip. Download the latest version here. You also need to have JavaScript enabled in your browser.

EPISODE 7 RECAP
We back up a little to the moments before Kang-chi's transformation. Yeo-wool narrates: "Even in that moment, I didn't want to believe those words…" Flashback to So-jung's warning that one of them might die if she didn't avoid this fate. "I didn't want to believe such false words. But…"
Kang-chi rises up, growling like a beast, and Yeo-wool's eyes widen. "What is that? Who is that monster in front of my eyes?"
Kang-chi attacks the men surrounding him, and Yeo-wool flees. Gon catches up to her and finds her terrified, screaming on contact and muttering, "Something went wrong. Something went terribly wrong…"
They hear a roar in the distance, and then the last of Jo Gwan-woong's men falls to the ground, surrounded by bodies torn to shreds. Kang-chi limps away, losing his grip on consciousness with each step.
He wills himself to go on: "I have to go. I have to go to Chung-jo. She's waiting…" but he collapses in a heap, and the rain starts to come down.
Chung-jo finally reaches her destination—a very familiar front door. She asks where they've taken her, and we of course know the answer: she's being sold to the gisaeng house.
It's only now that we see madam Soo-ryun again, after Seo-hwa's story twenty years ago. She's told that they have a new girl, but when she hears that it's Lord Park's daughter, she freezes. Hm, curious.
She heads outside, where Chung-jo is refusing to go in. She screams that they can kill her before she'll ever step foot inside that place. It's Seo-hwa all over again, and Soo-ryung even sees Seo-hwa standing before her.
Soo-ryun hasn't changed at all in twenty years, and orders them to strip her clothes and tie her to the tree. Chung-jo screams in protest, talking down to Soo-ryun and declaring herself the daughter of Park Mu-sol.
But Soo-ryun tells her that name can no longer protect her: "From now on if you do not protect yourself, you won't survive." She tells the servants not to give her one drop of water without her say, and they leave her there tied to the tree.
Chung-jo cries and cries for her father as it starts to rain. The servants wonder what's gotten into Soo-ryun, because she hasn't done this in twenty years, ever since Seo-hwa.
As the rain continues to come down, So-jung finds the site of the massacre and picks up one of Kang-chi's bracelet beads. He's too late.
Yeo-wool reports every last detail to her father, which is frankly a surprise. I didn't expect this turn at all. Dam Pyung-joon immediately puts the pieces together—Wol-ryung's death by his sword, Seo-hwa's baby… Kang-chi is their child.
Gon asks for a few men to take back into the woods to find and kill Kang-chi, which alarms Yeo-wool. Thankfully Lee Soon-shin is there to speak up and suggest they bring Kang-chi here first, because Lord Park treated him as a son, and they should respect that.
Yeo-wool immediately pipes up that she agrees with that plan, and she and Gon argue about the right thing to do. Dad kicks them out, so they take the argument out in the rain. Yeo-wool can't believe Gon would be so callous about taking a life, while he argues that Kang-chi isn't a person, and that they both saw those bodies in the woods.
Yeo-wool: "But finding out what's going on, what's happening to him right now—that should be first. Concern should come first!" Gon says his only concern is their home and Yeo-wool, which makes her sigh that he was always that way, only ever concerned with what her father ordered, nothing more and nothing less.
Yeo-wool: "Sometimes you feel like a wall. Without a heart, without feelings… a cold wall." Aw, poor Gon. But I do get why she's drawn to Kang-chi if he goes out of his way to help others while Gon never once strays from what he's ordered to do.
She turns to go, and he calls out, "Do you like him?" It stops her in her tracks, but she answers defensively that he must be stupid if he already forgot what she told him—that she owes Kang-chi her life. It doesn't sound very convincing to either of them.
Dam Pyung-joon worries that if Jo Gwan-woong's people find out about Kang-chi's true nature, they'll hunt him down. Lee Soon-shin thinks that's the brighter side of the coin, since the truly worrisome outcome would be if the enemy took Kang-chi in to use as their weapon.
They decide to bring Kang-chi here to assess what he is and what he's capable of as a half-human half-beast. Lee Soon-shin adds that if he is a danger to them, he'll kill Kang-chi himself.
Gon checks in on Yeo-wool in the morning, only to find her room empty. Kang-chi finally stirs awake in the same spot where he collapsed, and has flashes of his transformation. He runs back to the spot where he killed those men…
But do you know what's creepier than a bunch of dead bodies? Nothing, where a bunch of dead bodies should be.
He looks around, even more confused than before. "Was it a dream?" And then So-jung appears from behind a tree with a very disappointed look on his face.
Jo Gwan-woong gets the report that the men chasing Kang-chi up and disappeared without a trace. His head minion expects anger, but instead Jo Gwan-woong gets this glint in his eye, musing that if Kang-chi really is capable of killing those men and making them disappear, that's strength that he wants for himself.
So-jung fills Kang-chi in on his gumiho/human parentage, which unsurprisingly has him thinking So-jung is a crazy person. But So-jung says he knows better than anyone what changes his body is going through, and Kang-chi stops cold at those words.
So-jung sighs that he should've listened to him, because if he could have lasted just ten more days, he would've lived the rest of his life as a human. What, you're telling us this NOW?
Kang-chi asks incredulously, "What, am I not human anymore?" So-jung just tells him to stay in the Moonlight Garden for now, until he figures out how to control his own strength.
Kang-chi flares up in anger. His eyes blaze green and his hands start to change, and it scares him more than anyone. He begs for So-jung to change him back. So-jung: "Accept it. This is your true face, Kang-chi."
He cries in desperation, "No, no it can't be! I can't be this monster!" He grabs a handful of beads from his bracelet and pleads for So-jung to put him back the way he used to be. "I can't go back this way. I can't go back to Chung-jo this way!"
He pleads on his knees, looking up at So-jung to be his savior, and though it moves So-jung to tears, he has no answers for Kang-chi. And then off in the distance, Yeo-wool gasps, having overheard their entire conversation.
Chung-jo wakes up still tied to the tree, and finds herself surrounded by townspeople, clucking in dismay. She clenches her fists in anger and shame, and sheds tears thinking of Tae-seo and Kang-chi, wondering why no one is coming for her.
Kang-chi looks down at his own reflection in the water, his head only filled with one thought: Chung-jo.
Four days pass that way, and Chung-jo finally passes out from starvation and exhaustion. Soo-ryun has her brought inside, and presents her with warm food. She asks if Chung-jo still has any noblewoman pride left, because if she does she can go right back to that tree. But if she leaves that behind, she can eat.
Chung-jo trembles in fear at the threat of being tied up to that tree again, and in the end she lifts her spoon to the porridge, choosing survival over her pride. She cries as she shovels the food into her mouth, knowing what she just gave up for this bowl of rice.
Yeo-wool follows Kang-chi into the Moonlight Garden and watches as he rejects the food that So-jung brings him for the fourth day in a row. She's finally had enough and walks right over and smacks him upside the head, asking if he's planning to starve.
They both look up at her in shock, and she continues in this totally matter-of-fact tone that you shouldn't turn away good food, poking it in Kang-chi's face. She explains that she saw everything and heard everything, and he gapes, "And you still followed me here? Do I…not look weird to you?"
Yeo-wool: "Of course you're weird. But then again, you were already kind of funny-looking before." HA. "So what, your eyes are a different color now. Is that a reason to shrivel up and hide like your life is over?" Hahahaha. I luff her.
Kang-chi still refuses to eat, so she hits him over the head a second time, asking him why a man is so weak, to be so defeated over a thing like this. Kang-chi: "A thing like this? I'm a monster! I'm not a person anymore!"
Yeo-wool: "You're alive! I thought you died that night. But you're here, alive." Aw. He still doesn't see how that's a good thing, wondering how he's supposed to live this way. He swears and she swears right along with him, agreeing that this sucks beyond measure and that she understands.
Yeo-wool: "But…you're still Choi Kang-chi. No matter what you look like on the outside, you're still Choi Kang-chi on the inside. Aren't you? Aren't you?" Kang-chi: "I don't know anymore."
He can barely remember what happened that night or how he even killed those men, and all he felt was his body burning up from the inside and every bone breaking, and he could hear everything all at once. He cries that he doesn't know anymore if he's Choi Kang-chi or just a monster.
Yeo-wool decides that he's Choi Kang-chi after all, because if he were only a monster, he wouldn't be this tormented. And at those words, his eyes turn back to normal. So-jung sees it too, and his jaw drops.
But they flicker back to green and Kang-chi turns away, defeated. Yeo-wool reaches out to put a hand on his shoulder, but stops short and just stands by his side. So-jung looks at the pair of them and wonders aloud: "Could it be… that these two…?"
Meanwhile, Jo Gwan-woong officially takes over the Hundred Year Inn, and to add insult to villainy, he brings Lady Yoon and the rest of Lord Park's servants in to work there as slaves.
They're ordered to serve their new master, and Lady Yoon sneers that he's the hollow shell of this inn's true master, and though he might have taken the name, he'll never possess it fully. She says he can steal all the power he wants from other people, but it'll never wash his blood clean.
He fumes and pulls out his sword, thinking it'll scare her, but she just sneers at him spitefully and pulls his sword into her chest. She cries: "Jo Gwan-woong! This place will soon be your grave!"
It shakes him, and he yanks his sword out and slashes her again, and she falls to the ground. The servants surround her, wailing on their knees, as she thinks of Tae-seo and Chung-jo with her last breath, and dies. I knew she wasn't long for this world, but I'm glad she got to rattle his cage before going.
Jo Gwan-woong wonders what Lady Yoon could've meant when she said he could never possess the Hundred Year Inn, and if there's some secret about this place. Of course what he doesn't know is that he's sitting right on top of Park Mu-sol's immeasurable fortune, which was supposed to go to Lee Soon-shin's turtle-ship-building endeavor.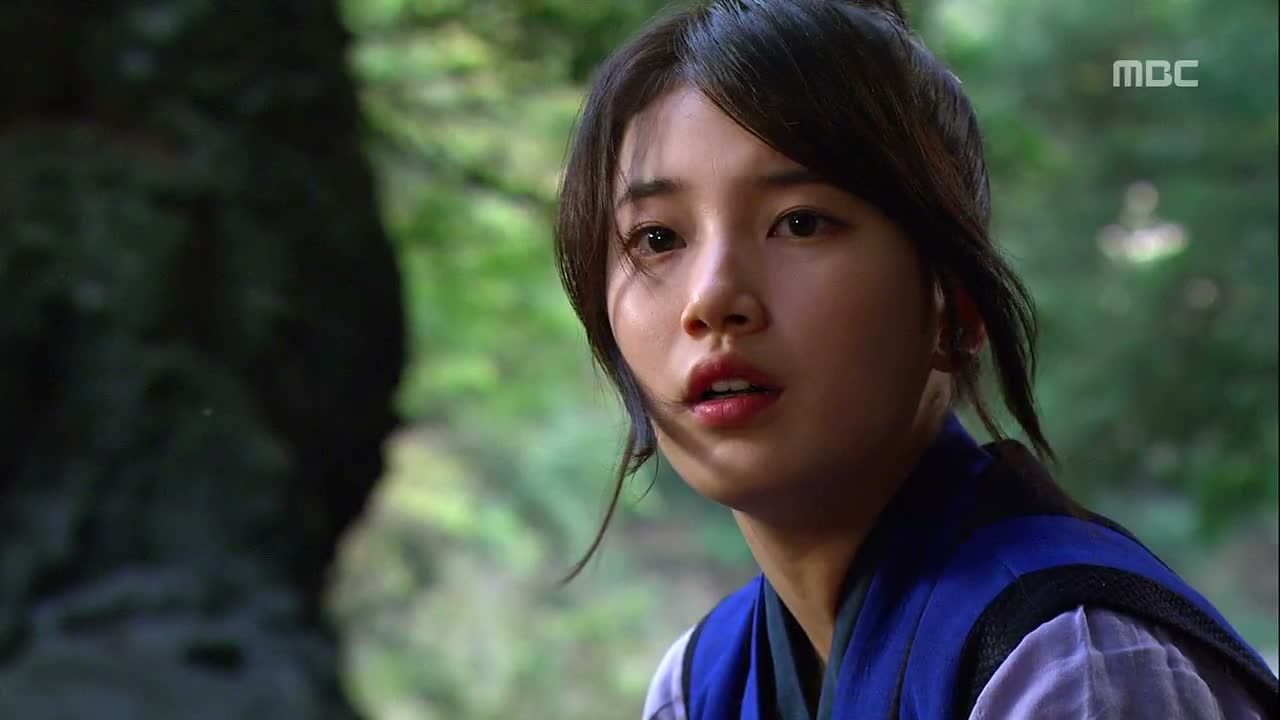 Back to the Moonlight Garden, where Yeo-wool jumps up at the sound of pained cries from Kang-chi. So-jung stops her from going inside the cave to check on him, saying calmly that Kang-chi's two halves need to fight it out and whether he lives or dies or is beast or man, it is his choice and his fate.
Yeo-wool takes issue with his passive demeanor, and asks just how much So-jung knows about the fate of people. He says he knows enough to know she shouldn't be growing attached to Kang-chi, while she gives the excuse that Kang-chi likes somebody else.
So-jung: "That's because he's an idiot who doesn't know the difference between pity and his fated match." He warns her to be on her way, and let Kang-chi determine his own fate. At least he's making a new bracelet while he sits here, though he sure is taking his sweet time with that.
Inside the cave, Kang-chi writhes in pain, struggling not to let the beast take over. He cries out for someone to save him, and hears Yeo-wool's voice, pleading with him to hold on and endure, "because you're Choi Kang-chi. Don't forget your name."
But he's overcome with rage at the thought of his family's suffering at the hands of Jo Gwan-woong, and loses control, roaring, "I want to kill him. I want to kill them all!" His roar rings through the mountain, and So-jung gets up, alarmed. He warns Yeo-wool to leave because Kang-chi lost his inner battle, and she takes off running.
Gon apologizes to her father for letting her out of his sight, and Yeo-wool finally stumbles back home after four days without a word. Gon runs to her in a panic thinking her injured because she's so out of breath, but she just gasps at her father: "Help him! Choi Kang-chi is in danger! Please help him!"
So-jung uses all his strength to hold Kang-chi back, and he urges him to fight this before he spills more blood and ends up so far gone that he'll forget entirely who he was. But Kang-chi's already given into his rage, and knocks him aside to go after Jo Gwan-woong.
Chung-jo gets called out of her room by another gisaeng and led to another room. Ugh, I have a bad feeling about this. Is this happening already? The doors open, and there's Jo Gwan-woong, leering right at her. Gross.
Kang-chi makes it all the way into town when Gon gets in his way, snarking that he sure did wake up ugly. He makes it known that this isn't his idea of a good time, but he's under orders, and takes out his sword to fight.
Gon manages not to get shredded, but he is taken aback when he cuts Kang-chi's arm and it heals over in seconds. His team tries to capture Kang-chi with ropes, but he shakes them off like flies.
It's only when So-jung hurls a new bracelet on his wrist that it calms the beast, and Kang-chi returns to normal. Hilariously, Gon sees it and still gets in one last punch, just because he can.
Kang-chi struggles to remove the bracelet, but So-jung warns him that if he removes it this time, he'll never be able to return to his human self. He says that's his choice and his fate, and this is the end of the line for what So-jung can do to help him. The rest is in his hands.
His hand trembles as he fights the urge to pull the bracelet off, but he finally lets go, and So-jung lets out the breath he's been holding. He tells Gon it's all over now, and Yeo-wool and her father step out from the shadows.
Chung-jo quakes in anger at the sight of Jo Gwan-woong, and tells the other gisaeng Wol-sun that she won't go inside. She slaps her for her insubordination, and Jo Gwan-woong laughs that he enjoys watching her from afar too. Ewwww.
Finally, Soo-ryun gets word of what's going on and she interrupts to get Chung-jo out of there. He mentions how this whole thing reminds him of Seo-hwa, and how she shouldn't make the same mistake twice. He chides that Soo-ryun is showing her age, and Wol-sun smirks at that—a sign that there's likely going to be a power struggle within the gisaeng house.
Kang-chi gets tied up in ropes and brought before Dam Pyung-joon, who orders him turned over to the government. Yeo-wool panics—that wasn't the plan and Dad promised to help Kang-chi. But he says it's a direct command from Lee Soon-shin.
So the next morning, Kang-chi is brought to his knees, as Jo Gwan-woong's puppet presides over his trial and accuses him of murdering Lord Park, springing Tae-seo from jail, and killing government officers in the process.
His sentence is to be hacked to death as a criminal, and Kang-chi scoffs that he's fine with that, as long as he gets to kill one more on his way out. He calls out Jo Gwan-woong, calling him the bastard who framed Lord Park to claim the Hundred Year Inn.
"If I can kill him, I'll give you more than my life in return. How about it?" He's ordered to be killed on the spot, and Gon has to hold Yeo-wool back. Jo Gwan-woong comes out from behind his screen with a chuckle, and approaches Kang-chi.
He asks what he has that's worth more than his life, and Kang-chi says it's his absolute will to kill him. Jo Gwan-woong wonders if that's really it, or if there's something else. He pokes at Kang-chi's bracelet with a smile.
He gives Kang-chi one final offer: become his person, and his life will be spared. Kang-chi's like, What kind of horseshit is this? and rails that he can shove it because he doesn't need anything except Jo Gwan-woong's head on a platter.
Jo Gwan-woong is disappointed, and doesn't waste any more time. He orders an execution. Kang-chi looks down at his bracelet, knowing that taking it off means he loses his last chance at living as a human… he reaches to pull it off…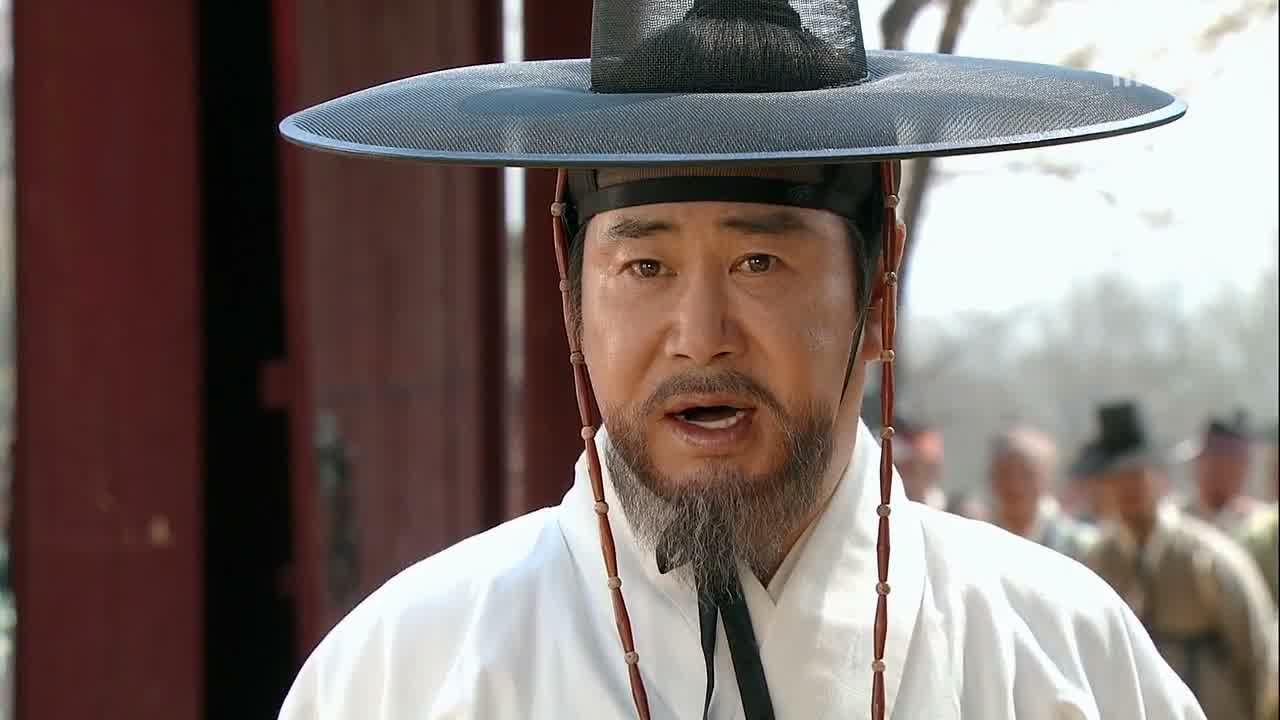 Suddenly a voice booms from the crowd: "Stop!" Everyone turns around, and there's Lee Soon-shin, standing at the gate. Jo Gwan-woong asks who he is, and he introduces himself as the Naval Commander of the Jeolla Province, which shocks Kang-chi and silences Jo Gwan-woong.
"I heard that one of my people was being held here, so I came. His name is Choi Kang-chi." Everyone, including Kang-chi, goes slackjawed.
He turns to Kang-chi and says warmly, "Have you been well, Kang-chi-ya? I came to get you."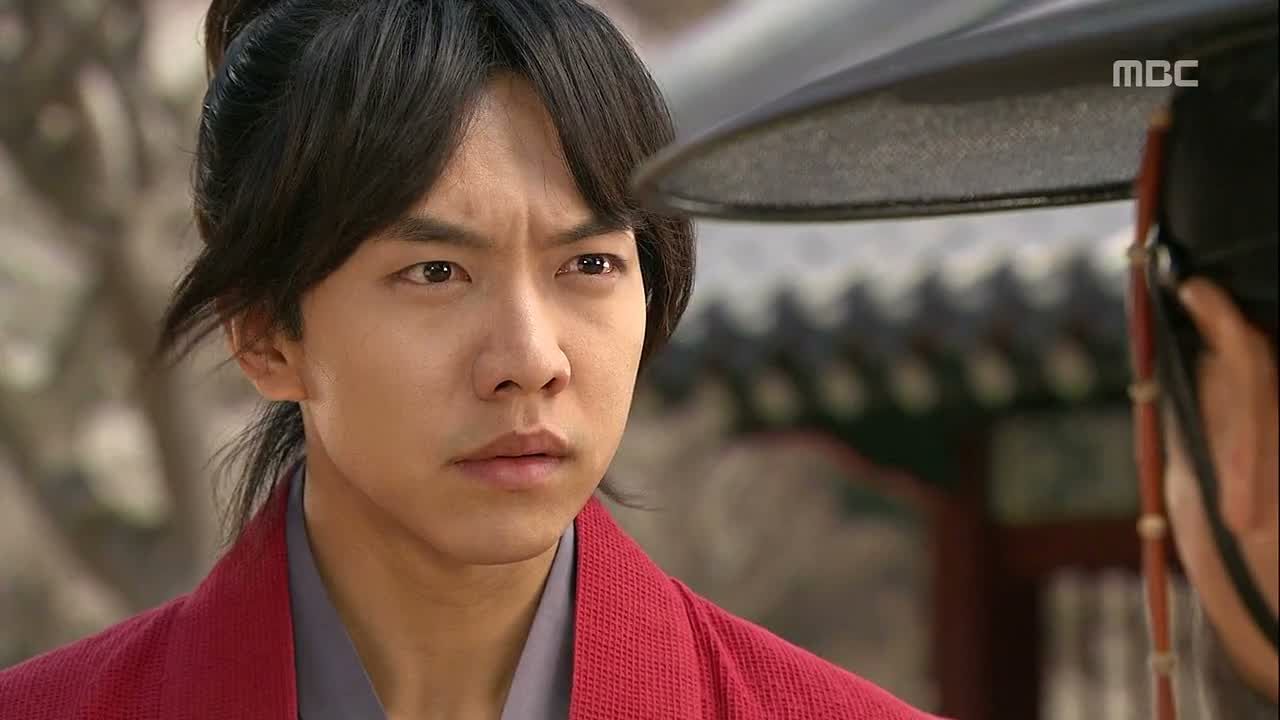 COMMENTS
Well thank goodness there was a plan. I wonder if they used Kang-chi as bait to see what Jo Gwan-woong's intentions were, or more as a test of Kang-chi's own loyalty—risky, but rather effective in any case. If he has Lee Soon-shin's protection it'll at least keep him from being drawn and quartered anytime soon, not that Jo Gwan-woong will stop trying to murder him secretly, but what's new? I just hope this means he'll be staying at martial arts school… where he'll be roommies with Gon? Please? Just imagine all the hijinks in store.
I do hope they're going to do something different with Chung-jo, because right now she's just Seo-hwa redux, without the fire. I like her character too much to have her relegated to damsel in distress, and even if her situation is tragic beyond belief (which it is), I want to see her fight back. I think we're setting the stage for Soo-ryun's redemption through her, but so far there's little to separate her from retreading Seo-hwa's story.
I'm glad we spent some time with Kang-chi's discovery and his inner torment, but I find that the monk So-jung is a little too convenient at this point in the story. He just shows up at the right time and has all the answers, which feels a little too easy. I know, I'm the sadist that wants the hero to suffer more. But would it kill him to be a little more adrift, a little more lost as he searches for the answers and figures out his path?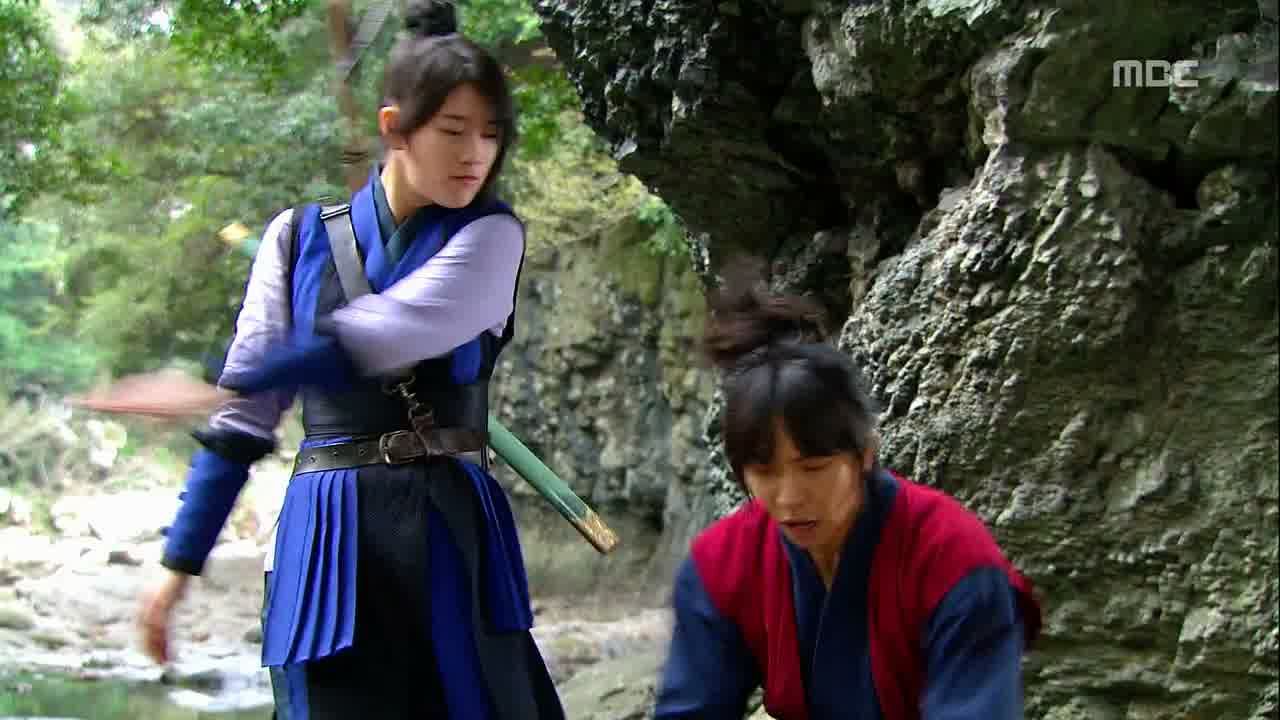 I don't resent the character, since obviously Kang-chi isn't able to overcome his darker impulses yet and without his magical beads we'd have another massacre on our hands. But IF he's going to be Cryptic Knowledge Man, then I think he's better in small doses, otherwise you're kind of wondering why he's always around but unwilling to share what he knows until it's too late.
Yeo-wool really came to the foreground in this episode and so far I'm happy with her character—she's brave and compassionate, but has no patience for self-pitying crybabies, which I love about her. She does the opposite of everything we expect, from telling her father about Kang-chi to speaking up in his defense, and the biggie—seeking Kang-chi out after witnessing his transformation, because concern overrode her fear. She seems to hold the key to his humanity as well, which we only saw a glimpse of when her faith in him made his eyes flicker for a moment. I'm sure it's only the beginning, but I like where we're headed if she's going to be his reminder—his human bracelet if you will—who keeps him tethered to his human half.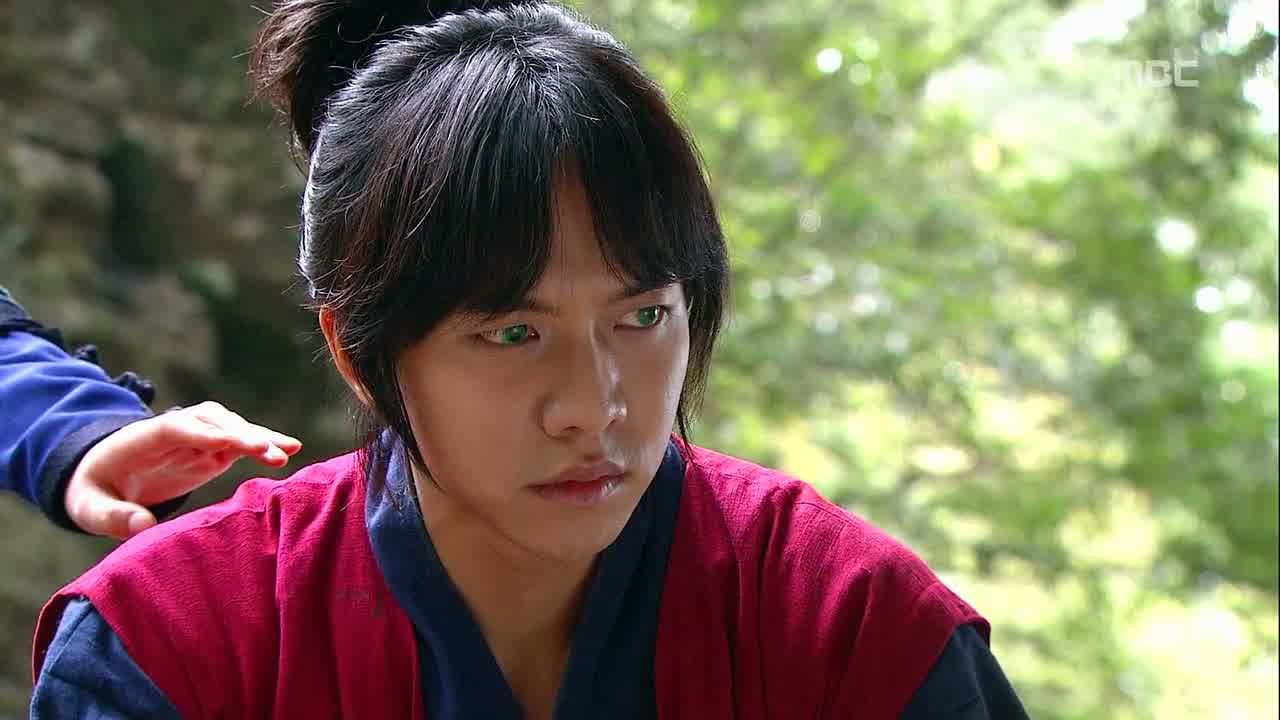 RELATED POSTS
Tags: featured, Gu Family Book, Lee Seung-gi, Suzy