Gu Family Book: Episode 8
Yay, this is a great episode that brings together all the story threads in a simple, cohesive way—the hero's quest to become human comes to the fore, tying in the family's revenge and the overarching Good Guy/Bad Guy war, all while launching us into the part of the story we're all dying to get to. Yunno, the part where the superhero figures out what his powers are, and learns to fight the good fight. Bring it on.

EPISODE 8 RECAP
Today's episode starts out with a definition of the Gu Family Book: a promise passed down from Hwanung, the son of god, to all guardian spirits, giving them the chance to be human. I guess this means it's time for the book to make a reappearance in the story. Figuratively, I mean. No one's ever laid eyes on the thing, according to legend.
Back to Kang-chi's trial, where Lee Soon-shin makes his grand entrance to claim Kang-chi as his man and basically save the day, hero-style. Obviously Jo Gwan-woong takes issue with a murderer being set free, and I love Lee Soon-shin's response: "And, who are you?"
When told by Lee Soon-shin that he's extending his authority beyond reach in this province, Jo Gwan-woong changes his tune to say that he's simply here as an eye-witness to Park Mu-sol's murder.
Kang-chi screams that he's the one who killed Lord Park and starts fighting against his ropes, and Lee Soon-shin lays a hand on Kang-chi's shoulder. It immediately calms him down and makes him think of Lord Park, and he just looks up with the saddest puppy eyes and sheds a tear.
Lee Soon-shin asks if it's true that Park Mu-sol was a traitor. They say yes, of course. "So then if Choi Kang-chi killed a traitor, how is that murder?" Cha-ching. You can see everyone's eyes darting back and forth to try and wriggle out of the logical fallacy. It's pretty awesome.
He says there are only two options: either Kang-chi killed an enemy of the state and did a good thing, or Park Mu-sol was not a traitor and was therefore framed. So which is it? You can almost hear the collective Buuuuuuuuh.
From the sidelines, Yeo-wool does the cutest little fist-pump at the victory.
Jo Gwan-woong takes a moment to figure out his next move, and his puppet official suggests that they have no option but to let Kang-chi go. He reels at the thought of handing Kang-chi over, knowing he has the strength to kill seven men. They get the idea to ask Lee Soon-shin for a contract, promising that all of Kang-chi's future actions are his personal responsibility. Eep, that's gonna cause problems later.
Lee Soon-shin comes to fetch Kang-chi out of his jail cell, but Kang-chi argues that he'd rather die than live the rest of his life as the person who killed his father and teacher. He thinks it better to just kill everyone here and die himself, and Lee Soon-shin asks how he can give his life so easily.
Kang-chi: "Because my life no longer has any meaning. Because I've become nothing, not even a person."
Lee Soon-shin just nods, "Is that so?" prepared to let him do as he wants. Instead of arguing, he hands Kang-chi three nyang, and tells him to think of this day as his last. He tells him to use each nyang to say his final goodbyes to three people, and then return to him after midnight. Once he's done that, he'll be free to die as he wishes.
Kang-chi doesn't understand the task nor why he'd have to obey, but Lee Soon-shin says that Park Mu-sol personally asked him to take care of Kang-chi, so it's within his right to command this one thing. Kang-chi doesn't have an argument for that.
So out he goes, back into the world, where everyone now thinks he killed his own father. It takes all of his self-control not to run back inside and kill Jo Gwan-woong, but Lee Soon-shin's request that he keep his promise this one day rings in his ears.
And then we flash back to Lee Soon-shin signing the contract without hesitation, making him now entirely responsible for Kang-chi's actions. Dam Pyung-joon worries that it was a reckless move—Kang-chi isn't exactly a stable person. But Lee Soon-shin says that humans can only do their best in any situation and hope that it's enough to move the heavens.
Jo Gwan-woong squirms with curiosity, wondering what's so special about Kang-chi that Lee Soon-shin would risk everything to set him free. He plans to find a way to kill two birds with one stone, and tells his minion to lie in wait because Kang-chi is sure to come looking for him.
He asks after their contingency plan, and the minion says that the illusion is set. Cut to: Tae-seo having a nightmare. Oh noes.
A flashback to his torture reveals that Jo Gwan-woong's black-magic-wielding minion cast a spell on Tae-seo to make him believe that Kang-chi killed his father. He's told to kill Kang-chi on sight.
And in the present, Tae-seo finally wakes up, and that's the first thought on his mind. (And apparently he's been relocated to Dam Pyung-joon's headquarters in the meantime.)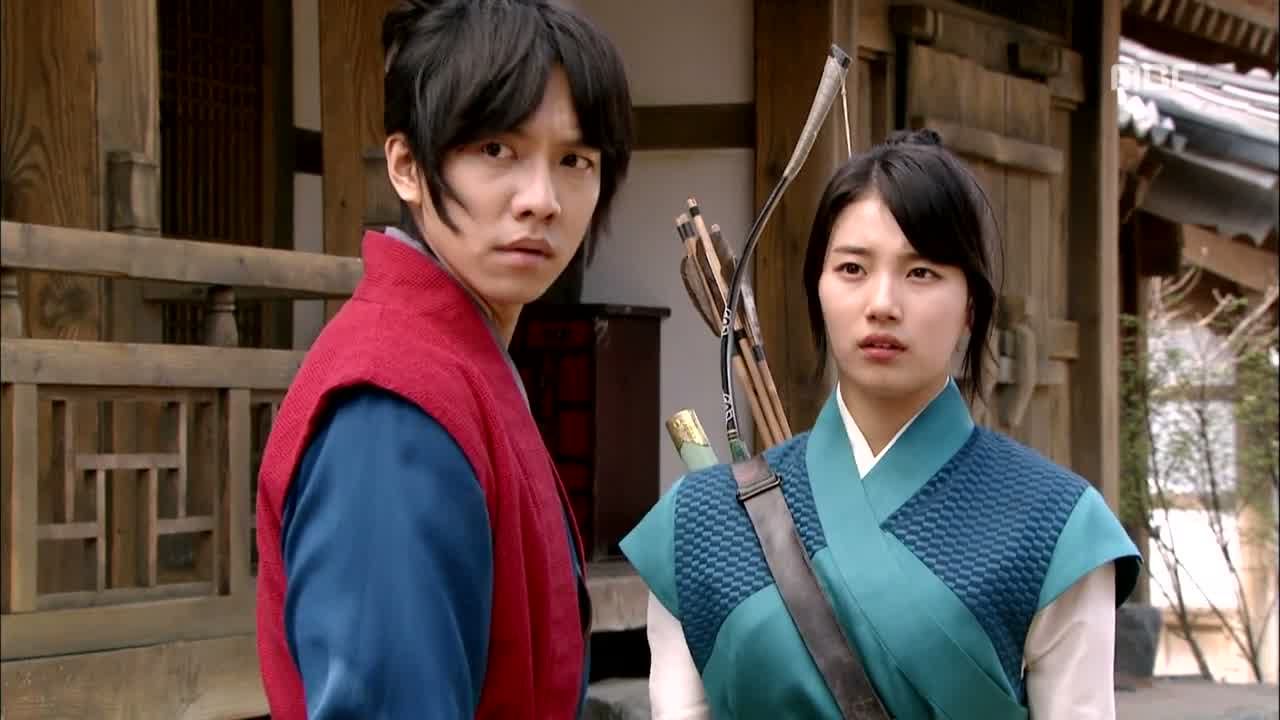 Kang-chi can feel Yeo-wool following him, and she admits that she's keeping an eye on him in case he goes berserk on Jo Gwan-woong. Kang-chi doesn't hide the fact that he plans to do that very thing, and she points out that he made a promise to Lee Soon-shin.
Kang-chi says that promises are things people make with other people, and says he's not a person anymore so it doesn't apply. He adds bitterly that he is half-human, but he doesn't know when the beast half of him will appear and kill her.
They're interrupted when a group of townspeople start pelting rocks and vegetables at him, calling him all manner of names for killing the man who saved him and gave him a home. Augh, poor Kang-chi.
Yeo-wool steps out in front of him (Are you protecting him? That is SO CUTE.) and tells the people that they have it all wrong. But they just assume she's a bad guy too and start pelting her with more vegetables.
Kang-chi pulls her away from the crowd before they get hurt. You sure do wrist-grab her like a girl. Just sayin'. She says that the truth will be revealed someday, but he asks what happens if it doesn't—then he has to live the rest of his life this way, as the man who killed Lord Park.
He turns to go, when Yeo-wool calls out that she's at the gisaeng house. "Chung-jo. That's the person you most want to see right now, isn't it?" Aw.
At the gisaeng house, Chung-jo and the other trainees go through a hazing ritual led by head bitch Wol-sun, who pretends to teach them a class, only to make them drink. Chung-jo refuses, so Wol-sun tells her friends to help her out, and they pass her bowl around so everyone can spit in it.
Then they give it back to Chung-jo and order her to drink it. She takes the bowl, and then chucks the liquor right in Wol-sun's face. Nice.
But the act of rebellion gets her a beating from the gisaengs and then a second beating from Soo-ryun, after Wol-sun and her gang insist that they were only offering her a friendly drink in their free time, and she threw it back in their faces.
Kang-chi finally arrives at the gisaeng house and pushes the guards aside to storm right into Soo-ryun's room, to find Chung-jo being whipped in the shins. He makes his grand heroic entrance: "I've come for you," and takes her outside, ignoring Soo-ryun's warnings.
They only make it to the courtyard before they're surrounded by men with clubs, and Soo-ryun comes out to tell them that if they manage to run from here, they'll have to live as runaways and traitors for the rest of their lives, the punishment for which is death.
Kang-chi isn't deterred in the least, and tells Chung-jo that he'll get her out of here in no time. "I won't leave you here alone any longer." But Chung-jo begins to waver, and tears stream down her face as she pulls her hand away and lets go. Ack! No!
Kang-chi stands there frozen, and then reaches out for her hand again. But she steps back. Oof. Kang-chi: "I came here to get you. I came to get you out of this place." She tells him to clear her father's name first, and then come for her the right way, honorably.
She tells him that until then, she won't take one step out of this place, and runs off crying. Soo-ryun tells him (almost as a piece of helpful advice) that if he really wants to take Chung-jo away, he needs to think about what it is he has to do first.
He walks out of the gisaeng house completely spun around, and off in a corner, Chung-jo collapses in tears.
Yeo-wool watches Kang-chi leave and thinks back to her orders from her father: to kill him the second he deviates from his promise. Gon offers to do it if she can't, but Yeo-wool says she'll do it. Dad warns her that this is Lee Soon-shin and the entire Jeolla naval command on the line here, and tells her not to hesitate for even one second.
But while she's lost in her thoughts, she loses sight of Kang-chi, and Gon gets word that he's headed in this direction—to the Hundred Year Inn. He takes out a bow and arrow, and Kang-chi walks closer and closer, as he steadies his aim.
Yeo-wool runs over to the inn and arrives just as Kang-chi is walking up the steps to the front door. She sees both Gon and Kang-chi, and takes out her bow…
She aims at Kang-chi, and then in the last second she swings left and fires at Gon, splitting the head off his arrow with perfect precision. Badass.
Kang-chi storms into the Hundred Year Inn and snaps the stick off a broom with purpose. This is looking bad…
Gon can't believe Yeo-wool would risk everything like that and starts to follow Kang-chi inside, but she stops him. She assures him that Kang-chi made a promise and that she trusts him to keep it. He doesn't share her trust in him, obviously, but she asks him to trust her instead then.
Kang-chi walks right into Jo Gwan-woong's room, and says he's here to give him an answer to his question, about joining his side. He SLAMS the broomstick through the center of the table, cutting it in half and making the ground quake beneath him.
He leans forward: "I will come to reclaim the Hundred Year Inn. And on that day, I will take your life as well. That is my answer." He even gives a little smile, leaving Jo Gwan-woong fuming in his wake. The servants are waiting outside to greet Kang-chi with tears, and he urges them to protect this place, promising to return someday with Tae-seo and Chung-jo.
Dam Pyung-joon wonders if Kang-chi will even return, while Lee Soon-shin has faith that he'll keep his promise. But as soon as he says the words, a government official arrives to claim that Kang-chi broke into the Hundred Year Inn and caused havoc.
Jo Gwan-woong shows Lee Soon-shin the broomstick, insisting that he has eye-witnesses of Kang-chi's attack. This is the crime you're trying to get him with? You're losing your touch, Evil One.
Lee Soon-shin asks to speak to the witnesses, and asks the servants to step forward if they saw Kang-chi making trouble. One by one they step forward… and swear they never saw Kang-chi here at all. Ha. Foiled again.
Lee Soon-shin suggests he work a little harder on the evidence next time. Jo Gwan-woong takes his rage out on the servants, ordering them beaten and starved for their disobedience.
Jo Gwan-woong is assured that he can rely on their contingency plan, because Tae-seo will kill Kang-chi the first chance he gets. Sure enough, Tae-seo gets out of bed and gets his hands on a sword.
Kang-chi returns to Lee Soon-shin, who asks if he's done his homework. Kang-chi puts the three coins down on the table, not having spent any. Lee Soon-shin asks what this means, and Kang-chi answers, "I have to live a little longer."
When asked what changed his mind, Kang-chi says that there are three things he has left to do: clear Lord Park's name, return the Hundred Year Inn to Tae-seo and Chung-jo, and the last… "If it's possible, I want to become human." He says that he's nothing right now—neither human nor beast, just half of each.
Lee Soon-shin: I've seen countless people born as human, who live as worse than beasts. The thing that determines your humanity is not your birth, but your heart.
Kang-chi says he can't return to his family this way, so Lee Soon-shin asks if it's even possible. Kang-chi says he heard that there is a way: the Gu Family Book.
Flashback to the Moonlight Garden, where green-eyed Kang-chi first learned of the book. He lights up to hear that there's a way to become human, but So-jung says there's no way he'll pass the trials to get to the book. If his thousand-year old father couldn't manage it, how will he?
But Kang-chi swears he can do it, and begs on his knees for So-jung to help him. So-jung tells him to first master endurance, in learning how to control his beast half so that he only appears as human—it took Wol-ryung a few hundred years to master this, apparently, so he doesn't seem too optimistic about hotheaded Kang-chi's chances.
The second thing is to stay away from women altogether. But So-jung worries that he already has a fated match in his midst, thinking it unlikely he'll manage this trial either. I guess it's a good thing in this case that Kang-chi still thinks Yeo-wool's a boy.
Kang-chi whines, "Do you want me to die?" Heh. So-jung answers literally, saying that if he were to give up this fool's errand of trying to become human, he'd never die. But Kang-chi doesn't care about living forever, and pleads for So-jung's help to find the book.
Thus Lee Soon-shin asks to leave Kang-chi in Dam Pyung-joon's care. Wheee. He doesn't look too pleased at the idea, but Kang-chi gets on his knees and swears allegiance, asking for his guidance on learning endurance and control.
And in the distance, Yeo-wool looks on with a huge grin. D'aww. Gon watches a few feet away and says through gritted teeth that they could've lost their commander today. But Yeo-wool chides him for having so little faith in Lee Soon-shin.
She says that the thing that made her chose to spare Kang-chi earlier today wasn't her faith in Kang-chi, but in their leader. She knew Lee Soon-shin would never risk everything without faith, so she trusted his judgment. She suggests in a friendly tone that Gon ought to learn a lesson from the day's events, to trust people a little more.
The next morning, Kang-chi asks Lee Soon-shin what he would've done if he had spent all his coins in preparation for his suicide mission to kill Jo Gwan-woong. Lee Soon-shin: "Do you want the honest answer? I would've cut your throat without mercy."
Kang-chi gulps. He continues, "One who does not consider his own life precious, does not know how to consider anything else precious. There can be no hope placed in such a man." Kang-chi just laughs nervously that he sure does have a sense of humor, and Lee Soon-shin chuckles good-naturedly, even though he was totally not kidding.
Yeo-wool comes to get him, and they say their goodbyes. Lee Soon-shin tells him to come see him anytime, and they join Gon and Dam Pyung-joon to head back to the martial arts school.
Chung-jo receives a little pouch, with the message that Kang-chi came by early in the morning to leave this for her. Inside is the medicine that Yeo-wool once gave him to heal his wounds.
The warrior foursome marches through the woods, and Kang-chi playfully ruffles Yeo-wool's hair, teasing her that she must be excited that she gets to see his face every day. They run around playfully, and Gon actually rolls his eyes, ha.
So-jung watches as they pass, and prays that this path will not be one of misfortune, for either of them.
At the gisaeng house, Chung-jo approaches Wol-sun with a table and silently pours herself a drink, and then another. She declares that her name is Park Chung-jo, and boldly asks to be called by her name from now on, calling her Wol-sun unni. Soo-ryun looks on with a smile.
Kang-chi arrives at Dam Pyung-joon's base and literally goes slackjawed at the grandeur. The rows of men bow to their master, and he tells Kang-chi to introduce himself.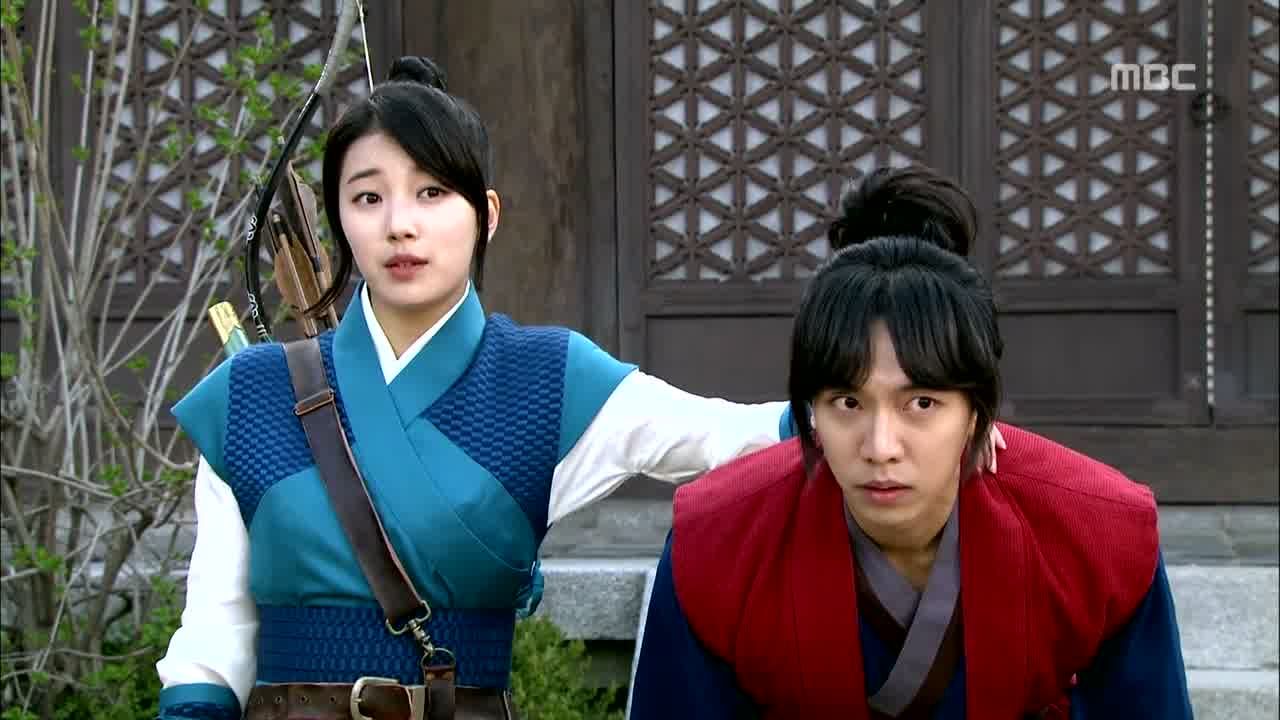 He stares blankly for a moment and then starts in on a terribly awkward introduction, and Yeo-wool has to push his head down in a bow. There's no response, so she commands one, and they all bow immediately and answer in unison.
Kang-chi looks over at her, totally impressed that she's a hotshot around here, and she pretends to be modest about it but puffs up proudly. He admits that this place is really impressive, and she says that if it weren't for Lee Soon-shin's request, Kang-chi could never be admitted as a student.
The courtyard clears out, and it's only then that Kang-chi turns to see Tae-seo walking toward him. He's just so happy to see him that he doesn't notice that he's zombie-walking over dragging a sword along the ground, and just runs to him happily.
Tae-seo doesn't miss a beat and skewers Kang-chi right through his mid-section as he's running to him, and everyone freezes in utter shock. Blood starts pouring out of his mouth.
Jo Gwan-woong sits in front of his broken table, declaring to no one, as villains are wont to do: "If I can't have it, I will steal it. And if I can't steal it, I will get rid of it. That is the law of Jo Gwan-woong."
Back to Kang-chi, who ekes out, "Tae-seo-ya…" and reaches out a hand to his brother. But Tae-seo just shakes with rage as he screams, "Die. DIIIIIIIIE!"
He stabs the sword in further, and it comes clear through the other side. Aaaaack. Aaaaack.

COMMENTS
I'm not afraid that Kang-chi will die, but it's still a pretty gruesome scene, especially on an emotional front. He's spent a day being treated as the lowest of the low, with rocks thrown at his head by people who think he killed his own surrogate father, and then to have Tae-seo drive a sword through him believing the same… augh. There's going to be a way to snap Tae-seo out of this trance, right? He's not going to spend the series thinking that Kang-chi killed his father, right? RIGHT?
I have to say I saw Chung-jo's noble sacrifice coming, given her proclivity for noble idiocy in the past. And while I understand it, I also want to scream at her. On the one hand, it makes for a beautifully tragic story—it does, with the honorable noblewoman, fallen from grace but enduring for the sake of her family's name. But on the other hand, if she were my sister, I'd drag her ass out of there, law be damned. I think she's a beautiful character, and strong in her own way, but I also can't champion her choices because everything inside me is screaming Nononononono. When she lets go of Kang-chi's hand, I know that in that world she's making the hard choice, the noble one; but damn if I don't want him to just pick her up and carry her out anyway.
At least now that her choice is made, it does set us off on a new course for her that's different from Seo-hwa's, which is frankly a relief because I was getting tired of watching the show repeat its own storylines this early in the game. She's doing what Soo-ryun failed to get through to Seo-hwa, in shedding her noblewoman pride and choosing to survive in this world. In that alone, she has a better shot at revenge, at life; but it still kills me what she's giving up, even if it would be a life on the run.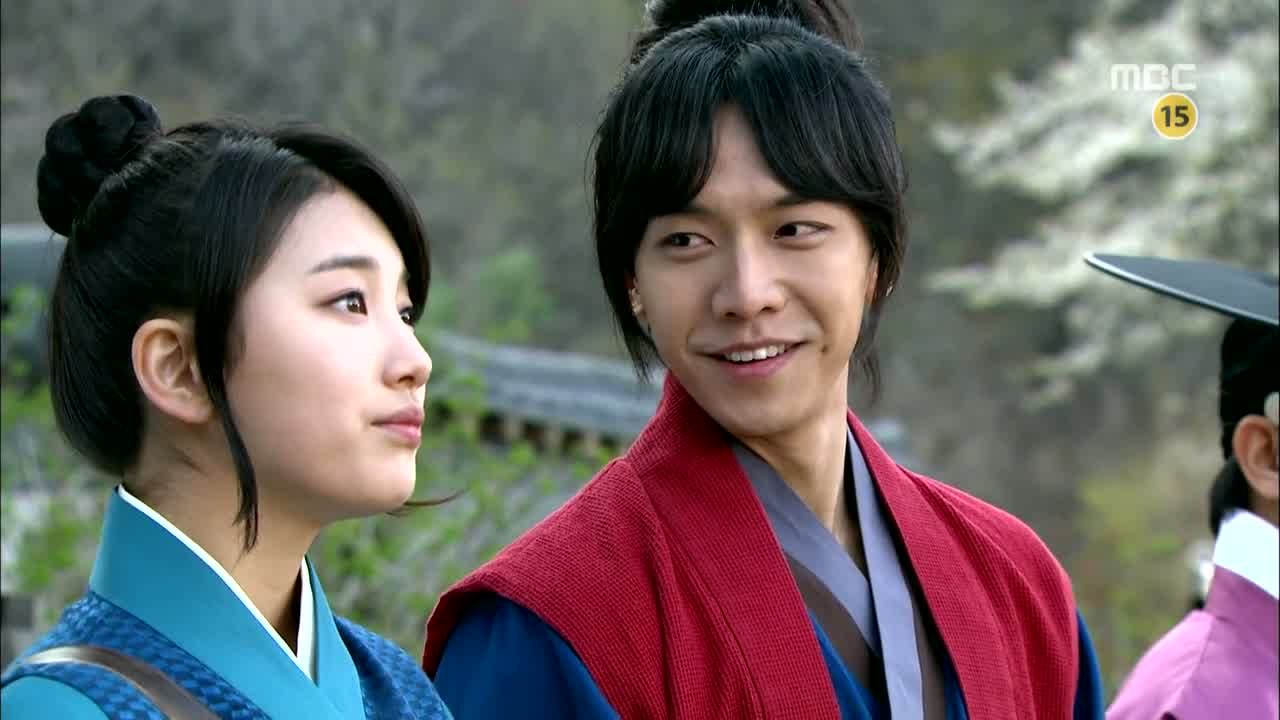 Today's episode felt like the start of a new chapter, and one that I'm really looking forward to. We've spent the last few episodes spinning our wheels with a lot of setup—it's plot that needed to happen, to set the stage for Kang-chi and the Park family's tragic story, so that our heroes have something to fight for. It was just rather depressing, because it was like dominoes of tragedy, one right after the other, on top of which our hero was busy beast-brooding because he found out he wasn't a real boy. I'm much happier with the new plan, where he figures out how to control his gumiho half gradually.
I like the association of Kang-chi's beastie side with his anger a la The Hulk, because it feeds into the plot in a nice way. The promise with Lee Soon-shin and the test of his patience today was a really great way to connect his supernatural dilemma with his human revenge one. The episode felt cohesive—in following Kang-chi's One Last Day, it tightened the grip on the scenes that normally feel disjointed because they stray from the main story.
I'm thoroughly excited for the next part of Kang-chi's journey under Dam Pyung-joon's care, and even though Yeo-wool's gender-bending is going on longer than I expected, I love their dynamic as friends, so if we're going full-on Coffee Prince with this, let's go all the way. I do love that we're basically following Kang-chi's life as he gets adopted from family to family, because that'll never fail to get me in the heart. As a child Kang-chi is of unknown birth and accepted by Park Mu-sol as one of his own, and now when he is half-beast, Lee Soon-shin accepts him yet again. The drama's themes are simple, but that doesn't make them any less lovely—that humanity is a choice, not a birthright, and worth fighting for.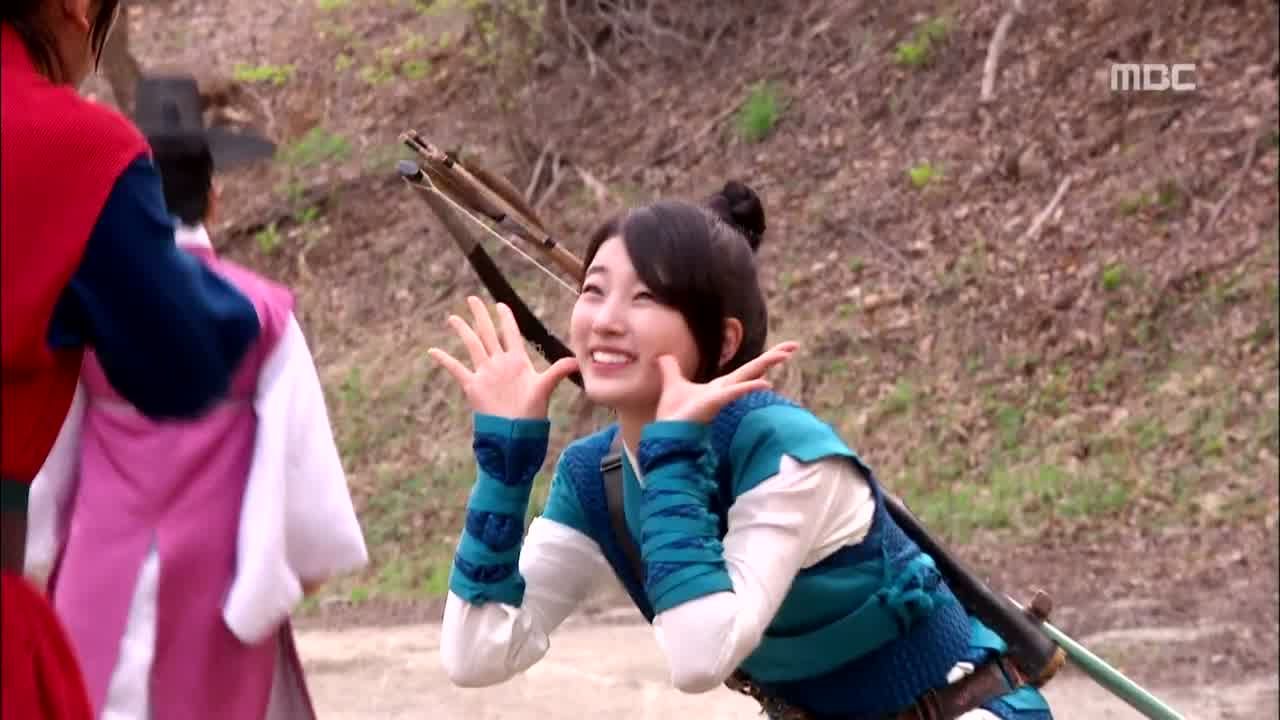 RELATED POSTS
Tags: featured, Gu Family Book, Lee Seung-gi, Suzy