Han Jae-seok and Park Sol-mi's star-studded wedding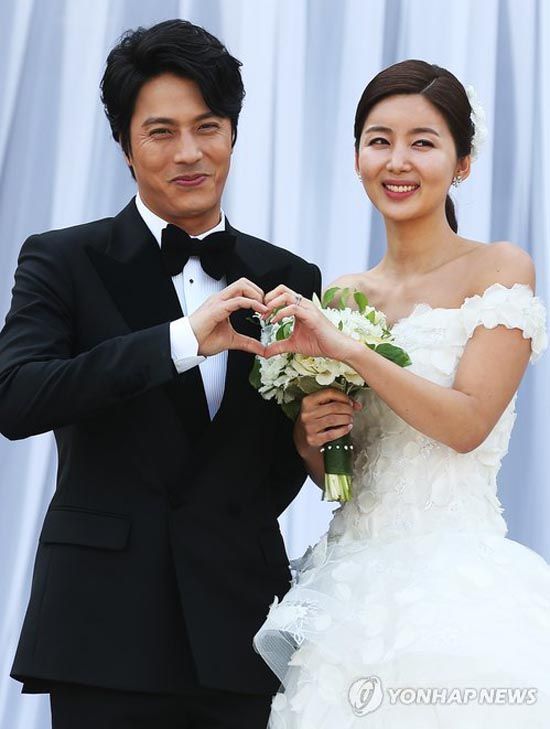 Congratulations to another star couple: film and drama actors Han Jae-seok and Park Sol-mi just got hitched today (April 21) in Seoul. They look adorably happy, which I suppose is a good way to look on your wedding day.
Both actors have a pretty lengthy tenure in dramaland — Park Sol-mi's debut drama was 2001's Our House while Han Jae-seok's career dates all the way back to 1995 with SBS drama Jazz — but it wasn't till they were both working on 2010's KBS sageuk drama Merchant Kim Man-deok that they met and began dating. (In case you can't quite place where you've seen them, Han Jae-seok was also in Glass Shoes, Women in the Sun, and most recently Oohlala Spouses, where I was rooting for him the whole way through to flout drama convention and win the heroine. Sigh, that show. Park Sol-mi, meanwhile, has also been in Winter Sonata, All In, Style, and Beloved You.)
Directly below are photos from the couple's wedding album, released prior to the ceremony. The rest come from the April 21 ceremony.
The wedding was held at Aston House at W Seoul's Walkerhill, with a guest list of a thousand — with that many attendees, no wonder there were a number of A-list stars present.
Going in order from left to right, the guest stars pictured below are: Jang Dong-gun (My Way) and wife Go So-young (Apartment), with his Gentleman's Dignity bros Kim Min-jong and Kim Su-ro.
In the row directly below that, we have Kim Seung-woo (IRIS 2), Ahn Sung-ki (Tower), Choi Yeo-jin (Incarnation of Money), and Lee Tae-ran (A Wife's Credentials).
And in the last row: Lee Min-ho (Faith), Joo Jin-mo (Gabi), and Han's Oohlala Spouses co-star and rival Shin Hyun-joon.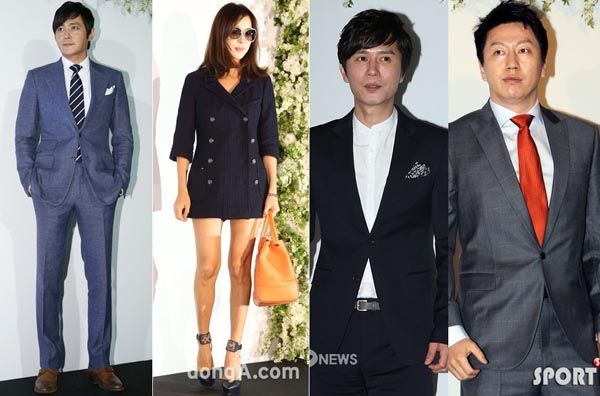 Via Sports Chosun, Osen
RELATED POSTS
Tags: Choi Yeo-jin, Go So-young, Han Jae-seok, Jang Dong-gun, Joo Jin-mo, Kim Min-jong, Kim Seung-woo, Kim Su-ro, Lee Min-ho, Lee Tae-ran, weddings