Incarnation of Money: Episode 19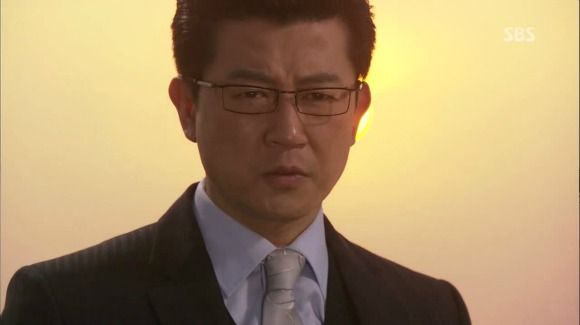 Just when the good guys think that they've got this war of revenge in the bag, the baddies turn around to remind them that one does not underestimate their enemy. Claiming victory will take more than tossing out some bait because you're dealing with beasts who can think for themselves and plan their next moves. With that in mind, the battle (which clocked in at 16.1%)  is not yet won.
EPISODE 19 RECAP
Operation Intercept Accounting Books is a go once Prosecutor Kwon's lackey arrives at the bank, unaware that Se-kwang has followed him here and now waits menacingly to attack him in the parking lot.
But it looks like Se-kwang will be waiting there a while because the lackey is tipped off and leaves through another exit to rendezvous with Team Shudal. They drive through the local roads as Assistant Hong puts in a call to initiate the next part of their plan.
This is Dad's cue to hobble into the road and deliberately get hit by their car. He screams up a storm about his injuries and the ruckus is enough for the lackey to momentarily abandon the briefcase, creating a perfect opportunity for Assistant Hong to make the switch.
After Cha-don confirms that the counterfeit accounting records are now safely in Prosecutor Kwon's possession, he calls Se-kwang, feigning anger about the situation. He even keeps up the act when Se-kwang comes to meet him at the same spot by the river, kicking the grass in supposed indignation.
Se-kwang isn't happy about this turn of events either but he's certain that he won't lose; it's unlikely that Prosecutor Kwon has anything to blackmail him with. He does, however, raise a suspicious eyebrow at Cha-don's rage-filled response that they're in it to win it. How very curious – what did Cha-don do to incur Prosecutor Kwon's favor and trust?
The only way Se-kwang will believe Cha-don is on his side is if he brings the accounting records before him. Cha-don refuses to take on this virtually impossible task just to prove his loyalty to the prosecutor yet again.
As Cha-don starts to walk away, Se-kwang grabs his arm to stop him and softens, saying, "I'm asking you as a favor."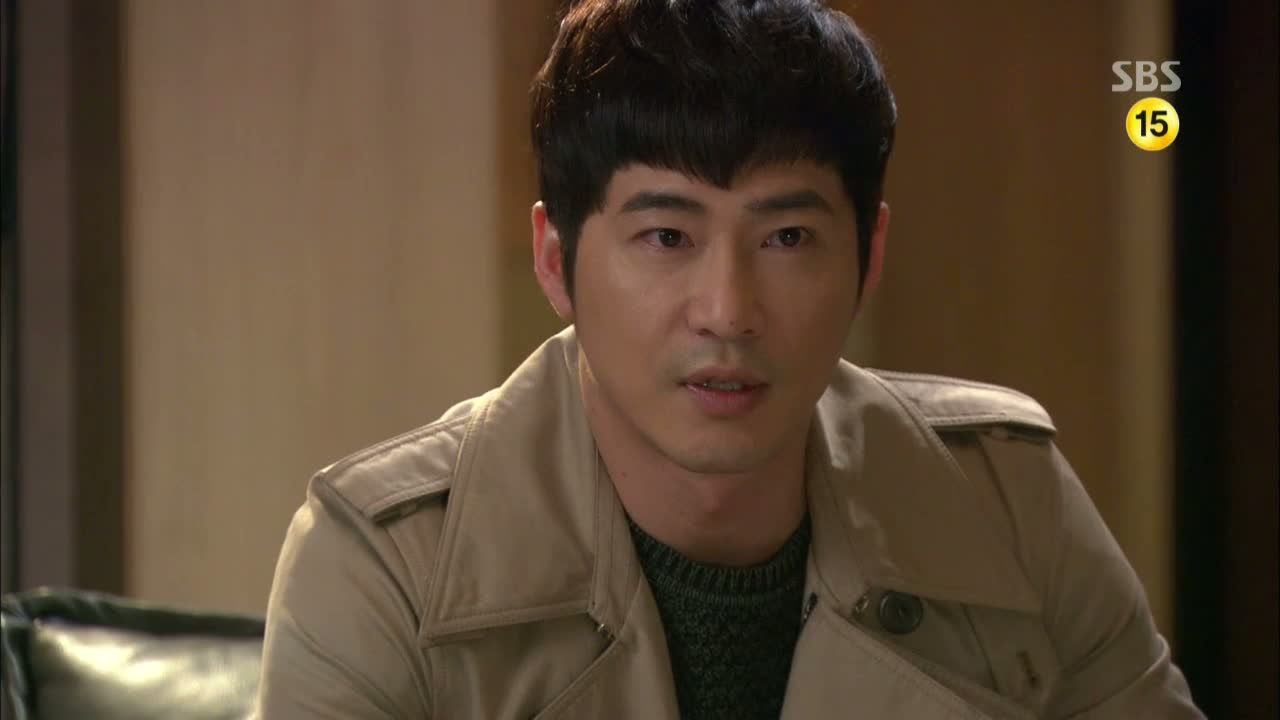 Back at headquarters, Team Shudal peruses the genuine records. Thanks to the help of an expert copywriter, they rest assured that Prosecutor Kwon won't find anything amiss with his switched counterfeit copies for the time being.
Chief Yang wonders why Cha-don would have a copy made of the authentic ledger when he can just use the original. The answer is that Cha-don plans to hand over the true ledger to Se-kwang to level the playing field against the two prosecutors. That way, they'll each have a weapon to fight the other during the hearing.
Cha-don smiles in his car when he sees Jae-in sitting alone in a coffee shop. His phone call is abruptly cut off and we see why a minute later as Hyuk sits down across from her.
Jae-in is prepared to let him down easy but Hyuk tells her that it doesn't matter what kind of past she had with Cha-don or what her feelings are towards him. "What's important is that I've begun to like you." Omo, omo.
She's taken aback by the surprise confession which is coupled by a vow to remain sincere to his feelings. He even presents her with a gift (an expensive bag) and wishes her a happy birthday. Aw, that's sweet.
From the other side of the glass, Cha-don interprets Jae-in's surprised reaction as swooning and is forced to drive off before he can watch any more of the exchange.
So what he doesn't see is how Jae-in politely declines the thoughtful gesture, adding that it's not her birthday. Hyuk's cheeks flush with embarrassment and in order to save face, offers to throw it out instead. But Jae-in knows that doing so is a crime against fashion and she stops him from overreacting.
Hyuk is all smiles again and he shyly tells her to think of him every time she uses it (Jae-in involuntarily gags at the statement). He admits that he's embarrassed to even say such a corny phrase but he heard that women love to hear cheesy, sentimental things from men.
She sweetly asks where he learned it from. His answer: "I read it in a book." You're so endearingly awkward, I love it. Jae-in can't help but laugh at how cute his old-fashioned pick-up lines are.
Jealous Cha-don strikes again when Jae-in returns to the savings bank with the bag in hand. When she momentarily steps out of the room, Cha-don hands off the bag to the cleaning lady and then plays dumb when Jae-in finds it missing.
He skirts off but Jae-in's onto him and follows him in the elevator. She accuses him of doing away with the bag. He says nothing but it's too bad that he gets immediately gets caught in his lie when the same cleaning lady rushes into the elevator and thanks him for such a lavish gift.
Jae-in can barely believe her eyes at this turn of events and asks if Cha-don acted on jealousy because he knew it was a gift from Hyuk. Naturally, Cha-don firmly denies it. Hyuk is the first guy who's ever truly cared for her, Jae-in fires back. What's it to Cha-don who she sees?
But Cha-don gets in the final word as he steps off the elevator: "You're better off dating someone else. That way I don't have to care as much." Riiight, so that you won't care. Teehee.
Confused, Jae-in scoffs, "So he's saying that it's okay for me to see other people."
Cha-don heads straight for the department store and scowls at the same bag Hyuk bought for Jae-in. Not one to be outdone, he asks for a bigger and more expensive bag. HA.
I love the amused look on Assistant Kim's face when he delivers the gift to an astonished Jae-in, and hints at whether this means if the two will reignite their relationship.
But Jae-in crushes the attached note in her hand ("Jae-in, I really care about you!"). Determined to flare Cha-don's jealousy, she tells Assistant Kim to go ahead and schedule the blind date with a handsome chaebol.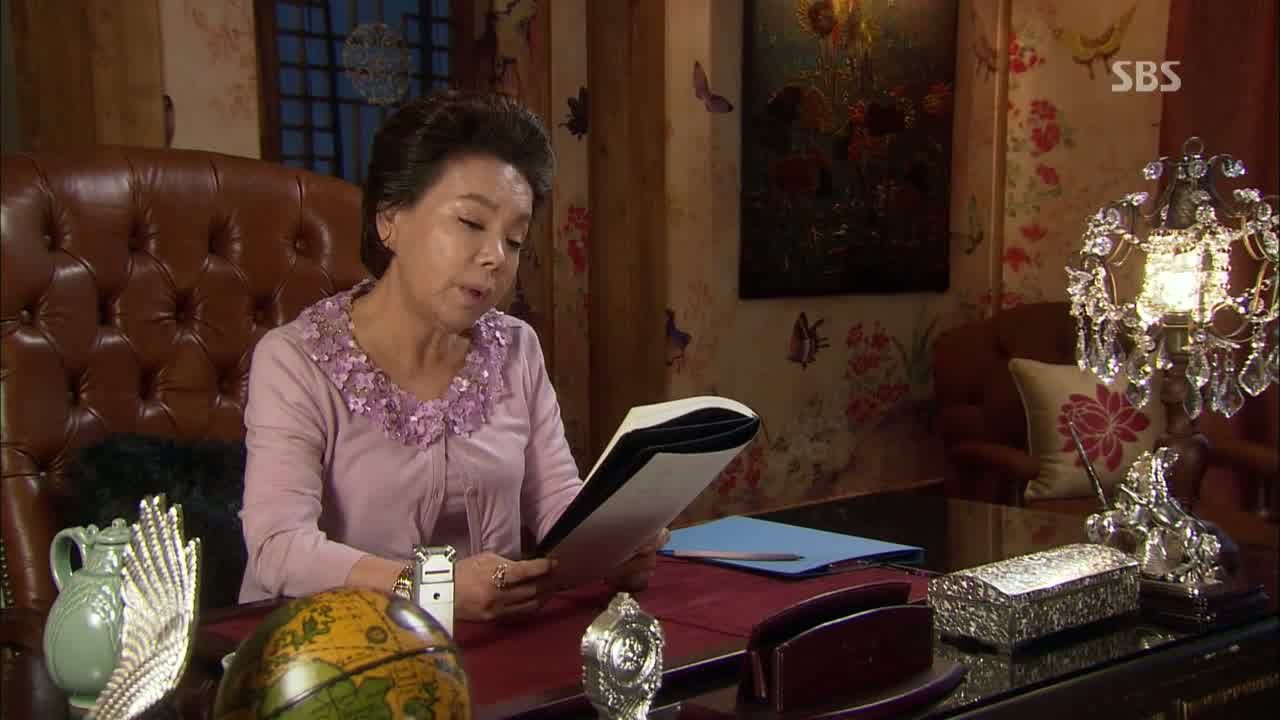 We get a quiet moment with Boss Bok, who records her latest poem as a saxophone plays in the background.
Magnolia

He didn't ask for time off
Liquor and love both left a singer
who cleared his throat and sang his last song.

Once bright because of liquor
became hazy after he lost love.

Anger wafted through the air
like an old woman's ramblings
the flower wilted
Dad lets out a sigh after he wraps up playing his sad song. He barely has a second to reflect before Jae-in suddenly appears out nowhere. She may be drunk but she recognizes him as the imposter Gentleman of Jingoagae and their nightly musician.
He calls her an affectionate "Jae-in ah" which makes Jae-in think that this random ajusshi might be in love with her mother or a stalker. In her drunken mumbling, she tells him not to bother since her mother has a foul personality. Dad tells her that he already knows that, and they both laugh.
But Jae-in doesn't recognize her father and stuffs some money into his hand before she drunkenly stumbles inside the estate.
Ji-hoo plays the part of a doting girlfriend, dropping by Se-kwang's office with a homemade packed lunch. He notices her cut finger and tells her not to go out of her way to do things for him. This bit of concern(?) brings a smile to her face.
Se-kwang's plan to get close to Ji-hoo's father will have to wait – the professor is currently overseas, which also means he'll be absent for the candidacy hearing.
The idea that the Elite Four would take action without one of its members makes Se-kwang feel uneasy, but his train of thought is interrupted by Cha-don's arrival. He isn't here empty-handed and hands over Prosecutor Kwon's ledger that lists the man's record of extortions.
Se-kwang is left perplexed at how quickly Cha-don managed to acquire the records. But Cha-don explains that although he still holds a personal grudge against Se-kwang, he's helping him so that Se-kwang can beat Prosecutor Kwon.
But something about all of this doesn't quite sit right with Se-kwang and he has someone to tail Cha-don's whereabouts.
Elsewhere, Chief Prosecutor drinks away his woes with tea and threatens to withdraw his name from the candidate pool, a notion that Cha-don immediately agrees with. Little do they know that they're being watched and Se-kwang is informed on any and all data on Cha-don.
Still fixated on a possible connection between Cha-don and Kang-seok, he arranges for a tech guy to send a spam email to Kang-seok's email address at a scheduled time. Ack, why are you so smart!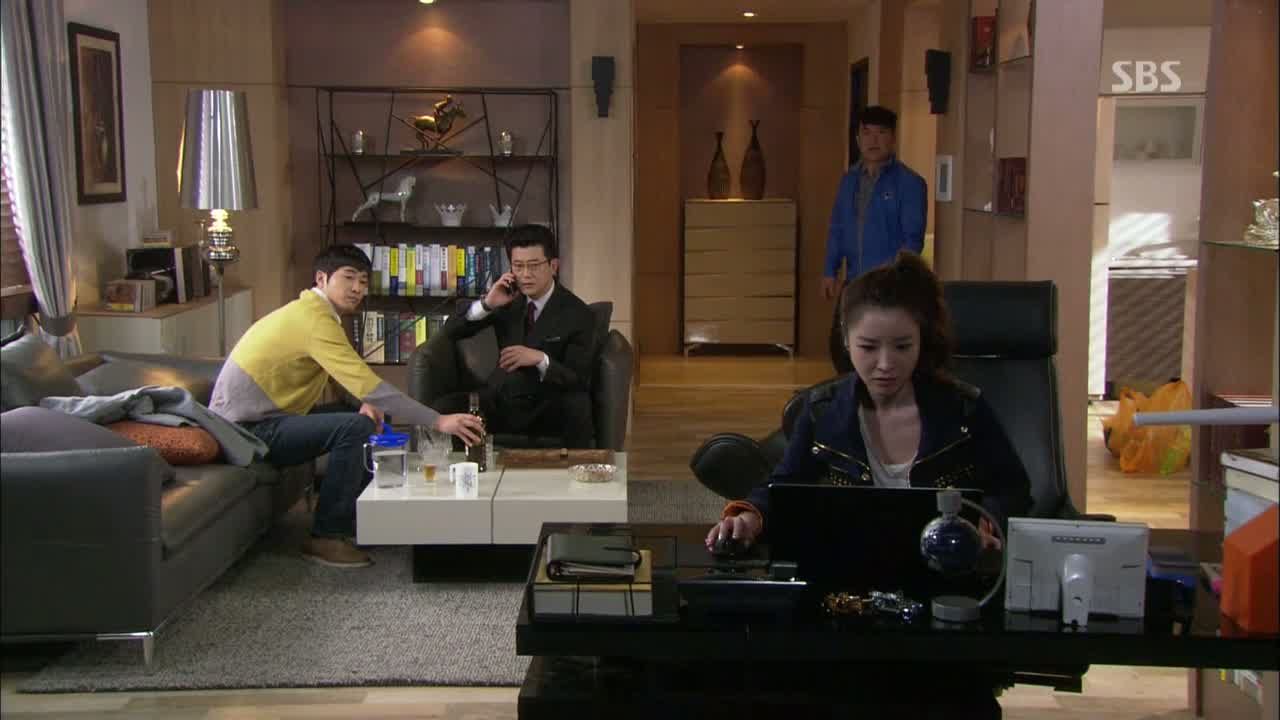 So he scares the bejesus out of poor Assistant Hong when he drops by Cha-don's apartment unannounced. Thankfully, Assistant Hong is sharp enough to warn the others of Se-kwang's surprised visit, buying them some time to hurriedly stash away all evidence of the revenge plan.
His attempt at a casual So this is where you live! carries a definite tone of awkward amiability and invites Cha-don to have a drink with him, insisting that they stay in. He pretends to take a work call and signals for his techie guy to send the email.
The result is immediate and to be certain, Se-kwang orders him to send one after another, smiling ruefully as the laptop dutifully dings each time. Se-kwang is so happy that he's discovered the truth once and for all that he can barely stifle his laughter.
The day of the hearing finally arrives and Prosecutor Kwon arrives, confident that he'll win this battle of wits. With Chief Prosecutor Jo's withdrawal, the two prosecutors are left to win over the Elite Four members with their reports on their opponents.
Team Shudal along with Mayor Jung and Boss Bok sit in the opposite room, and they watch as Prosecutor Kwon start off fierce with the voice recorder that contains Bi-ryung's confession.
He clocks Se-kwang's noticeably tense reaction at the mention of Bi-ryung's name and offers him a chance to listen to it himself. After Se-kwang does, Prosecutor Kwon leaves the decision of whether to play the recording for the committee members or not up to him.
Se-kwang's claims of equally incriminating information on Prosecutor Kwon hardly ruffles the man's feathers. He calls Se-kwang on what he thinks is a bluff and volunteers to reveal his evidence first.
His finger is just above the play button when Se-kwang stops him. After a tension-filled pause, Se-kwang rises from his seat to stare directly at the camera. And then to everyone's surprise, he throws in the towel before turning off the camera.
But Team Shudal has prepared a hidden camera as backup and Cha-don seethes that they'll now get to see the men's raw, ugly true natures.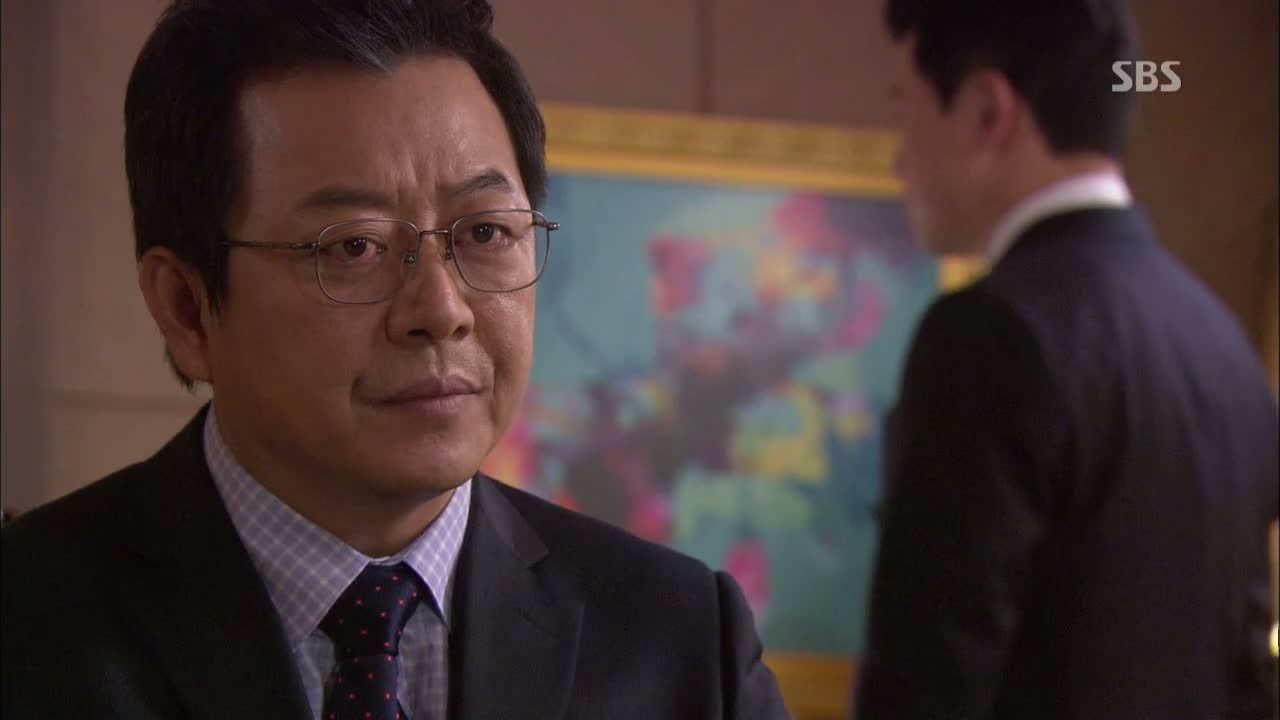 Given Se-kwang's usual ambitious character, Prosecutor Kwon finds his sudden voluntary withdrawal extremely strange. He doesn't buy the excuse that Se-kwang's evidence was enough to bring him down.
So Se-kwang lists off a few examples of Prosecutor Kwon's history of bribery and extortion. Prosecutor laughs that those estimates are largely inflated, to which Se-kwang rips up the card to show how weak his report was.
He surrenders the candidacy to Prosecutor Kwon and congratulates the man on his default win. But before he steps out, Prosecutor Kwon shares a few more words: "Surrendering yourself and asking for forgiveness are two different things. Just because you surrendered doesn't mean I intend to forgive you anytime soon."
Meanwhile Team Shudal scratch their heads over why Se-kwang didn't utilize the acquired ledger to his disposal. When Cha-don confronts Se-kwang about it on his way out, Se-kwang shrugs his shoulders, saying he's better off keeping his honor.
But there's another wrench in their plans as Cha-don is told that the hidden camera recorded nothing of the prosecutors' conversation. That's because Se-kwang's techie guy has already made off with it and Se-kwang pockets the video memory card.
As for Bi-ryung, we see her being taken away by the authorities, calling them out on their blatant lies that she's being moved for the sake of her "treatment."
Cha-don drops by Se-kwang's office to relay that the Gentleman of Jingogae isn't very pleased with him. But Se-kwang smugly returns that revealing Prosecutor Kwon's corruption deserves a larger stage than the Elite Four. Say, to the Korean people.
Thus, this is only the beginning of his war against Prosecutor Kwon and he asks in a soothing voice for the Gentleman of Jingogae's help to publicly humiliate Prosecutor Kwon. Cha-don contemplates over this silently and agrees to deliver the message to the illustrious benefactor.
Se-kwang narrows his eyes and he thinks to himself how he's been toyed with up to this point. Now it's time to turn the tables and he'll destroy everyone on Cha-don's side.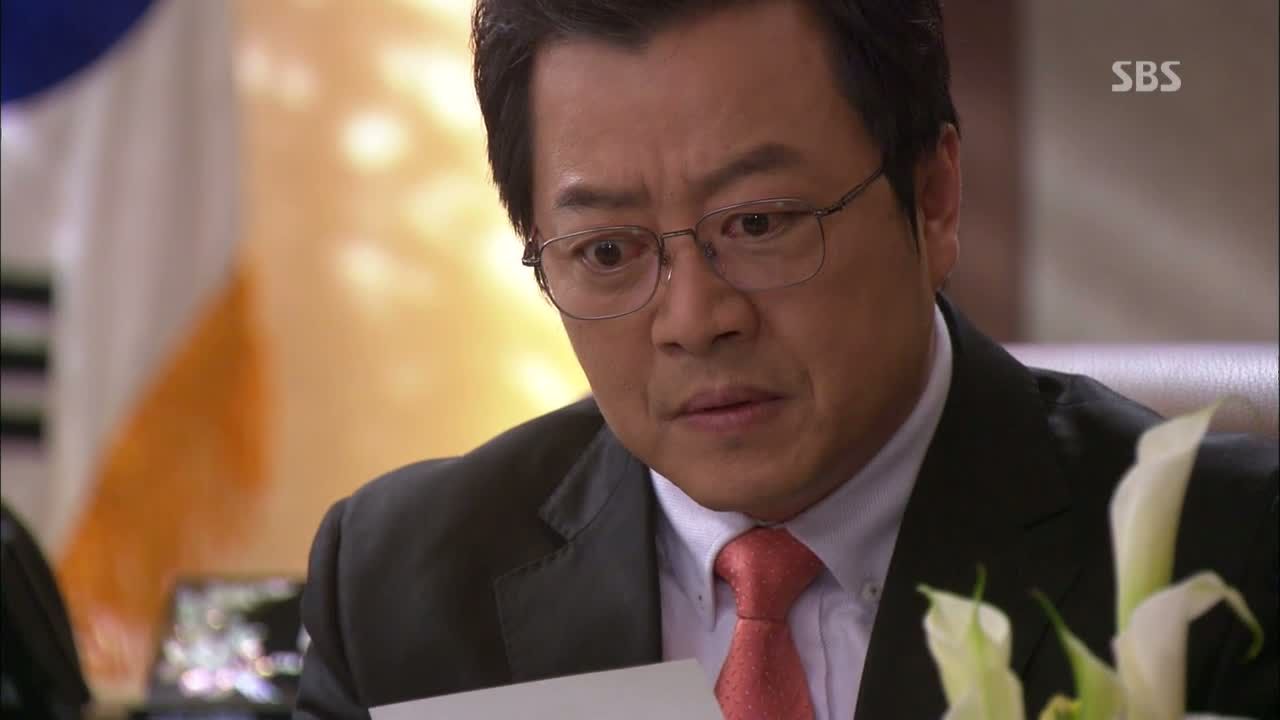 Cha-don is quick on the uptake and he knows that Se-kwang is deliberately withholding his cards. He sits with Prosecutor Kwon to congratulate him on his recent win.
Just then, a congratulatory bouquet arrives for Prosecutor Kwon. The sender is none other than "Lee Kang-seok" who writes that the authentic ledger is in Se-kwang's hands.
Prosecutor Kwon releases his fury on his lackey, slapping him across the face for his incompetence. Evidently that's enough for him to bring his temper back to a manageable level and he puts in a call to Se-kwang.
The senior prosecutors meet later that evening and Prosecutor Kwon proposes a deal: his real ledger for Bi-ryung's confession. This offer does little to convince him and Prosecutor Kwon wonders if Se-kwang plans to destroy both of their reputations.
Se-kwang finds this notion ridiculous but he does mention that as a man who has committed murder, he has nothing to fear from a woman trapped in a psych ward. He notes how Mom tried to use her testimony against him once and we know what good came out of that.
Prosecutor Kwon puts on a bravado that without an outright verbal confession, he can easily deny the extortion accusations as false. That's when Se-kwang pulls out his own voice recorder and plays the bit of Prosecutor Kwon about the falsely reported amounts.
Prosecutor Kwon's eyes grow wide but Se-kwang simply lets out an amused laugh. Pouring the man a drink, Se-kwang warns his superior to remain calm and chuckles that Prosecutor Kwon was too greedy, sailing his ship made of rock out to sea.
Now it's Prosecutor Kwon's turn to admit defeat and asks what Se-kwang wants in return. That's easy – to catch Lee Kang-seok, and Se-kwang asks, "Wasn't it Cha-don who gave you that recording?"
Se-kwang admits that he acquired the ledger through Cha-don. Finally putting two and two together, Se-kwang hammers in the final nail of that truth coffin in Prosecutor Kwon's mind: "Lee Cha-don is that bastard Lee Kang-seok."
The more Se-kwang spouts off a litany of half-truths surrounding Cha-don, the more it tells me that it's a deliberate attempt to redirect Prosecutor Kwon's rage to Cha-don. Given that final smirk on his face, he knows that his plan has worked like a charm.
As for Cha-don, this time he drowns his woes in beer as Chief Yang tries to cheer him up. And as luck should have it, they see Jae-in walk in with her matseon date, and Cha-don bitterly chomps on his food as he watches Jae-in laugh at a nearby table.
She walks past him in the hallway (with a self-satisfied smirk, mind you) and stops when he drunkenly calls out her name. She whips around to remind him to address her formally since they're simply acquaintances now.
But he grabs her by the arm and turns her around so that her back is against the wall. Silently placing both hands by her head, he asks for long she plans to make him angry. Jae-in fires his words back at him that he said he was okay with her dating anyone else but Hyuk.
Cha-don looks back at her with a mix of confusion and hurt in his eyes and then slowly leans in to kiss her. Jae-in turns her head in rejection just as her date interrupts the moment.
He has a resigned look on his face as he watches Jae-in leave with a smile on her face. He gets in a taxi to return home but has no idea that Prosecutor Kwon is trailing behind him.
Jae-in pulls onto the side of the road shortly afterwards, wondering why Cha-don still hasn't called. She's practically willing for her phone to ring and when it finally does, she pretends to be annoyed to take his call.
Cha-don asks if they can meet, but before he can get in another word, the Truck of Doom smashes into the side of the taxi. Ohhh no.
On the other end of the line, Jae-in asks in a panicked voice if he's all right and shouts into the phone for him to say something.
Thankfully Cha-don is still conscious and he struggles to pull himself up in his bloodied state. He fumbles for his phone as Jae-in's voice demands to know what happened and where he is. He can barely eke out Jae-in's name as tears fall from her eyes.
But then we both hear and see the truck back away from the crash. Oh Lord – don't tell me you're going to ram into him again.
Which is when the Truck of Doom guns the accelerator and speeds straight for Cha-don to finish him off.
With such a smart baddie like Se-kwang, you would think that the other Traitagon members could have learned a page or two over the years. And yet, we see that where Se-kwang is a proactive leader in this battle, Prosecutor Kwon remains as a largely reactive figure, his tactics dependant on the situation. In fact, aside from this latest order to send the Truck of Doom to (hopefully) kill Cha-don, he's done very little for the majority of the series. Well, I suppose we can credit him for leaving us with metaphorical life lessons along the way. You get a gold sticker for your evil work today!
His character has largely departed from when we first met him in the beginning of the series – the scary prosecutor whose very words could send chills down my spine. And at present, I hardly see him as much of a threat (and don't even get me started on Reporter Go, who I think won't even dare to hurt a fly at this point). Furthermore, it seems that Prosecutor Kwon is beginning to realize that he's not all that scary, even to his hoobae prosecutor Se-kwang who's been calling all the shots. Now that their former evil alliance has been re-established with the truth of Cha-don's true identity as Kang-seok, I wonder how long it will take for our good guys to realize that the lions have abandoned to rip each other apart in the den.
It was clear from the start that Cha-don's revenge plan requires calculated steps to achieve a maximum effect. Up to now, they've managed to turn Se-kwang's suspicions on its head, tossing out bait to distract the enemies. And now for the first time, it feels like the tables have turned on them and Se-kwang has finally gained the upper hand. Se-kwang has been complaining for a few episodes now about how Kang-seok has always been a step ahead of him. Now it's his turn to instill some panic and possibly some doubt in our good guys.
And with that sharp, evil, manipulating mind of his, we know that he's only just getting started.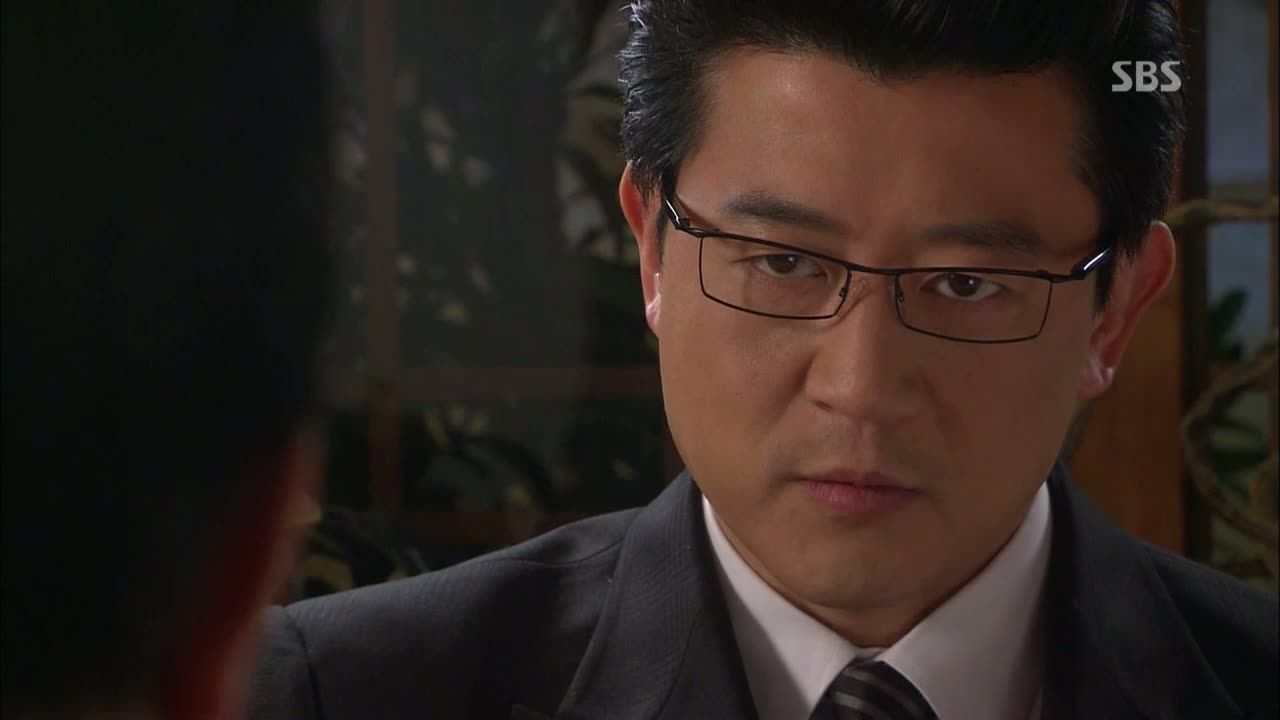 RELATED POSTS
Tags: featured, Hwang Jung-eum, Incarnation of Money, Kang Ji-hwan