Incarnation of Money: Episode 20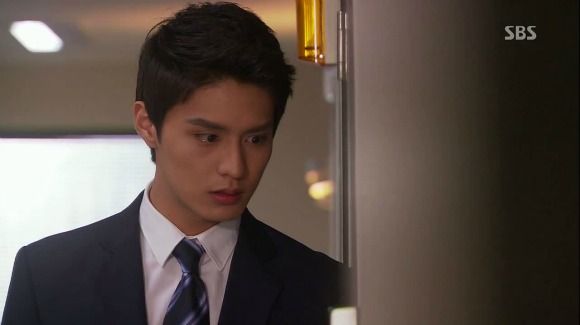 A skilled huntsman lies in wait for his prey to come to him, and a confident marksman needs only one bullet to take down his target. Armed with knowledge and money for ammunition, both sides wait to ambush the other.  But even the best disguise isn't enough to camouflage the truth. It's time for the masks to finally come off and march into battle with heads held high.
EPISODE 20 RECAP
Cha-don musters the last ounce of his strength to eject himself from the car just before the truck driver keeps to Rule #2 in Zombieland: Double Tap. All Prosecutor Kwon can see from his angle in the aftermath is the totaled car and he drives off at the sound of sirens approaching.
Shortly afterwards, Jae-in arrives at the scene and gasps at the wreckage. She finds Cha-don lying unconscious in a nearby ditch and stays by his side in the ambulance, pleading for him to stay alive.
Grasping his hand in hers, she buries her face in her hands. Cha-don's eyes open to a slit and at the sight of Jae-in, he breaks into a faint smile.
As soon as Prosecutor Kwon takes a seat at the bar, Se-kwang immediately asks if the job is done. He's pleased to hear that Cha-don is dead, despite Prosecutor Kwon's initial uneasy answer: "He's probably dead."
The thought of how Cha-don pulled their strings like a marionette still angers him and now it's their time to act. They'll hold off seizing the savings bank for themselves and instead let the prey wander into their clutches.
Meaning, Prosecutor Kwon's alliance with Boss Bok will still be of some use to them.
Jae-in keeps vigil by Cha-don's bedside, meticulously cleaning his cuts while holding back tears. Cha-don smiles at this when he sneaks a peek and then feigns sleep at the sound of the door.
It's Team Shudal, who laments over their team leader's injured and unconscious state. Jae-in runs out in tears when she relays to her mother over the phone that there's no telling how severe his injuries are until he wakes, leaving Team Shudal alone in the hospital room.
Cha-don finally speaks, alerting his teammates that he's awake. Placing a finger to his lips to shush them, he whispers that though his memory is fuzzy, he can't accept the accident as pure coincidence.
Figuring that he'll have to flex his acting muscles for the time being, he beckons them forward and outlines the rest of his plan in a hushed whisper.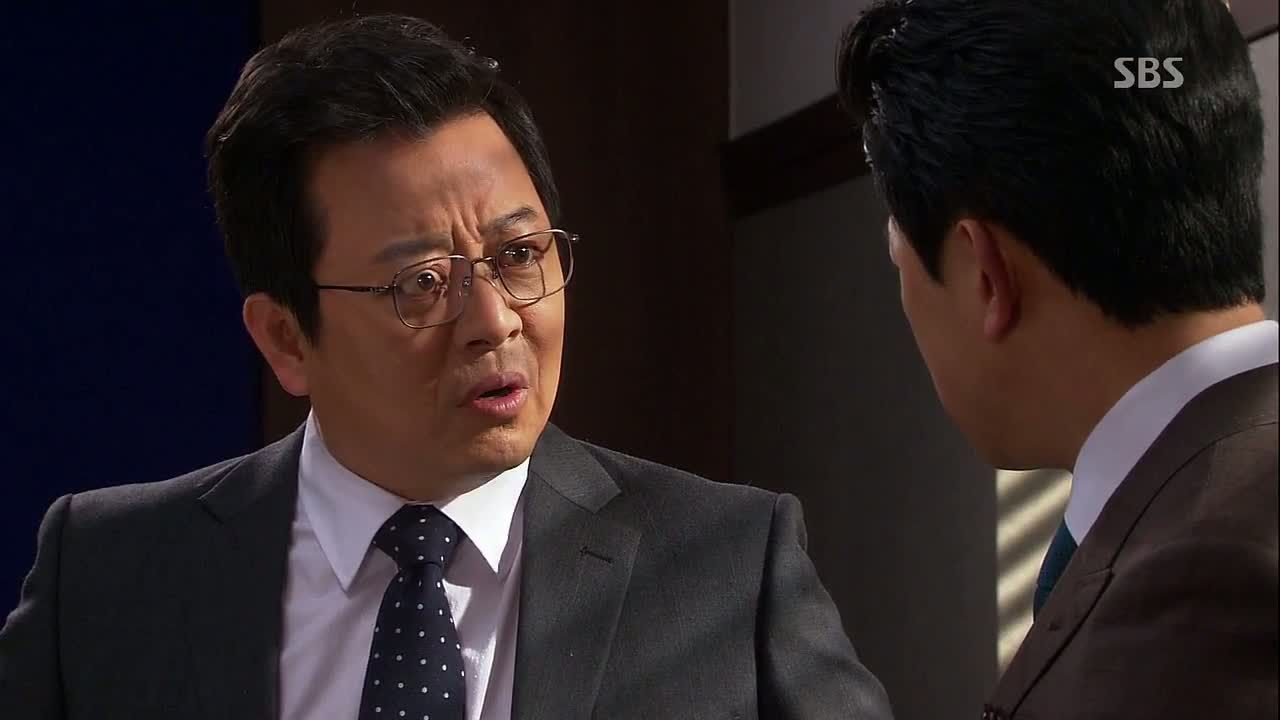 Well, Se-kwang is enraged to hear that supposedly dead Cha-don isn't quite so dead after all. Tip: Make sure your enemy is deader than dead before you put your worries to rest.
It looks like Prosecutor Kwon could use a lesson on learning the difference between mostly dead and all dead. 'Cause mostly dead is slightly alive. He fires back in rage, You know how hard it is to kill someone?! There, there. Not everyone is cut out for assassin-atin'.
What's worse is that poor Hyuk overhears the conversation from the other side of the door. He walks away in a daze.
The baddies are told that Cha-don is indeed alive but has sustained a serious head injury. Cha-don sticks to that story with Jae-in as well, allowing her to feed him food with a dull expression on his face.
Ha, his hospital garb down to the neck guard looks exactly like the one he once wore as a teen. Jae-in promises to do everything in her power to see Cha-don better again. He gives her this big, goofy grin that makes me smile.
He does the same with Se-kwang when he visits to confirm the extent of Cha-don's injuries. Thankfully, he buys the act – for now.
Now it's just a matter of delivering Prosecutor Kwon's bribery ledger. They can't risk the documents falling into the wrong hands, so Chief Yang suggests they ask Jae-in, whom their enemies will never suspect.
After Jae-in is filled in, she's still fuming at the coffee shop when Chief Prosecutor Jo walks in. It cracks me up that his initial impression of her is her muttering curses about Prosecutor Kwon, heh.
Chief Prosecutor Jo confirms that the ledger is solid evidence to bring Prosecutor Kwon to trial and reassures her that justice still exists in the Korean legal system. Jae-in's not about to make Cha-don's current condition publicly known anytime soon, and downplays his absence for a cold.
Back in the prosecutor's office, Chief Prosecutor Jo holds off on making an immediate arrest on Prosecutor Kwon. He gives Ji-hoo a word of advice: All it takes it one bullet to take down a lion.
That one bullet is used to leak the bribery story to various news agencies. Prosecutor Kwon belatedly catches wind about the matter soon after he hands over his Yellow Sea Savings Bank shares to Boss Bok, much to his chagrin.
He's plenty drunk by the time Hyuk arrives home and asks his father, "Why did you do it?" Prosecutor Kwon misinterprets this question and wonders if his son is doubting him over a few measly headlines that will blow over by morning.
We know that Hyuk is referring to the attempted murder on Cha-don's head. A single tear falls from his cheek as his father vows that he'll overcome this hurdle. "A weak man just does what's required of him. But strong men are different."
Boss Bok watches the news coverage at home and is left impressed by Cha-don's plans yet again. She sends Assistant Kim to get her meds and she sighs that she needs to see Cha-don and Jae-in get married before her condition worsens.
The media has a field day covering the juicy story and they pelt Prosecutor Kwon with questions. Chief Prosecutor Jo approaches the man to officially arrest him and Prosecutor Kwon offers his hands up to be handcuffed right then and there.
Declaring that a few pieces of paper aren't enough to incriminate him, he insists on his innocence. "You'll be the ones who will be handcuffed," he warns.
But Ji-hoo isn't afraid to follow procedure in front of an audience and she goes ahead to cuff him. Where were you all this time, badass Ji-hoo? Prosecutor Kwon shows off to the crowd, smiling to the crowd that the truth will be revealed and justice will prevail.
Cha-don watches the aforementioned scene covered in the news from his hospital room. Little does he know that Se-kwang is just outside the door and has now seen him in his perfectly healthy state.
Se-kwang seethes, but his exit is caught by Assistant Hong. So Cha-don immediately calls Se-kwang and suggests that they meet.
Cha-don attributes his fast recovery to nothing short of a miracle. With the Elite Four out of candidates, he tells Se-kwang that he's currently trying to persuade the elusive benefactor to consider him again.
Se-kwang turns to leave and in voiceover, both men send the other a scathing message. Cha-don: "You won't be able to slip away next time." Se-kwang: "No matter what you're planning, it won't work."
As expected, things don't go very smoothly during interrogation since Prosecutor Kwon flatly denies the bribery allegations made against him. There are plenty of skilled copywriters who can mimic his handwriting and no one on the list will admit to bribery.
So Ji-hoo is forced to let the man go for now and Prosecutor Kwon finds Se-kwang waiting for him in his car. He's furious to hear that Cha-don behind his arrest, but he's got bigger problems on his hands since Cha-don has caught on that Prosecutor Kwon orchestrated the deliberate attempt on his life.
Prosecutor Kwon says that he'll take care of it – he struck a deal with the driver to exchange money for some prison time.
Cha-don is over the moon with all the attention he's been getting from Jae-in lately, like how she feeds and grooms him. But speak of the devil and he gets caught by Jae-in with a piece of pizza hanging from his mouth.
He momentarily forgets himself and starts, "Jae-in ah…" Uh oh, somebody gonna get a hurt real bad. Jae-in grabs him by the shirtfront as he hollers that he's a patient.
"A patient?!" She shrills before she jumps on top of the bed, wrestling and beating him. Boss Bok remains hands-off, deciding that it's better that the lovebirds work it out themselves.
But just then, they're interrupted by the police with the alleged truck driver in tow. The man begs for forgiveness on his knees, saying that he did it because of his impoverished state. Boss Bok instructs Assistant Kim to perform a background check on his story.
Assistant Kim gets all riled up when Cha-don cuts him off, telling the man to get up. Everyone thinks Cha-don has actually gone insane when he tells the man to live an honest life and to come find him if he needs a job. Jae-in has never seen this kind of gratitude from Cha-don before and she lashes out, "Are you Gandhi? Or Mother Theresa?"
Cha-don knows that the driver only acted on the Traitagon's orders. The only way they'll get to the truth is to draw a confession out of him by bringing him to their side.
But then Jae-in undercuts this moment, releasing her anger on Cha-don again.
Turns out that there's still corruption going on inside the Yellow Sea Savings Bank as Se-kwang is debriefed about a well-respected investment director, Director Yoo, who has embezzled close to 3 billion won (about 3 million USD) in funds. Naturally, the man makes a fuss about being apprehended so Se-kwang cuts to the chase and clocks him with a right hook. Ouch.
Now that he has his attention, Se-kwang tells him, "A doctor is considered a king to a patient. And a prosecutor is considered a king to a criminal." Director Yoo fesses up to his crimes.
We see Director Yoo return to the bank later that night, though he's noticeably nervous. A flashback teaches us that Se-kwang instructed him to embezzle a large amount (over 40 billion won or 40 million USD) that was sure to set off a red flag for the bank.
Director Yoo worried that the paper trail would lead back to him but Se-kwang reassured him that all he would need to do is to point the blame to someone else who would take the fall.
Se-kwang then approaches Prosecutor Kwon for an advance to use as ammunition for battle. He'll distribute the funds to their recruits, who then in turn will go to the savings bank by the droves to create accounts.
Their recruits will withdraw their funds when the embezzlement scandal makes headlines which will start a domino effect among the other account holders.
The bank will unfortunately have to declare bankruptcy and best of all, they'll pin Cha-don as the man behind the embezzlement.
Elsewhere, Jae-in is in high spirits as she drinks with Cha-don who would no more like to be resting in bed than anything else. He amuses her by listening to her repeated stories about the bank's recent booming business and whenever he doesn't, she guilt-trips him about how she was his personal caretaker while he was "sick."
To make matters worse, Jae-in is a loud drunk and Cha-don is forced to wheel her down the street in his own wheelchair. She admits in her drunken ramblings about how scared she was when she thought he might have died.
Cha-don smiles at this and stumbles over his words, trying to muster the courage to confess his feelings. He starts, "Jae-in, I…"
But he looks down and laughs when he sees that she's fallen asleep. He painfully gets on his knees and covers her with his jacket.
He tells her, "If you date me, I won't let you smile at another guy or let you wear revealing clothes. You'll have to go home early every night and I'll make you look only at me." Then he slowly leans in and kisses her.
Back at the Bok estate, Boss Bok can't believe her eyes or ears, pointing to the man on screen. "Isn't that Jae-in's father?!" She listens as Dad recounts how his wife didn't recognize her when they ran into each other at Cha-don's apartment. Chief Yang hilariously responds, "Did you get plastic surgery?"
Dad admits that he was a horrible husband who drank, gambled, and cheated on his wife. "The reason why she caught that awful disease is because of me. Because I hurt her so much." Right now, he's happy with playing saxophone for her in the vicinity at night.
Boss Bok shoots down the question whether she'll go to talk to Dad or not, using the excuse that she's still too angry. What about after she calms down? Boss Bok stares at the screens and tries to curse her husband. And when she can't, she breaks down crying.
Bi-ryung looks like she's gone through the mill in this angelic place. Seeing as she's handcuffed to the bed, I can only guess that she's tried to escape her quarters numerous times.
She doesn't believe Se-kwang when he tells her that she's better off here than in prison. Constantly haunted by nightmares, she accuses him of hiding her in some hellish place. She scoffs at his apology – if Se-kwang truly sorry then he'll call for Cha-don to come and collect her this instant.
But Se-kwang answers in a firm voice that they've merely been pawns in Cha-don's game of chess. He was the one behind all of Se-kwang's misdeeds against her.
It's no surprise that Bi-ryung can hardly believe a word of this. She scoffs, "You must really think I'm crazy, don't you?" Se-kwang tell her that this is her final chance – he won't extend his help anymore from here on out.
Her voice drips with deep loathing and she seethes, "Go to hell."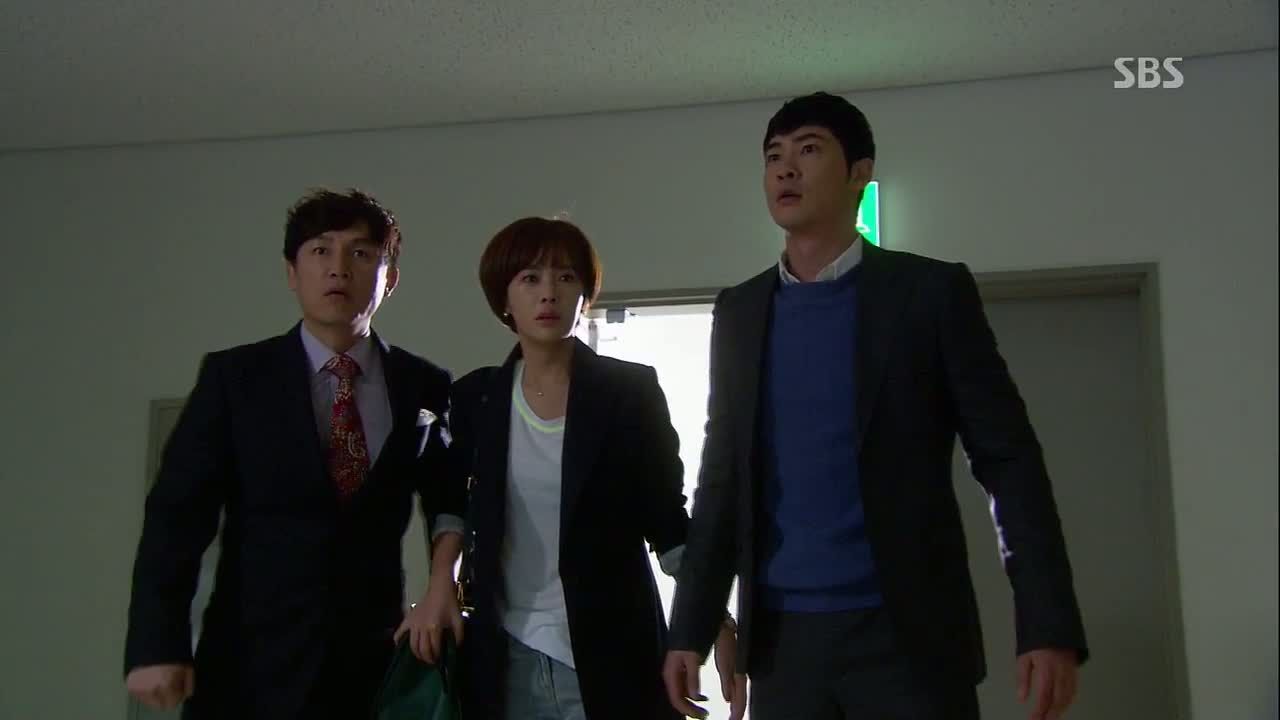 At the savings bank, Cha-don notices something amiss in the audit records: a large sum headed by Director Yoo. Problem is, he's nowhere to be found and the company on file is no more than a paper company. Jae-in starts to panic: "Where did all that money go?"
News of the alleged embezzlement of public funds makes headlines and they rush over to the bank to find that the prosecution already there. Hyuk looks legitimately sorry for leading the investigation and is about to lead her out himself when Cha-don steps in as his lawyer. Certain that someone is deliberately trying to frame Jae-in, he vows to get to the bottom of the matter.
Boss Bok is outraged at the ridiculous situation but before she can order a plan of action, she suddenly collapses.
(In other news, Ji-hoo gets the go-ahead to arrest Prosecutor Kwon but he takes the wind out of her sails and hands himself over to be taken into custody. Though, I should note that he doesn't admit to his crime.)
Cha-don takes the lead in the interrogation room, telling Hyuk that they're better off asking Prosecutor Kwon about the case. As for the embezzled amount, the prosecution should focus their efforts on catching Director Yoo first. Then he advises Jae-in to exercise her right to remain silent.
Who should walk in but Director Yoo himself and Hyuk is dismissed from the room. Se-kwang clarifies that the investment director has turned himself in and admits that Jae-in is not at fault.
Then Director Yoo names someone else as the man behind the embezzlement curtain: Cha-don.
Only Se-kwang and Cha-don are left in the room and the latter chooses his words with extreme caution. "You don't believe him do you?" Se-kwang: "Have you ever seen a prosecutor believe the words of a suspect?"
He instructs Cha-don to wait while they "interrogate the suspect." Instead, Se-kwang sits on the other side of the glass, biding his time until Cha-don breaks.
Staring directly at the glass, Cha-don rises from his seat and steps towards the two-way mirror. In a calm voice, Cha-don says: "Why don't we both take off our masks. Just because I'm here and you're there doesn't change our relationship. I'm Lee Cha-don. You're Ji Se-kwang. We've been tied until now."
Se-kwang talks into the mic and asks point-blank: "You're Lee Kang-seok, aren't you?" Cha-don raises his hand, momentarily covering his reflection before bringing it back down.
Kang-seok greets him with a devilish smile, "It's been a long time, Se-kwang-ie hyung."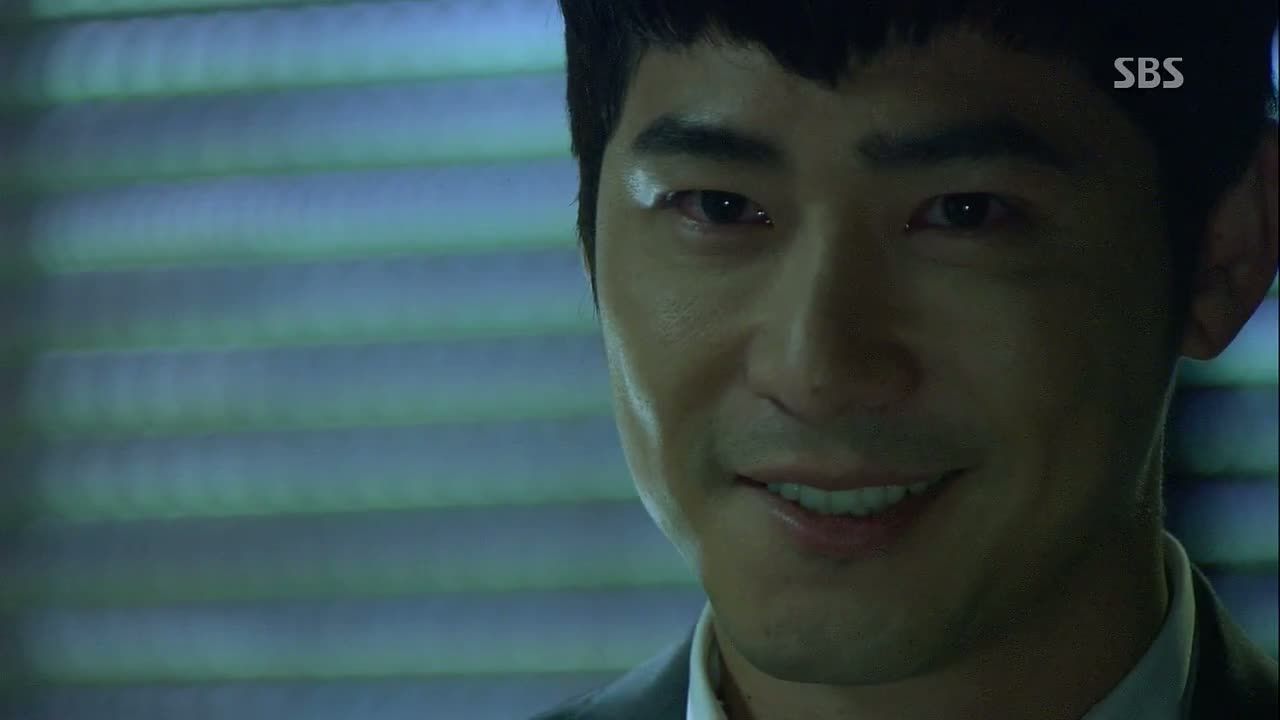 COMMENTS
Now that's what we call a sharpshooter. Even though we knew and knew that Se-kwang already knew, hearing the truth from the horse's mouth cuts a little deeper. You can almost see the cogs turning in Cha-don's head as the pieces slowly fall together and realizes that this time, he's the one who's been had. But interestingly enough, it's these very moments where our hero and baddie shine the brightest. Instead of throwing in the towel in the face of their enemy, they use their vulnerability to their advantage to come out ahead.
Equally-matched in intellect, cunningness, and finesse, I've enjoyed watching these two hand off their small victories to the other after each round. But now that the masks are off and they're both aware of the truth, we're entering unknown and unmarked territory. In the words of our sage of corruption, Prosecutor Kwon: "A weak man just does what's required of him. But strong men are different."
Both of these men carry a fierce pride and determination to carry out their personal vendetta for the name of justice. And as the series continues, we see just how different their perspectives are about what it means for justice to be served. For Se-kwang, this means that the bad guy gets punished for his iniquities; but whether he knows it or not, the bad guy is anyone who gets in his way.
Conversely, for Cha-don, he serves justice for the betterment of the people and to rid the world of corruption. But one should keep in mind that we're dealing with complex, intriguing characters who skirt that boundary line between good and evil that it's almost blurred during the execution. That hazy reflection sums this up perfectly; their figures superimposed on each other. A mirror typically reflects what we see in ourselves, flaws included. But in this confrontation, that  mirror choose to see through the reflection and stands as a window that can peer straight into one's soul.
It's what makes this war of revenge so fascinating to watch and this rivalry is what solidly anchors this series down. Can one ship enemies who actually loathe each other to the core?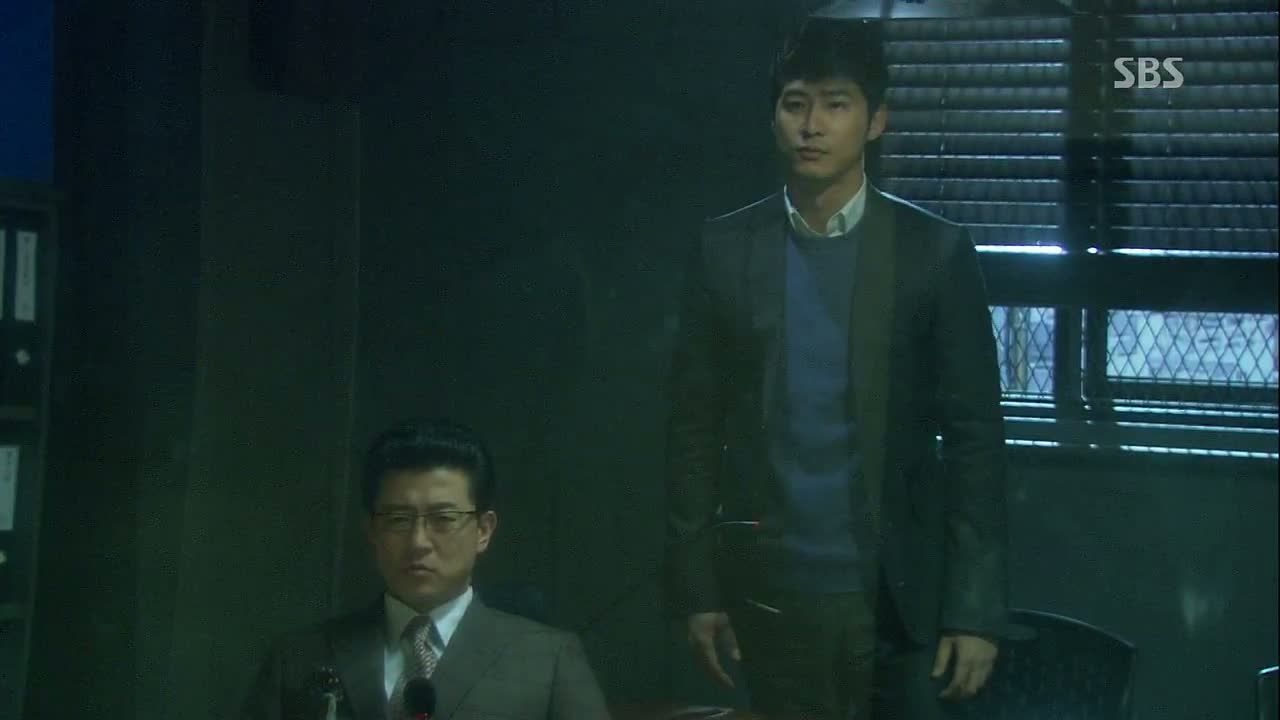 RELATED POSTS
Tags: featured, Hwang Jung-eum, Incarnation of Money, Kang Ji-hwan