Incarnation of Money: Episode 24 (Final)
In the final battle of this brutal war, the truth rears its ugly head as justice comes to declare final judgment on the righteousness of our characters. Everyone has a shot at a second chance, to turn away from their misdeeds, and make a new start. But you'll miss it if you let your pride and selfish ambition stand in the way. You may think that you're looking down on society from your moral pedestal, but you need to look up and realize that you've already fallen. So it may be the end of the line for you, but it's just the beginning for someone else.
Incarnation went out with a bang in its final week with 14.3% and 16.8%, respectively.
SONG OF THE DAY
ONE OK ROCK – "The Beginning" [ Download ]
Audio clip: Adobe Flash Player (version 9 or above) is required to play this audio clip. Download the latest version here. You also need to have JavaScript enabled in your browser.
FINAL EPISODE RECAP
As expected, the growing unrest within the public makes Prosecutor General Jo uneasy, and he pushes for the trial to indict Se-kwang once and for all. The cards are stacked against them but Team Shudal has one last card to play: tonight's tell-all interview that will shed light on the late chairman's murder case.
Completely shocked by the news, Reporter Go rushes to find Se-kwang who is currently held in custody. He's eager to point the blame at Se-kwang and has the gall to say that it was Se-kwang who committed all those crimes, not him.
Enraged, Se-kwang grabs him by the shirtfront and roars that they have to prevent the tape from airing by any means necessary.
So Reporter Go swipes the tape from the editing room and rushes down the stairwell to hurriedly destroy the tape. Unfortunately, he gets caught red-handed by Jae-in and company, who tsk their disapproval at his mad desperation.
The now destroyed tape is a fake and no one is surprised by his actions, least of all Jae-in, who tells him that she expected him to genuinely apologize to Cha-don at the very least.
Out of the job, Reporter Go is left with just his guilty conscience.
Back in the interrogation room, Cha-don relays to Se-kwang that it's a pity all of his supporters will turn their backs on him after tonight's broadcast. Se-kwang isn't worried since he doesn't put his trust in people: "I only trust the law."
"Law?" Cha-don laughs, "It's probably money, not law. Because they're only mobilized by money." However Se-kwang is confident that Cha-don currently lacks the evidence to indict him.
As Ji-hoo sits in her room, nursing a drink, she recalls the rest of the conversation we left off from the previous episode. Cha-don had reminded her of her own words that a mistake can make an innocent person into a criminal, and giving up lets a criminal go free.
Ji-hoo had brushed him off, only to hear him calling out in the background asking whether she really intends to throw away her sense of justice. Holding the bank receipt in her hand, she makes a call.
Cha-don finds Ji-hoo pouring herself shot after shot, and he rips the bottle away from her. For someone who's been drinking all morning, Ji-hoo sounds impressively sober as she reminds Cha-don with remarkable clarity that she's a judge and also his former superior.
With that, she slams the receipt onto the table. Cha-don is taken aback as she continues: "If those who administer justice break the law, then there will be no one who will trust and abide by the law."
So she tells Cha-don to uphold his honor in court as a prosecutor because she'll uphold hers as a judge. Dayum.
Ji-hoo stumbles out of the restaurant and Team Shudal cheers, their victory now secure.
Team Shudal brace themselves as they watch the televised broadcast later that evening, and Jae-in takes Cha-don's shaking hand in hers.
The reporter recounts how Mom served a prison sentence in a mental institution and how the late chairman's large fortune disappeared in the hands of a few individuals. Though the statute of limitations has run out, the truth remains.
We pan over each of our Traitagon members as the reporter describes the individuals: a respected prosecutor, a high-ranking prosecutor, and a well-known anchorman. Now the truth will finally be revealed and the names of these corrupt men known to the world.
Then we see Jae-in onscreen, who names all the Traitagon members in turn, including Bi-ryung.
But that's not all, as Jae-in confirms that the late Chairman Lee's son, Lee Kang-seok, is still alive today. Bi-ryung sits up a little straighter in her seat and gasps when Jae-in answers: "Lee Cha-don."
She can hardly believe it since this means that Se-kwang actually told her the truth. Well, he did lie to you the other 95 percent of the time.
Now that Cha-don has discovered the Swiss bank account's existence, he tells Director Yoo that his tight-lipped stance is useless and he won't see a penny of the money he was promised.
To drive the point home, he shows Director Yoo the bank receipt and offers him a final chance to confess.
They're interrupted, however, when Cha-don gets called away by Bi-ryung. He receives another call when he arrives at their designated meeting place when she's nowhere to be found.
We see that she's calling from a nearby pay phone and refers to him as "Kang-seok." Ignoring his words that she'll receive a longer prison sentence for her jailbreak, Bi-ryung outlines her intentions to poison Se-kwang and to put the man out of his misery. "Because all he gained was ruin."
Cha-don urges her to return to the mental institution, promising her that he'll see that she makes parole after she serves her sentence. Bi-ryung raises a suspicious eyebrow at this – why would he help the woman who had a hand in his father's death?
His answer: "Because your son would miss his mother, like I did when I was young." He understands that feeling all too well and presses her not to let an innocent child suffer that kind of pain.
Cha-don: "I don't hold any resentment towards you anymore. No… I forgive you."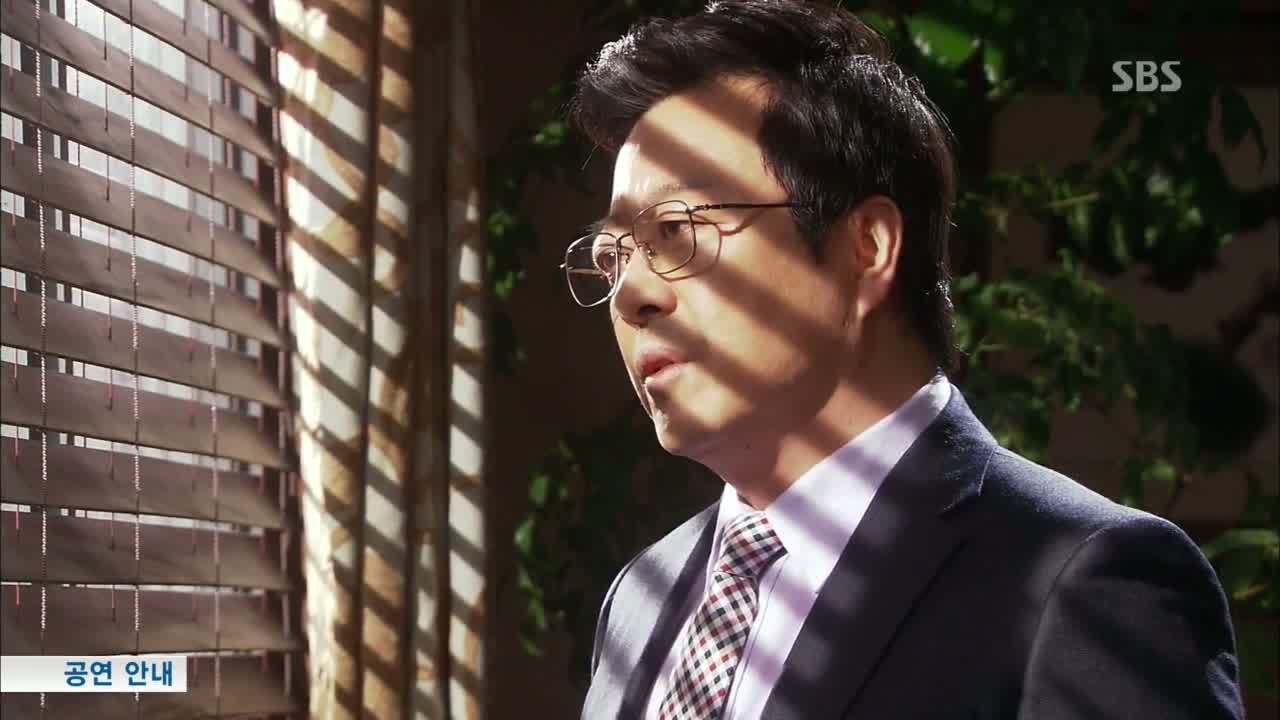 The day of Se-kwang's trial arrives and Prosecutor Kwon has a contemplative moment in his office. He recalls how his own father used to hate him for being an excellent student, tearing up his awards. At the time, he thought it was because they didn't have the means to pay for his education.
But one night, he saw his father crying with a torn certificate haphazardly taped back together – it was that moment he realized how much his father loved him. "But I only showed Hyuk the side of my father who tore up those awards. He died while hating me."
He asks his lackey if it's "prepared." We don't know what but he repeats himself when his lackey hesitates before confirming that everything is prepared.
How much do I love that Ji-hoo is one of the three judges in court? Cha-don questions his witness, Director Yoo, about the night of Hyuk's death. Se-kwang has a bored expression on his face when Cha-don presents his evidence for the embezzlement charges.
It turns out that thing Prosecutor Kwon had prepared is a gun. When he's asked if this is too extreme and that Hyuk wouldn't want his father to do this, Prosecutor Kwon answers, "Law was created out of fear of people killing each other."
That fear of death has disappeared; not only for himself but for his target. Uh oh.
As Se-kwang is led out of the courtroom, Ji-hoo tells him that she doesn't regret anything. But that sad moment is abruptly cut short when Prosecutor Kwon appears and shoots Se-kwang point-blank. Woah!
Se-kwang falls to the ground, bleeding from the shoulder, and Cha-don rushes over to wring the gun out of Prosecutor Kwon's hand. He's quickly transferred into an ambulance (Bi-ryung reels at the sight just outside the entrance).
Cha-don orders a police escort to tail the ambulance since Se-kwang will use any opportunity to escape. Ack! You couldn't think of this sooner?!
Sure enough, Se-kwang comes to and his minion silently unlocks his handcuffs before knocking him out. Then he points the revolver at the medic and orders the ambulance to pull over.
Lucky for him that Bi-ryung has been tailing the ambulance all this time, and she screams at Se-kwang to get in.
Cha-don mobilizes the entire prosecution office to comb through all the hospitals and clinics for any sight of Se-kwang. Once Prosecutor Kwon is filled in, he tells Cha-don that it would have been better off if he had gotten his chance to finish Se-kwang off.
But Cha-don retorts that his kind of revenge is different and that he wants to see Se-kwang pay for his crimes. Prosecutor Kwon tells him now that Se-kwang is on the run, he's after Cha-don's life. "And yet, can you still speak like a holy man?"
There are two kinds of people, Cha-don adds – those who repent for their sins, and those who never do. Prosecutor Kwon leans back and says that he lives his life without regrets – if he planned to repent for his sins, then he would have never committed a crime.
"That's why we need the law." Cha-don smiles, "So we can still punish them even if they don't repent."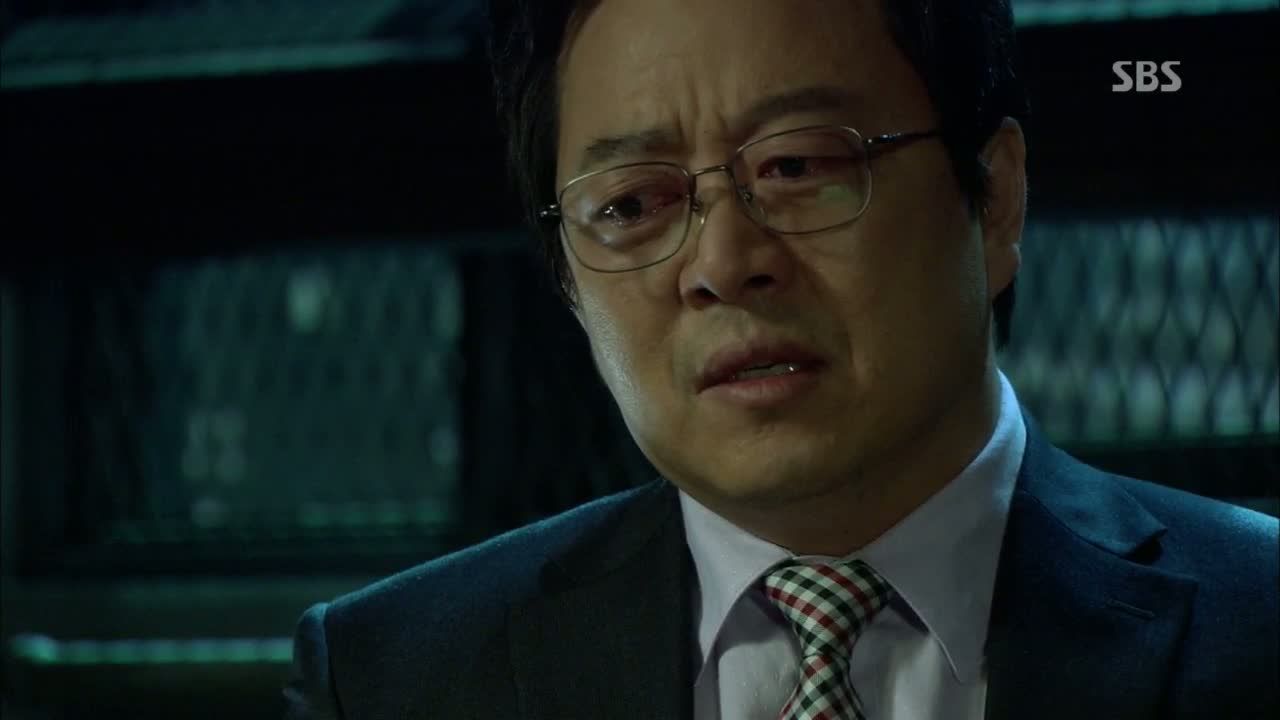 Then Prosecutor Kwon's lackey is brought into the interrogation room in handcuffs. Cha-don explains that the truck driver said he received the order to kill from him. His eyes fixated on Prosecutor Kwon, he asks the lackey the same question.
The lackey denies anyone else's involvement, to which Prosecutor Kwon says with his own lips that he was the one who made the order. His own confession kills the dramatic buildup but Cha-don remarks that brings the senior prosecutor's count of attempted murder charges up to two.
Prosecutor Kwon is left alone in the interrogation room. A single tear rolls down his cheek as he whispers, "Hyuk, I'm sorry. Forgive your father."
Back at the Bok estate, Cha-don asks after Traitagon's whereabouts, scratching his head when he hears that Reporter Go's family fled the country. He wonders if that means Bi-ryung is with Se-kwang. Bingo.
Boss Bok has reverted back to her childish state and when she enters the room, she wraps her arms around Cha-don, calling him by her husband's name. Aww.
Jae-in finds it strange, since her mother has never mentioned her father's name in her presence before. So Cha-don tells her the truth about Dad, but Jae-in can hardly believe her ears – her father died years ago.
Jae-in beats herself up for being the last to know and asks why her father decided to show up now, twenty-five years after he first left them.
Is it considered divine karmic intervention that both Dad and Reporter Go are sleeping in the same park? Reporter Go gets caught trying to swipe some soju and huffs off when Dad calls him a thief.
Jae-in shows up at the same park and wakes up her father. Still referring to him as "ajusshi," she tells him that her mother has relapsed and that "she needs you."
Dad lights up at the idea of moving back in with the family and immediately packs up his things. Oh Dad.
When they get back to the estate, Dad offers his bald head so that he can receive his righteous retribution for his misdeeds. Boss Bok raises a hand… and then softly places it on his head. She cries in her childlike voice, "Why did you come now?"
She pulls him into an embrace. I'm not crying – I've just been cutting up onions.
Bi-ryung tends to Se-kwang, whose bullet wound has been painfully removed. He mumbles in his sleep until he violently shakes awake. He's been out for a full three days but the first thing he mutters is: "I had a dream. A dream that I killed Cha-don."
Se-kwang returns a smirk to Bi-ryung when she urges that they clean their hands of their actions. She adds that they ended up like this because of their own greed and obsession.
Giving up is the last thing Se-kwang wants to hear and he pushes her out of the way. He checks his revolver, pleased to see that it's loaded. Bi-ryung cries that he's out of his mind… and then he points the gun at her. Dude, a little more gratitude for the woman who just saved your life, huh?
She tells him that he's crazy and he admits it – he won't let anyone stand in his way. Bi-ryung says that she plans to leave the country, and asks that he come with her.
But he roars at her to shut up and to leave him be. "All I can see right now is Lee Cha-don." Driven by the physical pain of his recovering gunshot wound, he sways out of the room.
Meanwhile, Cha-don rolls the gold coin between his fingers, mulling over Se-kwang's whereabouts. He receives a call from Bi-ryung, who confesses that she broke out of the asylum.
Thankfully Cha-don is lightning quick and instructs Bi-ryung to answer back in code if she's with Se-kwang. Then the camera pans over to reveal Se-kwang pointing his gun back at her.
Bi-ryung tells him to come for her and to come alone. Cha-don thinks fast and gives her instructions we don't get to hear. Once she hangs up, she shoots daggers in Se-kwang's direction and asks, "You happy now?"
Se-kwang tells her that she knows full well why he's acting like this, to which she fires back that she doesn't want to know. She shrills, "You're just a murderer. You're trash!"
Se-kwang keeps a lookout for Cha-don and belatedly tells her sorry. Well, you could have said that before you pulled out a gun on her. Once he kills Cha-don, they can run away together.
Bi-ryung looks like she honestly wants to believe those words: to live somewhere no one can find them; that he won't ever abandon her again.
Then he consumes the drink she handed him. Wait a minute – is that drink poisoned?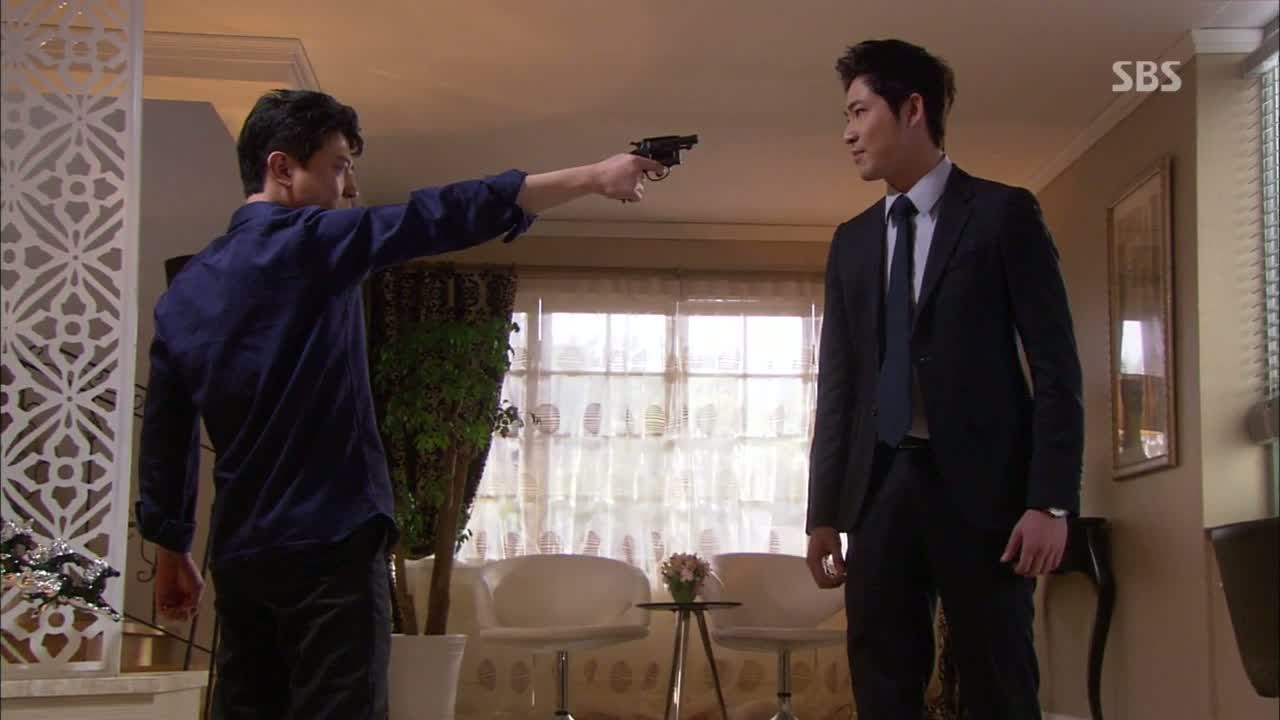 I suppose not because suddenly Cha-don pulls up to the house and rushes inside to find Bi-ryung alone. A voice calls out from behind him and Se-kwang keeps his gun trained on Cha-don. He seethes, "If it weren't for you, I would still be called a righteous prosecutor and taking care of the people."
He blames Cha-don for ruining all of it: his dream, his future, his life. Cha-don asks, "Do you still think that's all my fault?"
"Listen up," Cha-don breathes and slowly turns his head to face him. "What you believe to be justice isn't justice… but filthy greed. If it was truly justice, things would have never ended up like this. You weren't defeated by me, but you destroyed yourself."
Cha-don: "You and I… weren't meant to exist in this world. But I have a chance. An opportunity to reflect on my wicked life. But you, you lost that last chance. So that's why you've lost, Ji Se-kwang. Because you weren't righteous to the end."
Se-kwang tells him to shut up because only the victor is the one who is righteous. "You're dead, and I'm alive. I've won… Lee Kang-seok." With a shaking hand, Se-kwang shoots… and the revolver clicks, blank.
He shoots over and over again, but the gun is empty. Then Bi-ryung drops the bullets in her hand. Ah, so Cha-don instructed her to remove the bullets in their conversation.
Crying now, Bi-ryung whispers to Se-kwang, pleading for him to stop. "Let's stop sinning." And then she coughs up blood. What the hell?
Cha-don rushes to her side and tries to shake her awake. And because these attacks come in pairs, Se-kwang's nose starts to bleed and coughs up blood. Ohh, so she poisoned both of their drinks.
She breathes, "Se-kwang, I'm sorry."
Se-kwang wraps his hand over one of the fallen bullets and loads his gun. He aims it at Cha-don, only to find that he's too late and Cha-don has already picked Bi-ryung up and out of the house.
The rest of the prosecution has arrived and Cha-don gently sets Bi-ryung on the ground. With her final breath, she ekes out, "F-f-forgive me."
And inside the house, Se-kwang raises the revolver to his head… and shoots.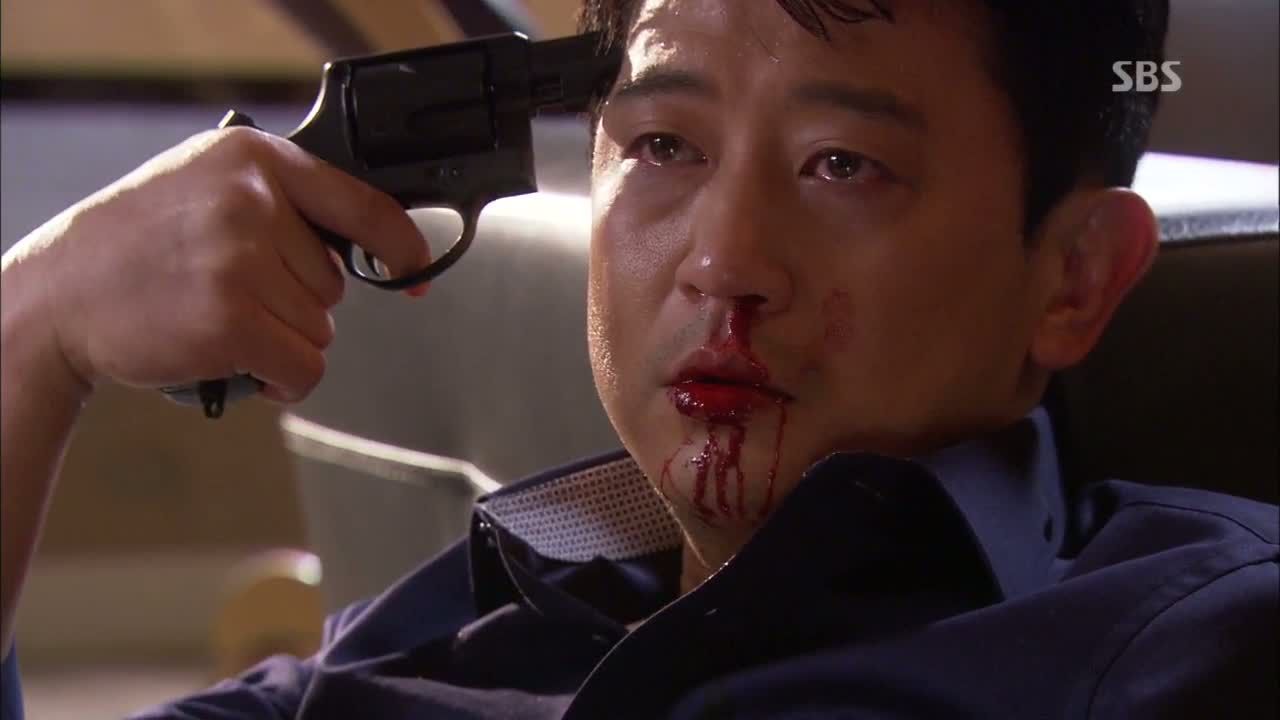 Some time later, we see Cha-don formally introduce Jae-in to his mother as "the woman I'm going to marry." Jae-in is surprised at the sudden confession, but he takes it in stride and jests, "You're not going to marry me?"
Jae-in pouts to Mom that her son is insensitive for proposing to his beloved without a ring. She recounts to Mom about how she took care of him when they first met only to be hurt when he called her "fatty."
She gets ahead of herself in her story and starts rambling on, to which Cha-don nervously laughs that that's enough. I love it how Jae-in's like, I'm just getting started.
Then Cha-don opens his hand and a gold coin necklace drops in the air. She remarks that it resembles the large gold coin he carries around, and he shows her his matching necklace on his neck. Aww.
He tells her: "I love you, Jae-in." He promises that he won't put her through any more suffering and asks her to marry him. She nods.
Cha-don vows to his mother that he and Jae-in will live a happy life together and Jae-in thanks Mom for giving birth to Cha-don.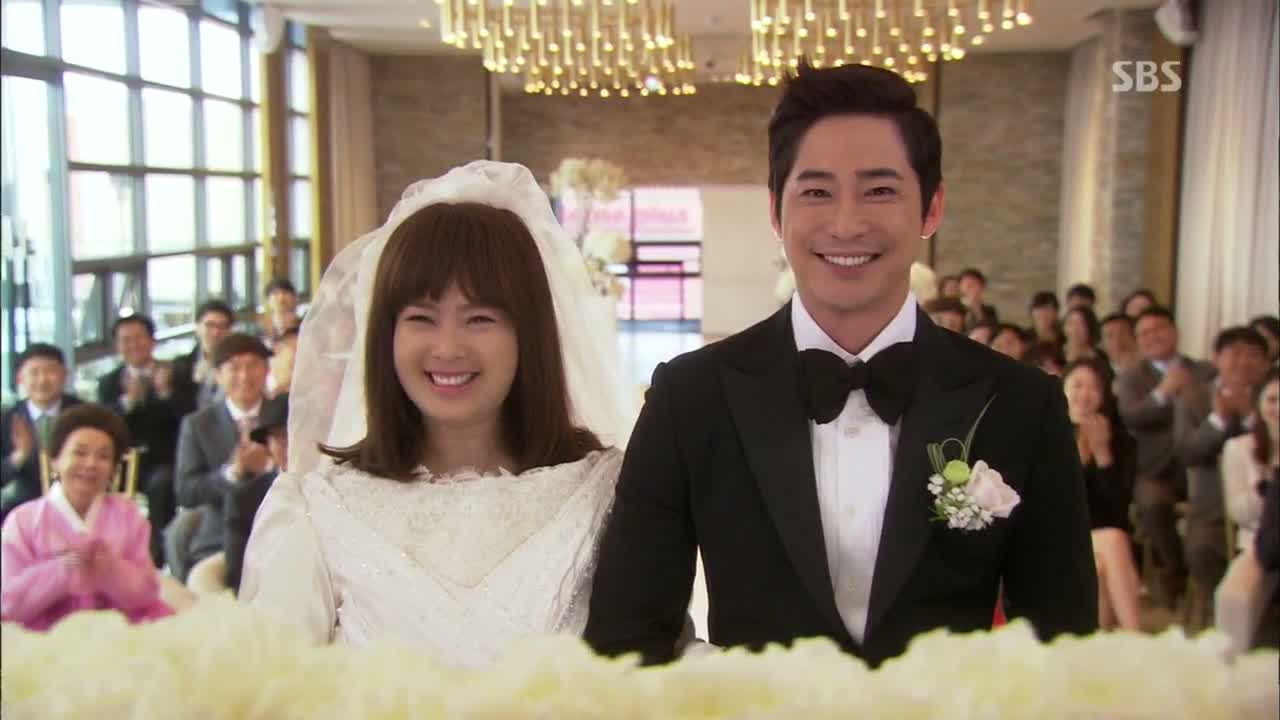 We move forward to their wedding day and see a shadowy outline of a presumably rounder Jae-in struggling to fit into her wedding gown.
Cha-don takes in a deep breath as the wedding begins and can barely stop himself from smiling. Cute. He grins even wider when Jae-in walks (er, marches) down the aisle with Dad.
He takes her hand and whispers, "You look really pretty, Jae-in." She winks: "I know."

COMMENTS
A delightfully happy ending to what has been a crazy and intense ride on this Incarnation train, giving us heart-stopping moments until the final few minutes of the finale. Nearly everything spelled out disaster prior to the show's premiere: the teeny slivers of promotional materials, the drama that surrounded our lead actor, and unattractive hairstyles. The little assurance we had was our faith in the Giant/Salaryman team to deliver an epic, sweeping storyline like their predecessors.
Rarely does a show improve in its second and third act, but Incarnation showed us that not only is it possible, it was able to interweave miniscule details from those previous lifeless episodes and prove that they can be integral cogs in the narrative. That is, when they're not used as throwbacks to give us a laugh. So, the writers relied on that little faith and (a lot of) patience on our part because they ultimately knew the story they intended to tell, even if the middle stretch of the series did feel like we were in limbo. This is where the show could have benefited from a shorter run by cutting out all the excessive rude and offensive humor and play to their strengths, honing in on a killer revenge plan.
Bringing a baddie to life is no easy matter but this is where our villain, Se-kwang, sprung off of the page to present a complex, conflicted, and intriguing character who made you wonder what exactly made him tick. Park Sang-min slowly peeled back those layers so that at any given moment, you could sympathize with his plight or hate his guts. Our other Traitagon members originally started off as caricatures, driven by a superficial greed to feed their sinful actions. Instead, we got a fleshed-out character in Bi-ryung (Oh Yoon-ah) even in her emotional naivety. These two showed us the extent of one's greed and ambitions, revealing the ugly nature of the product of corruption. In other words, you don't know how far you've fallen until you're in too deep.
Se-kwang and Cha-don's tug-of-war was truly the highlight of this series as they sought to trump each other with their own perspectives on justice. Their characters taught us that even if two people were trained in the same teachings of the law, their interpretations can vastly differ from one another. For Se-kwang, justice was served for his personal gain whereas for Cha-don, he sought to deliver justice to bring peace into the world. Not only did we see that in their execution but through the relationships they established. Se-kwang would never trust anyone; least of all the group who helped him commit the first murder. On the other hand, Cha-don has built a fortified network of those who would come to his aid in a heartbeat.
Our hero's tragic past and underdog status made it easy for us to root for him in this war, though I have to remind myself that wasn't always the case when he was power-hungry and corrupt Shudal. Every change introduced a different Cha-don whom we hadn't met into the mix, and hiding a noble man behind the curtains sometimes left me confused and spiteful of his 2D personality. In hindsight, his zany and ridiculous qualities helped lighten the serious notes and showed us once again what Kang Ji-hwan can bring to the table.
Incarnation challenged us to ponder how our established set of laws can affect our world, even if those adages were churned out by one evil and greedy prosecutor. The show drove the point home time and time again how easily someone's heart can turn at a whiff of power and a taste of greed. As philosopher Bertrand Russell puts it: "War does not determine who is right – only who is left."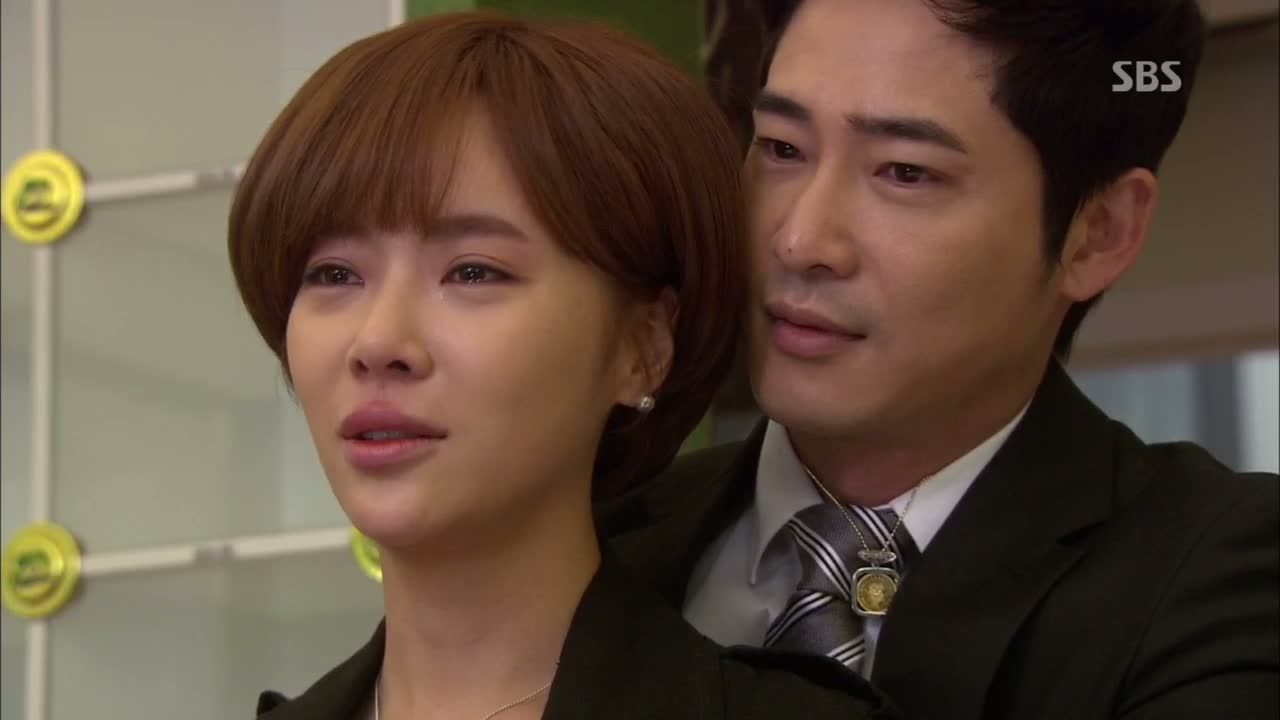 RELATED POSTS
Tags: featured, Hwang Jung-eum, Incarnation of Money, Kang Ji-hwan