Jung Yong-hwa cast opposite Park Shin-hye again, seriously
Dude. WHY. Why why why with the repeat pairing that will not die in dramaland? Jung Yong-hwa and Park Shin-hye AGAIN? It's been confirmed that the pair who were costars in 2009's You're Beautiful and again in 2011's You've Fallen For Me are going to be reunited for a third time. Jung Yong-hwa just been cast in Kim Eun-sook's next big rom-com Heirs (He Who Wishes To Wear the Crown, Endure Its Weight: Heirs) starring Lee Min-ho, due out this fall.
The endless re-pairing is a thing I don't understand, because sure they're cute together, but enough already. I don't even like it when it happens once. Even with him going back to second lead territory, it's a retread of roles they've already played. Either this drama is just trying to be Boys Before Flowers-meets-You're Beautiful so literally that it's just mashing the two casts, or these two have some kind of cupid pulling Fate's strings up there.
The drama will be about upper crust high schoolers, so it really will be another Boys Before Flowers. There is one upside to all this though — one of my biggest pet peeves with writer Kim Eun-sook is the way she writes adults like they're fifteen… which means maybe she'll be perfectly suited to write a high school drama. It's described as a trendy drama about rich high school students, and their loves and friendships. Yes, but wouldn't it be fun to watch them fall in love with new people, like just once in a blue drama moon?
Heirs is planning for an October premiere on SBS.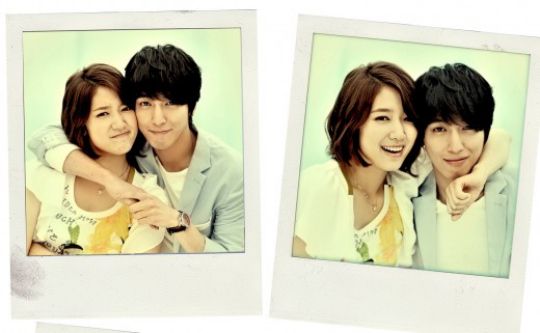 Via Sports Hankook
RELATED POSTS
Tags: Heirs, Jung Yong-hwa, Lee Min-ho, Park Shin-hye