Remake of HBO's Entourage heads to tvN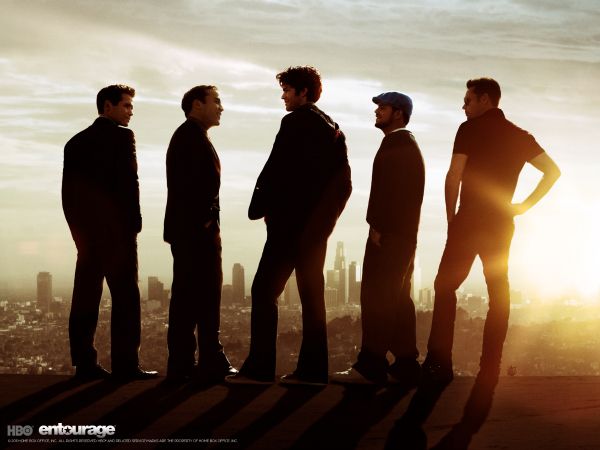 girlfriday: So add this to the list of remakes headed to dramaland: cable network tvN is doing a remake of the HBO show Entourage, to be helmed by the director of I Need Romance 2012.
javabeans: How does a Korean Entourage even work? I mean, that's just the way things operate in Korea anyway: Your road manager lives with you, your agent arranges all your meetings and yells obscenities while dressed in a spiffy suit, your hangers-on stroke your ego and do your laundry… It's redundant.
girlfriday: Right? The Korean star-management system is already like that, so either it's a perfect fit or it's uninteresting… in that we've seen it in every drama about actors ever.
javabeans: It's a perfect fit in that it's applicable. But there's no dash of excitement at getting some hitherto-unseen backstage look, like you had with the HBO version. Especially knowing it was based on Marky Mark's life, allegedly. But like you said, we've seen it so much already on Korean shows.
girlfriday: There was definitely a feeling like you were peeking behind a curtain with the original (though granted sometimes you didn't want to see what went on behind it) but I feel like it'll be hard to show us something in the Korean industry that feels new and exciting. I guess that depends on how far cable's willing to go?
javabeans: Not that far, I'd bet; tvN is pretty mild.
girlfriday: Exactly, which is why a watered-down Entourage doesn't really seem that appealing.
javabeans: Plus, I didn't really like Entourage anyway. That show had no stakes and almost no plot, and you can't have a Korean drama with no plot. Everything just worked out in the end and you never cared about the problems. It was all, Yo, dude-bro. Have a Rolex. Sleep with one of my groupies, I've got extra.
girlfriday: Yeah it was a frivolous kind of fun, though if you thought too hard about it, it was watching a couple of yahoos be millionaires.
javabeans: And complaining that their millions weren't more millions. To look at this glass half-full, though, I suppose it could be fun if it hit the right comedic note. It can't really be edgy or dark enough, so it'll have to be funny enough.
girlfriday: Yeah I agree. You can't out-sex HBO, but you could be lots of meta-industry fun. Apparently they were courting Ha Jung-woo to star, which would have been a huge get, but he turned it down. I think the tone will change completely based on who they actually get to headline this thing.
javabeans: I think this is asking for too much of K-dramaland, but now I wish they'd make it totally satirical, like Extras. You know, with celebs making fun of themselves a la Kate Winslet swearing about never winning an Oscar or Daniel Radcliffe playing a total prat puffed up on Harry Potter glory.
girlfriday: Now THAT would be amazing.
javabeans: It would be hilarious if, say, an actor with a really sweet image cursed up a storm, or an onscreen playboy turned out to be afraid of women.
girlfriday: YES, like everything you secretly wished variety shows would show you, but will never ever show you?
javabeans: Where can we submit ideas, tvN?
Via Star News
Tags: cable programs, conversation post, remakes