Running Man: Episode 139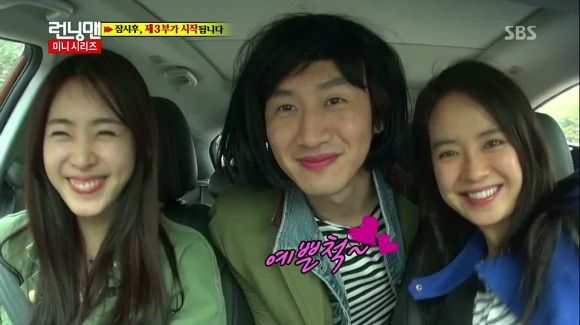 Doesn't our Kwang-soo look so pretty? With the help of a few actresses, our lovable cast takes another shot at a drama-in-variety with This Winter, the Typhoon Blows. Painted with forbidden love, struck by terminal illness and a possible birth secret, you can count on being more makjang than melodramatic. But this is Running Man, which means you can count on the comedic notes to buoy you through.
EPISODE 139. Broadcast on March 31 2013.
After the staff prepares for another epic-sweeping drama-in-variety, Kwang-soo introduces himself as our hero Oh Soo, breaking into a mini monologue about his tragic life. He's soon joined by Haha, whose eyes are glazed with tears and who insists that he's not crying; it's just been raining on his face.
Jae-suk's choice of bright red is pretty unexpected though now the Dumb and Dumber duo looks like Christmas lights. The boys tease Jae-suk for wearing a graphic tee as an undershirt. Then Jae-suk yanks at the Giraffe's wife-beater in retaliation.
All the boys insist that they're Oh Soo in turn, and Jae-suk doesn't miss an opportunity to tease Kwang-soo by snapping at his suspenders. Ow. Then Yoo Hyuk gives us this adage on comedy: "The early bird will get more jokes in." LOL.
Wait a minute, isn't this the same restaurant we see in Incarnation of Money?
Once all the boys arrive, Barista Go takes their drink orders, which I assume is how teams are divided today. The boys are quick to notice Ji-hyo's absence which can only mean one thing: female guests. They start throwing out guesses, like how Bong-sun should be due for a visit soon.
Mr. PD gives the boys a final chance to switch their seats and after a lot of back and forth talk (Spartakooks keeps a firm hold on Kwang-soo), the Betrayal Trio stick together while the others remain solo.
They wait with great anticipation as their first lady steps in. It's Ji-hyo and disappointment washes over Jae-suk's face at his missed opportunity to be paired with a guest. Still the other boys cry in celebration.
Neither of them are particularly excited of this arrangement and they both scoff at the sound of each other's character titles. Jae-suk: "Ji-hyo, a Candy girl?" Ji-hyo: "What kind of an executive director wears a RED overcoat?!" HA.
The boys gawk over the appearance of our first female guest, actress Go Ara (Heading to the Ground). Her teammate, Jong-kook, can barely look at her as his cheeks burn a furious pink. And that's right – they were paired off together last time!
Jae-suk can't help but tease Kookminator in this flustered state: "This morning you were complaining of a busted lip. But now your heart feels like it's going to burst, doesn't it?!"
Bashful Kookie is freakin' adorable. Then when he gets up to see who our second guest is, Ara shoots lasers at him. Lol.
Look who else is here – it's actress Lee Yeon-hee (Gu Family Book, Ghost). She reveals her drink order and the reactions around the room are priceless. Jae-suk nearly falls out of his chair, crying; the Betrayal Trio share looks of disbelief; and Gary revels in happiness.
It seems that today's theme suggests couple-centric games, which means the Betrayal Trio will have a third wheel. So the boys decide to do the ol' variety classic method of pointing to their choice in hopes their "proposal" will be accepted.
It's pretty hilarious watching them try to stifle their laughter as they flat-out reject each other, but in the end, Haha and Kwang-soo rejoice while Suk-jin wallows in loneliness.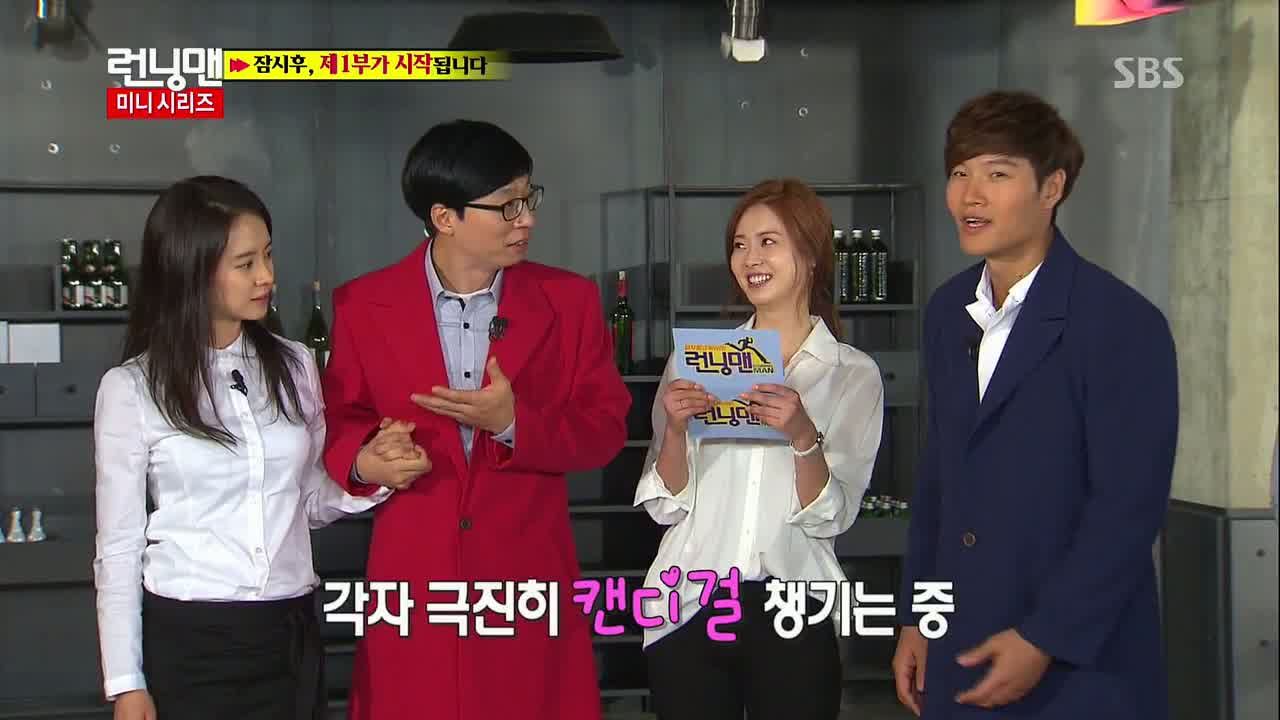 For their first episode, the couples will play the "Red Light/Green Light" game while piggybacking their leading ladies (or man). Mr. PD laughs when he asks the Betrayal Couple who will be "the lady" in this scenario… and both men lift their hands. HA.
Since the cast is practically like family, I love watching Jae-suk and Ji-hyo's comfortable teasing banter with each other. They help deflate the semi-awkward moment of Gary's extended hand-holding with Yeon-hee by redirecting the attention to themselves.
Then when Ji-hyo helps Kwang-soo with his blond Candy wig (he volunteered to be the lady), Jae-suk calls out, You're paired off with me!, and so she slaps Kwang-soo and jokes, "Who are you?"
My favorite moment, however, is when they vow that they'll win and declare to diplomatically split the winnings 50:50.
The boys boast of how light their ladies are (you won't see them daring to admit otherwise out of chivalry). Maybe I haven't been giving Haha enough credit because he seems to piggyback Kwang-soo just fine.
That is, until a few rounds later and we see Kwang-soo's butt is already past Haha's knees. Teehee. And wait… are you guys butt-to-face now? AHAHAHA.
Soon, the Jong-kook and Ara couple are closest to Suk-jin and I love that little eyebrow raise she gives him. She sets free the other couples, and unsurprisingly, Haha and Kwang-soo are eliminated in the first round.
Kwang-soo has a little fun with the immovable couples. Like how he places his blond wig on Jong-kook's head and fiddles with Jae-suk's glasses.
Only Gary and Jong-kook remain in the final round. Haha volunteers to be seeker and proves that he isn't someone to be trifled with, showing off how fast he can potentially catch someone on one foot.
Yeon-hee's hair momentarily overlaps with Gary's, giving the man a G-Dragon-like 'do. Jae-suk tries to relive the moment, but accidentally upstages it and belatedly realizes that he's dragging his coat behind him. HA.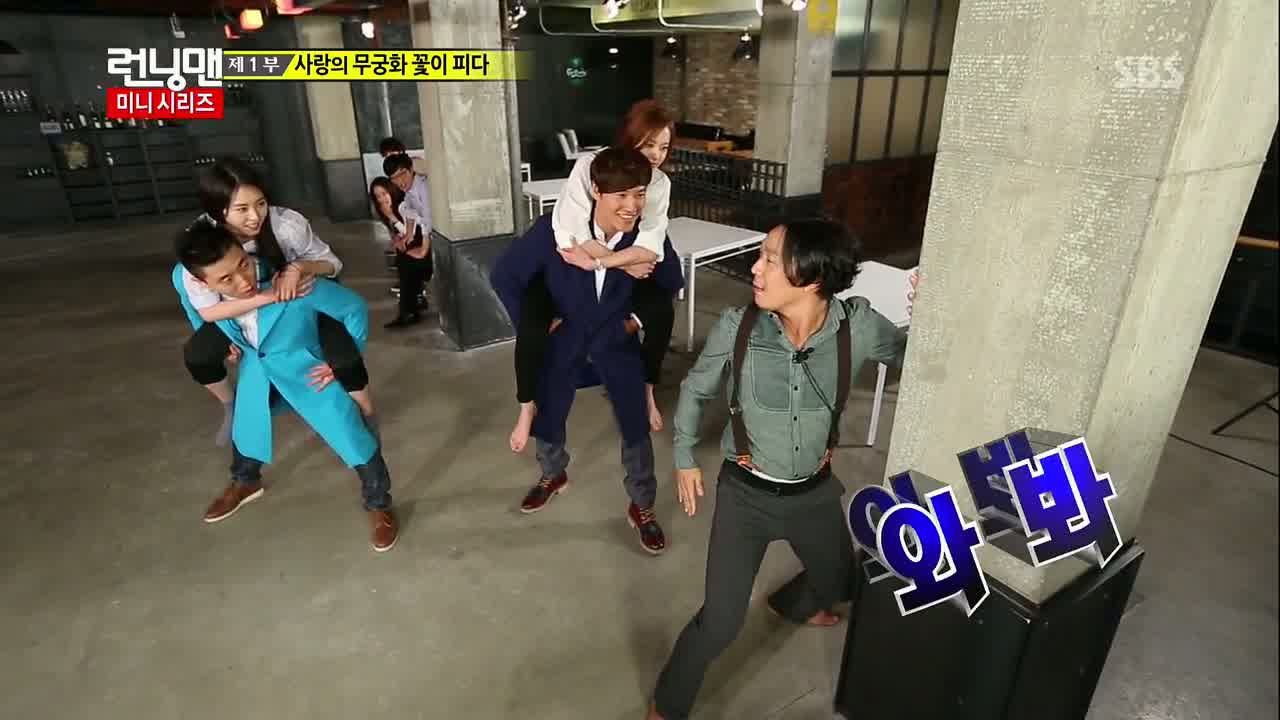 Haha's voice starts to speed up as the couples continue to inch forward. But pair that with all his shouting and a dozen times repeating himself later, it's no wonder he nearly loses his voice.
Ara waits for her opportune moment before she hits him and darts. Haha wasn't kidding when he said he was fast. But Jong-kook and Ara slip away just ahead of the other couple to win the game.
As a reward, not only do they get to stick together but also get a peek at the ending scene/game.
On their way out, Haha shoots us a cool See you later pose, which Jae-suk deems as unsatisfactory for variety. So he shows us how it's done by striking the trademark Yoo Hyuk pose, giving us a full shot of his bum.
Rubbing salt into the wound, Mr. PD's like, "We're going to go ahead and use Jae-suk's instead." Aw.
Then when the staff calls for someone to stand in for the clapperboard, Jae-suk upstages all of the young'uns by getting on the ground and "clapping" with his feet. 'Cause that's what Kings of Variety do.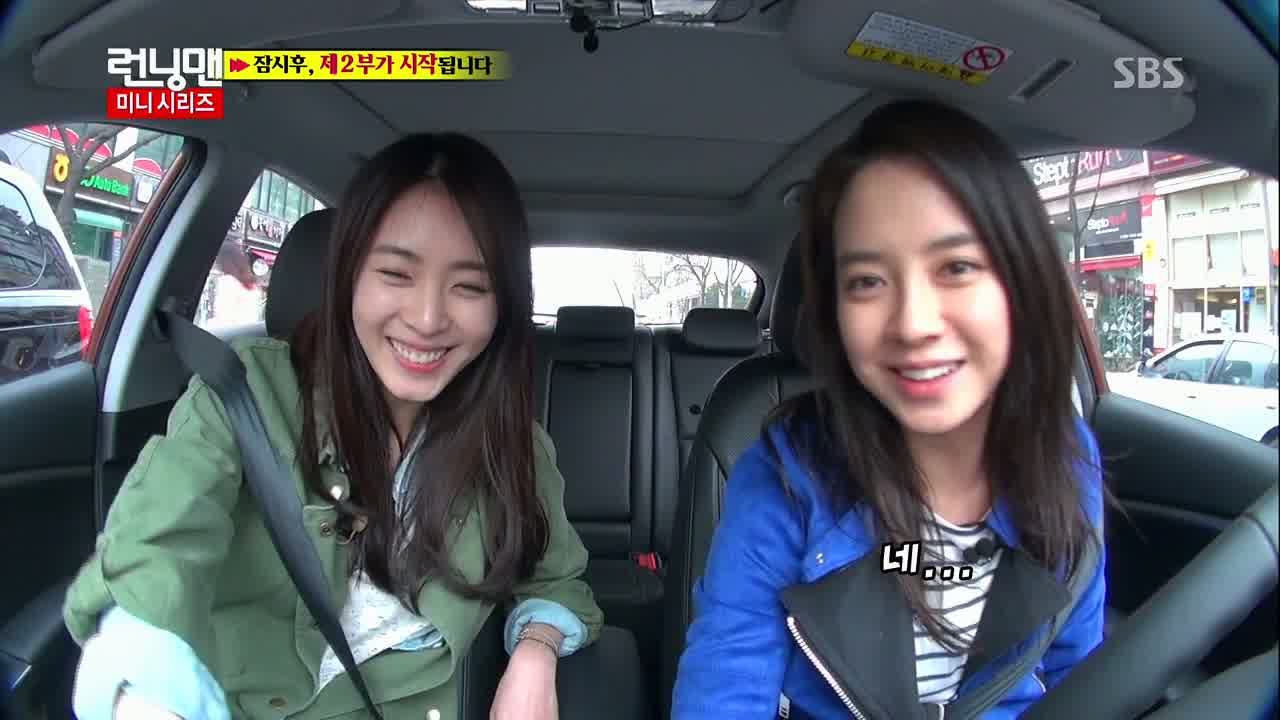 So Jong-kook and Ara get to ride in the fancy-schmancy car. From the ending scene sketches, Jong-kook guesses that they'll need to find a chest.
The other couples are forced apart and the boys grumble in their car over this stipulation. Still, it's not as awkward as it is for the ladies. Ji-hyo points out that this might be the first time on the show she's in the same car with a female guest.
At least they've got something to talk about as Yeon-hee reminisces about her last appearance when they filmed in China. She didn't get a chance to rip off a single name tag back then, so today's her day to make it happen.
Not only that – she wants to take on Spartakooks. Dream big, lassie.
Their second episode (a dodgeball game) is where the plot twist comes in. And you guessed it – terminal illness. Gary: "This is totally turning makjang!" You said it.
There's a twist in casting as well, as Myuk PD declares that they'll be switching up the couples. Reason: "There's always a banjun [reversal] in dramas!" To increase everyone's heart rate in anticipation, the ladies will choose their new partner via back hug.
Yeon-hee runs back and forth before choosing Gary again. It's no surprise that Ara sticks with Jong-kook, but interestingly enough, Ji-hyo chooses Haha for this round. Puahaha – and the three remaining boys have to yet again choose a third wheel.
Jong-kook points out the Easy Brothers' similarly colored jackets as reason to pair up. Jae-suk takes offense to this, and busts out his shirt… which matches Kwang-soo's. Daebak.
But according to Myuk PD, all is not lost for loner Suk-jin as he starts to explain that he'll be captured on camera often. You know, as the one who retrieves the dodgeball. That's just mean.
The game begins and Yeon-hee survives a few near-misses. Then Jae-suk, who acts as a lady for this game, gains possession of the ball and pelts it in Ji-hyo's direction.
He attributes his strength to exercise and then climbs on top of Kwang-soo's shoulders for a special attack. Only that Haha catches it and immediately jumps on the chance to eliminate him point-blank.
He misses, but Gary gets possession of the ball and eliminates Jae-suk anyway.
Watching this game reminds me that Gary's an awesome bodyguard, protecting Yeon-hee at all costs. And yet she shows us that she's no damsel with a strong throw at the other team.
Let's not take Jong-kook for granted as a guard. He's like a human steel shield and takes all of Haha's attacks like it's nothing. He does, however, target Haroro when it's his turn to dole out some hurt.
And boy do I love it that whenever the ball ends up in Suk-jin's hands, everyone else is at his mercy. Heh. It's cute how all the ladies dance in order to persuade him to hand over the ball for their team.
Once again, it's down to Gary versus Jong-kook with their respective female guests. Yeon-hee makes an impressive catch which makes the Ace's rollover catch the next minute that much more hilarious.
But it's Jong-kook and Jae-suk who face-off in the final round. With Kwang-soo as the "girlfriend" this time around, how is Jae-suk going to protect a 190cm+ guy?
We needn't worry too much since Kwang-soo takes the ball and attacks anyway. He's on a roll (even with his squirmy "You can't catch me" dance)… until he accidentally hits Jong-kook in the face. Uh oh – even the most bromantic of hugs might not be enough to salvage this moment.
I'd forgotten that this part of the series revolves around terminal illness until Jae-suk explains that it's been a long time since his "sick girlfriend" has stepped outside since she fell ill.
And yet with Haha's help, Jong-kook and Ara win the second game as well. They obtain a few more sketches that reveal the chest is a music box that contains a pair of gold pins.
Kwang-soon embraces her feminine side as she climbs into the backseat of the ladies car. Ji-hyo rolls with it and prettifies her with some lip gloss. Kwang-soon puckers his lips for the camera. Caption: Kwang-soon, you can stop now.
Like any good third act, there's another wrench in this drama-in-variety-series that could break our couples apart: a birth secret. Hellooo full-on makjang.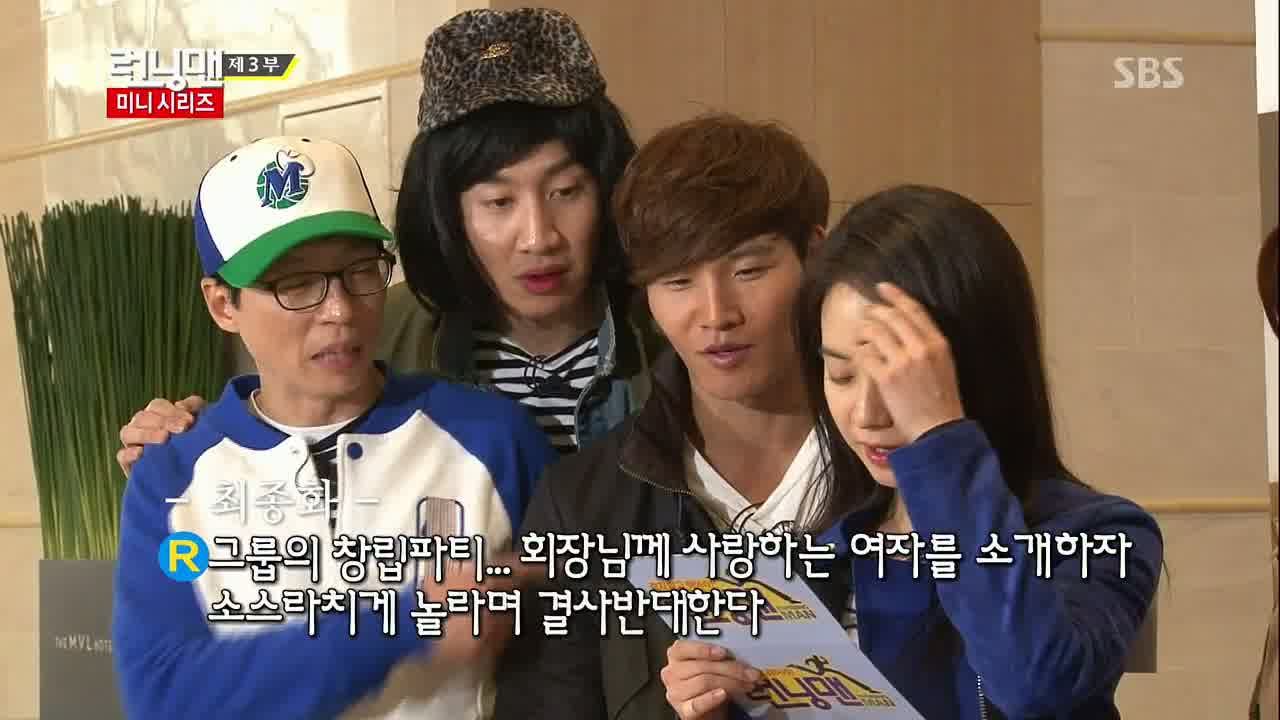 Oh man, this is one complicated finale but let's see if I can break it down. Two of the cast members are "long-lost siblings" and once they find each other, they'll submit their name tags for a "genetic test."
As for those who aren't related, it's their jobs to hunt down the real siblings in order to win. Oho.
Thanks to the sketches, Ara quickly deduces that she needs to find a music box and set off. A little while later, she discovers one and her hint says that the siblings' mother has a blood type O. Which means it could be anyone.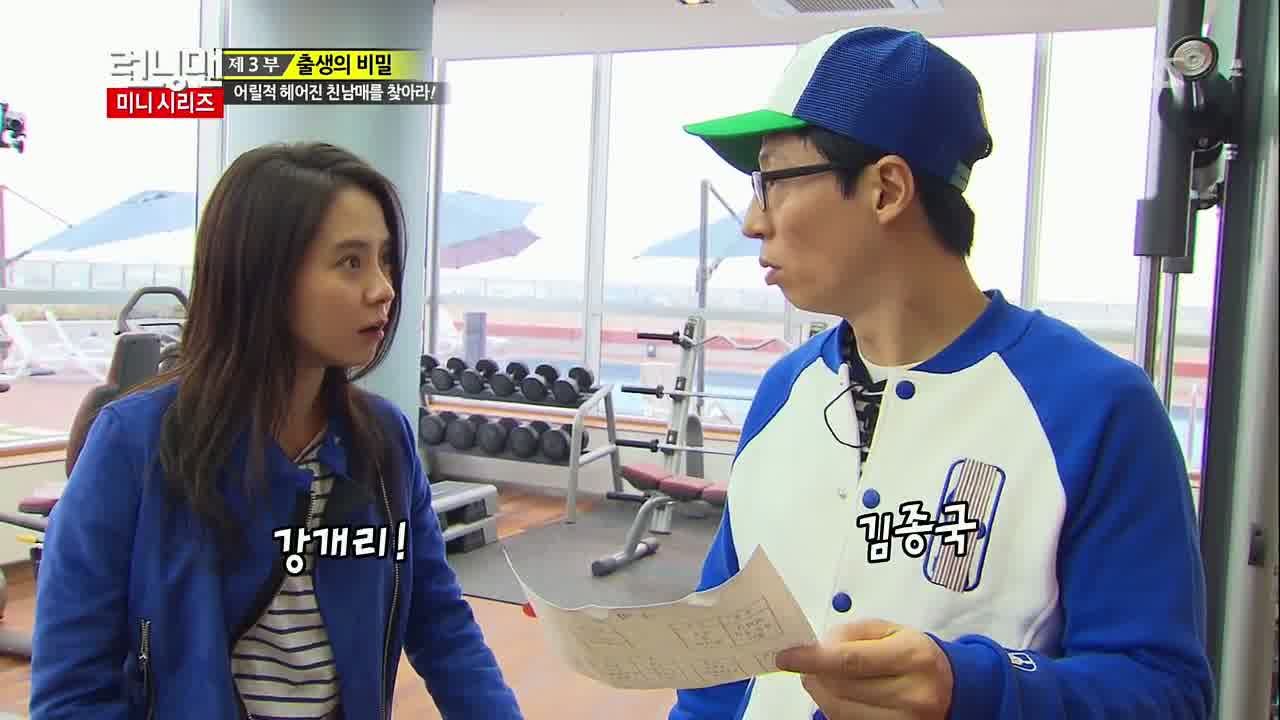 Jae-suk happens to find another music box hidden in a fridge. But before he can stuff it back inside sans the hint, Ji-hyo appears out of nowhere and demands he share his discovery.
He gives in and they both examine a family tree filled with descriptors, such as the father who has "small monolid eyes." Through a process of elimination, Jae-suk crosses Kwang-soo off the list because "his eyes don't look like they're filled with wisdom."
Speaking of whom, Kwang-soo trails behind Jong-kook. They run into a dog, suspicious that its presence wouldn't be random.
Elsewhere, Suk-jin shares his hint with Yeon-hee and as she reads, she points out, "The son didn't do well in school!" Suk-jin: "None of our guys did."
Kwang-soo, did you just eat the hint? Ew. There's a contact number for the family lawyer and he slips away, locking himself in an office. He allows Jae-suk entry when the Grasshopper lies that he knows how to work the fax machine.
Ji-hyo runs back to unlock the door as Kwang-soo tries to prevent her from pushing her way in. But all Ji-hyo needs to do is pull the door open. HA.
Their efforts prove futile since none of them know how to work a fax machine and when they're like, We're not getting a response! Mr. PD responds, You have to write something first.
I shouldn't be surprised that Kwang-soo can rattle off lies like it's no big deal in order to throw his other hyungs off of his tail. He signs off with, "I'll call you back!" and when Jae-suk calls him out on it, he replies, "I'll just call him tomorrow or something."
Turns out that the family lawyer's kind of sassy but informative. He responds that the Easy Brothers are not siblings.
With Gary's ddakji hint, the male sibling can be one of three ddakji champions: Jae-suk, Gary, or Jong-kook.
Meanwhile, the Easy Brothers have Haha cornered, who insists that he can prove that he's not one of the siblings. That means he's got a hint on him, and when they bend down to check, Haha rips off Suk-jin's name tag. Smart.
He doesn't get to smile for much longer since he runs into Jae-suk and Gary a minute later. They decide to draw Kwang-soo out of the room, so Jae-suk slinks back to another room where Yeon-hee lies in wait.
Her guess is that Jae-suk is the male sibling and when the boys surround Haha after Kwang-soo's elimination, her hand reaches across Jae-suk's back… and rips it off.
Yeon-hee slips away with Gary and the two rack their brains over the family tree. Should I be amused that both Gary and Ji-hyo admit that she has relatively dark skin?
Jong-kook and Ara are determined to find an identification card that contains the father's blood type. They find another music box and though we can't see it, it sure looks like they found what they were looking for.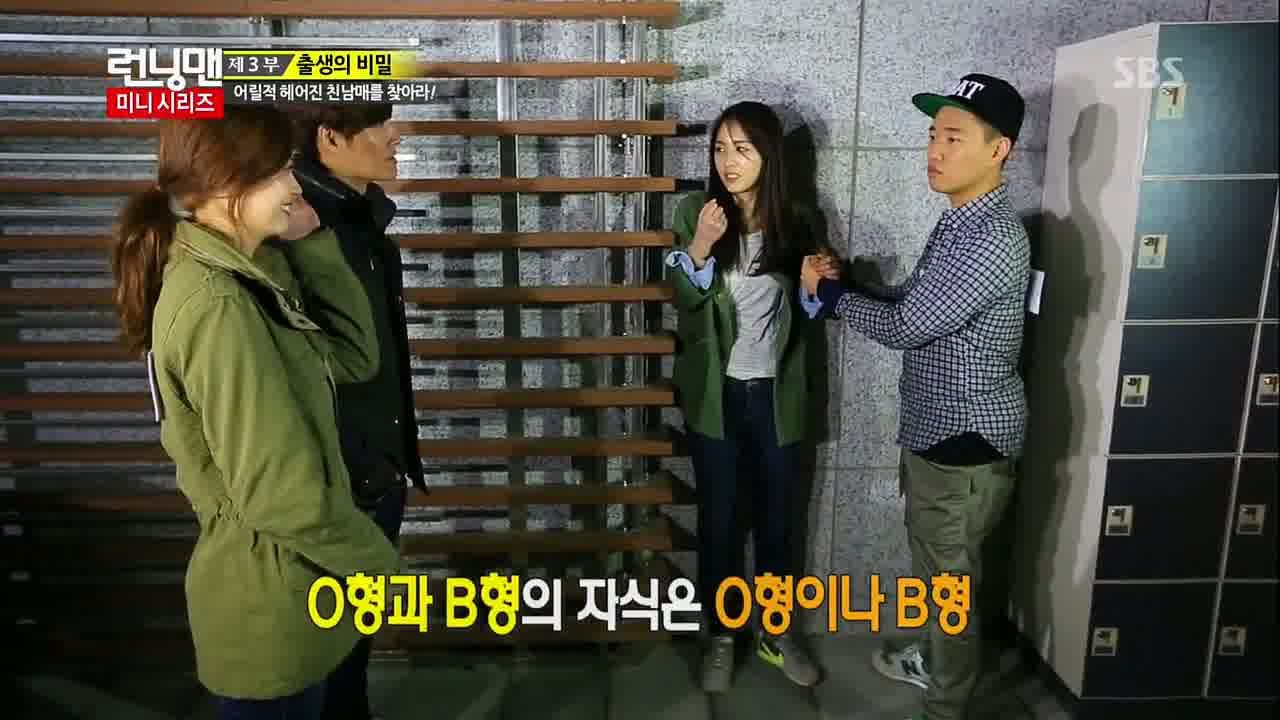 Both of them wear confident expressions on their faces when they run into Gary and Yeon-hee. Now they finally reveal that the father's blood type was Type B, and since that combination can only produce someone with types O or B blood. And the only female possibility is Yeon-hee.
Then if we add up all the clues for her Oppa, all signs point to Jae-suk (the dog was only calm around Jae-suk and Yeon-hee). But wait, didn't you eliminate him, Yeon-hee? Whoops.
This means that all it takes is to eliminate Yeon-hee to win it. She makes a run for it, determined to take both name tags and place them to be tested. But both Jong-kook and Ara catch up to her and Ara rips off Yeon-hee's name tag.
The four wait with bated breath for the test results between Yeon-hee and Jae-suk. Sparks fly and the results prove that (in this drama universe) they are undeniably siblings.
There was one more telling hint the cast didn't find in time: halves of a family photo with a photoshopped young Jae-suk and Yeon-hee.
In any case, with Ara's efforts, she assures that this drama-in-variety ends with a happily ever after for the lovebirds versus a family reunion.
RELATED POSTS
Tags: featured, Haha, Ji Suk-jin, Kang Gary, Kim Jong-kook, Lee Kwang-soo, Running Man, Song Ji-hyo, Yoo Jae-suk