Running Man: Episode 141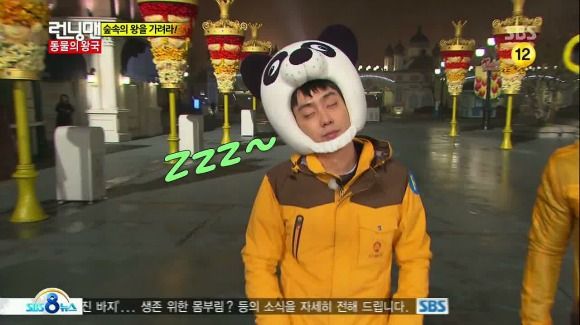 Welcome to the Running Man Animal Kingdom where you'll find a variety of characters who will tickle your funny bone. Some of them may be cute and lovable, whereas you may want to approach with caution with the beasts. Come one and come all; and if you're lucky, you may even catch a glimpse of a familiar character you once saw in a different variety zoo…
EPISODE 141. Broadcast on April 14, 2013.
It's a rainy spring day at the amusement park and our cast is in high spirits despite the chilly weather. So what's a little more water, right?
On the river rafting ride, poor Suk-jin is caught in the splash zone while the young'uns scream excitedly, interacting with the inanimate objects around them. Then they round the corner and see two mysterious people staring back at them, their faces half-covered.
Identifying returning guest Jessica (SNSD) is easy enough but they run into trouble recognizing our other visitor. That is, until he turns his back to them and Jong-kook yells: "Hey, isn't that Eun Ji-won?!"
Ji-won: "You can see my nametag?!" Eep! Don't you know that you always have to watch your back on this show?
The cast properly greets today's guests a few minutes later, and the first thing Haha blurts to Ji-won is: "I never thought I'd see YOU here, ever!" Hahaha. What are the chances that we'd see an ex-1N2D member on a rival show? Wait a minute.
Today's Animal Kingdom theme is inspired by some fan art which depicts our cast as various animals. By now, some of these names are pretty familiar to our ears (e.g. Giraffe Kwang-soo) though there are others the show doesn't use as frequently, if ever. Even our guests have nicknames today: Panda Ji-won and Rabbit Jessica.
So it's out to the safari where our Running Man animals must complete a task with different zoo animals. Jae-suk can still recall his painful waiting game experience with the panda back in Hong Kong.
Gary heads out to meet his flamingos (hong-hak) but Ji-won misinterprets this as mussels (hong-hap), and Jae-suk cuts in: "What kind of mission can you do with mussels?!"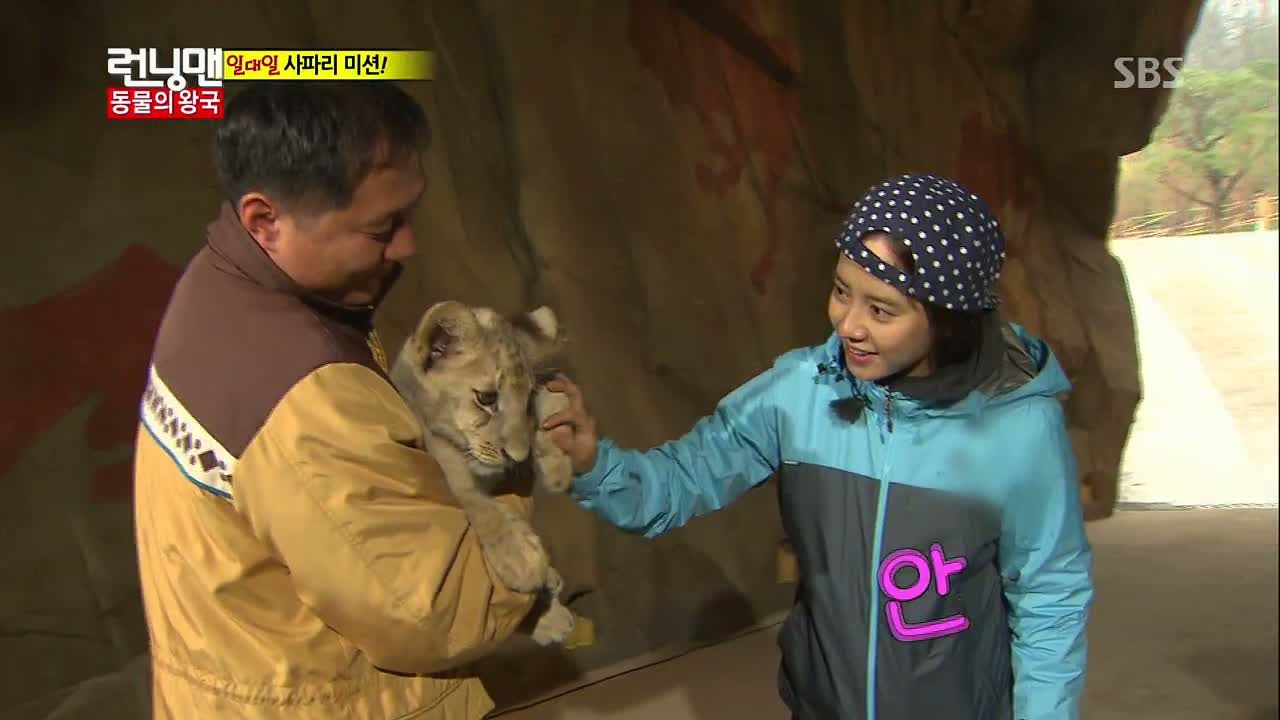 How cute is it to watch Kwang-soo get all excited when he meets his fellow giraffe brethren? Then there's Ji-hyo who rrrruuunnnss to say hi to the adorable lion cub while Jae-suk and Haha plaster themselves to the wall, frightened. Haha: "Wouldn't you consider that a full-grown lion?!"
They run into Ji-won whose choding imagination runs wild ("The mission could be to pluck elephant nose hairs!"). Including Kwang-soo in this group, these four look like little kids who marvel at the plethora of exotic animals.
When Kwang-soo blurts out that it's like they're in the Amazon, Jae-suk corrects him: "We're in Africa. There are no lions in the Amazon."
Only that answer totally backfires on him in the face of three childish dongsaengs who insist that it's totally possible. Haha: "Have you seen it yourself?!" Then they tease their hyung like kids in a schoolyard.
Their taunts are cut short when Jong-kook appears in view riding inside his bus boat. I wonder if it's because his leg is still injured, but just then the bus seamlessly rolls into the water, and the dongsaengs look on in awe.
It turns out the bus boat is the best way to see the lions, who could care less about the Tiger. Then Jong-kook is handed a virtually impossible mission: Get six lions to sit on a rock by any means necessary.
All Myuk PD has to say in response? "The lions really like that rock." Ha.
So Jong-kook tries to call out to them to get their attention… and they shoot him a menacing stare. Dude. They may be fellow felines, but that lioness looks mighty annoyed.
I'm thoroughly amused watching Jong-kook relentlessly trying to talk to the lions ("Lion King!" "Samba!"). It's no surprise that he gets ignored, and soon his shouts turn into full-on furious screams of: "Hey you!" Puhahaha.
Man, these are no easy missions as Jae-suk all but rolls his eyes at his task. How is he going to get an elephant to say, "I like [it]"? (What's even funnier is that we can still hear Jong-kook yelling "Samba!" in the background, hehe)
Jae-suk tries to lure the elephant (named Koshik) with a bouquet of flowers… and gets yelled at by Jong-kook to keep it down. Because everyone is in such close proximity, you can hear each member's voices overlap each other. And it's HILARIOUS.
It's a chaotic jumbled mess of voices where one guy yells, "Koshik!" another crying out " Samba!", and yet another chanting to a group of flamingos: "Kiss! Kiss!" Oh man, I'm dying – no wonder the PD is cracking up off-camera.
We check in with Haha, whose task is to feed the elephants. Well, that sounds like a much easier job than waiting for the animals to do something. It's just that Haha's scaredy-cat nature gets in the way and he instinctively backs away. Aww, it just wants to eat the snack you brought it, Haha!
Gary realizes that his own mission (to take a picture of a pair of flamingos to form a heart shape with their heads) could take a while: "Tomorrow? Or the day after next? Or next year?" Well, that certainly explains why you were trying to get them to kiss earlier. Hee.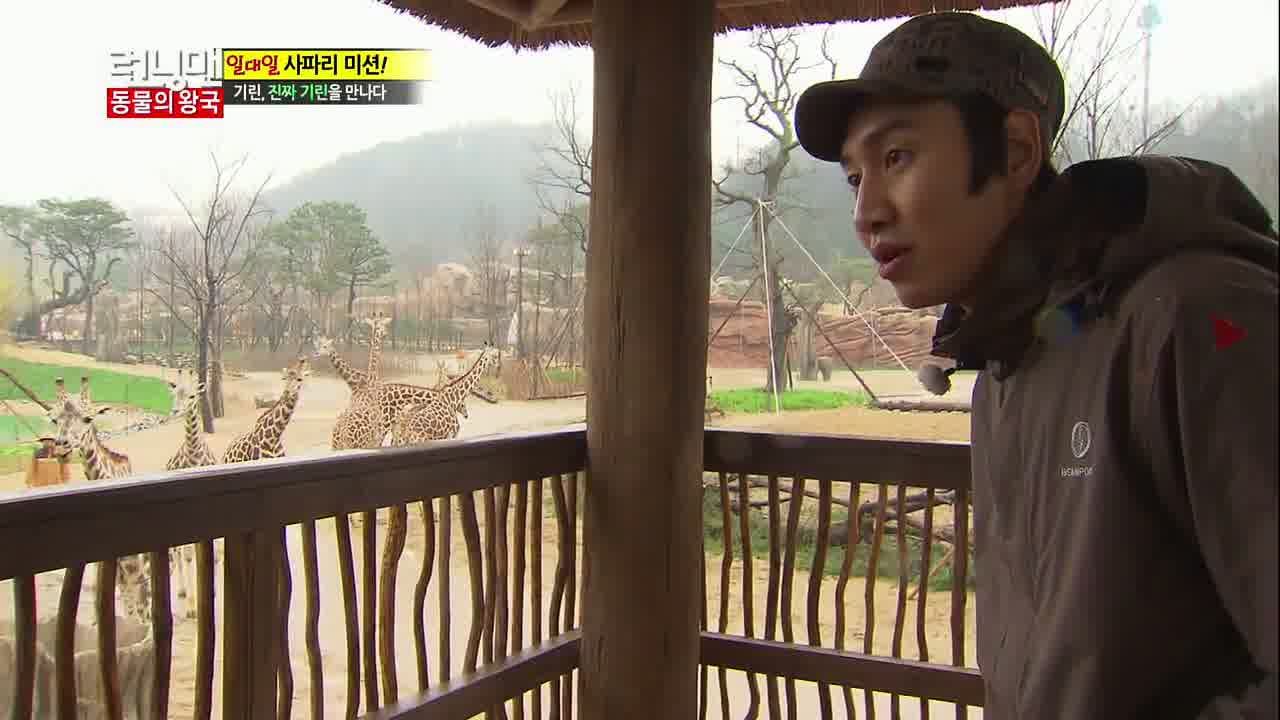 The giraffes get up close and personal with our resident Giraffe aka Kwang-soo. We get a typical Ji-won moment when he gets freaked out by their long black tongues and asks: "Kwang-soo, is your tongue like that too?" Ha.
As for Kwang-soo, his attempt to play a telepathy quiz with his animal counterparts works out as well as you might expect. He answers 'yes' to his first question ("Do you think you're good looking?") and the giraffe disagrees with him.
It's been a good while since Jae-suk has tried to grab the elephant's attention with fruits and flowers. When neither of those tactics work, he pulls out the big guns and puts on a dramatic elephant impression. Oy, this is going to take all day innit?
Fearless Ji-hyo finishes her task in no time, so she joins Kwang-soo with the giraffes, even calling them "Kwang-soo." Hehe. She's awed by how they run and cries, "That's exactly how you run Kwang-soo!" You have to admit it does resemble his Kwangvatar image.
Unfortunately, he still can't get the animals to eat out of the correct hand  because they seem to prefer one side over the other.
Ji-won comes to visit Jae-suk and on a whim, he tries to talk to the elephant. To everyone's amazement, Koshik answers back. Woah.
It doesn't count of course, but Jae-suk is boggled out of his mind. I wonder if he's thinking, "I've been trying for half an hour! How did Ji-won get him to speak?"
Luckily for him, when it rains, it pours. When Jae-suk talks to the elephant again, it readily speaks, even repeating different phrases now. Does this mean Ji-won is your good luck charm?
Excited, Jae-suk keeps yelling to Koshik the elephant ("You like it?") until we hear an annoyed voice snap in the background: "No I don't!"
That voice belongs to Jong-kook, who has gained an audience by now, shouting instructions to the lions and tells the others to shush. At this rate, the man's going to lose his voice before sunset.
Turns out the way to a lion's heart is through its stomach, and the lions immediately give Jong-kook their undivided attention when they catch a whiff of meat. It's too bad his first attempt ends up in the water (chlorified chicken, anyone?) and his following attempts land just below the rock.
Soon enough nearly all the lions sit on top of the rock (save for one whose hind legs remain firmly on the ground). And then out of nowhere, the helicam appears, to Jong-kook's great annoyance.
It ends up working in Jong-kook's favor, however, and the last lioness of the pride climbs on the rock to get a closer look. Take the picture, good man! Take it!
Kwang-soo opts to spend some more personal time with the giraffes and sticks a slice of bread in his mouth. He get a wet kiss as thanks.
Eventually, Kwang-soo completes his mission, which allows Ji-won to finally start his: to play "Red Light, Green Light" with the giraffes. That won't be easy with all the distractions in the area, like the constant buzzing from the helicam or how Kwang-soo leisurely walks into the shot.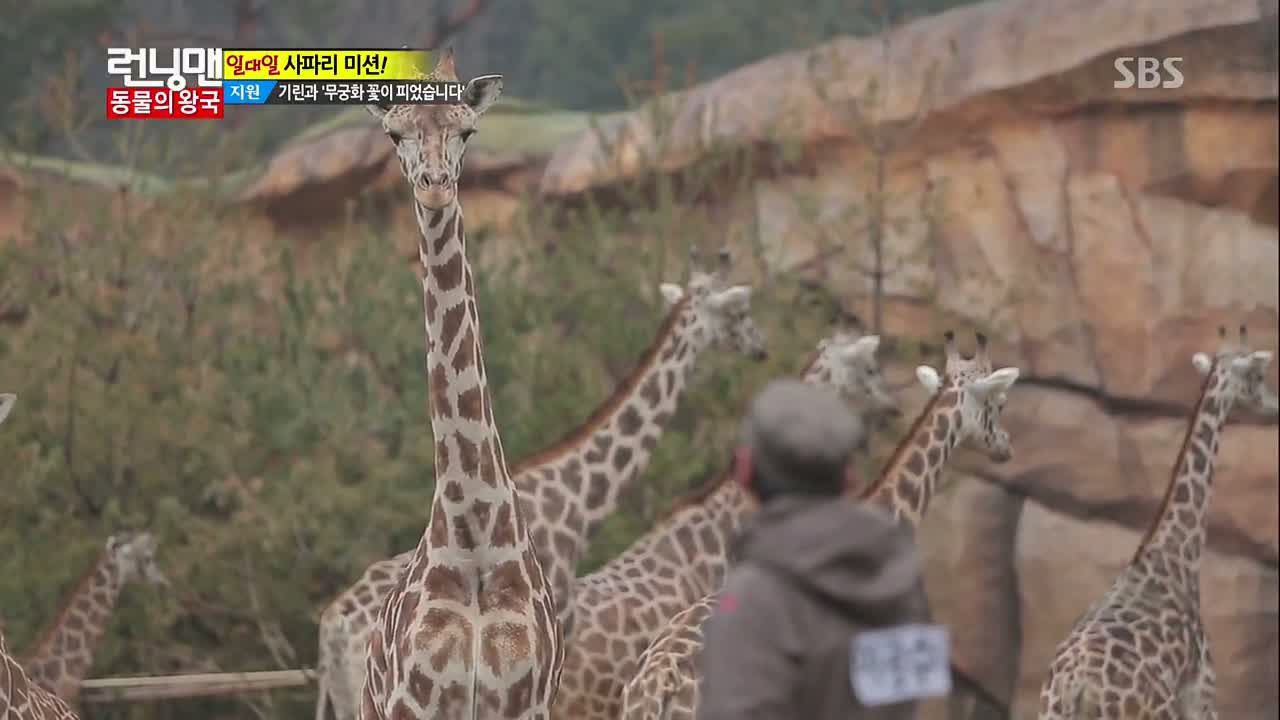 But that gives Ji-won an idea – wouldn't Kwang-soo count as one of the giraffes? Then something curiously remarkable happens when he situates Kwang-soo in front of the herd: the giraffes stop and stare intently at Kwang-soo.
They stand there like that for a good minute as everyone is left in awe at Kwang-soo's unique connection with the actual giraffes. Ha, Kwang-soo even goes as far to invent a tragic love story, complete with a love triangle with another giraffe.
After the safari, our cast gathers at a pool where they'll need to tap into their own general knowledge bank and construct their own quiz questions. Ji-won: "Do I need to know the answer too?" Caption: Isn't that a given?
Haha: "I can't think of any questions because I don't know anything!" Aww.
The rules of the quiz game are semi-complicated but basically one member picks someone they believe is the least likely to get the correct answer. If that cast member gets the answer wrong, they get doused with water; if it's correct, then the presenter gets wet.
Both Gary and Suk-jin are eliminated by the third round and Jong-kook steps forward, worried that his question is too easy. The question ("Where did Park Ji-sung score his first goal as a national soccer player?") leaves a few heads scratching. Then Kwang-soo looks over at Ji-won and asks, "Why is your answer so long?"
Jong-kook decides not to pick one of the ladies (neither of whom have a clue) and with some encouragement, chooses Kwang-soo instead.
They both show off their answers as the water tube slides back and forth between them… and then douses Jong-kook with water. Kwang-soo isn't above rubbing in his victory in the Tiger's face but don't you worry – these two are bromantic as can be off-camera.
And now we get to see Ji-won's answer: "Congratulations on your first goal." Hahaha.
The cast is well aware of Ji-won's preference for "nonsense" questions. Ji-won insists that it's legitimate, adding that even a majority of Seoul National University students weren't able to answer correctly.
After an initial roar of approval, Jae-suk fires back: "Then it's too hard! How are we going to get it right?" Ji-won: "I know it!"
His question (which is more like a task) is atypical: Divide a square into three equal pieces. It's definitely one of those questions where you can't overthink it.
Kwang-soo is still working on his past the time limit, and gets called out for the second time in a row. Ji-won shows us the answer (three smaller rectangles) before we see Kwang-soo's drawing, which is like three squiggly lines.
Haha presents a nonsense question (the answer is actress Lee Bo-young) and gets suspicious when Jae-suk appears overly confident. So Haha tosses out casually, "Are you two friends?"
It's like a battle of wits between these two as they bicker back and forth about whether or not Jae-suk is good friends with whomever he wrote down as an answer. Jae-suk sweats bullets as he claims that they don't use affectionate nicknames with each other.
Haha goes down the line, asking pointed questions to each castmate. Jessica says that she refers to the actor as "Oppa!" and Ji-hyo answers, "I just call them sunbaenim!"
In the end, Jae-suk gets called out but his sudden confidence strikes Haha as strange. Drunk with power, Haha send him back in but not before he gets a bow of thanks from Jae-suk, who obliges for the sake of variety (Note: Jae-suk wouldn't normally do this since he's older).
Haha survives and now it's Jae-suk's turn to get a taste of revenge. Jae-suk plays to his strengths (proverbs) and he's so confident that no one will get it right that he even allows the remaining three to work together.
It's a chance for these three (Ji-hyo, Ji-won, and Haha) to show everyone that three heads are better than one, especially with their pride on the line.
The proverb ("You get a needle when you sharpen an ax") goes over their heads, so Jae-suk opens it up to the class. He leans over to listen to Kwang-soo's answer, and then replies: "Do you even know what a proverb is?" Aww.
Given that no one is making eye contact, Jae-suk figures that all he has to do is reel one in. Then he uses a boom mic to literally "fish" one of them out: Haha.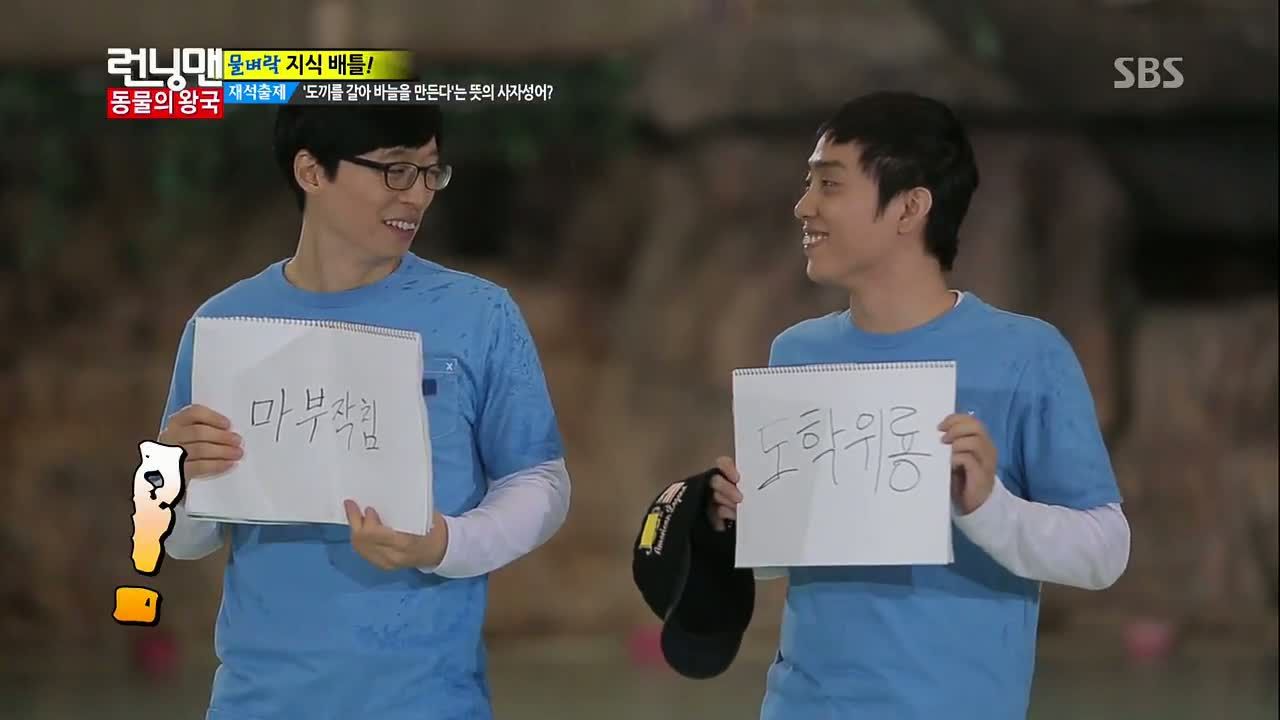 Now the tables have turned and Haha approaches like a dog with its tail between his legs. Jae-suk relishes in this opportunity for revenge and taunts him by sending him back and forth several times just to see the look on Haha's face.
Jae-suk eventually settles for Ji-won, who shows his answer to the eliminated. Gary cracks up: "He must really be an idiot!"
Suffice it to say that Ji-won gets it wrong (He wrote down a movie title).
Ji-hyo presents another question and it cracks me up how both Jae-suk and Haha make a fuss when they're called out: "I saved you earlier!"
She chooses Haha anyway and to everyone's surprise, he gets it right. Haha takes offense when a PD blurts off camera that it doesn't make any sense. Mouth agape, he snaps: "Why don't you come up here and we'll see how much you know!"
It's down to Haroro and the Grasshopper who get in another round of childish bickering before moving on. Haha speaks directly into the camera, his voice growing more dramatic by the moment, that he'll beat the Trivia King.
They both show their answers and the water tube swings back and forth between the two men. And wouldn't you know – Jae-suk gets it right and wins the second mission.
We catch up with our cast a little while later in an empty amusement park. They each put on their appropriate animal masks (Giraffe Kwang-soo: "You can still see me even if I try to hide!"; Panda Ji-won: "What does a panda do? Zzz..").
You better keep 'em on tight because your fellow animals will try to steal it from you. Jae-suk remarks: "Kwang-soo is done for."
Jae-suk receives an advantage for his first place win earlier. We don't see what it is, but it brings a smile to his face.
Cat Ji-hyo leisurely walks around with an ax and when the boys ask what it's for, she answers: "I'm going to give it to Jae-suk to see if he can make a needle out of it!" Ha.
The docile animals agree that they have to stick together but we know that alliance lasts about five seconds before they start to lunge at each other. Then they redirect their efforts to chase the Grasshopper, who gets away.
But soon they hear a familiar voice – the Tiger – and immediately disperse to evade capture. They point fingers at each other ("Eat him! Eat him!") until they suggest that they have to knock the Grasshopper down a few pegs.
Elsewhere, Rabbit Jessica peruses the candy aisle while Kwang-soo throws himself into his Giraffe image, pretending to eat the leaves on a fake tree. Kwang-soo: "I haven't eaten anything all day!" and then Suk-jin joins him.
Thanks to Cat Ji-hyo's screams, the Tiger spots the Grasshopper and gives chase. The other animals work together to pluck the Grasshopper's mask off and the speakers blare his elimination.
The Grasshopper simply takes it in stride and resolves to remain hidden until the final minutes of the game. "They think I'm eliminated after all…" Huh?
Then a flashback teaches us that the Grasshopper earns an extra life – it's just that no one else knows about it.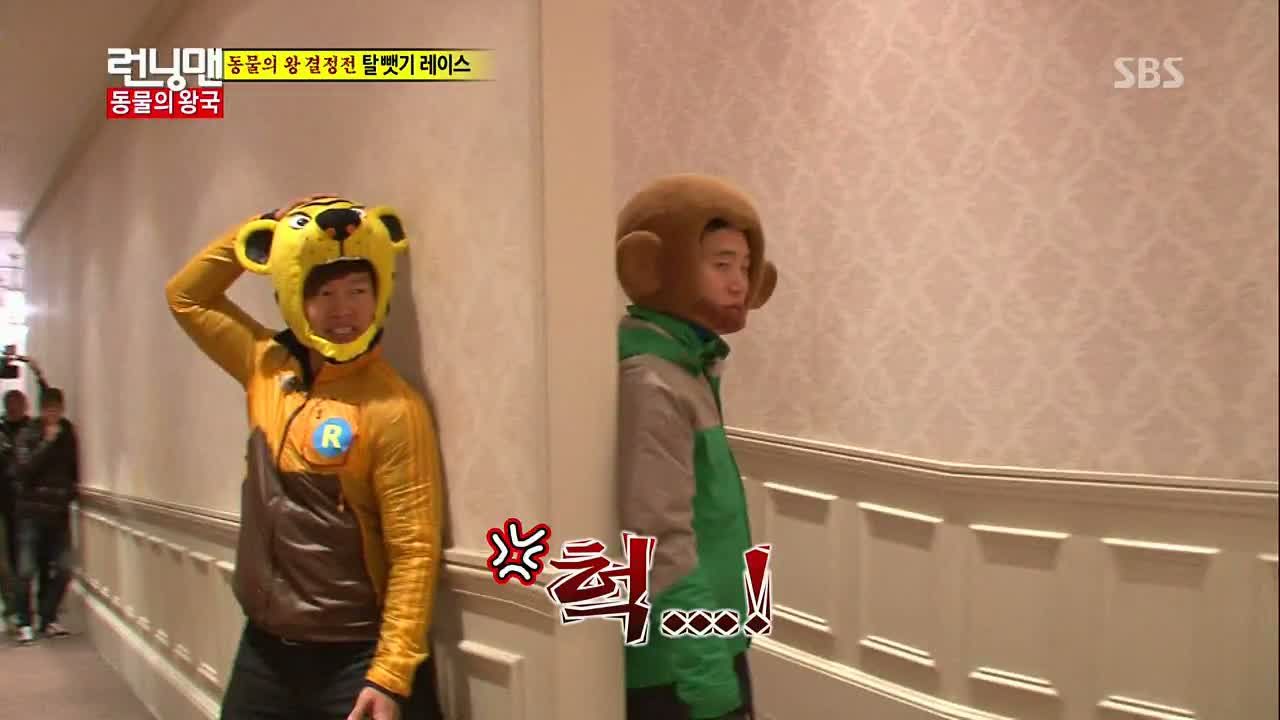 Meanwhile, Haroro rallies his fellow animals to join together to fight the oppression of the Tiger. He cries, "The Animal Kingdom shall have peace! We will not run away!"
The Tiger bides his time until the allied animals turn the corner and he immediately eliminates Gary. As for the others, they run. So much for sticking together, hehe.
What's worse is that the Giraffe joins forces with the Tiger. Then Impala Suk-jin volunteers himself as well. If you can't beat 'em, join 'em, right?
The Grasshopper does his best to remain out of sight, keeping a close watch on this entire exchange. Panda Ji-won suggests that the Tiger abandon the Easy Brothers and join them, which is actually kind of brilliant.
It's times like these when I appreciate Ji-won's ability to think outside the box, and it takes a minute before Jong-kook agrees. They collectively run after the Easy Brothers and yell, "Get them!"
The Easy Brothers find themselves cornered in a locker room and they tearfully watch their fellow betrayal member Haroro get eliminated. Soon, the Impala is taken out the game as well.
Giraffe Kwang-soo claims that he's just an innocent herbivore, and in a moment of distraction, Panda Ji-won reaches for the Tiger. But that only ends with his own elimination.
The remaining animals can't shake off the nagging feeling that the Grasshopper is still in the game. But first things first and they decide to take out the Giraffe first.
The Grasshopper watches this scene unfold inside and he utilizes the fog to maneuver his way closer to the animals. He gets spotted by the Giraffe (who looks so happy to see him, aw) and orders him to bring Jong-kook over. Er, do you really think you can trust Kwang-soo?
The Giraffe ends up taking the Cat out of the game and in a cute attempt to avenge Cat Ji-hyo, Jessica hops along to grasp at the Giraffe's mask. The Tiger pounces to help her, but at that very moment, the Grasshopper appears out of nowhere to attack the Tiger.
It fails and the Grasshopper is forced to run. But the Tiger is still hot on his tail and sneaks up from behind… and eliminates him.
The boys take out Jessica easily enough and the Giraffe immediately grabs the Tiger's mask. Kwang-soo calls upon his giraffe powers to come to his aid… and pulls off Jong-kook's mask. Now THAT is a legit win.
That is, if anyone in the animal kingdom would acknowledge his victory. The rest of the animals barely mention Kwang-soo's coronation (and Jae-suk breaks his shiny gold crown two seconds after he receives it).
Even the staff ignore him. Myuk PD: "We'll turn off the cameras now!"
Don't worry Kwang-soo – you're still the king of our hearts.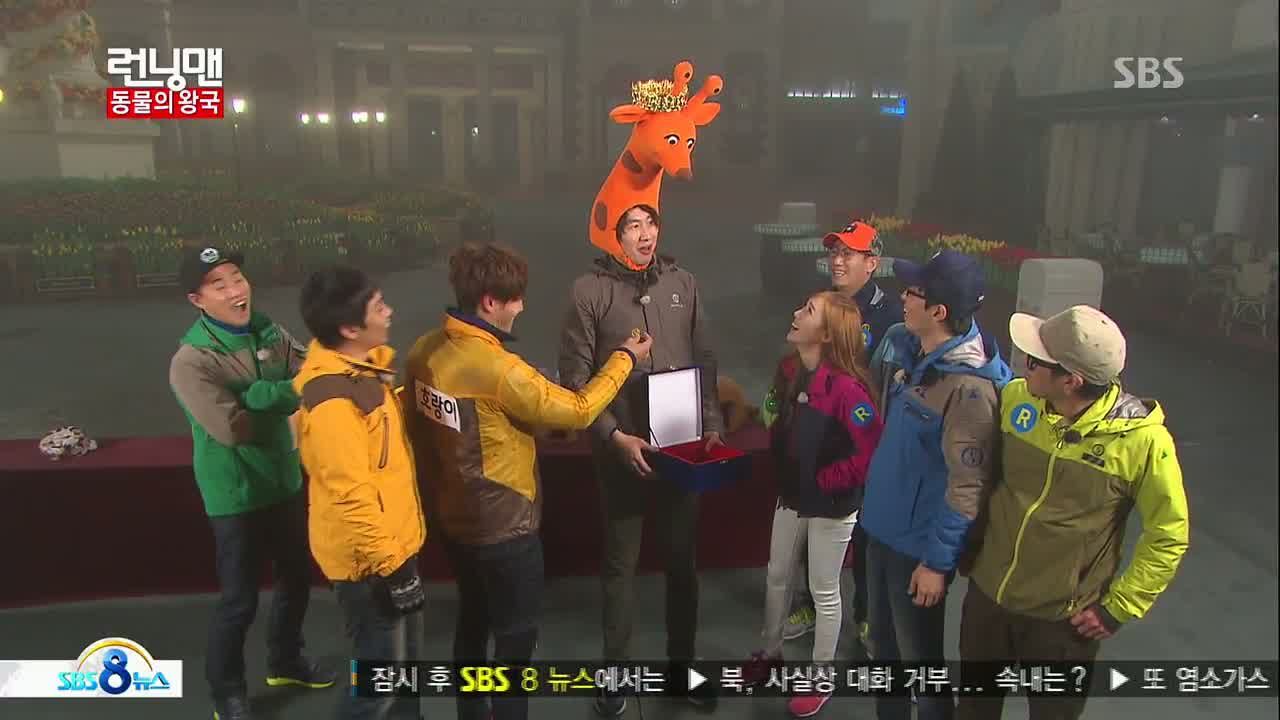 RELATED POSTS
Tags: featured, Haha, Ji Suk-jin, Kang Gary, Kim Jong-kook, Lee Kwang-soo, Running Man, Song Ji-hyo, Yoo Jae-suk