Variety Roulette: Dad! Where Are We Going?
EPISODE 15. Broadcast on April 14, 2013.
javabeans: New Variety Roulette! Today we're checking out the newish show, Dad! Where Are We Going?, which was a hit right out of the gates. The premise is simple, with a bunch of celebrity dads taking their young children on an overnight trip.
girlfriday: Yeah it's 1 Night 2 Days if the marrieds just brought their kids along, which of course turns it into a completely different show.
javabeans: I really think the charm is in how the presence of these stars' children strips away a bit of everyone's variety facade. The best variety moments — for me, at least — are when you see the reality behind the format, when the scripted stuff gives way and you get to laugh at the spontaneous reactions and in-the-moment emotions.
girlfriday: Yes, and just seeing celebrities be real dads — like the times they actually get angry and frustrated and don't know how to deal with their own children.
javabeans: I did watch the first episode when it premiered, after hearing how cute and solid the show was. I'll admit that I wasn't fully drawn into the show, which was kind of cute but also kind of bland in moments, so I didn't keep up. I enjoyed seeing some familiar faces with their families — the early morning wake-up call at home was my favorite part. But I understand that it's gotten much cuter since then.
girlfriday: It definitely gets cuter. I watched for two of the dads, in the beginning — Sung Dong-il (Jeon Woo-chi, Answer Me 1997) and Lee Jong-hyuk (A Gentleman's Dignity) — but everyone's got an endearing father-child pair once you get to know them. The show isn't as laugh-laugh-laugh as other variety shows because you just follow them with cameras rolling at all times, with fewer games/setups to guide it, so it's more just watching for the rare spontaneous moments.
javabeans: I really wonder how they set about casting the show, because we do have a nice mix of personalities — not just the star-dads themselves, but the kind of father they are. Was that planning or pure luck?
girlfriday: Partly luck, in that these personalities are what make the show what it is.
javabeans: Like you have Sung Dong-il who's the gruff dad who gets frustrated easily when his sensitive son cries a lot. But then there's the other dad who's a ridiculously doting father to his little girl and he just does everything she wants. Or the singer who had kids really young and so he's the cool dad who's friends with his son.
girlfriday: That's the fun I think, in the diverse cast. Lee Jong-hyuk is definitely like the uncle who acts as childish as his son, which is always hilarious.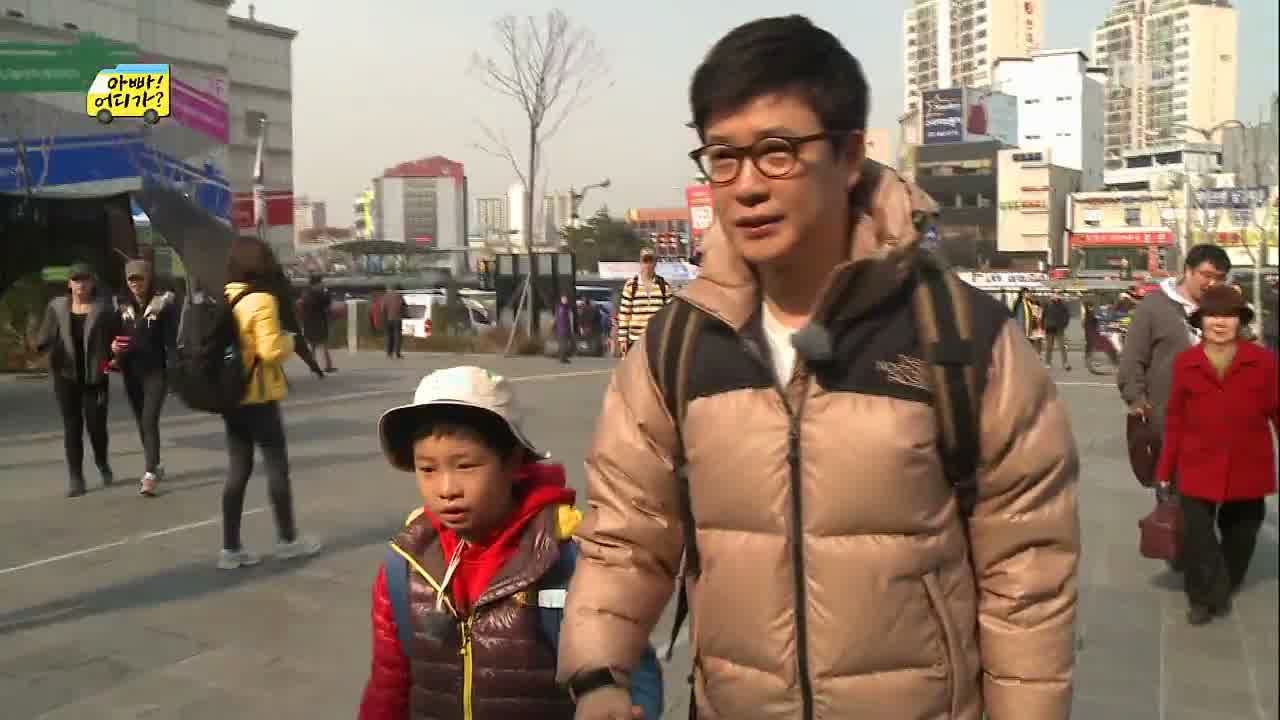 javabeans: I remember in the first episode, I definitely had the feeling when the men were getting ready at home that some of these pairs were doomed without uber-competent Mom around to defuse and soothe and manage. And Mom, sitting in the background, was just hoping they'd come back in one piece. Er, two pieces.
girlfriday: I do think that was the nervous magic of the early episodes, in that everyone was so new that you actually worried that they would get through the trip. Like I really expected Sung Dong-il to maybe blow a gasket early on. But now (by the 15th episode) there's definitely a better dad-child rapport with all the pairs.
javabeans: Okay, enough intro. To the episode! We're covering today's broadcast, the 15th episode, shown on April 14, 2013. Just to situate y'all. We start off at the train station, and our narrator tells us this is the show's first train trip.
girlfriday: Announcer Kim Sung-joo arrives with his son Min-gook, who's the eldest of the children at age ten.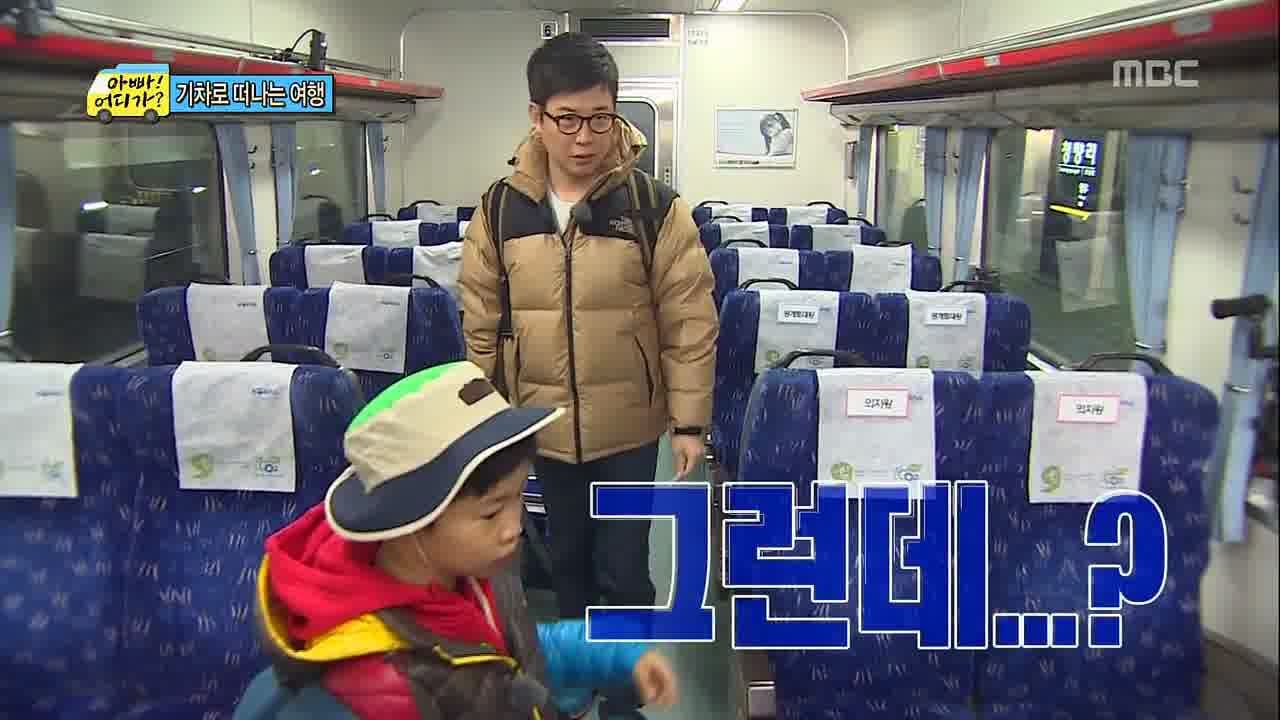 javabeans: Lol, I'm cracking up (and it's not even funny) at how perfect his announcer demeanor is. He's all enunciation, repeating everything and framing it like the informative news man.
girlfriday: They're actually a hilarious pair, because they're equally sensitive and scaredy-cat-like, and heo-dang about everything.
javabeans: You do get that "I am my father's son" vibe about them. They make their way onto the empty train car, with nametags on the seats. Only, they don't have the names of the actual cast members, but… royalty? King Gwanggaeto, Gye Baek… Kim Sung-joo figures they can choose the seats they want, and is told by a producer to choose wisely, because the choices lead to direct consequences.
girlfriday: Haha, already the fear settles in, because this father-son pair has this trauma from choosing wrongly, like EVERY SINGLE TIME. They're like the Cha Tae-hyun of this show. Bad luck combo.
javabeans: They are totally overthinking this. It's hilarious. "Do we choose these seats or those? But Gwanggaeto's seats are separate. I think that means something. Is it better? It's probably better to be on our own."
girlfriday: There's an announcement that the train leaves in five minutes, and Sung-joo wonders if they're the only ones going on this trip. Cut to singer Yoon Min-soo arriving with his son Hoo, who is arguably this show's runaway star. That little kid is freaking hilarious.
javabeans: He's this pint-sized little kid and as they walk to the station, their VJ stumbles a little (walking backward as they get on an escalator) and Hoo pipes up, "You should watch where you're going!" It's his tone that makes it.
girlfriday: Min-soo is the youngest of the dads, in terms of age difference between him and his son, so they're like a pair of buddies sometimes.
javabeans: He's a singer who's a 1980-er, of the group Vibe, and his son is six. They're second to arrive, and Min-gook greets them at the door excitedly and rapid-fires instructions at them.
girlfriday: Lee Jong-hyuk and his son Jun-su arrive next. Jun-su is one of the youngest kids in the group, and he's known for being an oddball. Also for looking like the spitting image of his father.
javabeans: Then it's former soccer player Song Jong-kook and daughter Jia, and he's the one who dotes on her to these hilarious extremes.
girlfriday: Hoo has a major crush on Jia, and they are this show's loveline.
javabeans: Is he the boy in the first episode who sat next to her on the bus and basically pushed his way past the other boys?
girlfriday: I think that might have been Min-gook? But Hoo is the one who loooooooves her. It's so cute. Equally cute is dad Jong-gook's jealousy when Jia likes Hoo back — this one time he sat her down and taught her how to reject boys. Lol.
javabeans: Early life training, yo. Better get used to it. Then it's Sung Dong-il with his son Joon who, as we mentioned, is pretty sensitive and seemed almost scared of Dad at first. And you could see Dong-il trying to be patient, and then the moment when he just can't anymore, which leads to temper and tears. That sounds sad but it was also entertaining, in the way that it was all so imminent.
girlfriday: I love this pair, I think because of that early awkwardness. Like at first they actually don't know how to interact. They also have the biggest father-son age gap, so it makes sense.
javabeans: In that sense I feel like the show really forces them to learn how to communicate, which is a nice side benefit. Whereas at home it seemed that it was always Mom playing buffer and translator. They all arrive on the train and settle into seats — did they all come rushing in during the last five minutes? Ha. The rest of the pairs just sit down, which makes all the nervous overthinking of the first twosome even funnier.
girlfriday: And watch, they probably picked the worst seats anyway. The train takes off and everyone gets excited and starts moving around.
javabeans: Did tiny little Hoo just sigh and comment wistfully about how being a baby was back in "the bygone years"?
girlfriday: Yeah this is the strangeness and hilarity of him. He's a first-grader who talks like a grandpa. So funny.
javabeans: Jun-su (Jong-hyuk's kid) is seriously 4-D. Ha. See, you can't adopt that 4-D persona, you must just be born with it. You have all these adults talking to him and engaging him and he's just off in his own world, singing a song or maybe inventing planets or something. What do the children call the other dads? Just ajusshi?
girlfriday: Uncle or ajusshi, interchangeably. Haha, Dong-il sticks his chair nametag on his jacket, and then when Sung-joo jokes that it looks like one of those nightclub waiter nametags (with a silly fake name), Dong-il starts getting up to play host. Is he… booking the little children? That seems wrong.
javabeans: Ha, and then announcer dad Sung-joo starts juggling with tangerines, doing two in one hand, and while the kids are watching all the other dads are doing that unimpressed thing ("Do three! Can't you do three?") and then this turns into a pissing contest with the dads all trying to outdo each other.
girlfriday: I love it. Sung-joo's like, Waitaminute. Don't do more than me! I was the cool one!
javabeans: Jong-hyuk leaves the others in their dust: He starts walking and juggling, then jumping, and the kids are impressed and he's like, "Oh, this old thing? This is so easy!" It's exactly the same dynamic you'd get if there were women to impress, though I think hero adoration from your kids might be more heady.
girlfriday: Yeah on this show the kids are king, and the dads are constantly seeking their approval, which you wouldn't expect to be the dynamic, but it is. They get close to their first stop, where they have a 13-minute layover at the train station, and Dong-il suggests a game where the losers of rock-paper-scissors run and get snacks… and run the risk of being left behind. Of course he's the first to lose. Muahaha.
javabeans: So the train pulls in, and we have orders for various food items (soondae, kimbap, fish skewers) that have to be collected by a couple dad-kid pairs. Huffpuff, huffpuff. Sung-joo finds a snack shop, only to find out the kimbap has to be rolled to order. Eek!
girlfriday: Haha, Sung-joo's practically pushing the kimbap ajumma aside. He's like, "Can I help you? Can I help?"
javabeans: He's so excitable, frantically asking if he can speed things up. He says everything twice in all his panic and orders the boys to breathe, like he's prepping them for the race back. Cut to: Dong-il and Joon, strolling along. Time ticks down and the waiting members start getting worried. The first two pairs make it back, and Hoo gasps, "We made it! I was afraid we'd get left behind! I thought I might never see Mom again." Lol.
girlfriday: Dong-il and Joon are still huffing and puffing their way towards the train station, and everyone on the train starts to worry. It's time to take off and they still haven't arrived…
javabeans: Oh no, that's so sad. Literally missed it by a minute. The guys on the train wonder what he'll do, since he only had lunch money and likely spent it on lunch. Without cash he can't take a taxi, to which Min-soo quips, "He's the kind of guy who'd take a taxi anyway." Haha, can't you just see that?
girlfriday: Totally. Or he'll hitchhike and make friends with some ajusshi who gets them there ahead of the train.
javabeans: They take a taxi to the bus terminal, during which Dong-il gets a call from Sung-joo. Everyone cracks up to hear he's in a taxi, but Dong-il doesn't actually explain anything and just tells them airily not to worry about him. Sung-joo's confused, wondering how he can be so calm: "If it were me, I'd be crying."
girlfriday: Hee, he really would be.
javabeans: The train arrives and the four remaining families pile into the awaiting bus, where they wonder how long they should wait for the other two. Jong-hyuk tries calling to see how far they are, only Dong-il has this whole hilarious calm reasoning of how he will ignore the call because they all deserve to stew in curiosity: "They should wait for us!"
girlfriday: Which totally backfires because they're like, "Well, if they're not gonna answer, let's go without them!"
javabeans: Dong-il and Joon arrive just as the team bus is pulling out, and instead of insisting they stop to pick up the stragglers, the other dads literally just point out the window and laugh. Haha. This has totally turned into this round of "Serves you right!"
girlfriday: And then Dong-il has too much pride to actually run after the bus, so he just saunters past it. Ha.
javabeans: I know there's a lot of editing and captioning in variety so sometimes reactions are exaggerated, but in this case it's comically real how the other dads all chuckle, then immediately frown into these really worried, uneasy silences. Like, "Um. This was funny a minute ago. Now I fear for myself. Gulp."
girlfriday: I know, it's Hahaha… ha… Oh crap. Hyung's gonna be pissed later and then he won't cook us dinner.
javabeans: On the bus, Hoo reasons, "Thinking of Joonie, we should go back. But thinking of Sung Dong-il ajusshi…" And Min-gook adds, "Think of all we've suffered at the hands of Sung Dong-il ajusshi!" I don't know if that's an argument to go or stay — do you go out of revenge, or wait because you fear more of the same?
girlfriday: Min-gook seems content to have his revenge, while Dad seems more afraid of the consequences later. Dong-il and Joon hitchhike and luckily find a nice ajusshi willing to drive them to the village.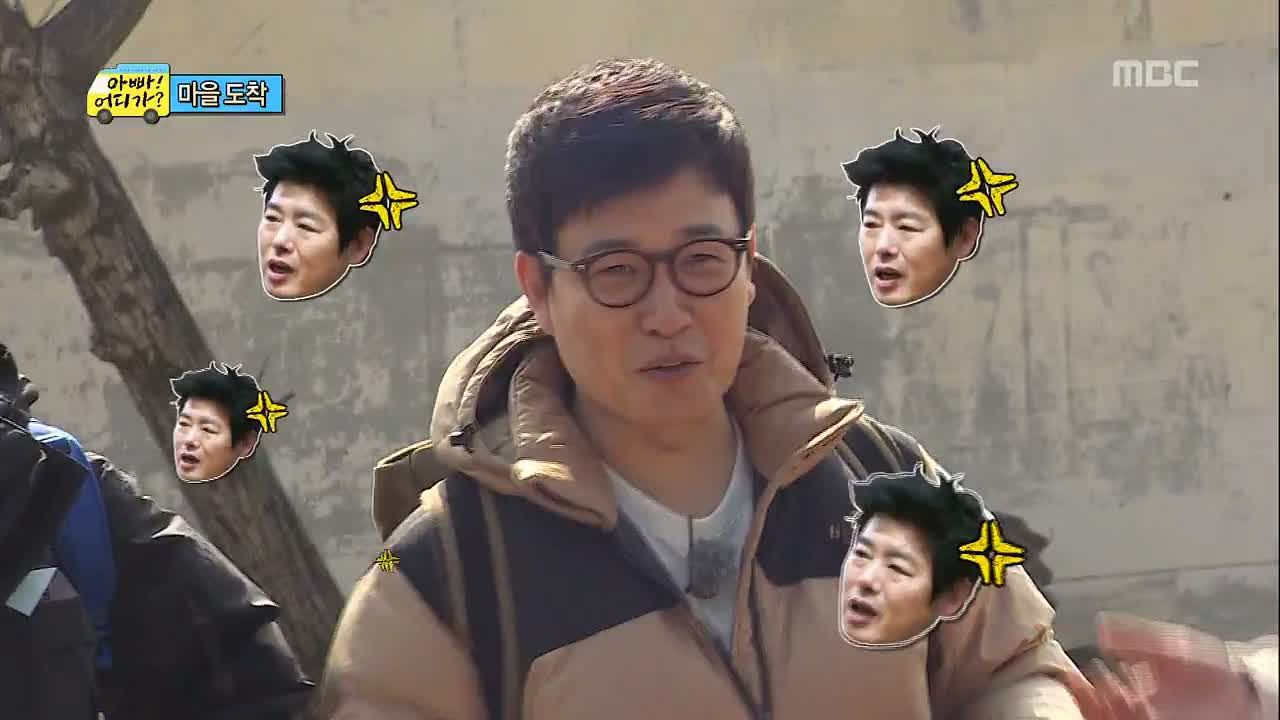 javabeans: The bus arrives first and there's this nervous energy of, "Hurry, let's settle in before Dong-il hyung gets here!" And Sung-joo has to make sure to ask, "We're all in agreement right? You're not just following what I say?" They're so afraid and yet half-gleeful, but also really really afraid.
girlfriday: And then of course Dong-il and Joon arrive, and suddenly everyone's backpedaling. "Hyung~! Ha. Ha. We were so worried!"
javabeans: "We missed you!" Dude, it's practically changing your tune mid-sentence. Sung-joo even takes Dong-il's hand and holds it, totally Beta Male now when about two seconds ago he was Team Leader.
girlfriday: Dong-il has this way of acting like he planned everything, so that no matter what happens, other people always feel like they lost to him. It's badass. They're told that they've already been assigned their houses based on the train seats that they chose when they arrived. Four will be nice houses and one, not so nice.
javabeans: Sung-joo finds that his house is the only one on a separate road, and he groans. More bad luck. Although, is it luck if you chose it?
girlfriday: It's such a running joke now that you almost want it to be the case, but only because Sung-joo does the hilarious over-thinking that makes it all the funnier.
javabeans: They all go off in search of their houses, and there's a round of relieved discoveries: "It's a nice one! Yesssss!" Of course we haven't seen any insides yet. So far all the houses look pretty decent — some are smaller than others but even the farthest one that's a little shabbier has clean rooms and nice bedding. We're all wondering who got stuck with the subpar conditions, and then we head over to Min-soo and Hoo, who have a whole freaking estate, with multiple buildings on it…
girlfriday: But their actual bedroom is like a closet. Ha. What's the point of having a hundred acres if you have to sleep in a closet?
javabeans: They're all baseline comfortable, though — I think my mind is still in 1N2D mode where I was expecting maybe a doghouse, or a stable.
girlfriday: It's been way worse before. Some of the other trips have had tents, houses without running water, really scary toilets. In their downtime, Min-soo and Jong-hyuk play with their kids in the same way — roughhousing and being silly, while Joon lies down next to Dong-il and starts picking at his gray hairs. Dong-il: "If you listen to what I say, then all my gray hairs will turn black!" Lol.
javabeans: Yeesh, Sung-joo and Min-gook are giving me flashbacks to my childhood. Sung-joo's a pretty quiet-spoken dad, but he has that personality where everything has its place and he only knows one way that things should be, and if Min-gook doesn't follow it he gets frustrated. So the air turns chilly because it's Dad-and-discipline mode, with this awkwardness of Dad lecturing Min-gook. It's not for misbehaving, but for… not understanding how Dad thinks?
girlfriday: For not behaving exactly the way Dad wants?
javabeans: I'm actually cringing into myself right now, because this feels incredibly familiar.
girlfriday: Sung-joo is definitely a rigid Dad. And it's even funnier that he then wonders WHY Min-gook is so sensitive and scared of everything.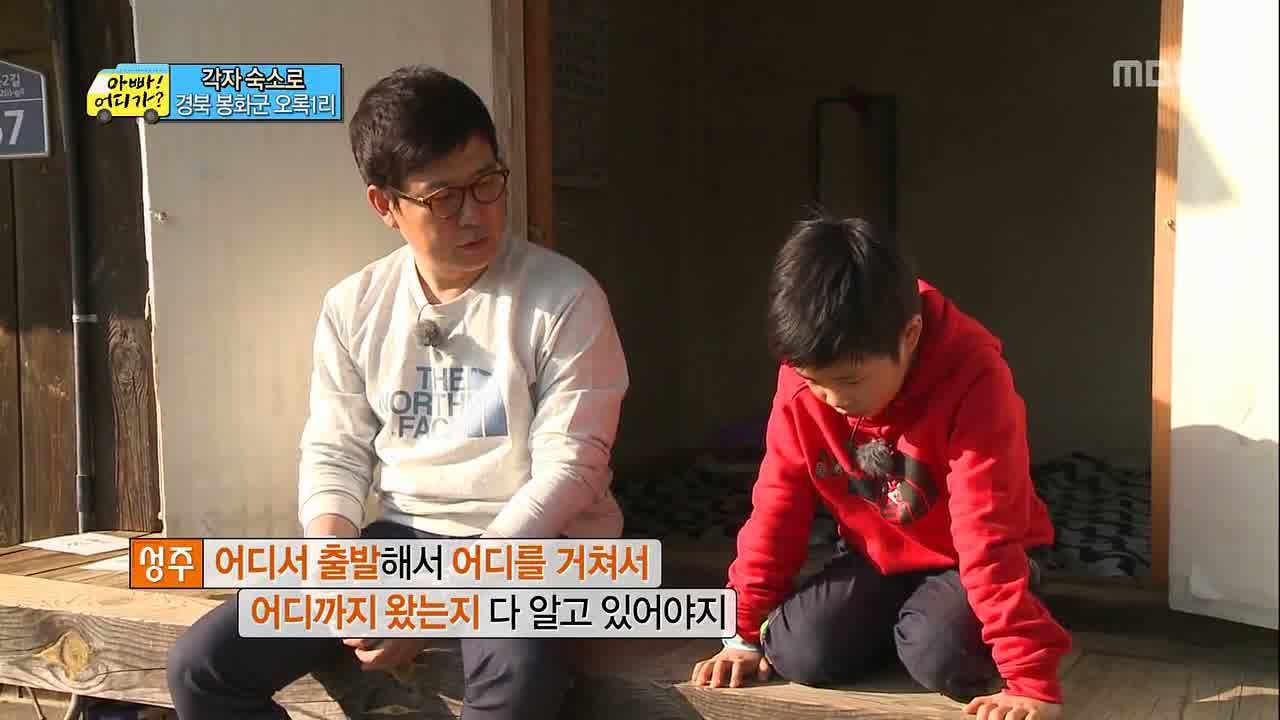 javabeans: Sung-joo isn't mean or trying to be strict, but he just doesn't understand why Min-gook wouldn't want to follow exactly what he says, and would prefer to play by himself.
girlfriday: And of course, to anyone else, Min-gook is the most well-behaved kid in like the entire world.
javabeans: Sung-joo is like, "We should wash right now. We should inspect the house before exploring outside." And if Min-gook says, "But no, we could do [something else]" it's like, "Why are you disobeying me?" Sung-joo actually quizzes Min-gook on where they are, scolding him for wanting to play and not knowing their vacation itinerary. Ack. This is not funny.
girlfriday: The quiz has no point, except that it's just Sung-joo's default mode, to turn into lecturing teacher like it's important and Min-gook is somehow missing the point of the trip if he doesn't learn everything. I think it's also that when Sung-joo doesn't know what else to say, he turns to quizzing, and I don't know why.
javabeans: It's him regaining control, I think. The kid threw him off-kilter, and now he needs to be the one in charge again.
girlfriday: Of course, hilariously, he gets the name of the village wrong in his own quiz, which Min-gook corrects. Ha.
javabeans: Thank god we turn to dinnertime next, which starts off with a round of Dad massages. Now this should be familiar to every Korean kid ever. There are neck and leg rubs, then Jong-hyuk flops over on his stomach and tells his son to step on him. Of course, then Jun-su just JUMPS up and down on his back with all his energy.
girlfriday: The kids are sent out to collect dinner ingredients from the village residents, and this time they're told to give massages to say thank you for the food.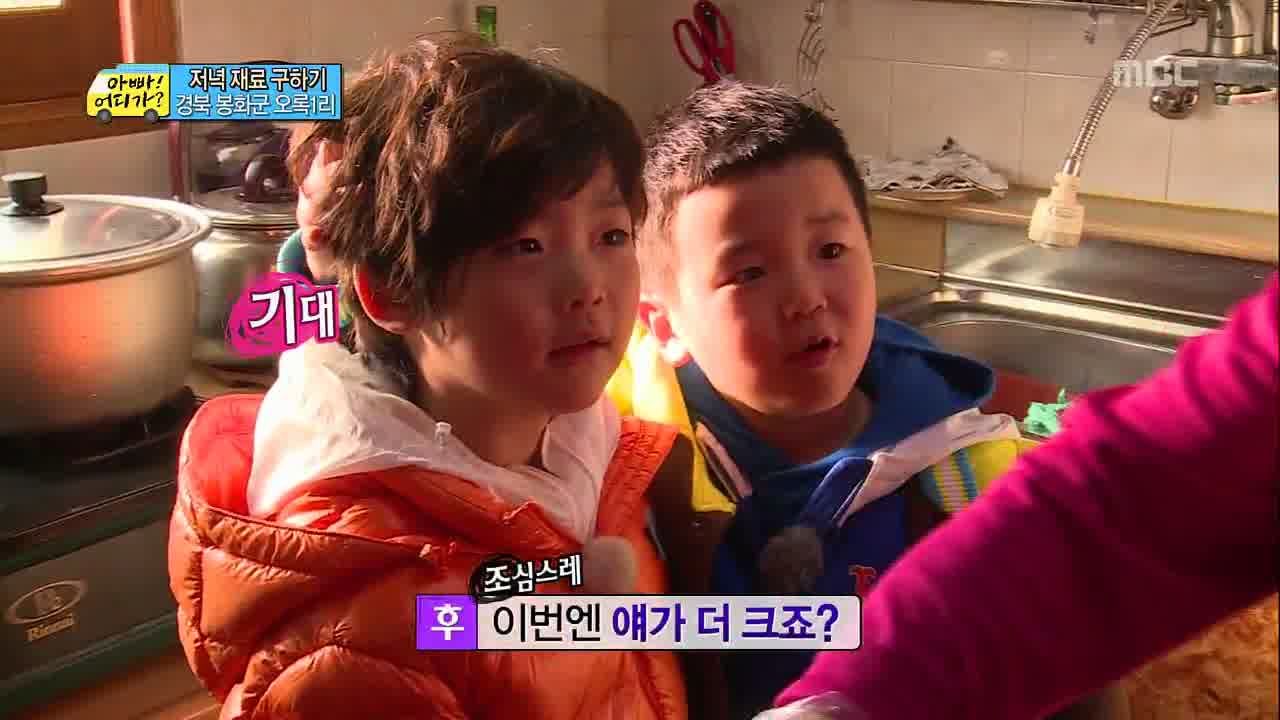 javabeans: There's a lot of running aimlessly as they try to find their destinations (like the chicken coop), and soon the kids are like, Let's just run. It'll turn up. The fun thing about making the kids go is that they're on this Very Important Mission, but the adults in the village have clearly been briefed so they're all ready to help. It's cute how the children seem to think they're Making This Happen, when in fact the adults are just all, Gahhh you tiny things are adorable.
girlfriday: Yeah it's really adorable. Sometimes they're sent to the market with money, and I often think it's a miracle they manage when they don't know how to count money and it's a flurry of "How many monies? Do you need another King Sejong one? What color is it?" at random shopkeepers.
javabeans: That sounds adorable. Aw, Min-gook is such a sweet oppa. Jia runs screaming out of the chicken coop because she's scared, and Jun-su follows her out. Min-gook is the only one who's not scared and he comes out for them, and takes her hand and promises to keep her safe while they collect eggs. Cute. And then of course he's the one who gets freaked out by a flapping chicken. They make it out safely, and then he insists Jun-su come along for his turn.
girlfriday: That's it for the episode, which is a pretty good example of what the show is like — not fast, but peppered with lots and lots of cute.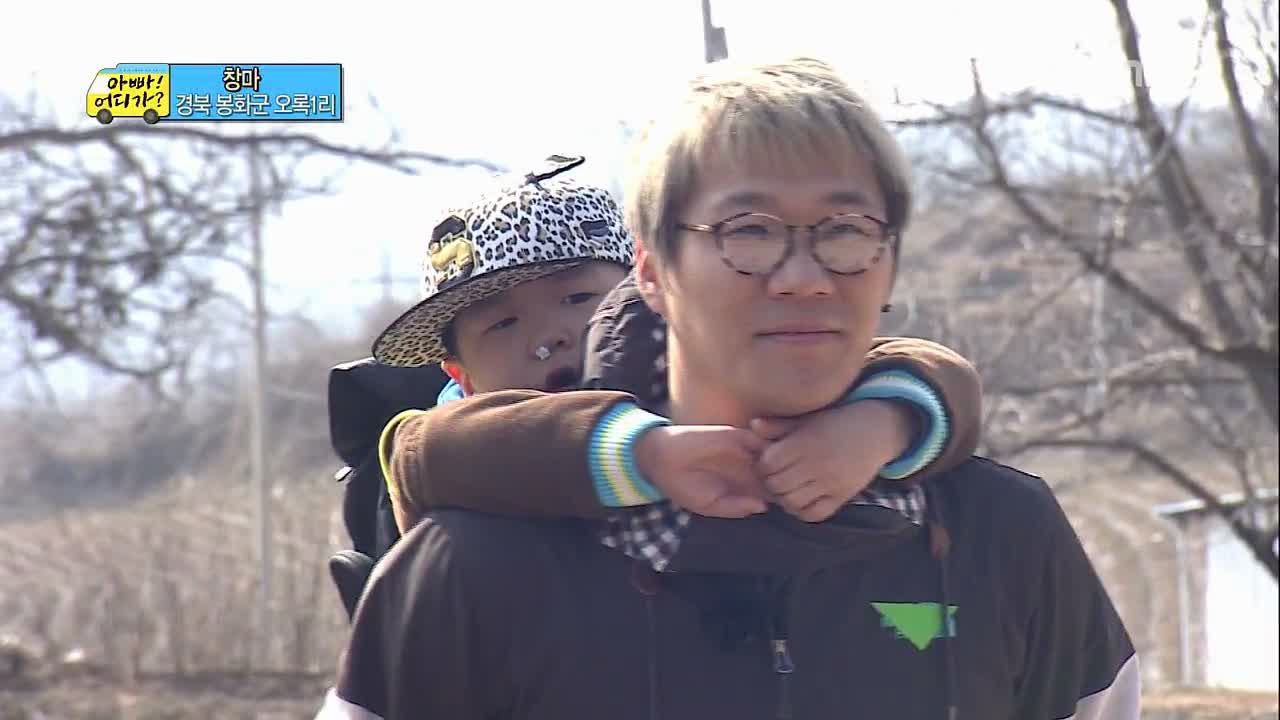 RELATED POSTS
Tags: featured, Lee Jong-hyuk, Sung Dong-il, Variety Roulette