You're the Best, Lee Soon-shin: Episode 10
This is a cute episode, with some big strides in character development too. Soon-shin faces some harsh truths but surprisingly finds the courage to stand up for herself when it matters, and discovers that one person's vote of confidence can carry her a long way. Ratings continue to climb, with this episode hitting a new series high at 27.3%.

EPISODE 10 RECAP
Both Soon-shin and the bratty Yi-jung arrive for acting lessons, and Soon-shin is shocked to find that her teacher is none other than Song Mi-ryung.
Mi-ryung doesn't waste her time cutting Yi-jung down to size, for her inappropriately dressy attire and her tardiness, and tells her to clean as punishment. Ha. I think I'm going to enjoy this reverse-cinderella-ing with her.
When told to clean or go home, Yi-jung complies, though her idea of cleaning is pushing a rag around with two fingers, and then freaking out that she touched something dirty.
She whines to Mi-ryung, still calling her ajumma, and Mi-ryung reminds her that she'll call her teacher, and not be late next time if she doesn't want to clean. Soon-shin isn't above enjoying Yi-jung's comeuppance a little, which I like about her.
Mi-ryung asks her why she wants to act, and Soon-shin answers honestly that she doesn't think herself very talented, and only signed the contract because she needs to help Mom earn money. Mi-ryung just laughs, calling her an interesting person.
At home, Mom puts away the old photo of Dad and Kyung-sook, and apologizes to him aloud, thinking she must've gone crazy for thinking what she did. She decides to put her suspicions behind her.
Soon-shin comes home still in awe of Mi-ryung, and fibs that she went to her house on a restaurant delivery. Mom says she saw her once too and that she was really beautiful and elegant, and Soon-shin immediately counters that Mom is even prettier. D'aw.
Yi-jung goes home to her mommy as well, and actually throws a tantrum like a five-year old. Her mom runs to complain to her husband about the horrors of their princess having to clean, and he just chuckles happily since he agreed to this scare tactic to make her quit.
Yoo-shin overhears a couple arguing and flashes back to Chan-woo's "Because I like you!" confession, and shakes it out of her head for now. She calls Hye-shin and Woo-joo out to meet her, and offers to buy presents for both of them and Hye-shin's husband.
Hye-shin just talks around not needing to buy her husband anything, which Yoo-shin finds increasingly suspicious. She points out that unni hasn't called her husband or talked about him in ages, but Hye-shin swears that nothing is wrong and changes the subject again.
Jun-ho calls Mi-ryung to ask how the lesson went, mostly dying to know if Soon-shin has any potential. Mi-ryung says it's early for that but is more concerned about the fact that Soon-shin doesn't seem to have much interest in acting, and lacks passion, which at this stage is more important than raw talent.
Jun-ho deflates to hear that Soon-shin said she only signed the contract because of her mother. Assistant In-sung adds insult to injury with Soon-shin's profile picture, and reports that the reaction is what they expected—awe that someone so ordinary could be a star. He suggests taking her to a plastic surgeon, and Jun-ho hisses.
Haughty waiter Jae-bum looks Soon-shin up and down, wondering how someone like her got scouted by Jun-ho. But her sudden success seems to make him change his mind about her, because he sneaks over to Young-hoon to confess that Soon-shin's kinda cute if you look carefully. Ha.
Jun-ho comes by and barks at Soon-shin to hurry up and change so he can take her somewhere, and ends up taking her to the clinic after all (his dad's of course). He says that he doesn't like plastic surgery either but just wants her to do the consultation, and takes her in to see Dad.
Of course it just backfires on him twofold, because Soon-shin has no intention of fixing her face, and Dad has yet another opportunity to belittle him. She runs out of the room, only to see Chan-woo down the hall. She must've not known this is where he works until now.
At the same time, Yoo-shin is waiting to see him, and manages to cross his path even with him trying to avoid her. She brings up his confession the other night, and says that like and love are such awkward words between them—can't they just be friends? Forever?
Aw, poor Chan-woo. Yoo-shin says she'll forget what he said so they can go back to being friends, as if she's doing him a favor. He doesn't argue, but his face crumbles.
Soon-shin watches this whole exchange from afar. So many hearts broken with so few words. Jun-ho looks at her, and at the couple, taking it all in.
He follows her out to ask if that's the guy she likes, and Soon-shin doesn't answer. He pours extra salt into the wound and calls the woman he was with so pretty that Soon-shin can't compare, and then says he'll make it so that truckloads of guys like Chan-woo line up to be with her, as if that'll somehow make her feel better. Dolt.
He starts to get angry that she won't go back inside, and asks what he's supposed to do when she refuses to change her name or her appearance. Soon-shin argues right back that he was the one who promised to show his skill—does it amount to nothing but plastic surgery?
Jun-ho flares up at that (probably because he agreed with her until about twenty minutes ago): "Do you think I want to be like this? This is all because you're so plain*! You have no passion, no pride, no will! That's why you can't even gain the love of the man you like." Ouch. That's too far dude.
[*He uses the same wording that she used to describe herself to Dad, and it can range from the physical "ugly" to "homely," to more general meanings like "foolish" or "stupid," and means most literally "born badly." In other words, it sums up how Soon-shin feels about herself: worthless.]
Soon-shin tears up and doesn't even argue with him: "You're right. I am plain. I have no passion, no pride, and no will. That's why I haven't even been able to confess my feelings to the person I like. Plastic surgery? Sure, why not—it'll make me pretty and people like pretty people. But does that change anything? If my face is pretty, will it change plain ol' me?"
She storms out with tears streaming down her face, leaving him standing there.
She comes home to her snippy sister, but this time she's too pissed to just take the abuse, and snipes back blow for blow. It seems common knowledge between the sisters that Soon-shin likes Chan-woo, and Yoo-shin tells her not to worry—she's not going to be anything more than friends with him. She advises Soon-shin to give up on her feelings regardless, since she's not exactly up to his level.
Things take a turn when Yoo-shin discovers a script in Soon-shin's purse, and she accuses her of taking up that foolish dream again just to be fooled by more con artists, after causing Dad to die because of it. This time Soon-shin rails back: "Why did Dad die because of me?! WHY?!"
She pleads through tears: "Stop saying that! Stop saying things like that! Please!" Yoo-shin is actually taken aback, as Soon-shin asks what she did that was so wrong that unni treats her this way, thinking that it's because she's so pathetic and good for nothing. "I want to be like you! I tried! But I can't, so what am I supposed to do?"
Yoo-shin actually looks flustered (And maybe even feels bad? A little? Maybe?) and just stands there while Soon-shin storms out and then storms back in to yank the battery out of her phone when Jun-ho calls.
He pretends not to be bothered by the fact that Soon-shin's not answering, but he goes over and over her words in his head.
He comes to find her after work the next day, only to get a curt brush-off. Yeon-ah happens to be there and wonders if things aren't going so well for him if Soon-shin is still working as a waitress.
Jun-ho just bluffs that it's all part of building up her work experience, since acting without any "means she'll end up acting like you." Ha. Okay, that was pretty smooth. You do have your moments.
By the time he runs out to the street, Soon-shin is long gone. She goes to see Mi-ryung for her next lesson, and this time Mi-ryung tells Yi-jung to stand at the wall for an hour for physical training. Is she just pulling bullshit karate-kid stuff on her? This is hilarious.
She tells Soon-shin to try a line reading, and even though she's terrible, Mi-ryung praises her for her fresh take. Soon-shin is as shocked as Yi-jung is horrified.
Yoo-shin runs into Chan-woo on her way home, and he tries to avoid her by saying he has a blind date to get to. She insists on dragging him into the bakery to coach him on what to do on his blind date, as if trying to prove she doesn't care.
She says he's clueless about these things, and that's why Soon-shin has liked him for so long and can't give up on her crush. He's shocked, since he never knew. I can't believe she just blurted her sister's big secret crush. Ack.
But the more immediate (and hilarious) concern is that Bread Man Jin-wook has decided this is the last straw for Cheating Chan-woo, aka Hye-shin's husband according Woo-joo.
He pulls Yoo-shin aside and tells her that her boyfriend is married and to stay away from him. Hee. But before Yoo-shin can set him straight, he sees Hye-shin and Woo-joo headed right for the bakery, and he ruuuuns out to cut them off.
He rolls with this dumb lie that they're doing construction inside so no one can go in, and has them wait outside while he runs in to get them the pastries they want. Of course, Chan-woo and Yoo-shin walk out anyway, and she greets them: "Unni."
That just sends Jin-wook further down the deep end of his misunderstanding, because now in his mind the two girls know each other and are friends, and Chan-woo is the cheating jerk who's playing them both.
He grabs Chan-woo by the collar and starts telling him that a father and a husband shouldn't be acting this way, and everyone's like, What in the what? Aw man, this misunderstanding is so funny that I almost wish it had gone on longer.
They all think Jin-wook is crazy, until he points out that Woo-joo told him that Chan-woo was her dad… and when all eyes turn to her, she runs away.
Yoo-shin gets all overprotective of her precious Chan-woo and makes the weirdo bread ajusshi apologize, and he runs back into the bakery SO MORTIFIED that it kills me. I'm really loving this character.
Hye-shin runs back home to ask Woo-joo why she would say something like that, and Yoo-shin comes in wanting to talk. She asks again what's going on, and when Woo-joo bursts into sobs and runs out of the room, Hye-shin finally admits to her sister that she and her husband split up because he was cheating on her.
Back to acting class, where Mi-ryung takes Soon-shin aside and asks about her family, and when she hears that her father passed away she says the polite thing, wondering how her dad could leave behind such a smart daughter.
Soon-shin says she's not smart at all, again calling herself foolish and worthless. Mi-ryung chides her not to talk about herself that way, because that'll never change her world. "The only person who can change your life is you."
When Yi-jung comes back she purposely showers Soon-shin with praise again, calling her lovable and cute, and encourages her that she has every right to receive love. It's adorable the way Soon-shin's face brightens at Mi-ryung's praise.
Yi-jung cries another river when she gets home and her mother takes her to Dad's skin clinic to make her feel better. As soon as they get there, she spots Chan-woo and runs over squeeing, "Ajusshi! Remember me? At the club!"
Jun-ho continues to be a broodypants about his fight with Soon-shin, and orders In-sung to buy flowers and a fruit basket. In-sung: "For whom?" Jun-ho: "Not you."
Family dinner at the Lee house, where the air is still tense between the younger sisters, Woo-joon and her mom, and Grandma with, well, everyone.
They're interrupted by the doorbell, and Soon-shin's jaw drops to find Jun-ho standing in her living room with baskets of fruit. He introduces himself and says he's here to ask permission for something regarding Soon-shin… which totally sounds like he's here to ask to marry her. Hee.
They sit down awkwardly, and everyone takes a minute to wonder where they've heard the name Shin Jun-ho before. Hye-shin remembers that it's the con man's name, and Soon-shin quickly lies that he's the manager at her restaurant and happens to have the same name as the con artist.
Meanwhile Jun-ho is thrown by her lies, and then suddenly recognizes Yoo-shin as the same girl he saw at the clinic with Soon-shin's crush. She mumbles that it's her sister. I love that there are about seven conversations going on right now but nobody's listening to anyone.
Jun-ho tries about thirty times to get a word in edgewise but Yoo-shin jumps to the natural conclusion that he's here to ask permission to date her sister, and Soon-shin practically leaps on that story and confirms it. Haha.
Grandma knocks him down a couple of pegs for his lack of manners and makes her exit, and Yoo-shin makes a big deal about the fact that there exists someone on this earth who likes Soon-shin. *screenslap*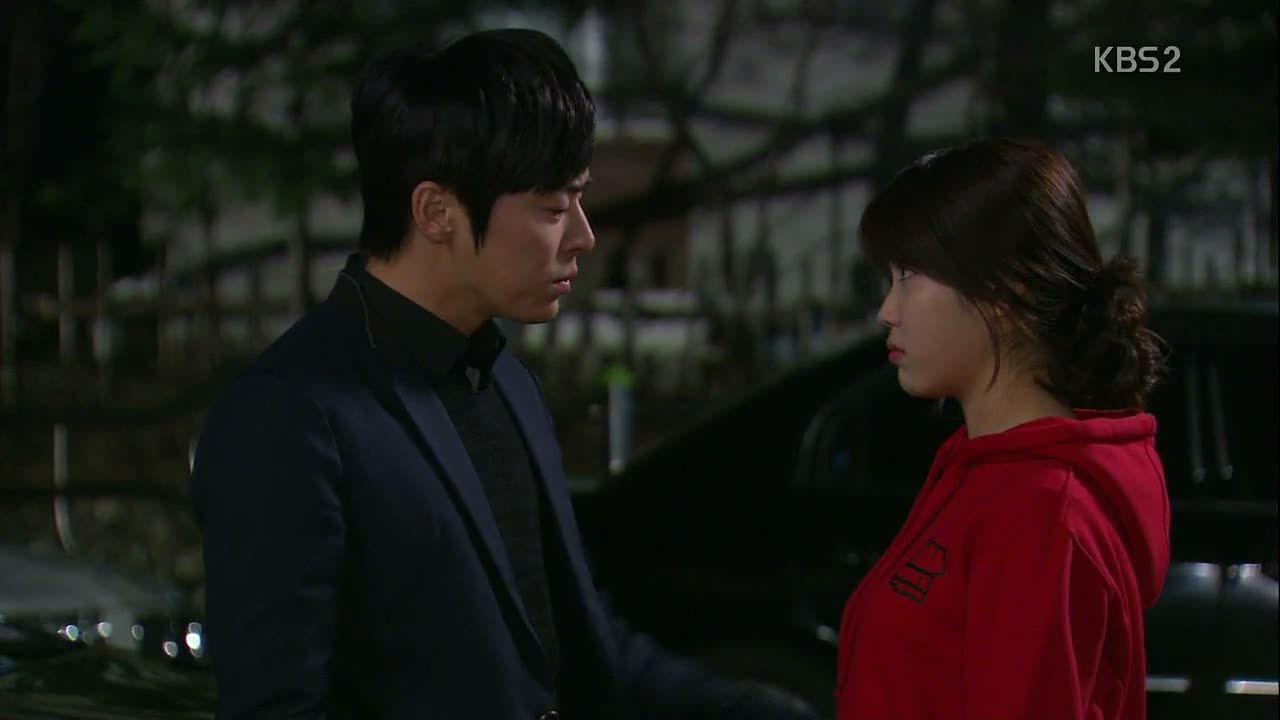 Before Jun-ho can correct the misunderstanding, Soon-shin ushers him out the door. He can't believe she just turned him into a restaurant manager with a crush, and she apologizes, but points out that he's the one who just showed up out of nowhere.
He asks if she gets treated this way on a daily basis, which is a question she doesn't really understand. She tells him that no one in her family is going to support her being an actress, so he can stop trying.
He sighs at her having a crush on her sister's boyfriend (Soon-shin: "I don't! And he's not her boyfriend… yet.") and promises again to have the streets lined with guys once she's an actress.
What they don't notice is that Mom has followed them outside and overhead. Uh-oh. She interrupts them to ask what he's talking about, and if he's really who he says he is. Soon-shin shakes her head, but Jun-ho introduces himself officially and tells her the truth.
He asks Mom for her help and support, expecting her to be thrilled… but Mom thanks him for his interest and says they'll turn him down. She guesses that Soon-shin did this because she needed the money, but Mom says she'll repay the signing bonus.
Jun-ho can barely register the shock as Mom tells him that their family isn't going to do such foolish things anymore, and asks him not to fill Soon-shin with empty dreams.
At home she tells Soon-shin to just put all this behind her and start thinking about what it is that she really wants to do with her life. So she puts away her script with a sigh, and then goes to see Jun-ho in the morning.
He plans to try talking to Mom again, but Soon-shin cuts him off to say resignedly that she'll return the bonus. She thanks him for everything he's done and gets up to leave.
Jun-ho throws out his last-ditch question: "Are you positive that you won't regret it?" She walks out anyway.
She sits in the stairwell mulling over his question, and Mom's, and then remembers Mi-ryung's words: "You deserve to be loved. Believe in yourself." She comes to a decision and dashes down the street with a smile on her face.
Mi-ryung's presence in their neighborhood continues to niggle at Chan-woo's dad, and he decides to see house for himself. He sees her arrive and jumps at the sight of her like he's seeing a ghost, and then freaks out even more when he sees Soon-shin run up to her and follow her inside.
Soon-shin says she was planning to come here to say goodbye because she was quitting, but wanted to ask Mi-ryung one last thing. She admits to knowing that the lavish praise from Mi-ryung is more to do with Yi-jung than with her, "But do I really have potential?"
Mi-ryung smiles: "Yes. Why, don't you believe me?"
Soon-shin lights up like she just gained the world.

COMMENTS
Aw, it almost doesn't matter what Mi-ryung really thinks, because that single vote of confidence does so much to make Soon-shin believe in herself, maybe for the first time ever. Though it's a stretch to make us believe that Soon-shin isn't pretty, I do buy that she feels worthless and never good enough, which makes her journey relatable and ordinary in a good way. At times it can be frustrating, like when she simply refuses to give herself even an ounce of credit, but I like what Jun-ho's visit showed—that he notices right away how she's belittled at home, and how she doesn't know what he means at all because that's normal for her.
It's likely going to take a lot to undo a lifetime of being told that she's not good enough, not pretty enough, not successful enough, but it's nice to see that Mi-ryung's praise does have an effect on her. Hopefully this is the start of Soon-shin developing a real dream and a passion for something, instead of just being taken along because of her family's expectations or the need for money. I do like the idea that she might have more raw talent than motivation, but I want her to want the dream, otherwise we'll lose steam wanting it for her.
I know the birth secret won't go away, but I'm glad that it's taking a backseat for now, because I'm tuning in for the rom-com cuteness and the sisterly developments. It was a relief to have Soon-shin talk back to her sister for the first time instead of just agreeing that Dad died because of her (even if deep down she thinks it's probably true). I do like Yoo-shin more and more, and find myself respecting her self-reliant nature and her progressive attitude (for insistence, when Grandma sighs that there are no men in the house, Yoo-shin is the only one to argue that she'll do better than any man). But the things she says to Soon-shin still drive me crazy, and I find that I want Soon-shin to succeed just so she can rub it in her unni's face… which I know is not very mature of me, but dammnit, right now that's bigger motivation than anything else.
What I'm really starting to enjoy is how the three sisters' romances are overlapping in comedic ways. Jin-wook's misunderstanding with Chan-woo was priceless and I actually wish it had been more elaborate, with more episodes of mortifying hijinks. His character is a crack-up. At least we still have Jun-ho's misunderstanding with everyone except Mom, thinking he came to the house just to ask permission to date Soon-shin. Situations in which he has to pretend to be madly in love with her are always welcome in my book.

RELATED POSTS
Tags: featured, IU, Jo Jung-seok, Lee Mi-sook, Sohn Tae-young, Yoo Inna, You're the Best Lee Soon-shin