You're the Best, Lee Soon-shin: Episode 11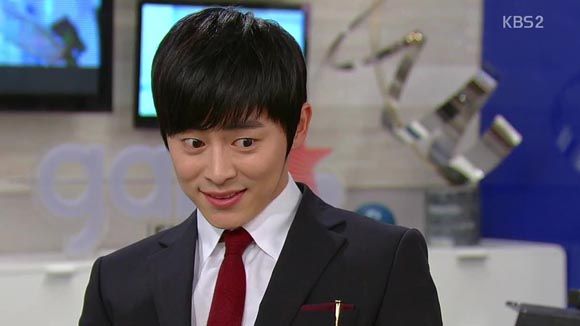 "How come I'm the boss here and I'm the one in trouble?" That's essentially the situation Jun-ho finds himself in today, and it's a hoot to see him attempting to assert his CEO authority over three sisters who just aren't having it. Okay, maybe just two—just when the troublesome one sees his point and agrees to join his side, the other two have to pop up and make his job harder. Hee. I could watch this dynamic all day long.
SONG OF THE DAY
Ukulele Picnic – "My Song" [ Download ]
Audio clip: Adobe Flash Player (version 9 or above) is required to play this audio clip. Download the latest version here. You also need to have JavaScript enabled in your browser.

EPISODE 11 RECAP
Soon-shin lights up to hear that she does have potential after all, and leaves Mi-ryung's house in ebullient spirits. Out in front, she gets pulled aside by Chicken Ajusshi, who has waited nervously outside the gate to ask what she could possibly be doing at this house.
Chicken Man freaks out to hear about her acting lessons with Mi-ryung, and Soon-shin doesn't understand why he insists that she can't do this. He's all sputtering speech and buggy eyes; let's just say it's a good thing ajusshi doesn't play poker.
Manager Hwang wonders if Mi-ryung genuinely means to help develop Soon-shin, thinking she's tackled the wrong project. She tells him that she's just going to use Soon-shin to get Yi-jung to quit acting, per her deal with Dr. Shin. But while she doesn't necessarily see talent in her, she does muse that there's something about her that endears her to you. I do think it's that relatability that'll end up being Soon-shin's star-making quality.
At home, Soon-shin tries broaching the topic with Mom—what if she gives the acting thing a try? Mom dismisses the question immediately; after all they've gone through in the name of that acting contract, she's not even willing to discuss it.
Soon-shin mulls it over all night, torn between not wanting to disobey Mom and genuinely feeling hope. For now she plays this one close to the vest, and in the morning she heads out early without betraying that she's still going with the acting contract plan. But now she's actually driven with purpose as she gets in her morning workout, then sends her confirmation photo to Jun-ho.
Good timing, too, because Jun-ho's currently feeling frustrated to have her calling their deal to an end. And when he sees her text… My favorite thing about Jun-ho, which I doubt he realizes about himself, is the way he lights up whenever Soon-shin is concerned. (Well, aside from when she's making him grind his teeth, I mean.) Jo Jung-seok has this ability to make me smile when he smiles, and it's the best thing ever.
Jun-ho breaks out into a huge grin and leaps up from his chair, and with all that excitement running through him he asks his confused secretary, "Why are you so good-looking today?" In-sung, scared: "Th-thank you?"
Jun-ho heads down to the restaurant still grinning, and tries very badly to contain it. He confirms that she's onboard and ready to give this a serious go, and then spends the rest of the day just smiling for no reason and staring at that photo. TOO CUTE.
Chicken Ajumma happens to see Mom struggling at her cleaning job, and despite all her backhanded insults and undercurrent of jealousy, I do suppose she does feel sorry for her. She offers Mom a job in her restaurant instead, which of course Mom is too proud to take. Chicken Ajumma sighs about her husband's preoccupation these days, wondering whether he's cheating on her or something equally strange.
Grandma decides that they ought to clean up their basement room and rent it out for a bit of extra cash. Mom gets to cleaning it out, and Chicken Ajusshi offers his help in wallpapering the place.
He takes a moment to ask whether Soon-shin has taken up acting, and rather insistently tells Mom not to let her.
Yi-jung pouts about her acting lessons being hard and totally not like she expected to the only audience with any sympathy for her, Mom. True, Mi-ryung is purposely giving her a hard time to push her into quitting, but you get the sense that Princess here would be pouting just as hard in a legitimate trainee scenario where she realizes that reality is a lot less glamorous than her fantasy.
She begs Mom to do something about it, so Mom heads over to ask Mi-ryung to be gentler with Yi-jung. Mi-ryung points out this is all fundamental stuff, and if Yi-jung doesn't like it she should quit. Mom instantly backs down, not wanting to offend, and agrees that her friend is right.
As Mom leaves, Yeon-ah strolls up to the house (calling Mi-ryung "Mom," per their agreement to adopt a mother-daughter relationship) and gapes in shock to hear that the other woman is Jun-ho's mother. Didn't his parents both die? She'd been told he grew up all on his own, poor and struggling.
Mi-ryung says that she must've heard that story just as Jun-ho had been striking out on his own, since we know Dad offered no support. Gah, I deeply hope this doesn't suddenly make him more appealing in Yeon-ah's eyes, which do look more interested now. I just realized we haven't seen much of Yeon-ah in a while I haven't missed her a bit.
Yi-jung heads to her father's clinic to engineer another encounter with doctor hottie, insisting that she must be treated by Chan-woo. Only, her father finds her first and starts in on the whole "quit acting if you find it so hard" bit again, and that just makes her dig in her heels and vow to prove him wrong.
Mi-ryung takes her two protégés to the theater, which Yi-jung barely stays awake throughout. Of course, as they dine afterward she gushes to Mi-ryung about how interesting she finds it, and sniffs haughtily when Soon-shin admits she found it rather dull.
Mi-ryung sides with Soon-shin, agreeing that she found the play difficult too. She assigns them both to write an essay on their reaction to the performance.
Mi-ryung overhears Soon-shin talking to her mother on the phone and comments on how she's just a good daughter. Soon-shin admits that she isn't, though it's clear to Mi-ryung that they're a close pair.
Chan-woo helps his father with the wallpapering, and as everyone sits down to dinner, Yoo-shin comes home and joins them. Chan-woo grows more aloof even as she's acting like nothing's changed, and she's obviously trying to hit a casual tone as she asks about his blind date and whether she was pretty. When he tells her he intends to ask for a follow-up date, she glowers for a second and then forces a laugh, which comes off a touch less breezy than she'd like.
Yoo-shin gives him a not-quite-friendly slap and hair-ruffle, but her behavior just annoys Chan-woo; he grabs her wrists and keeps his distance, leaving abruptly.
Yoo-shin chases him out into the street, pestering him about how he needs her tips to succeed on his next date. It's so forced that it's a little cringe-worthy, and he rejects her flat. He finally tells her point-blank that she's being ridiculous—she was the one who said she didn't like him, so why the heck is she butting in to his personal business?
Soon-shin witnesses the scene, deflating a bit, just as Jun-ho pulls up in his car and sees her reaction. They head to a cafe while he hands her a bunch of study aids—DVDs, scripts, and a key to a rehearsal studio. Which he just had to deliver in the middle of the night, in person. Silly boy. I enjoy his obliviousness to his reaction to Soon-shin enough that I could enjoy watching this for a while before he finally figures things out.
I love how everyone in this drama thinks they're so smooth when asking questions casually, when it's so obvious (to us) what they're itching to know. For example, Jun-ho asks about Chan-woo and calls him immature and funny-looking. It's rather adorable how he's trying to make her feel better about her crush, but by attacking him she just ends up defending Chan-woo harder.
Jun-ho does say rather sweetly that Chan-woo will later regret letting a girl like her go, then advises that since you can't change how someone else feels, you're better off changing your own. She wonders if he speaks from experience, which has him stammering no.
Mom's suspicions about the mysterious Kyung-sook are stirred again when Grandma mentioned that Kyung-sook used to always be doing some play or another. She dismisses Kyung-sook's actorly pursuits as likely to have failed, but Mom can't brush them aside.
Thus tonight isn't the night for Soon-shin to reattempt talking to Mom about her actor aspirations; upon hearing that she went to a play tonight, Mom grows snappish enough that she hastily drops the topic right away.
But Soon-shin does want to talk it out with somebody and get some advice, and she ends up broaching the topic hesitantly with Yoo-shin. I'm half-cringing at the possible ugly reaction that might engender—why do I feel so nervous having Yoo-shin play secret-keeper?—but Soon-shin tells her enough that she calms down a bit and starts to believe that it could be a legitimate deal.
However, she's not the kind of person to just take someone's word for it, so the next morning Yoo-shin pulls unni aside. They head over to confirm the story for themselves, and along the way run into Bread Man Jin-wook, who gives a nervous twitchy hello. HA. God, I love this character (please don't ruin him!).
They stop by the restaurant to pick up Soon-shin and drag her along to the Gabi Entertainment offices, ignoring her mortified protests. Yoo-shin takes the lead and marches right up to Jun-ho, intent on sitting him down and getting the full story. It's pretty amusing to see how she barrels right into the office and takes charge; she's bossy without stepping over into disruptive (or, you know, criminal) and you have to admire her pluck. All while Hye-shin hangs back a little tentatively and Soon-shin looks like she wishes the earth would swallow her up.
But best of all is Jun-ho's reaction, because he's sitting here in the CEO's chair and yet somehow finds himself on the defense, like he's the one in trouble. Ha. Yoo-shin barrages him with questions—what are his intentions? Why did he contract Soon-shin? What are their terms?
Jun-ho does manage to reclaim some of his authority (though it's totally false) by saying that he saw Soon-shin's immense potential—why, does unni not see it? Why is she so skeptical? Ah, he says sagely, so the adage is true how it's darkest under the lamplight.
But then he gets cut down again when Hye-shin puts her corporate hat back on and reads through the contract, picking at certain phrases and terms and asking for revisions. Totally off-kilter, Jun-ho finds himself agreeing to let her review the terms. The byplay between him and the unnis is pretty hilarious, especially since he IS trying, intermittently, to assert himself as a CEO should, only they just ignore those airs and knock him back down. Hee.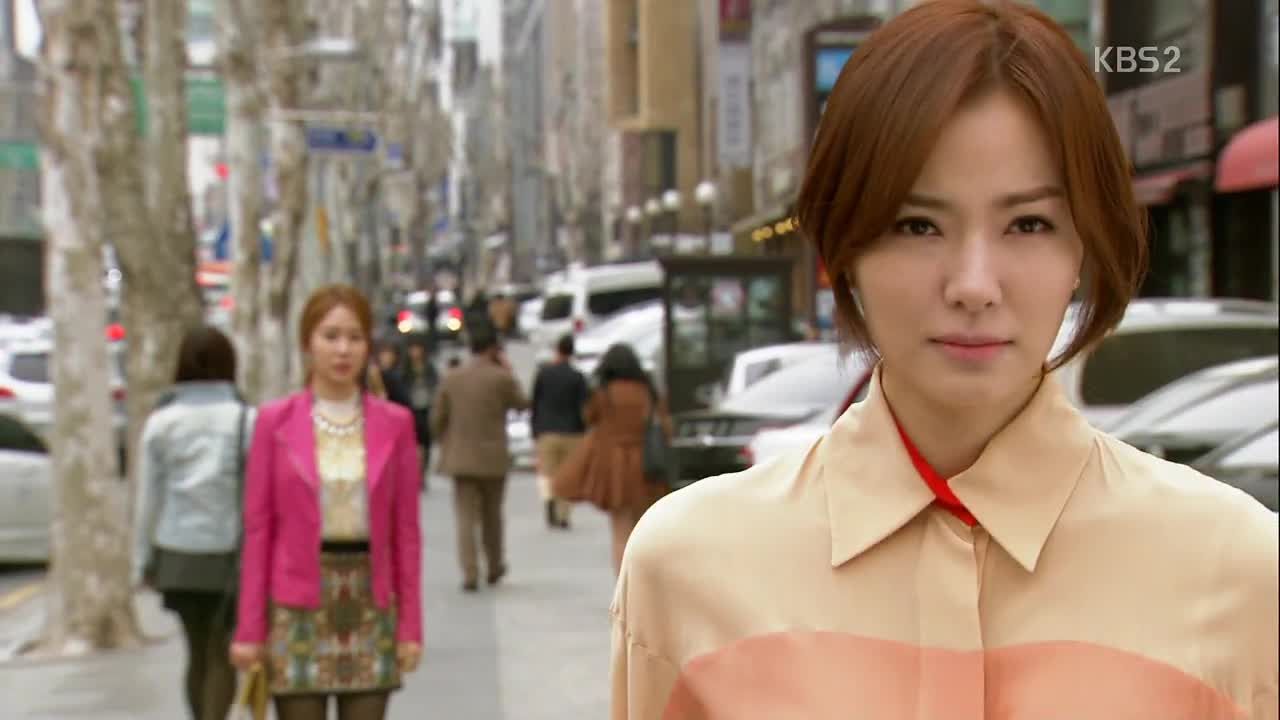 As the three sisters leave the meeting, the unnis concede that it doesn't appear to be a scam this time, but they're still worried about Soon-shin. I do actually really like Yoo-shin's reaction here; she's very begrudging of little sis but in this case it's plain to see that she's motivated by concern. So the brashness doesn't upset me—not today, at least.
Both unnis encourage her to do her best since she's come this far, and agree not to tell Mom for the time being.
Soon-shin heads back to work, and then the air turns chilly when Yoo-shin asks her unni why she divorced, and why she let her pride speak when she didn't ask for alimony. She's all fired up and ready to chew out her ex-brother-in-law, but the comments hit a nerve and Hye-shin gets upset. In frustration, Yoo-shin calls her a dumb idiot (along with their whole family), but I get the sense she's not saying anything Hye-shin hasn't already called herself.
Grandma goes to the real estate office to rent out their room, and on her walk back home she gets knocked to the ground by a motorcycle whizzing past. She's not greatly hurt but Bread Man rushes to help her, insisting on piggybacking her home—he's a lot stronger than he looks. And then he tries to carry her and struggles pitifully, HA.
Woo-joo happens upon them, and she's even less happy to see him today. He asks why she lied about her dad, but she doesn't spare him a word and leaves in a huff. On the upside, at least he does endear himself to Granny.
Chicken Ajusshi continues to act so jumpy and suspicious that finally his wife disguises herself and follows him as he heads to Mi-ryung's house and hovers at her gate. Ajumma surprises him mid-lurk and drags him back to the shop, where she gives him an earful about how he's too old to be a stalker and just about dies in mortification. Here she'd thought her husband might be cheating, only to find he's stalking an actress like some old perv.
Meanwhile, Mom is still absorbed in her worries about Kyung-sook, so she flips out when she sees Soon-shin's scripts and acting materials in her room. She confronts Soon-shin with them, and upon hearing that Soon-shin wants to keep trying, she starts throwing the books on the floor and yelling her frustrations. Finally she tells her to do whatever she wants, leaving Soon-shin shell-shocked at her violent reaction.
Now recalling how Chicken Ajusshi insisted that Soon-shin not be allowed to act, Mom heads out to confront him too. She walks into the marital spat, and her friend vents to her about her husband's ridiculous claims about being Mi-ryung's childhood friend. Admittedly it sounds absurd, so she thinks he's being delusional.
But Mom hears mention of the name Kyung-sook, and in this context her brain immediately lands on her own suspicions: Is Song Mi-ryung actually Kyung-sook?

COMMENTS
Well, thank goodness THAT secret's finally out. Kind of. It makes sense that it took a while for Mom to connect the dots, inasmuch as they are very old dots buried under a lot of dust and years and denial, plus some of the dots have changed their names or actively lied about being dots. But while I haven't found her stupid for not guessing the truth before, I was getting awfully tired of seeing that same red scarf trotted out every time she had a pensive moment, with those close-up shots of that old photo. We get it. Time to move that train along.
But the birth secret isn't the most interesting thing going on, so I'm happy to have it take the backseat, and today's sisterly interplay was a nice, lighthearted thread that I'd like to see a lot more of. Yoo-shin being a brat or lashing out as a self-defense mechanism are things I understand but don't really care to watch, but the kind of care she showed today is a different kind. When she's acting outwardly gruff but motivated by inner affection, the contrast works and makes me like her more. As in past episodes, she's the take-charge one, the person who's outraged by unfairness and champing at the bit to right it. That's the Yoo-shin I like to see, the one I can root for.
Granted, I do think you need that prickly other half to balance out the part we like, because that's what makes the growth so rewarding. Awesomeness unfettered by normal human weaknesses doesn't give you much room for that turnaround later on, and from the way her relationship with Chan-woo is going, I think it's going to be a satisfying change. For instance, I like the setup of Chan-woo shutting her out just as she starts to come around, because she was SO mean and dismissive of him that he gets the point and isn't going to try anymore. Thus if she wants him back, she's going to have to work for it, and that's going to involve letting go some of her monster pride. It'll be a good life lesson for her.
It was also nice to see big unni in the picture, stepping it up a little. I expect that her storyline will come to the fore later, and that it's just hanging back until its turn comes up. But until that does, it's nice to be reminded that Hye-shin once had a job, that she had an identity that isn't divorced mother or former careerwoman.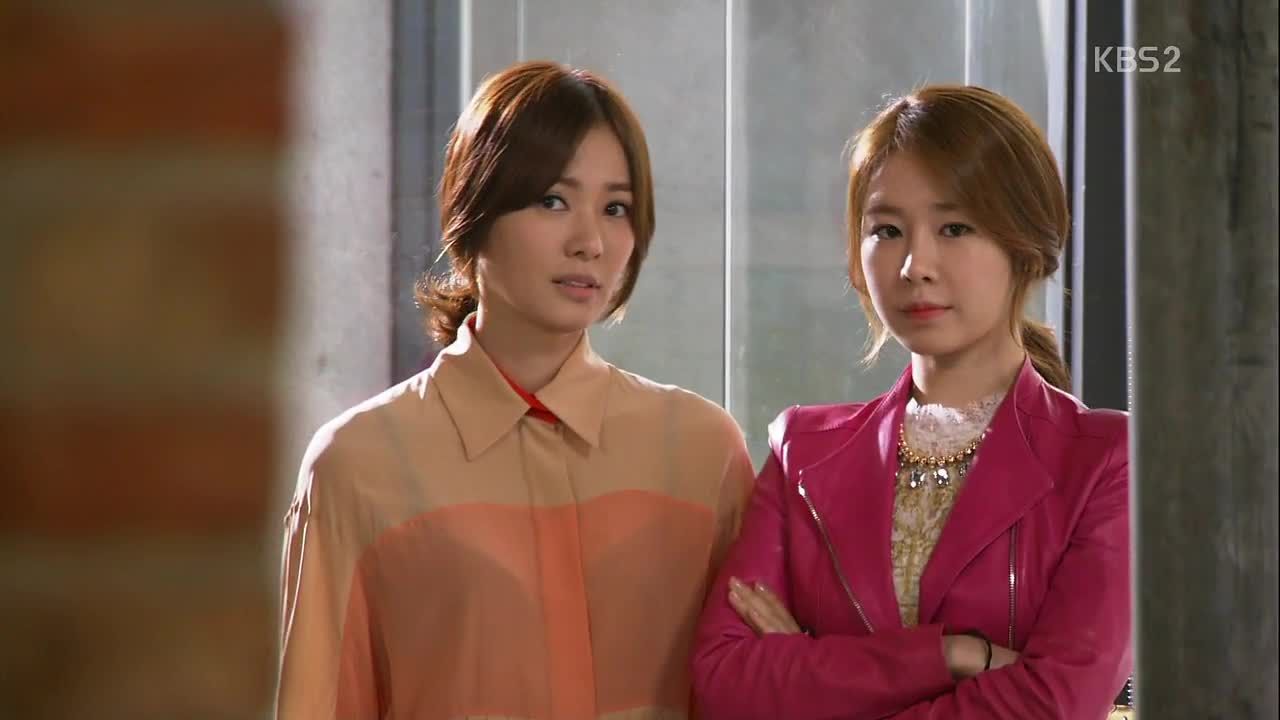 RELATED POSTS
Tags: featured, IU, Jo Jung-seok, Lee Mi-sook, Sohn Tae-young, Yoo Inna, You're the Best Lee Soon-shin